Knowing the Dubai metro timings is essential if you want to travel to some of the most exciting places, like Dubai Creek, the Mall of the Emirates, or Burj Khalifa. Whether visiting Dubai for a few days or living here, utilizing the public transport system is essential to get around the city quickly.
The Dubai Metro is a modern and efficient transportation system that serves the city of Dubai and its surrounding areas. The Dubai metro starting time is from 5 am to midnight. Plus, trains run every few minutes during peak hours and every five minutes during off-peak hours.
This guide includes the detailed RTA Dubai metro timings for the red and green lines of the Dubai metro. It also consists of the schedule of the Dubai Tram.
About Dubai Metro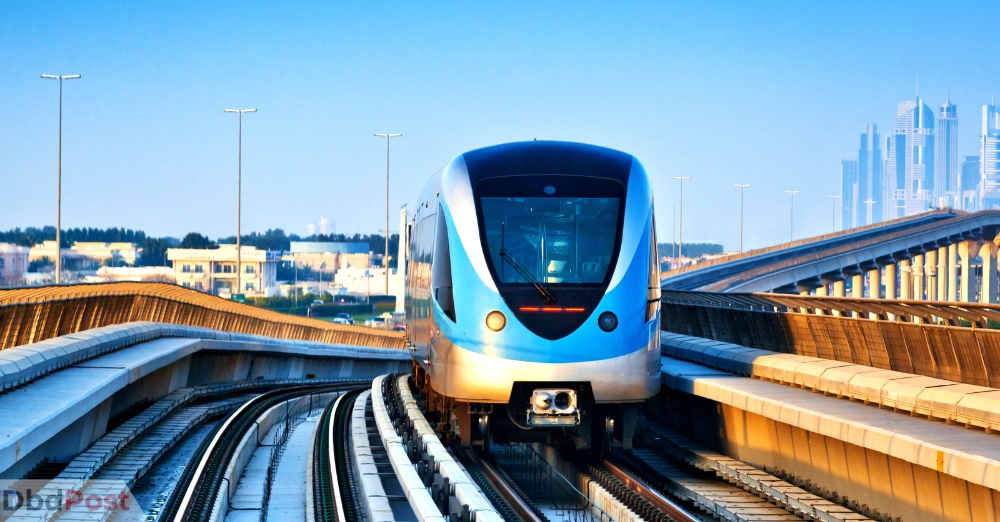 Dubai Metro is a fascinating engineering marvel, combining a world-class rapid transit system with modern technology. Since its inauguration in 2009, Dubai Metro has continuously provided passengers with top-tier transportation services on the red and green lines.
In 2011, the Dubai red line metro became the world's most extended driverless metro network. It was over 52.1 kilometers long. Similarly, the Dubai Metro Green line is 22.5 kilometers long. [1]Guinness world records, "Longest driverless metro line, … Continue reading
Additionally, those riding the Dubai Metro can enjoy modern facilities such as private cabins, Wi-Fi, informational displays, lifts, escalators, ticket machines, and many more.
Dubai metro timings
Timing is everything when traveling, mainly if people use public transportation like the metro. The Dubai Metro is the most convenient and affordable mode of travel in the entire Dubai.
No matter the day of the week, Red and Green Metro line stations are continuously operating at consistent timetables, making it effortless for you to plan your journey. Likewise, the train runs from early 5 am until 1 am the next day, so riders can enjoy the convenience of hopping on and off at various stations every day.
However, times for first and last metro arrivals differ between Dubai metro stations, so check carefully before your visit. But you don't have to worry much as the metro frequently arrives within 2 to 3 minutes of interval.
Red line & Green line metro timings in Dubai
The detailed timetable for all metro stations on the red line and the green line are listed below:
| Days | Time |
| --- | --- |
| Monday to Thursday | 05:00 AM – 12:00 AM (Midnight) |
| Friday | 05:00 AM – 01:00 AM (Next day) |
| Saturday | 05:00 AM – 12:00 AM (Midnight) |
| Sunday | 08:00 AM -12:00 AM (Midnight) |
Tram line metro timings in Dubai
The Dubai tram operates seven days a week, from 6 am on weekdays to 9 am on Sundays. It's available to passengers until 1 am, so you can easily catch the tram back home even if you have a late night out.
See the detailed timetable of Dubai Tram below:
| Days | Time |
| --- | --- |
| Monday to Saturday | 06:00 AM to 01:00 (Next Day) |
| Sunday | 09:00 AM to 01:00 (Next Day) |
Ways to find out metro timings in Dubai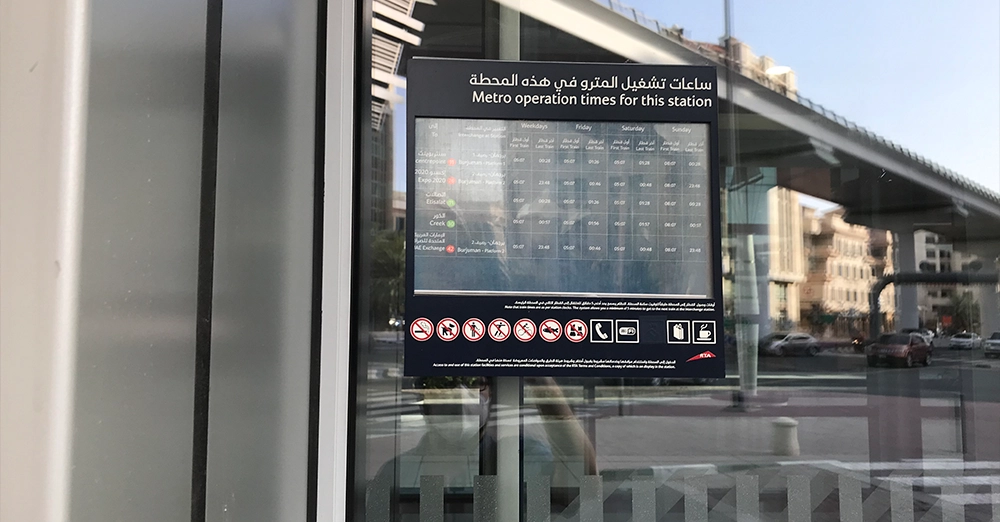 Exploring Dubai's metro has never been more effortless, as there are many creative ways to check the timings and plan your commute.
If you're trying to figure out when the Dubai Metro is running, here are a few ways to get the timing information you need:
Online
If you're searching for the most accurate and up-to-date timing on the Dubai metro, look no further than the official RTA website. This site is the go-to source for any updates regarding metro station timetables. Utilize this resource to stay informed about schedule changes.
Additionally, the RTA's Journey Planner can help you plan your trip by giving you specific timing information. This includes finding out how long it will take to reach your destination when you arrive and the fare cost.
Mobile app
The Roads and Transport Authority (RTA) of Dubai provides users with several mobile applications to make accessing its services more accessible and faster. These apps are conveniently organized into categories like Driver & Car Owner, Public Transport Service, and more.
Furthermore, applications like Dubai RTA, and S'hail, are available at the App Store and Google Play Store for quick download. These apps offer convenient access to updated information regarding Dubai metro timings, routes, and ticket purchases, making it easy for users to plan their outings.
On-board displays
Modern metro systems have adopted electronic displays to make traveling easier for passengers. These displays at the entrance of each station and along the platform help riders by giving them information about their trip in real-time. Moreover, it also shows the next upcoming metro and estimated arrival time.
Customer service
For any queries or information concerning metro operations, friendly customer service staff can answer your questions at every station. All stations offer an information desk where you can go for support and assistance. They will provide you with the most updated information and answer any questions.
See also: Interactive Dubai Map
Additional information about metro timings
During public holidays and particular occasions, it's vital to check that the Dubai Metro operates on a modified schedule. The Roads and Transport Authority (RTA) will publish details of changes to the hours of operation for all commuters who need to adjust their travel timetable accordingly.
Additionally, there are two interchange stations – Union Station and Burjuman Station – where you can switch between the Red Line and Green Line to get to your destination comfortably. Moreover, these transfer points offer efficient transfers within five minutes of your arrival. With this reliable system, getting to your next platform has never been easier.
Related Stories
---
FAQs
What are the Dubai metro timings on Friday?
The Dubai metro starts running at 5 AM and keeps going until 1 AM the next day on Friday. [2]Government of Dubai, " Metro Timetable, https://www.rta.ae/wps/portal/rta/ae/public-transport/timetable#:~:text=Friday,am%20(Next%20day)"
Does Dubai metro operate 24 hours?
Dubai metro does not operate 24 hours a day but provides service from 5 am to midnight every day of the week.
What time does Dubai metro close?
The Dubai metro station closes at midnight every day except Friday. On Friday, the station closes at 1 AM.
Final thoughts
The Dubai metro timings has made traveling in the city more manageable and efficient. For those wanting an early start, reliable departures provide convenience. Of course, timings may vary depending on holidays and special occasions.
Similarly, many resources on Dubai metro timetable are available for up-to-date information, such as mobile apps, online websites, and onboard displays. Additionally, the customer service staff is happy to assist if needed. With the consistent Dubai metro timing now at our fingertips, planning a journey around the city is even simpler.


Adi Abbas is a travel enthusiast based in Dubai who has explored more than 15 countries in the Middle East and South Asia. He loves discovering different cultures, trying local food, and seeking out exciting things to do. His passion for travel has taken him to many places, where he's made unforgettable memories that will stay with him forever. Adi loves documenting his trips through photography and writing about his experiences.