The Max metro station is an excellent option for commuters who want to avoid the traffic and congestion of Dubai's busy streets. However, many people need help finding the station as its name has been changed from Al Jaffliya metro station to Max station.
The Max metro station is close to the Etisalat Al Kifaf office and is on the Dubai metro's red line. It lies in zone 6 and has two side platforms.
While the name change may be confusing for some, the station is easy to find if you know where to look. This Dbd covers everything on the Max station, from its location to nearby areas and operating hours.
Overview of Max metro station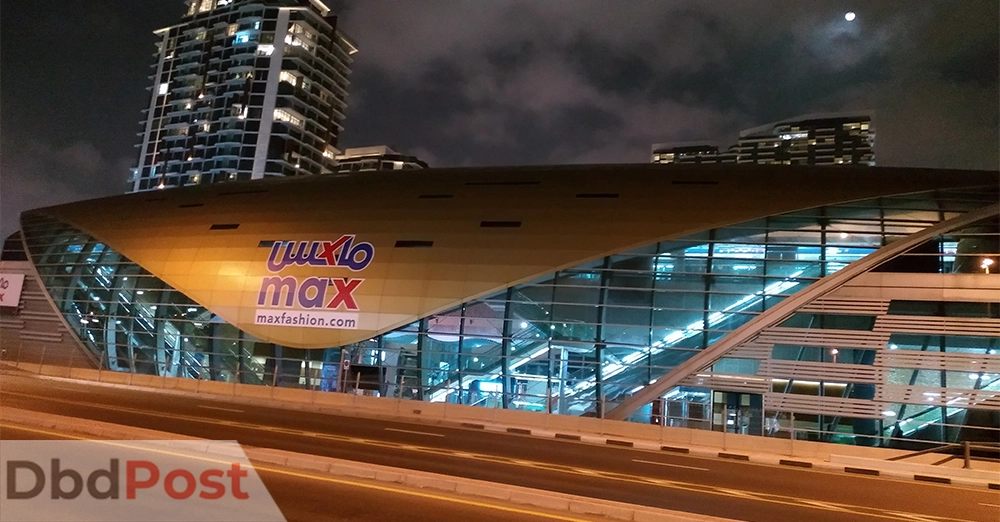 Max metro station was previously called Al Jaffliya metro station. It was later RTA renamed Max Fashion in August 2021 as part of a strategic alliance with the Landmark group.
| | |
| --- | --- |
| Location | Al Jaffliya, Al Kifaf, Dubai |
| Line | Line: Red line |
| Station code | R21 |
| Fare zone | 6 |
| Preceding station | World Trade centre metro station |
| Following station | ADCB metro station |
| Transfer station | No |
| Dubai Tram connection | No |
| Disabled access | Yes |
| Previous name | AlJaffliya metro station |
Location of Max metro station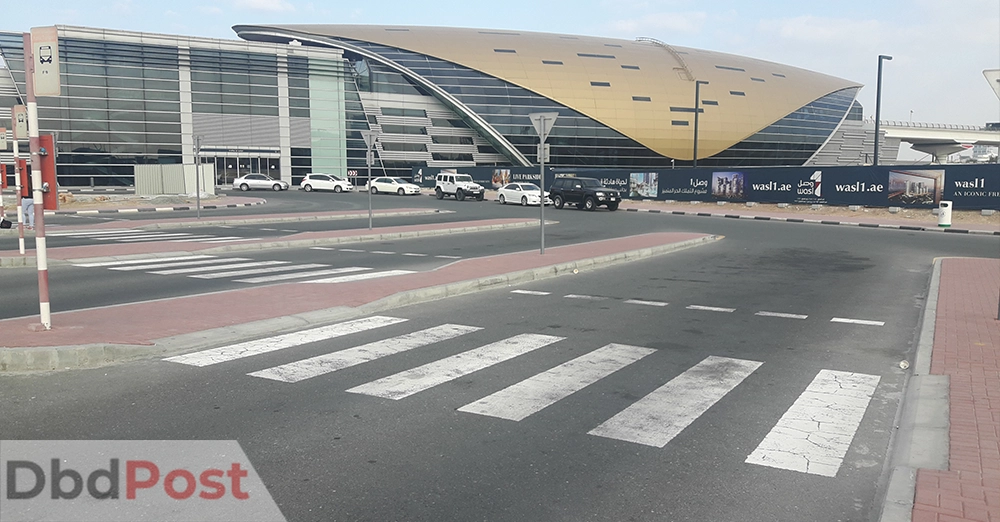 Max metro station is situated in a central location, conveniently located between two very different environments. On one side of the station are residential areas, and on the other side lies a bustling business area with various hotels.
Additionally, you can take a bus or metro to reach max metro Dubai. Plus, buses or taxis are readily available at the backside of the station for passengers' convenience.
Location: Al Jaffiliya, Al Kifaf, Dubai
Max metro station schematic map
The Max Metro Station schematic map is a valuable tool for commuters. It helps them quickly orient themselves within the station. This map includes the highlights of this metro station and other nearby attractions.
The metro station map is given below: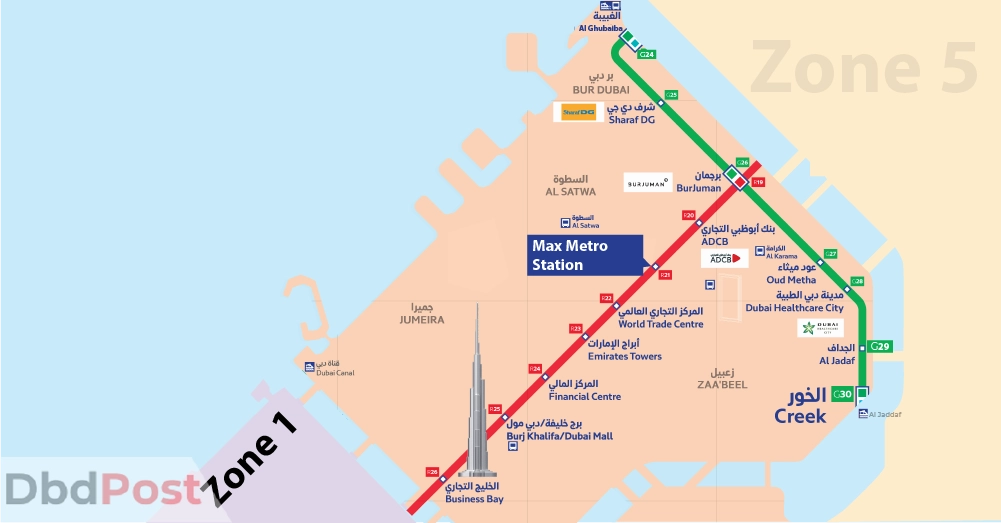 Max metro station timings
For the convenience of the thousands of people who use the metro daily, it is essential to be aware of the station timings.
During regular days, the stations open at 5 am and remain open until midnight. On Sunday, however, their operating times change slightly, and they open at 8 am instead of 5 am. [1] Government of Dubai, "Metro station opening hour, https://www.rta.ae/wps/portal/
For detailed information about Max metro station, see the table below:
| Days | Time |
| --- | --- |
| Monday to Thursday | 05:00 AM – 12:00 AM (Midnight) |
| Friday | 05:00 AM – 01:00 AM (Next day) |
| Saturday | 05:00 AM – 12:00 AM (Midnight) |
| Sunday | 08:00 AM -12:00 AM (Midnight) |
Services and facilities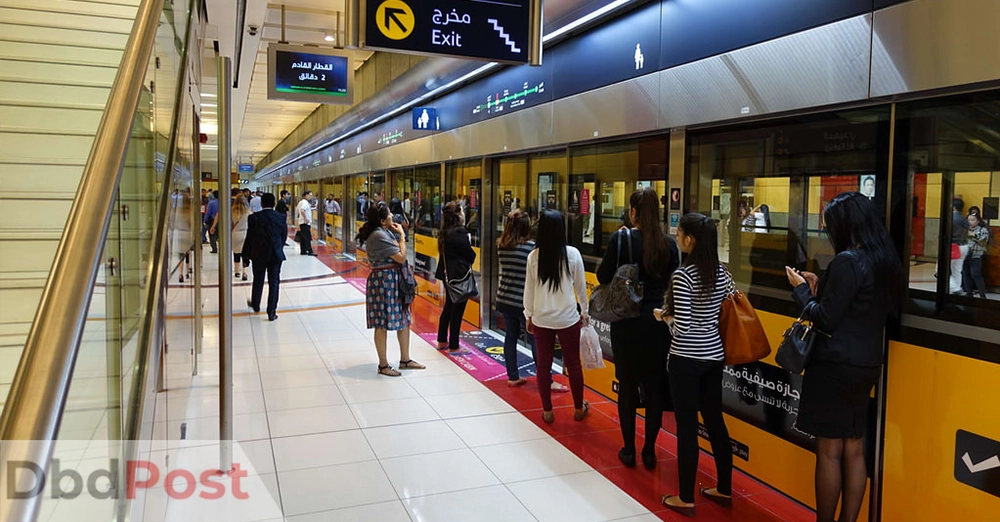 Max Metro Station has a range of facilities to make passengers' journeys more convenient. There is an ATM and Nol card recharge machine, enabling commuters to top up their cards when needed conveniently.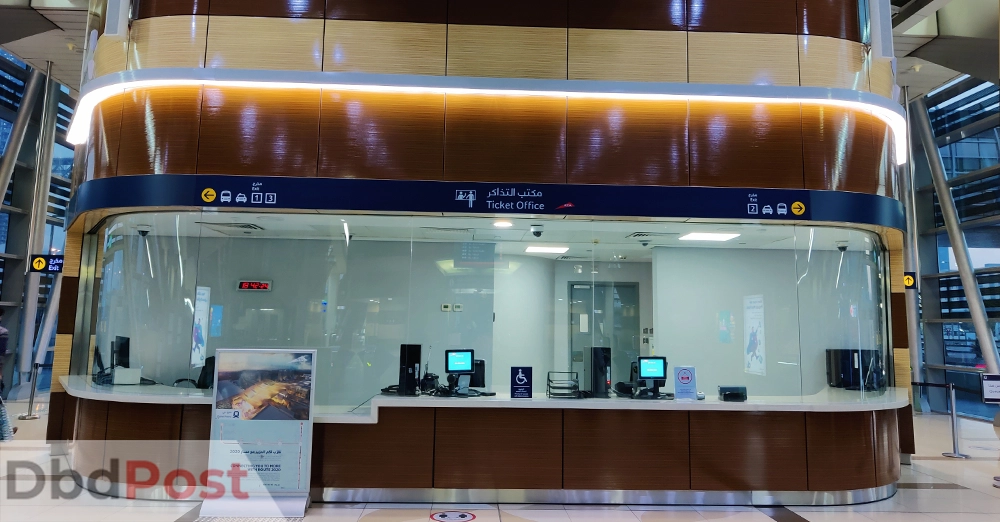 Likewise, there are information boards to display updates and timings, zoom stores for quick pickup of snacks or essential items, and ticket offices to purchase tickets.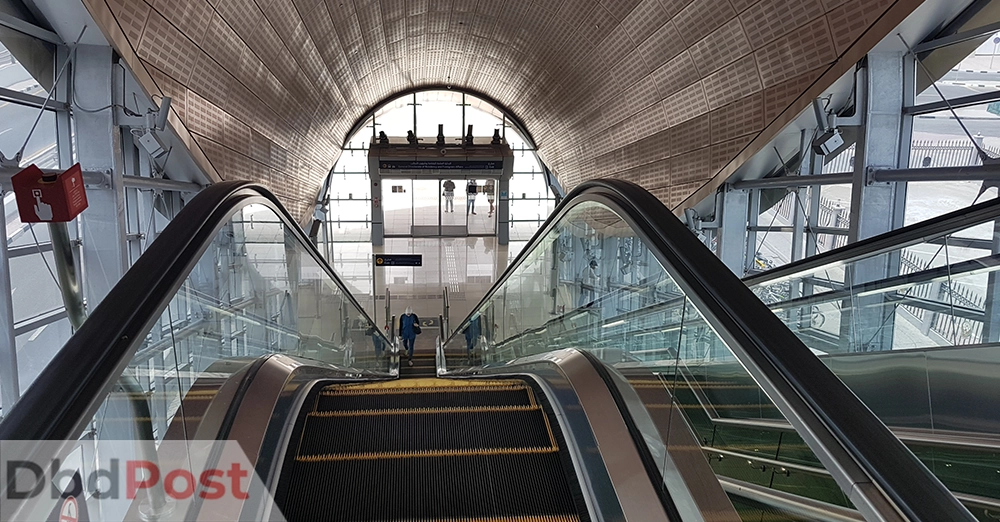 Furthermore, travelers can use the escalator to get around the station easily and comfortably. Plus, people arriving from either side of the road can easily reach the station via a secure pedestrian crossover.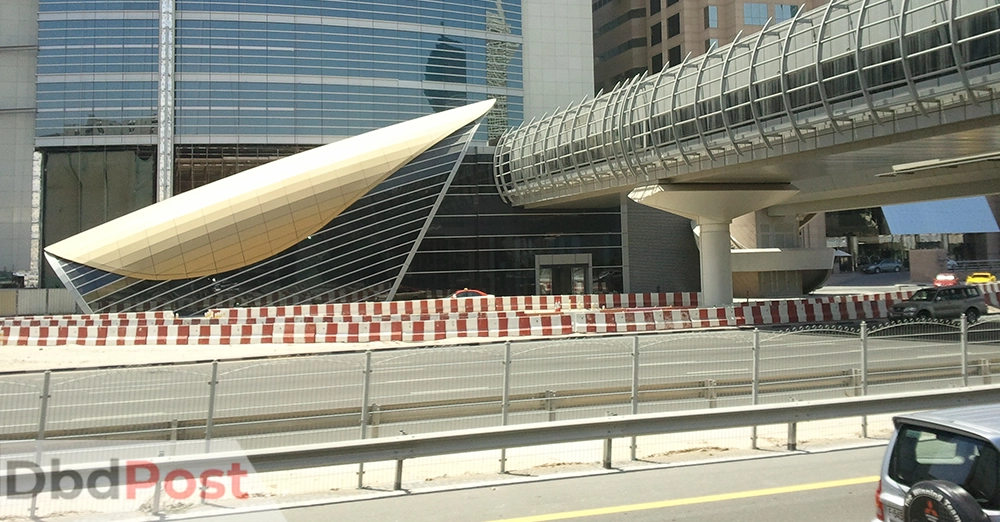 In addition, there are other facilities such as restrooms, wheelchair access, cycle parking, and Wi-Fi connectivity to help make your visit to Max metro comfortable and hassle-free.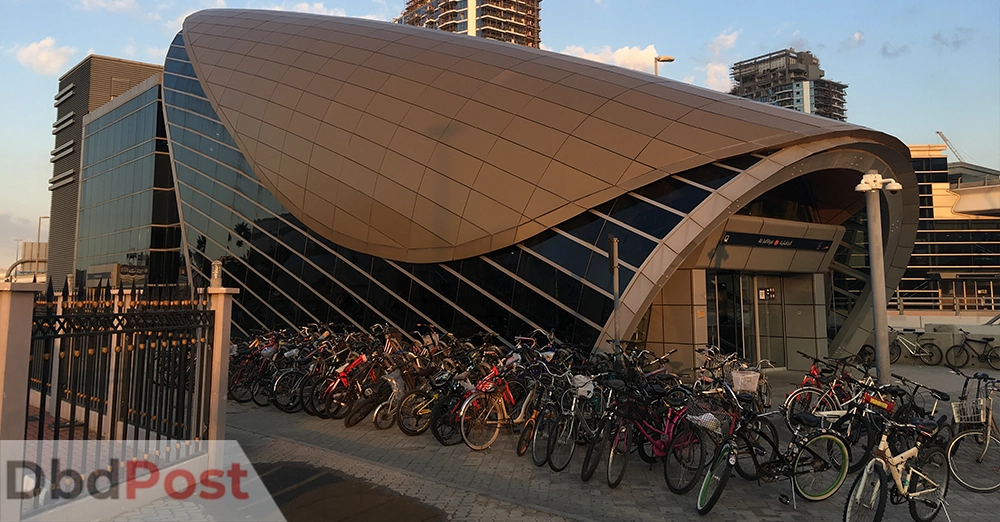 Attractions near Max metro station
The Max metro station is surrounded by some of the country's most iconic structures, such as the Dubai Frame and Sheikh Zayed iconic picture.
Furthermore, countless restaurants, parks, and hotels are close to the station. Visitors to the max metro Dubai can also enjoy shopping or sightseeing in a safe environment due to the presence of the Bur Dubai police station.
The following are some most popular attractions near the metro station:
1.

Zabeel Park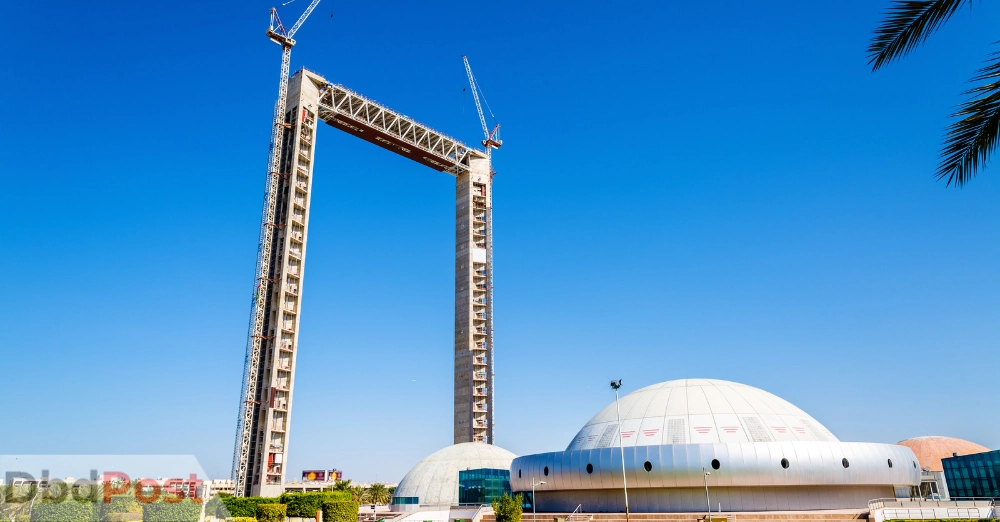 Zabeel Park is a popular destination close to the Max metro in Dubai. It provides an ideal spot for travelers who have some extra time on their hands.
Additionally, the park facilities offer a wide range of amenities for visitors. And the facilities available in the park are bicycle renting, prayer rooms, jogging and kids' area, free parking, theatre, cafeteria, suspension bridge to the main gate, and many more.
2.

The Dubai Frame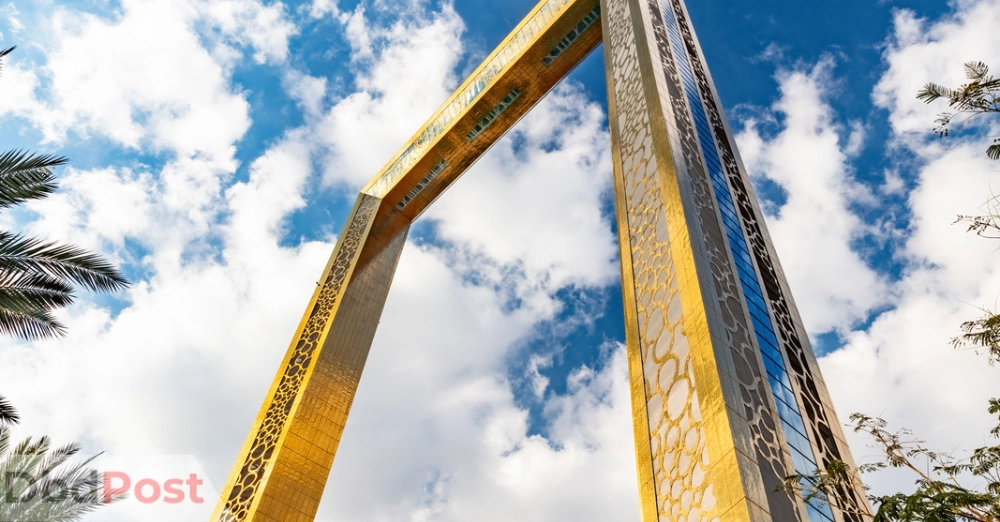 The Dubai Frame is a unique architectural marvel in Zabeel Park, Dubai. The frame stands 150 meters high and 95 meters wide, providing breathtaking views of the city. [2] About Dubai municipality, "Facts and figure, https://www.dubaiframe.ae/en/about-us#:~:text=dancing%20musical%20fountain.-,FACTS%20%26%20FIGURES,-Dubai%20Frame%20measures"
It is usually open for visitors every day of the year; therefore, it's best to plan your visit accordingly. Visitors need to purchase a ticket to enter the area and the ticket price may vary from children to adults. Plus, pets and smoking are not allowed in the Dubai Frame area.
3.

Dubai garden glow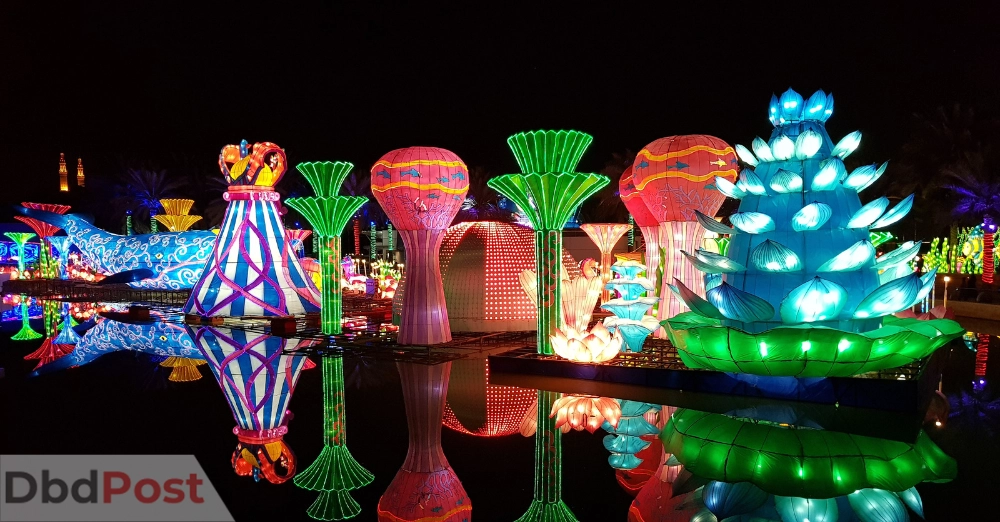 Dubai garden glow is an iconic nighttime experience with dazzling lights and decorations. This attraction draws in tourists and locals who marvel at its beauty.
Additionally, the main attractions are the glow park, magic park, dinosaur park, art park, and ice park. It is a creative place that will blow your mind. You can enjoy them with family and friends.
Related Info
---
FAQs
What is the old name of Max metro station?
The old name of Max metro station Dubai is Al Jafiliya metro station. It was renamed in August 2021.
How far is Dubai Frame from Max metro station?
The Dubai Frame is 1.7 Km from the max metro Dubai. You can reach there via  Sheikh Khalifa Bin Zayed St, which takes 3 min by vehicle.
Which metro line is the Max metro station?
Max metro station is a red line of the Dubai metro.
Which bus station is near Max metro station?
The nearest bus station to max metro is Max metro bus stop seaside and Al Jaflliya bus station.
How do I get to Abu Dhabi from Max metro station?
Take the red line metro to the Max metro, then transfer to the MBrch metro at the Jabal Ali metro station and continue on that line to the Ibn Battuta bus station. And from there, take RTA bus route E101, which stops at Abu Dhabi central bus station.
Final thoughts
Overall, the Max metro station is a vital transportation hub for Dubai. It has several facilities that make it a safe and convenient place to travel. Plus, the metro station timing is also convenient.
Whether you're looking to visit popular tourist attractions such as the Dubai frame or to enjoy the beautiful surroundings of Dubai Garden glow, Max metro Dubai has you covered.


Arijit Negi is an expatriate living in Dubai for 18 years. He completed his degree in Master of Arts in Journalism from the University of Mumbai. Arijit focuses on providing helpful guides and information for ex-pats living in UAE and visitors to the UAE.