A Dubai metro map can be invaluable for getting around the city's visitors and residents. Due to the metro's low fares and quick service, it has quickly become one of Dubai's most popular transportation options.
The Dubai metro route comprises a red and green line that serves the city's major landmarks from Bur Dubai, Dubai International Airport to Dubai creek. Similarly, Dubai Metro is rapidly expanding its services to offer a dependable, reliable option for commuters with the addition of park-and-ride facilities.
This Dubai metro guide will give you information on the Dubai metro station, including its history, fares, and operating hours.
In addition, we will provide you with a schematic and an interactive map, which will assist you in planning your trip efficiently.
Dubai metro network
The Dubai metro network has red and green line routes, which run through the city and serve numerous stations.
The red line is the longest and connects Al Rashidiya in the east to the Jebel Ali industrial area in the south. The green line, in contrast, runs from Etisalat in the north to Al Jaddaf in the south.
Apart from the Red and Green lines, there is also the Dubai Tram, which is an efficient and safe mode of public transportation.
It connects the Palm monorail and Dubai metro via Al Sufouh Road and Jumeirah Beach Road. It provides commuters with a convenient option for reaching their desired destinations quickly.
Below is an overview of the metro and tram lines with relevant information such as opening dates, number of stations, and more:
| Lines | Opening date | Route | Stations | Length |
| --- | --- | --- | --- | --- |
| Green line | 2011 | Etisalat to Creek metro station | 20 | 67 |
| Red line | 2009 | Centrepoint to Expo 2020 (main line) Jabal Ali to UAE Exchange (Branch line) | 35 | 22.5 |
| Tram | 2014 | Dubai Marina to Al Sufouh | 11 | 14.5 |
See also: Interactive Map of Dubai
Dubai metro schematic map
The Dubai metro schematic map is a must-have tool for anyone looking to get around the city easily.
It provides a detailed layout of all the red and green line stations and their respective transport zones, making it easy to calculate fares.
This map is designed to simplify navigating around town without hassle or confusion.
Here is the schematic Dubai metro map: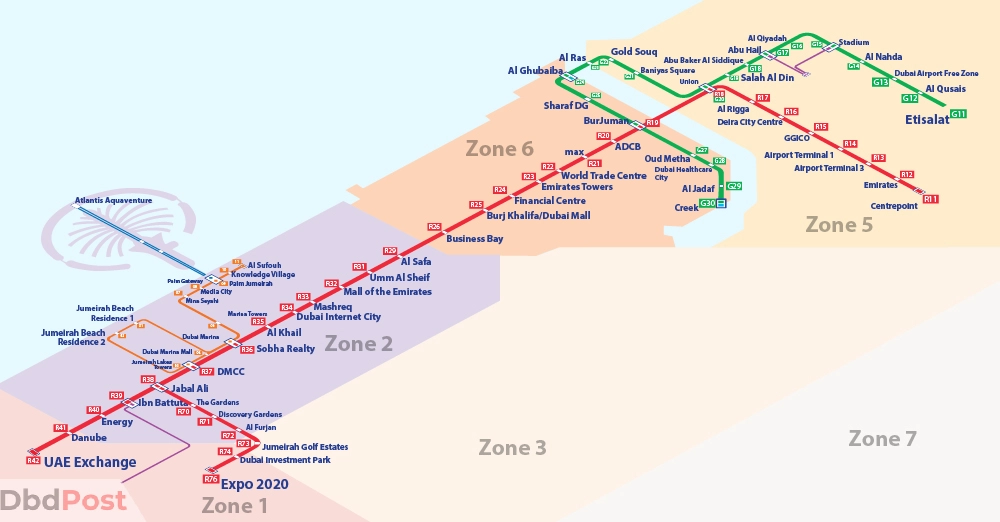 About Dubai metro
The Dubai Metro is a rapid transit system. It is the world's largest driverless metro network and the first urban rail network in the Gulf region.
Since January 2021, the Roads and Transport Authority has contracted Keolis to operate and maintain Dubai's metro. [1]BBC, "First Gulf metro system to open, http://news.bbc.co.uk/2/hi/middle_east/8245408.stm#:~:text=The%20first%20urban,miles)%20of%20track."
Additionally, the Dubai metro stations have various services that can make your trip more comfortable.
These features include private cabins for Gold Class members, dedicated cabins for women and children, Wi-Fi, lifts, and escalators. Similarly, each station has ticket machines and waiting areas with comfortable seating options.
Furthermore, all metro stations are composed of two levels: one with a platform, and another containing ticket kiosks, retail stores, and a concourse.
The interior of the metro stations is also designed with different themes to represent the history and traditions of old Dubai, its heritages, and themes inspired by Earth, Water, Air, and Fire.
General information about the Dubai metro
Below are some extra details regarding the Dubai metro that one should be familiar of:
History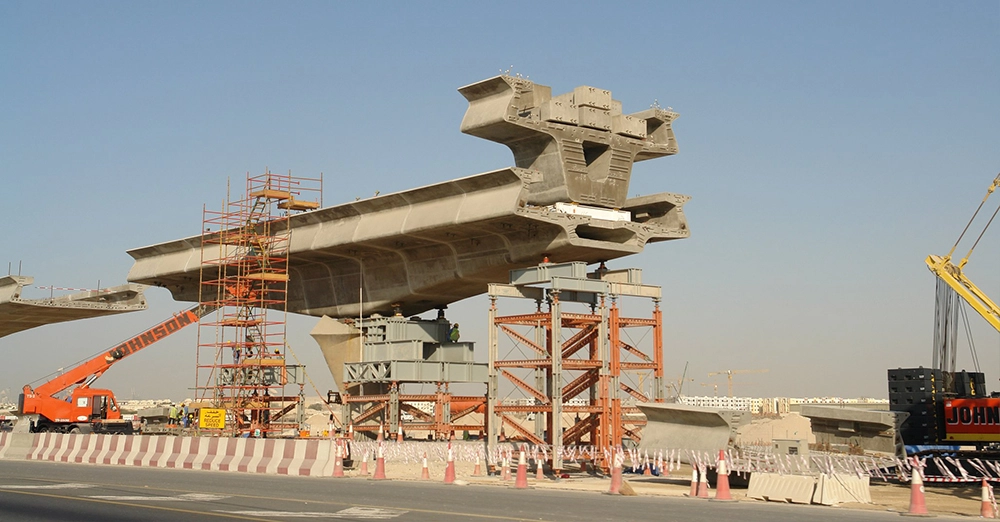 The construction of the Dubai Metro began in 2006, with its official opening of the red line in September 2009. Spanning an impressive 67 kilometers, the Red Line consists of 35 convenient stations for commuters.
It runs along the Sheikh Zayed road and covers Dubai's significant landmarks, business, and residential districts.
Moreover, traveling convenience was further increased when the Dubai metro opened an additional line known as the Green Line in 2011. It spans 22.5 kilometers from Etisalat Station to Creek Station, featuring 20 metro stations.
Parking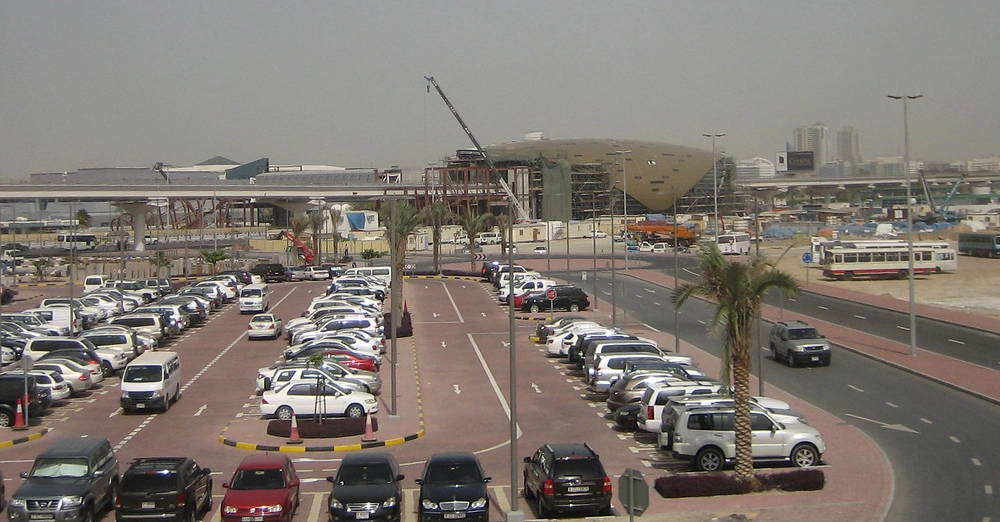 For those commuting via car, the three stations of the Dubai metro provide a convenient park-and-ride facility that features multi-level parking and other services to accommodate a lot of vehicles.
This convenient service is available free of charge for those who wish to use the metro. Moreover, it is designed to be secure so travelers can leave their vehicles without worries.
Here are three metro stations offering park-and-ride facilities along with their car-holding capacities: [2]<Khaleej Times, "Tracking the journey, … Continue reading
| Station name | Line | Spaces |
| --- | --- | --- |
| Etisalat metro station | Green line | 2300 cars |
| Centrepoint (Previously Rashidiya) | Red line | 2700 cars |
| Jabal Ali metro station | Red line | 3000 cars |
Train layout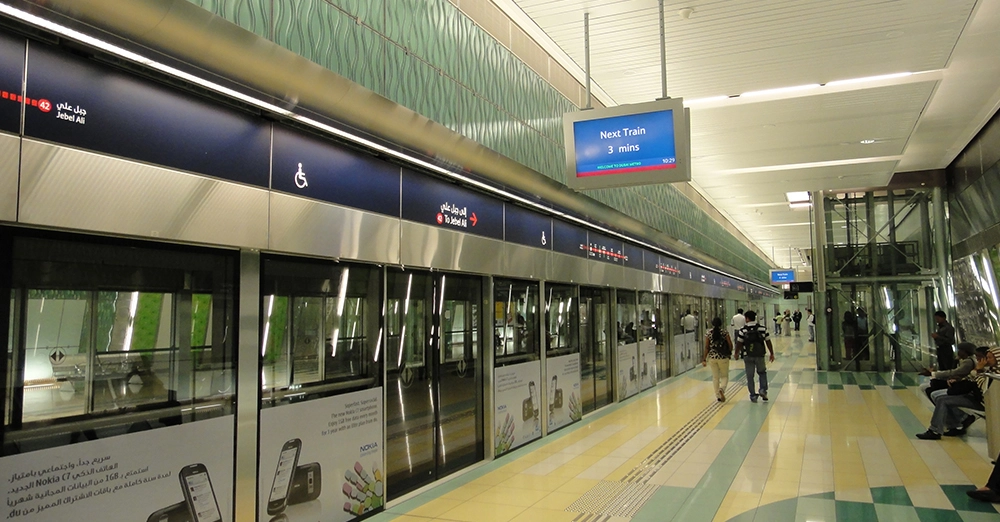 The Dubai Metro system is known for its fully automated, driverless trains and air-conditioned stations. The architectural firm Aedas designed the 45 metro stations, two depots, and operational control centers.
Additionally, the trains are air-conditioned and equipped with platform edge screens to maintain the integrity of the conditioned air in the carriages, which is vital in the hot climate of Dubai. As the temperatures can reach up to 40 degrees Celsius.
Furthermore, each train is divided into several cabins, with a designated cabin for gold card holders, exclusive for women and children. The remaining cabins are designated for Silver-class passengers.
Telecommunications
In October 2014, telecom provider Du agreed with the Road and Transport Authority of Dubai (RTA) to become the official Wi-Fi provider of the Dubai metro. [3]Du, " Du signed the agreement with RTA, … Continue reading
As a result, passengers on both the Red line and Green line metros now have access to high-speed free internet. Moreover the internet is at every station and all trains in operation, including 11 stations of the Dubai tram.
Additionally, Etisalat is the largest telecommunication provider providing 5G connectivity at the Etisalat metro station and has become the first 5G-enabled metro station in North Africa and the Middle East.
And metro consumers will have a special 5G experience with extremely high speeds of over 1Gbps and faster response time. [4]Khaleej Times, "Etisalat launches region's first 5G-enabled metro station in Dubai, … Continue reading
Airport and nearby station
Dubai International airport is a bustling hub of activity and home to two stations on the red line of the Dubai Metro. These stations are Airport terminal 1 and Airport terminal 3, respectively.
With metro service frequently running throughout the day, travelers can get to their destination in no time without needing to rely on taxis or other forms of transportation.
Also, passengers can bring two large suitcases per person and one carry-on bag into the metro with them.
Connection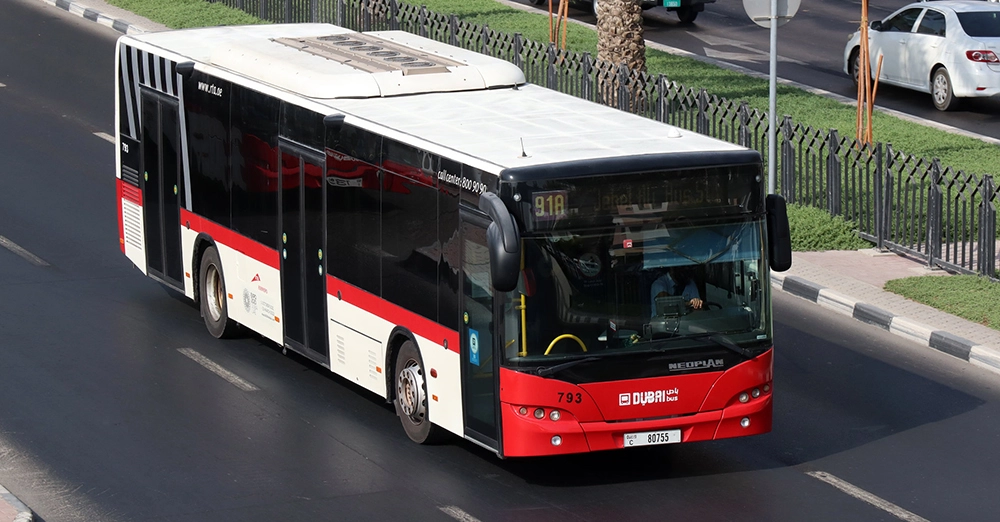 The Dubai metro is a modern and convenient transportation system that is well-connected to the Dubai bus.
It offers a total of 35 bus lines that link to various metro stations. Moreover it allows passengers to easily switch between the metro and other forms of public transportation, such as taxis and intercity buses.
For instance, departing from the bustling Union Station, one can take feeder bus F01 to Al Barsha or bus line 103 to Global Village. This service makes it easier for people to explore Dubai and other Emirates like Ajman and Sharjah.
Longest driverless metro
In 2011, the Dubai metro red line was recognized by Guinness World Records as the longest driverless metro line in the world. It is 52.1 km long (32.37 mi). [5]Guiness World Records, "Longest driverless metro line, https://www.guinnessworldrecords.com/world-records/longest-driverless-metro-line"
In September 2011, Dubai metro set another Guinness World Record for the metro network. It reached 74.694 km in length, combining both green and red lines. [6]Guiness World Records, "Longest driverless metro line, https://www.guinnessworldrecords.com/world-records/100309-longest-driverless-metro-network"
Interactive Dubai metro map
The interactive Dubai metro station map provides an easy-to-use guide for navigating the city.
All stations are displayed on red and green lines, with their actual locations marked on the map. The map also shows their routes and connections between them.
Red line metro station
Here is the list of all metro stations on the red line of the Dubai metro:
Green line metro station
Here is the list of all metro stations on the green line of the Dubai metro:
How to use the Dubai metro?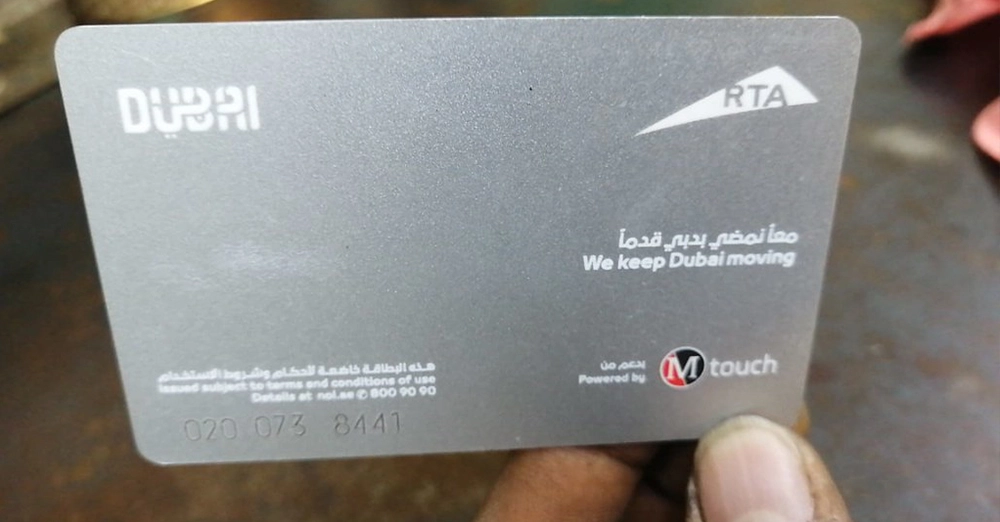 The Dubai Metro is a modern and efficient mode of transportation that makes it easy for commuters to travel around the city. We will go over the steps to use the Dubai Metro more efficiently.
Get a nol card
To use the Dubai metro, you'll first need a nol card. Every traveler can easily purchase the card at a ticket office; you can choose from silver, gold, or blue cards.
And for those visiting Dubai for a short time, the red ticket is an ideal option. Using this one-time ticket, you pay only for your exact journey. Plus, you can pay for your nol cards or red ticket with cash or debit/credit cards.
Enter the metro station
To enter the metro, tap your nol card on the card reader at the entrance gate.
Once you get inside the station, you can use the lifts or escalators to reach the platform and find your chosen train using the information display screens.
And, the metro arrives in intervals of 2-6 minutes, so you won't have to wait long for its arrival.
Find your train and cabin
Once the train arrives, you can go into the right cabin based on your ticket type. Passengers with a Gold ticket are provided exclusive access to their cabin.
Additionally, for the comfort of women and children, an additional private cabin caters specifically to them; men are not permitted in this area.
Exit the metro
Along its journey, the metro will arrive at numerous stations. Once you've arrived at your destination, exit the metro by tapping your nol card on the reader next to the gate.
This will automatically deduct fares based on which zone you pass through from your card balance and make for a hassle-free checkout process.
Dubai metro frequency
The Dubai Metro is the perfect way to explore this thrilling city, offering an effortless and efficient journey from one destination to another.
The 129 reliable trains that run across the Red, Green, and Route 2020 lines make getting anywhere you desire simple and hassle-free. [7]National News, "Trains a plenty, … Continue reading
Travelers, who depend on public transport, do not need to worry about catching a train as they come at regular frequencies.
During off-peak hours, travelers can get their metro every 5-7 minutes, whereas, during peak hours, it is roughly 3 minutes and 45 seconds.
Additionally, the metro system is well-connected to other transport services in Dubai, so commuters can easily travel to different parts of the city.
Dubai metro fares
Exploring the city of Dubai can be stress-free with its well-connected public transport network.
Utilizing the zone-based fare system, travelers can benefit from affordable fares depending on the number of zones they venture into.
Furthermore, fares are easily paid via the nol card – there are four types available – silver, gold, blue and red tickets – providing travelers with myriad options based on their needs.
Additionally, Dubai's transport interchangeability allows for greater flexibility regarding transportation needs. Travelers can switch between modes, such as the metro or bus, within thirty minutes of their last journey.
Moreover, it enables you to experience multiple forms of public transport across zones hassle-free.
The following table shows metro fares by zone and nol card type:
| Type | Silver Card | Personal Card | Gold Card | Red ticket |
| --- | --- | --- | --- | --- |
| Inside one zone | AED 3 | AED 3 | AED 6 | AED 4 |
| 2 Adjacent Zones | AED 5 | AED 5 | AED 10 | AED 6 |
| More than 2 Zones | AED 7.5 | AED 7.5 | AED 15 | AED 8.5 |
| Senior citizen, residents, students | N/A | 50% | N/A | N/A |
| Children below 5 years | Free | Free | Free | Free |
| People of Determination | N/A | Free | N/A | N/A |
Where to buy Dubai metro tickets?
The Dubai Metro network offers a unique and convenient payment method – the Nol card. Without cash, you can purchase your fare in seconds from any Metro station, with ticket vending machines and ticket offices easily accessible.
And, of course, there are more options to buy the Nol card; if you have time to spare, visit an RTA customer happiness center or an official RTA sales agent or get one online.
With the simple tap-in tap-out technology you can use at each checkpoint and the availability of these cards across multiple platforms, rest assured that your journey is hassle-free.
Timings of Dubai metro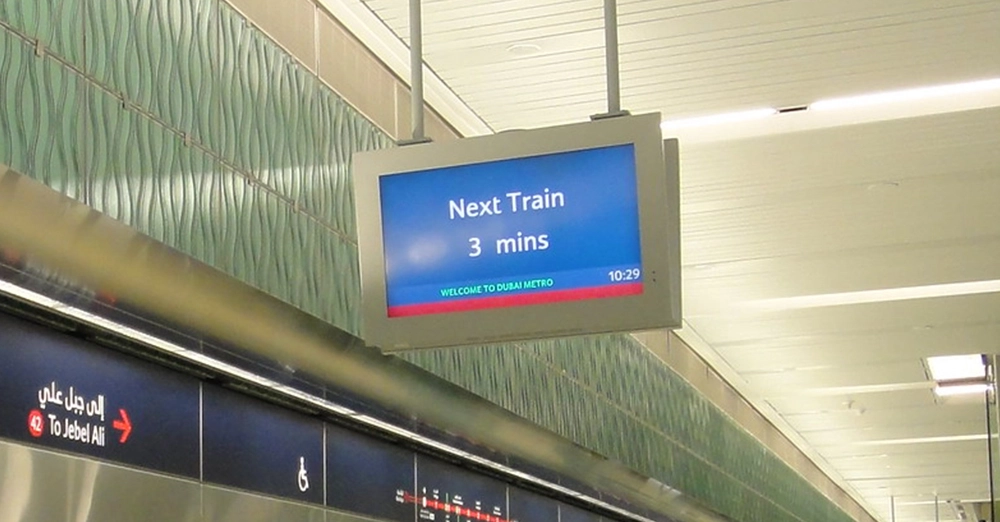 The Dubai Metro is the city's go-to transportation system for locals and visitors alike, renowned for its promptness and punctuality. All metro stations on the Red and Green lines are open simultaneously throughout the week.
The Dubai metro starts at 5 AM every morning, with Sundays having a delayed opening of 8 AM. The operating hours may vary on special occasions or public holidays.
To make sure you have up-to-date information on timings, you can download one of RTA's official applications, like RTA Dubai or S'hail.
Alternatively, you can also visit their website for comprehensive information about all transport services in the area.
Here are the precise times of Dubai's metro system:[8] Dubai Government, "Metro station opening hour, https://www.rta.ae/wps/portal/rta/ae/public-transport/timetable#DubaiMetro:~:text=Metro%20stations%20opening%20hours(for%20All%20lines)"
| Days | Time |
| --- | --- |
| Monday to Thursday | 05:00 AM – 12:00 AM (Midnight) |
| Friday | 05:00 AM – 01:00 AM (Next day) |
| Saturday | 05:00 AM – 12:00 AM (Midnight) |
| Sunday | 08:00 AM -12:00 AM (Midnight) |
Tips for first-time travelers
For first-time travelers in the Dubai Metro, travelers should keep several things in mind before hopping on the metro:
Here are some tips:
Familiarize yourself with the Dubai metro map: To ensure a smooth travel experience on the metro, it is essential to familiarize yourself with the route map. The Dubai metro route consists of red and green lines leading to various city destinations. So, knowing which line to take when planning a trip is essential.
Plan your journey: For anyone wanting to travel around Dubai for the first time, the RTA journey planner is an invaluable resource that can help make your trip more straightforward and efficient. By simply selecting their starting point, destination, and date, travelers can obtain all the necessary information about their journeys, such as fares and train schedules. Moreover, travelers can also receive real-time updates on any potential delays.
Purchase a Nol card or single-use ticket: You can purchase any Nol card at all metro stations in Dubai. Travelers can use the Nol card to pay fares on the Dubai Metro, tram, and buses. A nol Red Ticket is more suitable for occasional travelers. This cost-effective option allows you to save money compared to other nol cards.
Metro fares: The Dubai Metro system operates on a fare zone basis, and the fares vary depending on the number of zones traveled through. Before traveling, passengers can check the RTA website or online for fare information to determine their trip's overall cost.
Know the operating hours: Travelers in Dubai need to be aware of the operating hours of its metro system. All stations open and close simultaneously, making it easy to know when the trains are available.
Follow the signs: Passengers can easily access up-to-date train and route information by looking at the screens in both stations and trains. These displays provide details such as the times of incoming trains and their respective destinations and platforms upon arrival.
Follow the rule: If you are a first-time traveler, you should know all the metro rules and regulations. The Dubai metro has strict rules and regulations that must be followed, including prohibitions against eating and drinking, smoking, or bringing animals aboard (except for guide dogs) and more. So, if you want to avoid being fined, follow these rules while traveling on the Dubai Metro.
Use the women's and children's only carriages: The Dubai Metro has separate dedicated cabins for women and children, providing a safe environment for female travelers.
Dubai metro applications
Traveling on public transportation in Dubai is even easier now, thanks to the many convenient applications from the Roads and Transport Authority (RTA).
Using advanced technology, RTA has created intuitive applications that make exploring Dubai easier than ever.
In addition, these mobile applications allow commuters to check metro routes, schedules, and fares quickly. The RTA app helps people locate the nearest stop or view live metro movement status.
Here are some applications for your convenience:
S'hail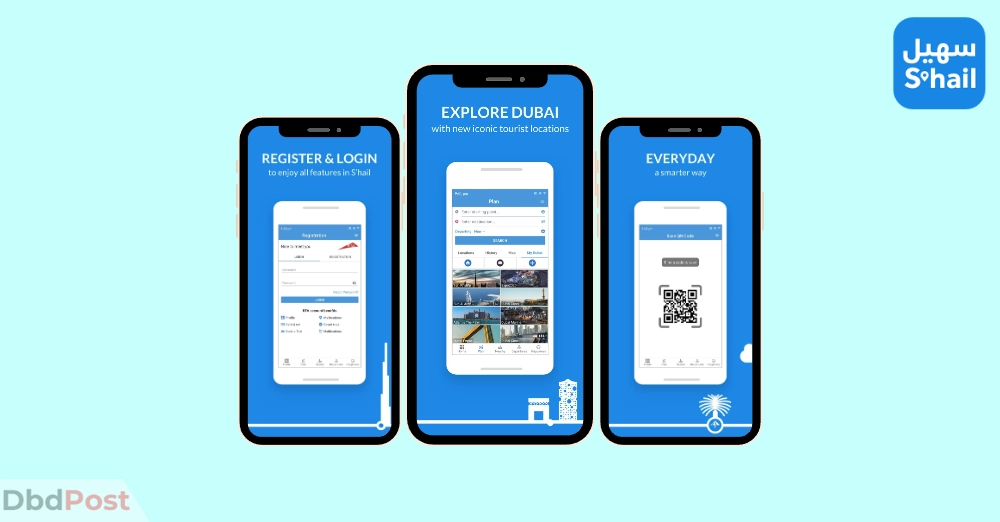 S'hail is a user-friendly app that helps you quickly get around Dubai, no matter where you are.
The app can help you find the nearest metro station and see all the different bus and metro routes. It also shows you the best public transportation options, like trams, taxis, buses, and even e-hailing.
Additionally, it provides users with useful features such as top-up and management of Nol cards, finding bus and metro routes, and getting real-time traffic updates. It also lets users see the live train map, making them plan their journey without hassle.
Download it from the App store, Google play store, or App Gallery for an effortless experience.
RTA Dubai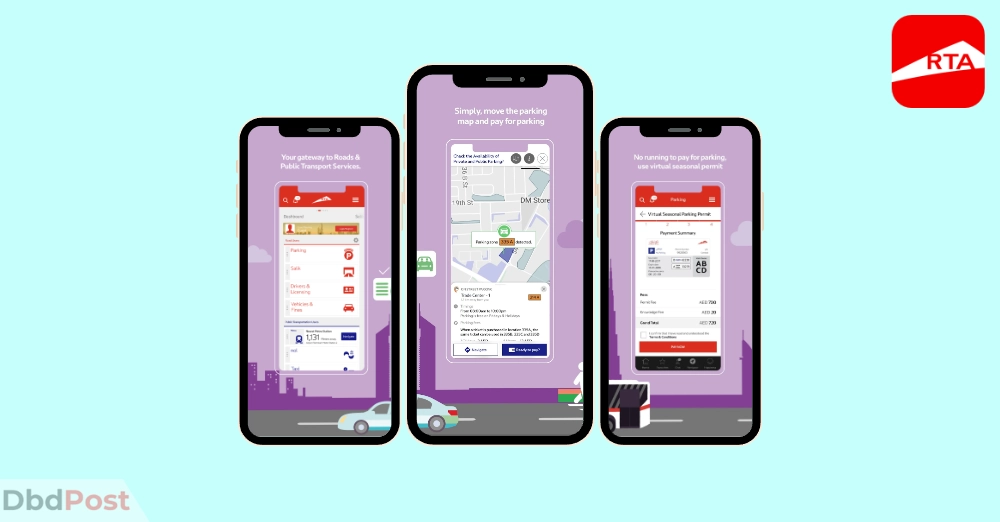 The RTA Dubai app is the perfect solution for all your transportation needs, enabling you to manage them efficiently and conveniently.
The huge success of this award-winning application over the past three years has provided travelers in Dubai with a reliable guide for their trips.
This transit app offers 40 distinct services and supports drivers and passengers from metro and bus stations to parking garages and taxi booking.
With so much at your fingertips, you can rest assured that this application will take care of your transportation needs. [9]Government of Dubai, "RTA Dubai app, https://www.rta.ae/wps/portal/rta/ae/home/smart-apps/app-details/rta-dubai/rta+dubai"
Additionally, you can now use this app directly on your smartwatch. Other features of this app are that you can pay for parking and top up your NOL balance without having to stand in queues.
Another noteworthy service is the ease of navigating to RTA Customer Happiness Centres using maps.
To get the most out of RTA Dubai, download the app from App Store, Google Play Store, or App Gallery. With this download, you'll be able to access all the features and services available with this application.
Dubai metro rules and regulations
When you ride the Metro in Dubai, it is essential to remember the safety guidelines travelers should always consider.
The RTA bus has a policy that requires every rider to abide by the rules and regulations established to keep everyone safe while they travel. [10]Dubai Government, "Rules and Code of conduct, https://www.rta.ae/wps/portal/rta/ae/public-transport/metro/about-metro#:~:text=Rules%20%26%20Code%20of%20Conduct"
Etiquette
To ensure everyone's metro ride is pleasant, travelers should always observe a few simple rules of conduct.
Kindly respect the boundaries of personal space.
Always make space for those who are behind you.
Kindly wait for other passengers to exit the train before boarding it yourself.
Move along the platform
Do not push other passengers.
Rules and Fine
You risk receiving a fine if you violate any of the metro's rules and regulations. The following is a list of a few of the fines that may be charged to someone found guilty of breaking the law:
| Fine | Rate |
| --- | --- |
| Entering a restricted area inside public transport, putting feet on seats | AED 100 |
| Disrupting others, eating or drinking in the metro | AED 100 |
| Bringing pets, misusing elevators, etc | AED 100 |
| Using expired, stolen, or invalid metro cards | AED 200 |
| Carrying alcohol on public transport | AED 500 |
| Carrying dangerous materials like weapons inside the metro | AED 1000 |
Baggage policy
All travelers should follow these regulations if they're planning to bring luggage traveling through the Dubai Metro.
When traveling on the metro, passengers can bring only two pieces of luggage.
1 Large suitcase of dimension 81cm x 58cm x 30cm
1 Small suitcase of dimension 55cm x 38cm x 20cm
Related Stories
---
FAQs
What are the seven zones of Dubai Metro?
Dubai Metro is separated into seven zones, which are used to calculate the fare of using various public transportation services.
Out of these zones, only five contain metro stations; each contains a bus station, water bus station, and tram station. 
Where does the Dubai Metro take you?
The Dubai metro will take you through the city's major attractions like Dubai mall, Burj Khalifa, Dubai international airport, Dubai marina, and many more.
The metro runs along Sheikh Zayed road serving the city's business, industrial and residential areas.
How many stations does Dubai Metro have?
The Dubai metro has two different lines, the red line and the green line. The red line has 35 stations, and the green line has 20 stations.
Can I travel with my dog in Dubai metro?
Only guided dogs are allowed on the metro and other public transportation. Anyone who brings their animal onto these modes of transit will be subjected to an AED 100 fine. [11]Dubai Government, "Transfer, https://www.rta.ae/wps/portal/rta/ae/public-transport/metro/about-metro#:~:text=AED%20100,for%20blind%20persons."
How can I pay for traveling in the Dubai metro?
You can use your nol card to pay for your Dubai metro fare. During their travels, passengers must purchase nol cards of any form, depending on their requirements. Also, remember that you cannot pay for your fare on public transit in Dubai with cash.
How much is a 30-day Metro pass?
For 30 days, silver card holders, a one-zone pass costs AED 140, two zones cost AED 230, and travel to all zones is priced at AED 350. Gold card holders pay more, with one zone costing AED 280, two zones AED 460, and all zones priced at AED 700.
Likewise, student and senior citizen fares differ again, with a one-zone pass costing AED 70, two zones priced at AED 115, and all-zone passes being charged at AED 175. [12]Dubai Government, "nol product prices, https://www.rta.ae/wps/portal/rta/ae/public-transport/Nol-Fares#:~:text=55-,30%20Days,175,-90%20Days"
Final thoughts
Whether you are a resident or a visitor, the Dubai metro map is a valuable resource for navigating the city and making it one of the most efficient and cheaper modes of transportation.
Passengers can quickly transfer between the Dubai metro and the bus network and travel throughout the city on time with this well-maintained system.
Additionally, by utilizing the Dubai Metro Guide, you can obtain relevant information about the Dubai metro. Plus, with the metro map featuring all stations on both lines – Red & Green – finding your closest station is a breeze!