The Green Line metro stations are the perfect solution to reduce traffic and parking concerns in Dubai's CBD and other areas. With public transportation, businesses and tourism will be convenient, and people can also easily reach remote places that aren't accessible by car.
The Dubai metro green line is a crucial transit from Etisalat to Creek Station. The green lines cover fare zone 5 and 6 and contain twenty stations. These stations go to places like the Al Shindagha museum, gold souq, and Dubai International Airport.
This Dbd guide will provide an in-depth look at the Green line metro of Dubai, which features both schematic and interactive maps. Every station along this line is included with its respective operating hours listed for easy reference.
Overview of Green line metro stations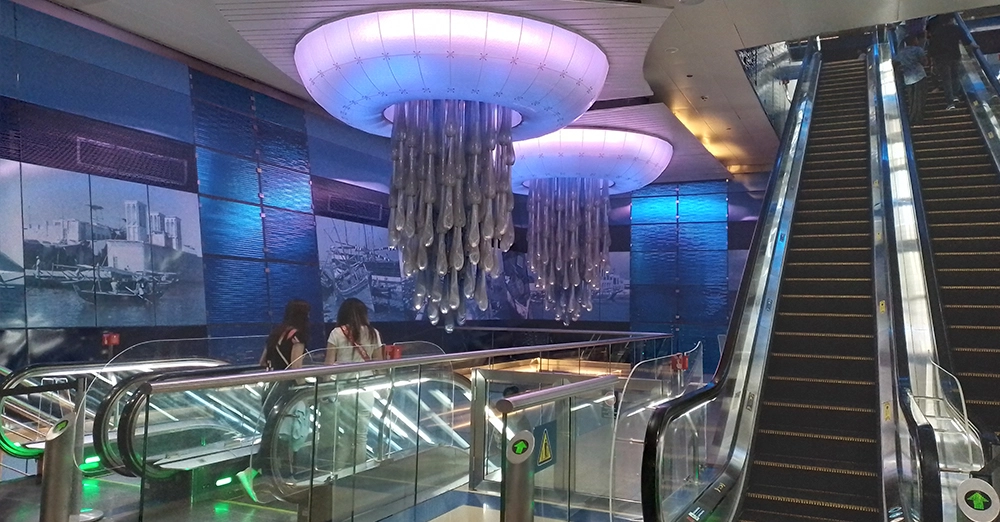 Riding the Dubai Metro is now much easier with the addition of the Green Line. In 2010, the public got access to their first 16 stations from Etisalat, and RTA expanded access in 2014 with an additional two stations at Al Jadaf and Creek.
Likewise, with a total of 20 metro stations, this line spans 23 kilometers, with commuters able to ride 8 kilometers underground from Salah Uddin station to Burjuman Station. With the convenience of the Green Line, public transport in Dubai has become easier than ever for locals and travelers alike.
| | |
| --- | --- |
| Owned by | RTA (Dubai) |
| Opened | September 9, 2011 |
| Number of Stations | 20 |
| Type | Rapid transit |
| Daily ridership | 10,000 |
| Line length | 22.5 kilometers |
| Operating speed | 95 km/h (59 mph) |
Dubai green line metro stations schematic map
With the schematic map of Dubai green line metro stations, you can locate everything conveniently on one page, making navigating the city much more accessible and efficient.
Riders can quickly pinpoint exactly where each station is located and how far apart it is from other stops. It allows riders to choose which ones they need for their journey or skip any unnecessary stops.
Additionally, the zone system has made things much easier for riders, as each station is labeled with its corresponding zone. With this, anyone can immediately assess how many zones their journey crosses and precisely determine their metro fare.
Check the Dubai green line metro station map below: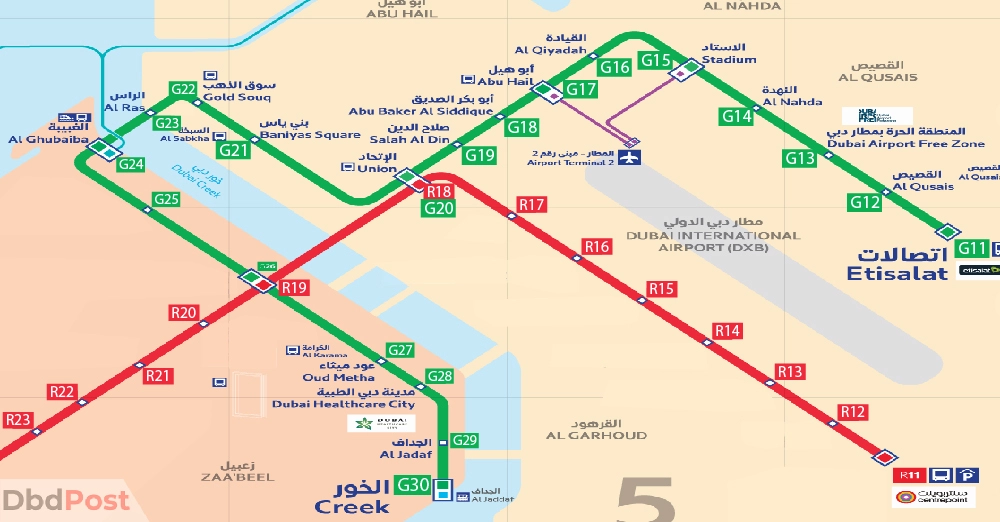 Dubai green line metro stations with the interactive map
Taking public transportation in Dubai doesn't have to be a stressful experience. So, using the green line metro station map, one can plot out their desired route quickly and conveniently.
Additionally, users can view more information about the transit stop by clicking or zooming in on the map. This includes nearby attractions, zone, and connecting points to other transport hubs.
The table below displays all the Dubai metro green line stations and their fare zones. In addition, the exact location of each station is included for your convenience.
Green line metro stations timings
Exploring the city of Dubai has become easier for commuters with the regular service for both the Red and Green Line Metros. The Green Line operates at similar times as the Red Line, so passengers can always plan when their train will arrive with ease.
Despite this, some days may involve changes to the timetable for special events or public holidays. It's always wise to consult local sources and check transit schedules before journeying to one's destination.
But now, users won't need to worry about unexpected delays; two amazing apps – RTA Dubai and S'hail – give commuters access to live updates on Green Line Metro times. With these two tools, you're sure to be able to plan your travels around the city effectively and reliably.
Take a look at the timetable of the green line metro below.[1] Government of Dubai, "Metro station opening hour, https://www.rta.ae/wps/portal/rta/ae/public-transport/timetable#DubaiMetro:~:text=Metro%20stations%20opening%20hours(for%20All%20lines)"
| Days | Time |
| --- | --- |
| Monday to Thursday | 05:00 AM – 12:00 AM (Midnight) |
| Friday | 05:00 AM – 01:00 AM (Next day) |
| Saturday | 05:00 AM – 12:00 AM (Midnight) |
| Sunday | 08:00 AM -12:00 AM (Midnight) |
See also: Dubai Interactive Map
Noteworthy stations in Green Line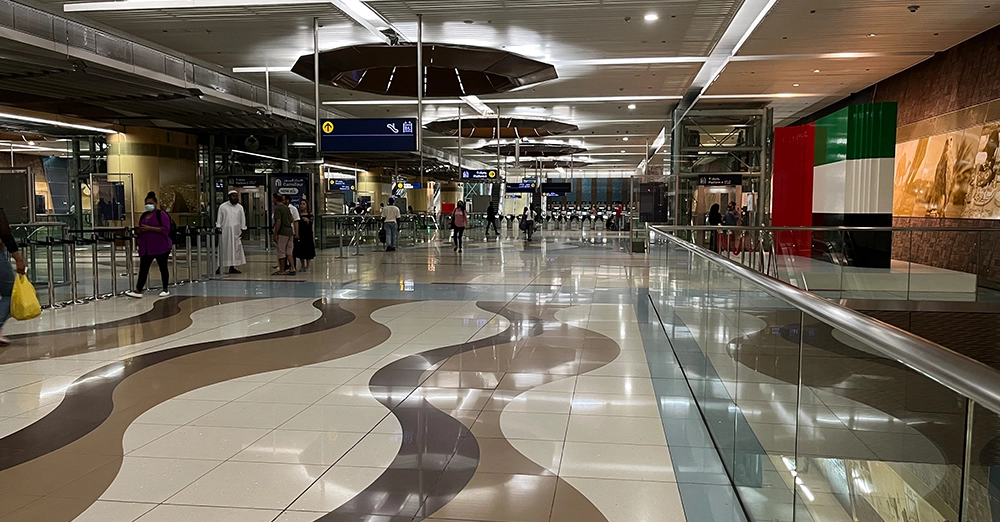 The Green Line metro stations of the Dubai metro system comprise two transfer stations: Union Metro Station and Burjumn Metro Station. Commuters can easily transfer between the red and green lines metro without incurring an additional charge.
Union Metro Station is one of the two transfer stations considered the world's largest metro station, spanning 25,000 square meters and able to handle up to 22,000 passengers per hour. And the second largest station on the green line is Burjuman metro station, formally known as Khalid bin al Waleed.
Similarly, the Etisalat station in Al Qusais is a special station on the Green Line, offering a much-needed convenience to commuters. It features a Park-n-Ride facility that can hold an impressive 2,300 cars.
Likewise, the Al Qiyadah Station, located on the busy Al Ittihad Road, is the largest elevated station in Green Line. This station is named after the Dubai Police General HQ. It is big enough to hold 11,000 passengers per hour in either direction.
Related Stories
---
FAQs
What are the stations of the green line metro?
The Green Line Metro is a high-speed transit system running through Deira and Bur Dubai that boasts 20 stations. Etisalat is the starting point of this journey, and Creek marks its terminus.
How many green metro stations are in Dubai?
There are 20 stations on the green line metro of the Dubai metro system. This metro line extends from Etisalat station to Creek station.
Which line is Al Qusais Metro Station?
The Al Qusais metro station is on the green line of the Dubai metro system. It lies in Al Nahada street. 
What are the services provided in the Green line metro?
The Green Line Metro offers an array of remarkable services, including a cabin dedicated to women and children, Wifi access throughout the station, and tactile guidance features to help with navigation. It also provides wheelchair-accessible lifts and escalators and helpful information displays.
Final thoughts
The Green Line Metro is a vital part of the public transportation network in Dubai. Over the years, it has emerged as the preferred mode of transport for that commuting between Bur Dubai and Deira.
Its efficient and fast service provides a safe and comfortable journey across Dubai. Moreover, with its numerous stops along iconic landmarks, gold markets, shopping districts, and business hubs, riding the Green Line Metro is an ideal way to explore all that Dubai offers.
In short, no visit to Dubai is complete without taking a trip on the Green Line Metro!


Arijit Negi is an expatriate living in Dubai for 18 years. He completed his degree in Master of Arts in Journalism from the University of Mumbai. Arijit focuses on providing helpful guides and information for ex-pats living in UAE and visitors to the UAE.