For commuters looking for a convenient, timely way to travel around Dubai Marina and JBR, the Dubai Tram has you covered. The tram is a quick, reliable, and eco-friendly way to get around Dubai.
Dubai tram is a modern and efficient transportation system that connects several key areas of the city, including the Dubai Marina, Jumeirah Beach Residence, and Dubai Media City. Each tram line operates within zone 2, and the fares are very reasonable.
This guide has all the information you need to make your tram journey in Dubai smooth and convenient. It includes information on the tram's schematic maps, fares, timings, and a list of all the tram stations in Dubai.
About Dubai Tram
Using the Roads and Transport Authority's (RTA) tram system is an easy way to explore Dubai. It was launched in November 2014 and had 11 stops in its first phase. [1]Khaleej Times, "From Today: 11 Trams, 11 Stations, and 11 Kilometers, https://www.khaleejtimes.com/business/from-today-11-trams-11-stations-and-11-kilometres"
This super transit connects the Dubai Metro with the Palm Monorail along Al Sufouh and Jumeirah Beach Road, helping commuters get where they need to go quickly. This convenient system has grown in popularity since its launch.
Up to September 2020, over thirty million people have ridden on it. And by the first half of 2022, 3.6 million passengers had hopped on board. Tram is becoming one of the favorite ways to get around Dubai.
Dubai Tram schematic map
The Dubai tram schematic map provides a comprehensive overview of all the routes of the tram system in Dubai.
It displays all the stations along each route, with their names clearly marked so riders can quickly locate their stops.
Additionally, it shows how the tram is connected with Dubai Metro, allowing users to traverse between both systems effortlessly.
Check the Dubai Tram map below: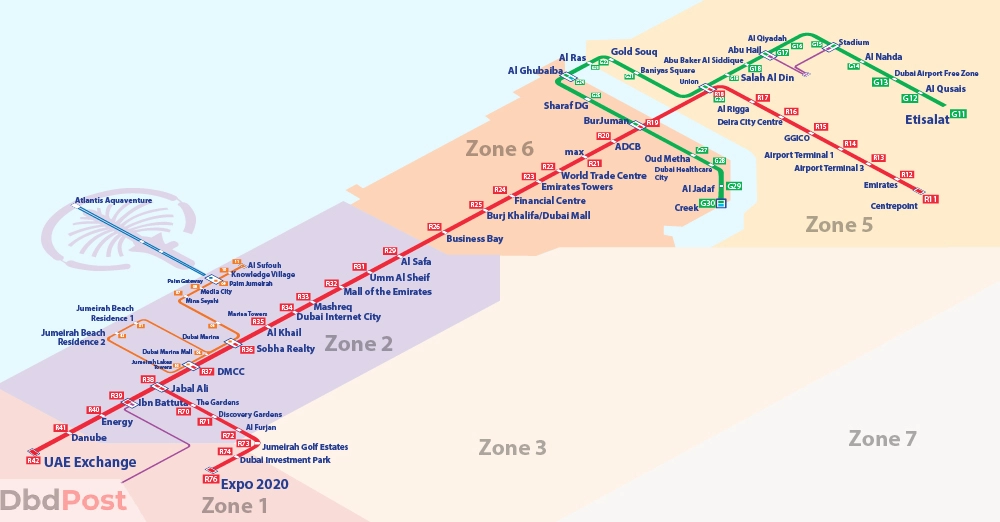 Dubai Tram interactive map
The tram interactive map makes it easy to find where each station is and how to get there. It's user-friendly – you only need to click a few times and see the station's location in no time.
This is great for anyone who needs to take the tram, as it can help make their journey much smoother. And with all that information in one place, you won't have trouble finding your destination.
List of all tram stations
The Dubai tram system makes getting around town easy. You can transfer between the tram and metro at two stations on Sheikh Zayed Road – Sobha Realty station and DMCC station.
These connections provide many different travel routes in Dubai, so it's easy to get there no matter where you're headed. With 11 different tram stops located at various places, it has never been easier for people to get where they want to go.
Here is the list of the Dubai tram stations: [2]Government of Dubai, "Tram line, https://www.rta.ae/wps/portal/rta/ae/public-transport/metro-stations-map#:~:text=Green%20Line-,Tram%20Line,-01%20%2D%20Jumeirah%20Beach"
See also: Interactive Map of Dubai
Dubai Tram fares
Taking a ride on the tram in Dubai is an affordable way to get around the city. Passengers will find that fares for the tram are quite reasonable.
The standard fares for the tram start at AED 3 for a single journey ticket and AED 6 for a round-trip ticket.
Additionally, passengers can switch between the metro and the trams in Dubai because the two modes of transportation are connected. And switching between them will be free if the passenger makes the switch within 30 minutes.
With all trams falling within a single zone, the below prices cover tram fares exclusively for one zone. Here are the fares for the tram:
| Type of card | Price |
| --- | --- |
| Silver card | AED 3 |
| Gold card | AED 6 |
| Personal card | AED 3 |
| Red tickets | AED 4 |
In addition to standard fares, the Dubai Tram also offers discounted fares for children, students, and senior citizens. Children under the age of 5 can ride the tram for free. Students who apply for a personal Nol Card can enjoy a 50% discount.
Where to buy Dubai tram tickets?
Taking the tram in Dubai is easy. All you need is a valid NOL card. Using an NOL card helps keep track of your journey and can be used on other transportation services in Dubai, like buses and metros.
There are many places where you can also purchase tickets for the tram. You can check at ticket vending machines or metro or tram station offices. Or, if you're looking for something more convenient, you can buy your ticket through the nol Pay app or from authorized sales agents.
Dubai Tram timings
The Dubai Tram provides a fast and reliable way to get around the city for 19 hours daily. With trams coming at intervals of about 8 minutes, you don't have to wait long or worry about being left behind.
You can take the tram from Dubai Marina to Jumeirah Beach Residence (JBR), no matter what time of the day it is – it starts running at 6:00 AM and doesn't stop until 1:00 AM the following day. The tram not only makes getting around more convenient, but it also helps reduce traffic congestion too. [3]Government of Dubai, "Transport using Dubai tram, https://www.rta.ae/wps/portal/rta/ae/home/rta-services/service-details?serviceId=3704453#:~:text=Average%20waiting%20time,8%20minutes."
Checkout the detailed Dubai tram timings:
| Days | Time |
| --- | --- |
| Monday to Saturday | 06:00 AM to 01:00 (Next Day) |
| Sunday | 09:00 AM to 01:00 (Next Day) |
Services and facilities
The Dubai tram is a marvel of modern engineering, providing riders with top facilities and services. It is the world's first tram system to incorporate Platform Screen Doors in each station, allowing its doors to open and close perfectly in sync with the tram.
All the air-conditioned stations are designed and equipped to provide optimal comfort and convenience for their passengers. With private cabins for gold-class ticket holders, separate cabins for women and children, and dedicated tram police for safety measures, customers always feel safe.
In addition, free Wi-Fi and mobile coverage at all Dubai tram stations allow visitors to remain contactable while traveling. Lifts are also installed at all the stations, making it possible for travelers with mobility issues to access different levels of platforms.
Additional information
The initial stage of the tram system was completed in 2014, including a track length of 10.6 kilometers and 11 stations. These trams can transport up to 405 passengers on a single journey. Each measure 44 meters in length and include seven separate cabins.
The project's second phase will extend the tram to connect to the Mall of the Emirates. This will make the total distance traveled by tram 14.6 kilometers. This extension would add 4 kilometers to the route. This phase also includes the addition of 14 more trams, bringing the total number of trams to 25.
Related Stories
---
FAQs
How much does the Dubai tram cost?
With a Silver or Personal NOL card, you can travel in the Dubai tram for just AED 3. If you have a gold or red ticket, it will cost you only AED 6 and 4, respectively. [4]Government of Dubai, "Compare fares, https://www.rta.ae/wps/portal/rta/ae/public-transport/Nol-Fares#:~:text=Cards%20by%20Fares-,Type,4,-2%20Adjacent%20Zones"
How long does the Dubai tram take?
The time duration on a tram in Dubai will take around 42 minutes to go from one end to the other.  
How often does the Dubai tram run?
In Dubai, the tram runs seven days a week from 6:00 until 1:00 in the morning of the following day.
How fast is the Dubai tram?
The trams in Dubai go at an average speed of 20 km per hour. And the top speed is around 50 km per hour.
Is the Dubai Tram free?
No, the tram in Dubai does not provide complimentary travel. You must have a Nol card that will cost you AED 3 to ride on the tramway system.
Does Dubai Tram go both ways?
The tram goes around the JBR in one direction. The tram can go back and forth from the depot to Al Sufouh.
Final thoughts
The Dubai Tram offers an efficient and comfortable way to explore the city. Tram route Dubai is a popular way for tourists and locals to travel around Dubai marina because it is affordable and has regular service. You can also avoid traffic if you take the tram and you will be able to reach your destination on time.
Plus, it is conveniently connected to two metro stations and the Palm Jumeirah monorail, making it easy to get around any part of Dubai. Moreover, it provides additional amenities such as private cabins, lifts, ticketing, and free Wi-Fi, making it even more desirable. All these features make the Dubai Tram an excellent choice for anyone wanting to explore all of Dubai's offers.


Arijit Negi is an expatriate living in Dubai for 18 years. He completed his degree in Master of Arts in Journalism from the University of Mumbai. Arijit focuses on providing helpful guides and information for ex-pats living in UAE and visitors to the UAE.