Al Qusais metro station is the perfect place to start your journey through Dubai and experience the city's vibrant culture. Al Qusais Station is an ideal way to get around town with its convenient location and easy access to public transportation. However, navigating this station can be tricky if you are unfamiliar with Dubai's structure.
Al Qusais metro is the second metro station in the green line of the Dubai metro system. It lies on the fare zone 5. This station provides many facilities to make your experience as comfortable as possible, including convenient ticket machines, free Wi-Fi, and private cabins.
In this guide, you'll find everything you need to jump-start your exploration of the area, including operating hours and a station map so that you can sort out its features. Similarly, this guide also covers places to visit near Al Qusais Station to have fun outside the station.
Overview of Al Qusais metro station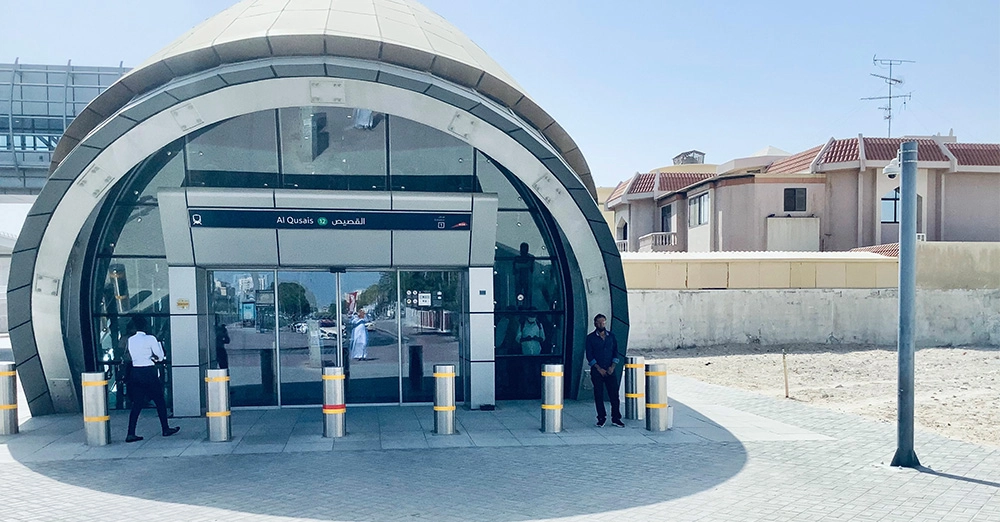 The Al Qusais metro station opened in 2011, becoming an invaluable addition to the city's transportation system. By providing convenient service to nearby offices and institutes of the Dubai Municipality, many of the area's commuters have become thankful for its presence. This location is excellent for commuters and boasts a stunning water-themed design, making it stand out from other stations. [1]khaleej Times, "Tracking the journey, … Continue reading
| | |
| --- | --- |
| Location | Al Qiyadah, United Arab Emirates |
| Line | Green line |
| Station Code | G16 |
| Fare zone | 5 |
| Preceding station | Abu Hail metro station |
| Following station | Stadium metro station |
| Transfer station | No |
| Dubai Tram connection | No |
| Previous name | NA |
Location of Al Qusais metro station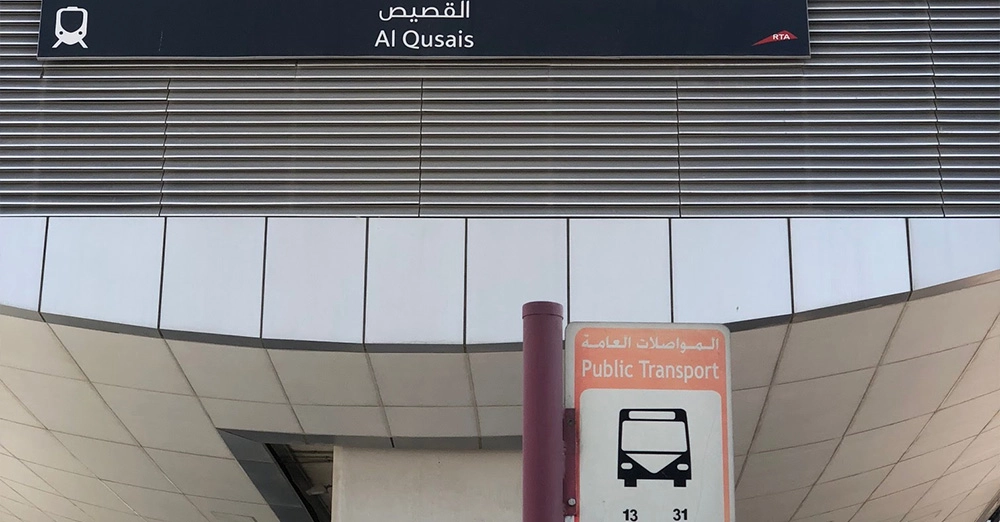 Al Qusais station is ideal for travellers and locals, as it sits conveniently near Al Nahda street, Dubai Municipality, a fire station and the Al Qusais police station. It also overlays a plethora of schools and several public transportation options.
Commuters can easily access buses that feed into the station and other ones to arrive safely at their desired destination. The bus lines increase versatility, with designated express routes adding convenience and making travelling around the city efficiently and straightforward.
Location: Al Nahda street, United Arab Emirates
Al Qusais metro station schematic map
The Al Qusais metro station schematic map provides an easy-to-follow reference for frequent and occasional metro riders. This map helps you find exactly where Al Qusais station is located. Plus, it shows you other metro stations on the red and green lines.
Given below is the Al Qusais metro station map: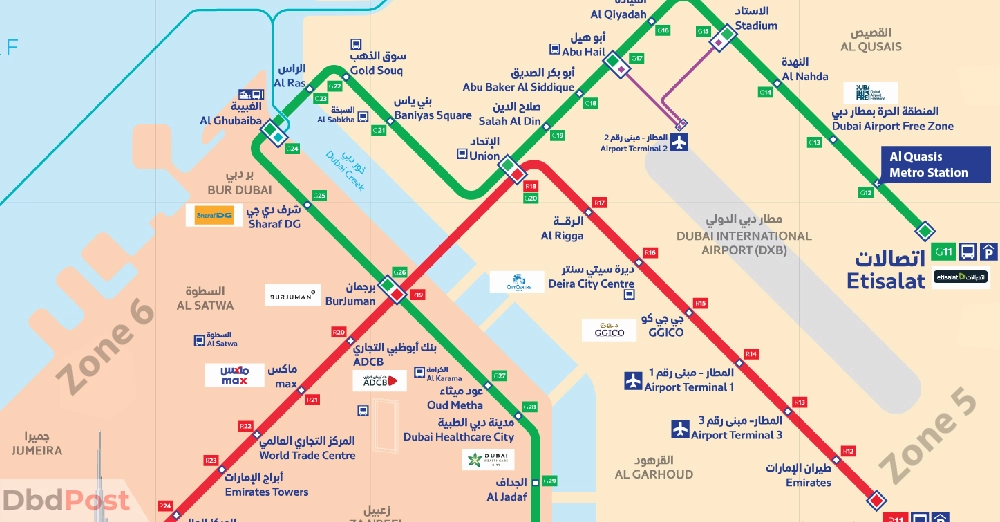 Al Qusais metro station timings
All of the metro stations in Dubai have the exact operating times, including Al Qusais station. However, the metro station may have slightly different operating hours on busier days, such as public holidays and special events.
See the detailed timetable of this metro station below: [2] Government of Dubai, "Metro station opening hour, https://www.rta.ae/wps/portal/rta/ae/public-transport/timetable#DubaiMetro:~:text=Metro%20stations%20opening%20hours(for%20All%20lines)"
| Days | Time |
| --- | --- |
| Monday to Thursday | 05:00 AM – 12:00 AM (Midnight) |
| Friday | 05:00 AM – 01:00 AM (Next day) |
| Saturday | 05:00 AM – 12:00 AM (Midnight) |
| Sunday | 08:00 AM -12:00 AM (Midnight) |
Services and facilities
Al Qusais station is a luxurious and modern metro station in Dubai, offering a variety of amenities for passengers. With separate private cabins for women and children and private riders, it allows for a comfortable ride.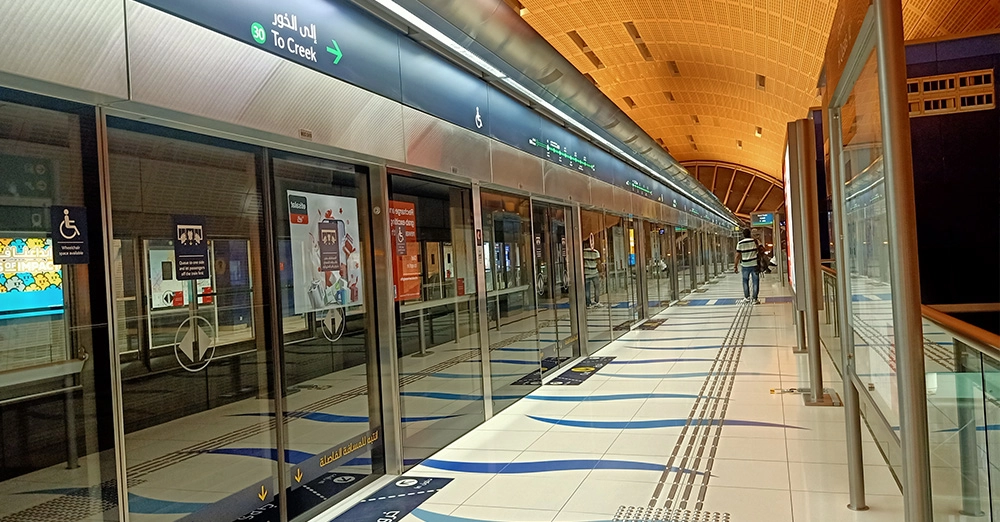 CCTV cameras are situated throughout to ensure the station remains safe and secure, with metro police officers patrolling the area. Tactile paths are also provided for passengers with visual impairments, along with ramps and lifts at each platform to make the metros accessible regardless of disability.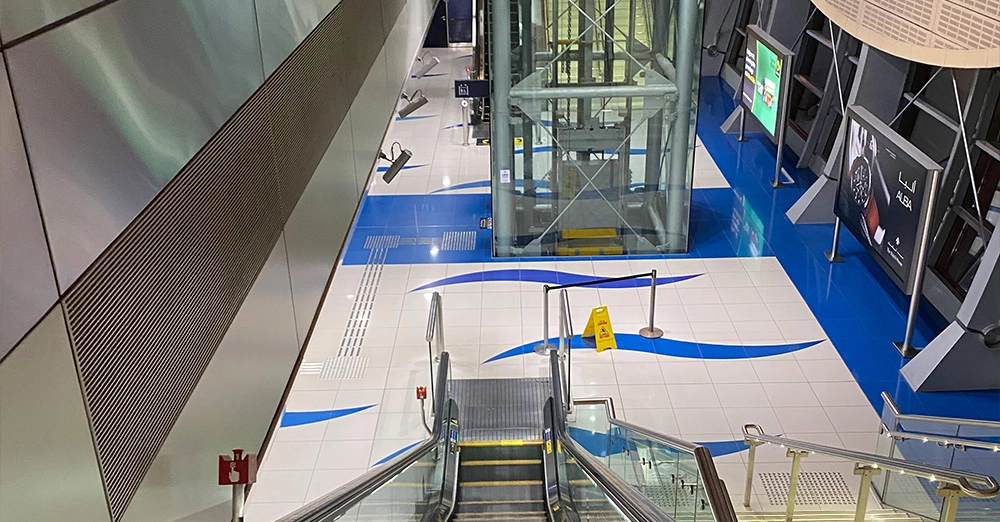 Additionally, ticket machines are available to allow quick purchases, nol card recharging points and a dedicated ticketing office staffed by friendly personnel. Finally, convenience stores providing snacks and other items can also be found within Al Qusais metro – allowing any transit needs to be conveniently fulfilled.
Attractions near Al Qusais metro station
Near this station, many restaurants offer different cuisines and numerous parks for those who want to spend some time in the great outdoors. Overall, Al Qusais metro station provides an exciting range of attractions and is ideal for anyone wishing to take advantage of their spare time.
Let's look at the nearby attractions in detail.
1.

Al Twar 2 Park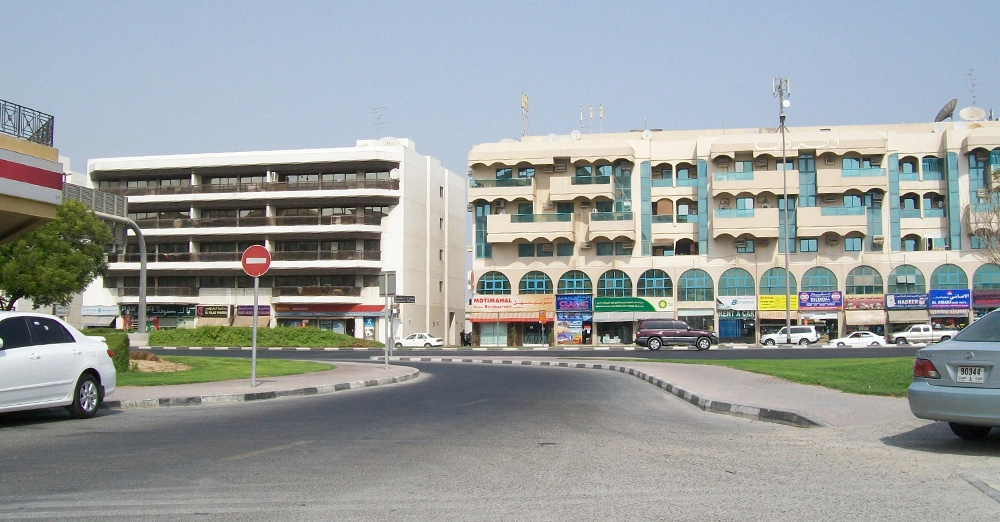 Al Twar 2 park is ideal for anyone looking to enjoy some leisurely activities, such as morning or evening walks. With the help of the nearby metro station, one can reach this park within 7 minutes on foot.
It has plush lawns, an expansive walking track, and a state-of-the-art outdoor gym that caters to those with determination. There are plenty of fun elements in the park, like swings and slides, for kids to explore, while others can relax in one of the many shaded benches available. To add to its convenience, there is also free parking for visitors.
2.

JuiceWorld – Qusais Branch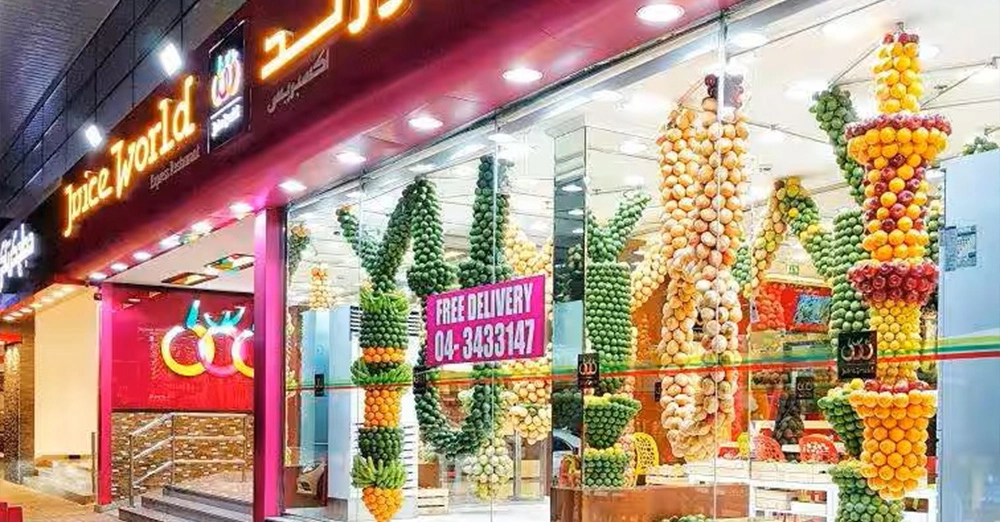 JuiceWorld is the perfect place for all kinds of juice lovers. With a wide selection of delicious juices, shakes, smoothies, and more, their menu has something for everyone. Not only that, but there is also a range of fried chicken, burgers, and sandwiches to go with your order.
JuiceWorld has wheelchair-accessible parking and entrance and an outdoor dining area with a vibrant atmosphere. Plus, the staff at JuiceWorld are always friendly and provide fast, efficient service.
3.

Fortune Plaza Hotel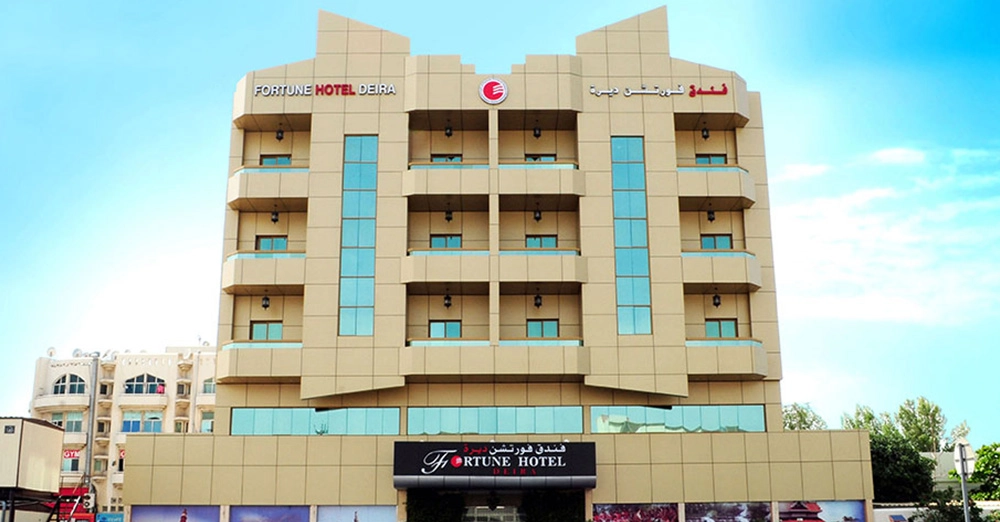 Fortune Plaza hotel is an impressive private hotel company boasting one of the fastest-growing hospitality groups in the region. Founded in 2001, the company has rapidly expanded, adding numerous branches in Dubai and Fujairah, UAE. [3] Fortune hotel, "about us, https://www.fortunehotels.ae/about-fortune-hotels/"
Additionally, the hotel offers 90 rooms, including junior and executive suites, all equipped with modern amenities. Many facilities are available to guests, including laundry services, currency exchange, car limousine rentals, parking, and a business center. Guests can also enjoy the retro bar, cafe, restaurant, pub, and pool.
Related Stories
---
FAQs
Is parking free at Al Qusais metro station?
No, parking is not accessible at Al Qusais station. You will need to pay for parking. If you do not use the metro, you will get fined for using a parking spot. In the Dubai metro, only three stations provide accessible parking facilities.
Which is the nearest metro station to Al Qusais station?
How far is the Philippine Consulate from the Al Qusais metro?
To reach Philippine Consulate, you can take bus route 13 or 62 from Al Qusais metro bus stop 1. The journey takes around 8 minutes to reach. You can also take a taxi or go on foot.
Which bus line stops near the Al Qusais station?
The bus lines that stop close to the Al Qusais metro are 13, 20, 31, 32C, 33, 62, 64 and F08. The bus routes serve various parts of Dubai.
How to reach Madina mall from the Al Qusais station?
To reach Madina mall, you can take bus 63 from Al Qusais station. This will take you directly to Madina mall. You can also take another bus route or book a taxi.
Final thoughts
The Al Qusais metro station stands out in Dubai for its convenience and facilities. Its proximity to many government offices makes it a great commuting option for busy professionals, while its well-maintained environment adds extra appeal.
Furthermore, its extensive connection with different bus routes ensures that everyone has plenty of options for access. To top it all off, there's even a taxi rank on the station grounds to help visitors find one swiftly and efficiently.
The Al Qusais metro provides a much-needed service through its reliable accommodations, thus making it a valuable asset to travelers and visitors alike.


Imran Hassan is an experienced Travel Specialist for UAE and the Middle East. He is based in Dubai and specializes in creating unique itineraries to ensure his customers have the best possible experience during their stay. From selecting the right hotel to recommending must-see attractions, Imran's expertise ensures that all vacations are unforgettable.