Business Bay metro station is an excellent option for people traveling for business or leisure. The station is close to many international offices, making it a convenient choice.
The Business Bay station is located in the financial district of Dubai and is part of the red line of the Dubai metro. This station is in the fare zone 6 and provides many modern amenities like Wi-Fi, automatic ticket machines, ATMs, and more.
In this guide, information about the station's opening hours, locations, and even a detailed metro station map. Not only this, but our guide also provides recommendations for nearby attractions which can add an extra layer of flavor to your journey.
Overview of Business Bay metro station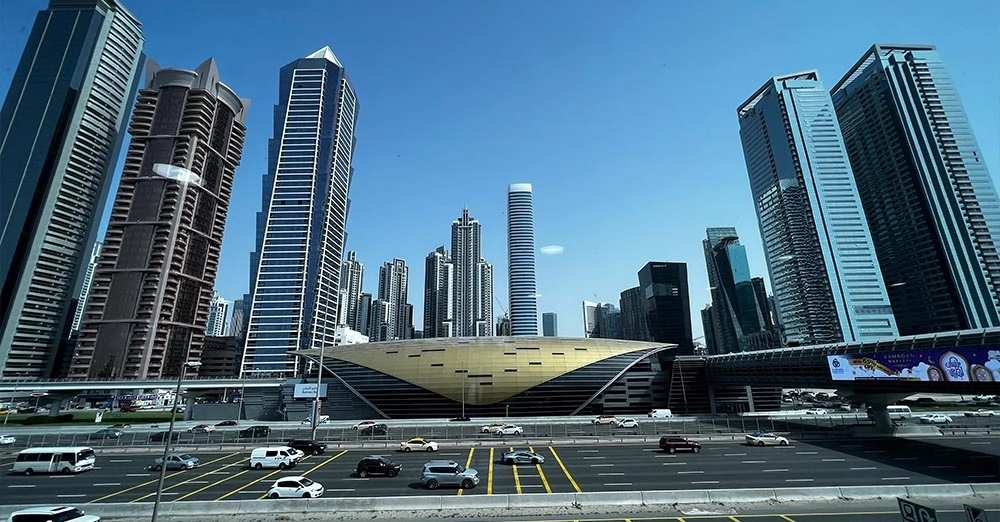 Business Bay station is a vital transit hub in the modern city of Dubai. Initially unveiled on the 15th of October 2010, it was one of five metro stations opened to the public at that time. Since then, it has become a popular destination for travelers wanting to visit the world-renowned Dubai Mall. Interestingly, this station is often referred to as the "twin" of the mall due to its kindred design and position nearby. [1] Khaleej Times, "Five new Metro stations to open on Friday, https://www.khaleejtimes.com/article/five-new-metro-stations-to-open-on-friday-2″
| | |
| --- | --- |
| Location | Sheikh Zayed Rd, Dubai, United Arab Emirates |
| Line | Red line |
| Station code | R26 |
| Fare zone | 6 |
| Preceding station | Burj Khalifa/ Dubai mall metro station |
| Following station | Al Safa metro station |
| Transfer station | No |
| Dubai Tram connection | No |
| Previous name | NA |
See also: Dubai Map
Location of Business Bay metro station
As the transition of a bustling metropolis, Business Bay station is unique in its capacity as a location guide. Situated near the luxurious Taj Dubai hotel and the impressive Burj Khalifa skyscraper, travellers only need to hop on one of several available Feeder buses or take a taxi to explore the varied attractions this dynamic region offers.
The Business Bay station is not only a fast way to travel but also comfortable. This makes it the perfect mode of transportation for those looking to travel within Dubai or even to other parts of this stylish area.
Location: Sheikh Zayed Rd, Dubai, United Arab Emirates
Business Bay metro station schematic map
The Business Bay metro station map provides commuters with a helpful way to plan their journey. This station is highlighted, but if you look around, you can see that many other stations are also marked and set apart so that it can be easy to locate the station. This makes it easy to identify various stations.
Here is the schematic map of the metro station: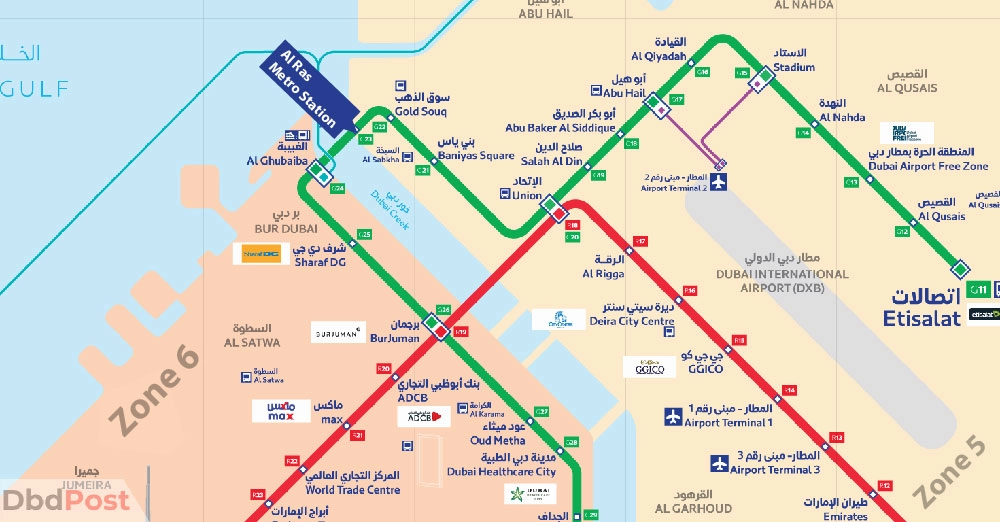 Business Bay metro station timings
The Business Bay station runs according to the exact timetable as all other metro stations in Dubai. However, these times may differ during certain public holidays, such as Easter or New Year's Day. The exact first and last metro times of each day vary slightly depending on the station.
During peak hours, the station can be crowded, so tourists should plan their journeys accordingly.
Here is a table that shows the detailed times for the metro stations: [2] Government of Dubai, "Metro station opening hour, https://www.rta.ae/wps/portal/rta/ae/public-transport/timetable#DubaiMetro:~:text=Metro%20stations%20opening%20hours(for%20All%20lines)"
| Days | Time |
| --- | --- |
| Monday to Thursday | 05:00 AM – 12:00 AM (Midnight) |
| Friday | 05:00 AM – 01:00 AM (Next day) |
| Saturday | 05:00 AM – 12:00 AM (Midnight) |
| Sunday | 08:00 AM -12:00 AM (Midnight) |
Services and facilities
Business Bay station is a modern and comfortable station that offers various services to make traveling as easy as possible. It has many other facilities, from easy-to-use ATMs and toilets to self-service ticket machines and stores.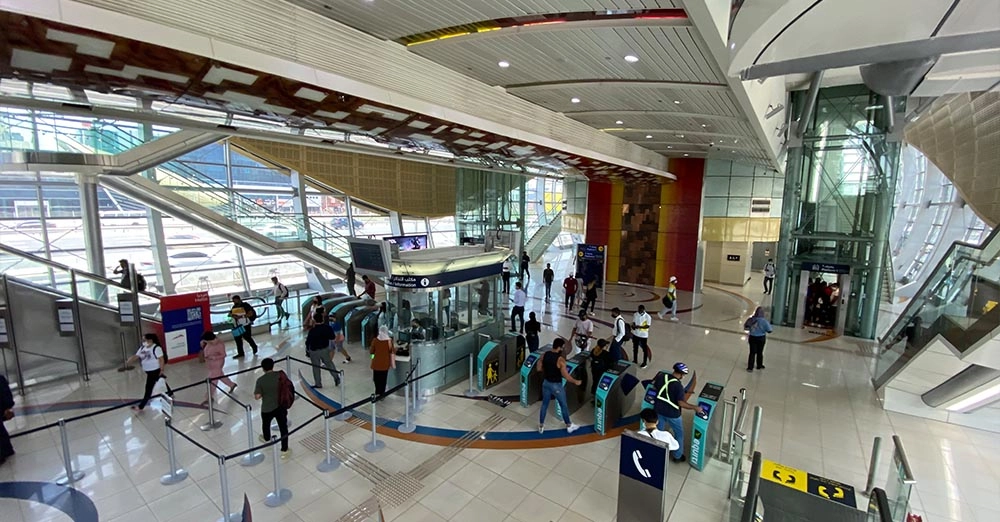 Similarly, the staff at the station are friendly, helpful, and always willing to assist passengers. There is also a proper information display that shows all the details regarding upcoming metros, departures, and any changes in timing.
For added convenience, there is also free Wi-Fi throughout the station and dedicated space for wheelchair users. Visitors can also use the lift safely and quickly to reach different platforms.
Attractions near Business Bay metro station
Business Bay station is a brilliant attraction hub located in the heart of Dubai. Luxurious apartments, high-end hotels, excellent restaurants, and huge towers with multiple offices surround it. Plus, there are small mosques and parks where people can pray and relax.
Here are some places to visit if you are near the metro station:
1.

Dubai Waterfall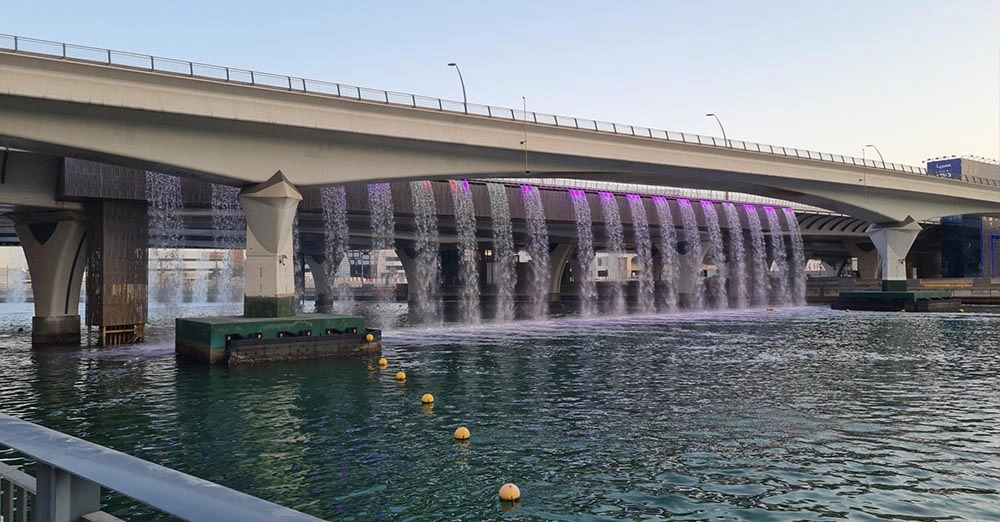 | | |
| --- | --- |
| Location | Sheikh Zayed Rd, Dubai, United Arab Emirates |
| Map | Get direction |
The Dubai waterfall is a captivating sight that can be admired 24 hours a day. The artificial waterfall is beautiful. It is over the artificial creek. The beauty of the waterfall stretches to both sides of the road bridge.
Likewise, the waterfall changes the color sequence, creating a magical view that provides an ambient atmosphere for walking and relaxation. When boats, cruises, and yachts pass through the middle part of the waterfall, the water flow stops.
2.

City Premiere Hotel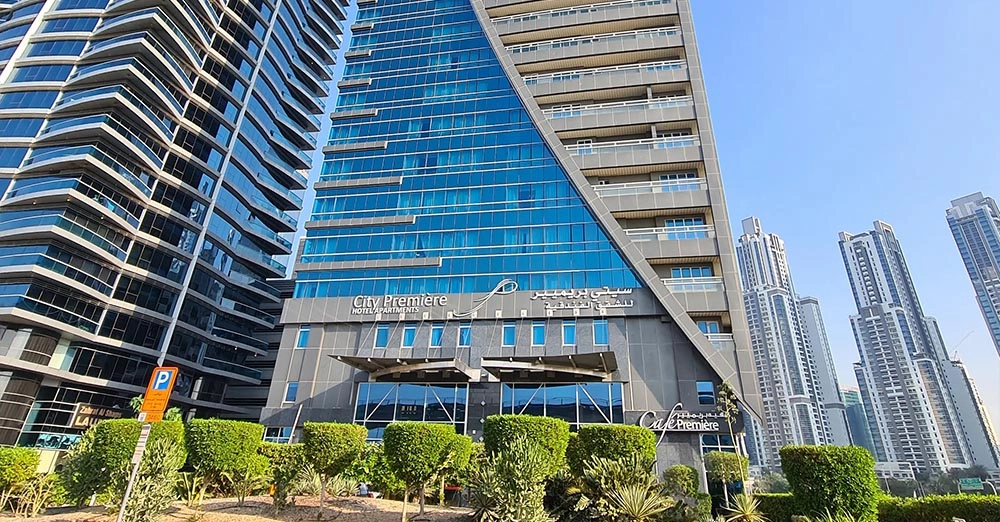 City premiere hotel apartments is a luxurious 4-star hotel located in the heart of the city just 5 minutes from the metro station. This 43-story building offers a great view of the famous Dubai skyline and 271 luxurious suites for families and business travelers. [3]City premier Dubai, "Overview, http://www.citypremieredubai.com/en/overview.php#:~:text=City%20Premiere%20Hotel%20Apartment%20%2D%20Deluxe"
Additionally, this hotel offers a stunning range of amenities and facilities. Guests can enjoy the complimentary Wi-Fi, meeting rooms, and the ability to arrange any meeting set-up with audio-visual equipment. This apartment also has outdoor swimming, a sauna room, a fitness center, and more.
3.

Bay Avenue Mall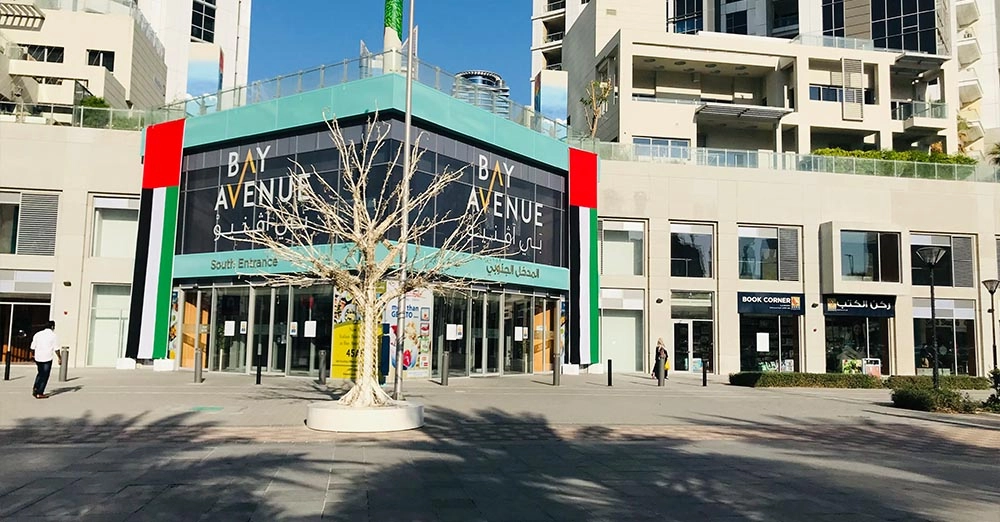 | | |
| --- | --- |
| Location | Business Bay, Dubai, United Arab Emirates |
| Map | Get direction |
Visitors can also take advantage of the variety of government services, including banks and telecom operators conveniently located at Bay Avenue Mall. There is plenty of parking and a small garden with slides and swings for visitors to enjoy.
Related Stories
---
FAQs
Which bus station is near the Business Bay station?
The nearest bus stations to the Business Bay station are Business Bay metro bus stop landside, emirates general petroleum corporation, business bay metro bus stop seaside, and Emarat, headquarters 2.
Which is the nearest metro station to the Business Bay station?
How to reach Business Bay station from Union metro station?
To reach Union Metro Station, take the red line metro from Business Bay Station. The ride will take you directly there. Alternatively, you can also take a taxi to reach the station more quickly.
Which bus line stops near the Dubai Business Bay metro?
The bus lines that stop near the Business Bay metro station in Dubai are 7, 9, 14, 91, F14, F19A, F20, and 98E. The bus routes stop close to the train station, making it very convenient for residents and visitors.
What time is the last train from the Business Bay station?
The last train from Business Bay station leaves at 11:32 PM every day except Friday. On Friday, it leaves at 12:33 AM and goes towards Centerpoint metro station.
Final thoughts
The Business Bay metro station is an excellent choice for those exploring the Dubai commercial district. This metro station provides easy access to shopping and dining at Bay Avenue mall and many other places to visit near the metro station.
Plus, it is conveniently connected to different bus lines and metro stations, making it easy to get around without driving. Visitors can also take advantage of the services provided at the station, such as ATMs, ticketing, and free Wi-Fi.