The Emirates metro station is convenient for people traveling to and from the airport. It is also an ideal station for people working in places like the Dubai festival.
The Emirates metro station is conveniently located close to the Dubai international airport. This station is on the red line of the Dubai metro system. It lies in zone 5 among seven fare zones of the Dubai metro.
This guide includes an overview of this metro station with a schematic map of the station and its operating hours so that you can plan your visits accordingly. Similarly, we have also included information on all the attractions in the surrounding area so that you don't miss out on any nearby attractions.
Overview of Emirates metro station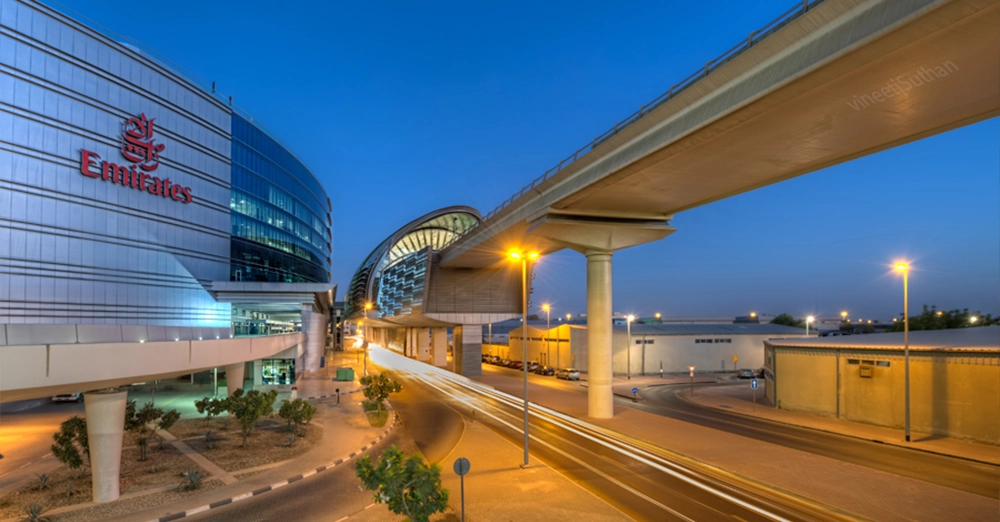 Since the opening of the Emirates metro station on April 30th, 2010, Dubai has come a long way. This was a significant milestone for international travelers, providing fast and efficient transportation and easier access to Festival City and Dubai Duty-Free offices. With this new station, travelers could get from one place to another in just a matter of minutes and with ease. [1]Khaleej Times, "New stations to benefit 60,000 more passengers, … Continue reading
| | |
| --- | --- |
| Location | 35th Street, Garhoud, Dubai, United Arab Emirates |
| Line | Red line |
| Station code | R12 |
| Fare zone | 5 |
| Preceding station | Centrepoint metro station |
| Following station | Airport Terminal 3 metro station |
| Transfer station | No |
| Dubai Tram connection | No |
| Previous name | N/A |
Location of Emirates metro station
For both commuters and travelers, Emirates station offers the ideal combination of convenience and accessibility. Located right next to the Emirates Group Headquarters, travelers can easily access the train line to reach their destination.
Similarly, visitors don't have to go far because Dubai International Airport is merely a stone's throw from the station. This makes it perfect for those looking for a stress-free transportation option between the airport and other locations in Dubai.
Location: 35th Street, Garhoud, Dubai, United Arab Emirates
Emirates metro station schematic map
The Emirates station map is the perfect companion for anyone traveling through the red line metro stations. This handy map breaks down all the featured stops along the route, allowing you to easily plan your trips from one place to another.
Check the schematic map of the station below: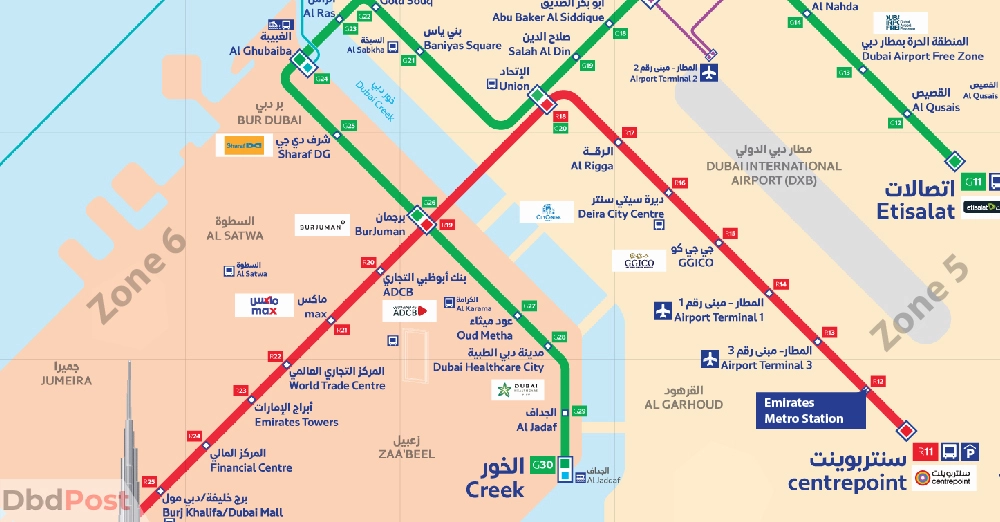 Emirates metro station timings
All metro stations run daily under similar hours, making it easy for citizens and tourists alike to plan their journey. This is especially helpful when special events or public holidays could affect the trains' running.
During mornings and evenings, there is no need to worry as metro service runs every six minutes during these peak hours while coming at an interval of eight minutes during non-peak times.
See the detailed timetable for this metro station below:[2] Government of Dubai, "Metro station opening hour, https://www.rta.ae/wps/portal/rta/ae/public-transport/timetable#DubaiMetro:~:text=Metro%20stations%20opening%20hours(for%20All%20lines)"
| Days | Time |
| --- | --- |
| Monday to Thursday | 05:00 AM – 12:00 AM (Midnight) |
| Friday | 05:00 AM – 01:00 AM (Next day) |
| Saturday | 05:00 AM – 12:00 AM (Midnight) |
| Sunday | 08:00 AM -12:00 AM (Midnight) |
See also: Interactive Map of Dubai
Services and facilities
Emirates metro station is a passenger-friendly facility, offering various services and facilities for its commuters. There is always someone to help answer questions or support you with requests.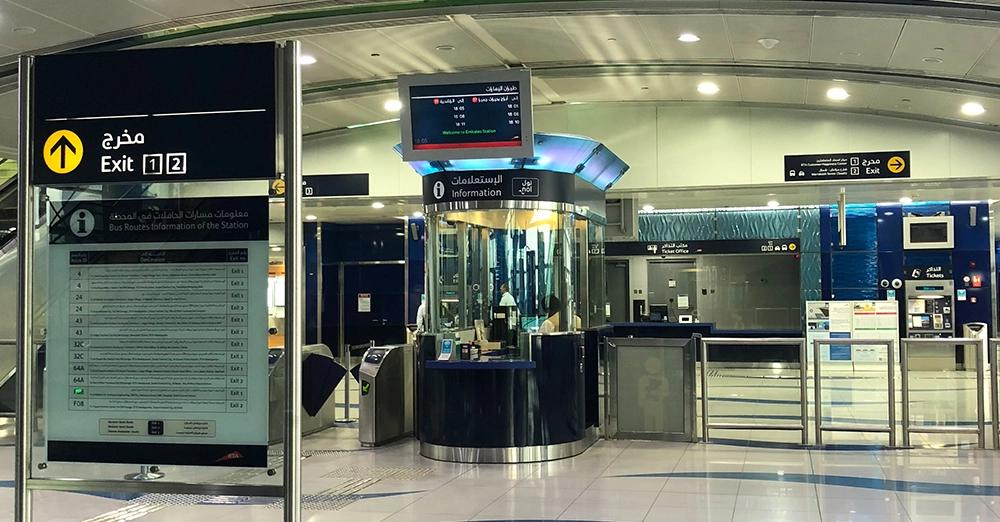 The staff members are friendly and welcoming, providing passengers with the reassurance they need during travel. For those looking to buy tickets without waiting in line, ticket offices with automated machines are available at the station.
In addition, separate cabins have been put in place for women and children who need extra security while traveling. With paid parking areas nearby, commuters can leave their car at the station before embarking on their journey.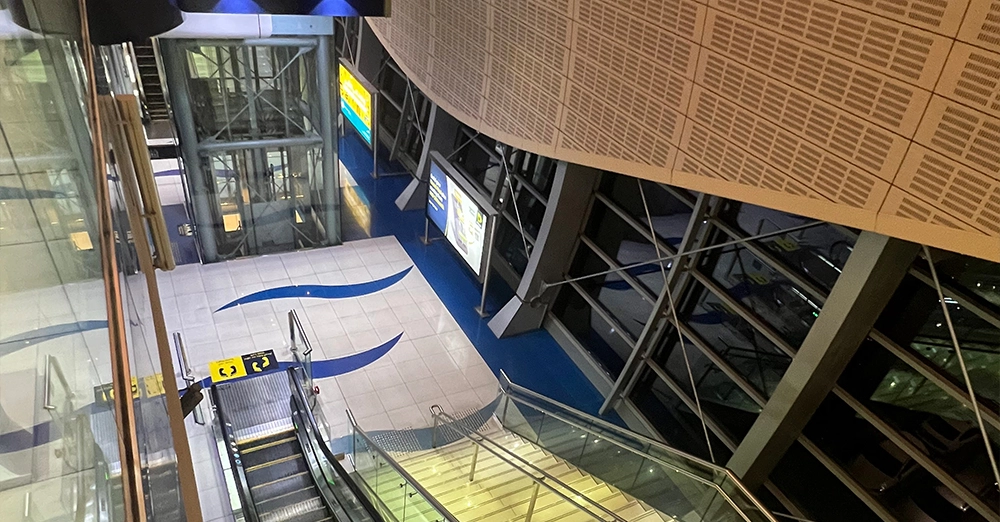 Furthermore, this metro station has been constructed with accessibility in mind. Lifts and escalators can be found throughout the station, allowing those with special needs or limited mobility to access different platforms quickly and safely.
Attractions near Emirates metro station
If you're traveling to the Emirates station, you won't find much in the way of attractions nearby. However, there are a few services, such as hotels, restaurants, garages, and shopping malls relatively close by and cooperative offices.
Here are some places to visit near the metro station are:
1.

Holiday Inn Express Dubai Airport
Holiday Inn Express Dubai Airport is an excellent choice for travelers seeking comfort and convenience. With 381 well-appointed rooms over five floors, the hotel is just a ten-minute walk away from the Emirates Metro, ensuring guests have easy access to the city.
This hotel has everything you would expect, like a gym, wifi, breakfast buffet, daily housekeeping, and laundry services. Plus, it has other things you might not expect, like praying mats and meeting rooms.
2.

Garhoud Park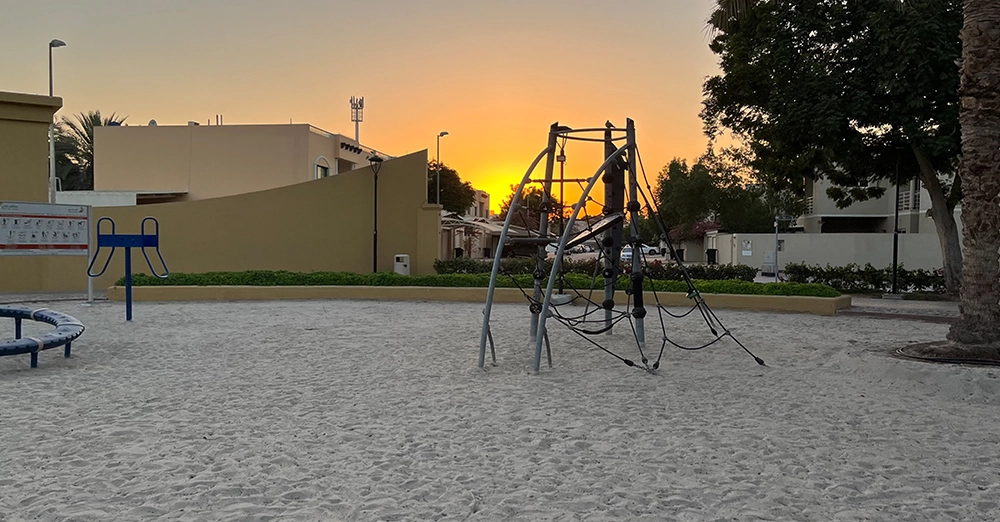 Garhoud Park is an excellent place to visit if you want a peaceful day. It is only 11 minutes from the metro station, which opens at 8 AM and closes at 11 PM. You can go there with your family or friends for a nice day.
Additionally, the park has basketball courts, football fields, and sand volleyball courts for people who want to be active. It also has swings and climbing houses for small kids. Moreover, the park has good facilities like bathrooms and security guards.
3.

Dubai Festival City Mall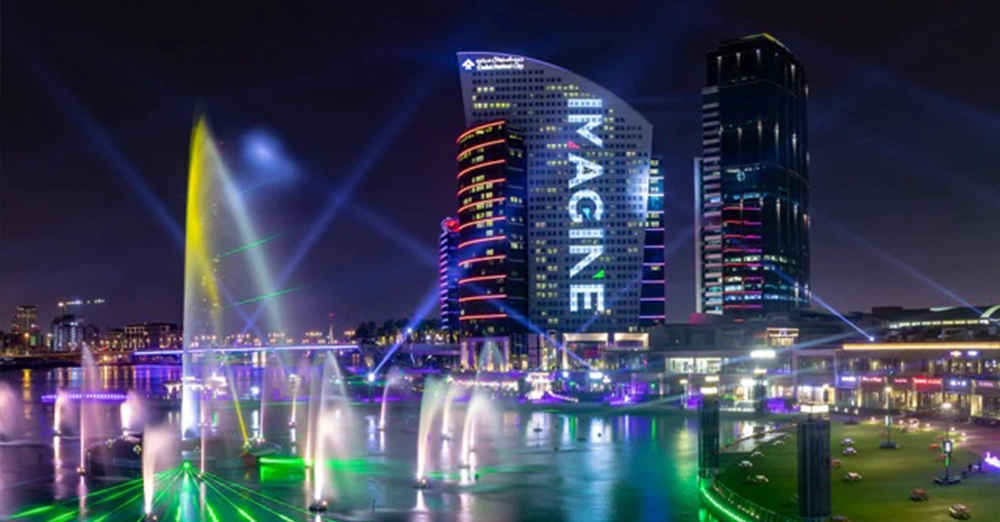 Dubai Festival City Mall has taken retail and entertainment to a new level, becoming one of the most renowned shopping destinations in the city. With more than 400 stores, including UAE's first IKEA and well-known fashion retailers such as H&M, Zara, and Marks & Spencer, the mall has something for everyone. [3]Dubai festival city mall, "About us, https://www.dubaifestivalcitymall.com/home/aboutus"
In addition to shopping, the Dubai Festival City Mall also has plenty of restaurants, hotels, cafes, and bakeries. Other entertainment options include NOVO cinema, IMAGINE, BOUNCE-X, and more. Plus, this mall offers signature services like nol charging stations, car charging stations, EZ taxis, payer rooms, valet parking, and customer service.
Related Info
---
FAQs
How can I reach Emirates metro Dubai?
The easiest way to reach the Emirates metro station is by taking any RTA bus route or the metro from anywhere in Dubai. You can also book a taxi if you want to get there faster.
Which bus station is near the Emirates metro station in Dubai?
The nearest bus station to Emirates station is Emirates Airlines Headquarters 1, Emirates Metro Bus Stop 1 & 2, and Airport Terminal 3.
How to reach the Dubai festival city mall from Emirates station?
The easiest way to get from Emirates station to Dubai Festival City is by bus. You can get there by taking one of the following RTA bus routes: lines 24, 64A, and F08. All of these depart from stop one on the Emirates Metro bus stop 1. Alternatively, you can also take a taxi which takes only 7 minutes to reach. 
Which is the nearest metro station to the Emirates metro?
The nearest metro station to Emirates station is Airport Terminal 3. It takes 2 minutes to reach by metro. 
Which bus line stops near the Emirates station?
The bus lines that stop near the Emirates station are 11A, 24, 32C, 33, 64A, 77, and F08. These bus lines are operated by RTA Dubai and go to different parts of the city.
Final thoughts
Emirates Metro Station provides more than just convenience for people traveling from Dubai International Airport. It is also the perfect starting point to explore the remarkable city of Dubai.
The Emirates metro offers easy access to public transportation and other amenities, so you don't have to rely on a private vehicle.
Additionally, multiple bus lines make frequent stops nearby, making it a great way to experience the sights and sounds of this vibrant destination without ever having to spend much time waiting.


Adi Abbas is a travel enthusiast based in Dubai who has explored more than 15 countries in the Middle East and South Asia. He loves discovering different cultures, trying local food, and seeking out exciting things to do. His passion for travel has taken him to many places, where he's made unforgettable memories that will stay with him forever. Adi loves documenting his trips through photography and writing about his experiences.