Dubai is one of the world's leading economic hubs, a strategic location, and an excellent transportation network. These logistics companies in Dubai play a crucial role in the Emirate's smooth functioning of trade and commerce.
Shipping and logistics companies in Dubai are known for their cutting-edge technology, efficient supply chain management, and reliable delivery services. Top logistics companies in Dubai include ABC Cargo & Courier, KSL Logistic Services, Global Shipping And Logistics, and more.
We created this DBD guide on the best courier companies in Dubai by conducting extensive research. We gathered information from verified sources on the companies' infrastructure, fleet size, and services offered.
Similarly, our team also checked their partnerships and collaborations with international companies to give a comprehensive overview of the industry.
We ensured the information was accurate and up-to-date by conducting the research with care.
12 best logistics companies in Dubai
Dubai is known for its strategic location and excellent transportation network, making it a hub for logistics companies.
This list of shipping and logistics companies in Dubai will help you find the city's best logistics services.
1.

ABC Cargo & Courier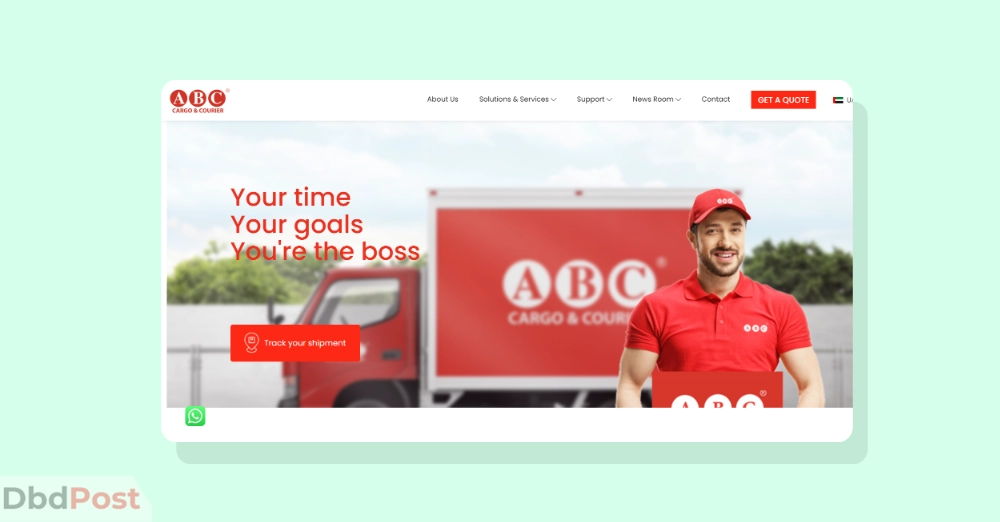 Regarding logistics, you can trust ABC Cargo & Courier to deliver your shipments on time.
With their strong commitment to customer satisfaction, you can rest assured that your goods will reach their destination securely.
Also, it's no wonder that over 7,500,000 customers are happy with their services. With 100+ offices worldwide, they make it easy for you to access their seamless logistics solutions.
Whatever the size of your shipment, they use their expertise and resources to ensure that you receive deliveries on schedule.
2.

KSL Logistic Services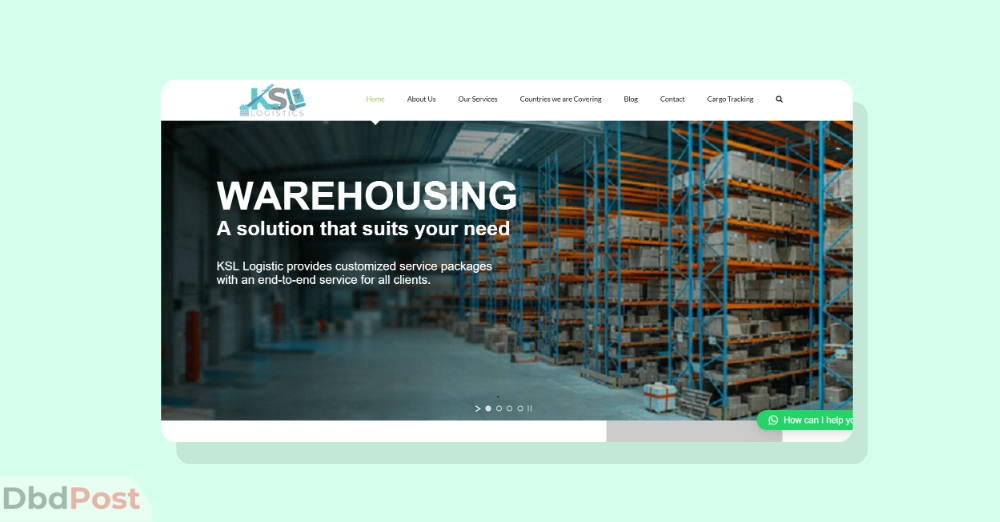 KSL Logistic Services, with over 20 years of experience, they're providing top-quality logistics and supply chain solutions.
They started since 2014 and serving over 1300 institutions, proving their commitment to delivering exceptional service and value.
Not only do they operate in the UAE, but KSL Logistic Services Dubai also has a global presence.
As a committed logistics partner, KSL Logistic Services takes quality seriously. They are proud to hold the ISO 9001:2008 Quality Systems Certification.
3.

Global Shipping And Logistics LLC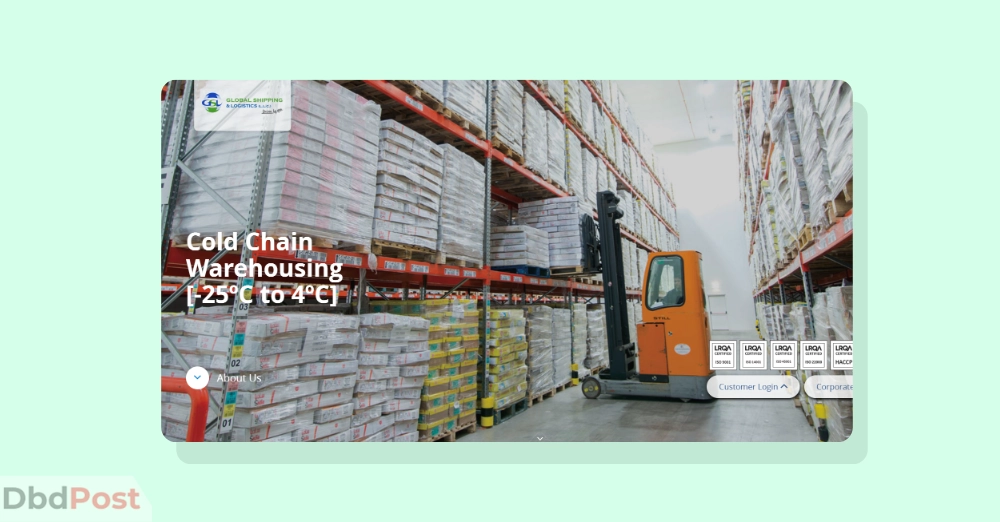 Global Shipping & Logistics (GSL) is a courier company based in the UAE and part of the Al Shirawi Group. It started as a freight company in 1975 and became an integrated logistics provider by 2005.
GSL employs nearly 700 people and operates a 1.8 million square feet facility that can store temperatures ranging from -60°C to Ambient.
Similarly, they offer cold chain warehousing and freight services to FMCG, Retail, Health Care, and Fashion industries.
Also, they have several certifications, including ISO 9001, ISO 4001, ISO 45001, and more.
4.

AlFares Cargo Service & Clearance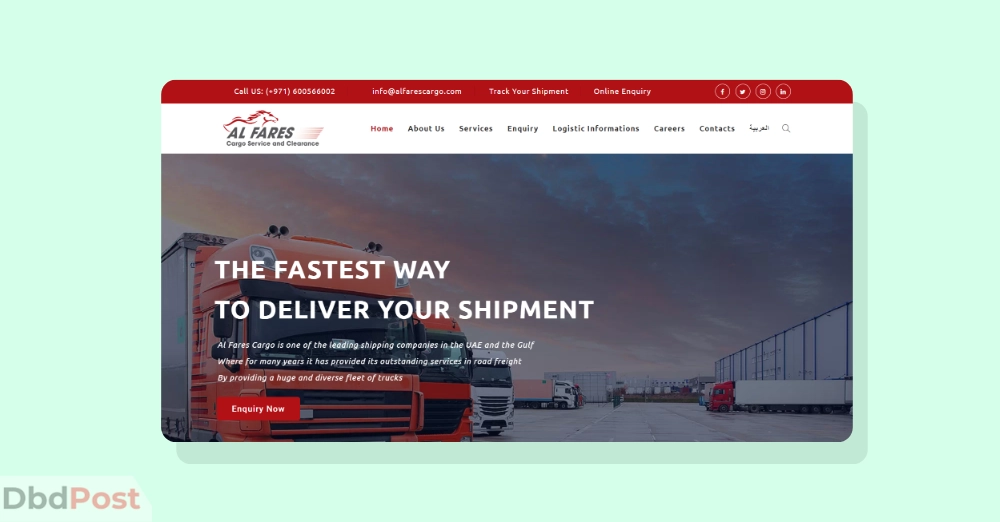 AlFares Cargo Service & Clearance is a top logistic management company in the MENA region.
They are known for delivering high-quality, seamless, and personalized service. Their team consists of experienced professionals with decades of industry experience.
Also they have made over 11250 successful shipments under their belt. Proving track record of delivering goods to clients across the world. They have served a total of 7350 clients and have reached a total of 5874 cities.
5.

Mohebi Logistics – JAFZA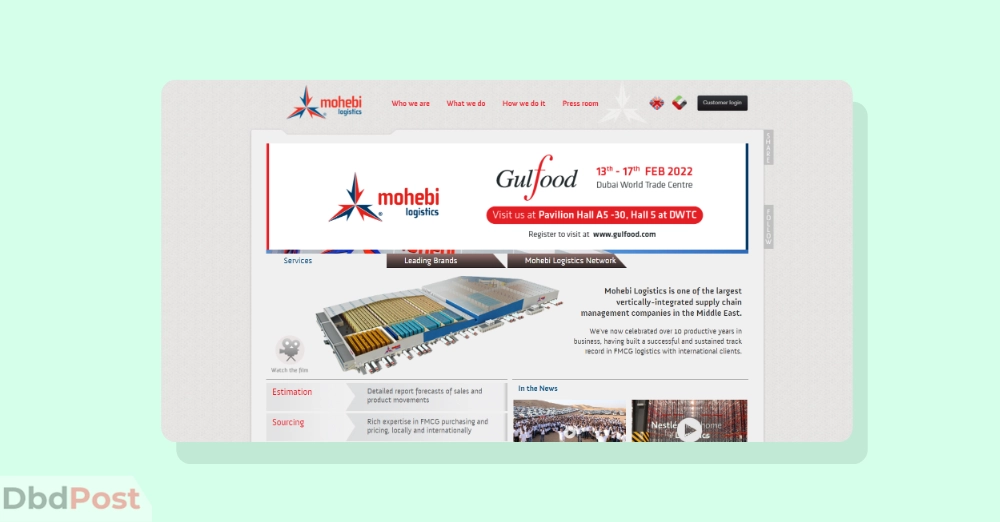 Mohebi Logistics in Dubai is a leading provider of supply chain solutions. Especially for food industry manufacturers and FMCG companies in the Middle East.
This company has a non-bonded facility with the capacity to store 250,000 pallets.
Also, they're dedicated to providing their customers with excellent logistics and unparalleled customer service.
Besides, they've established themselves as one of the most dynamic logistics management companies in the MENA region.
6.

CEVA Logistics FZCO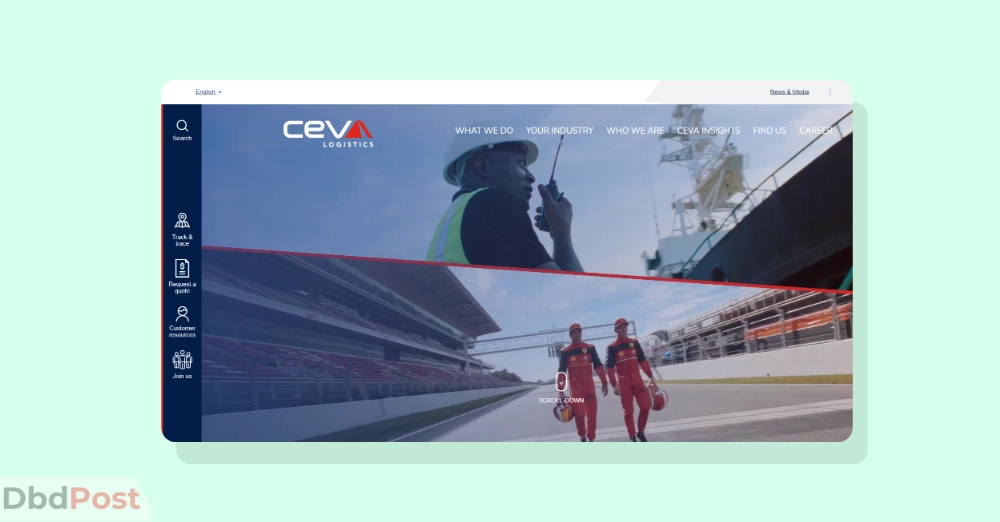 CEVA Logistics FZCO is a top global provider of automotive logistics services.
On July 25, 2022, it completed the acquisition of GEFCO, making it the world's leading expert in supply chain solutions and the largest France-based logistics company. [1]CEVA Logistics, "Home, https://www.cevalogistics.com/en#:~:text=As%20of%20July,global%20logistics%20player."
Moreover, they have a presence across 170 countries and a global workforce of over 110,000 people.
With over 1,300 sites worldwide, they will handle all your logistics needs, no matter where you are.
7.

DSV Air & Sea DWC LLC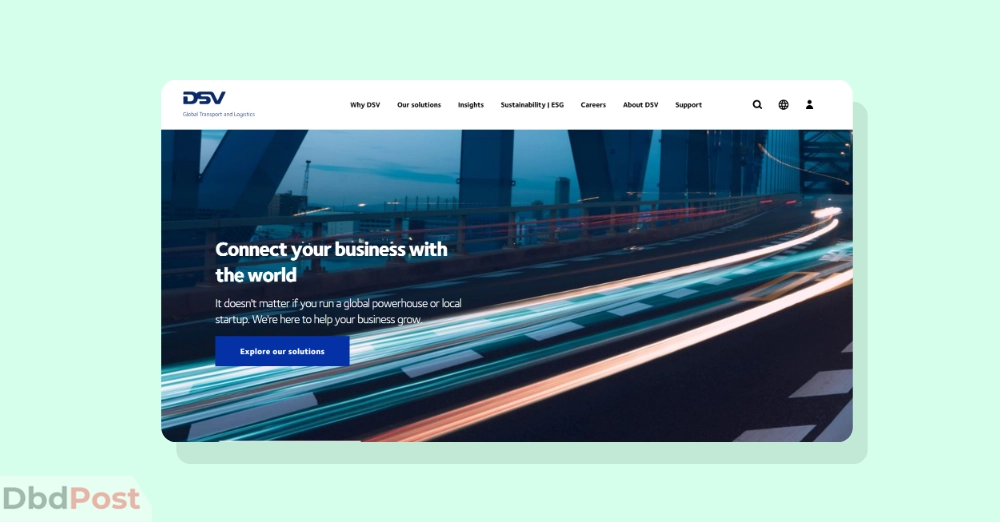 DSV Air is a leading logistics company based in Dubai, dedicated to connecting your business with the world.
With a global presence, they work in more than 80 countries. And have the expertise to deliver customized logistics solutions that meet the unique needs of your business.
Whether you're in the automotive, technology, healthcare, energy, or any other industry, DSV Air has the experience and expertise to meet your needs.
Moreover, with their extensive network and team of professionals, they can provide seamless logistics solutions.
8.

Hastenway Shipping L.L.C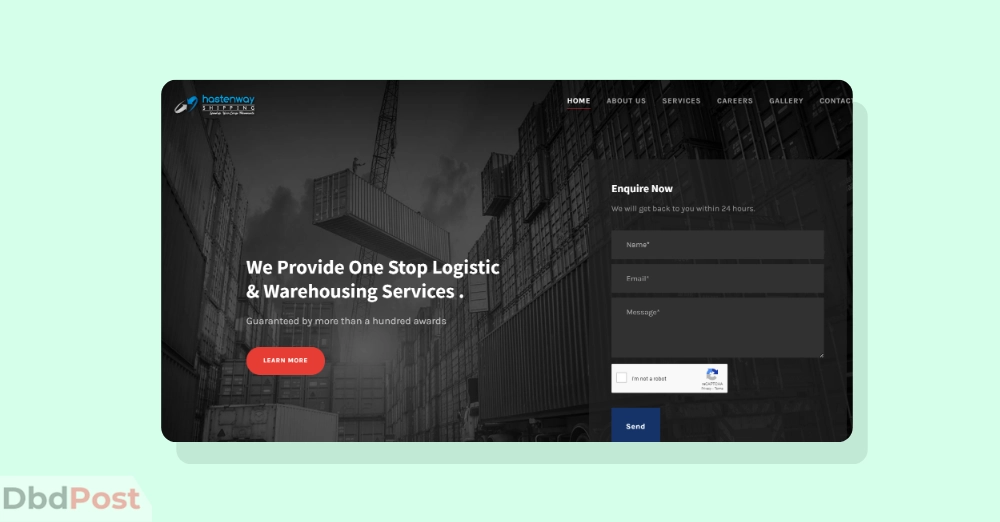 Hastenway Shipping L.L.C simplifies shipping for you with its efficient and dependable services. They offer worldwide delivery for packages up to 50kg.
Likewise, you can count on quick service and complete accuracy from this company. They prioritize safety and guarantee the successful delivery of your packages anywhere in the world.
9.

Consolidated Shipping Services Group Corporate Office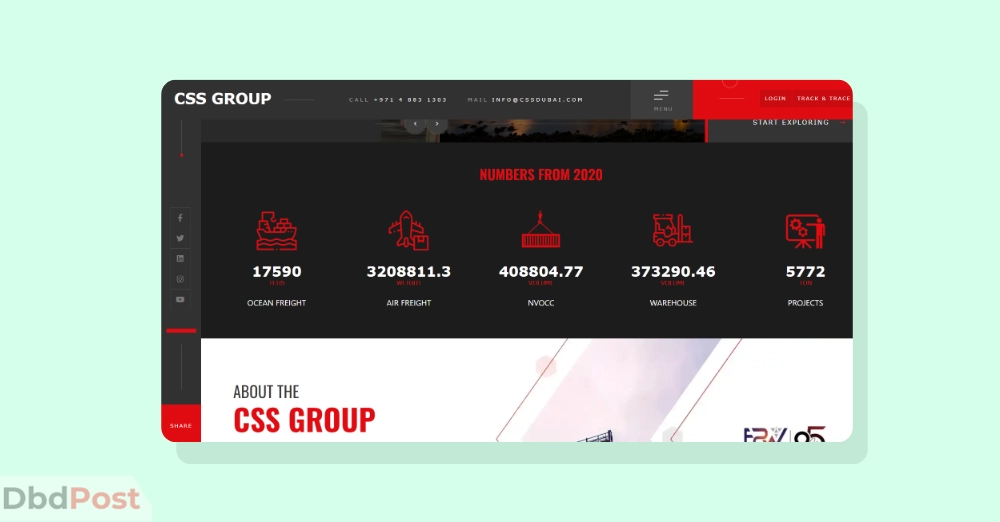 At Consolidated Shipping, they bring over 27 years of experience to the table. With 20 international offices and a team of over 750 professionals, they'll handle all your shipping needs.
Besides, in 2020, they handled a massive 17590 TEUs of ocean freight, 3208811.3 weight of air freight, and 408804.77 volume of NVOCC.
Besides, their expertise in warehousing is highlighted by their 373290.46 volume handled and 5772 tons of projects under their belt.
10.

Bollore Logistics LLC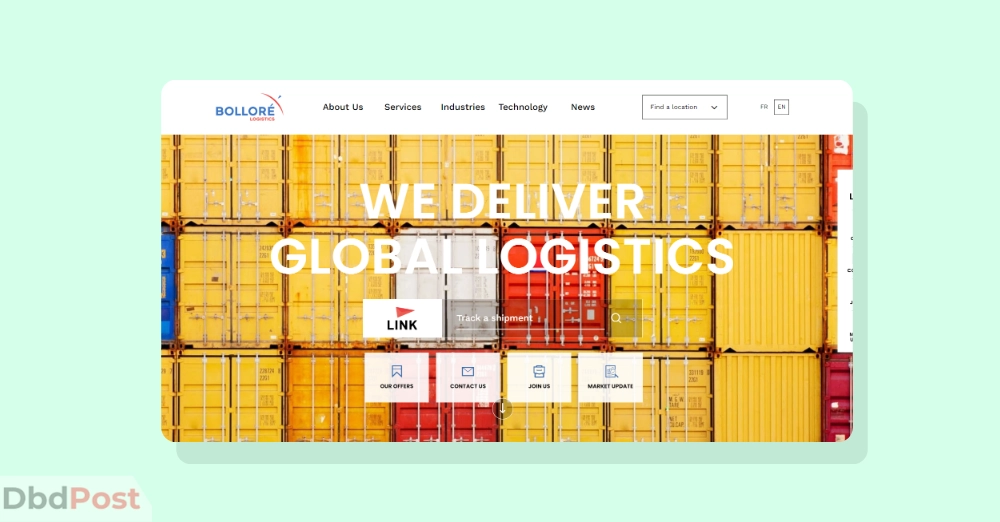 With operations in 111 countries and 603 offices, Bollore Logistics LLC in Dubai is a major player in the logistics industry. They boast over 2,006,000 storage warehouses and have handled 656,000 tons of air freight. Therefore, showcasing their expertise and capabilities.[2]Bollore Logistics, "Overview, https://www.bollore-logistics.com/en/overview/#:~:text=KEY%20FIGURES,of%20ocean%20freight"
This company offers a range of logistics solutions to various industries, including aerospace, consumer & retail, healthcare, fashion, energy, etc.
These solutions encompass supply chain management, transportation, warehousing, and distribution.
11.

Sasco Global Shipping LLC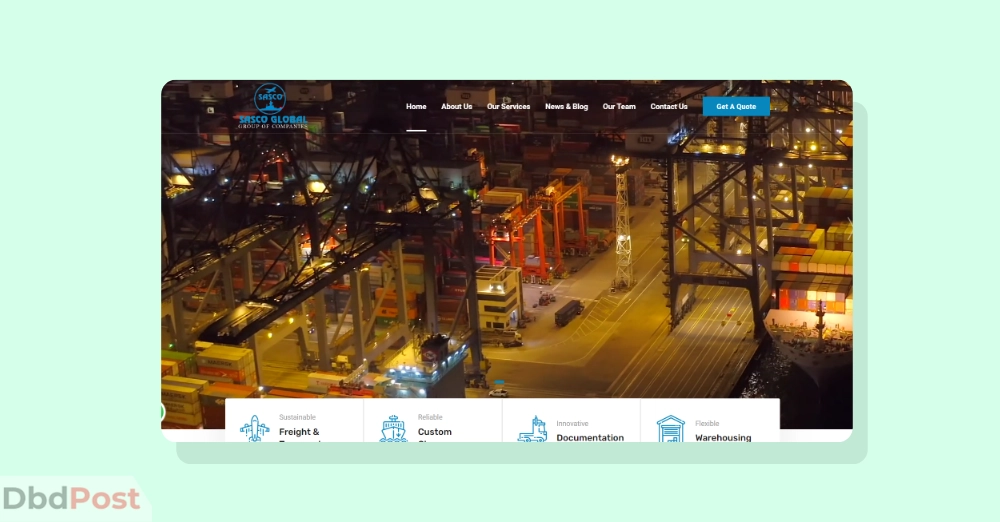 For over 20 years, Sasco Global Shipping LLC has been a leading provider of logistics solutions in Dubai.
Established in 1996, they've established partnerships with air, courier, sea, and transport carriers worldwide. Therefore, giving you access to a wide range of service options.
At Sasco, quality is a top priority. That's why they've earned credentials such as ISO 9001 certification. Also has recognition from the General Civil Aviation Authority and participation in the WLO Global Summit 2021.
Likewise, they're also proud members of All World Shipping, BNI, and IATA.
12.

Vega Worldwide Logistics LLC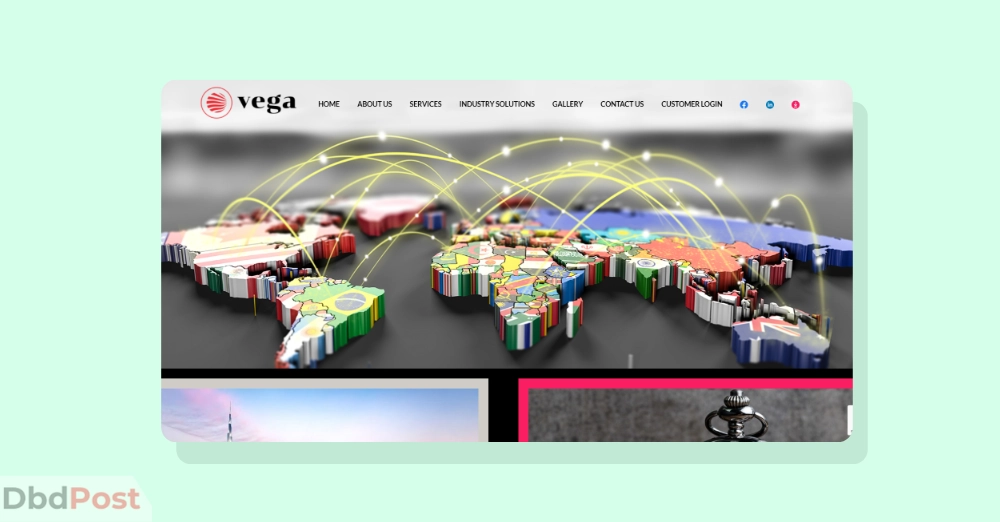 With over 25 years of industry experience, Vega Worldwide Logistics is one of the leading freight forwarders.
Also, it has a network of offices across the Middle East, India, and Russia, as well as worldwide agents in over 300 locations.
They've covered you whether you're in the tobacco, healthcare, or beverage industry. They understand the unique needs of each sector and will work with you to find the best solution for your specific needs.
And you can trust that their commitment to quality and customer satisfaction is unwavering. This is evidenced by their accreditations from organizations like FIATA, Dubai Chamber, NAFL, and ISO 9001:2015.
How we choose the best logistics companies in Dubai?
Choosing the best logistics companies in Dubai can be done through several methods, including:
Customer reviews
While making this list, we researched each company's customer feedback. We went through online sources like Google and the company's profile.
Shipping volumes
We also looked for information on the shipping volumes of different logistics companies in Dubai. We also checked the company's website and industry reports for shipping volumes.
Shipping price
Before making the list of logistics companies, we determined the amount needed to spend on shipping. This helped us narrow our options and find a company that fits our budget.
Company size
We looked for information on the size of different logistics companies in Dubai. We did thorough research on the company's website and industry reports.
Market reputation
This top logistics company is made by investigating its reputation in the industry. We consulted with industry specialists and researched awards and accolades the company received.
Things to consider while choosing logistics companies in Dubai
When selecting a logistics company in Dubai, it's essential to consider its services. Here are some things to keep in mind:
Services
It's essential to consider the full range of services they offer. This includes warehousing, transportation, and customs clearance.
By considering these services, you can ensure that a single company handles all aspects of your shipment,
Budget
When selecting a logistics company in Dubai, budget is an important factor. Determine your budget and compare prices from different companies. Also, taking into account hidden costs like customs fees and storage fees.
Customer support
Also, consider their customer support quality when choosing a logistics company in Dubai. Ensure they have a 24/7 team, knowledgeable about logistics, transparent communication, and effective problem resolution.
Reviews
When evaluating logistics companies in Dubai, review customer feedback to gain insights on their service, reliability, and performance.
Check for consistent, relevant, and recent reviews, verifying that they come from genuine customers.
Related Stories
---
FAQs
Final thoughts
This list of logistics companies in Dubai offers services to meet the needs of businesses, individuals, and businesses. This includes international shipping, warehousing, and transportation.
Whether you need to ship a small package or manage an extensive supply chain, there are logistics companies in Dubai that can help.
Using these services, you can take advantage of Dubai's strategic location and highly developed transportation infrastructures.