Dubai construction companies offer their clients comprehensive services, including design, construction, and project management. These companies range from local to international and play a key role in developing the emirate's infrastructure.
Dubai has a booming construction industry. The city is home to construction companies that help design, build, and maintain buildings. Some of the best construction companies in the UAE are Al Naboodah Construction Group, Arabian Construction Company, GCC, and more.
We conducted thorough research and assessment on various construction companies operating in Dubai.
Furthermore, our team considered factors such as their expertise, client reviews, and workforce size and compiled a comprehensive guide to the top construction companies in Dubai in our Dbd guide.
16 best construction companies in Dubai
Construction companies in Dubai play a crucial role in the city's infrastructural sector. They provide design, build, and maintain buildings.
1.

Al Naboodah Construction Group LLC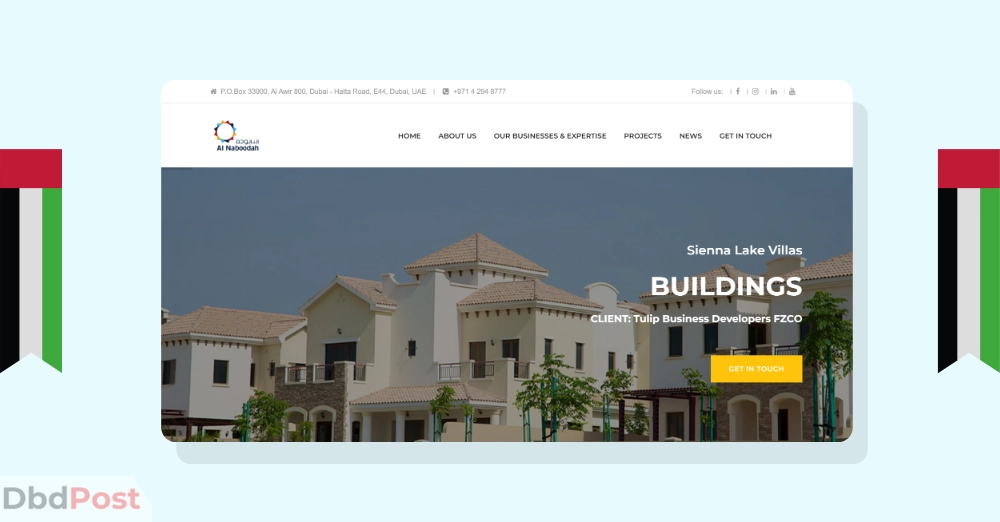 Al Naboodah Construction Group (ANCG) is a renowned UAE-based contractor specializing in civil engineering, building, and MEP. They boast an impressive track record of strong and sustainable profitable growth.
ANCG has continuously provided solutions that exceed expectations. They have been part of many iconic infrastructure projects in Dubai.
They pride themselves in significantly contributing to the country's growth and prosperity. The group has also been humbled to receive numerous awards.
Projects
Al Naboodah boasts an impressive clientele. They have worked with Dubai Municipality, Nakheel Properties, Health Care City, and more.
Some of their notable projects are:
Expansion work of the Dubai International Airport
MEP works for Arabian Center Mall
Major earth works for Dubai Ring Road Phase 1
2.

Dubai Contracting Company LLC (DCC)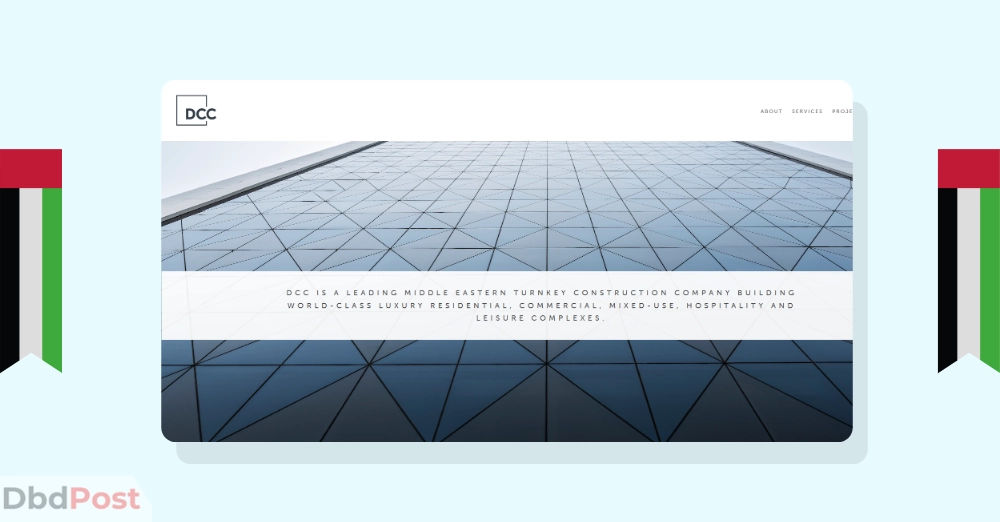 Dubai Contracting Company (DCC), established in 1962 in Dubai, has established itself as a trusted and reliable builder in the Emirate.
Over the years, DCC has built a reputation for its exceptional quality, attributed to its decades of expertise and attention to detail.
DCC has set the bar high for construction quality, from innovative building techniques to iconic designs.
The company has gone beyond traditional construction services by offering complete turnkey solutions, including detailed interiors and customized furnishings.
This broad range of services has only solidified DCC's position as the top choice for clients looking for reliable, high-quality construction services.
Projects
DCC has worked with several clients throughout its rich history. Some of their clientele include Bright Start, Conrad, Form, and more.
Their notable projects include:
General contracting & construction management of Four Seasons Hotel
Full turnkey for The Court
Full turnkey for Seddiqi Holding HQ
3.

Al Sahel Contracting Company LLC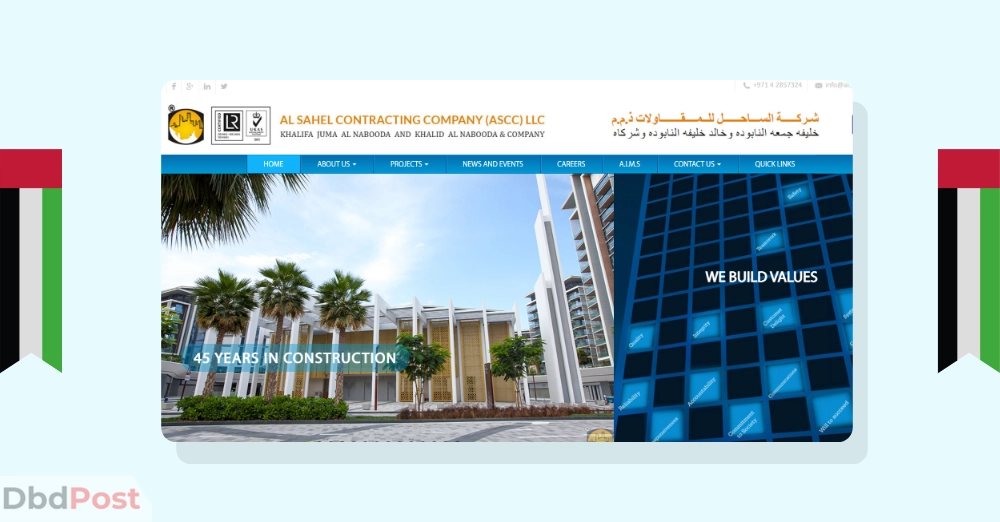 Al Sahel Contracting Company LLC is a professional contracting company established in 1976. Since then, it has been living up to its motto of "We Build Values."
Their solid foundation of more than 5000 employees has enabled them to adopt innovative construction systems. They have completed over 250 successful projects. [1]Al Sahel, "About Al Sahel, https://alsahelcon.com/about-us/introduction/"
What's more impressive is that they engage in Corporate Social Responsibility activities. Investing in employee welfare and sponsoring academic research is their priority.
Projects
Al Sahel has completed several projects for schools, shopping malls, hotels, and residential buildings. Some of their notable projects are:
Design, Construction, and completion of 3 Buildings at Madinat Jumeirah Living Phase 2
Construction & Completion of Residential & Commercial Construction of Buildings at Al Safa First
Blue Waters Residential-mosque in Blue Water Island Dubai
4.

Group AMANA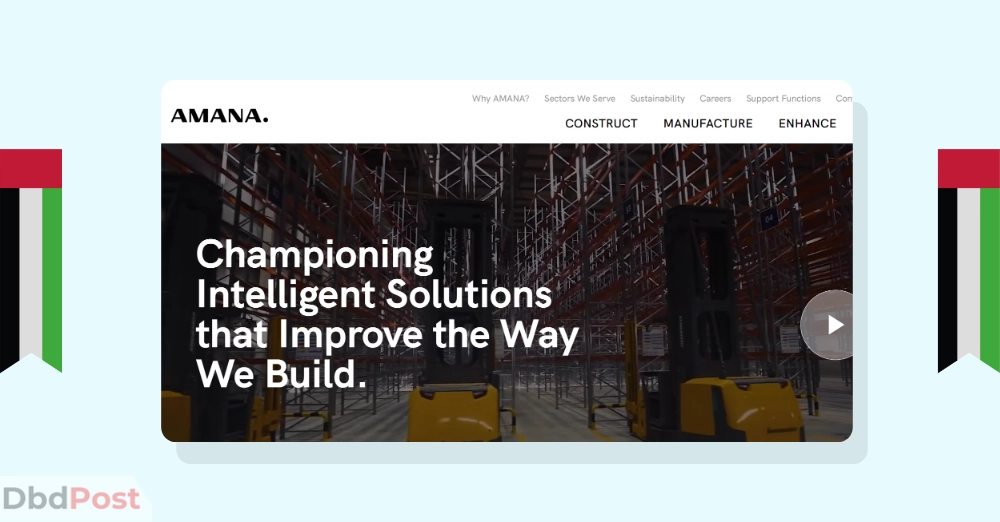 Group AMANA uploads reputation as an industry leader in the design-build of industrial and commercial facilities. They have been a driving force of construction innovation for more than 30 years.
Their DuBox and DuPod initiatives have contributed to developing volumetric modular building technologies.
This ensures cost savings, higher quality safety standards, increased environmental sustainability, and faster completion.
AMANA's reliable track record has taken them to the forefront of the construction industry.
Projects
Group AMANA has worked on several complex projects over the years. Some of their notable projects are:
Turnkey work for Unilever
Build work for du Data Center
Build Only for AeroFarms Vertical Farm [2]Amana, "AeroFarms Vertical Farm,

https://www.groupamana.com/project/aerofarms-vertical-farm/"
5.

United Engineering Construction Company (UNEC)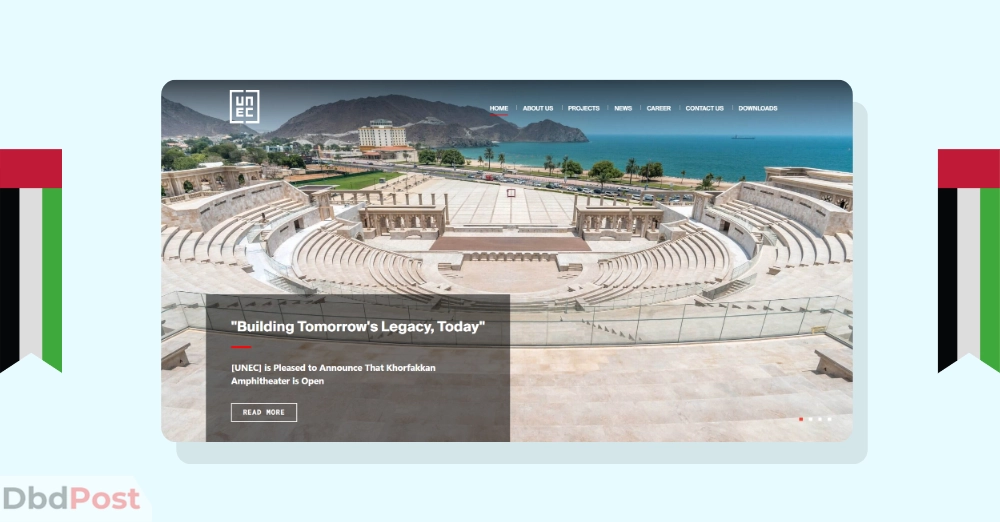 UNEC has been established in the engineering construction market for over 40 years. Initially founded in 1976, they have become a strong and trusted partner.
Today, they continue to prove their mettle with a portfolio of 3 billion USD worth of current projects.
They collaborate with several prominent real estate developers. Together, they shape cities and build skylines across local and regional markets.
With United Engineering Construction Company, you can be sure that your designs are in capable hands.
Projects
UNEC has significantly contributed to the Emirates' infrastructure. From public buildings to private residents, they have worked on it all.
Some of their notable projects are:
Construction of Arab Marine Academy
Turnkey work for Silicon Central
Construction of Al Majdoul Tower in the Kingdom of Saudi Arabia
6.

Adnann Contracting L.L.C.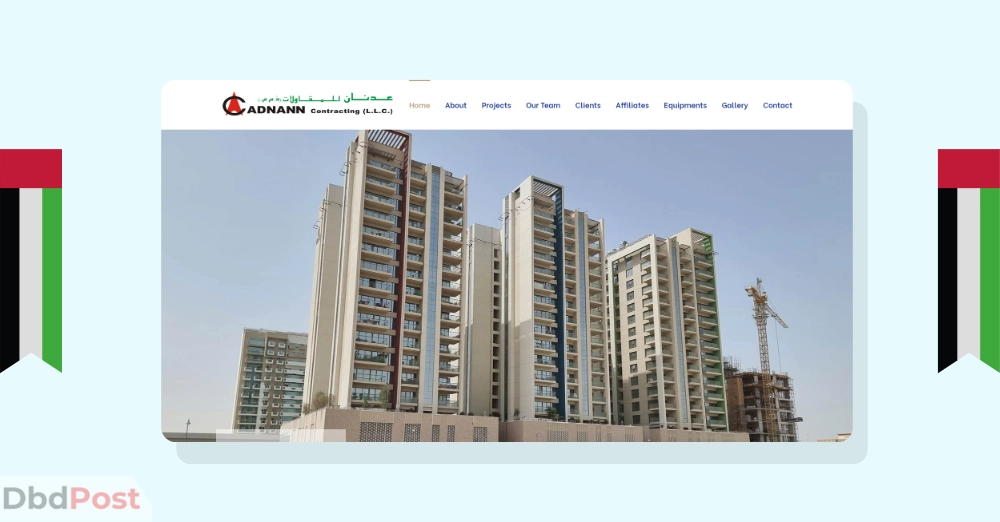 Adnann Contracting, established in 1999, offers a full range of construction services and strongly emphasizes quality control and client satisfaction.
Each project is carefully planned with all details taken into account, and the company's employees are seasoned professionals within the industry, bringing a wealth of experience to each project.
Since its establishment, Adnann Contracting has completed and delivered projects to its clients and investors, proving itself to be a trustworthy and reliable partner for any construction project.
Projects
Adnann has made buildings for both the private and public sectors. They have helped with private villa construction, shopping malls, and hospitals.
Some of their notable projects are:
(G + 3) Labor Camp at Al Quoz
Zulekha Hospital at Al Qusais
Adnan Hotel at Al Barsha
7.

General Construction Co. L.L.C – GCC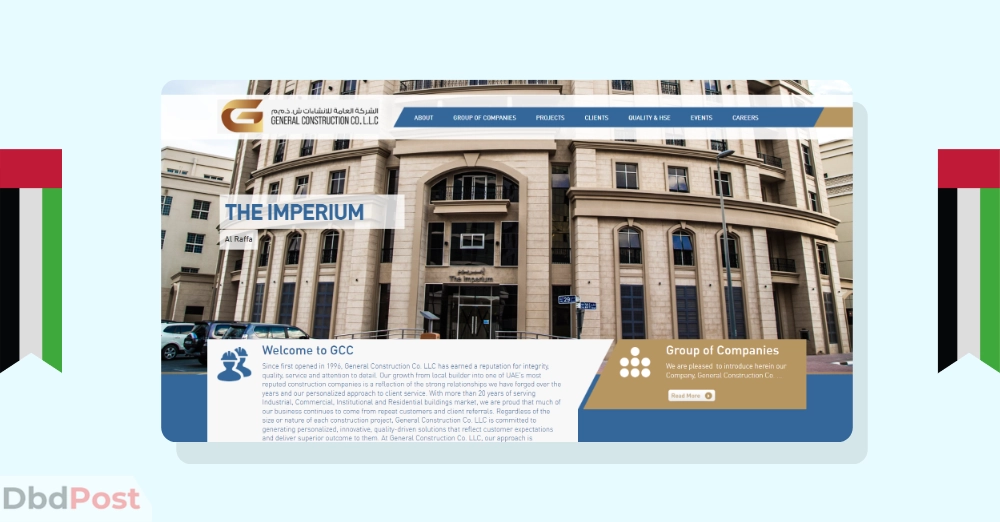 GCC, established in 1996, has come a long way since starting as a local builder. They are committed to integrity, quality, and service.
This has helped them acquire a reputation for attention to detail and excellent quality.
GCC works with the Industrial, Commercial, Institutional, and Residential building markets.
Similarly, they deliver personalized, innovative solutions that meet and exceed each customer's expectations. Simply put: GCC is the go-to choice for quality-driven construction services.
Projects
GCC has worked with several high-profile clientele. Some of them are Al-Hilal properties, ASAM, and Select Group.
Some of the projects they have undertaken are:
Construction of 2B+G+6+Roof Hotel Bldg. at Al Mina, Dubai
Labor Accommodation Plot No. 599-312
Steel Warehouse At Al Qusais
8.

Arabian Construction Company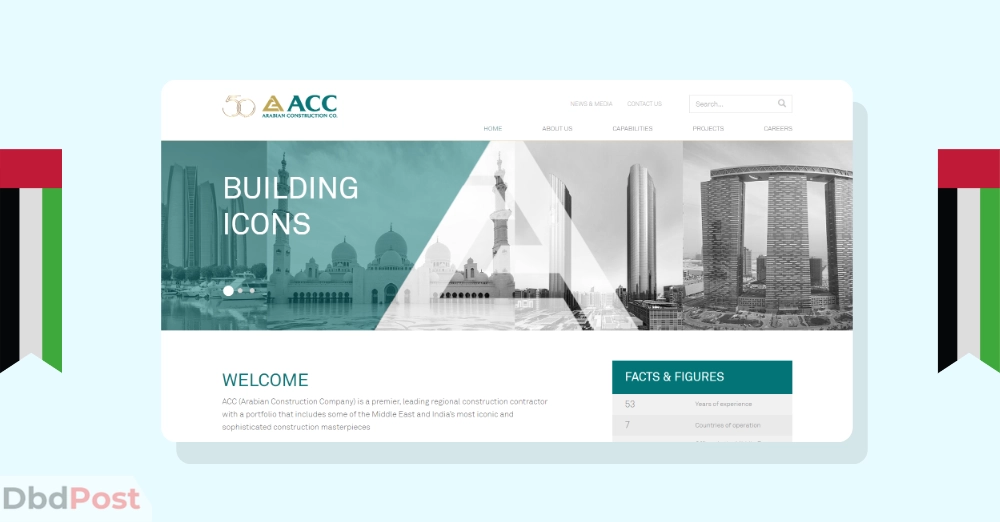 Arabian construction company's address is at Jumeirah, making it accessible for the clients.
ACC has set a precedence for innovation, safety, and uncompromising excellence since 1967. It provides unparalleled service and delivers world-class results for every customer.
They have integrated strong quality control measures to exceed their stakeholders' expectations. Customers can be confident they'll receive a visionary solution to their building needs.
ACC can be your trusted construction partner as its portfolio grows each year.
Projects
ACC has worked with both the private and public sectors. Some of the notable projects are:
Boulevard Point in Downtown Dubai
World Trade Center Abu Dhabi
Almas Tower in Dubai
9.

Shapoorji Pallonji International FZE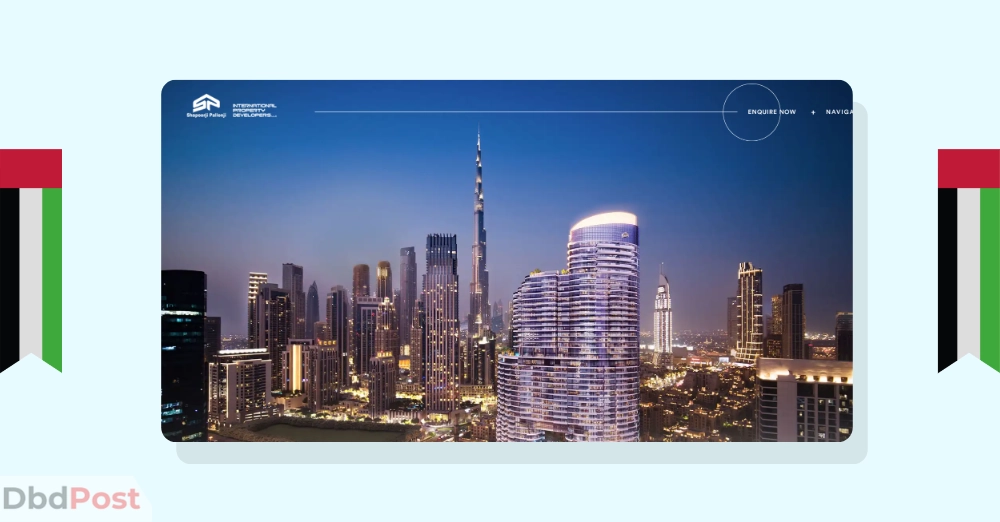 Shapoorji Pallonji is a successful company with a history of over 150 years, starting as an infrastructure development firm.
They have made a name for themselves by building real estate in prime locations with advanced technology, offering luxury and comfort. Their projects are a testament to their commitment to excellence and quality.
Besides, they are always available to clients through their United Arab Emirates phone line. Throughout history, Shapoorji Pallonji has built a reputation for creating iconic landmarks.
Projects
Shapoorji Pallonji has completed several projects in their rich history. Some of their iconic projects include:
Municipal Corporation Karachi in 1932
Taj Intercontinental Mumbai in 1973
Golf Villas Dubai in 2012
Landmark Headquarters in 2016
10.

ASGC Dubai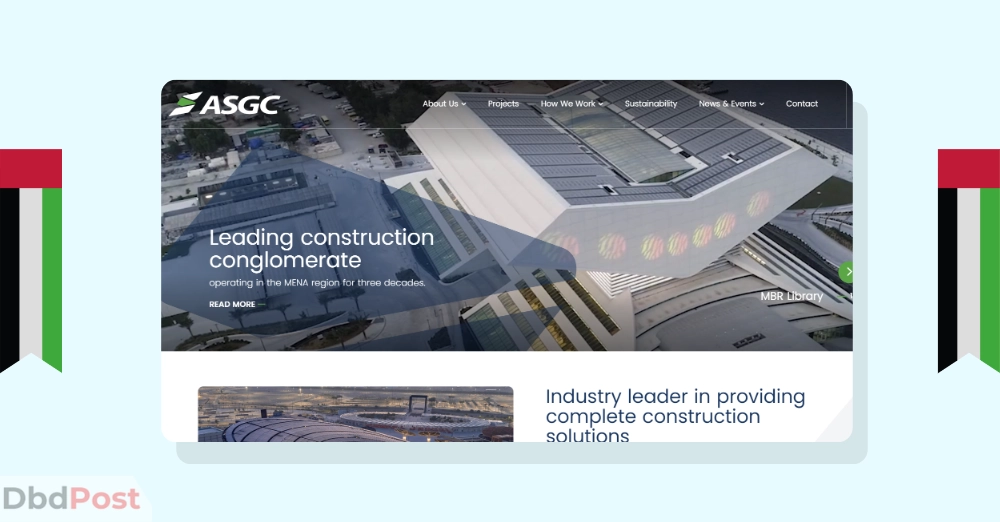 ASGC has been a prominent force in the construction sector since 1989. ASGC's in-house resources provide control over project quality and timely delivery.
Through 30 years of growth and expansion, ASGC has become an industry leader. They provide turnkey services to most projects. They employ over 12,000 personnel and generate revenues of over USD 1 billion.
Projects
ASGC has completed projects for both the private and public sectors. Some of their notable projects are:
Design and Build of Coca-Cola Arena
Construction of Internal Roads Project in Nad Al Sheba 2
The Palace Project in the Dubai Creek Harbour District
11.

BK Gulf LLC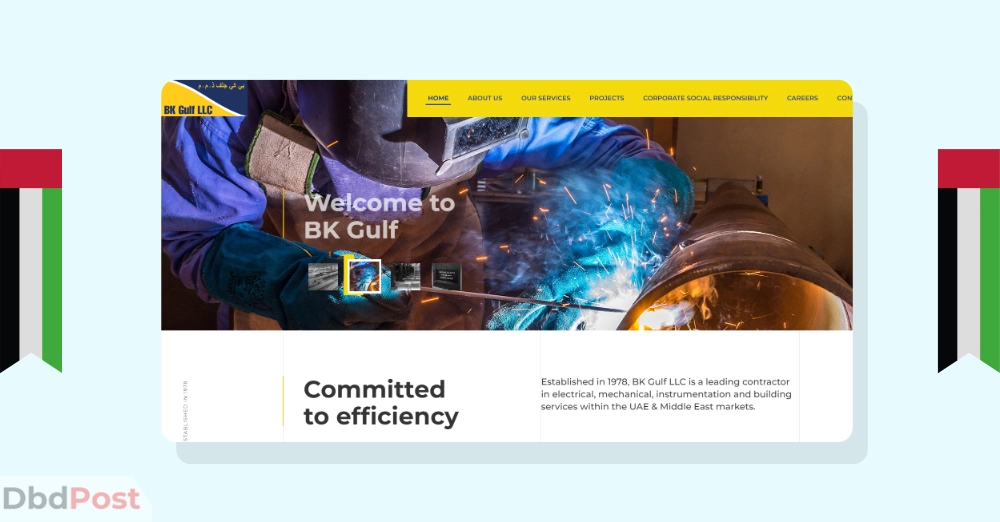 BK Gulf LLC started in 1978 and is a prominent construction company in the region. They have specialties in electrical, mechanical, instrument, and building services.
BKG can help with any type of project you're working on. They will ensure everything goes smoothly with pre-planning so they can be as efficient as possible.
BKG cares about making sure their work is sustainable and top quality. BK Gulf LLC is an excellent choice for your building needs.
Projects
BK Gulf has completed projects for both the private and public sectors. Some of their notable projects are:
Al Salam Tower Dubai
The Address Downtown Dubai
New York University Abu Dhabi Campus
12.

RP Group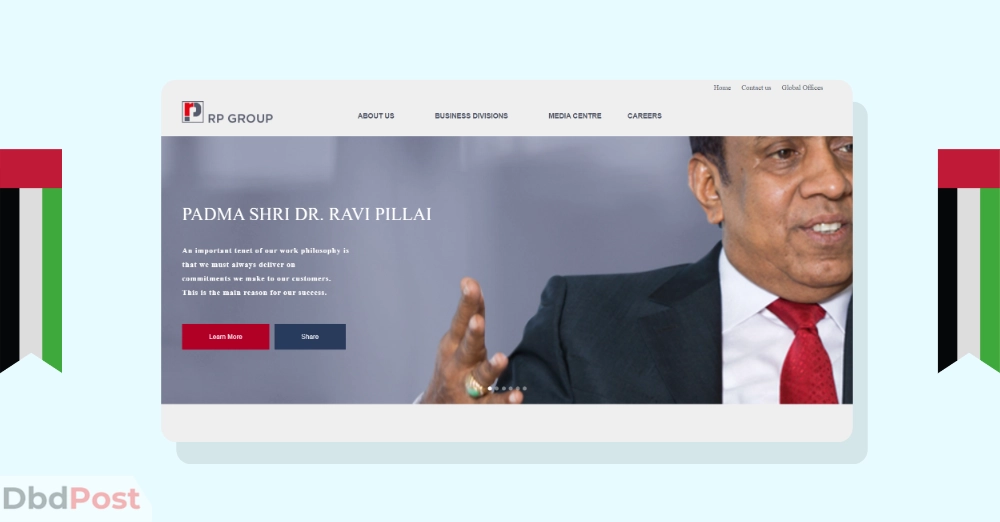 RP Group started construction activities in the 1970s when the Gulf nations discovered hydrocarbons. Now they are leaders in their field and have done work in most of the GCC.
They ensure projects get done on time, within budget, and with the highest standards. Safety and sustainability are two of the most important things for them.
RP Group has a good track record all over the world. It is the preferred partner of Governments from the Gulf.
Projects
RP group has worked with many clients over the years. Some of the projects RP Group has undertaken are as follows:
Main Contractor at Juma Al Majid Plaza
Main Contractor at Crowne Plaza Hotel
Main Contractor at Palm Villa
13.

DBB Contracting LLC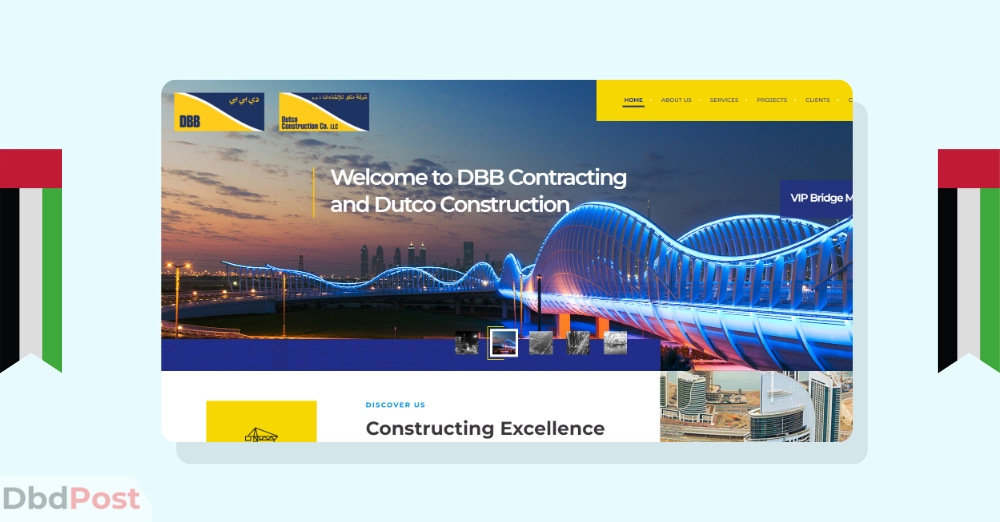 DBB Contracting has been a part of the UAE engineering and construction history since the 1970s. It is one of the country's leading heavy civil and marine contractors.
DBB has built many streets, highways, tunnels, bridges, and other projects in Dubai. They have been making buildings with a loyal client in both the public and private sectors.
Projects
DBB has collaborated with several public and private sector clients. Some of their completed projects are:
The Address Hotel renovation
Expansion of Fashion Avenue in Dubai Mall
Expo 2020
14.

Hills & Fort Construction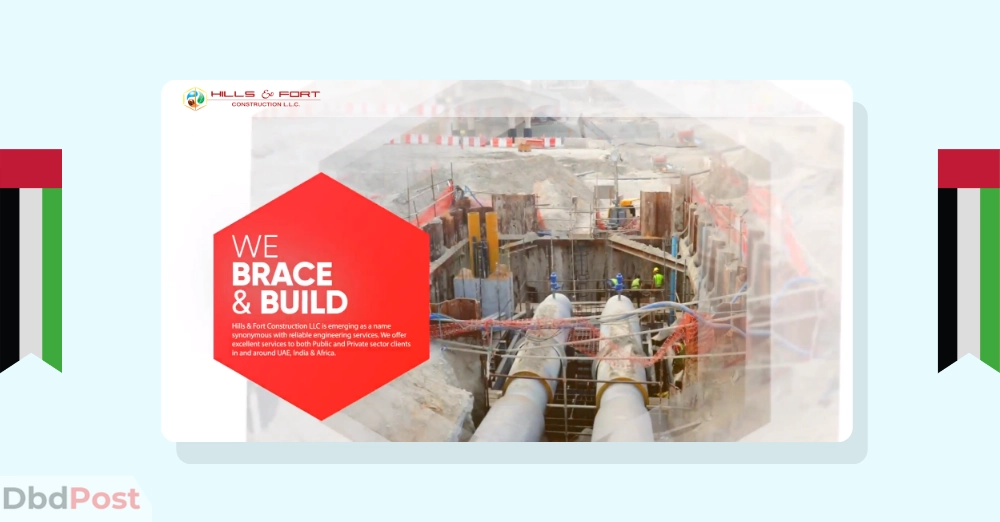 Hills and Fort started small in Dubai in 2007. Now, their work is seen across the Middle East, Africa, and India.
Hills and Fort help different people with civil engineering and creating infrastructure to help them live their best lives. They come up with the best solutions for both individuals and companies.
Hills and Fort is genuinely a total solution provider in the infrastructure industry.
Projects
Hills and Fort have had many projects for both the private and public sectors. They have helped construct residential buildings, shopping malls, and hospitals.
Their notable projects are:
Relocation & Diversion of Existing Services in Dubai Financial Market Head Quarters Development
Etihad Rail Project Stage 2&3
Infrastructure Works at Logistics District of Dubai South
15.

Bu Haleeba Contracting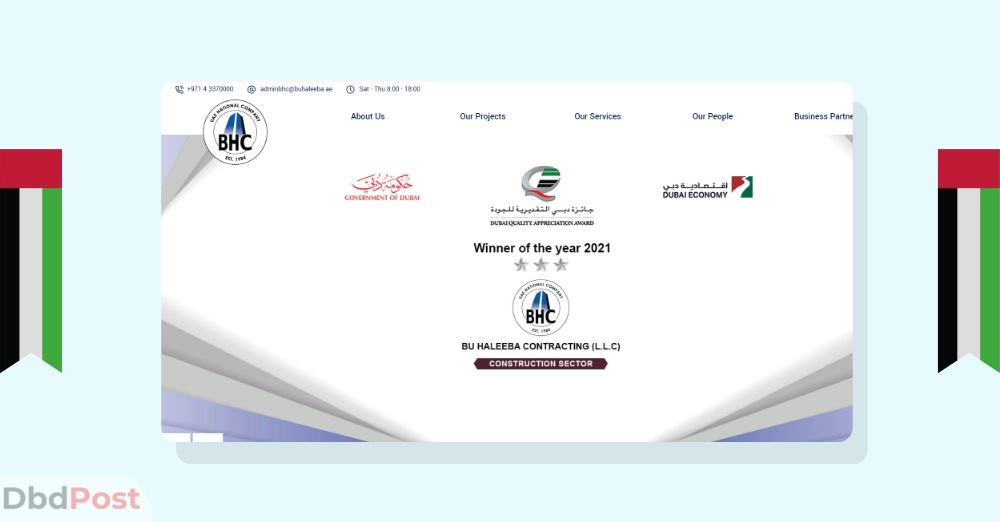 Bu Haleeba Contracting was founded in 1984 and quickly gained recognition. They are known for excellent quality, fast customer service, and timelines.
Nowadays, the company is vast, with 3,400 workers dedicated to delivering quality projects. They have completed over 185 projects so far.
Their commitment to innovation and problem-solving has kept them at the top of the contracting industry. It's no wonder that Bu Haleeba's construction services are so highly respected.
Projects
Bu Haleeba has completed over 185 projects so far. Some of their completed projects are:
The One & Only Royal Mirage
Emirates Institute For Banking & Financial Studies
Dubai Health Care City
16.

Airolink Building Contracting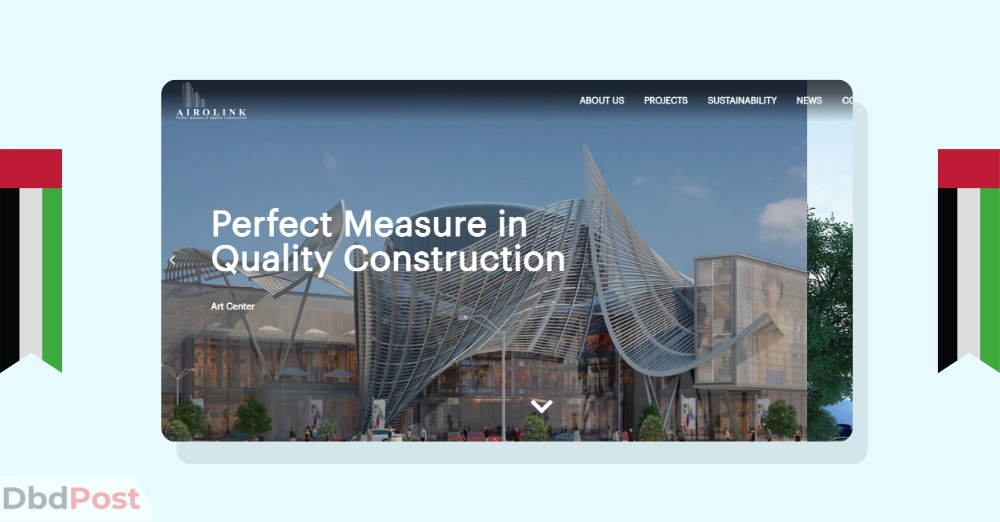 Airolink is a company that started in 1996, based in Ireland. It specializes in construction work for residential, commercial, and industrial projects.
It has an excellent record for completing complex tasks and is the "contractor of choice."
They've also done big ventures with Al Wasl, the UAE Ministry of HR and Energy, the Bahrain Ministry of Housing, and DP World. All of these projects prove just how successful Airolink is.
Projects
Airlink has worked with several clients from both the private and public sectors. They build residential buildings, shopping malls, and also governmental buildings.
Some of Airlink's projects are:
Aljada Development – Residential Gate Buildings
Abu Dhabi Future School, Phase 9, Madinat Zayed
Community Mall, Jumeirah
Things to consider while choosing construction companies in Dubai, United Arab Emirates
Choosing the right construction company for your project is crucial for its success.
With so many options available in Dubai, finding the best fit for your specific needs can be challenging.
Some of the factors we considered while choosing the best Dubai construction companies are:
Services Offered
Consider the services they offer before choosing a building construction company. Make sure the company provides the services you require for your project.
Consider the type of construction you need, whether residential, commercial, or industrial. Some companies specialize in specific types of construction.
So ensure you choose a company equipped to handle your specific needs.
Company Size and Budget
The size of the construction company can influence your decision-making process. Consider your budget and decide which size the company will best meet your needs.
Larger companies may have resources but also come with a higher budget. Smaller companies offer a personalized touch and flexible pricing but have limited resources.
Customer Reviews and Reputation
Checking customer reviews and the company's reputation is important in choosing a construction company.
Look for reviews from past clients, their level of professionalism, and their ability to meet deadlines.
Check online resources to get a sense of the company's reputation. A company with a good reputation is a sign of its reliability and quality.
Licensing and Insurance
Insurance are also important to protect you and your property in case of accidents or damage.
Make sure to choose a construction company that is licensed and insured. Ensure the company has adequate insurance coverage and ask for proof of insurance.
How to apply to a Dubai construction company?
Dubai Construction Company offers careers for many skilled individuals. Usually, you can access them through the career section of their website.
These are the few steps to apply for a job:
Visit the company website
Go to the particular official website, and navigate to the "Careers" or "Jobs" section.
Browse available positions
Look for job postings related to your area of expertise or interest. Make sure to read the job description and requirements thoroughly.
Prepare the required documents
Gather all the necessary documents, such as your resume, cover letter, and certifications. It's important to tailor your resume and cover letter to the specific position you're applying for.
Highlight your skills and experiences that align with the job requirements. This will make your application stand out. [3]Khaleej times, "Resume for Dream Job, … Continue reading
Submit Your Application
After reviewing your application, submit it by clicking the "Submit" or "Apply" button. You may be required to answer a few additional questions or complete an online assessment.
Follow Up
After submitting your application, wait for a response from the company. If you don't hear back, consider following up with the HR department.
Services construction companies in Dubai provide
Construction companies in Dubai provide a wide range of services. It is crucial to choose one that fits your project. Some of the services they offer are:
Design and Build Services
These companies design, plan, and commission the buildings.
Project Management
They provide project management services, including project planning, budgeting, scheduling, and construction site management.
Civil Works
They undertake civil construction works such as building foundations, structural works, and earthworks.
MEP Services
They offer MEP services, including electrical installation, plumbing, HVAC, and fire protection.
Building Maintenance and Repair Services
They offer maintenance and repair services, including routine maintenance, emergency repairs, and renovations.
Infrastructure Development
They undertake infrastructure development projects such as roads, bridges, tunnels, and utilities.
Related Stories
---
FAQs
Final thoughts
After looking into the best construction companies in Dubai, it is clear that they offer valuable expertise and quality service. They have played a vital role in building Dubai's iconic infrastructures.
We hope our Dbd guide helped you form an informed choice of contracting companies in Dubai.
It's important to consider factors like budget, experience, and reviews before making a final decision.