Abu Dhabi is a global city, business hub, and capital of the UAE. FM companies in Abu Dhabi are crucial for the successful functioning of any business and organization.
Facility management service companies in Abu Dhabi provide services like facility planning and design, asset management, and more. Some popular FM companies in Abu Dhabi are Al Waha Hygiene, Marina Facilities, Living Stone Facilities Management, etc.
This Dbd guide on best facility management companies in Abu Dhabi is based on factors like affiliation, range of services, customer support, and more. We also interviewed past clients to get insights into the companies.
11 best facility management companies in Abu Dhabi
Here, we have the list of facility management companies in Abu Dhabi. These companies are highly rated and reviewed by many.
Let's look at them in detail.
1.

Al Waha Hygiene Pest Control and Facilities Services LLC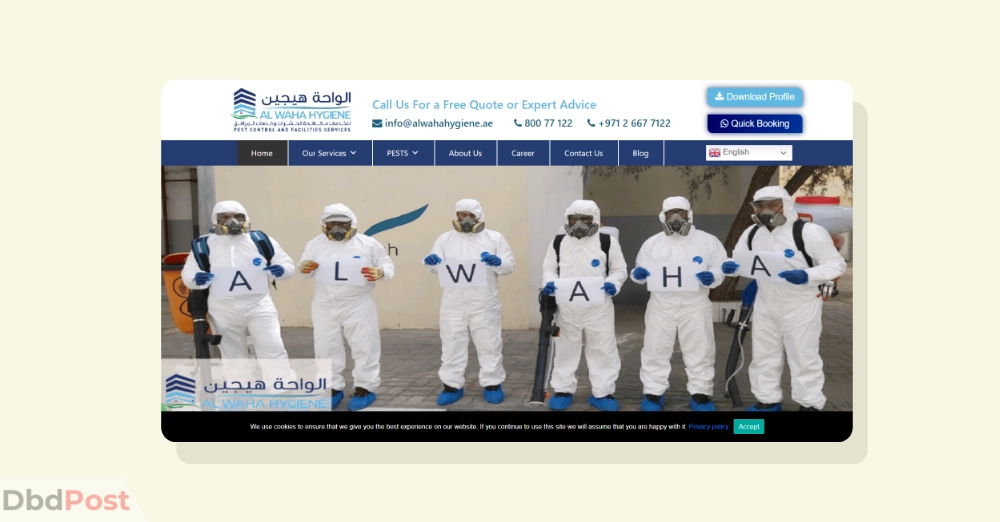 Al Waha Hygiene Pest Control and Facilities Services LLC is a major cleaning company in Abu Dhabi. They offer comprehensive services for residential and industrial properties.
Al Waha's services range from pest control to disinfection and sterilization. Additionally, they offer regular weekly, monthly, bi-annual, and yearly subscriptions.
Likewise, with trained staff, they provide exceptional service to their 5000+ happy customers.
Services
Disinfection service
Water tank cleaning service
Termite control service
2.

Marina Facilities Management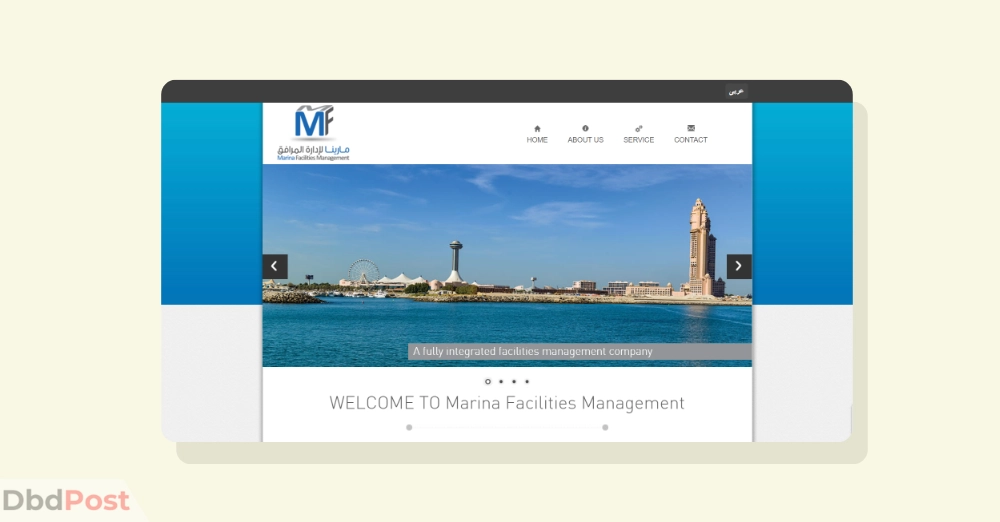 Marina Facilities Management (MFM) is a subsidiary of the National Investment Corporation (NIC). They provide integrated facilities management solutions for residential and commercial clients.
MFM offers various services, including FM consultancy, property management, and hard and soft services. Additionally, they have ISO 9001:2015, ISO 14001:2015, and OHSAS 18001:2007 certifications.
Their extensive clientele consists of Marina Mall, Nation Towers, and ADCP. MFM's expertise and attention to detail make them a leading provider of FM solutions in Abu Dhabi.
Services
HVAC repair
Fire alarm & security systems
Fixture relocation & assembly
Floor & wall finishes
3.

Living Stone Facilities Management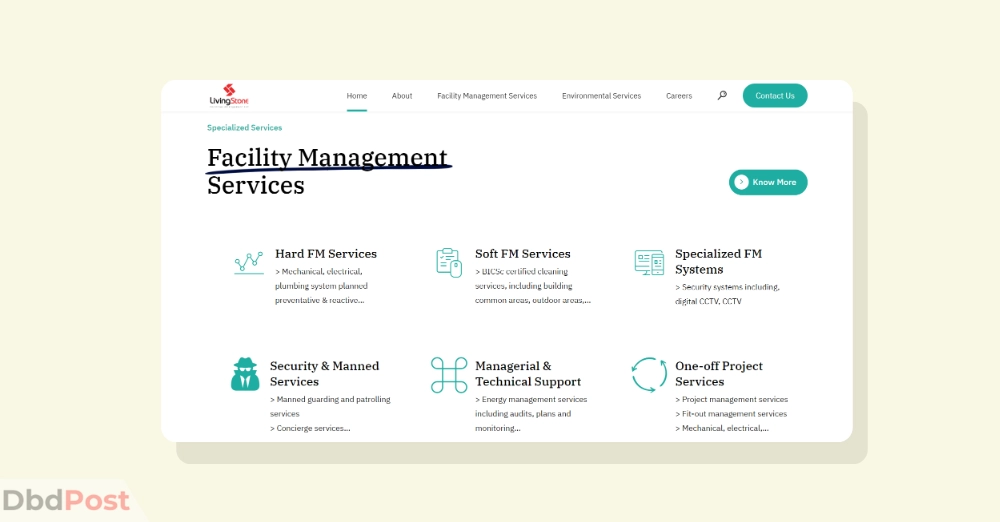 Living Stone FM is one of the top facility companies in Abu Dhabi. Established in 2014, they offer Hard, Soft, and Specialized FM services.
Moreover, Living Stone has a team of expert technicians who use advanced equipment to ensure quality service. They cater to clients such as ADNOC, Lulu Hypermarket, Grand Hyatt, and ADNEC.
Their expertise and advanced equipment make them a leader in the industry.
Services
CAFM system management
Concierge services
Carpark management systems
4.

Khansaheb Facilities Management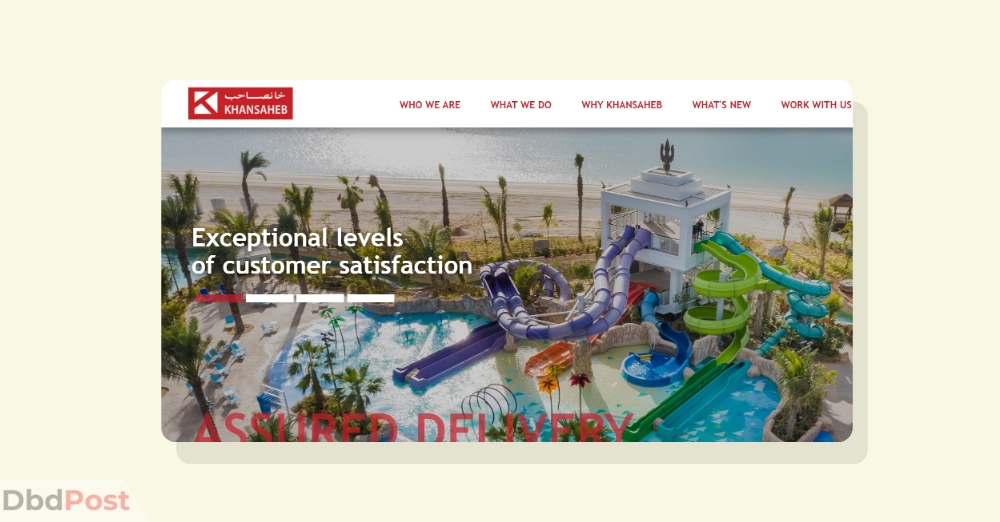 Khansaheb Facilities Management has been providing high-quality construction services since 1935.
Their contribution to the development of the UAE is well-known. They prioritize a quality approach, ensuring the highest standard of service.
They have partnered with Interserve, an international management systems company from the UK. Khansaheb business model covers the initial business case to ongoing operation and aftercare.
Services
Commercial Construction
Interior Designing
Offices building maintenance
5.

Dussmann Gulf LLC Abu Dhabi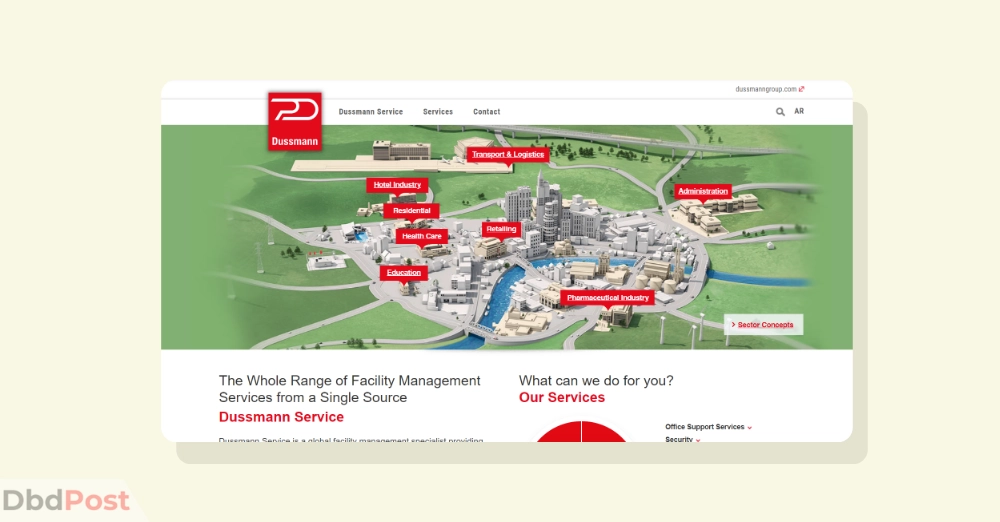 Established in 2005, Dussmann Gulf LLC Abu Dhabi is a subsidiary of the German Dussmann Group. They have over 64,452 employees in 14 countries.
Dussmann Gulf has extensive local knowledge combined with global expertise. They specialize in customized facility management services for their clientele.
Dussmann has Quality Management (EN ISO 9001) and Environmental Management (EN ISO 14001) certifications.
Also, they have Health & Safety Management (EN 45001) and Energy Management (ISO 50001) accreditation.
Services
Residential cleaning
Office admin services
Environmental services
6.

Jusoor Facility Management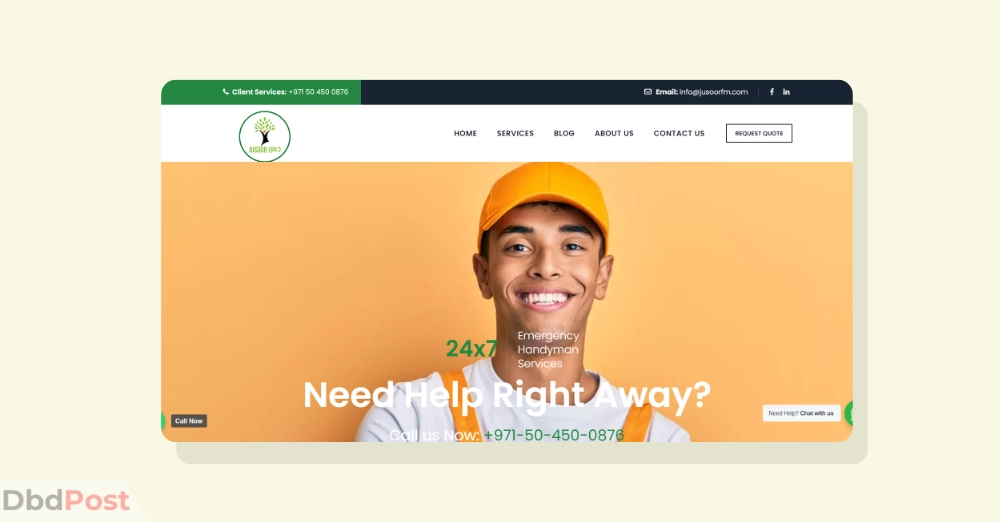 Jusoor Facility Management has over 10 years of experience in a wide range of services.
They have completed over 200 projects with a team of 123 trained professionals. Also, they have won 35 awards for their outstanding work.
Moreover, you can easily request a free estimate and schedule an appointment online. Jusoor Facility Management is a reliable choice for those seeking quality services.
Services
Handyman services
Plumbing services
Painting services
7.

Delight International Facilities Management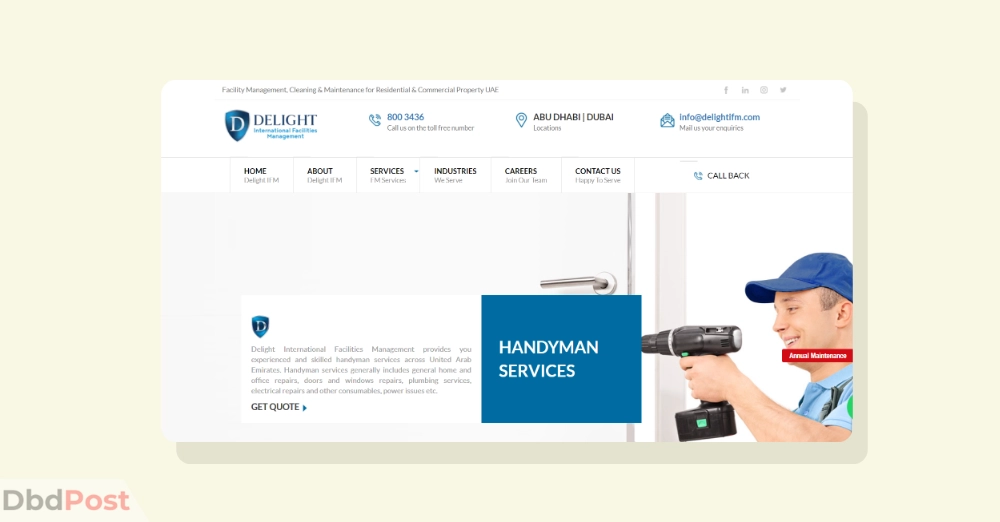 Delight International FM is an Abu Dhabi-based company with a branch in Dubai. They have well-equipped with modern machinery and expert staff. They have a team of in-house engineers, supervisors, handymen, and skilled laborers.
The company has QRS ISO 9001:2015, ISO 14001:2015, and ISO 45001:2018 certificates.
They also hold an annual UAE government maintenance certificate. Also, they are accredited by EIAC and are a corporate member of BICSc.
Services
Electrical works
Deep cleaning services
Plumbing works
Carpentry works
8.

FixPro AC Cleaning, Sanitization, Sofa Cleaning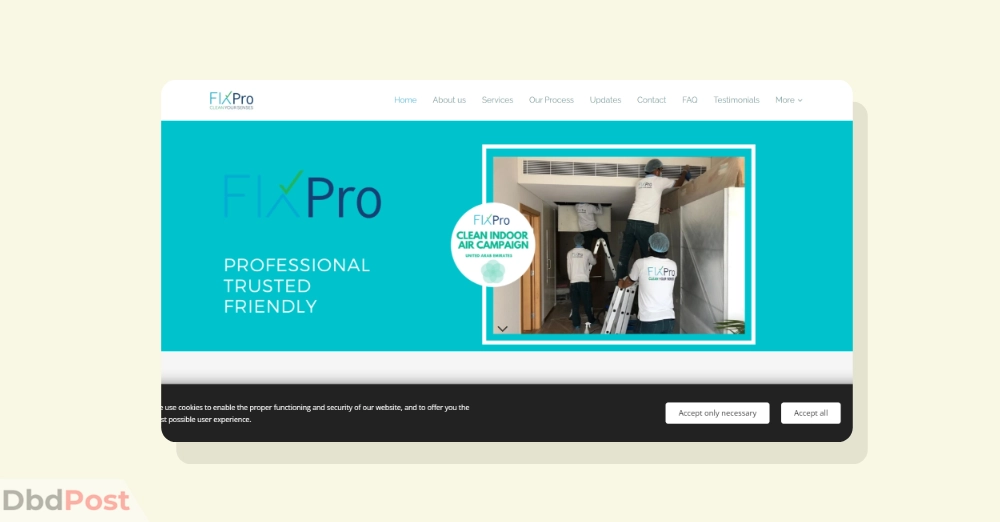 FixPro Cleaning Services is a 100% locally owned and managed Emirati company. They were founded by Mrs. Al Obeidli with a clear mission to protect every home by improving air quality.
The company specializes in AC cleaning and removing dust and molds. FixPro takes a holistic approach to cleanliness, ensuring every aspect of a home is well maintained.
Similarly, FixPro offers consultation and recommends the best solutions to improve air quality. Also, they provide reports based on the assessment, as well as full support.
Services
Carpet Cleaning
Pool maintenance
Deep cleaning services
Kitchen cleaning services
9.

Helion Services & Facility Management L.L.C.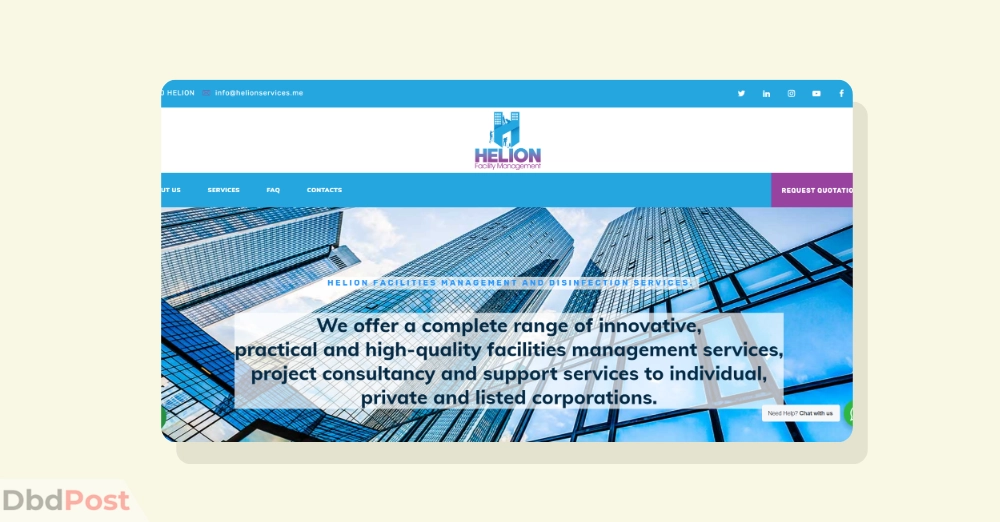 Helion FM services is an Abu Dhabi-based company that offers end-to-end disinfection services. They offer a complete scope of property maintenance services.
Similarly, Helion provides high-quality services with a strong national network across multitudes of industries. Their team comprises certified technicians, industry veterans, and project consultants.
They use UAE-certified food-grade chemicals for the disinfection process. Also, Helion's Door-to-Door Services are hassle-free, with reliable and transparent customer service.
Services
Gardening and landscaping
HVAC
Mechanical services
10.

White Arch General Contracting & Maintenance L.L.C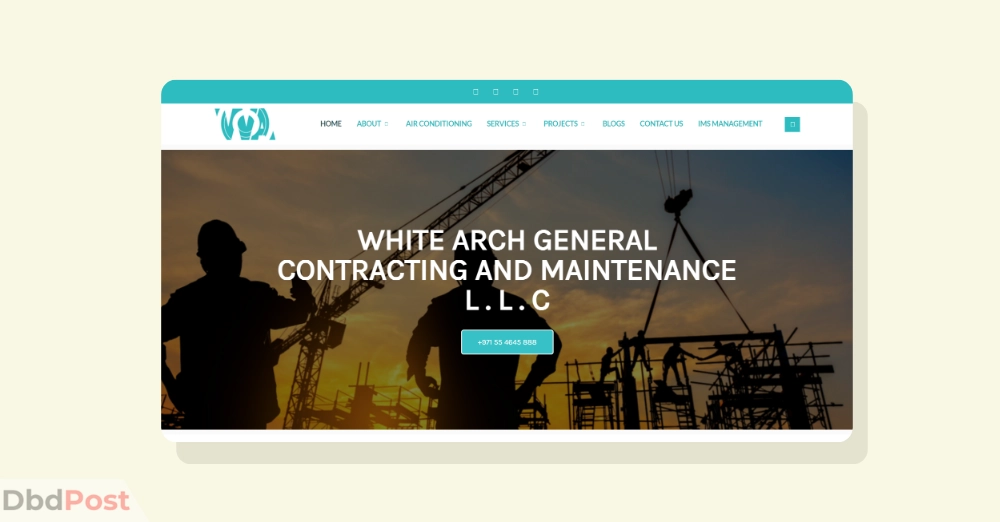 White Arch General Contracting & Maintenance L.L.C. was founded in 2008. It specializes in providing construction, interior fit-out, and turnkey solutions. Some popular clients are Khalifa University, Infracare, Hayat Biotec, and more.
The company has worked on several projects, including hospitals, medical centers, and shopping malls. With over 100 satisfied clients and 1200+ projects, the company has a proven track record of success.
White Arch has OHSAS 18001: 2007 and ISO 9001:2015 certifications. Additionally, White Arch is licensed by the Abu Dhabi government.
Services
AC maintenance and cleaning
Plumbing and drainage services
Fire fighting
11.

Khidmah – Sole Proprietorship L.L.C.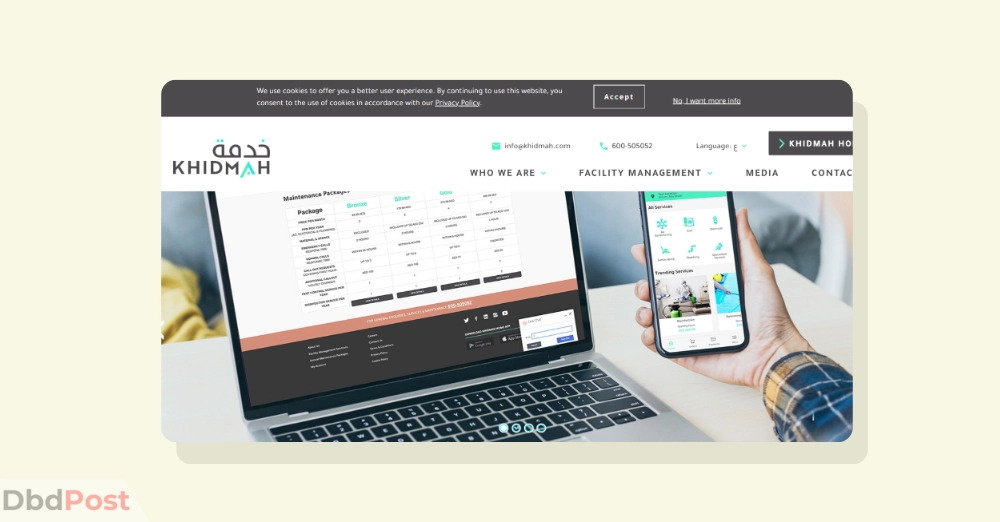 | | |
| --- | --- |
| Services | Plumbing services, Electrical services, Hospitality |
| Location | Mohamed Bin Zayed City, Abu Dhabi |
| Contact | +971600505052 |
| Website | Khidmah |
| Email | info@khidmah |
| Open hours | 8:00 AM – 5:00 PM (Monday to Friday) |
| Map | Get direction |
Khidmah is a trusted FM and home maintenance team with over 3,200 members spread across the UAE and KSA. They offer integrated facility management with individual or packaged solutions.
In recognition of their exceptional work, they have won many awards. They won Human Experience Management Innovation Award 2022 by SAP innovation.
Also, they won Excellence in Training 2021 in Middle East Awards and Daman Corporate Health Awards 2016.
Furthermore, they have been affiliated with MEFMA since 2013 and BICSc since 2017. Additionally, Khidmah has obtained certifications in ISO 22301:2019, ISO 9001, and ISO 14001.
Services
Pest control
Mechanical services
Residential and corporate cleaning
What is facilities management?
Facility Management (FM) manages a wide range of activities and facilities. These facilities include cleaning, security, catering, space planning, and other services. Facility companies are essential to keep the built environment functional, safe, and comfortable.
The International Standards on facility management (FM) developed by ISO/TC 26 defines FM company objectives as [1]ISO, "FM, https://www.iso.org/obp/ui/#iso:std:iso:41011:ed-1:v1:en:~:text=This%20document%20was%20prepared,and%20image%20more%20successfully."
Effective delivery of support services for organizations
Enhance sustainability, reducing the negative impact on environmental
Promote and develop a motivating workplace
Maintain regulatory compliance providing a safe working environment
Optimize life cycle performance and costs
Improve resilience and relevance
Project an organization's identity and image more successfully
How we chose the best FM company in Abu Dhabi
When selecting the best FM companies in Abu Dhabi, we researched based on various factors. The things we looked for while choosing the best FM companies are:
Experience and industry expertise
Range of services offered
Quality management systems and certifications
Health, safety, and environmental standards
Technology and innovation
Customer support and communication
Sustainability and corporate social responsibility initiatives
Flexibility and customization of services
Partnerships and collaborations
Related Stories
---
FAQs
Which is the best facility management company in Abu Dhabi?
Al Waha Hygiene is the best facility management company in Abu Dhabi. With tons of experience, they have served over 5000 clients.
What is an FM company?
Facility Management (FM) companies offer various maintenance and management services. These services include cleaning, security, and landscaping to building management.
How to get a job in an Abu Dhabi facility service company?
You can start by looking for the "Careers" or "Work with Us" section of the FM company's website. Once you find a suitable position, apply with all the required documents.
Final thoughts
Choosing the best facility management companies in Abu Dhabi is confusing.
Factors like experience, health, and safety standards can help you make an informed decision.
We hope this Dbd guide on facility management services in Abu Dhabi has helped you choose the right one.


Khalid Jama is a financial advisor based in Dubai. He has a decade of experience in the financial sector, specializing in asset portfolio management, investor relations, and taxation. His expertise in corporate finance and global investments have made him one of the most sought-after advisors in the Emirates. With knowledge, Khalid has helped his clients create long-term wealth through careful analysis and strategic planning.