Experience the local Korean experience in some of the best Korean restaurants in Dubai. From traditional Korean BBQ to contemporary fusion cuisine, Korean restaurants are gaining popularity among Emiratis and tourists.
From high-end fine Korean restaurants to affordable street-style places, the Emirate has something for everyone. Some of the best Korean restaurants in Dubai are Sumibiya Korean BBQ, Seoul Garden Restaurant, KOREANA, and others.
Our team researched, visited, and evaluated various Korean restaurants in the city. We considered factors such as food quality, atmosphere, pricing, service, and location.
Also, we referred to top food blogs and online reviews to filter out the best diners. Our Dbd guide provides an informative and comprehensive guide to the best authentic Korean restaurants in Dubai.
11 best Korean restaurants in Dubai
Dubai is known for its diverse and vibrant food scene, and Korean cuisine is no exception. Known for its bold flavors, unique taste, and quality ingredients, Korean cuisine, has become one of the most sought-after cuisines in Dubai.
1.

Sumibiya Korean BBQ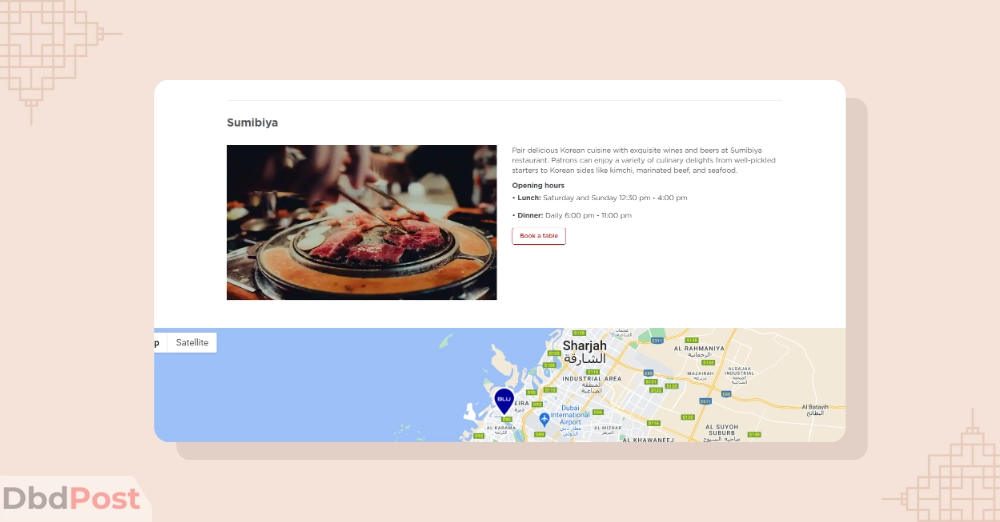 Sumibiya Korean BBQ is an authentic Korean restaurant that creates an immersive dining experience. They offer a range of seating options, including semi-private booths and open areas.
They also serve beers and wines to complement the food. The menu includes traditional dishes such as marinated beef, seafood, and kimchi with an all-you-can-eat Korean Barbecue special.
Sumibiya should be at the top of your list for a casual meal or a more extravagant culinary experience.
2.

Mannaland Korean Restaurant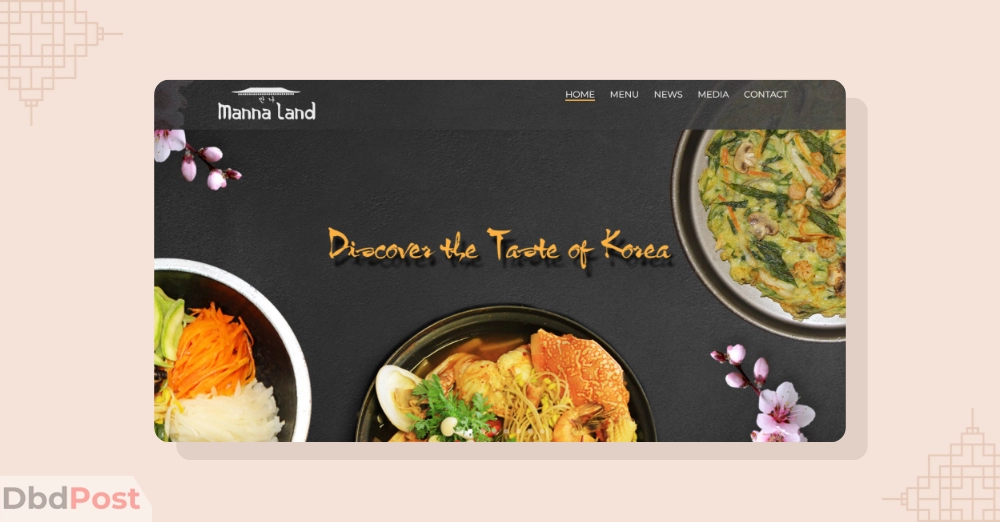 Mannaland Korean Restaurant has nearly 20 years of experience serving authentic Korean cuisine. Their specialty dishes include Galbi Gui Grill, Bibimbap, and Yachae Bulgogi, all made with fresh ingredients.
In addition to the traditional Korean dishes, they also offer Japanese cuisine.
Mannaland Korean Restaurant is sure to please and satisfy your appetite with all its flavor-packed and authentic dishes.
3.

Seoul Garden Restaurant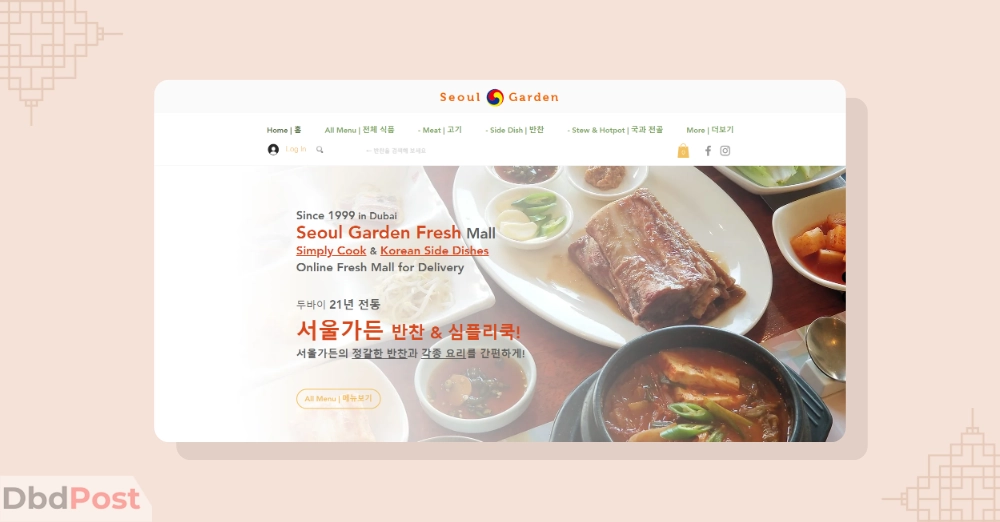 The Seoul Garden Restaurant offers a fantastic experience with its minimalistic atmosphere and authentically Korean menu. Its menu boasts many grilled, steamed, and noodle dishes.
For grilled meat, there's the Chadolbaki, Boneless Short-rip, and Galbi Jjim. You can bbq the meat on your table and season it yourself.
If you're looking for something pre-cooked, try Tteok-Galbi or Mukeunji Gamja Tang. Don't forget to sample some sides, too, like Kimchi, Chard Salad, White Radish Salad, or Seasoned Radish.
4.

Shogun Restaurant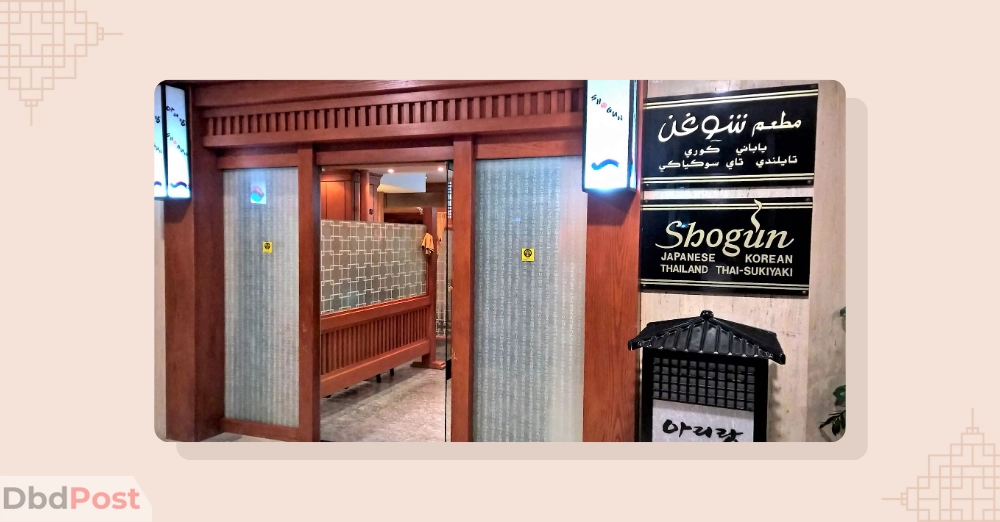 If you love Korean food and want an authentic Korean feast, Shogun Restaurant is the place for you.
Bibimbab, Jajangmyun, and Korean Barbecue are some of their best-selling Korean items. But their menu also features delicious dishes from Korea, Japan, and beyond.
Plus, the restaurant serves a fantastic seafood selection, perfect for sharing with groups.
If that wasn't enough to make your mouth water, Shogun also has an unlimited Chinese buffet, so you can have all the Asian food you desire.
5.

Social House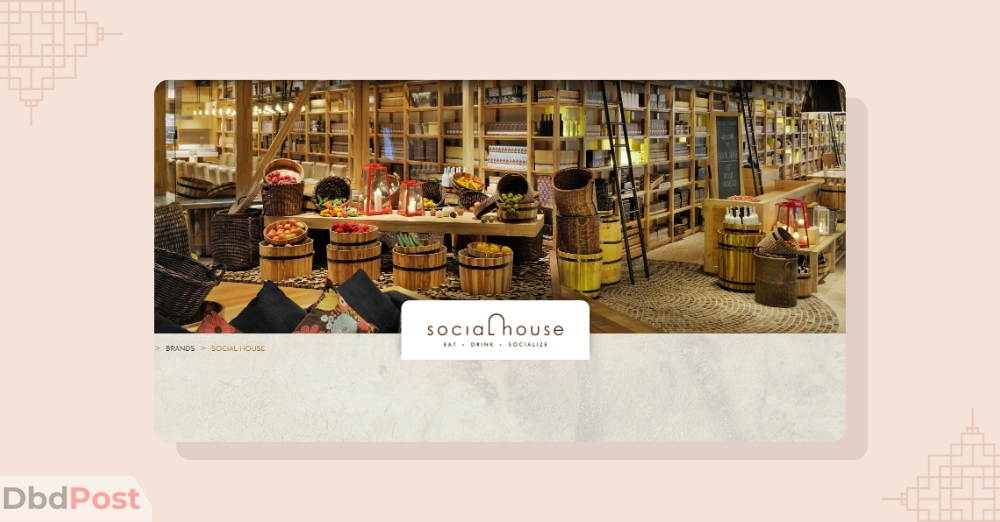 Social House is one of the most popular restaurants in Dubai, close to Burj Khalifa and Souk Al Bahar. You can enjoy the views of landmarks from their outdoor seating area or opt for indoor seating for an intimate experience.
When it comes to food, this restaurant offers Korean delicacies along with Indinesioan items on the menu. Their special Bibimbap with edamame, cracked salt spinach, and seaweed salad is worth a try.
With such an impressive menu combining elements of Eastern and Western cuisines, the diner is a must-try.
6.

Sonamu Restaurant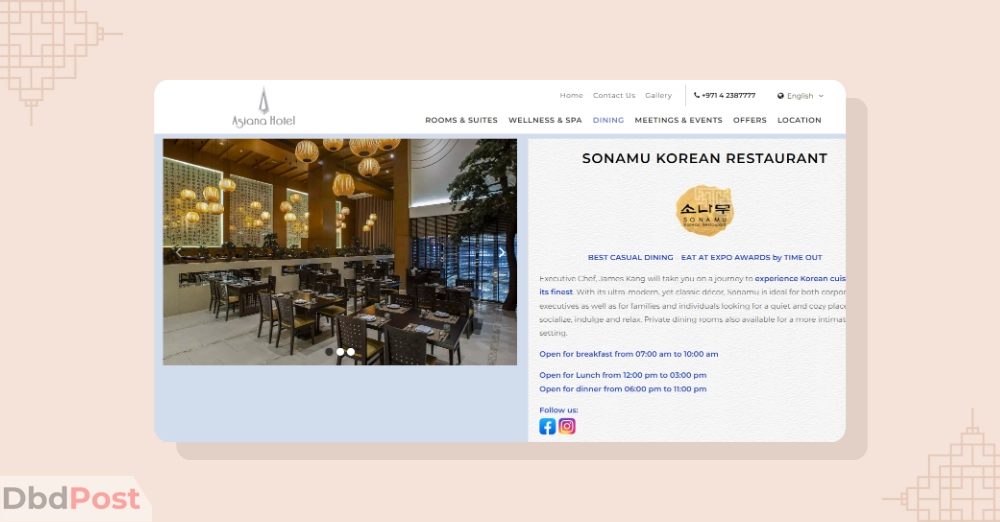 Led by Executive Chef James Kang, Sonamu is the perfect place for an authentic Korean experience.
Awarded as the Best Casual Dining at Eat At Expo by TIME OUT, the diner offers a modern and classy decor with plenty of options. For something more intimate, private dining rooms are available.
You can enjoy authentic cuisines like Beef Bulgogi Jungol, Kimchi Hot pot with Pork, and vegetables Hot pot. If you want drinks to go along with the meal, they have that too.
They also offer an unlimited Korean BBQ and sushi option, sure to make your visit even more special.
7.

KOREANA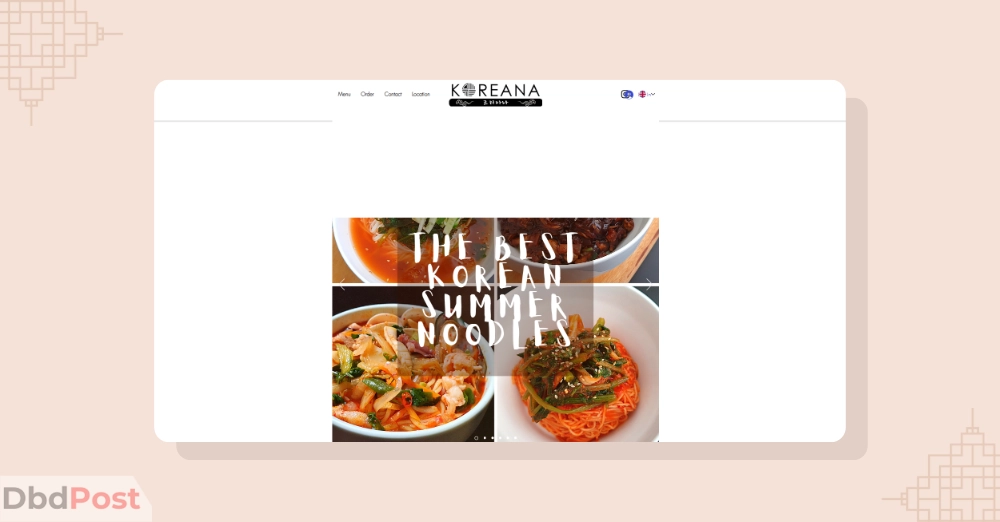 For those looking for a unique and authentic Korean experience, Koreana in Dubai is the place to go. Their extensive menu offers must-try options like beef Bulgogi for grilling, cheese ttoekboki, and kimchi fried rice.
Gimbap, Rice cake soup, and Korean summer noodles are among their best seller. And if you prefer seafood over traditional dishes, their seafood options will surely satisfy your taste buds.
All their dishes are made from the freshest ingredients, creating an atmosphere that is genuinely rustic and entirely Korean.
8.

Kimpo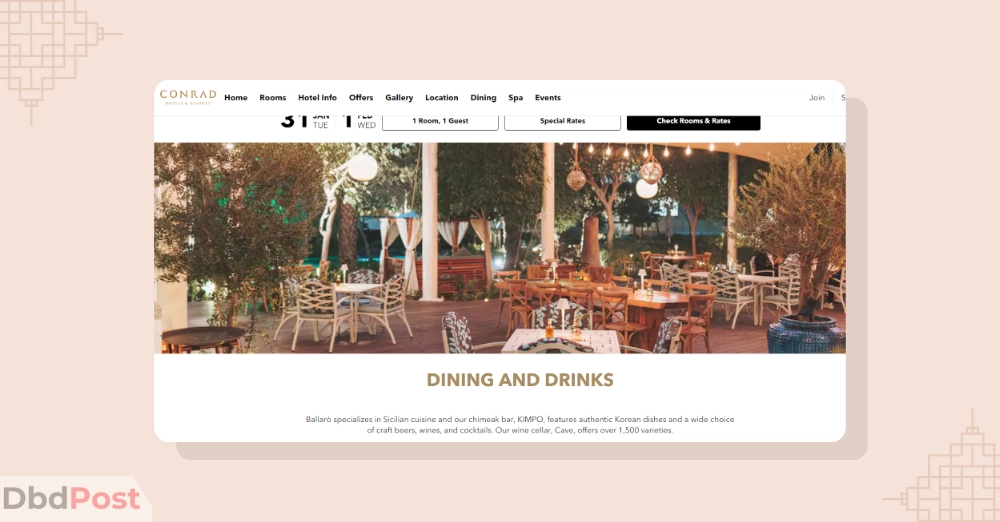 Kimpo opened in Dubai after taking its prime influence from Korea and bringing a Chimaek concept to life.
The hip bar and eatery have neon lighting, k-pop artwork, and live DJ music, making you feel like you stepped into Seoul.
They specializes in Korean fried chicken, with some of their most popular dishes being Chimaek Salad, Kimchi Fried Rice with Tofu, and Bulgogi Sloopy Joe.
Moreover, Koreans have such a love for chimaek: chicken and beer. And the diner offers it! You can learn about Korean culture by trying it for yourself at Kimpo.
9.

The Korean Restaurant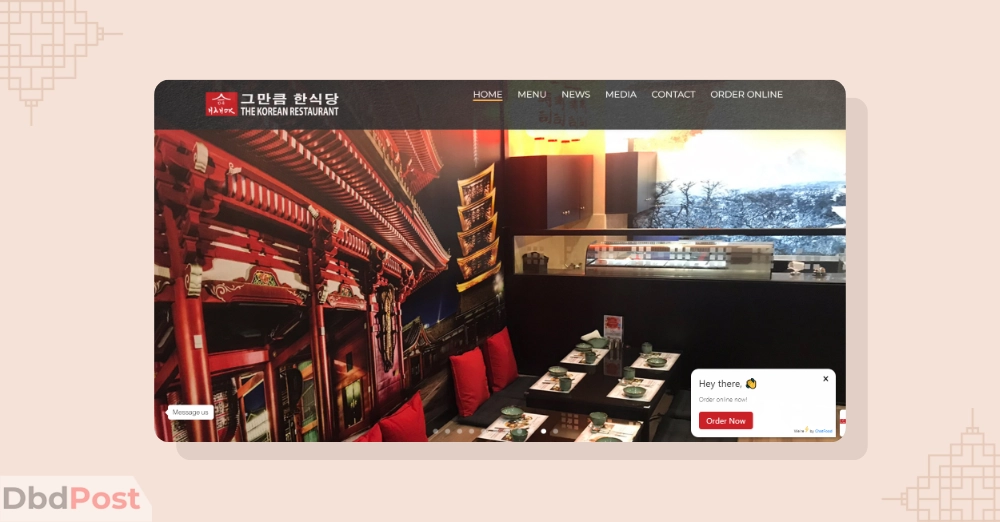 Food from around Asia is within reach, and The Korean Restaurant is the perfect destination to explore flavors from the far east.
With its variety of options, you are sure to find your favorite Asian cuisine at The Korean Restaurant.
You can find authentic Korean dishes and fusion creations, such as Chicken BBQ and Jjajangmyeon.
Traditional dishes such as Bibimbap and Kimchi Hotpot will satisfy your craving for spicy and savory. Furthermore, the restaurant offers Japanese food such as smoked salmon, Harumaki salad, and Ebi fry rolls.
10.

Little Lamb Happy Farm Hotpot& BBQ Buffet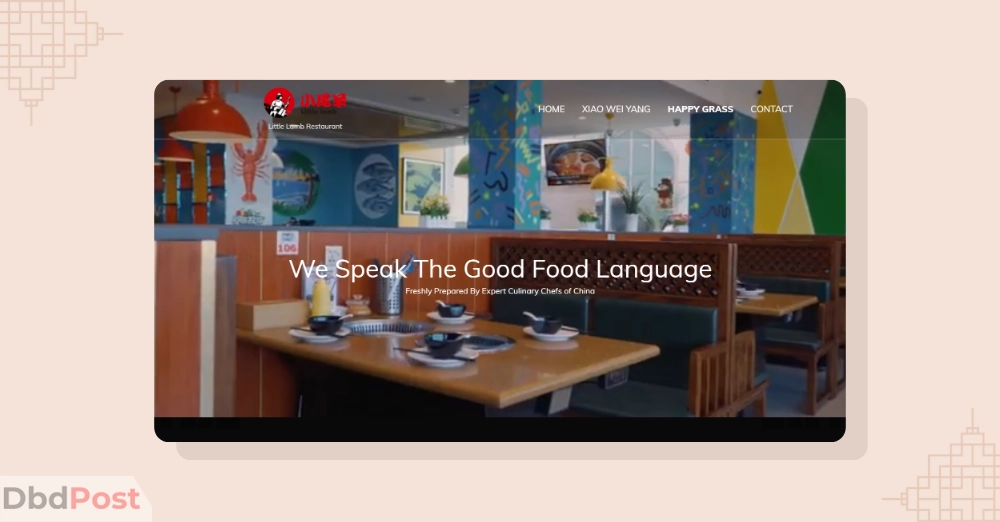 Little Lamb Happy Farm is a must-try restaurant for anyone looking to experience some of the best Asian cuisines. They offer delicious Korean grill, Chinese, and Japanese dishes like hotpots, BBQ buffets, and more.
Their hot pot is known for its incredible flavors and delightful ingredients. People can also enjoy their meal with an all-you-can-eat BBQ buffet that offers various options, including Korean BBQ, seafood platter, etc.
These items have been topping the list of frequently ordered dishes due to their freshness in taste and quality. So if you want to savor the best Asian flavors around town, Little Lamb Happy Farm is the place to visit.
11.

Hyu Korean Restaurant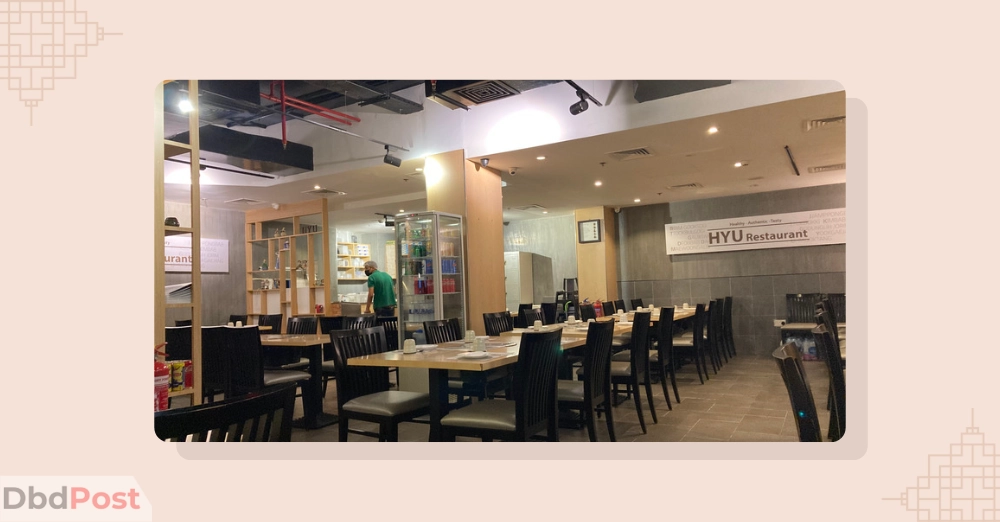 With homely seating and a cozy atmosphere, Hyu Korean Restaurant is an experience like no other.
From their famous Tofu Soup to Kimchee Pancakes, there's something for everyone.
Plus, each table has its grill, so you can have fun grilling your Bulgogi and Crispy Chicken. Don't forget about their portions either, they're large and affordable.
And if that doesn't convince you, get ready to satisfy your taste buds with snacks like Dakgangjeong (crispy popcorn chicken), Bibimbab, and Yangnyumgalbi (marinated beef short rib).
How prevalent is Korean cuisine in Dubai restaurants?
In recent years, Korean cuisine has become increasingly prevalent in the city's dining scene. Several Korean restaurants have opened up, offering a diverse range of dishes, from traditional Korean BBQ to contemporary fusion cuisine.
In recent years, the number of Korean restaurants in Dubai has been growing steadily, reflecting the increased popularity and demand for Korean cuisine. [1]Al Arabiya, "There's more to Korean food than kimchi, … Continue reading
You can find Korean restaurants throughout Dubai across major dining areas such as Downtown Dubai, JBR, and Dubai Marina.
Many of these restaurants are situated in prime locations, making them easily accessible for both locals and tourists.
Additionally, Some of the high-end malls, popular food courts, and local markets also have Korean eateries.
The variety of options available, combined with the quality of the food and excellent service, makes Korean cuisine popular among diners.
How much is the price of a Korean meal in Dubai?
A Korean meal in Dubai typically costs around AED 60-100 per person. Prices vary depending on restaurant type and location. Some of the more affordable Korean restaurants in Dubai have slightly lower prices.
One popular way to enjoy a Korean meal in Dubai is visiting a Korean Barbeque restaurant. These restaurants typically offer a range of meats, such as beef, pork, and chicken, cooked at your table on a grill.
Another option for enjoying a Korean meal in Dubai is visiting a traditional Korean restaurant.
These restaurants offer a more authentic dining experience and typically have a more comprehensive range of dishes on the menu, such as stews, noodles, and soups. Prices for a full meal at these restaurants can range from AED 80-100.
High-end Korean restaurants offer a better atmosphere with fine dining at premium locations. They are slightly expensive but usually provide you with a great luxurious experience.
Additionally, some restaurants offer a Korean Buffet, which will be a bit cheaper than ordering a la carte.
Related Stories
---
FAQs
Final thoughts
The best Korean restaurant in Dubai offers you several authentic Korean dishes like Kimchi, Korean BBQ (bulgogi and galbi), and Tteokbokki with a modern twist.
Whether you're a Korean food enthusiast or just looking for a new dining experience, the island has something for everyone.
We hope our Dbd guide helps you decide about the top Korean restaurants in Dubai.
When choosing a Korean restaurant to dine in, you should consider the ambiance, authenticity, location, and price.