The Burj Al Arab beach is a truly amazing place to explore. It is located around the iconic Burj Al Arab hotel, a tall tower with an enormous sail-like structure at the top.
Burj Al Arab, Jumeriah, is a magical place to be on vacation with family or friends. There are plenty of things and activities surrounding the beach, like events, shopping, dining, watersports, and more.
This Dbd guide is the result of an intense process of research and investigation. Our goal was to create a comprehensive yet easy-to-understand guide that allows beachgoers to identify their ideal destination in the area.
Our team personally visited the beach and interacted with tourists and local visitors.
In addition, we tried all nearby facilities for proper evaluation. Lastly, we searched the internet for information about the beach on reputed blogs, popular travel blogs, and social media.
Location of Burj Al Arab beach
The beautiful Burj Al Arab beach is located on a man-made island in the Jumeriah district of Dubai. People can't help but be mesmerized by the views of the Arabian Gulf while visiting this unique beach.
It is right across from Wild Wadi Waterpark, and the beach offers a perfect place to relax after a hot and exhausting day of exploration at the park.
Opening hours of Burj Al Arab beach
The Burj Al Arab beach is open and accessible to the public 24 hours a day, seven days a week. Visitors can enjoy the sandy beach and crystal-clear waters at any time of day or night, whether staying at the luxurious Burj Al Arab hotel or just visiting for the day.
The beach is well-maintained and equipped with a range of amenities, including sun loungers, umbrellas, and showers, making it the perfect spot for a relaxing day by the sea. So, whether you prefer to watch the sunrise or the sunset, you'll find the Burj Al Arab beach the perfect place to spend your time.
About Burj Al Arab beach Dubai
Visit the Burj Al Arab beach in Dubai and feel like a VIP. This amazing private beach is only open to guests of the luxurious Burj Al Arab hotel. While you soak up the sun, you'll be able to enjoy poolside snacks and drinks from the poolside bar. Now, let's look into the details of the beach.
Burj Al Arab suites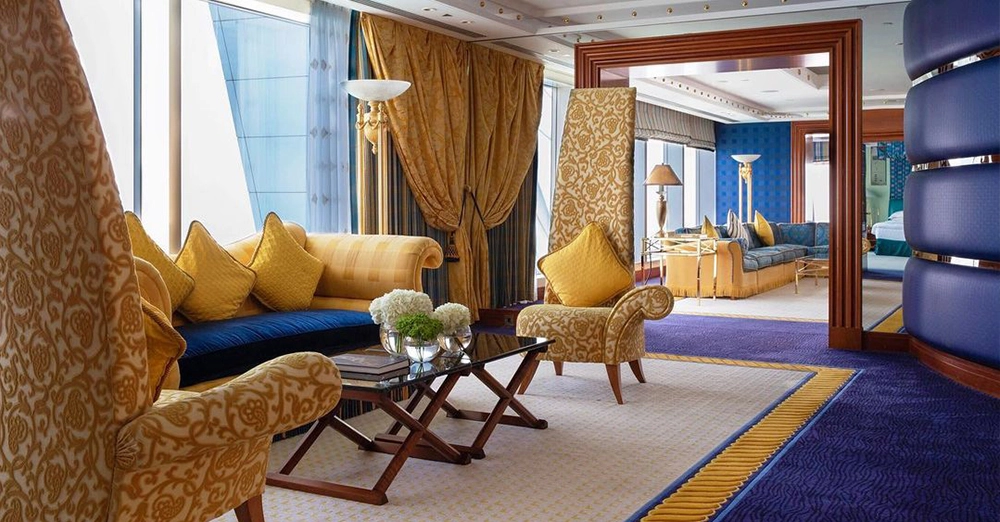 The Burj Al Arab hotel in Dubai is an incredible place to stay. It has many premium suites with valuable amenities like luxury beds, flat-screen TVs, and a private workstation. Now, let's look into some premium suites in the hotel.
Deluxe Marina Suite
This amazing two-story one-bedroom suite offers a spacious 170sqm and unbeatable views of the shimmering gulf of Arabia. Similarly, it has an elegantly designed living room with floor-to-ceiling windows. Plus, you get your main bathroom with a full-size Jacuzzi and a five-head rain shower. [1]Jumeriah, "Deluxe Marina Suite, https://www.jumeirah.com/en/article/rooms/dubai/burj-al-arab-deluxe-marina-suite?RoomCode=Z1DLK#:~:text=Dressed%20in%20a,Burj%20Al%20Arab"
It's also fully equipped with fully remote-controlled curtains, TV, lights, and music so you can feel at home. To top it off, they are available if you need special accommodations like Macbook pro laptops or all-in-one printers. All this, plus access to the iconic spa The Terrace and private beach, make this deluxe suite hard to resist.
Deluxe Palm Suite
The Deluxe Palm Suite at the Burj Al Arab Hotel is a truly remarkable experience. With world-class butler service and a 24-hour concierge, ensure your stay is as comfortable as possible. Enjoy in-suite check-in and check-out any time of day, plus access to the facilities spa and The Terrace, and private beach.
As a special treat, you get unlimited entry to Summersalt Beach Club and Wild Wadi Waterpark™ and a complimentary tour Inside Burj Al Arab. You'll also find complimentary Wi-Fi, 42″ and 32″widescreen interactive HD TV. Your bed has nine types, all personalized to your specific posture preferences.
Diplomatic Three Bedroom Suite
The Diplomatic Suite is perfect for families. It is on the ground floor and decorated in shades of blue. It has a private terrace with direct access to the pool and gardens. Some amenities are airport transfers, butler service, and check-in.
Plus, you get a personalized bar and a separate dining room. There are three bathrooms with jacuzzi and rain showers, and even a staff entrance with its kitchen. You'll also get unlimited entry to a beach club and waterpark, plus a free tour of the Burj Al Arab.
Deluxe Two Bedroom Suite
Discover luxurious living in our Deluxe Two Bedroom Suite. With ocean-inspired décor and stunning views of the Arabian Gulf, this suite is perfect for families. It has an in-suite play area for younger kids and entertainment options for older teens.
The world-class butler and 24-hour services improve your stay with access to spa facilities, The Terrace, and a private beach. There are two bedrooms with bathrooms that feature full-size jacuzzis.
Plus, a separate staff entrance with a private kitchen and a convenient guest restroom on the lower level. Experiment using His & Her's Hermès amenities and get unlimited entry to Summersalt Beach Club and Wild Wadi Waterpark.
Sky Palm Suite
Stay in the unique Sky Palm Suite at the Burj Al Arab luxury hotel in Dubai. You get to see amazing views out of floor-to-ceiling windows. Plus, there are lots more perks like access to their fantastic spa and private beach, free entry to Summersalt Beach Club, and Wild Wadi Waterpark.
In addition, you can request a laptop and printer if needed. And that's not all, there are nine types of pillows to choose from, so you are sure to get super comfy.
Burj Al Arab beach (private beach)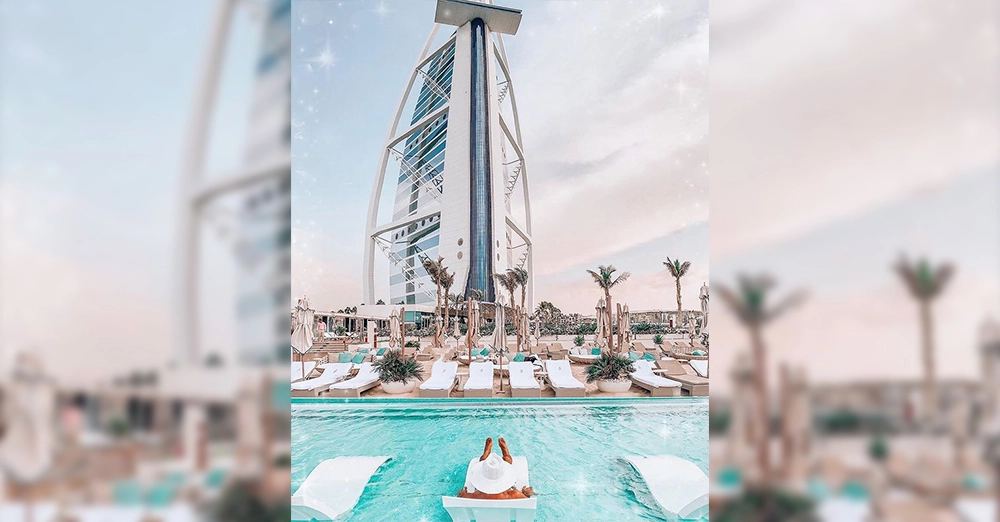 Burj Al Arab beach is an excellent private beach in a 5-star hotel. All you have to do is book a room, and you'll gain access to this fantastic spot. You'll find many fun activities there, such as sunbathing on the comfy sun loungers.
Aside from the beach in Burj Al Arab, several beaches are nearby. Plus, there's an outdoor pool where you can take a dip. To make your experience even more unique, they also have cabanas you can use while soaking up the sun and a poolside bar serving yummy snacks and drinks. Plus, when you look out from this paradise to the sea, you get extraordinary views that are just breathtaking.
Ocean beach
Jumeriah beach
Burj Al Arab restaurant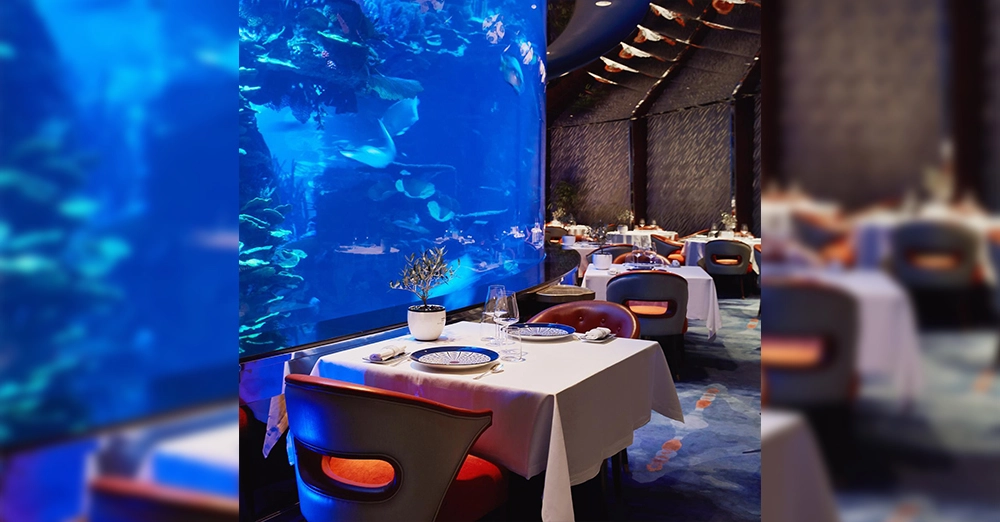 There are eight top-notch restaurants here that offer delicious cuisines from all around the world. You can dine on the terrace, where you get a fabulous view of the Arabian Gulf, or sip drinks and snacks in one of their lounges.
Sal
Sal is an exciting casual dining destination nestled on the terrace of the iconic Burj Al Arab. Enjoy Mediterranean dishes with a Southern twist while enjoying the luxurious pool views. All-day diners can enjoy their meals from 12:30 – 17:30 for lunch and 19:00 – 22:30 for dinner.
Dress in your best casual-chic style and indulge in the à la carte, pool, or our special Shisha menu. Also, you can book one luxury cabana for AED 1,500 for two people and Royal Cabana for AED 5,000 for six people. Sal is sure to be an unforgettable experience no matter who you come with. [2]Jumeriah, "Sal, https://www.jumeirah.com/en/dine/dubai/burj-al-arab-sal"
Al Muntaha
Al Muntaha is on the 27th floor of the Burj Al Arab, offering impressive scenic views and a Michelin-starred experience. This Michelin-starred venue serves incredible French and Italian cuisine prepared by Chef Saverio Sbaragli. This restaurant has a fantastic platform for fine dining and romantic date.
You can also enjoy lunch between 12:30 and 14:00 or dinner between 19:00 and 22:00. There's also a dress code, so remember to look bright and elegant when you go. Anyone over eight years old is welcome to join in the fun.
Skyview Lounge
Visit Skyview Lounge on the 27th floor of the Burj Al Arab to enjoy spectacular views and delicious cocktails. The menu features exciting mixes like Bamboo, Martinez, Sidecar, and Paper Plane. Opening times are from 5: 00 PM to 11.30 PM every day so come in anytime.
There's a minimum spend of AED 200 per person, and you must be 16 or older to join the fun. Come along for a fantastic night at the Skyview Lounge – unique drinks, incredible views, and lots of fun.
Al Iwan
Al Iwan is an excellent place to eat if you're looking for an Arabesque dining experience. On the first floor of the Burj Al Arab, Al Iwan serves delicious meals during lunch and dinner.
You can come here for lunch anytime between 12:30 PM and 3:30 PM or for dinner between 6:30 PM and midnight. However, it's harder on your wallet than other restaurants, averaging AED 450 per adult (12 years and older) and 250 Dirhams per child (4-11 years).
Ristorante L' Olivo at Al Mahara
Step inside Ristorante L' Olivo at Al Mahara for an unforgettable dining experience. Led by renowned Chef Andrea Migliaccio, the restaurant serves up a feast of Italian delights with the flavor of the sea.
Located on the ground floor of Burj Al Arab, Ristorante L' Olivo is open for dinner only from 6:30 PM to 10:00 PM. You'll have to dress smartly if you want to get in, though, as it has its dress code policy. Even kids aged eight and above are welcome with parental assistance.
Wedding at Burj Al Arab Jumeirah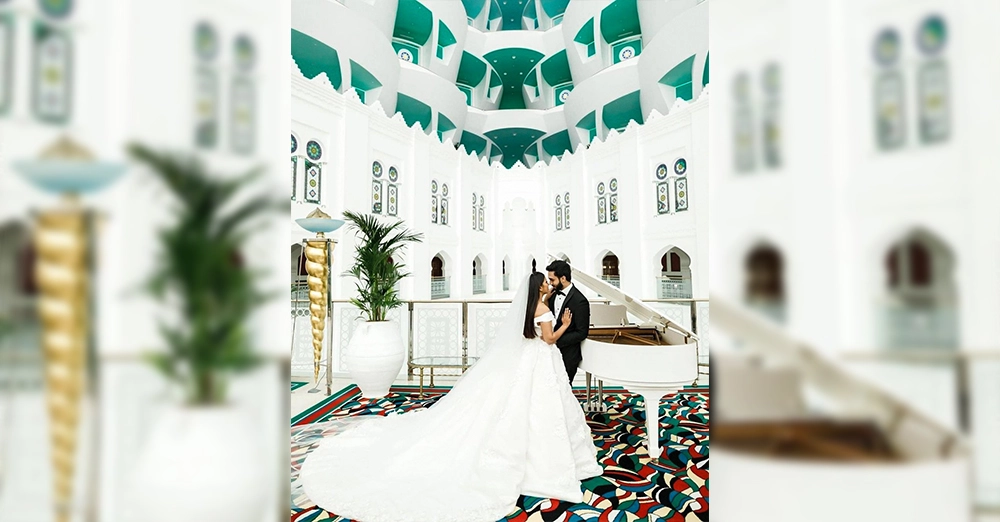 Imagine getting married in the legendary Al Falak Ballroom on the 27th floor of Burj Al Arab. An 18th-century Viennese opera house inspires the venue with a unique-looking interior and vibe.
Their dedicated event specialist will help you plan the perfect dreamy wedding. Also, the chefs at Burj Al Arab will craft a custom menu with a private food tasting before the ceremony. They will welcome your guests with a signature drink upon arrival, and complimentary valet parking is also available.
Moreover, you'll get exclusive access to Burj Al Arab for pre-wedding photoshoots. In addition, you get an exquisite three-tiered wedding cake and a changing bridal room with a fully equipped make-up station. On top of all this, there's a complimentary one-night stay at Burj Al Arab with breakfast and a signature in-suite honeymoon experience.
Facilities and services in Burj Al Arab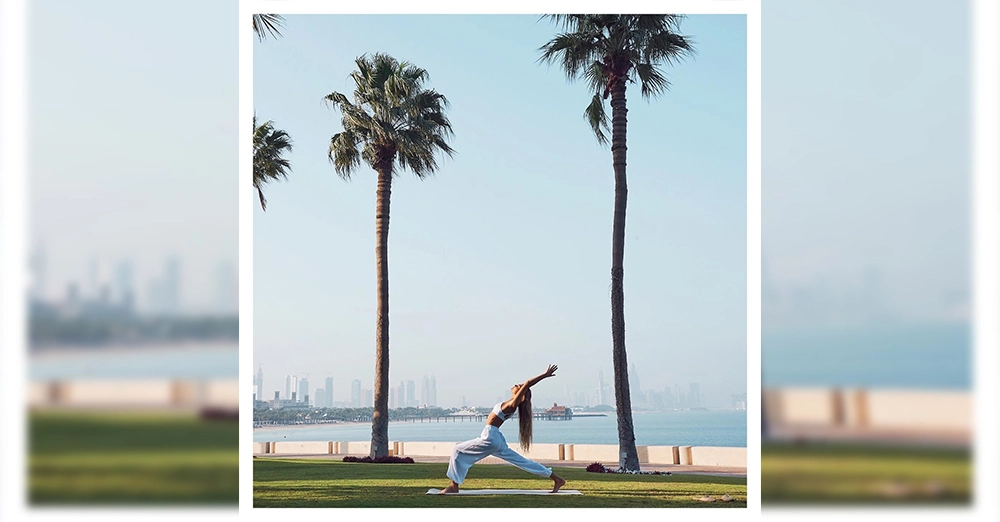 The Burj Al Arab beach has awesome facilities and services. You can eat delicious food in the restaurants, enjoy used to the special offers, and do lots of fun activities, like water sports.
It even offers fitness classes and other activities that help you feel better. Plus, there are always fantastic events happening at the beach. So come on down and have a great time at the beach.
1.

Wild Wadi Waterpark

Wild Wadi Waterpark in Dubai is special. You can go straight to the waterpark from the Burj Al Arab beach. There are many awesome activities for you and your family, including rides and pools.

Also, Wild Wadi was the first-ever waterpark to be ISO certified. In addition, the park has won lots of awards, both local and international. It's one of the most popular places in Dubai, and loads of people love going there.
2.

Fitness clubs

There are four awesome spas and fitness centers right there waiting for you. These world-class fitness centers give you access to everything from Moroccan Hammam baths to hot rooms and so much more.

Plus, if the great stuff inside the center isn't enough, they also allow you to work out on the beach. You can do fun fitness classes while taking in some sunshine and vitamin D. And if all that exercise makes you tired, don't worry, there are lots of spa treatments and massages waiting for you too.
3.

Events venue

The Burj Al Arab is the perfect place to hold any kind of event near the beach. Not only do they have access from the beach, but they also have nine different venues around the hotel. You can find a space that fits your needs, from high-tech suites to grand ballrooms.

The opera house design from the 18th century will give your event a special touch. They also have business facilities like guest rooms and catering services, plus meeting rooms with capacities of up to 300. And if you need transport for your guests, no problem, just ask, and they'll help set it up for you. So if you're looking for an excellent place for your next event, look no further than the Burj Al Arab.
4.

Gifts

Treat someone you love with a gift voucher from the incredible amenities offered at the Burj Al Arab beach. Whether it's a tea, dinner, or an overnight stay, your recipient will have plenty of options. You could even surprise them with a romantic one-night stay in a honeymoon suite.

Why not consider a premium yacht sailing adventure or a beach club special package for group gifts? Or, if your recipient is more into fitness and well-being, consider treating them to a massage, sauna, and spa experience.
5.

Dining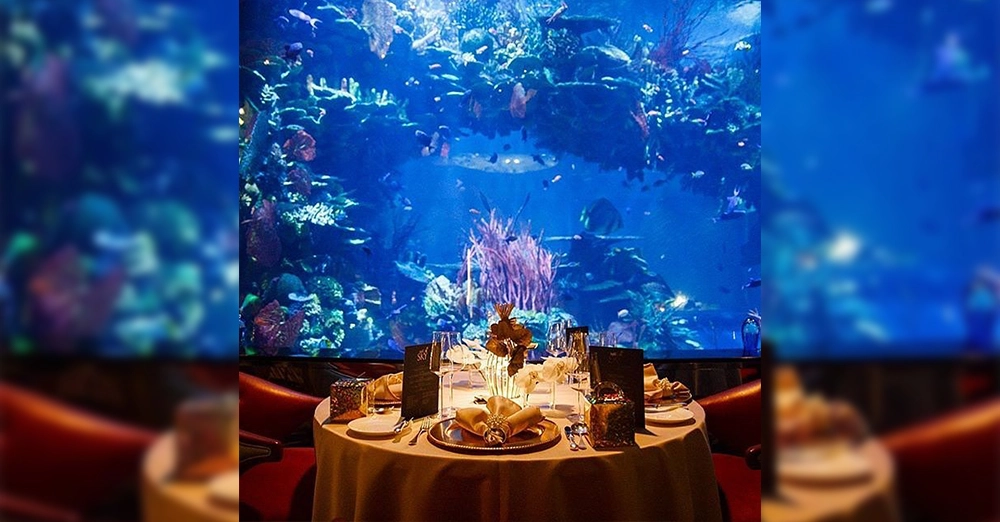 Dining at the Burj Al Arab beach is such an amazing experience. You have eight beautiful restaurants to choose from, each offering something different. There's the Skyview Lounge on the top floor, with stunning views, and the Michelin-starred Al Muntaha for some fantastic cuisine.
The beach has something for everyone, whether it's a fun time with family or a romantic dinner date. You can also indulge in various snacks or a seafood platter. There are Italian, French, and many more if you're looking for international options.
The Burj Al Arab 5-star luxury hotel is the perfect place for a memorable vacation. With 199 individually furnished rooms with complete suites, all the necessary amenities like multimedia systems, WiFi, and 24-hour room service.
The spectacular Sky View Bar is suspended 200 meters above sea level and provides breathtaking views of the Arabian Gulf. Of course, don't forget Al Muntaha, the Burj Al Arab's signature fine dining restaurant.
Furthermore, head to the Talise Spa after a long day of work. The spa has separate indoor infinity pools, hot tubs, and treatment rooms. You can also take advantage of terrace swimming pools, 32 luxury cabanas, pool bars, and restaurants.
In addition to this deal, you get unlimited access to Wild Wadi Waterpark for thrilling adventures. But that's not even all, and guests get chauffeur-driven fleets of Rolls-Royce for pick-up and drop-off from the airport or any other destination.
Also, for a luxury experience, the hotel offers helicopter transfers too.
Book now:
How to reach beach Burj Al Arab beach Dubai?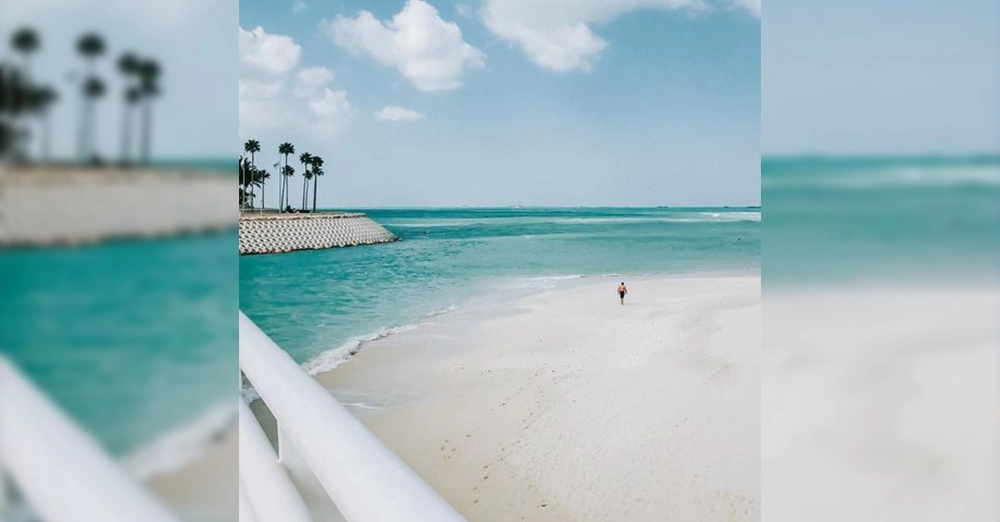 The best way to reach the beautiful beach near Burj Al Arab in Dubai is by bus or rental car. It's a great way to take in all the sights along the shores and enjoy the view. Before you go, check online for the latest travel advice so you don't get lost.
Method 1.

By bus

Reaching the Burj Al Arab beach in Dubai is easy. You can reach the beach within 10 to 15-minute of walking. All you have to do is hop on a bus to the nearest station just half a kilometer away.

Map:Get direction
Method 2.

By car

Taking a car is another excellent way to get to the beach. Renting a car is perfect for traveling with your family or a group. Plus, you won't have to worry about having enough seats on buses and taxis.

Book now: Rental Cars
FAQs
What beach is Burj Al Arab on?
The Burj Al Arba beach is on the hotel's private island of the same name. The island is a man-made island managed by the Jumeriah group in the UAE.
Is Al Arab beach free?
Al Arab Beach may be a popular destination for everyone, but unfortunately, it is not free. Access to this beach is only available to those who have booked their stay at the hotel.
Does the Burj Al Arab have a private beach?
The Burj Al Arab is an incredible luxury hotel in Dubai with a private beach. You can lounge around their outdoor pools, get cozy in the cabanas, or sip a cold drink from the beachside bar. With such amazing views and fun activities, you won't want to leave this beach paradise.
How do I get to Burj Al Arab beach?
Taking a car is the quickest way to get to the beach. You'll need an international driver's license and GPS to guide you. If you don't have a car, you can take the bus. The nearest bus station is 15 minutes of walking distance from the hotel.
Final thoughts
Visiting Burj Al Arab beach is a great way to explore a part of Dubai that many people don't experience. The water is sun-kissed and crystal clear, and the sand is smooth and warm against your feet.
Additionally, the world-class facilities and services at Burj Al Arab hotel made it even more special. Plenty of water activities and facilities to make your beach visiting experience unforgettable.


Adi Abbas is a travel enthusiast based in Dubai who has explored more than 15 countries in the Middle East and South Asia. He loves discovering different cultures, trying local food, and seeking out exciting things to do. His passion for travel has taken him to many places, where he's made unforgettable memories that will stay with him forever. Adi loves documenting his trips through photography and writing about his experiences.