Located on the northernmost side of Abu Dhabi, Saadiyat beach is the best place to experience the stunning views of the vast turquoise sea. Similarly, the beach club on the same coast is perfect for lounging, dining, and hosting events. The beach and the club are just 10 minutes apart when travelling by car.
Saadiyat beach leaves a lasting impression on those wanting a nice getaway from the city's ruckus. And if you want a colorful and energetic ambience, the Saadiyat beach club is there for you. You can swim, lounge, eat, and enjoy the views of the Arabian Gulf, especially during the sunset.
To create the Beach Guide, we gathered input and insights from locals and travelers familiar with Saadiyat Beach. We thoroughly reviewed and considered various aspects of the beach, including the scenery, activities, and attractions.
We also covered a wide range of topics in our guide, including water sports, restaurants, and shopping centers, to ensure that the visitors can fully experience and appreciate all that Saadiyat Beach offers.
Saadiyat beach and Saadiyat beach club locations
Beach Address: Saadiyat beach, Saadiyat Island, Abu Dhabi, United Arab Emirates
Beach club address: Saadiyat Island, Exit 14, Abu Dhabi, United Arab Emirates
Saadiyat beach and Saadiyat beach club are the best spots on Abu Dhabi's coastline. Located just over a kilometer apart, both locations offer something unique in their own right.
From bright white sand and crystal blue waters at Saadiyat beach to the private pools and Cabanas at the Beach Club. Furthermore there is something special for everyone on this stunning stretch of coastline north of Abu Dhabi City.
About Saadiyat beach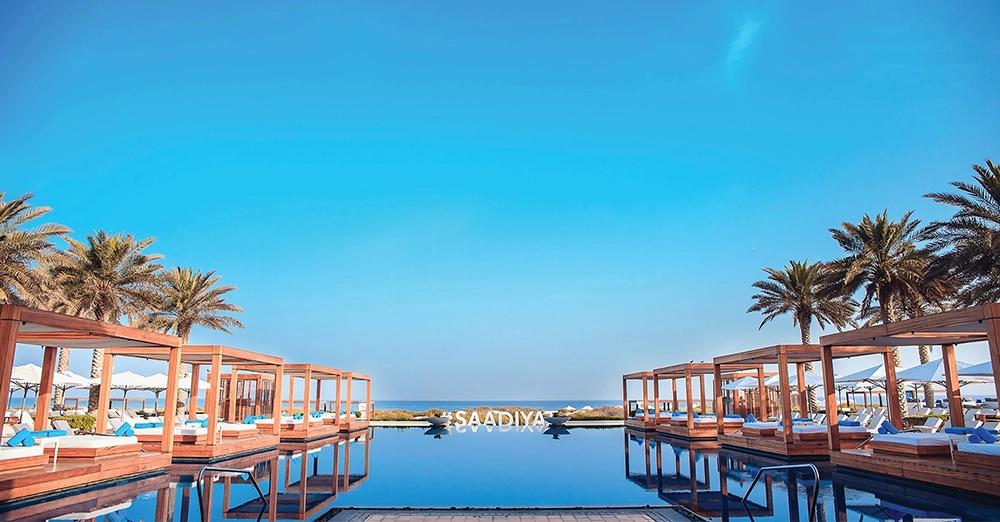 Saadiyat beach on Al Saadiyat Island is ideal for those looking to escape the hustle and bustle of the big city. It's a tranquil spot with its long stretch of white sandy beach lined along the Persian/Arabian horizon, perfect for enjoying some sun.
Families will love it here; while parents lay back and relax, children can make sand castles or take a cooling dip in the shallow waters.
This beach has plenty of convenient amenities like changing rooms, showers, umbrellas, and sun beds – though you'll have to pay an additional fee to enter Saadiyat public beach.
AED 25 for adults
AED 15 for children
Saadiyat beach's opening hours
The public beach opens at 8 AM daily and closes at sunset. This makes it a great place to watch the sunset. However, you won't enjoy the evening vibes since it closes so soon.
To enjoy the evening to its fullest, you should head to the fantastic beach club a few minutes later.
Things to do at Saadiyat beach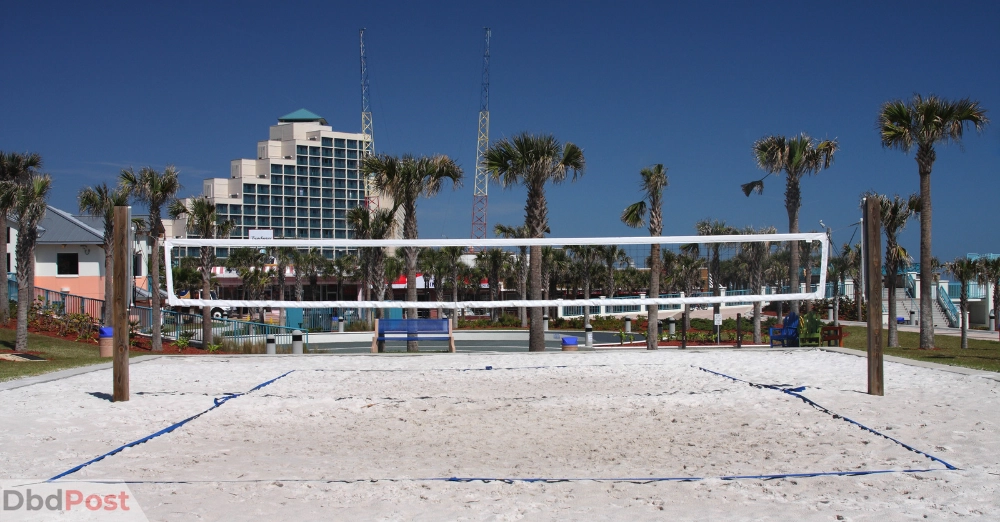 Saadiyat beach is the perfect place for an outdoor adventure, inviting travelers to soak up the sun, take a dip in the crystal-clear waters, and indulge in a great picnic experience.
If you want to relax and unwind, plenty of lounging spots are equipped with umbrellas and comfy chairs to enjoy the beach view. Let's look at the various activities that you can enjoy here.
Swim in the cool water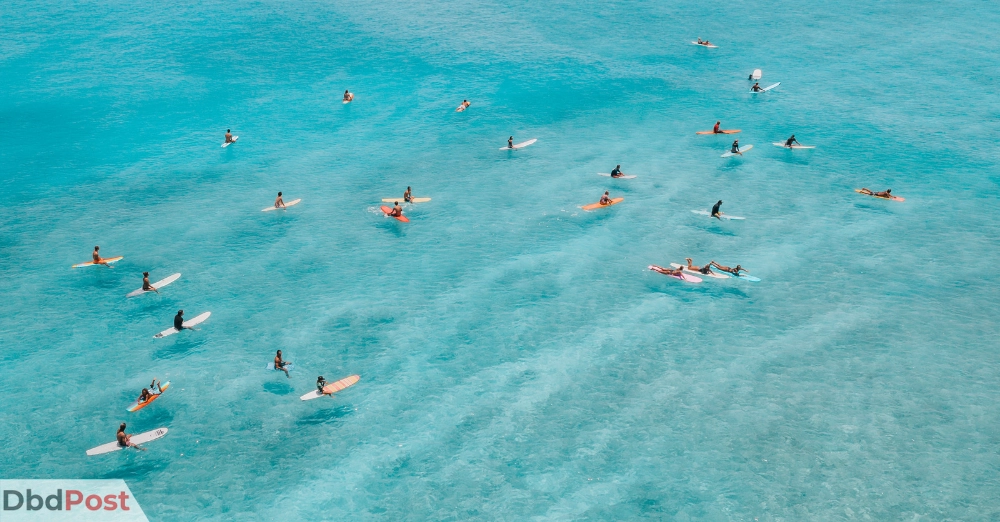 This beach is the perfect location for swimming in the crystal-clear waters of the Gulf. The calm waves are ideal for beginners and children.
Plus, lifeguards are on duty during active hours to keep you safe. You can take a floater with you if you are scared. If you are with kids, keep an eye out for them and don't go too far into the water yourself.
Lounge and sunbathe on the white sands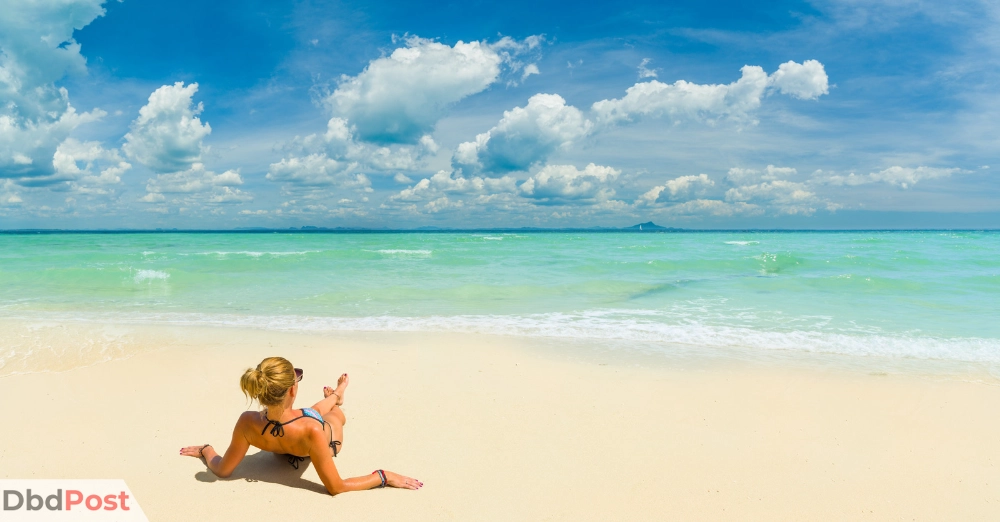 The beach is perfect for relaxation with its pristine white sand and lovely sunshine. You don't need to bring your lounger or umbrella – rent one from local vendors at reasonably priced costs.
During weekdays, an average sunbed would cost approximately AED 50, while prices may peak at AED 75 during public holidays and weekends. So, grab your towel and sunglasses and set yourself up in the most comfortable spot on the beach.
Play beach volleyball and football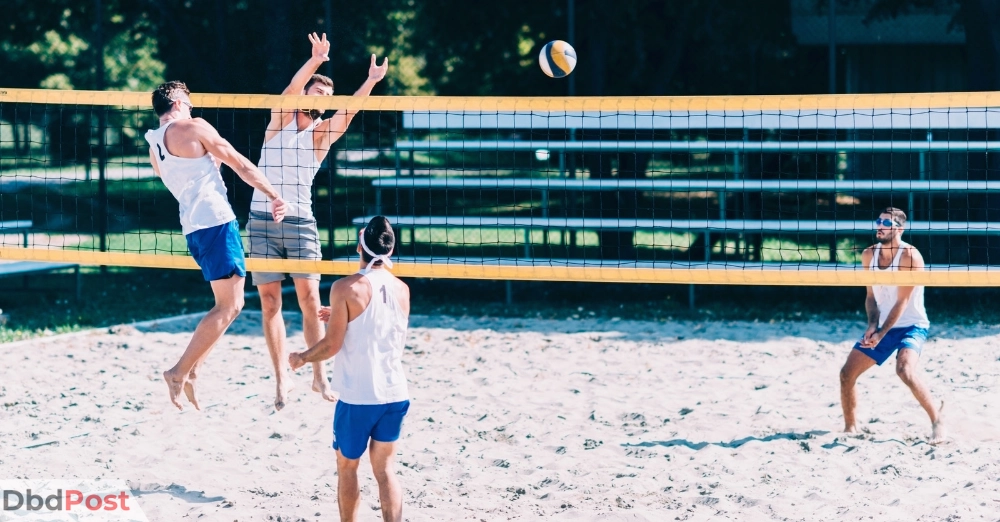 The beach also offers plenty of space to play beach volleyball or even a game of beach football. It is enjoyable during weekdays when the place is not busy or crowded.
However, it may not be possible if the area is crowded, as there will be people playing and sunbathing everywhere. Regardless, ensure you bring the balls and your friends to the beach, just in case.
Take a stroll on the shores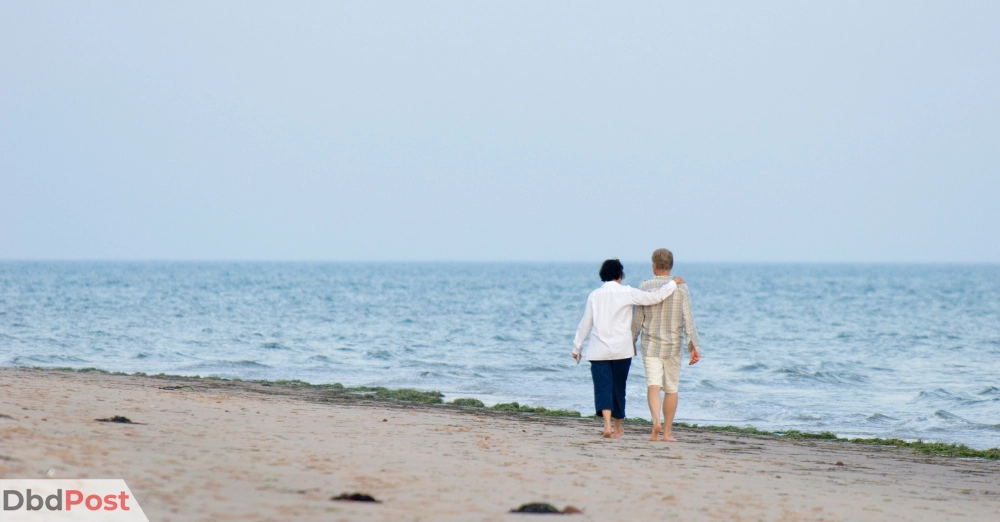 If you want to stroll along the beach, you will find plenty of open space. The soft sand is perfect for long walks, and the view of the horizon is simply stunning.
Eat at the beachside restaurants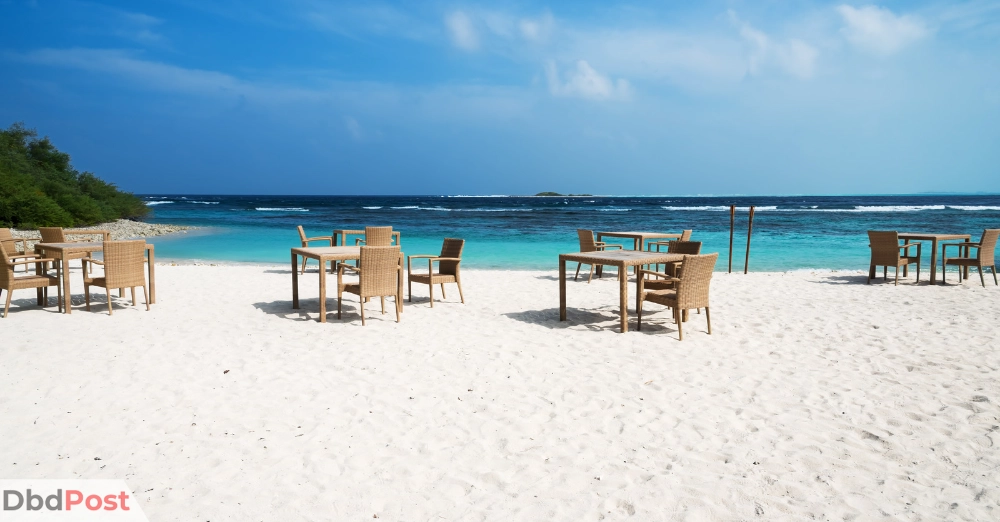 After a day of swimming and playing, you must be hungry. There are restaurants right by the beach where visitors can grab a bite or a cold drink to end their day on the island.
About Saadiyat beach club
At Saadiyat beach club, guests can relax in peaceful surroundings while listening to the waves crash against the shore. With its contemporary design and beautiful natural setting, the beach club is perfect for relaxing by the water or attending special events.
Similarly, visitors can enjoy amenities like comfortable lounging cabanas and complimentary Wi-Fi while admiring their stunning surroundings. Saadiyat beach club has everything from changing rooms to showers and various activities to attend. It is truly an ideal spot to take in unparalleled views and refresh yourself under the sun.
Saadiyat beach club amenities
This spectacular beach club offers its guests an expansive list of services and facilities. Let's see what you can expect from this beach club.
Beach club restaurant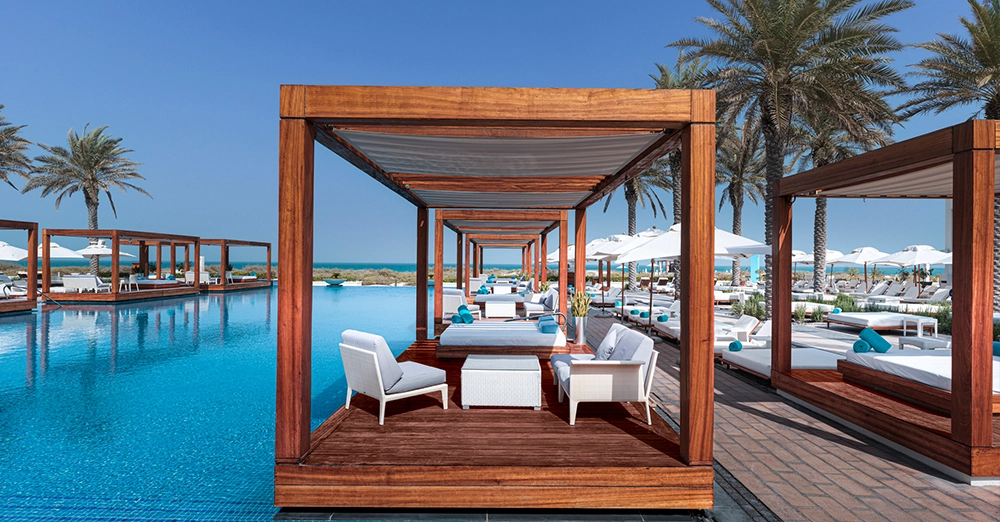 There is a top-notch restaurant that serves delicious dishes presented exquisitely. They cover you whether you want a refreshing drink, light snacks, or a heavy meal.
You can dine outdoors under the sunshades or eat delicious Mediterranean dishes in a more formal setting. Their menu items include desserts, octopus, shrimp, and a wide range of seafood.
Beach club events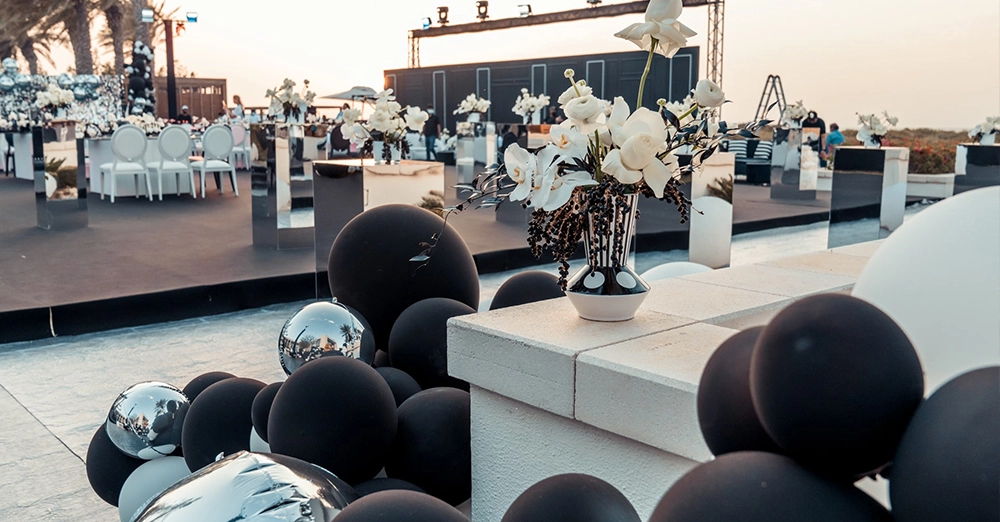 With its stunning terrace, event spaces, and an array of activities such as the monthly painting, candle-making and craft sessions, the beach club provides an unforgettable and unique experience for their guests.
Corporate guests can use their event spaces for meetings, gatherings or even weddings. Similarly, it has an accommodation for 300 people and have the ability to create beautiful memories. [1]Saadiyat beach club, "Social events, https://www.saadiyatbeachclub.ae/Events&Celebrations"
Those who feel creative would be spoilt for choice with all the monthly workshops to select from. There's a wreath-making workshop to give you a pleasant surprise and candle-making sessions where guests are guided through creating custom candles.
Beach club memberships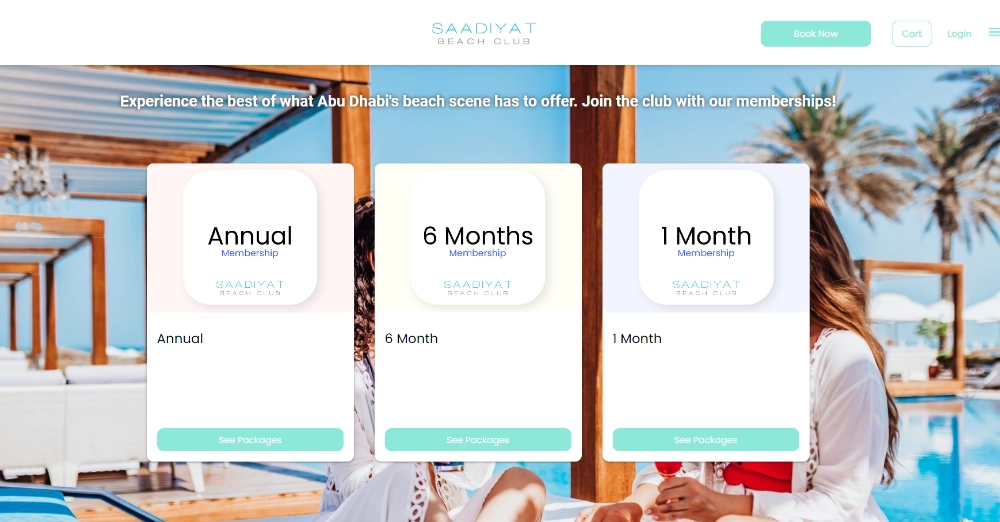 Beach club memberships offer great value and convenience. Depending on your needs, you can opt into membership for one month, six months, or 12 months.
It is perfect for anyone looking to stay in the city for an extended duration. Not only does it save you from having to buy tickets each time, but it also brings exclusive benefits as a member. All beach club memberships come with various benefits. Check out the membership detail: [2]Saadiyat beach club, "Membership, https://www.saadiyatbeachclub.ae/memberships"
1-month membership
You will receive a 20% discount on all foods and beverages with a one-month beach club membership. Similarly, you will get a 10% discount on spa treatments.
Additionally, you will also have free access to all the hotel's facilities, including the kids club.
Membership cost: The total membership cost is AED 2,300 for singles and AED 3,200 for couples.
6-months membership
If you purchase the six-months membership, you will get all the benefits of one-month membership plus more.
This membership offers exclusive access to its members-only areas, such as swimming pools and prime beach locations. Access to Kai beach and 20% discounts on food and beverage at Kai Restaurant is also included.
Complete with a gym, the membership also comes with five-day passes. An allocated parking area exclusively reserved for members is another highlight of this package.
Moreover, members get four personal training sessions, four body assessment vouchers, and five guest passes.
Membership cost: You will receive AED 15,750 worth of benefits with this membership. It costs AED 11,000 for singles and AED 16,500 for couples. For a family of four, it will cost AED 18,000. If you want to add kids, it costs AED 1,000 extra.
Annual membership
If you purchase the annual membership, you will get benefits on every amenity at the club. With this, you will enjoy all facilities of the other memberships and a lot of exclusive facilities.
Right off the bat, you will get 25% discounts on all food and beverages at Kai restaurant. Plus, you also get two vouchers each for a 2-for-1 brunch and a fantastic beach club breakfast. A food and beverage credit of AED 2,000 is also given.
The membership comes with ten-day passes, and up to five people get a 25% discount on all-day passes. To bring your friends along, you will also receive ten guest passes.
Moreover, members get eight vouchers each for personal training sessions and body assessments. And to top everything off, the annual members get access to its exclusive members-only events!
Membership cost: This membership grants total per person benefits of AED 24,699. It is priced at AED 20,000 for singles, AED 27,000 for couples, and AED 31,500 for a group of four. To bring a nanny or a kid along, you must pay AED 2,500 extra.
Saadiyat public beach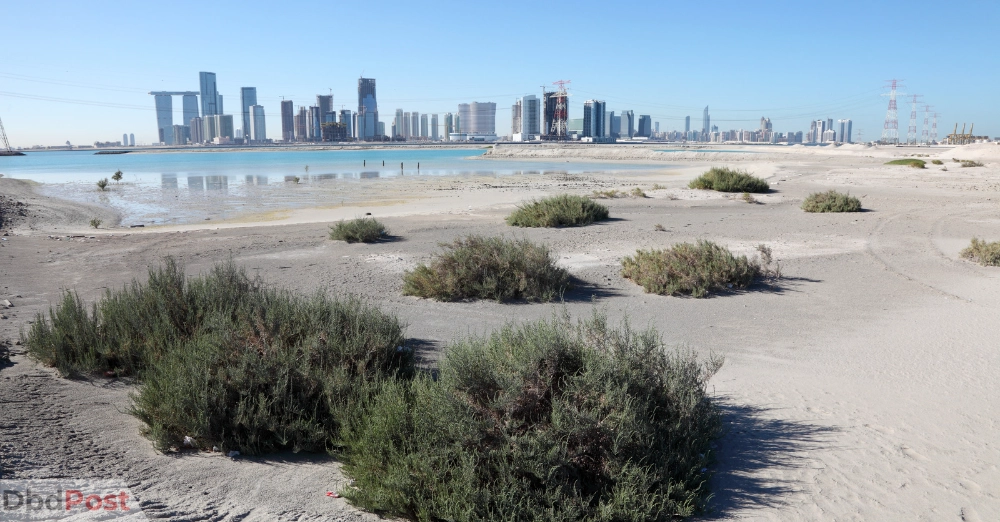 The beach club is the ideal spot if you're looking for a peaceful getaway among the waves; however, if you're looking to experience a more traditional day at the beach, Saadiyat public beach is just around the corner.
Though it's only one kilometer away by the coast, it takes 13 minutes by car over 7 kilometers of road to get there, so plan your journey accordingly. Once you arrive, you can indulge in some quality activities: shower in the nearby facilities and soak up some sun with sunbeds.
You can also keep up with your energy levels with a visit to the cafe nearby or re-energize between sessions in the bathroom area. The entrance fee is AED 25 for adults and AED 15 for kids over six years old, making it an affordable outing for all ages.
Saadiyat beach club regulations and policies
This beach club is a place to have fun and let yourself go. However, there are a few rules that everyone must follow. They are: [3]UK Government, "Foreign Travel Advice, https://www.gov.uk/foreign-travel-advice/united-arab-emirates/local-laws-and-customs"
You can only drink if you are aged 21 or above.
All actions that you take after consuming alcohol are your responsibility. The beach club may refuse to serve or remove you from the venue for improper conduct.
You must wear swimwear in the pool and at the beach. T-shirts, cut-down jeans, and leggings are not to be worn in the water.
You are not allowed to bring food or drinks that you purchased from outside the beach club.
Pets are not allowed in the beach club.
If you are playing games in a way that endangers others, you will be stopped by the staff.
When you enter the venue, they are allowed to take pictures and videos of you for posting on social media and advertising. If you want them to take down any images of you online, drop them an email and give them up to 30 days.
Bring valuables like excess cash, jewelry, and other expensive items at your own risk. The club does not take responsibility if anything is lost or stolen.
Furthermore, their cancellation policies state that no refunds will be on any bookings cancelled less than 48 hours before. If you notify them 72 hours before your booked time, you will be charged 50%.
How to reach Saadiyat beach?
By bus
If you're looking for an easy way to get to the beach, you don't have to look any further than the bus stop at its doorstep. From anywhere in the city, you can take a bus that allows you to access the beach entrance within minutes conveniently.
View location: Bus station
By taxi
Getting a taxi or a car is, without a doubt, the easiest way to travel anywhere within Abu Dhabi, including the Saadiyat island beach. There are plenty of taxis on the roads so that you won't have any issues finding one.
If you don't have a car and want to rent one, various car rentals are available around Abu Dhabi. They let you rent all vehicles, from exotic supercars to affordable compact cars.
How to reach Saadiyat beach club?
By bus
The beach club is conveniently accessible for people from different parts of Abu Dhabi, with two bus stops nearby. Taking the bus to one of the stops at Al Tilal street is an easy way to get there as multiple routes can be taken to this station, depending on your location in Abu Dhabi.
View location: Al Tilal bus stop
View location: Al Tilal St station
By taxi
Getting around Abu Dhabi, especially the beach club, is easy with various transportation options. Taxis are abundant, and you'll have no problem flagging one down as they drive around the roads.
Similarly, car rental in Abu Dhabi provides plenty of alternatives for those without their car. You can choose from several economical and small vehicles to more extensive and impressive cars like supercars if that's what you're after.
Related Stories
---
FAQs
How much is the entrance fee to Saadiyat beach?
The entrance fee to the beach is AED 25 if you are an adult. Similarly, it costs AED 15 per child if they are more than six years old.
How do I get to Saadiyat beach?
You can get to the beach either by car or by bus. Whichever way you choose, it will be a quick and comfortable ride.
Is Saadiyat Island worth visiting?
Saadiyat island is worth visiting! It provides serene and spectacular views of the Arabian Gulf and offers a great space for sunbathing and swimming.
Final thoughts
Saadiyat beach is a great place to visit with family or friends. Even if you are looking for some peaceful solitude, this is the perfect spot!
And if you want to go somewhere more vibrant and energetic, you should head to the beach club. Make sure you make all the necessary preparations and follow the rules for an enjoyable experience.
Saadiyat Beach is a marvelous getaway spot that ensures an unforgettable experience.
Happy travelling!


Imran Hassan is an experienced Travel Specialist for UAE and the Middle East. He is based in Dubai and specializes in creating unique itineraries to ensure his customers have the best possible experience during their stay. From selecting the right hotel to recommending must-see attractions, Imran's expertise ensures that all vacations are unforgettable.