Soul Beach is a fantastic place to visit! No matter what you're looking for, this beach has something fun for everyone. From swimming and sunbathing in the crystal blue waters to collecting shells on the shore, there's always something to do.
Soul beach Abu Dhabi beach offers watersports like jet skiing, surfing, swimming, and more. Nearby the beach, there are awesome attractions and hotels to stay by during your vacation.
To create the Soul Beach Guide, our team followed a method that involved visiting the beach, trying various activities, and gathering reviews from tourists and locals.
In addition, we also conducted research through multiple sources, such as government websites, travel blogs, and social media, to gather relevant information. This resulted in a comprehensive guide that includes insider secrets and all the information you need about the beach.
Quick info about Soul beach
Let's look into some quick info about the beach.
Soul beach is fit for family-friendly activities like picnic
Saadiyat Island stretches for one kilometer.
There are 400 parasol-flanked sunbeds, so you can relax and soak up some rays.
The QR code, along with your sunbed, and then pick what snacks you want using Soul Beach's WhatsApp service.
There are amazing destinations like Louver Museum and Manarat Al Saadiyat near Soul beach.
Best of Soul beach
Best things to do in Soul beach
Best hotels near Soul beach
Best attractions near Soul beach
Manarat Al Saadiyat
Yas Waterworld Abu Dhabi
Khalifa Park
Things to do at Soul beach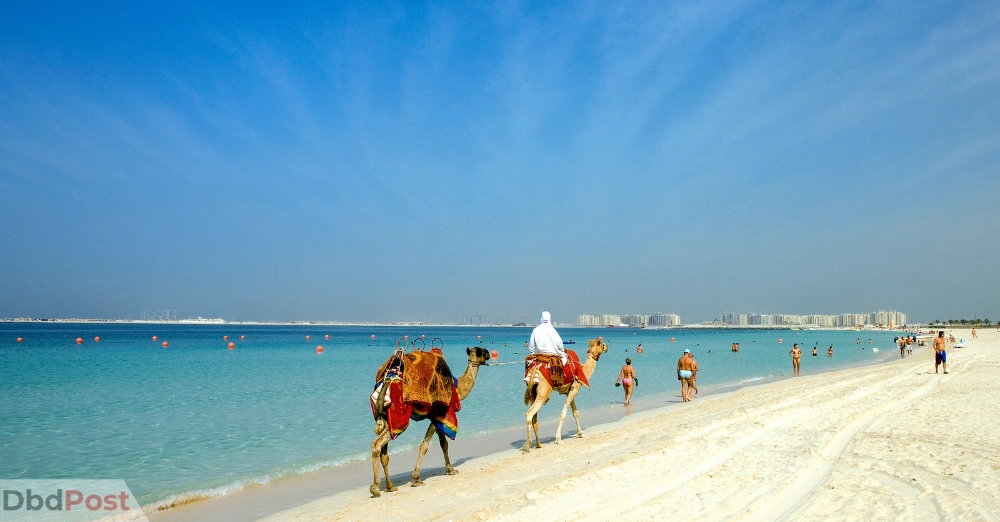 Soul Beach offers fantastic water activities like swimming, snorkeling, and surfing. So, if you want to experience adventure, you can dip in the ocean or jump in the pool to splash around. Also, you can relax in the sun with a book on one of our lounge chairs or join a game of beach volleyball.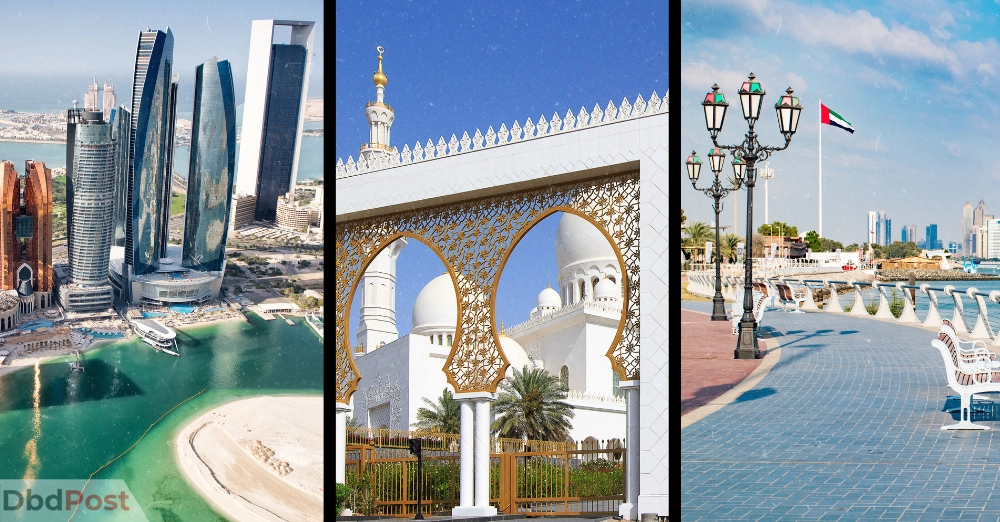 Explore the wonders of Abu Dhabi and all its attractions with a full-day city tour. Follow your guide in the morning to visit the majestic Sheikh Zayed Grand Mosque and learn about the local culture at the Heritage Village.
Then, get ready for an adventure in the afternoon, and hop on a 4-wheel drive for an exciting desert safari. With beautiful views of dunes and star-lit skies, you'll find thrills and chills with Tanoura dance and belly dancing performances. Explore Abu Dhabi's most stunning sights with a full-day city tour–it promises to be an unforgettable journey.
Book now: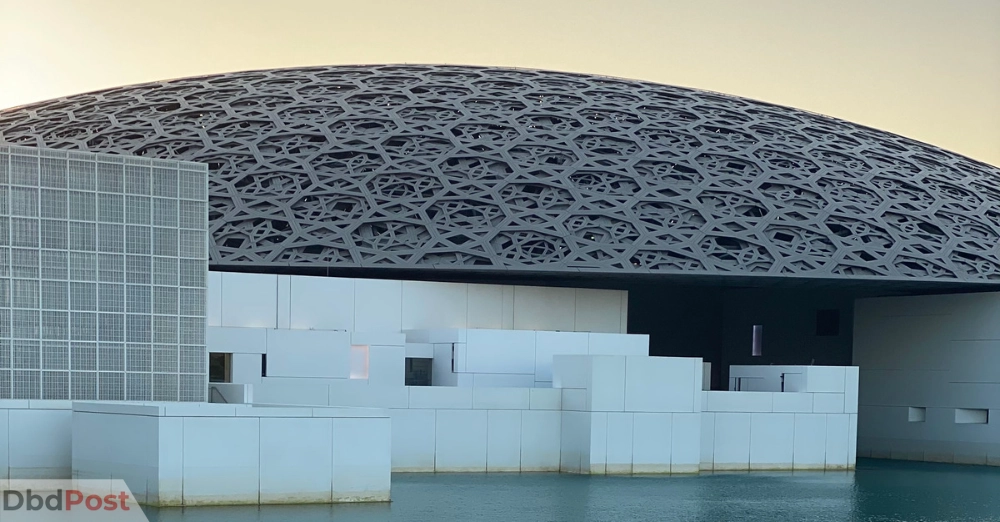 Over ten million travelers flock to this mesmerizing art attraction every twelve months. You can purchase a skip-the-line ticket with quick security clearance to bypass lengthy queues and expedite entry.
With more than 380,000 displays from eight distinct departments, this museum offers something for everyone. Besides, explore the Egyptian antiquities and artifacts of Greece and Rome with stunning Islamic decorative arts and sculptures on display.
Book now: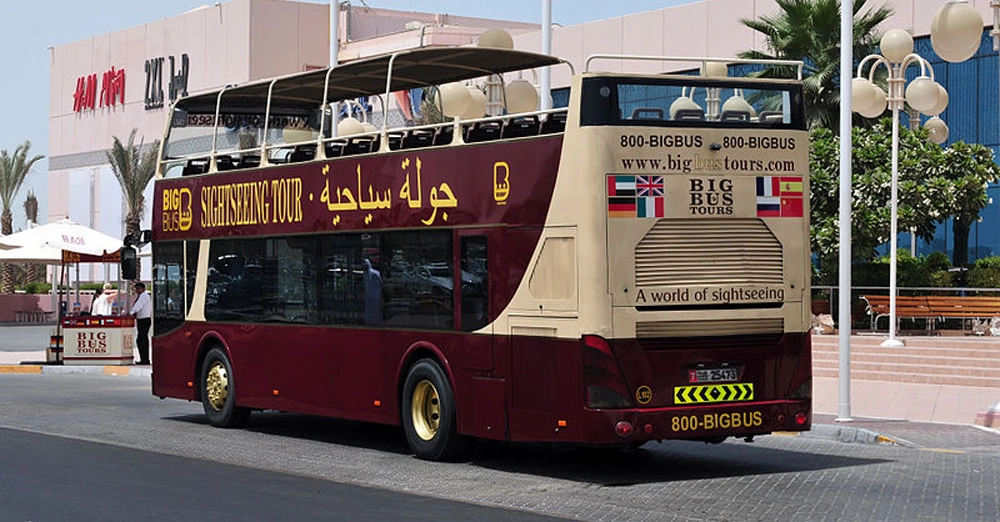 Experience the breathtaking views of your destination by hopping on an open-top bus tour. You can capture the photos during your visit and get info from onboard commentary in multiple languages. With 1, 2, or 5-day tickets available, you can get the most out of your journey with plenty of time.
From the awe-inspiring Sheikh Zayed Grand Mosque to Heritage Village, there are countless must-see attractions that you don't want to miss. Explore new sights and sounds while cruising around at a leisurely pace. With 14 convenient stops along your tour route, you can take a break and enjoy some local cuisines.
Book now: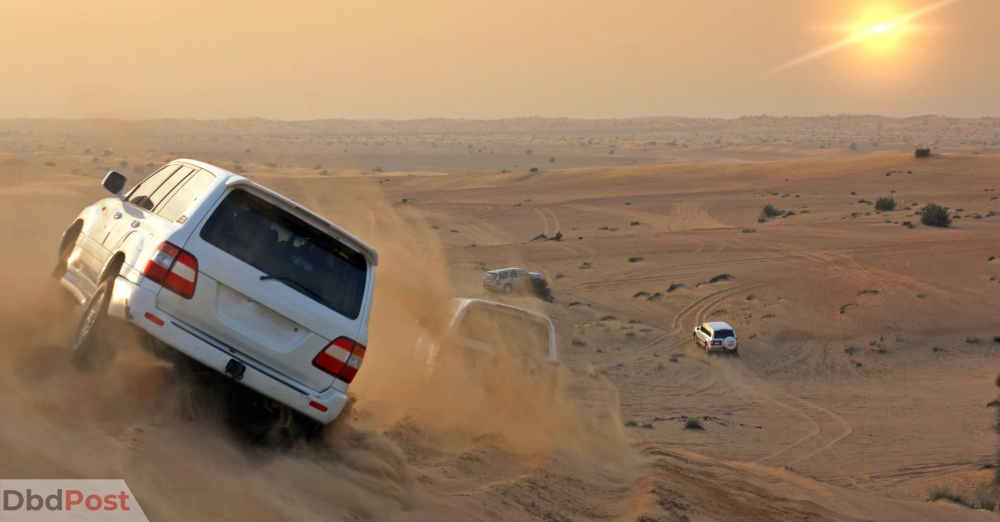 Discover the nomadic desert culture on a desert safari near Soul beach, and explore the stunning Arabian Desert. You can experience dune bashing, have a fun camel ride, glide down the dunes sandboarding, and get creative with henna painting.
Likewise, you can enjoy a delicious barbecue dinner while watching a traditional dance show. Also, challenge yourself and race quad bikes through the desert sands to feel like a real desert explorer.
After all these activities, don't forget to watch the sunset over the red sand dunes. With round-trip transfers from your Abu Dhabi hotel, bottled water, coffee or tea, soda, and an air-conditioned vehicle, you will enjoy every moment of your tour
Book now: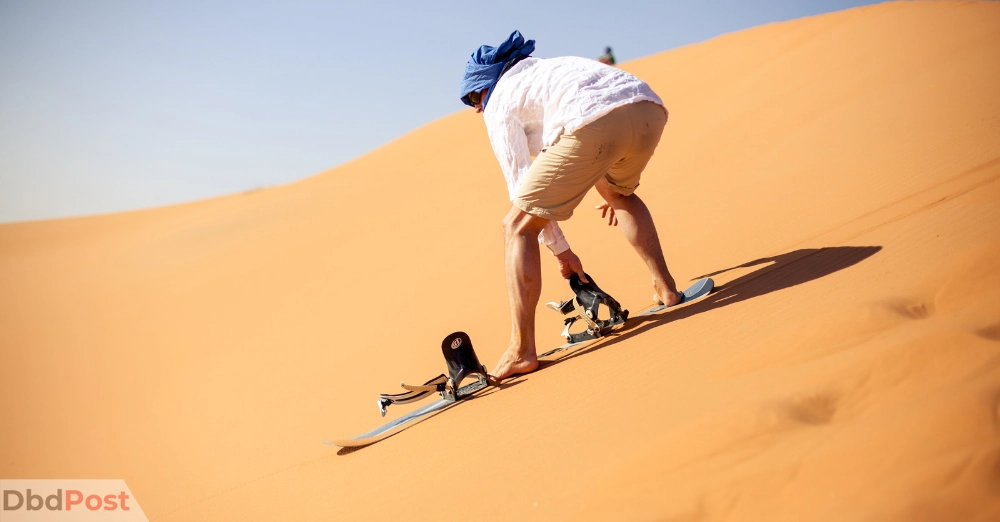 In Abu Dhabi, you can go on a desert safari in the morning or evening nearby Soul beach. You will ride in a 4×4 car and explore the desert with options of sand boarding and quad bike riding. When you get to the campsite, they will welcome you with dates, Arabic coffee, and much more.
You can explore the city with activities like henna painting, sheesha smoking, and belly dancing. But also treat your taste buds to an exquisite midnight buffet dinner. To top it all off, they will take care of the pickup and drop-off from your hotel.
Book now:
Top attractions near Soul beach
Just nearby the beach is some beautiful attractions that you won't want to miss. For art lovers, there's the Lovure Museum which has fantastic art pieces from all over the world. And for those who crave some high-speed thrills, Ferrari World Abu Dhabi offers a thrilling experience with roller coasters.
1.

Manarat Al Saadiyat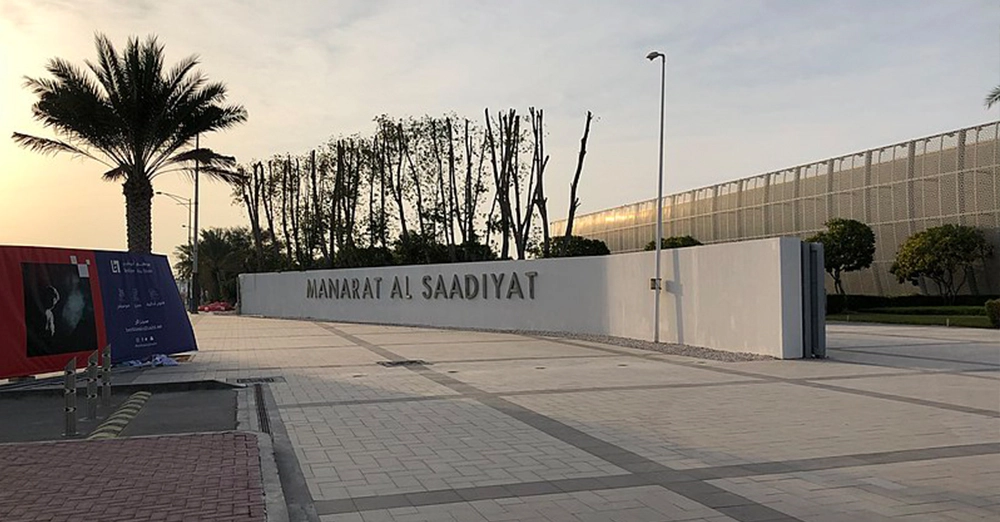 Manarat Al Saadiyat is a great place to experience art and culture in Abu Dhabi. It's located on beautiful Saadiyat Island and hosts various events and programs like exhibitions from local and international artists. Its objective is to bring together a fantastic mix of creativity, diversity, and community.
Furthermore, visitors can enjoy live performances, workshops, and other cultural activities. Manarat Al Saadiyat is the perfect place for anyone interested in art, culture, and history in Abu Dhabi.
Map: Get direction
2.

Khalifa Park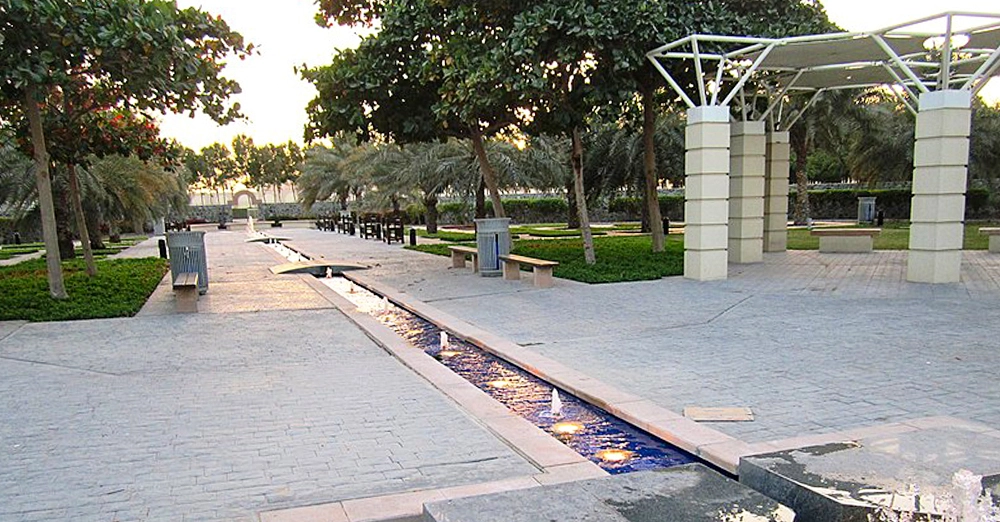 Khalifa Park is a fantastic place for visitors and locals alike. Established in 2007, it has become a hotspot full of fun activities and attractions everyone can enjoy. There's a Cultural Library to learn about the rich history of Abu Dhabi, and the Maritime Museum features various ocean wildlife.
With something for all ages, Khalifa Park is always bustling with excitement. Furthermore, plenty of gardens are perfect for walking around or picnicking with friends and family. In addition, Murjan Splash Park offers water games and slides for kids to enjoy during the summer months.
Map: Get direction
3.

Yas Waterworld Abu Dhabi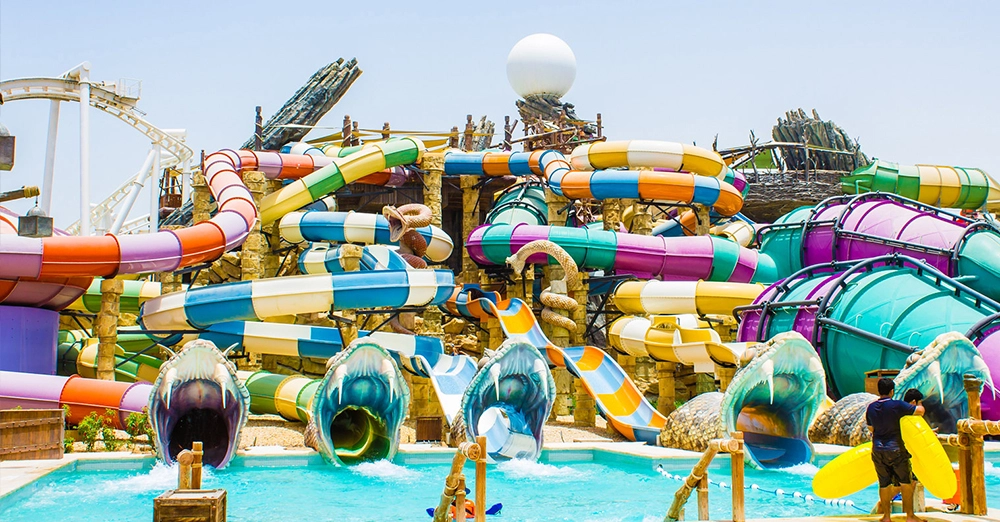 Ready your swimsuits and sunscreen because Yas Waterworld Abu Dhabi is the ultimate water park experience. This mega water park covers 37 acres on the famous Yas Island.
Here you can enjoy over 40 thrilling rides, slides, and attractions. Recently, Yas Waterworld was awarded the World's Leading Water Park for 2020 and 2021 by World Travel Awards. [1]Yas Waterworld, "Park overview, https://www.yaswaterworld.com/en/park-overview#:~:text=Yas%20Waterworld%20Map,Our%20Awards"
Map: Get direction
4.

Ferrari World Abu Dhabi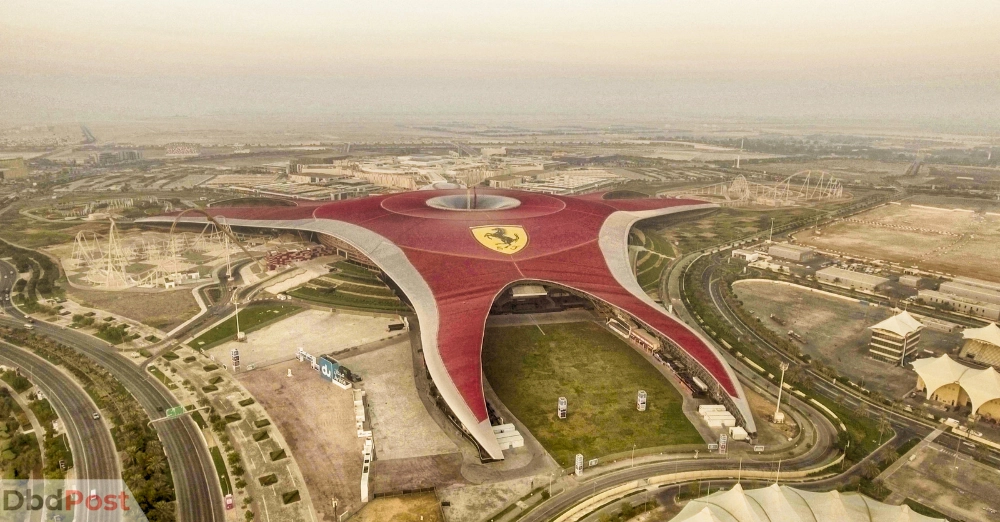 Ferrari World Abu Dhabi is the largest indoor theme park and the first Ferrari-branded theme park in the world. It has over 40 record-breaking attractions, including the fastest rollercoaster and Zip Line.
If you have adrenaline-seekers in your family, put Ferrari World Abu Dhabi at the top of your list. The visitors can take a thrilling Roof Walk around its perimeter. There's no shortage of heart-pumping adventure here.
Map: Get direction
Hotels and resorts near Soul beach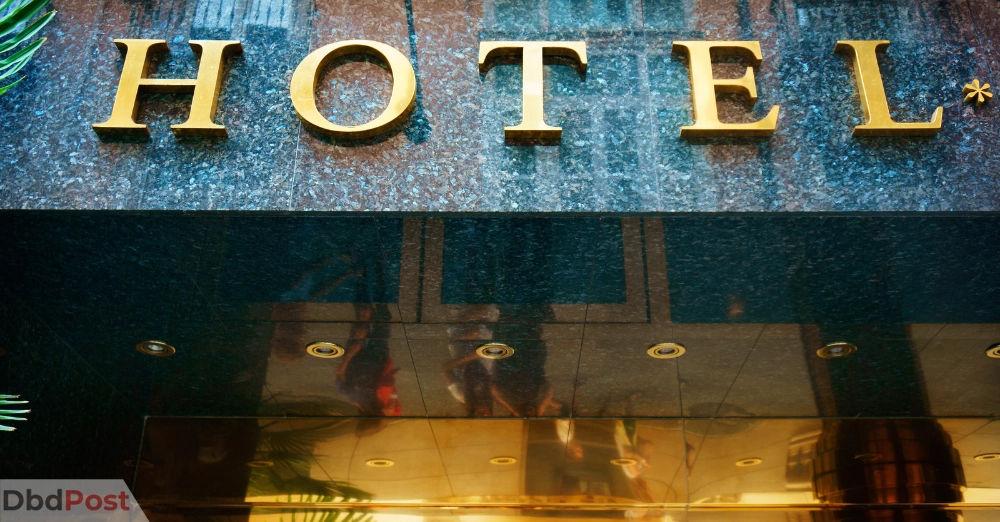 Soul beach is the perfect destination if you want to soak in the sun and escape from your everyday life. With so many hotels and resorts nearby, you won't miss any fun activities like surfing, swimming, or kayaking.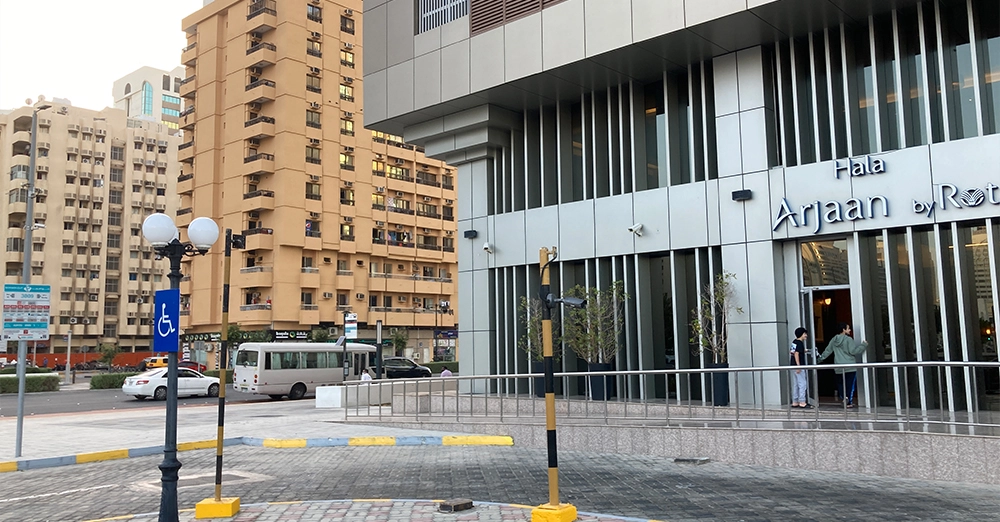 Hala Arjaan by Rotana is the perfect place to stay during your visit to Soul beach.
After exploring the coast all day, guests can relax in fully furnished and equipped hotel apartments. The rooms are spacious and air-conditioned with modern furnishings.
For those who want the convenience of cooking while staying at Hala Arjaan, all guestrooms have a microwave, refrigerator, and tea/coffee maker.
The hotel also provides an array of dining options through its all-day a-la-carte menu in its restaurant. Also, you can relax by the pool and enjoy refreshments at Rooftop Aquarius Pool Bar.
Furthermore, guests can visit Bodylines Fitness & Wellness Club to stay active while on vacation. They will find an indoor temperature-controlled pool and a state-of-the-art fitness center with a sauna, steam room, and massage options.
If shopping is more your style, there is even an Abu Dhabi Mall within walking distance.
Book now: Hala Arjaan by Rotana
Take a stay at Ramada Abu Dhabi Corniche, and you're sure to be wowed by the modern interiors.
All units offer stunning views of the sea or city skyline. Each unit is well-equipped with modern TVs, a minibar, bathrooms with all the amenities, and a hairdryer.
For meals or snacks throughout the day, visit Lemon Lounge for international and local flavors. You could also get refreshing drinks at View@20 bar while enjoying breathtaking views.
And that's not all; Ramada Abu Dhabi has room service available 24 hours, Airport Shuttle, a fitness center, and parking. If you're feeling adventurous, head over to Yas Waterworld or Ferrari World; it's just 20 minutes away by car.
Book now: Ramada Abu Dhabi Corniche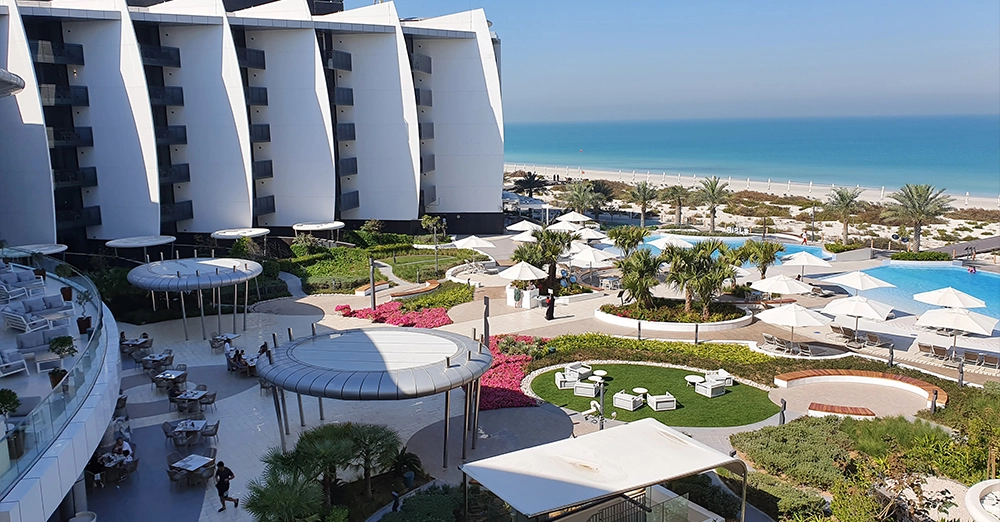 The Jumeirah at Saadiyat Island Resort is the perfect spot for couples who want to spend their honeymoon in the Emirate. Located near Soul beach in the Saadiyat island district, this amazing resort has all the amenities. Each room has air conditioning, a flat-screen TV, a seating area, and a private bathroom with toiletries.
There's no other way to start off your newly married life than a getaway at the incredible Jumeirah at Saadiyat island resort. For breakfast each day, you can enjoy a delicious buffet spread. Guests can also benefit from having a fitness center and a 24-hour front desk.
In addition, hot spots like Louvre Abu Dhabi and Boutik Mall are only 5 kilometers away.
Book now: Jumeirah at Saadiyat island resort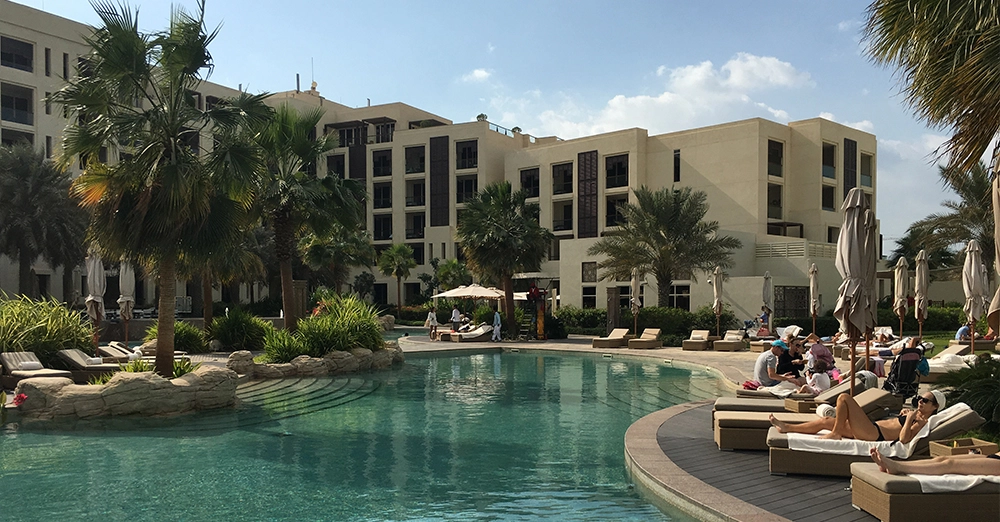 Park Hyatt Abu Dhabi Hotel and Villas is a 5-star hotel with luxurious accommodations.
Each room is air-conditioned and has a balcony, spacious seating area, 42″ flat screen TV, and floor-to-ceiling windows. Plus, there's an open-plan bathroom with a large bathtub and a separate rain shower so you can relax.
Likewise, they have three in-house restaurants featuring international cuisines if you want something to eat. And if spa treatments or workout time is what you're after, the Atarmia Spa offers relaxing massages and various beauty treatments. There's even a health club with an outdoor pool perfect for a quick dip or some exercise.
Free parking is primarily available for those who want to drive, and Abu Dhabi International Airport is only 35 minutes away. Park Hyatt Abu Dhabi Hotel and Villas offers world-class service that will make your stay here unforgettable.
Book now: Park Hyatt Abu Dhabi Hotel and Villas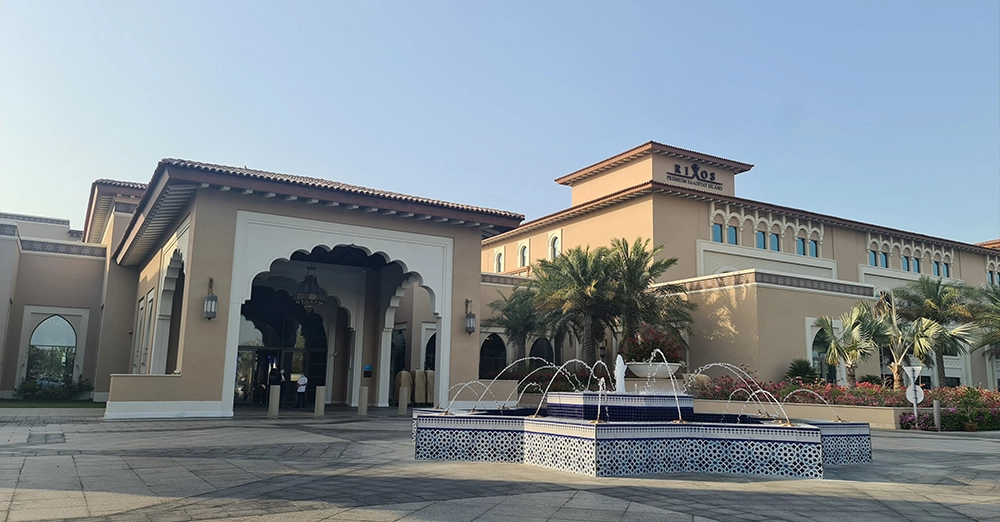 Rixos Premium Saadiyat Island is the perfect destination for a luxurious getaway. It offers 278 rooms and 12 villas, each equipped with a desk, flat-screen TV, private bathroom, and air conditioning.
The area is popular among couples as it sits only 3.7 km from the Louvre Abu Dhabi. The property also features award-winning cuisines and thrilling onsite activities like a spa, fitness center, pristine private beach, and waterpark. Moreover, Turkish hospitality is exemplary, making this place even more attractive.
Book now: Rixos Premium Saadiyat island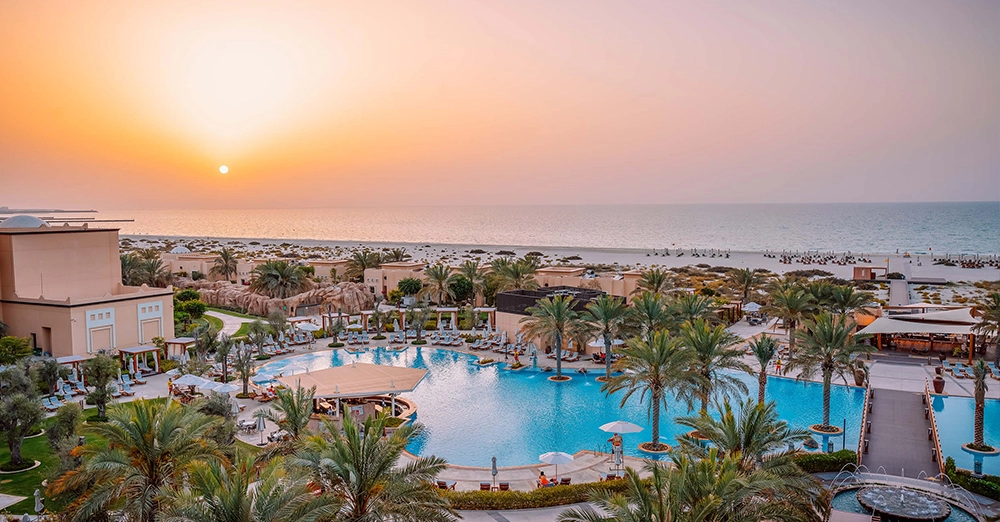 Saadiyat Rotana Resort and Villas is a special five-star property with modern Arabic architecture, specially designed 327 rooms, and 13 beach villas. Executive rooms with special added privileges you won't find anywhere else.
This resort has eight delicious dining options, including Si Ristorante Italiano & Bar, Hamilton's Gastropub, Turtle Bay Bar & Grill, etc. There are also several elegant venues like three banquet or event rooms and a ballroom.
If you want to stay active, there's a modern gym at Bodylines Fitness and a Zen spa complete with a Turkish Hammam and ten treatment rooms. The outdoor pool and two tennis courts will give you plenty of activity with a mini golf course. There's a separate kids club with its lazy river, splash pool, cinema zone, and water slide.
Book now: Saadiyat Rotana Resort and Villas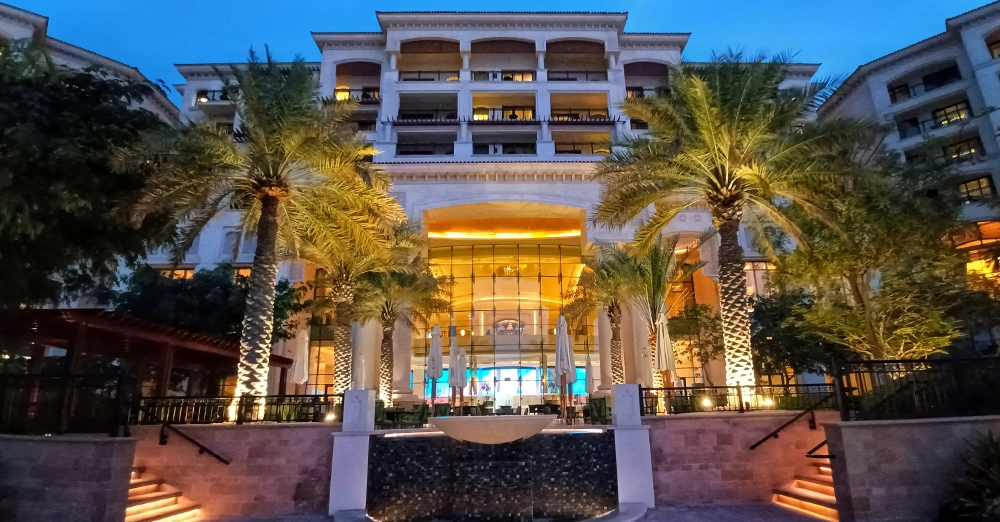 The St. Regis Saadiyat Island Resort is a 5-star resort in Abu Dhabi. The hotel rooms are spacious and decorated with Mediterranean-style décor. Every room has beds draped in luxury duvets and pillows, a TV, and private bathrooms.
At the resort, you can indulge in over six restaurants and bars offering different international cuisines. Each room has a private balcony so you can enjoy the sights and sounds at your leisure. You'll also appreciate the direct access to its private beach, where you can sunbathe or participate in water activities.
To relax, pamper yourself with treatments from 12 treatment rooms at their Iridium spa center or shop around their boutique area. There are plenty of activities to participate in, including 5 pools, one of which is an indoor 25-meter lap pool. The Sandcastle Club offers kids fun both indoors and outdoors too.
Book now: The St. Regis Saadiyat Island Resort
Restaurants near Soul beach
Near the beach, there are many great restaurants to get something good to eat after all that fun in the sun. From seafood places to sandwich shops, you can find something for everyone.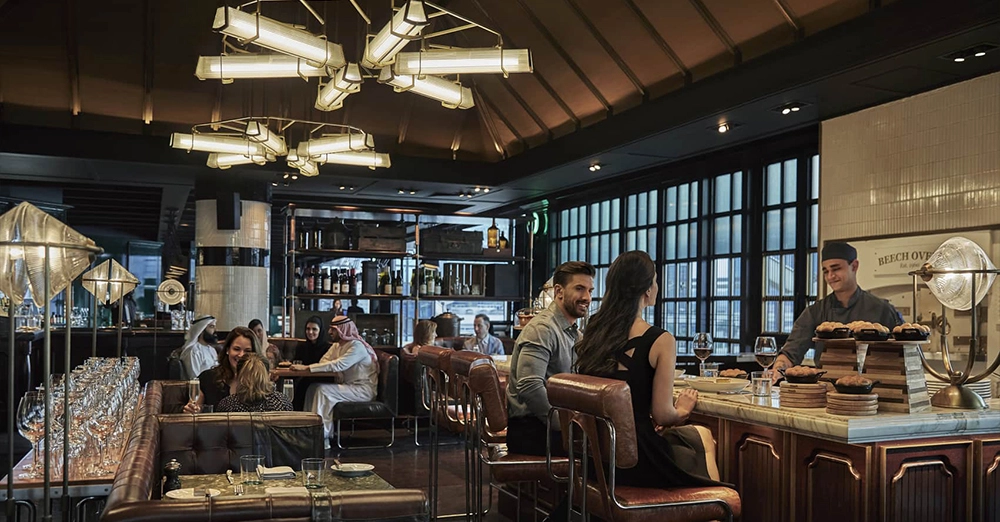 Butcher & Still, located at the Four Seasons Abu Dhabi, is a fantastic place to eat. It's an award-winning steakhouse with a 1920s-style vibe with delicious dinner and dessert menus.
Most reviews about the restaurant are positive, praising the food and the service. Popular dishes include Shrimp Bisque, Lobster Thermidor, and French Onion Soup. Plus, it's great for groups and has a nice ambiance.
Book now: Butcher & Still – Four Seasons Abu Dhabi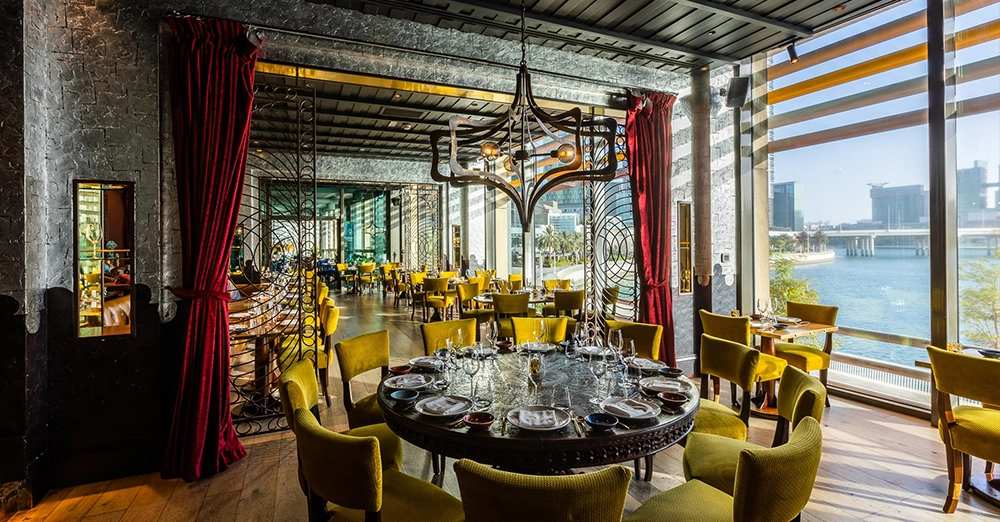 COYA Abu Dhabi is a fantastic restaurant in The Galleria at Maryah Island. When you walk in the door, you feel like you have entered a new world.
The paintings on the walls and the tribal beats of COYA are perfect. You can enjoy an immersive experience inspired by the vibrant Latin American culture and take a multi-sensory journey.
They also offer lots of delicious options for lunch, bar, a la carte, and signature menus. And don't forget about dessert, if you can't stay and enjoy the food, they offer a takeaway too.
Book now: COYA Restaurant Abu Dhabi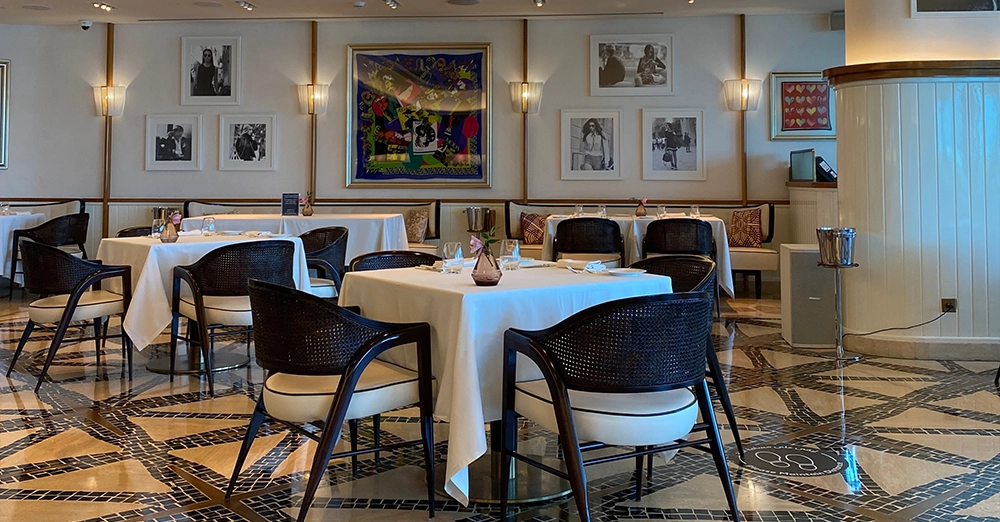 Cafe Milano near Soul beach is the perfect place to enjoy a meal with someone special. The team there is an expert in making delicious handmade pasta, fresh seafood, and tasty salads.
They even change the menu daily so you can try something new whenever you go. Plus, they offer water views from their terrace, that's awesome for super-romantic dates or important business meetings.
Book now: Café Milano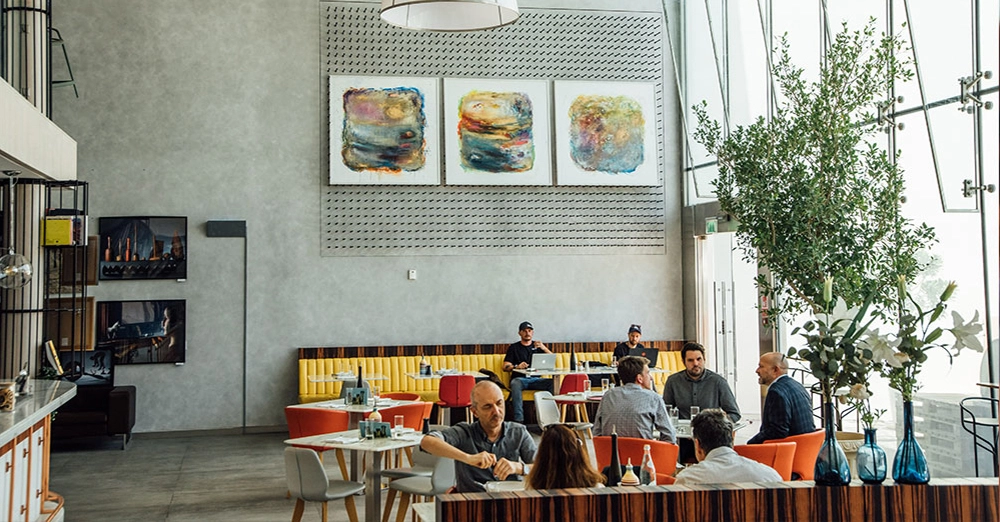 Larte Restaurant and Lounge is the perfect spot for your Italian food cravings. They only use fresh seasonal ingredients, such as salads, wood-fired pizzas, and ravioli. They also have many options, plus a special kid's menu.
On top of the great food, they've also got a wide variety of grape beverages and other refreshing drinks. Every Friday, they have an all-you-can-eat pizza buffet; if you come on Saturday or Sunday evenings after 7:00 PM.
Book now: Larte Restaurant and Lounge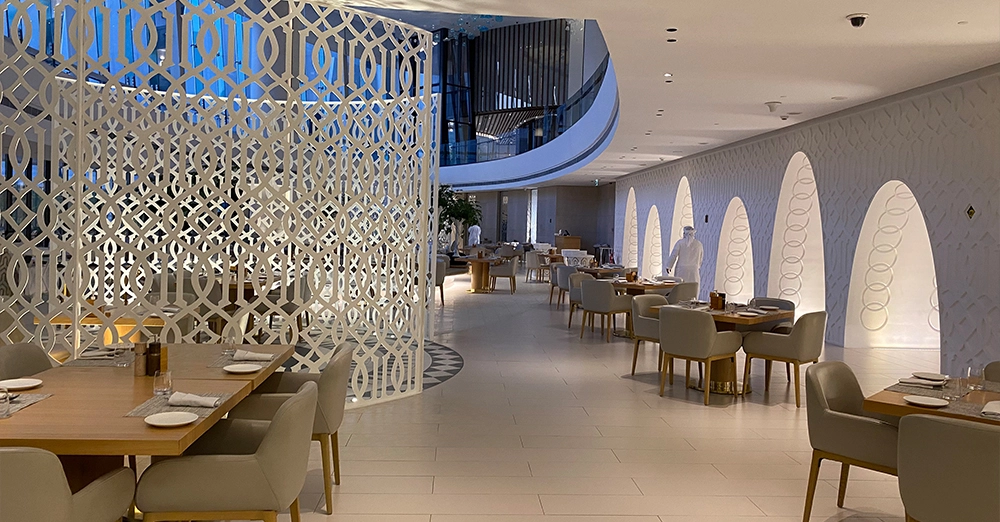 Get ready to be amazed at White at 5* Jumeirah at Saadiyat Island Resort. It's the perfect place to explore a mix of exciting tastes from all over the world. You can explore flavors from East and West and different types of Arabic, Asian and International cuisines.
Take advantage of their excellent Saturday brunch with live music and fun activities like games and shows. You'll also experience it in a cool modern setting with live cooking tours. So grab your friends and family for some delicious fun starting at 1:00 PM till 4:00 PM.
Book now: White at 5* Jumeirah at Saadiyat Island Resort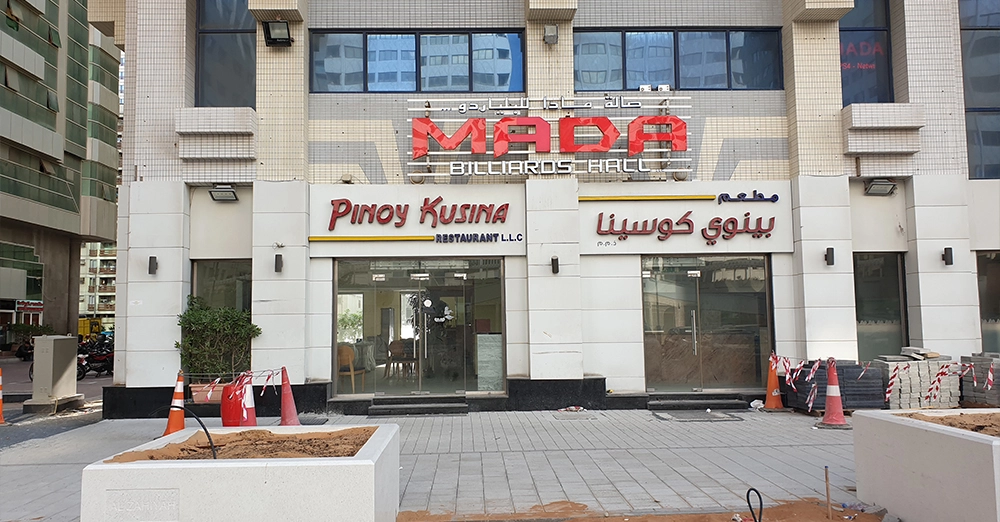 Pinoy Kusina Restaurant is the perfect place to enjoy delicious Philippino and Asian fusion. Perfect for a fun evening out with friends, you can opt for a sharing platter to relax or one of the street food classics for a quick meal.
If you don't have time to sit down and eat, Pinoy Kusina Restaurant offers takeaway and free delivery. Try their unique blend of spices and ingredients today.
Book now: Pinoy Kusina Restaurant
Flight deals to Soul beach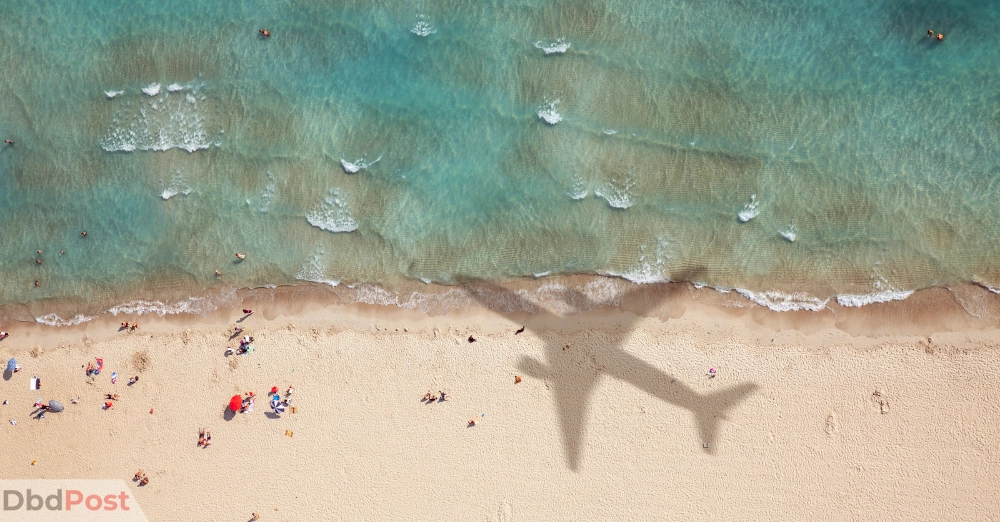 If you want to go on a trip, Soul beach is a great place to go. You can enjoy the clear blue waters and pretty white sand. And there are also some great flight deals to the beach right now.
Book your ideal vacation today and start making memories. We have fantastic flight deals right here that will help you save money for unforgettable experiences.
Soul beach travel tips
Before you pack your beach bag and hit the shore, here are some essential tips for a fun and safe day. [2] UK Government, "Local laws and customs, https://www.gov.uk/foreign-travel-advice/united-arab-emirates/local-laws-and-customs"
You can wake up early and go swimming or do yoga on the beach before dark.
Make sure to bring a bag that holds all your items, like sunscreen and hats. These items will protect you from the sun.
Remember to respect local laws, customs, and other people on the beach.
Stay hydrated by carrying plenty of water, as it can get sunny and hot quickly.
Instead of sunbathing all day, try walking along the shoreline or through town to explore local sights.
Another essential tip is packing a proper first aid kit, bandaids, mosquito repellent, antiseptics, and more.
Don't forget to bring your camera; capturing beautiful scenery or taking selfies with your friends makes some incredible memories.
Following these steps will ensure that your trip goes smoothly.
Best time to visit Soul beach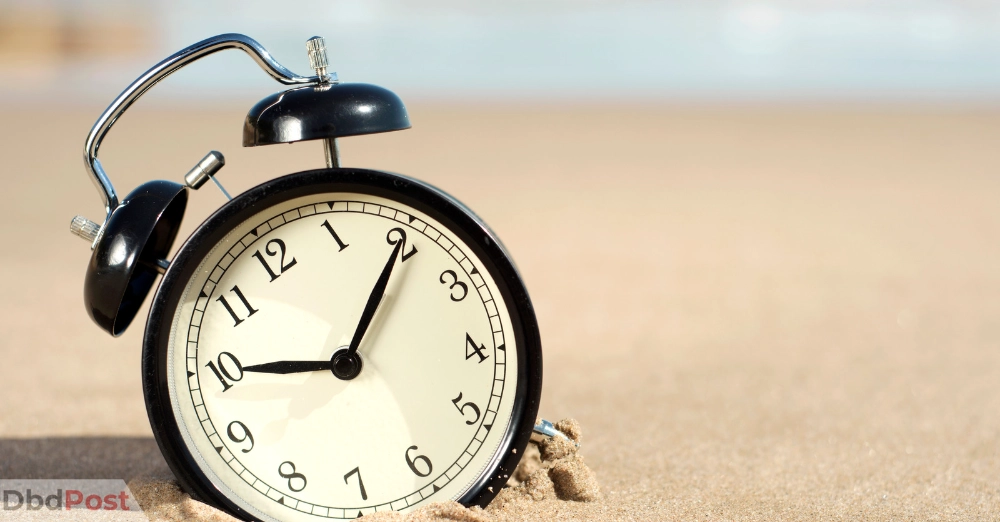 The best time to visit the beach is winter, typically from November to February. During these months, the temperatures are usually pleasant, making this an excellent time to explore the beach. You can find plenty of activities for the whole family, such as swimming, snorkeling, kayaking, or even fishing.
During high season, you can find some fantastic flight deals and great activities to do on the beach. So make sure to book your tickets in advance and plan your trip. The summer months of extreme heat easily cross over 40 degrees Celsius on an average day.
Similarly, the beach is less crowded on weekdays, but it can get busy on Fridays. It is better to visit the beach with your family or friends in the morning or afternoon to do things together.
How to save money at Soul beach
Ready to hit the beach but worried about sky-high prices? Pick up your supplies beforehand and negotiate with local vendors for better deals. Plus, if you bring an umbrella or two, you won't need to rent one by the shore.
Consider packing a lunch before you set off, or take advantage of discount coupons when buying food. We have also selected some fantastic deals on hotels for you to enjoy so that you can hit the beach without breaking the bank.
How to reach Soul beach?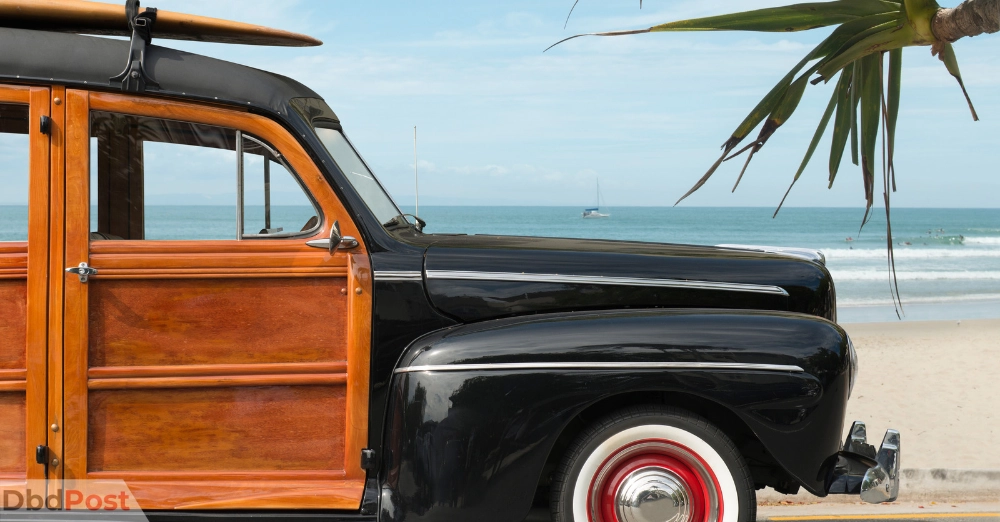 Soul beach is located in Abu Dhabi, United Arab Emirates. You can hop in a car or bus and make your way there. Traveling a long distance to the beach might take some time, but it's worth it once you get there.
Method 1. By bus
The closest bus station is in the Louvre Abu Dhabi Museum. The beach is 10 to 15 minutes of walking distance from the beach.
Map: Get direction
Method 2. Rent a car
A car will let you go to the beach quickly and visit nearby places. And it is easy to rent a car, and you can book it online.
Car rentals: Rental cars
Soul beach map
Related Stories
---
FAQs
Are pets allowed in Soul beach?
Is parking free at Soul beach?
No, there is no free parking at Soul beach. The parking charges are used for beach maintenance and upgrades.
How much is the entry fee for Soul beach?
The entry fee for Soul beach is 50 AED per person, which is excellent considering what you can do. You can go swimming, play beach volleyball and even picnic on the sand. 
Are children allowed in Soul beach?
Yes, children are allowed in Soul beach in Abu Dhabi. The beach is perfect for family outings and picnics.
Final thoughts
The Soul Beach in Abu Dhabi is a fantastic destination for a fun and memorable day out. With its beautiful beaches, warm ocean, and delicious local snacks, it offers something for everyone.
We hope that this guide has helped you make the most of your visit to Soul Beach and that you enjoy all it has to offer. Don't forget to share this guide with your friends and family so they can also experience the beauty and fun of Soul Beach.