Ras al Khaimah beaches are some of the most beautiful in the Middle East. With sunny skies, crystal blue water, and white sand, you can have a heavenly experience.
Rak beaches are perfect for swimming, snorkeling, and relaxing, with plenty of attractions nearby. Also, you can learn about the most popular beaches in the Emirate along with all the necessary info in this guide.
Our Dbd team had a blast while creating this RAK beach guide. We started by researching beaches from all over the area and visited each beach to ensure that all our information was up-to-date and accurate. Also, we enquired with the locals and tourists for genuine feedback during our research.
Furthermore, we scoured through popular blogs, media houses, and social media for feedback and reviews from past visitors. After that, we ranked them based on activities, amenities, safety, privacy, etc. Finally, we compiled a complete guide with descriptions, pictures, and contacts for ease.
11 best beaches in Ras Al Khaimah
Ras Al Khaimah is the northernmost emirate in the United Arab Emirates and home to some of the most beautiful beaches in the world. Now, let's look at the 11 top beaches in the Emirates.
The Hilton Ras Al Khaimah Beach Resort is an award-winning resort and a great place to go for a fun family vacation. It offers 1.5 kilometers of private beach to relax on the sand or splash in the ocean. There are also nine restaurants, including Piaceri da Gustare for fine Italian cuisine and Al Maeda for Lebanese items.[1]Hilton, "Home, https://www.hilton.com/en/hotels/rktrshi-hilton-ras-al-khaimah-beach-resort/#:~:text=Family%20beach%20resort,Online%20Gift%20Vouchers"
If that's not enough, there are also outdoor pools with plenty of waterslides and activities where you're looking to stay fit, and a 24-hour fitness center awaits the latest equipment. Furthermore, engage in eco golf, yoga boxing, and water sports to complete the leisure experience.
Book now: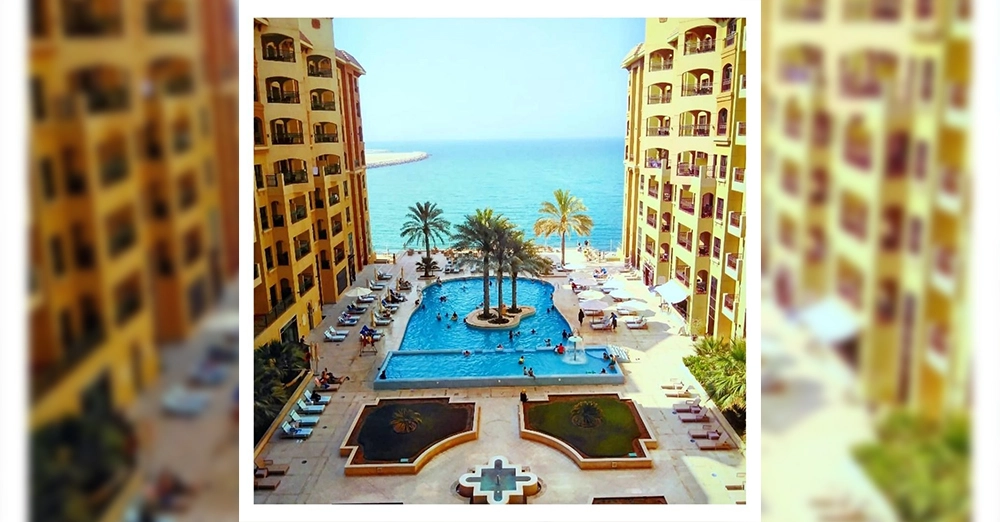 | | |
| --- | --- |
| Location | Al Marjan Island, Marjan Island Blvd, Jazeerat Al Marjan, Ras al Khaimah |
| Website | Marjan Island |
| Contact | +97172036666 |
| Map | Get direction |
| Entrance fee | Only available for resort guests (Booking starts from 250 AED) |
Marjan Island Resort & Spa in Ras Al Khaimah is a five-star paradise for vacationers. It is on Al Marjan Island, which has four beautiful coral-shaped islands.
You can try one of the seven fabulous restaurants and cafes or relax at the spa, beauty clinic, or salon. Similarly, you can dip in the three swimming pools or explore the desert dunes on a safari. Warm and friendly staff inspired by Arabian hospitality will make you feel comfortable and at home.
Plus, for extra convenience, this Ras Al Khaimah beach resort has an airport transfer service and help in Arabic, English, and Russian.
Book now: Marjan island resorts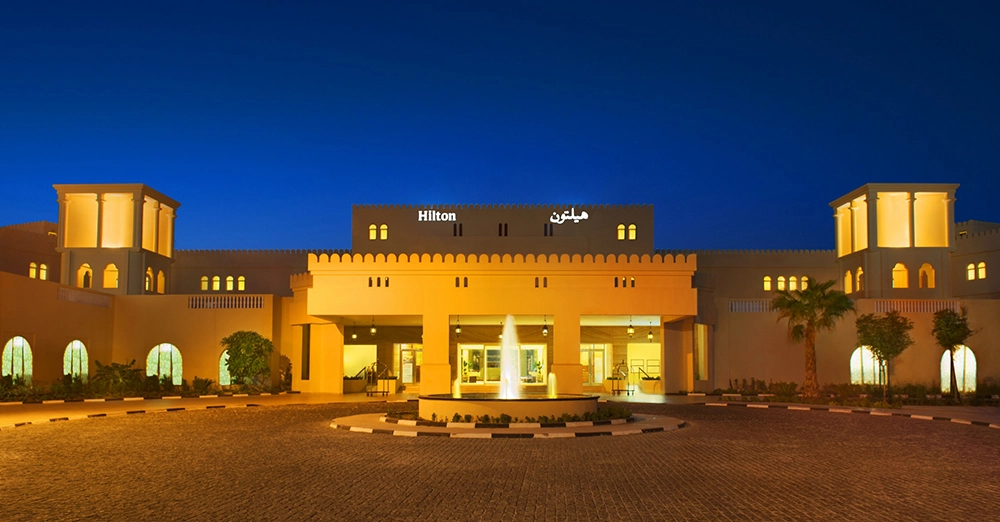 The Hilton Al Hamra Beach & Golf Resort is a fun place for the whole family. Located in Al Jazirat Al Hamra city, this RAK beach resort has a 3.5-star rating and offers a wide range of activities.
It has four onsite restaurants with delicious food, two outdoor pools, and even a special children's pool. Similarly, they also have a private beach with beachfront dining and sun loungers so that you can relax in the sunshine. If you are more into beach activities, there are plenty to choose from, like motorboating, beach volleyball, or parasailing.
Furthermore, you can work out at their 24-hour gym or treat yourself to something special, like a body treatment or hot stone massage. Plus, they offer a roundtrip airport shuttle service if you're a foreigner.
Book now: Hilton Al Hamra Beach & Golf Resort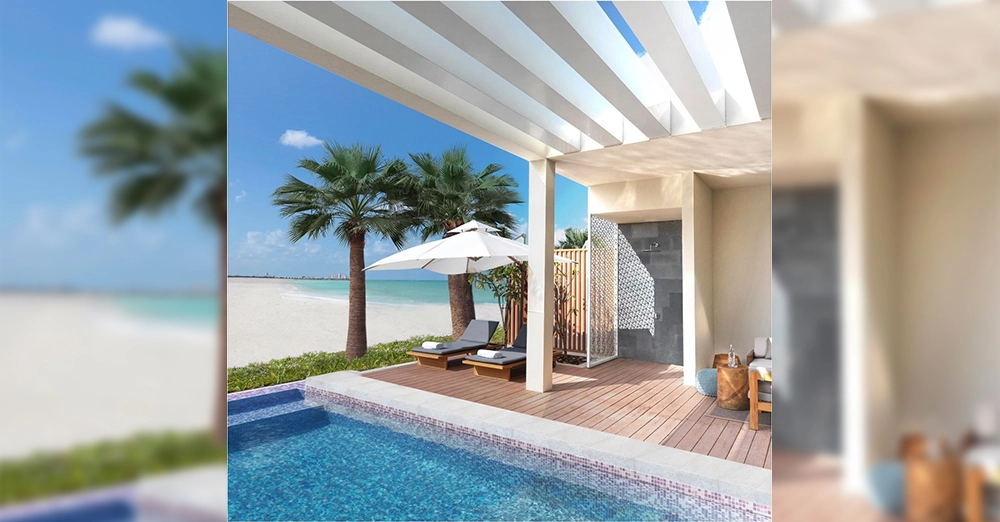 The InterContinental Ras Al Khaimah Resort and Spa is a luxurious surprise waiting to be discovered. Located on Hayat Island and only a 45-minute drive from Dubai, this special hotel celebrates Middle Eastern hospitality, escapism, and natural beauty. Get ready for personalized services and six different restaurants and bars.
InterContinental's 10,000 square feet of event space will make your special day a dream come true. You also can stay in luxury sea-facing rooms, suites, or villas, each with a stunning view. Also, engage yourself in private pool villas and plenty of event space.
Book now: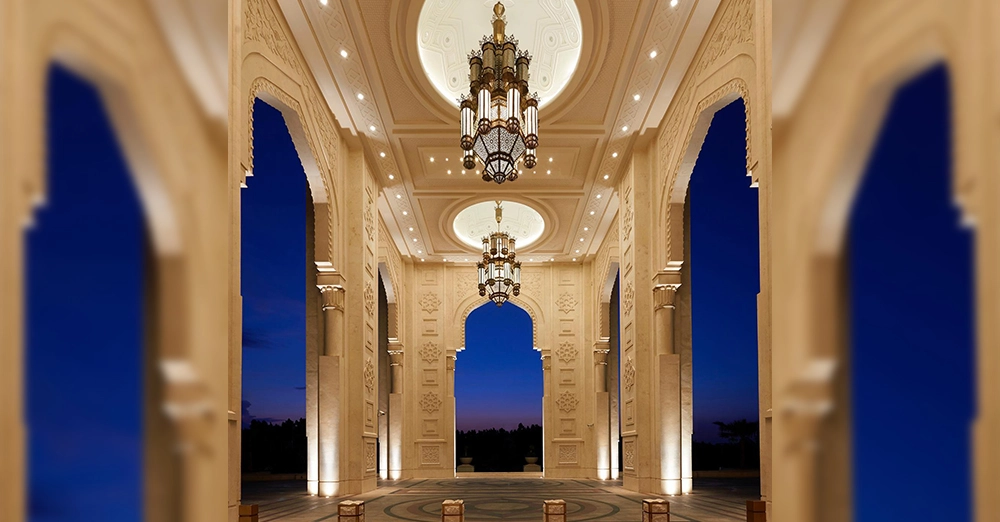 The Waldorf Astoria Ras Al Khaimah is a great place for your next vacation. With their signature attentive service, you'll be sure to feel taken care of. And with eight stylish restaurants, lounges, and elegant accommodations, there are plenty of activities to enjoy during your stay.
Furthermore, the stunning par-72 championship golf course is an excellent way to have fun in the sun. Have a relaxing day at the world-class luxury spa, enjoy a float in the pool, or even learn some new water sports. This Ras Al Khaimah beach resort is also fantastic for business meetings, weddings, and corporate events.
Book now:
6.

Flamingo beach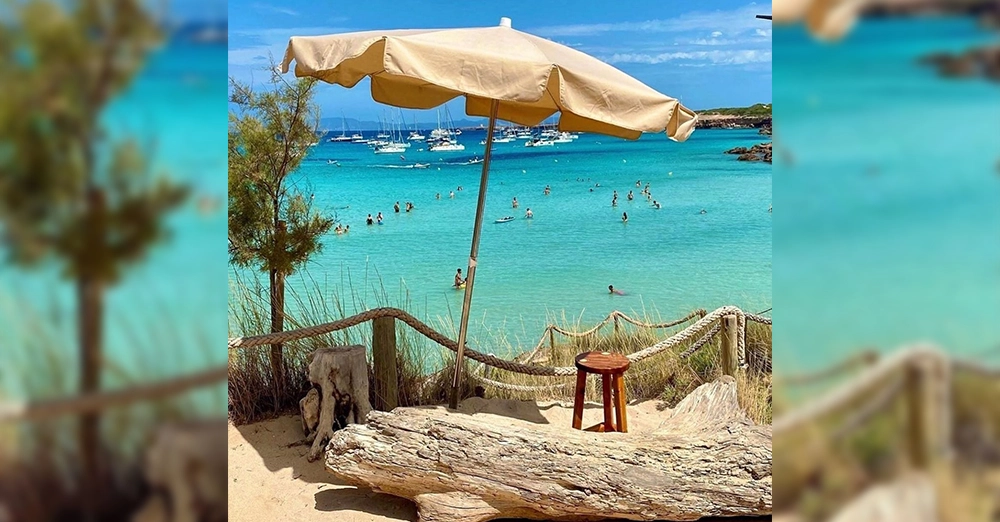 Flamingo beach is a public beach on the UAE's west coast, located between Ras Al Khaimah city center and Al Hamra Village. This Al Hamra beach is famous for stunning sunsets, fun activities, and two giant flamingoes that greet you at the entrance.
Moreover, the water is warm and calm, so it's a great place to swim, play games, or just lounge around. Plus, this Ras Al Khaimah open beach is wheelchair accessible, and there are free parking spots with many coffee shops and delicious restaurants. Lastly, you can see beautiful sunsets and choose from vibrant beach activities.
7.

DoubleTree by Hilton Resort & Spa Marjan Island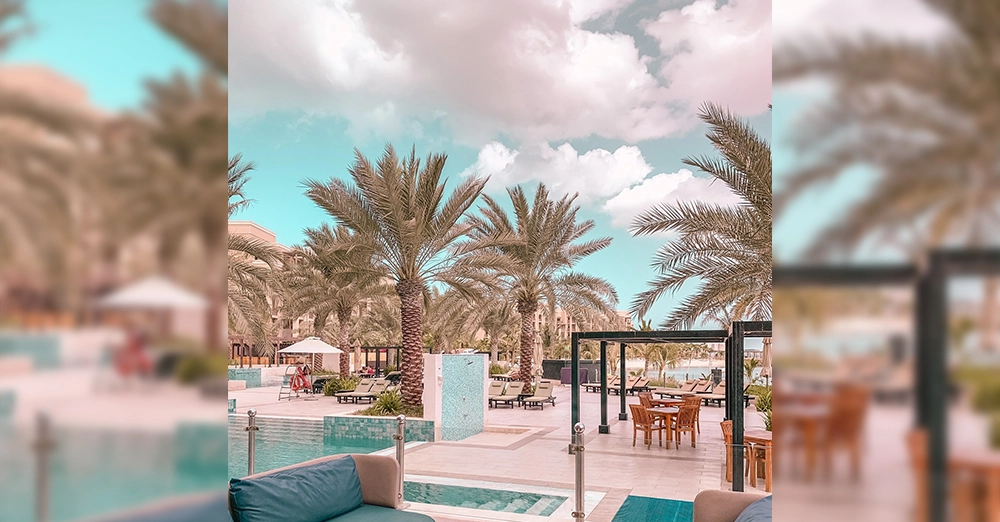 Take a break from the ordinary and head to DoubleTree by Hilton Resort & Spa Marjan Island. This Hilton Ras Al Khaimah beach is on Marjan Island and faces a 650-meter private beach, so you can go swimming or relax. Kids will blast at the outdoor playground, Pirate Boat Aqua Zone, or Tarzan Boat.
There are 13 dining options with Turkish, Asian, British, Arabic, and Italian cuisines and a fantastic Kids' Breakfast experience. Also, you can check out the paddle court for some modern racquet sports or spoil yourself with some treatments at the spa. [2]Hilton, "Home, https://www.hilton.com/en/hotels/rktmidi-doubletree-resort-and-spa-marjan-island/#:~:text=Set%20on%20Marjan,to%20choose%20from."
8.

SOL Beach Lounge & Bar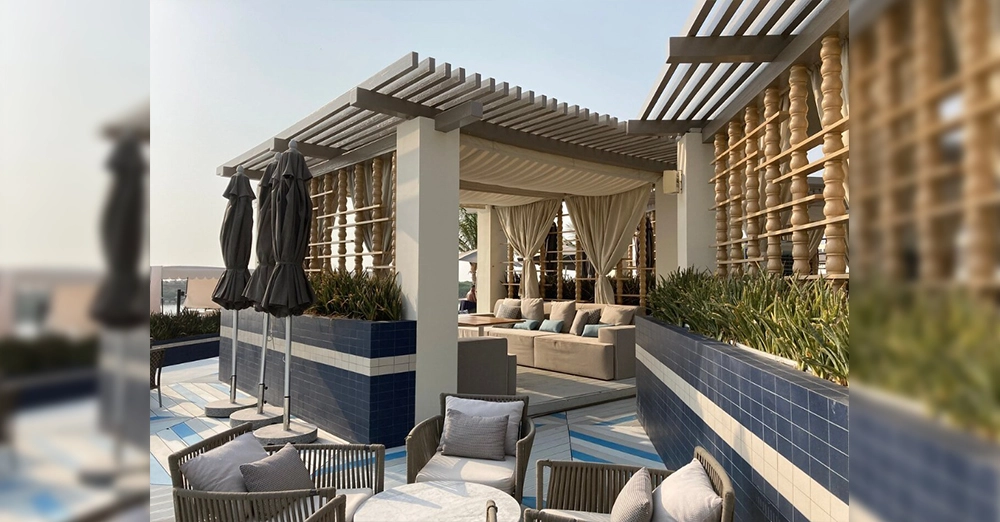 SOL Beach Lounge & Bar at the Hilton Ras Al Khaimah is the perfect spot to experience a Mediterranean lifestyle. It's a family-friendly beach lounge with fantastic food choices, from classic international dishes to cold drinks, grills, and salads.
And don't forget the delicious Shawarma they prepare right before you in their dedicated cooking stations. Furthermore, you can try the chef's Pina Colada cake special dessert. In addition, kids have a special menu with classic dishes like burgers, fish fingers, and pasta.
9.

The Ritz-Carlton Ras Al Khaimah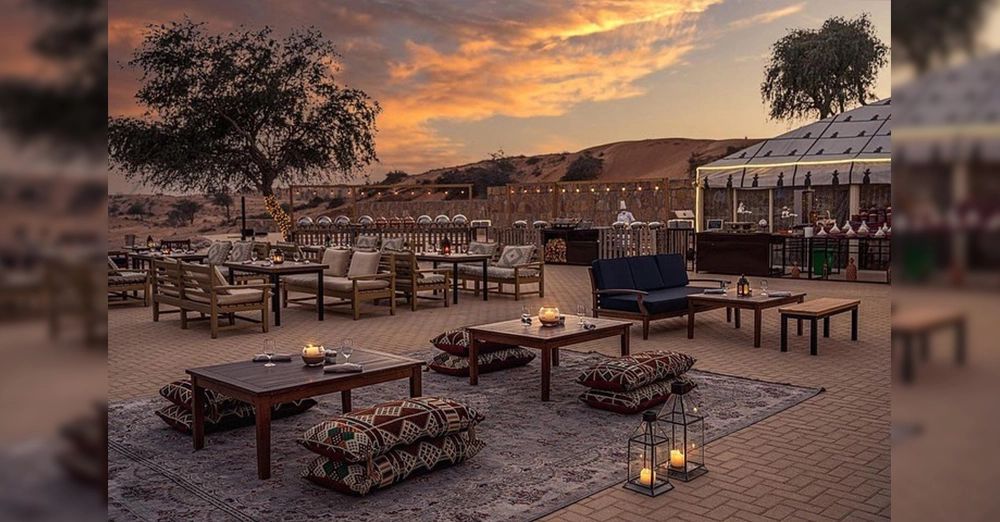 The Ritz-Carlton Ras Al Khaimah is a beautiful beach hotel surrounded by natural beauty, cultural heritage, and traditional elements. There are fully equipped luxurious villas with a private pool and direct beach access. You can enjoy a seafood and grill dining experience with your friends or family at the Shore House restaurant.
Additionally, you can go snorkeling, fishing, paddling, or enjoy other beach activities nearby. For an even more exciting adventure, you can visit the Al Wadi desert for some thrilling activities. Don't forget to check out the breathtaking venues perfect for weddings and corporate events at the beach property.
10.

City Stay Beach Hotel Apartment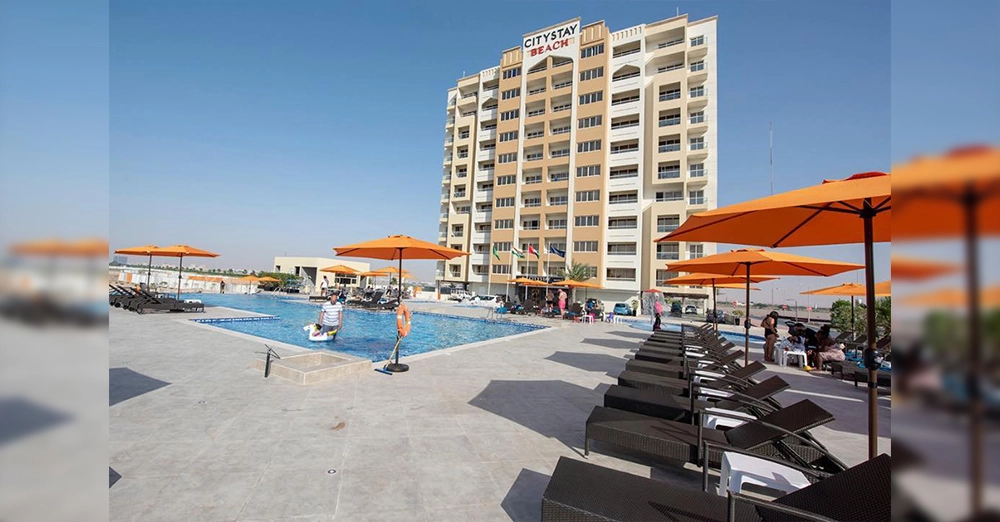 Have the perfect vacation with a stay at City Stay Beach Hotel Apartment, located on beautiful Al Marjan Island in the Emirate. The Ras Al Khaimah beach apartment is the ideal spot for family vacations or large groups.
You can choose from various luxury suites, with access to a private beach where you can enjoy water sports and other fun activities. Plus, there's an infinity pool, restaurant, shisha room, and massage & spa, everything you need for an unforgettable vacation. Also, the beach is near some popular shopping centers and eateries around the property.
11.

The Cove Rotana Resort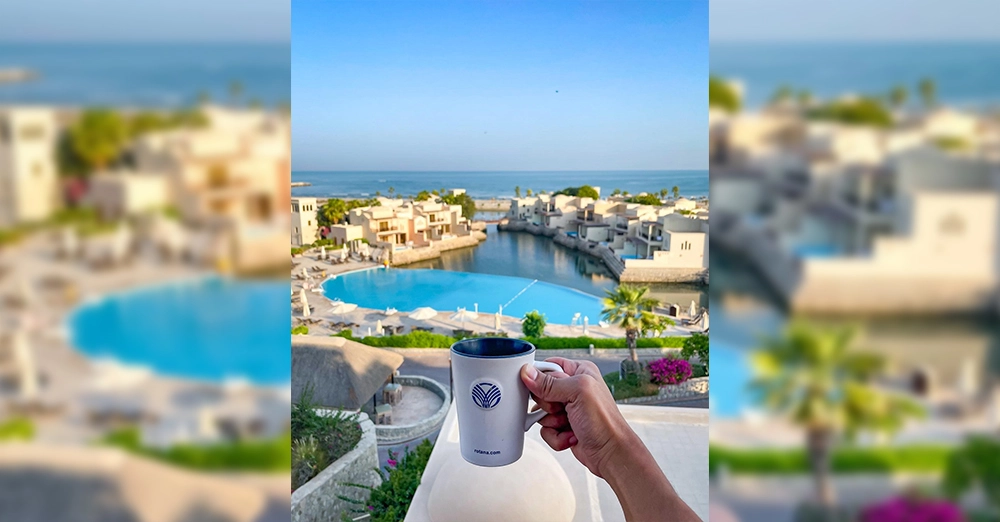 The Cove Rotana Resort in Ras Al Khaimah is an excellent five-star beach property with a stunning view of the Arabian Gulf. Families can make many fun memories there with two infinity pools, a 600-meter private beach, and many other activities. There is also a Bodylines Fitness & Wellness Club with a fantastic gym and Flipper's Kid's Club for your little ones. [3]Rotana, "About The Cove, https://www.rotana.com/rotanahotelandresorts/unitedarabemirates/rasalkhaimah/thecoverotanaresort#:~:text=With%20a%20serene,sports%20facilities."
The Basilico Mediterranean restaurant and Cinnamon buffet serve delicious meals and snacks throughout the day. And when you need a refreshing drink, check out Breeze Bar & Lounge or the Sunset Pool Bar. Furthermore, the hotel is nearby Ras Al Khaimah International Airport and other popular spots.
Things to do at Ras Al Khaimah beaches
There are many fun and safe things to do at the beaches in Ras Al Khaimah. However, you should consider a few things before exploring the beaches. For example, protection from heat is one of the main concerns of beachgoers. So, let's look into a few things you can do to make your beach experience smooth.
Beat the heat
One solution to cooling down on Ras Al Khaimah's beaches during the summer is to take a dip in the sea. The water can help to cool off your body from the hot temperatures, and it's a lot of fun too.
Bring some shade, as the average temperature of the Emirate is over 42 degrees Celsius on summer afternoons. A beach umbrella or a big towel spread over two chairs provides relief from direct sunlight and can help you keep your cool.
It's also essential to wear light clothing when spending time at the beach, as darker colors are more likely to absorb sunlight. Finally, stay hydrated with plenty of water and drinks with electrolytes which will replenish any nutrients lost through dehydration.
Protect your valuables
If you're planning any water activity, bring a waterproof bag and keep keys, phones, and wallets close or securely fastened. You should also avoid leaving costly unattended items like cameras, jewelry, or valuables.
While beach staff is around to help, it's always safe to keep valuables hidden or locked away. Additionally, lock money and IDs inside the car before heading out on the sand.
Plan carefully
We advise you to plan your visit to ensure you have the best day. First, you should decide when you want to go, early morning or evening visits avoid the scorching heat of the UAE. After that, decide what beach activities you want to do during your stay.
Some popular activities are boating, swimming, kayaking, and more. Also, do not forget your beach supplies like sunscreen, hats, goggles, and towels. Lastly, bring some snacks and drinks if you have a strong appetite.
Stay in budget
Going to the beach in Ras Al Khaimah can be fun, but it can also be expensive! as well. To help you stick to a budget, you should plan things before leaving your hotel. Have a list that shows all the stuff you need, and make sure to buy everything in advance.
Visit a public beach rather than a private one to avoid entry fees. For example, if you are going for a picnic, buy all your food ahead, so you don't have to spend on restaurants. You can also save money by bringing your swimming gear, like goggles and toys than renting them at the beach.
Tips for visiting Ras Al Khaimah beaches
There are a few things to remember when visiting Ras Al Khaimah beaches. These will help you have a safe and fun experience: [4] UK Government, "Safety and Security, https://www.gov.uk/foreign-travel-advice/united-arab-emirates/safety-and-security"
Protect your skin from the sun by wearing sunscreen with a high SPF, a hat, and sunglasses.
Stay hydrated by drinking plenty of water and avoiding alcohol. The heat and humidity can cause dehydration, so drinking plenty of fluids is essential.
Wear appropriate swimwear, such as a swimsuit or trunks. It's also a good idea to bring a beach towel and a change of clothes, in case you get wet.
Pay attention to beach safety signs and follow any rules or guidelines for a safe beach experience.
Be mindful of your surroundings and be aware of any potential hazards, such as strong currents or slippery rocks. If you are not a strong swimmer, staying in shallow waters or near a lifeguard is a good idea.
Respect the local culture and customs, such as wearing modest clothing when visiting public beaches.
Keep the beach clean by properly disposing of any trash.
If you plan to participate in water sports or activities, follow all safety instructions and wear appropriate safety gear.
The weather in the Emirate can get hot, so it's a good idea to go to the beach early in the morning or later in the evening to avoid the hottest part of the day.
These tips should help you have a safe and enjoyable experience while visiting Ras Al Khaimah beaches.
Related Info
---
FAQs
Which is the best beach in Ras Al Khaimah?
Ras Al Khaimah has a ton of great beaches. If you're looking for the best, Marjan Island beach resorts and InterContinental Ras Al Khaimah resort and spa have the best beaches.
Are beaches accessible in Ras Al Khaimah?
Yes, public or open beaches of Ras Al Khaimah, like Flamingo beach, have free entry. However, some beaches are private, and a fee or booking is compulsory. 
How many beaches are there in Ras Al Khaimah?
There are about 30 beaches to explore and enjoy, so you'll never run out of things to do. Whether you'd like to splash around in the waves or relax in the sun, Ras Al Khaimah beaches have it all. 
Is BBQ allowed on Ras Al Khaimah beaches?
Though you might see private beaches with grills and BBQ stations, public Ras Al Khaimah beaches have recently banned them. If someone is caught barbequing on a public beach, they will receive a penalty of 500 Dirhams.[5]Khaleej Times, "BBQ ban in Ras Al Khaimah beaches, https://www.khaleejtimes.com/uae/no-more-barbecue-on-beach-sand-in-ras-al-khaimah"
Final thoughts
Ras Al Khaimah beaches are the best place to have a fantastic time with your friends and family. The white sandy shores are great for building sand castles and playing beach volleyball. You can also dip in the crystal blue waters and enjoy swimming.
If you're feeling adventurous, jet ski or try out some other exciting water activities available. Be sure to bring snacks along so you won't get too hungry. Best of all, you'll be able to capture some pretty awesome photos to share with your friends back home. All in all, RAK beaches help make your vacation extra special.