At Kite beach, the only thing that stands between you and the crystal-clear water of the Arabian Gulf is a stretch of soft, white sand. The beach is located in Umm Suqeim, Dubai, just a short drive from the bustling city center.
Kite beach is a popular destination for kitesurfing, swimming, and relaxing. The sparkling water and soft sand are a perfect backdrop for an adventurous day or a lazy afternoon. The beach is close to several restaurants, cafes, bars, and malls, so you can easily find something to do on your own time.
Exploring Kite beach proved to be a fantastic experience. From the dazzling landscapes that met our eyes upon arrival to the unique culture and activities found there, there was something for everyone.
To ensure our guide was of the highest caliber, we tapped into a range of sources – locals who know it best and visitors with personal insights. No matter what kind of traveler you are, make sure to use these guide tips, so you don't miss out on a single moment this beach has to offer.
Kite beach – Quick info
Before we get into the details, here is a quick info guide with all the information you need to know;
It is located at Umm Suqeim, Jumeirah 3, Dubai.
Kite beach is only 15-20 minutes away from Downtown Dubai by car, and a bus ride takes approximately 45 minutes.
It is an open beach, so you can swim or relax for as long as you like without paying. But additional amenities and services will cost extra.
The beach is nearly vacant until 3 pm, but people begin to arrive around that time. The busiest period at the beach is between 6 pm and 9 pm.
Fridays are the most crowded, especially in the evening. It is also the best time to go there to see the beach come alive.
Best of Kite beach
Kite Beach is the perfect place to enjoy a variety of fun activities. There's something for everyone, whether you're looking to relax in the sun or get your adrenaline pumping with water sports. And if you're looking for a more luxurious experience, plenty of hotels and tourist destinations are nearby. Here are our top picks for things to do at Kite Beach:
Best things to do at Kite beach
Best hotels near Kite beach
Best attractions near Kite beach
Things to do at Kite beach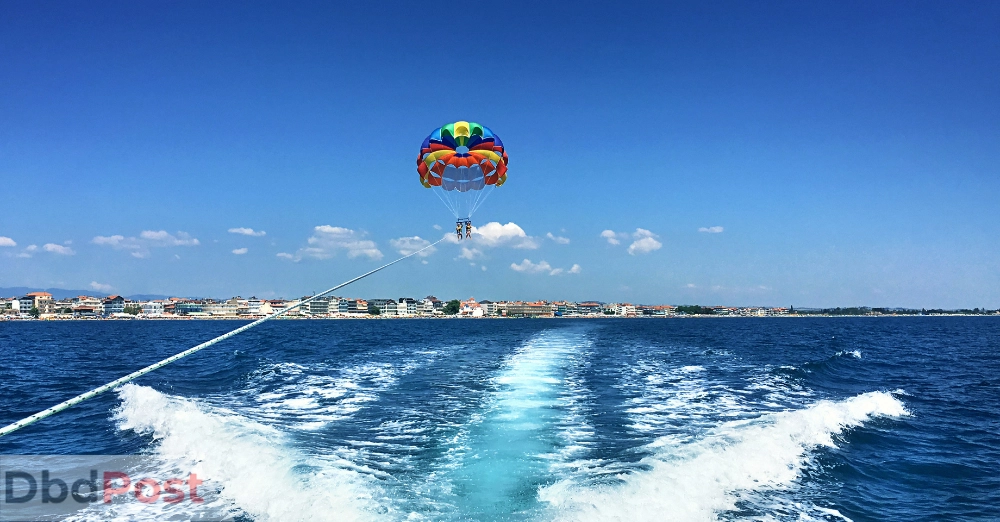 Kite beach is the perfect place to have some fun. Here are plenty of things to do to keep you entertained, whether you're interested in getting active or want to relax. If you're feeling more adventurous, you can try Jet skiing, kitesurfing, parasailing, and more. Kite beach is one of the best spots for these activities, and plenty of instructors are available to help you get started.
Or, if you're looking to relax, you can soak up the sun on the beach, read a book, or take a helicopter tour. No matter what your interests are, Kite beach has something for everyone. Let's check some of the activities in more detail.
There are many jet ski rentals either at the beach or somewhere nearby. The beach offers some of the best skyline views, so it's a great place to go on an adventurous ride.
Check out the following deals and book a jet skiing session you like the most.
Book here:
Parasailing is a great activity to do at Kite beach. It allows you to enjoy breathtaking views of the Arabian Gulf and the Dubai skyline from above.
You have to pay around $80 for parasailing for an hour, which is a reasonable price and is much fun. It is excellent for most people, excluding children and pregnant women.
Book here: Parasailing experience with views of Burj al-Arab
Flyboarding is an unforgettable experience that most people have never even heard of! As the name suggests, you can fly. This is done using a device equipped on your feet that propels water downwards, pushing you up.
This thrilling activity will make you feel pumped up and ready for anything.
Book here: 30-minute flyboarding
One of the most popular things around kite beach is going on a short speedboat trip. You can go around the coastline while watching the city and sea views from a different perspective.
You can also get up close and personal with the marine life. Not to mention, the speed and the wind in your hair will relieve all of your stress.
Book here:
Scuba diving is an activity that requires a little more preparation than the others, but it's definitely worth it. With its crystal-clear waters, Kite beach is the perfect place to go on a diving adventure.
You can explore the coral reefs and get close to exotic marine creatures. Thanks to the professional guides accompanying you, there's nothing to worry about since you will be safe underwater.
Book here: Discovery Scuba Diving
You may feel like you are missing out on the beauty of Dubai if you don't take a tour around town. The sheer size of Dubai and the number of unique places are astounding. It is impossible to see everything unless you're staying for weeks.
But thanks to the Big Bus tour, you can explore most of the city up close. The bus provides a tour covering all the major attractions in Dubai, and you can get in or out at any stop.
Book here: Hop-on hop-off tour on Big Bus Dubai
See the city from a bird's eye view on this thrilling helicopter tour. You will soar above the buildings and see the breathtaking skyscrapers and coastline from a unique perspective.
It is a short tour, but you will catch glimpses of the entire city while marveling at the beauty of it all. This short journey will give you amazing views and opportunities to capture the best pictures.
They offer pick-up services at all Dubai hotels as well. Just choose one of the hotels near kite beach as a pick-up point, and they will come to get you.
Book here: Dubai helicopter tour
Top attractions near Kite beach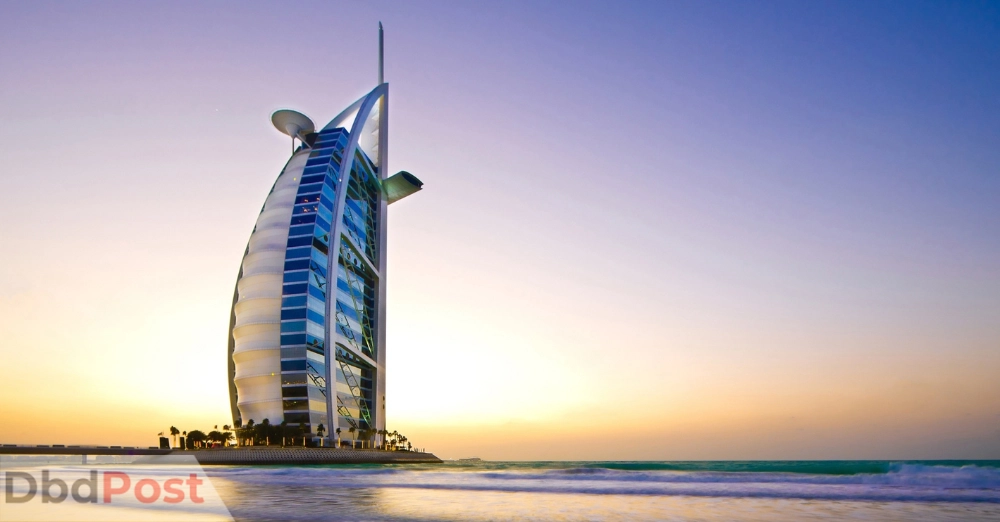 The Burj Khalifa is the tallest building in the world, towering over Dubai at an incredible 2,720 feet. It is so tall that you can see it towering over everything, even from kite beach miles away!
It is not just the height that makes the Burj Khalifa so impressive. The sleek, modern design and the range of amenities available to residents and visitors make it even more impressive.
The structure is home to a luxury hotel, shopping mall, and even an observation deck with views of the cityscape. This impressive feat of engineering will take your breath away when you see it for the first time.
Book tickets:
The Burj Al Arab is one of the most iconic buildings in the world. It is a luxurious hotel situated 3 kilometers off kite beach, and it stands out among the skyline due to its distinct sail-shaped design.
It is a hotel, so you aren't exactly going to experience everything it has to offer. But you can enter the building and treat yourself to a meal or souvenirs.
You can also relax in the lounge area inside. Moreover, you can visit the upper decks for stunning views of the sea and cityscape.
Book tickets:
Once you are done lounging and swimming, why don't you try the thrilling rides of Wild Wadi waterpark? There are over a hundred rides, and the place is perfect for people of all ages, especially kids.
You can even try out the water guns and have fun in a big group. Not to mention, the wave machine is excellent at producing waves for surfing.
Some deals come with a pickup service, so you can ask them to receive you from kite beach.
Book tickets:
Palm Jumeirah is one of the most popular attractions in Dubai. It is an artificial archipelago in the shape of a palm tree and stands out for its unique design.
The place offers plenty – from luxury hotels and beaches to waterparks and aquariums. But the view from outside is really unique, as you can't find such a beautiful archipelago anywhere else.
The best way to experience this attraction is to go to the observation deck. You can see an aerial view of the entire place and significant landmarks. Just don't forget to take your camera!
Book tickets: Entry tickets to Palm Observatory
Aquaventure waterpark is situated at Palm Jumeirah, a bit far from kite beach, but easily accessible. It has many thrilling rides that will have you screaming with excitement as you splash down the slides.
The waterpark is less than $100 for full-day access, which is a great deal. The tower of Poseidon and the Aquaconda water tunnel is absolutely thrilling. The "Leap of Faith" waterslide is also much fun but will take a little bit of courage.
Lastly, there are plenty of restaurants to dine at after an exciting day.
Book tickets:
Imagine being able to take a selfie with a Tyrannosaurus Rex or have wings of your own. Now, you can do just that at the 3D World Selfie Museum!
The 3D World Selfie Museum is a 21,000 sq. ft. playground where you can let your imagination run wild. From famous paintings to life-sized dinosaurs, fantastical worlds, and ravines, there are over 185 hand-painted optical illusions.
It is close to the kite beach and makes for a great day out if you hang out with a group or with kids. You will find this museum behind Mashreq Bank at Sheikh Zayed Road in Al Quoz 4.
Book tickets: 3D World Selfie Museum Entrance
The Lost Chambers Aquarium is one of Dubai's most popular tourist attractions. The Aquarium is home to 21 exhibits with over 65,000 marine animals located in Palm Jumeirah.
The Lost Chambers Aquarium is known for its rare, colorful, and exotic species of marine animals. Those include jellyfish, octopus, sharks, sea horses, sting rays, etc.
When you visit this aquarium, know that $1 of your ticket's proceeds goes to conservation efforts for marine life. So not only are you having a great experience, but you are also contributing to saving the ocean's creatures.
Visitors can learn fascinating facts about the aquatic world and see the impressive decoration of the chambers. The Aquarium is a great place to spend a day with kids, friends, or by yourself.
Book tickets:
8.

XPark

XPark Dubai is the perfect place to take a break from swimming and sunbathing on the bustling beach. The park is right next to the kite beach, making it easy to access.

The park's greenery and peaceful ponds create a relaxing atmosphere, and the beautiful wooden structures are worth walking through.

And if you're looking for some fun, go to the barn area to look at the ponies, ducks, and tortoises. Maybe they will come close if you are patient.

All in all, XPark Dubai is a great place to spend an afternoon away from the noise and crowd.
9.

BOUNCE UAE – Al Quoz

BOUNCE Al Quoz is a trampoline park in Dubai that is perfect for anyone who loves to jump around and have fun. The park is filled with different trampolines to practice your freestyle moves.

In addition, there is a dodgeball court, a big inflatable bag to make high jumps, and an area to dunk basketballs. And when you're tired, visit the cafe to take a break and refuel.

So, make some goofy moves, have fun, exercise, and have a blast with your friends at BOUNCE Al Quoz. And don't worry about parking fees – there is a free parking zone in the venue. As for the prices, the starting price is just AED 85 for adults. [1]BOUNCE UAE, "Book Al Quoz, https://bounce.ae/book-now/book-al-quoz/"

Website: BOUNCE UAE
Hotels and resorts near Kite beach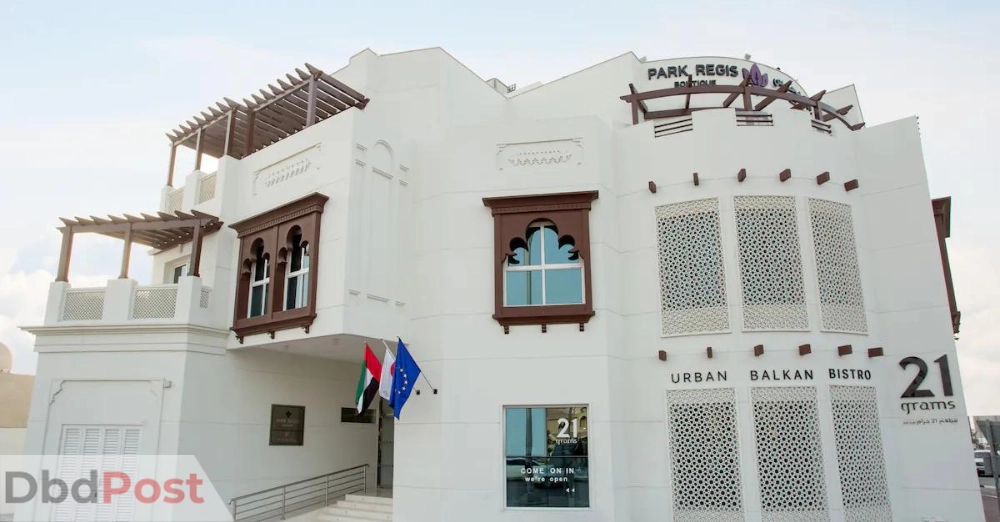 The Park Regis Boutique Hotel is a 3-star hotel located in Umm Suqeim. It is a convenient location for both families and people in business.
The hotel offers a free beach shuttle, and rooms come with a hot tub & toiletries, as well as laundry services. The staff is multi-lingual, and a meeting room is also available for business travelers.
Park Regis hotel is wheelchair accessible and has seriously taken safety precautions against COVID-19.
Families will appreciate the convenient location and the hotel's amenities. Businessmen will find the meeting room and the multilingual staff to assist significantly. Similarly, people in wheelchairs will find the hotel to be accommodating as well.
Make reservation: Park Regis Boutique Hotel
The Lemon Tree Hotel is a great affordable 4-star accommodation in Dubai. It is located less than 15 minutes away from kite beach by car, and around 30 minutes by bus.
The hotel offers an outdoor pool, valet parking, and even a bike rental, making it a convenient place to stay elders. Not only is it a convenient hotel for kite beach visitors, but it also acts as a great base for further exploration of Dubai.
The 114 rooms are equipped with TVs, showers & hair dryers, and a safe are also provided to keep your things secure.
Make reservation: Lemon Tree Hotel Jumeirah Dubai
When looking for a vacation rental, comfort is often a top priority. Roda Beach Resort offers visitors a chance to relax and rejuvenate in luxury.
Every apartment in the resort comes with deep soaking tubs. For additional relaxation, guests can also visit the health club and steam rooms. And to make guests more comfortable, they provide bathrobes and slippers during their stay.
And, of course, one of the best parts of the resort is its direct access to the beach. The resort also has a beautiful garden space to explore.
Make reservation: Roda Beach Resort
If you don't want to go too far from the beach while staying at a hotel, you should book a room at the Beach Walk hotel. It's just a short walk from kite beach and has all the amenities you could want, including a gym.
The rooms are spacious and comfortable, and you can upgrade to a suite if you want even more space. The best part of the hotel is the ample outdoor space with ocean views and lounge areas. You can relax in the sun or dip in the outdoor pool whenever you want.
Its 80 rooms have two bathrooms, rainfall showers, bathrobes, 40-inch TV, free Wi-Fi, and 24-hour front desk access. The rates are reasonable, starting at around $250 per night. Considering what you get, the Beach Walk Hotel is a great deal.
Make reservation: Beach Walk Hotel
A visit to Dubai would not be complete without seeing the iconic Burj Al Arab hotel up close. You have probably seen it in hundreds of pictures, but if you're at kite beach, it is your chance to not limit yourself to just seeing pictures!
The hotel is home to nine restaurants, two bars, a coffee shop, and a beach bar. In addition, a range of leisure facilities, including indoor and outdoor pools, a spa, and a gym, are also available on-site.
The views from the rooms are magnificent. Guests can enjoy stunning vistas of Dubai and Palm Jumeirah from the comfort of their beds.
If you're looking for the most luxurious hotel experience, very few hotels beat Burj Al Arab.
Make reservation: Burj Al Arab Jumeirah
The Jumeirah Beach Hotel is a high-end luxury hotel near the world-famous Burj Al Arab. It has a massive outdoor area with everything you can think of and much more.
There are five outdoor and children's pools, a fitness center, a spa, a steam room, and yoga classes. To add to the fun, there are seven tennis courts, an arcade/game room, and basketball, tennis & volleyball courts on site.
You can even go shopping at a shopping center. If you need a babysitter, you can hire one and let the children play in the playground. This hotel has everything you could need for a fantastic vacation!
All of this comes at a high price, but if you plan your trip to be as memorable and unique oracle as possible, this is the place to go.
Make reservation: Jumeirah Beach Hotel
The Metropolitan Hotel Dubai is the perfect place to stay, whether traveling alone, as a couple, or with your family. Amazing rooms and services make it the perfect place to relax and unwind.
The hotel also has a rooftop pool, a lounging area, and a big cozy restaurant. And if you're a traveling business person, there's even a meeting room available which you will appreciate a lot.
Plus, don't miss out on the spacious ambassador suite – it's the perfect way to experience Dubai luxury. Whatever your reason for visiting Dubai, the Metropolitan Hotel will be a safe bet.
Make reservation: Metropolitan Hotel Dubai
Restaurants near Kite beach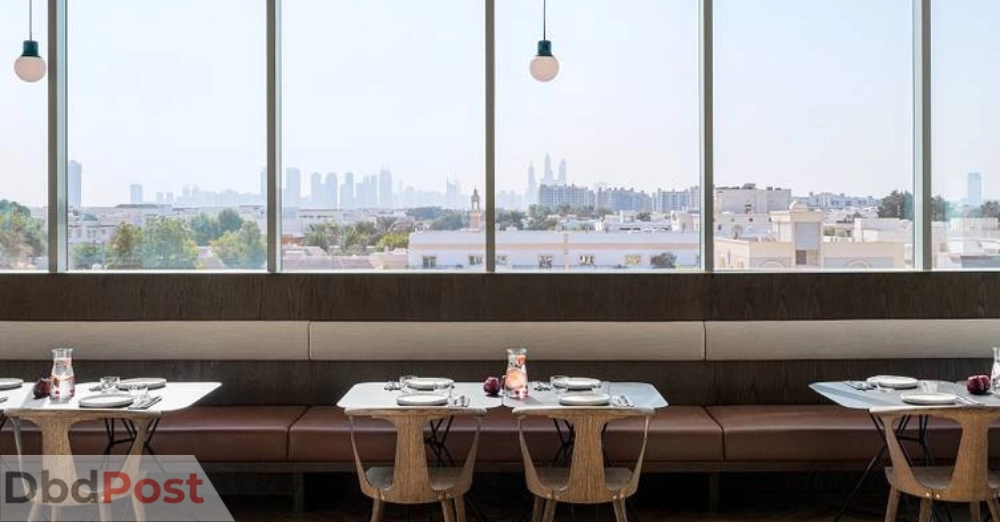 21grams is a cozy restaurant with a great ambiance that foodies will love. The menu features Balkan dishes, hand-made pastries, and family recipe dishes. They are made with authentic seasonal ingredients from local farmers of Balkan regions.
The views from the restaurant are just as awesome. It is set against the backdrop of the Burj Al-Arab hotel.
Lunch costs AED 95 for a starter & main course or main course & dessert. Dinner is AED 150 for a starter, main course, and dessert.
You can't go wrong with any of the choices on the menu. The food is delicious & reasonably priced, and you will find the staff friendly and attentive. We highly recommend 21grams if you're a foodie.
Make a reservation: View menu
Looking for a romantic evening out after a long day at kite beach? Then you should head to Mercury restaurant because the sunset looks jaw-dropping from there.
It has a large open-air dining area. So, you'll be treated to picturesque views of the stunning cityscape and the vast ocean all at once.
The European cuisine and wines there are one of a kind, and the convenient location makes it easy to get to. Best of all, the restaurant opens late at night to experience the glimmering Dubai lights to your heart's content.
It doesn't matter whether you're with a loved one or some friends – you will have a great time at Mercury no matter what.
Make a reservation: View menu
Baku Café is a hidden gem in Dubai, offering traditional dishes and sweets from Azerbaijan.
The cafe's interior feels organic, filled with greenery and Arabic decor. This is a refreshing change of pace from the modern western flavors presented like artwork in other restaurants.
The colorful flavors of vegan and non-vegan food options are highly rated for their tastes, and the ambiance is hot. The place is perfect for a quick bite or a full leisurely meal.
Make a reservation: View menu
You must head to Sea Fu restaurant if you're in the mood for some delicious seafood. As the name suggests, they specialize in seafood dishes like tuna, salmon, crabs, and octopuses. They also have some great vegan options.
The restaurant has stunning views of the Arabian Gulf, so it's a great place to enjoy a beautiful sunset while you eat. Regarding the food, Sea Fu offers a mix of East-Asian and Japanese cuisine. So you can expect sushi, tempura, sashimi, and other traditional dishes on the menu.
Prices there are surprisingly affordable too. The cheapest main course meal is only AED 115. And if you want something more substantial, they also offer starter & main course meals and cocktails, beer, and wine.
Sea Fu is sure to have whatever you're in the mood for!
Make a reservation: View menu
BiCE Mare restaurant is known for its fresh seafood of delicious Italian flavors.
They won the "Best Seafood Restaurant" BBC Good Food Award in 2013. Since then, they have consistently served their visitors with the same quality.
The best time to visit this restaurant is after sundown. The views of The Dubai Fountain and Burj Khalifa from the restaurant are simply stunning at that time.
You'll find many dishes on the menu that you haven't even heard of, but trust us – they all taste great! Whether you're a seafood lover or not, you will be after you finish a meal at BiCE Mare.
Make a reservation: View menu
Tong Thai is a great place to try traditional Thai cuisine, just like the name suggests. They have a wide selection of dishes, from curries to noodle soups and stir-fried dishes.
The restaurant is located near Downtown Dubai. That is slightly far from kite beach, but it won't take longer than 20 minutes to reach by car.
Make a reservation: View menu
Shopping malls near Kite beach
Kite beach is a great spot for city fun, excitement and relaxation. If you're feeling the urge to go shopping, plenty of malls near Kite Beach can suit your needs. From trendy fashion boutiques to great department stores, each of these malls are conveniently situated, allowing for an easy transition between enjoying Kite Beach and browsing through their merchandise.
1.

Sunset Mall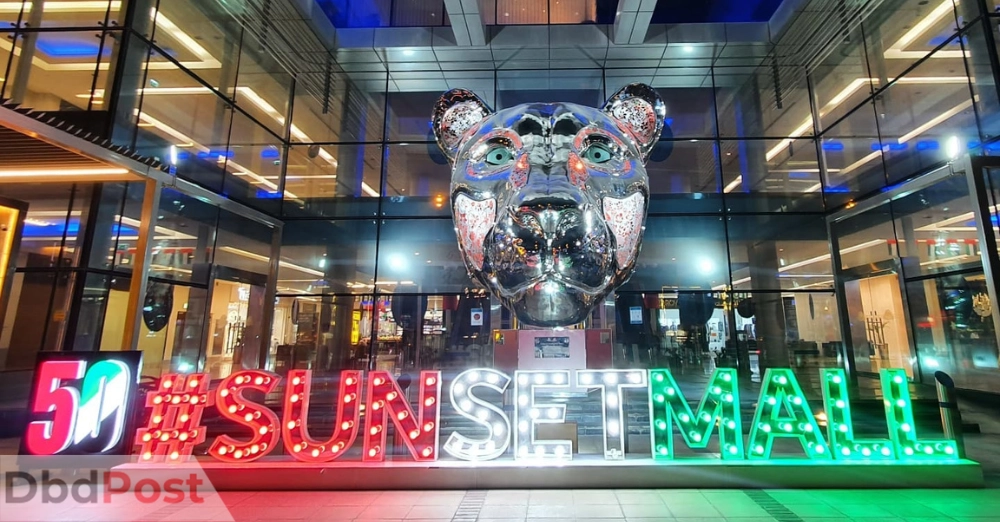 | | |
| --- | --- |
| Location | Near sunset beach, Jumeirah Beach Rd, Jumeirah 3 |
| Specialties | Vape house, branded fashion, jewelry, perfumes, gourmet restaurant, pharmacy, etc. |
| Website | Sunset Mall |
| Map | Get directions |
The Sunset Mall is a bustling hub of activity, covering an entire block and offering a wide range of shopping and dining options.
The mall has many things for sale in its retail shops, from clothes and shoes to perfumes and jewelry. And with diners, fast food restaurants, and a FedEx branch, the mall is also a convenient stop for all.
Plus, the mall offers a prayer area if you want to read Namaz on time.
2.

Dubai Mall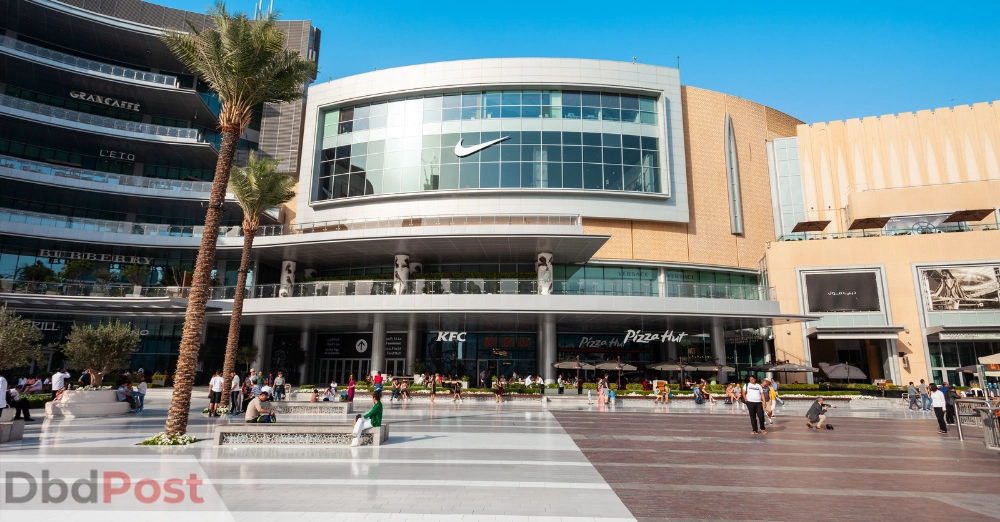 | | |
| --- | --- |
| Location | Next to Burj Khalifa, Sheikh Zayed Rd, Financial Center Street |
| Specialties | Fashion, electronics, souvenirs, opera, cinema, ice rink, aquarium, etc. |
| Website | The Dubai Mall |
| Map | Get direction |
No matter your interests, Dubai Mall is the place to find it. You can shop until you drop by, watch a movie, visit the aquarium, or enjoy some delicious food.
With so much to do, spending an entire day here is easy. So, if you're looking for a fun and exciting day in Dubai, visit the Dubai Mall.
This mall is quite a distance from Kite beach Dubai. But this mall's sheer size and range of activities shouldn't be missed.
Flight deals to Kite beach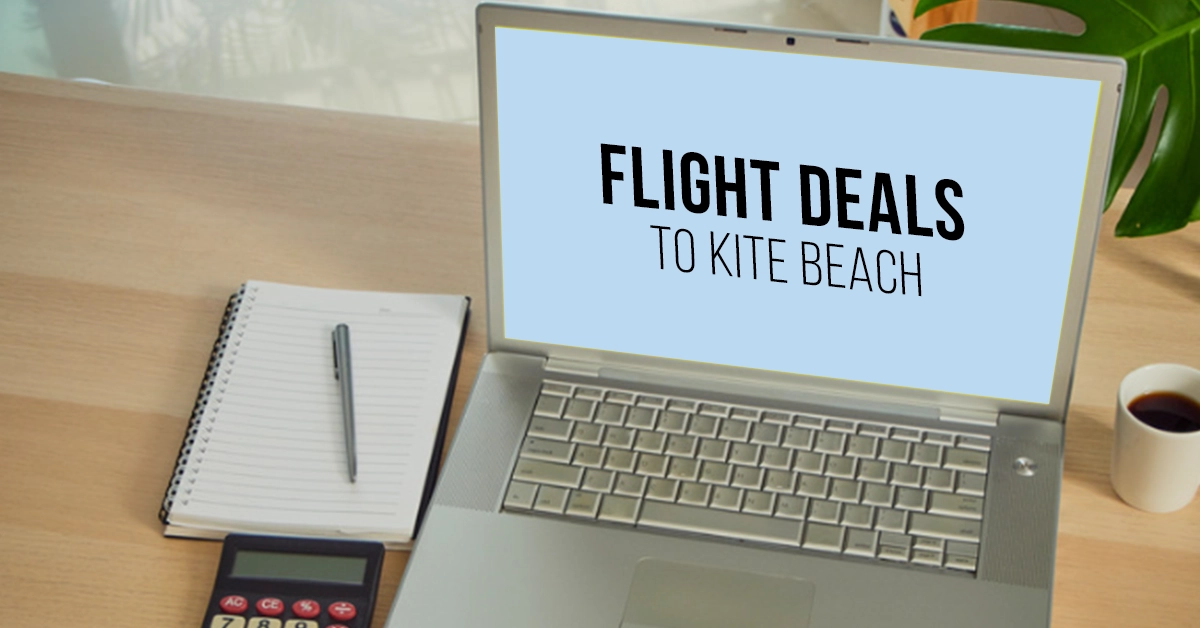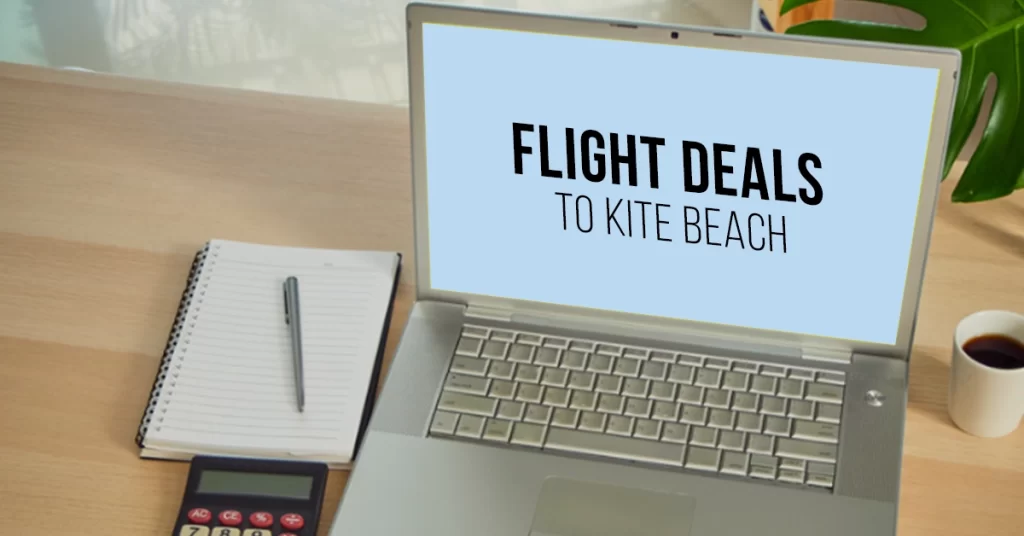 You can easily find the most affordable airlines by checking simple websites. It's as easy as a few clicks, and you'll have access to some of the best bargains available.
Best flights finder overall thanks to the useful features
Excellent customer support
Higher number of search results than others
Useful filters to search for specific types of flights
Wonderful international airlines aggregator
Diverse range of international tickets
Unknown or less-popular flights & airlines are shown too
High search result relevancy
Wonderful customer support
Quick results
Everyday fares are shown on a dynamic calendar
These websites offer a subscription model that will let you receive notifications when the price drops. If you purchase the tickets as soon as prices drop, you will find great benefits.
Kite beach travel tips
Kite beach Dubai offers many activities for travelers to enjoy. Here are some tips to make the most out of your stay:
Wear comfortable clothes and bring sunscreen & sunglasses.
Book an accommodation nearby, so you don't have to travel too far after a tiring day.
If you want to avoid crowds, go before 4 pm but remember that it will be hot then. And if you love crowds and noise, go after 5 pm.
Stick around during sunset, as it is a beautiful sight to behold.
Make sure to stay hydrated and drink plenty of water throughout your visit.
Try out the watersports there, like kitesurfing, windsurfing, kayaking, or jet skiing. You don't come across them often, so enjoy while you can.
If you're looking to relax, rent a sunbed.
However, be aware that you must wear clothes covering your arms and legs. People can only wear swimming clothes on beaches or at swimming pools. Similarly, it is against the law to dress like the opposite gender. [2] UK Government, "Foreign Travel Advice, UAE,

https://www.gov.uk/foreign-travel-advice/united-arab-emirates/local-laws-and-customs#:~:text=Clothes%20should%20cover,dressing%20is%20illegal."
Kite beach is one of the best places in Dubai for a great beach day and all its activities. With these tips, you are all set for an unforgettable experience.
Best time to visit Kite beach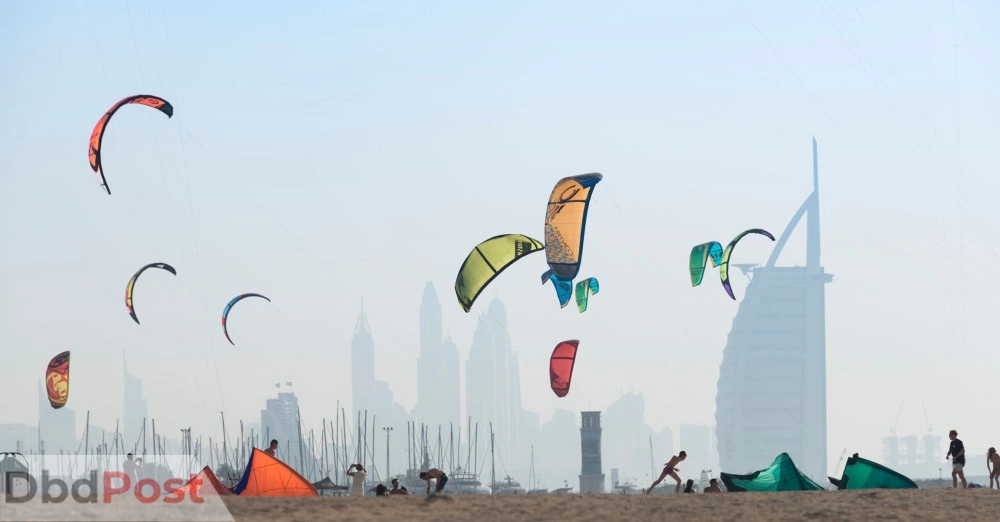 The best time to visit Kite beach is before sunset, about 5 pm. Temperature is more relaxed at this time of day, making it more comfortable. Plus, the colors of the sky as the sun sets are simply breathtaking.
If you're wondering what the best season is, your answer is winter. Winter's warm temperatures make it the perfect spot for a stroll, swim, or picnic. So, if you are considering traveling to Dubai, do it in winter to catch this beach at its best time.
How to save money in Kite beach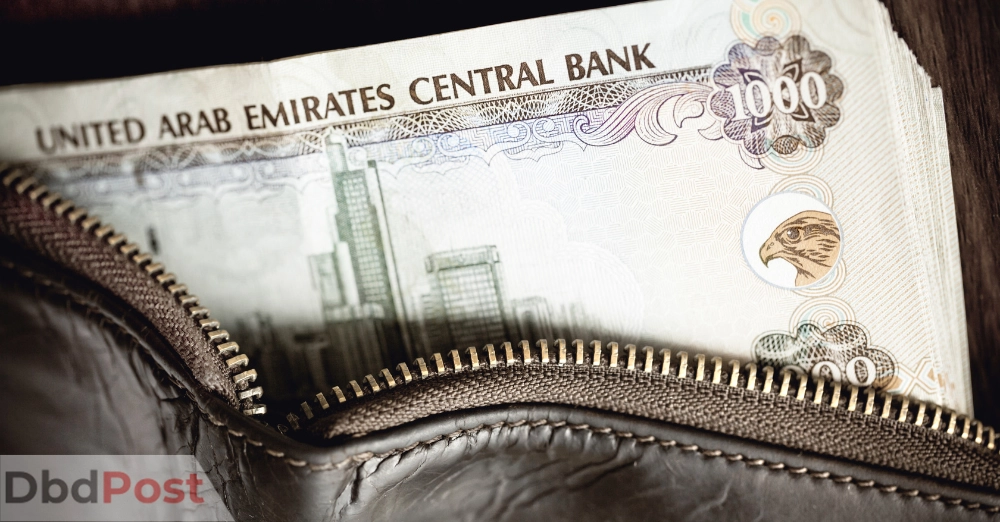 Kite beach is a great summer destination, but it can be expensive if you're not careful. Here are some tips to help you save money on your next trip:
Compare flight prices
Flight tickets are among the most expensive things that travelers spend money on. Various factors affect these ticket prices, and if you know the right tricks, you can find the cheapest possible airfares.
The best way to find cheap airfares is by comparing them all, but it is a hassle if you don't know the right way.
Check out the following flight aggregator websites to compare prices and save money on flight tickets:
CheapOair: Compare the prices of plane tickets from more than 500 airlines to find the ones with the lowest prices or best services.
Skyscanner: Find cheap flights to Dubai's main airport or another airport where prices may be cheaper.
Kiwi: Check the prices and see what other popular destinations are nearby. Maybe you will find a new exciting place to visit.
Book affordable hotels
There are several hotels and resorts near kite beach. Many of them are luxurious and provide a wide range of amenities you may not even use.
In such case, you are better off booking more affordable hotels. Despite their low costs, budget hotels provide everything necessary and nothing too fancy or underused.
Here are some budget hotels that have all the necessary services and amenities for a comfortable stay:
More ways to save money
In addition to comparing flight prices and staying at budget hotels, you can do much more to save money. Here are our best tips for you:
Look for discounted tickets and packages: Many companies offer discounted packages for hotels, activities, and tours that can help you save money. Take the time to check out the booking options in this guide to find cheap deals.
Plan ahead: Compare & book your plane tickets and other activities well in advance. You can take advantage of early-bird discounts by doing so.
Cut down on dining costs: Visiting less popular restaurants with local dishes is a great way to reduce spending. The local cuisine is delicious and costs much less than the ones in fancier restaurants.
Negotiate for better prices: Don't be afraid to haggle when buying something at kite beach. Vendors often reduce their prices if you barter with them for a lower price – be polite and smile!
Save on transportation costs: Choose public transportation whenever possible, as it's usually much cheaper than renting a car or taking taxis. Alternatively, you can rent bicycles to explore the city – it's an eco-friendly and affordable way to get around.
Following these tips, you can enjoy your trip to Kite beach while saving money.
How to reach Kite beach?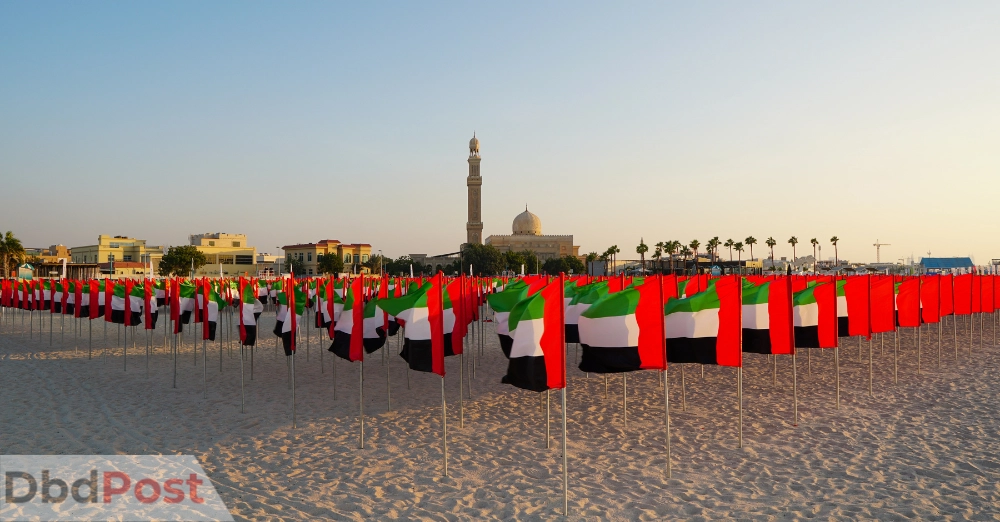 Kite beach is situated in a prime location, and there are two ways to reach it. You can either go there by bus or taxi.
If you're a bus, there are multiple bus stations nearby. And if you want to take a cab, most cab drivers will know how to get there since it is one of the most famous places in Dubai.
The most convenient way to start your trip is by booking a car or bus ticket online. Read more to find out where you can book your transport option online.
Method 1. By car
To reach kite beach via car or taxi, you have to book a ride online or rent a car. You can do so by clicking the link below.
Car rentals: Car Hire in United Arab Emirates
Method 2. By bus
There are various bus stations within a walking distance from the kite beach. Wherever you are, you just have to find a bus to Umm Suqeim 1-1 or Umm Suqeim 1-2 station.
For convenience, we recommend the following websites to book your bus tickets.
Bus tickets:
Kite beach map
Related Stories
---
FAQs
Is Kite beach free?
Yes, Kite beach is entirely free to access. It is a public beach, after all.
Why is Kite beach popular?
Kite beach is popular for its stunning views, as well as its great kitesurfing and parasailing conditions. It also offers various other activities, such as paddle boarding, snorkeling, jet skiing, and more.
Can you swim in Kite Beach?
Yes, you can swim. The water is entirely safe, and the tides are low. So, you can go for a swim whenever you want without hesitating.
Which is better, Kite beach or Jumeirah beach?
Kite beach is better if you want to go parasailing or kitesurfing. On the other hand, Jumeirah beach is a more picturesque beach due to its closeness to Burj Al-Arab. But overall, both beaches' swimming and relaxing experiences will be equally great.
Final thoughts
In a city full of unique attractions and experiences, Kite Beach Dubai is among its most visited destinations.
Whether you want to enjoy some water sports or relax, this stunning beach is the right place. Not only are there dozens of things to do, but the views are lovely, too – especially at sunset.
We hope our Dbd travel guide on kite beach has helped you save money while enjoying your time. And if you aren't there yet, we hope you learned where to find the best flight deals.