Abu Dhabi has some of the most luxurious beach clubs in the world. From luxury amenities to expansive pools, the best beach club in Abu Dhabi elevates the Emirati getaway to the next level.
Each Abu Dhabi beach club has a unique charm, from seaside hammocks and meditative gardens to five-star restaurants. Enjoy parties and unforgettable events throughout the year with unbeatable views and luxurious facilities. Find out about their location, entry fees, and how to contact them for a spectacular vacation.
Selecting the best beach club in Abu Dhabi was challenging yet enlightening. We considered accessibility, services, and overall quality when researching and examining each destination. Also, we spoke to locals, visited the clubs, and looked into ratings from past visitors and customers.
After weeks of investigation and consultation with travel experts, we successfully put together a comprehensive Dbd guide of stunning beach clubs. After carefully assessing the facts, we compared each Abu Dhabi beach club to determine the best ones.
16 best beach club in Abu Dhabi
With summer days reaching 40 degrees, it's best to grab some friends and head to a beach club. Roam around or pick a seat in the shade and have some fun. Below are 16 fantastic beach clubs across Abu Dhabi that you don't want to miss.
1.

Saadiyat beach club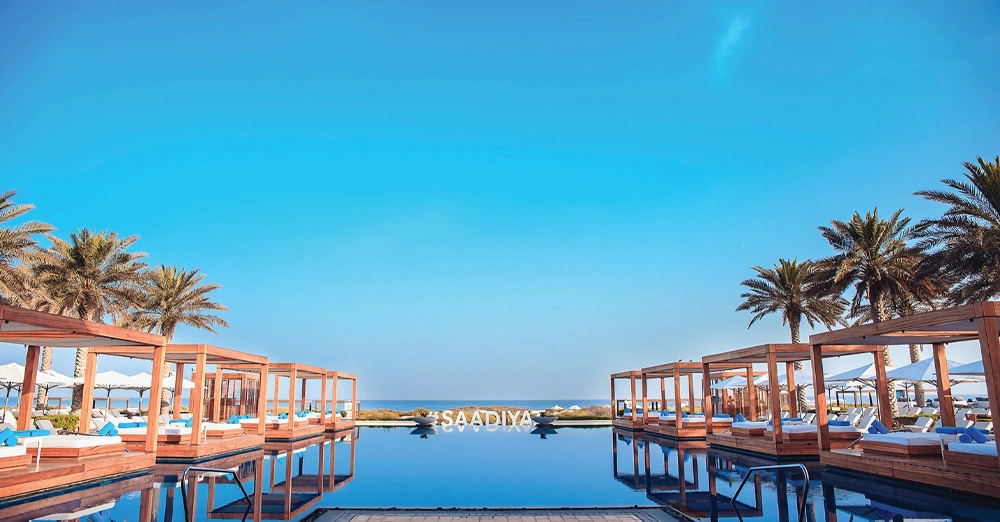 Saadiyat Beach Club is one of the most exclusive destinations in the world, near the beach. It is full of luxury and has lots of lovely island charm. You can access a private beach and a temperature-controlled pool with a steam room, sauna, plunge pool, and jacuzzi.
Saadiyat Beach Club is perfect for any special occasion, offering corporate bookings, romantic dinners, or glamorous celebrations. Plus, you can have a refreshing beverage with some light snacks while chilling under a sun-shaded veranda. And if you're looking for food, you can try some delicious Mediterranean dishes and drinks at the restaurants there.
Book now:
2.

Le Meridien Abu Dhabi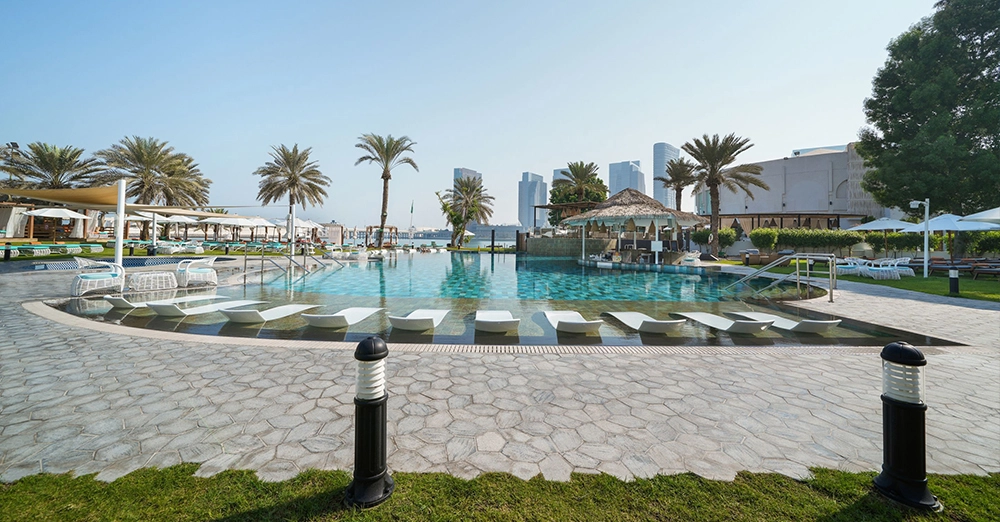 Le Méridien Abu Dhabi is an excellent 5-star beach resort perfect for a fun and relaxing getaway. It has beautiful outdoor settings, and the crystal clear waters of the resort's private beach make it ideal for a relaxing day.
Similarly, the resort also boasts a day-lit spa, a top fitness facility, plus six restaurants and lounges so if you're looking for a fun place to stay with plenty to eat, do, and see, head over to Le Méridien Abu Dhabi.
Book now:
3.

The St. Regis Abu Dhabi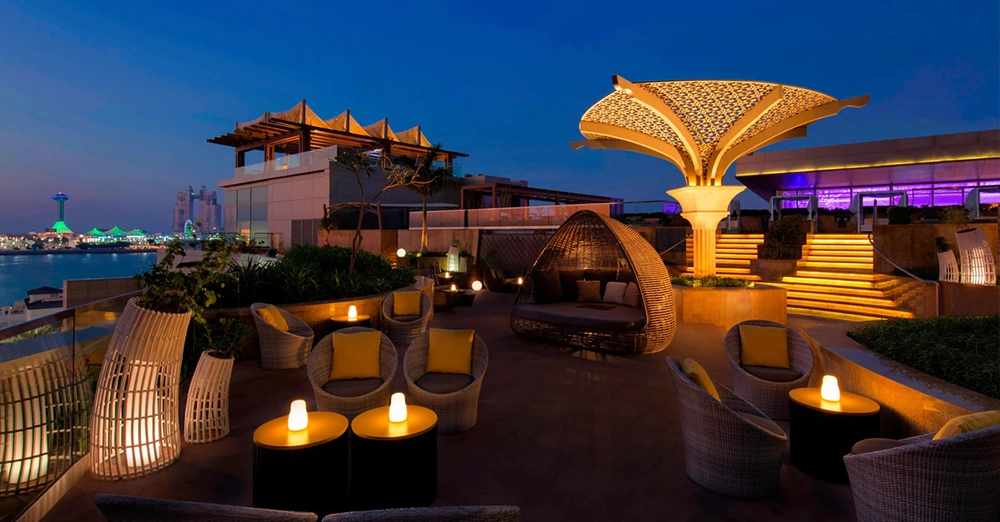 The St. Regis Abu Dhabi is the perfect place for a beach vacation with a 200 meters long private beach. It's one of the best beach hotels in the Emirate, with tons of things for visitors to do. You can participate in watersports and explore the Nation Riviera Beach Club, which is private and exclusive for guests. [1]St. Regis, "National Riviera, https://www.marriott.com/en-us/hotels/auhrx-the-st-regis-abu-dhabi/experiences/#:~:text=Discover%20Nation%20Riviera,and%20recreational%20services."
Plus, you can chill out and relax in style with authentic Arabian hospitality from St. Regis' century-old tradition. And if you want to make your trip even more unique, join one of their amazing events, like the New Year's Eve special.
Book now: The St. Regis Abu Dhabi
4.

Sheraton Abu Dhabi Hotel & Resort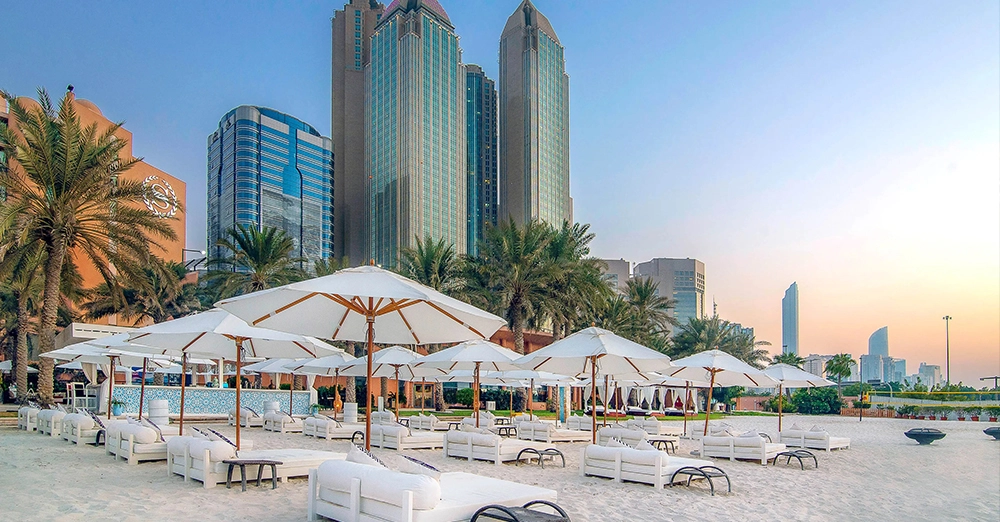 The Sheraton Abu Dhabi Hotel & Resort is a five-star beach resort that has been an iconic part of the cityscape since 1979. When you visit the resort, energize yourself with the great all-day dining restaurant breakfast. Then head to their gorgeous white sand beach and gaze at the majestic view of the sky above Abu Dhabi.
Around the beach, there's a pool with refreshing drinks and a hotel kiddie pool just for children with cool slides. If you want to be active, you can take advantage of the fitness center or enjoy a relaxing massage at the brand-new SPA. Similarly, they also have five event rooms and 1222 square meters of space with a capacity of 700 people.[2]Marriot, "Events, https://www.marriott.com/en-us/hotels/auhsi-sheraton-abu-dhabi-hotel-and-resort/events/#:~:text=5,BREAKOUT%20ROOMS"
Book now: Sheraton Abu Dhabi Hotel & Resort
5.

The Club Abu Dhabi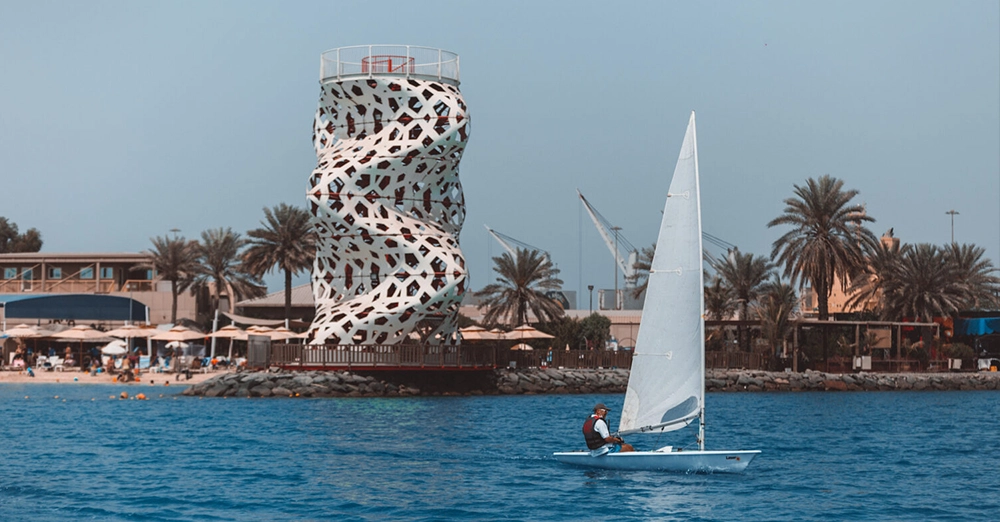 The Club in Abu Dhabi is a fantastic place to be. It's a famous private Members' Club with crystal blue waters, two beaches, and a 25m swimming pool. There are many facilities, activities, services, and events for people of all ages.
Likewise, there are many fun activities for kids, like sailing, swimming, musical theatre, tennis, and football. Additionally, The Club has won awards like the Top 100 City Club in the World from the Club Leaders Forum and the Platinum Clubs of the World 2022/23. Also, What's On Awards gave The Club a Special Achievement Award in 2011.
6.

The Bayshore Beach Club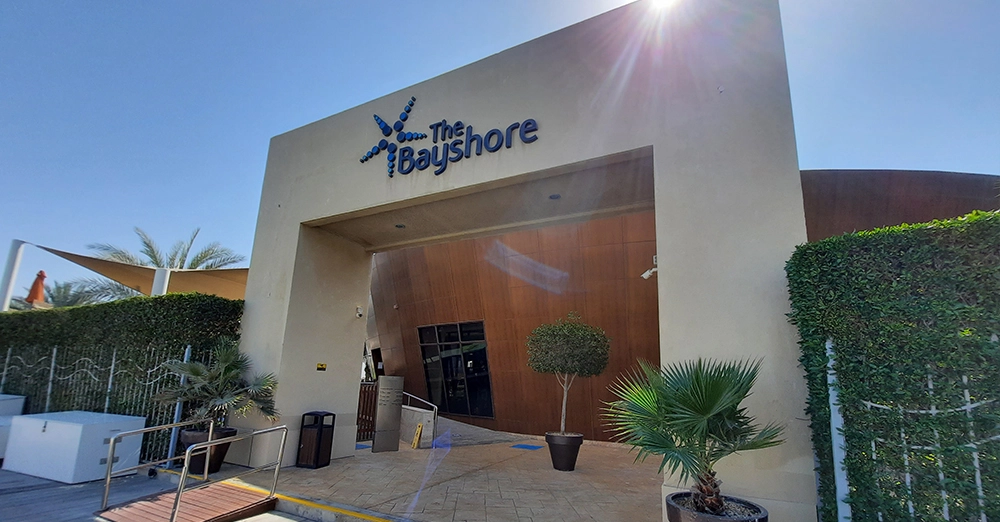 The Bayshore Beach Club in the InterContinental Abu Dhabi was the first hotel in the country. His Highness, the late Sheikh Zayed Bin Sultan Al Nahyan, inaugurated it 40 years ago.[3]InterContinental Abu Dhabi, "About, … Continue reading
You can relax or play at its white sandy private beach and dip in its pool. And if you want to celebrate something special, there is a grand ballroom with award-winning dining options. There is also a fitness center and other comprehensive leisure facilities available 24/7.
7.

Yas Beach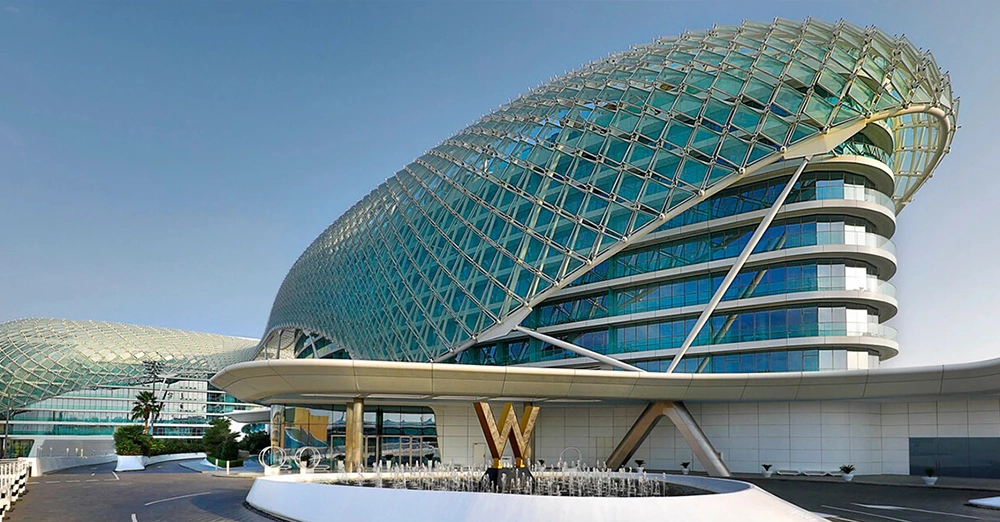 Yas beach club on Yas Island Abu Dhabi is an excellent place to spend the day! There are cabanas where you can hang out for the whole day and listen to soothing music. From there, you can take a dip in their fantastic infinity pool with lifeguards and friendly staff around.
And if you want more excitement, they offer lots of water sports and beach activities nearby. There's also food and drinks to enjoy a delicious feast while watching the sunset. If you're lucky, you can see the marine life swimming.
8.

West Bay Abu Dhabi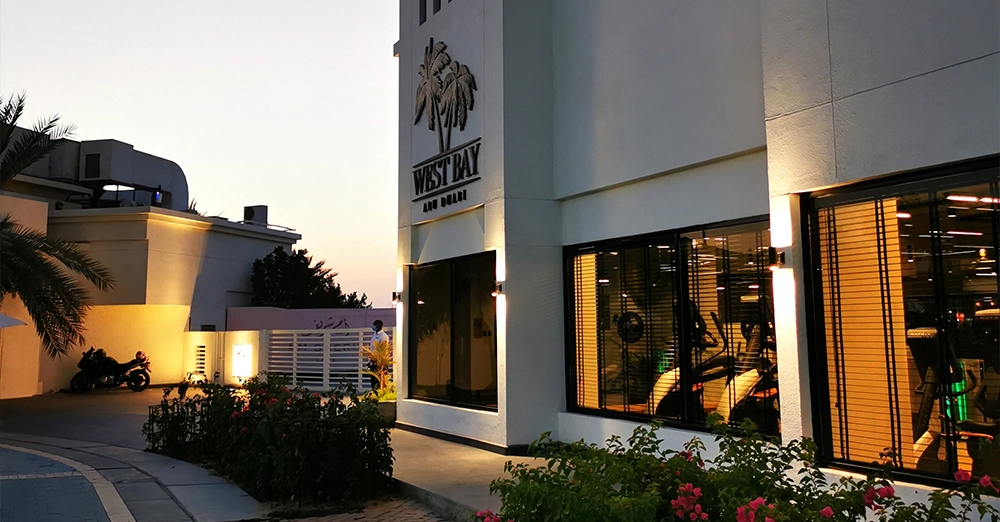 West Bay in Abu Dhabi is a beach club every family would enjoy. You can have a great brunch with all your loved ones and even have kids have fun at the special fun zone. The 800 m long sandy beach has tons of exciting activities.
You can dip in one of the four temperature-controlled pools, play in the wave pool, and go on the zip line for extra excitement. There are also adventure parks and spas available for anyone wanting something different.
If you need a break from all the swimming and playing, an exclusive beach bar is waiting for you. You can get drinks and snacks as you lounge in the sun while tanning your skin.
9.

Radisson Blu Hotel & Resort Beach Club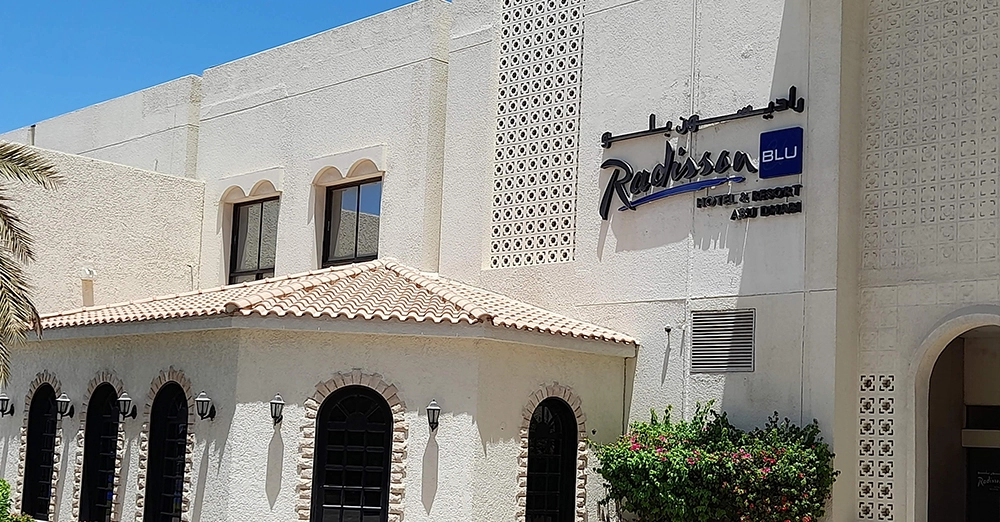 The Radisson Blu Hotel & Resort Beach Club is an excellent destination for a fun day on the private beach. At the Corniche waterfront, families can take in amazing views of the Arabian Gulf while sharing delicious bites and sipping drinks at the pool bar.
You can enter Vertigo Bar & Lounge for a more sophisticated atmosphere to enjoy their cuisine. Or Hemingway's pub for a hearty meal while watching live sports. And don't forget to check out happy hour specials. Plenty of outdoor seating makes it easy to soak up the sunshine.
10.

Emirates Palace Beach Club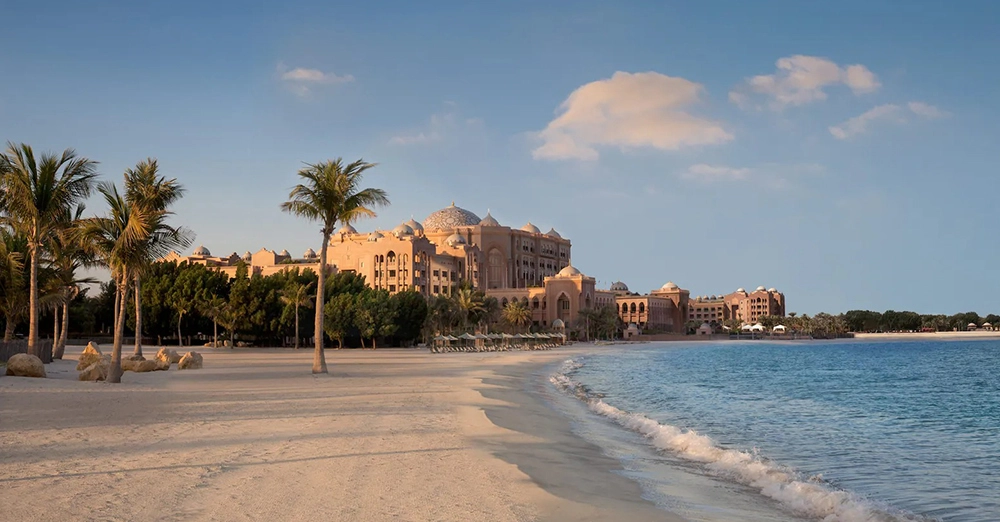 At the Emirates Palace Beach Club, you can get a day of sun and fun. They have a lavish spa, two swimming pools with temperature control, and even a kids' club. Plus, there's a private marina where you can take a boat ride.
For dinner, try BBQ Al Qasr, a romantic seaside restaurant where you can savor a delicious meal under the stars on the beach. In addition, it was voted "Most Romantic Restaurant in Abu Dhabi.
Alternatively, you can try Las Brisas, which features a terrace to look over the Arabian Gulf with a gentle sea breeze in this Abu Dhabi beach club. You can enjoy a poolside brunch at this Spanish beach restaurant with a great view.
11.

Buddha-Bar Beach
Buddha-Bar Beach has been around for almost 25 years and is now open on Saadiyat beach in Abu Dhabi. It offers a new concept of a luxurious summery lifestyle from day to night. You can enjoy the hospitality, wellness, music, and mixology with Japanese and pan-Asian food flavors with a Mediterranean flair.
There are delicious items to try including lunch and daytime menus with good foods for you to enjoy. There are also fabulous cocktails to pair with traditional Asian bites, all made with the finest ingredients and spices. In addition, the perfect musical soundtrack will make it an unforgettable experience.
12.

Cafe del Mar Abu Dhabi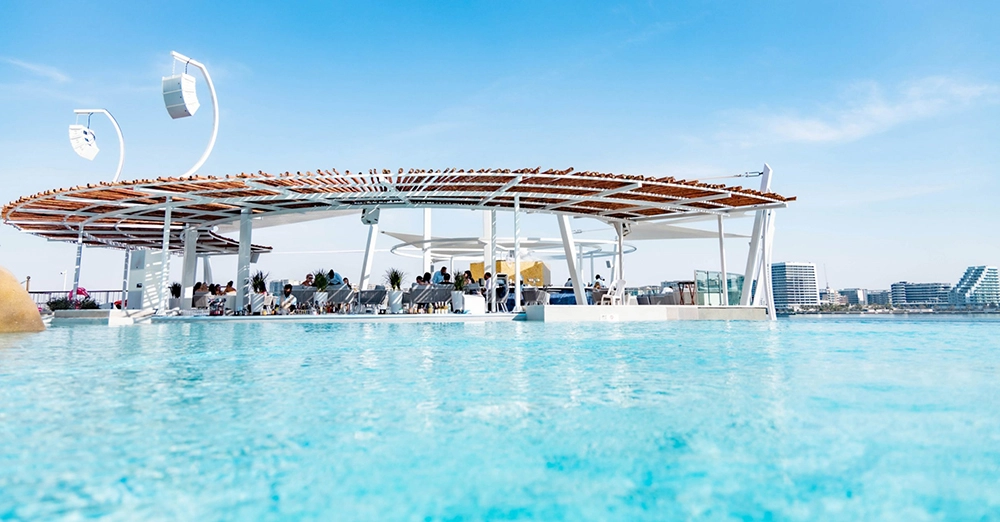 Get your dancing shoes on and experience all the fun of Cafe del Mar Abu Dhabi. With over 40 years of international experience, it brings the exciting party life of Ibiza right to the Emirate.
In this Abu Dhabi beach club, you will find something for everyone, from cabanas to villas, an island bar, and additional VIP services. Not only that, but you also enjoy premium dining experiences with signature cocktails, fabulous wines, beer lists, and fresh juices.
13.

Beach Rotana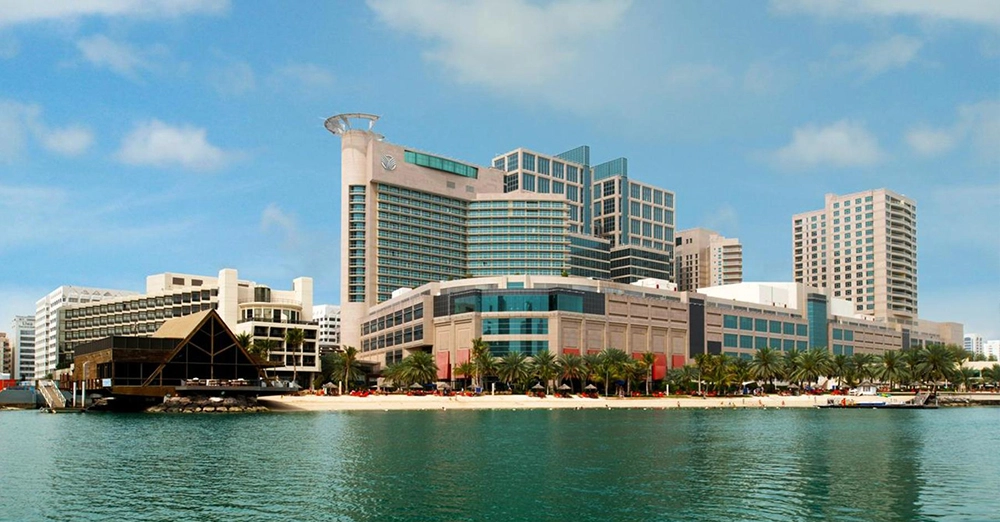 Al Maya Island Resort is an award-winning 5-star city resort with a 120 m private beach and an infinity pool with amazing views. You can also find modern dining, leisure activities, and business facilities nearby Abu Dhabi Mall. [4]Beach Rotana, "At a Glance, https://www.rotana.com/rotanahotelandresorts/unitedarabemirates/abudhabi/beachrotana#:~:text=GALLERY-,AT%20A%20GLANCE,-DESTINATION"
Plus, there are 12 delicious places to eat where you can try different food. Choose from eateries like Finz, an over-water restaurant, or Indigo which serves authentic Indian cuisine. If German food is more your style, Brauhaus has that for you.
Finally, don't forget to check out Zen the spa for special massage, mud, and bath treatments. Al Maya Island Resort also has 12 banquet rooms with indoor and outdoor spaces and a ballroom.
14.

Al Maya Island Resort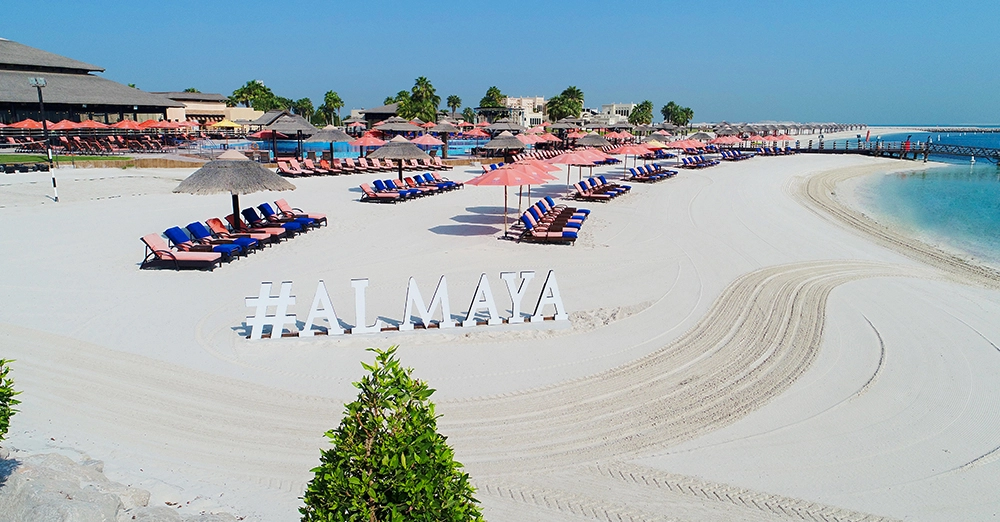 Just imagine being surrounded by unique islands to explore. Al Maya Island Resort is a beautiful getaway on a sun-kissed island off the coast of Abu Dhabi! There's a pristine stretch of soft sandy beach with cozy shaded sunbeds and private cabanas for some serious fun in the sun.
When it's time to cool off, take a dip in their horizon pool, jacuzzi, or big kid's pool. Here you can enjoy Mediterranean dishes like salads, seafood, meats, and pizzas. Plus, they have delicious drinks and tasty food in the restaurant with an African ambiance.
If you decide to stay at the resort, Beach Pool Villas are available for booking. These beautiful villas have private pools and balconies looking out over incredible views. You'll also be impressed by the traditional Arabic design that truly makes you feel special.
15.

Cove Beach Abu Dhabi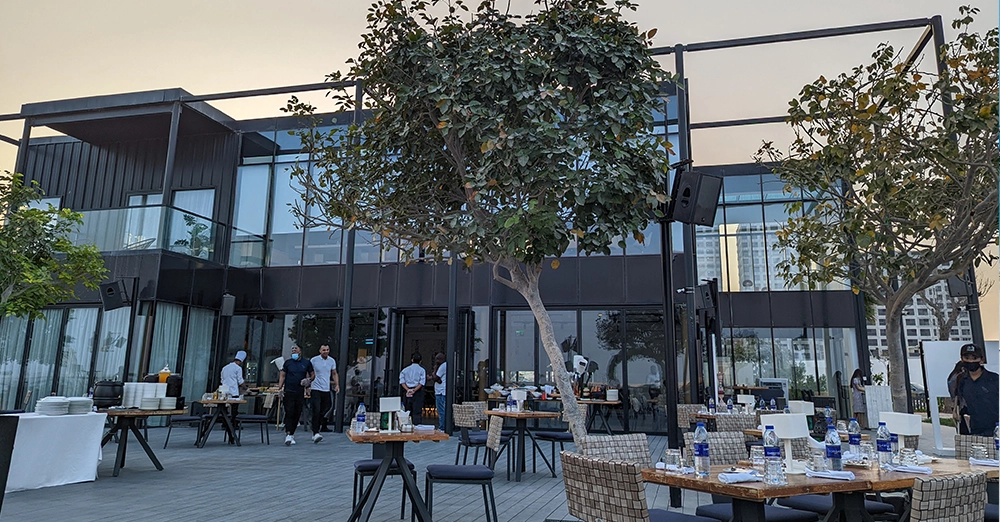 Cove beach club Abu Dhabi is a stunning seafront that will drop your jaw. It's the perfect spot to hang out, as there is great food and an ambiance you won't miss. Best of all, you can take in the beautiful views of the tranquil Arabian Sea as the backdrop.
You might even find celebrities, athletes, and locals roaming the club while you're visiting. The Rosé lounge at Cove Beach is fun, with fantastic background music and popping bottles of champagne. Additionally, there is a hip-hop RnB pool party for extra fun every Friday.
16.

Fairmont Beach Club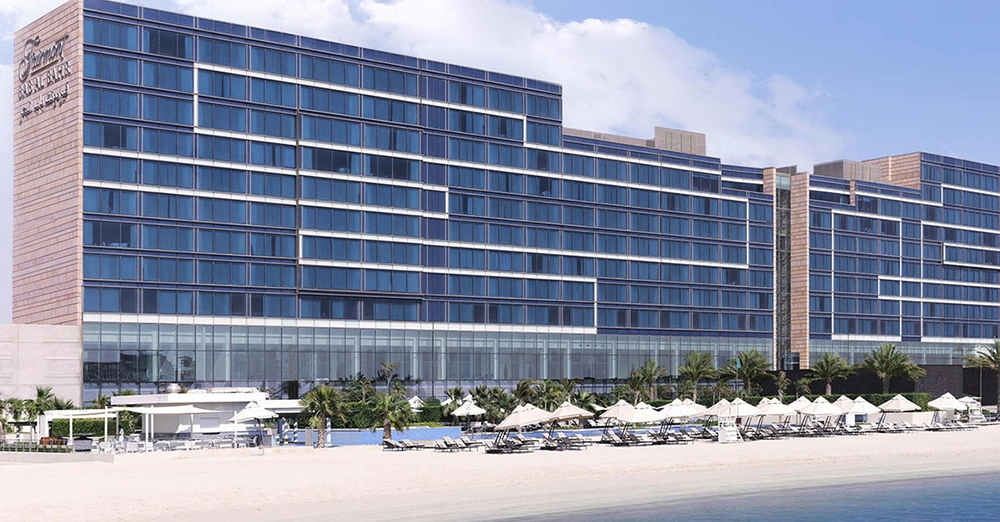 The Fairmont Beach Club is the perfect Abu Dhabi beach club for a fun-filled vacation. You can enjoy the private beach, with its stunning ocean views. There are also two temperature-controlled outdoor swimming pools, an Olympic-length lap pool, a children's pool area, and a Jacuzzi.
If you like active adventures, you can rent paddleboards or kayaks from the Fairmont Beach Club. Café Sushi offers a selection of sushi, salads, and main courses. Plus, it has an Unlimited Sushi offer for $AED 179. The Volt fitness center is also onsite to keep you in shape. Fairmont Beach Club is one of the best summer break destinations.
How to choose the best beach club in Abu Dhabi
Going to the beach in Abu Dhabi can be fun after a long hectic day. But if you want to have the best time, it's essential to take your time and choose the best beach club. Below we have discussed the things we considered while making the beach club Abu Dhabi lists.
Accessibility
Before making your choice on Abu Dhabi beach club, look out how much the beach is accessible. Know about nearby modes of transport and parking facilities. You'll also want to think about location. The closer it is, the less time it will take for you to get there and back.
Furthermore, nearby shopping malls might be convenient for exploring on your beach day. Lastly, find out what water sports are available if that's what you're looking for. Once you've weighed all of these factors, selecting an excellent beach club in Abu Dhabi should be a breeze.
Amenities
When searching for the best beach club in Abu Dhabi, there are some essential things to consider. First and foremost, you should consider what facilities the beach club offers. Does it have a swimming pool, day spa, kids' club, and activities like kayaking or snorkeling?
You should also see what food and beverage options are available, and they may even have their in-house restaurant. And don't forget to investigate the level of service you will receive. Like helpful staff on-hand who can help make sure you have the best experience possible.
Events
Look for clubs that host significant weekly events like games and music nights, so you'll always have something to do. And if you're looking for something extra special, see if they host any events on holidays like New Year's Eve and Christmas. Some clubs even have guest DJs or artists come to perform live, making the beach club experience fun.
Entry fee
First, some beach clubs have fees you must pay to get in. Some have special premium memberships, which are more expensive, while others are only available for guests. It's important to know whether the one you choose has a fee.
Check if there is an entry fee and some free beach clubs too. Finally, see if any budget-friendly options allow you to enjoy all the fun at an affordable price.
Dining and beverages
An ideal beach club should have international cuisines from all over the world, from continental European options to intercontinental selections. Of course, having an array of snacks available is crucial for an optimal beach club experience.
And don't forget about drinks. Make sure there are plenty of beverage choices like soft drinks, juices, beer, and cocktails. With their availability, you can chill and enjoy when the sun goes down.
Privacy
Choose a beach club where your group can relax and enjoy together without interruption. Look for clubs that feature private cabanas or even private pools to add an extra layer of privacy.
It's also important to assess any public foot traffic near or around the club to avoid disturbance from crowds or outsiders. Try to find reviews that suggest how much discretion the club typically provides their guests.
With careful consideration of these details, you can rest easy knowing that your Abu Dhabi beach club will be everything you've hoped it would be. Do your research, and don't forget these essential considerations when looking for the perfect beach club in Abu Dhabi.
Abu Dhabi government on beach protection
The Abu Dhabi government is doing its best to protect beach and water life. They monitor the beach's water quality to ensure it stays clean and safe. The government also cares about visitors and wants them to have a healthy time while staying safe.
If you spot anything strange or unusual, call their emergency team at +971800555 right away. Always dispose of your waste correctly when visiting the beach, and don't leave anything behind. [5]Environment Agency, "Beach Water Quality, https://www.ead.gov.ae/en/Experience-Green-Abu-Dhabi/Things-To-Know/Beach-Water-Quality#:~:text=Beach%20Water%20Quality,found%C2%A0here."
Don't disturb any wildlife or birds, like seagulls, and try not to take away seashells. Furthermore, use eco-friendly toys that won't hurt the environment or sea animals while playing in the water. If you want to help out, volunteer with the environmental program.
Related Stories
---
FAQs
Final thoughts
The Abu Dhabi beach club scene is vibrant and filled with activities. Whether you want the calm ambiance or the bustling energy, everyone will find something that fits their desires in this Dbd guide.
From parasailing to paddle boarding, there's plenty to do while soaking up some sunshine at the incredible best beach club in Abu Dhabi. Add great food and drink options and unrivaled customer service, and you're promised a vacation experience like no other.