The DMCC metro station is a great place to visit if you want to spend time at the beach in Dubai. The station is near Marina Beach and JLT Beach, so it's easy to get to either one.
DMCC metro formally called JLT metro station, is on the red line of the Dubai metro. Visitors can transfer from the metro to the Dubai tram at this station. Plus, this station lies on the fare zone 2 and provides many amenities to its visitors like ATMs, lifts, zoom stores, ticket machines, and many more.
This Dbd guide provides detailed information about this metro stop, including its precise location, metro station's operating hours, and attractions nearby. Also, we've included the station schematic map for your convenience.
Overview of DMCC metro station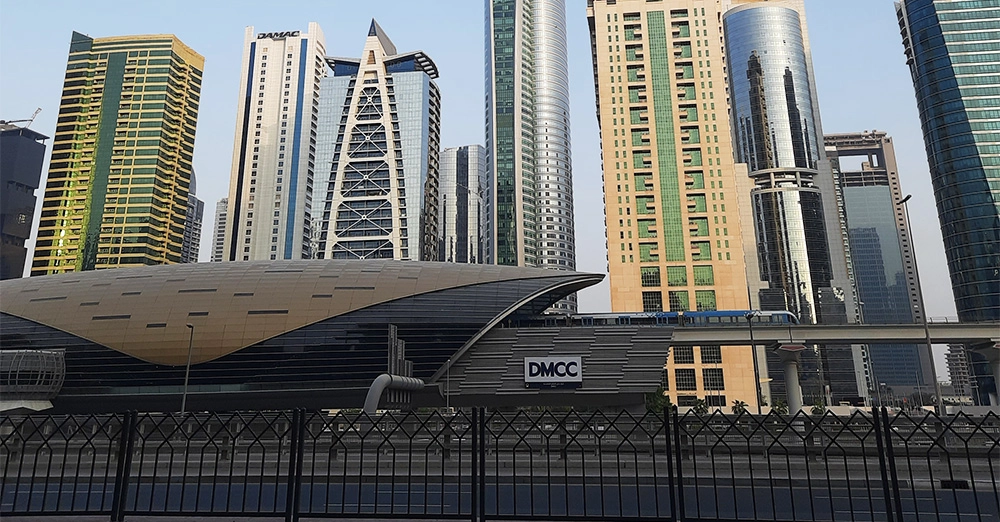 The bustling JLT metro station had undoubtedly seen a lot of change since 2010 when it opened for the first time. On September 1st of, 2018, the station got its new name – DMCC metro station – officially confirmed by Dubai's Road and Transport Authority (RTA). [1]Government of Dubai, "Same station new name, https://www.rta.ae/links/promotions/en/DMCC-Station.html"
Despite only recently adopting the new name DMCC, the JLT metro station quickly became one of Dubai's busiest hubs. The Dubai Metro was used by 5.524 million people in the first half of 2018. This shows that the Metro is crucial to Dubai's transportation system. [2]Khaleej Times, "103m passengers use Dubai Metro in the first half of 2018, … Continue reading
| | |
| --- | --- |
| Location | Sheikh Zayed Rd, Dubai, United Arab Emirates |
| Line | Red line |
| Station Code | R37 |
| Fare zone | 2 |
| Preceding station | Sobha Realty metro station |
| Following station | Jabal Ali metro station |
| Transfer station | No |
| Dubai Tram connection | Yes |
| Previous name | Jumeirah Lakes Towers (JLT) |
Location of DMCC metro station
The DMCC metro station is in a prime location for commuters and tourists alike. Strategically situated on Sheikh Zayed road, it is the perfect jumping-off point to many places of interest like the Dubai Marina mall, well-known tourist hot spot Jumeirah beach residence, or any nearby towers.
Similarly, this transit hub can be conveniently accessed by metro, bus and taxis. Once you arrive at the station, you'll find yourself in the city's heart, with many great attractions within easy reach. For instance, hop on the tram and reach JBR beach or Dubai Marina beach in no time.
Location: Sheikh Zayed Rd, Dubai, United Arab Emirates
DMCC metro station schematic map
The DMCC station schematic map shows a comprehensive overview of the red line, highlighted by the DMCC station. And the surrounding stations on the red line are also indicated, allowing commuters to plan their trips accordingly.
Check the schematic map of the metro station: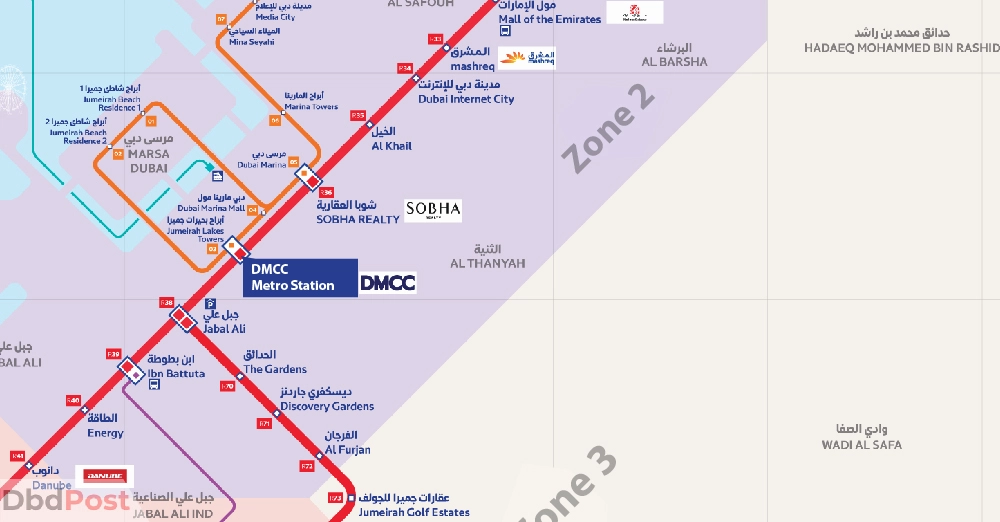 DMCC metro station timings
Dubai metro commuters have an efficient and trustworthy commute because all stations operate within the same time frame, including the DMCC station. However, the time frame may change during public holidays or special events. So riders must check on the RTA site or apps for any changes in operation timings.
Check out the detailed timetable below: [3] Government of Dubai, "Metro station opening hour, https://www.rta.ae/wps/portal/rta/ae/public-transport/timetable#DubaiMetro:~:text=Metro%20stations%20opening%20hours(for%20All%20lines)"
| Days | Time |
| --- | --- |
| Monday to Thursday | 05:00 AM – 12:00 AM (Midnight) |
| Friday | 05:00 AM – 01:00 AM (Next day) |
| Saturday | 05:00 AM – 12:00 AM (Midnight) |
| Sunday | 08:00 AM -12:00 AM (Midnight) |
Services and facilities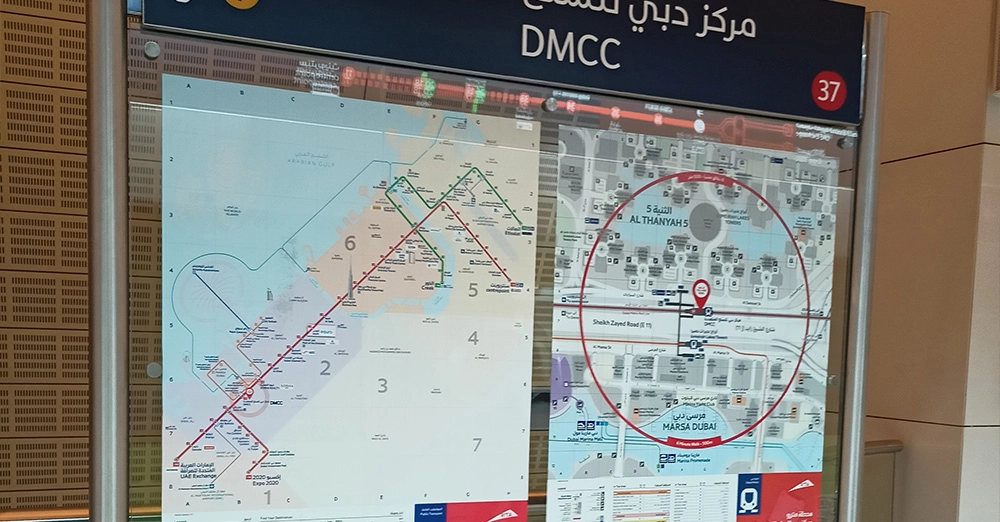 DMCC metro station is a convenient and well-equipped transport hub for commuters, offering an impressive range of services and facilities to ensure a stress-free journey. The station ensures safety and security through its modern architecture, clean environment, and surveillance by CCTV cameras.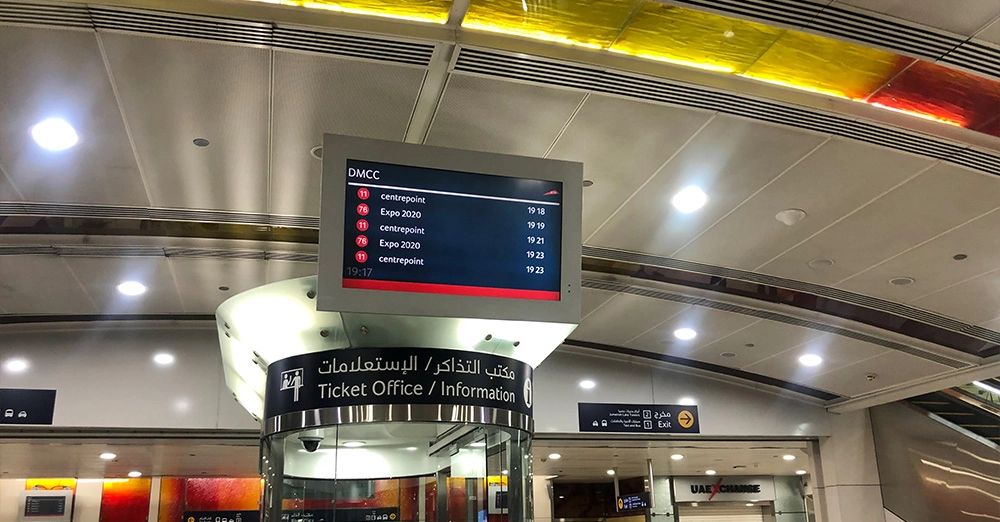 At DMCC, in addition to having an ATM from Mashreq bank for financial transactions, there are lifts and escalators to take passengers through the different platform levels. Passengers needing ticket purchase or guidance have access to the ticket/information office staffed by helpful personnel who can also answer all queries.
Convenience stores and juice machines are available for those who need a quick snack or drink; plus, a careem bike facility outside the station ensures easy mobility around town. All these amenities make DMCC metro station an excellent option for travelers wanting fast and efficient transportation.
Attractions near DMCC metro station
DMCC station is perfectly positioned to offer visitors an incredible experience. With easy access to both the Dubai Marina and JBR Beach, visitors can enjoy some of the best sunset views in the city.
And if you want to stay in the area a bit longer, plenty of nearby hotels, cafes, and restaurants offer delicious food options. Exploring around DMCC station gives passengers excellent opportunities to explore, dine, and relax.
Here are some places to explore near this station:
1.

Almas Tower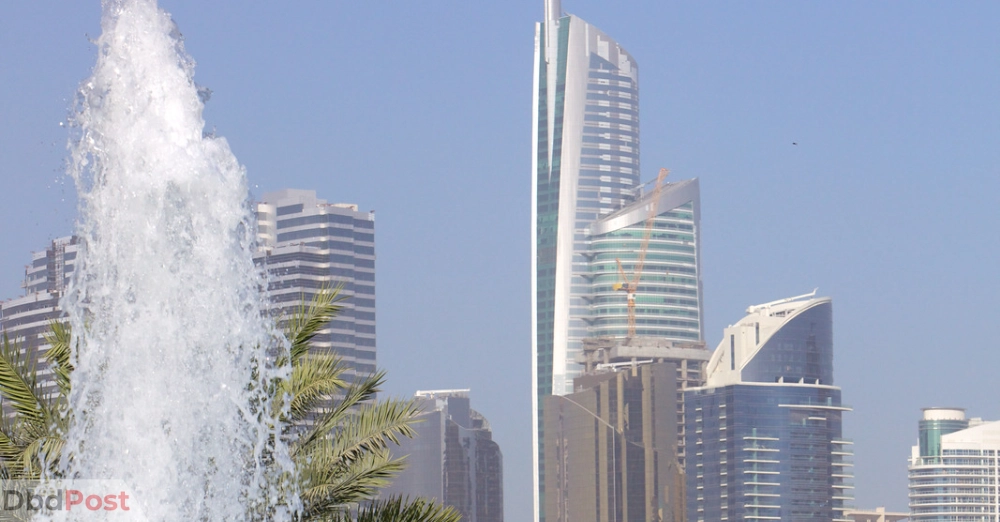 | | |
| --- | --- |
| Location | Jumeirah lake towers, Dubai, United Arab Emirates |
| Map | Get direction |
Almas tower is a magnificent property project situated in Jumeirah Lake Towers, featuring over 50 impressive floors. You can reach this tower within 5 minutes from the metro station.
On the ground floor, you'll find plenty of services like banks, ATMs, and some familiar brands like Starbucks and Tim Horton. The tower also has paid parking available on its basement level, or if you'd rather eat out, there are plenty of restaurants nearby.
2.

Movenpick Jumeirah Lakes Towers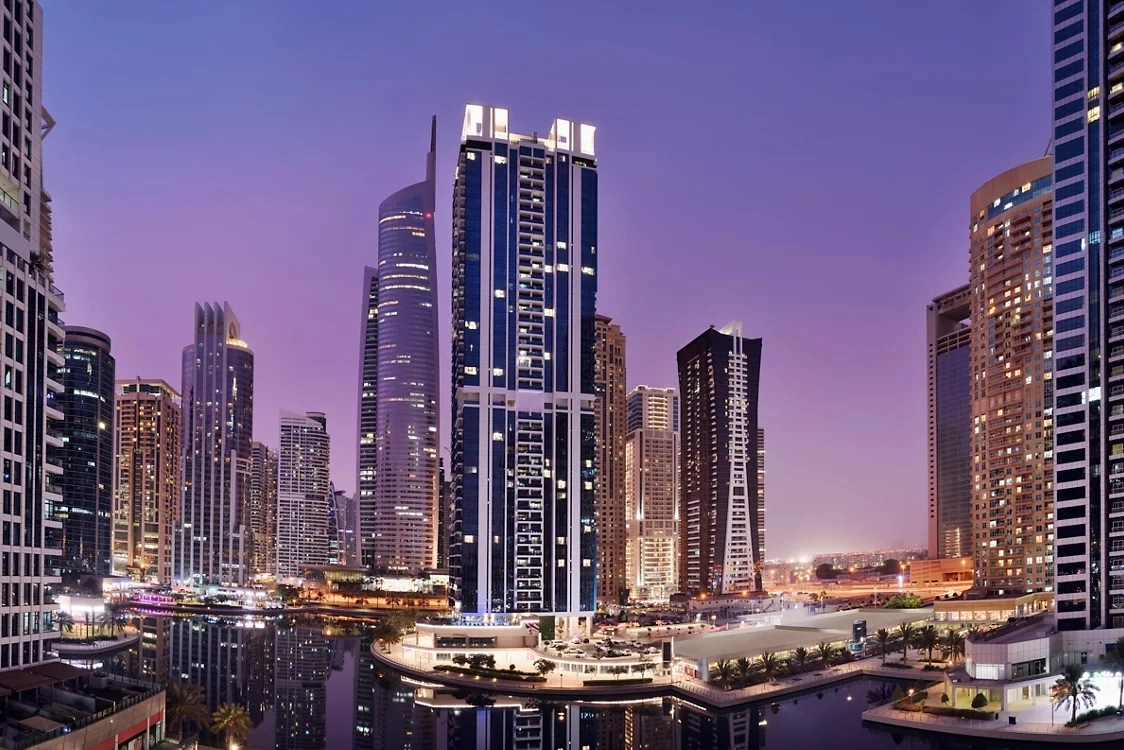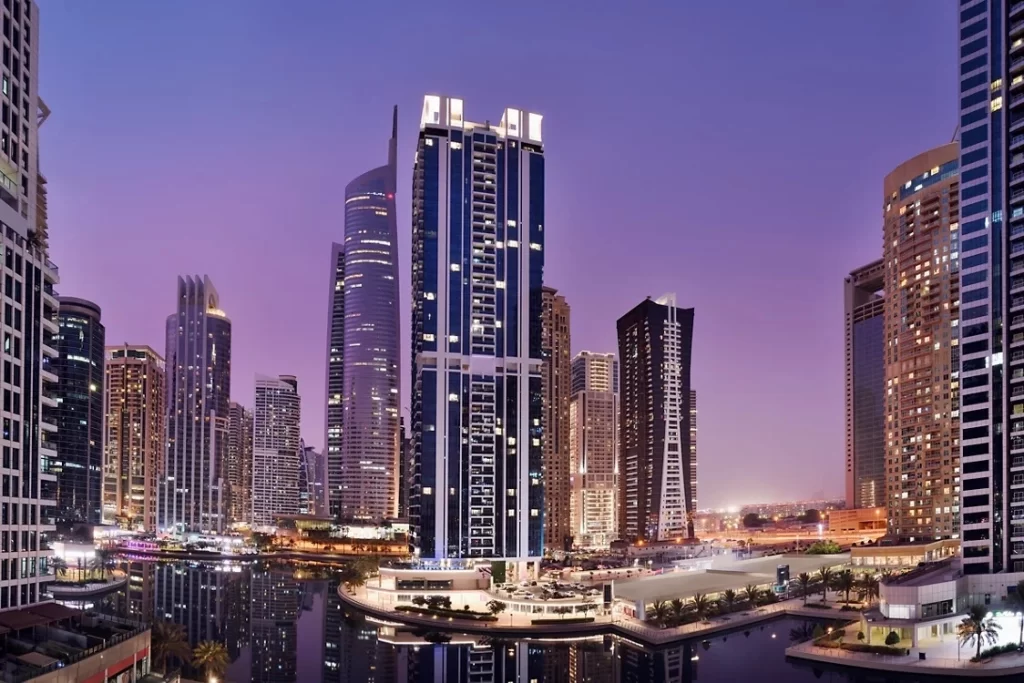 Movenpick Jumeirah lakes towers is a 5-star hotel located in Dubai, UAE. From the friendly, professional staff to the delicious cuisine and great treats, there is something for everyone. Plus, you can choose the Junior and Premium suites for a luxurious stay.
Additionally, Wi-Fi, room service, a fitness center, a sauna and spa, and an outdoor pool are available in this hotel. And For those looking to relax by the sea, private beach access is available.
3.

Marina Beach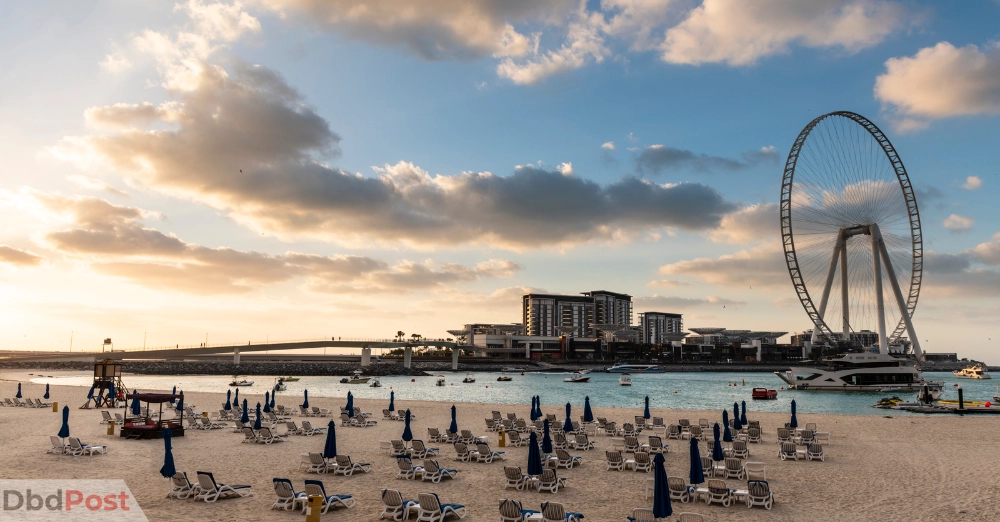 | | |
| --- | --- |
| Location | Dubai Marina, Dubai, United Arab Emirates |
| Map | Get direction |
Marina Beach is a public beach in JBR where one can experience the best entertainment. With phenomenal views of the sea and top-class restaurants and shops, this place will make for an enjoyable visit any time of day.
Additionally, you can rent a yacht from Dubai Marina Yacht Club for a cruise around the bay. If you want more excitement, sign up for activities like jet skiing, volleyball, and boat rides that are available on the beach.
Related Stories
---
FAQs
What is the old name of DMCC metro?
The old name of the DMCC metro station is Jumeirah Lakes towers.
Is JLT and DMCC same?
Yes, JLT and DMCC are the same metro station. It was renamed from JLT to DMCC on September 1st, 2018.
How do I get to DMCC?
There are three ways to reach DMCC. You can take the metro, bus, or taxi. The metro and bus are cheaper options, but the taxi is faster and more expensive.
Which metro goes to JLT?
If you want to go to JLT, take the red line metro. If you are on the green line, you can stop at any transfer station, i.e., Burjuman or Union metro station, and change to the red line.
Which bus station is near the DMCC metro station?
The nearest bus stations to DMCC station are DMCC metro station landside, JLT Dubai arch tower, and JLT business center. These bus stations are within walking distance.
Which is the nearest metro station to the DMCC metro station?
The Sobha Realty metro station is the closest one to the DMCC station. It is 1.3 km away, and you can get there in 2 minutes by metro or 17 minutes by walking.
Which bus line stops near the DMCC metro station?
The bus lines that stop near DMCC station are JLT2, 8, 84, F57, and N55.
Final thoughts
DMCC metro station is ideal for frequent travelers of the Jumeirah lakes towers and Dubai marina area. It provides convenient access to the Dubai tram, and its proximity to the beach makes it a great spot to watch a stunning sunset or catch some waves.
On top of that, there is a wide range of amenities onsite, from dining and shopping places to car-sharing services like careem bikes. With regular public transportation, great views, and good food, DMCC metro station truly is an excellent hub for travelers in the area.


Arijit Negi is an expatriate living in Dubai for 18 years. He completed his degree in Master of Arts in Journalism from the University of Mumbai. Arijit focuses on providing helpful guides and information for ex-pats living in UAE and visitors to the UAE.