The Emirates Tower metro station is popular because it is close to the Museum of the Future and the Jumeirah Emirates Tower Hotel. It also serves the workers of the nearest offices, banks, and many other travelers who want to explore Dubai.
The Dubai Emirates Tower metro station is situated between the City's newer development and Bur Dubai, in the historical area of Dubai. In addition to being on the red line of the Dubai rail network, it is also in zone 6 of the fare system.
This Dbd guide covers all the necessary information about the Emirates Tower station in detail, including its location, operating hours, and nearby tourist attractions. We have also included a schematic map of the metro system.
Overview of Emirates Tower metro station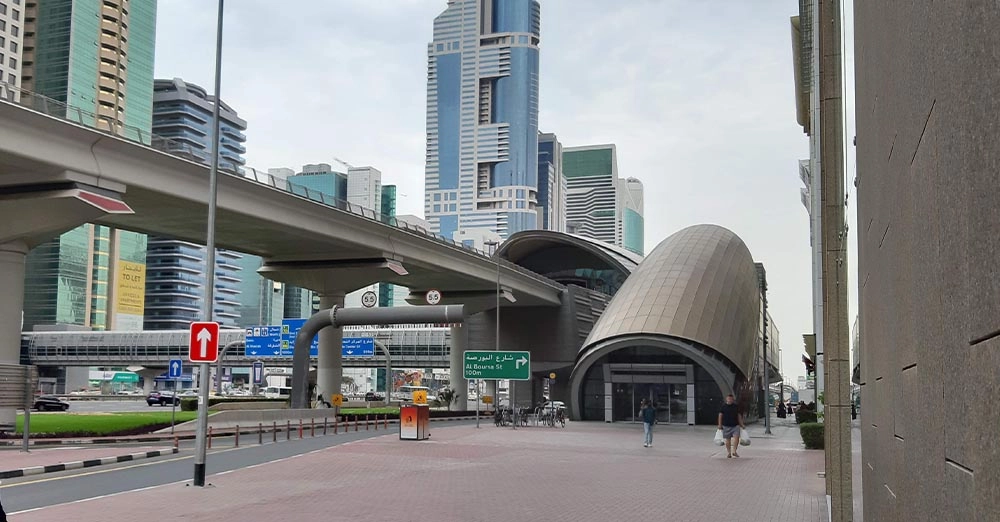 With the opening of the Emirates Tower metro station along Sheikh Zayed Road on April 30, 2010, Dubai saw a significant milestone in public transportation. This station became an essential part of the city's transport infrastructure, as evidenced by steady daily footfall and the use of its services. [1]Khaleej Times," Emirates tower, https://www.khaleejtimes.com/article/new-stations-to-benefit-60000-more-passengers-4#:~:text=a%20kilometer%20away.-,Emirates%20Towers,-One%20of%20the"
It is one of the best transport infrastructure developments in the city. With a serving capacity for several thousand travelers per day and unparalleled facilities, it's no wonder this metro station is highly regarded.
| | |
| --- | --- |
| Location | Trade Centre, Dubai |
| Line | Red line |
| Station code | R23 |
| Fare zone | 6 |
| Preceding station | Financial Centre metro station |
| Preceding station | World Trade center metro station |
| Transfer station | No |
| Dubai Tram connection | No |
| Previous name | NA |
Location of Emirates Tower metro station
The Emirates Tower station is situated in Dubai's Financial District, with the surrounding skyscrapers providing a captivating backdrop.
Almost any of Dubai's major attractions can be easily reached here: the Burj Khalifa takes center stage, standing as the tallest building in the world, and other well-known locations, such Mall of the Emirates, is sure to delight any visitor.
With its convenient location and famous attractions nearby, Emirates Tower is an ideal place to explore everything this exciting city offers.
Location: Trade Centre, Dubai
Emirates Tower metro station schematic map
The Emirates Tower station map is an excellent resource for travelers who want to make their journey easier. Using the map, you can quickly locate the nearest metro station and this station.
Check the schematic map of the metro station: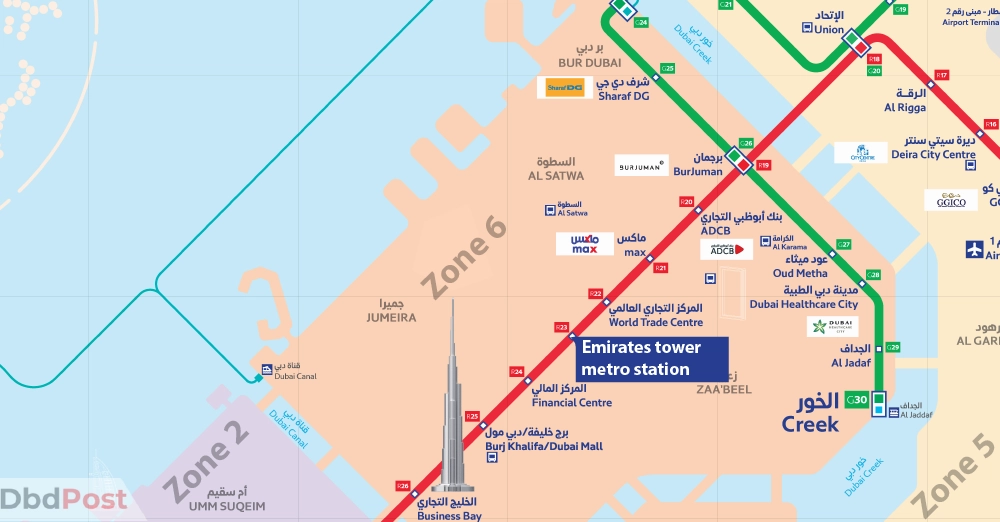 Emirates Tower metro station timings
The Emirates Tower station is one of many transportation hubs in Dubai. This station offers a convenient, reliable, and affordable option for traveling. All metro stations in Dubai open simultaneously, allowing travelers to move between locations easily.
However, timing variations may occur during special occasions or events. Plus, fare prices are reasonable for traveling on Dubai's public transportation.
Here is the timetable of Emirates metro station: [2] Government of Dubai, "Metro station opening hour, https://www.rta.ae/wps/portal/rta/ae/public-transport/timetable#DubaiMetro:~:text=Metro%20stations%20opening%20hours(for%20All%20lines)"
| | |
| --- | --- |
| Days | Time |
| Monday to Thursday | 05:00 AM – 12:00 AM (Midnight) |
| Friday | 05:00 AM – 01:00 AM (Next day) |
| Saturday | 05:00 AM – 12:00 AM (Midnight) |
| Sunday | 08:00 AM -12:00 AM (Midnight) |
Services and facilities
The Emirates Tower station is one of the town's most convenient and efficient train stations. It's air-conditioned comfort, and well-kept environment makes it a charming place to wait for your train.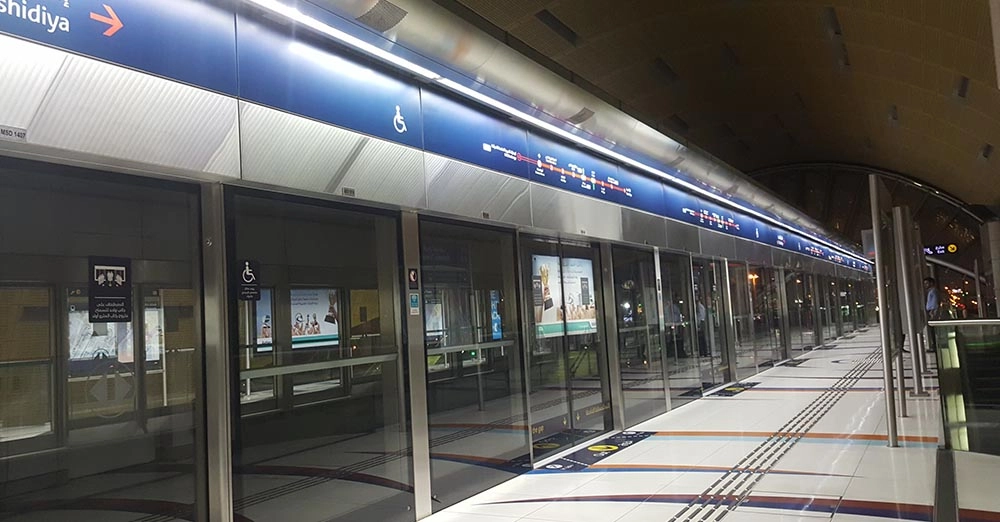 Plenty of seats are available throughout the station to make your wait even more enjoyable, and an overhead bridge provides quick access to either side. Furthermore, there are escalators, travellators, and neat washrooms, so you never need to worry about feeling unkempt during your journey.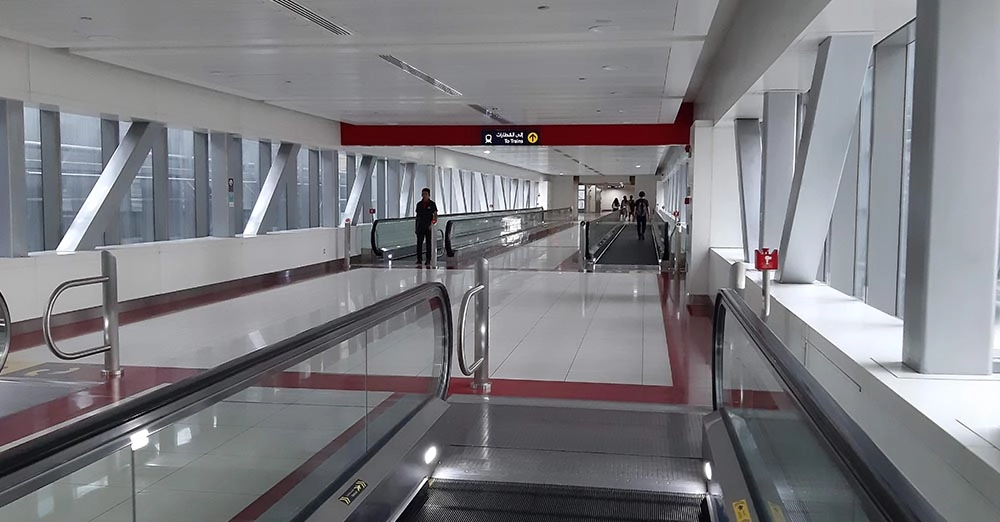 On top of this, the station has services to provide added convenience. Commuters can purchase or recharge nol card here, apply for tickets in the ticket offices, and even enjoy free Wi-Fi access while waiting.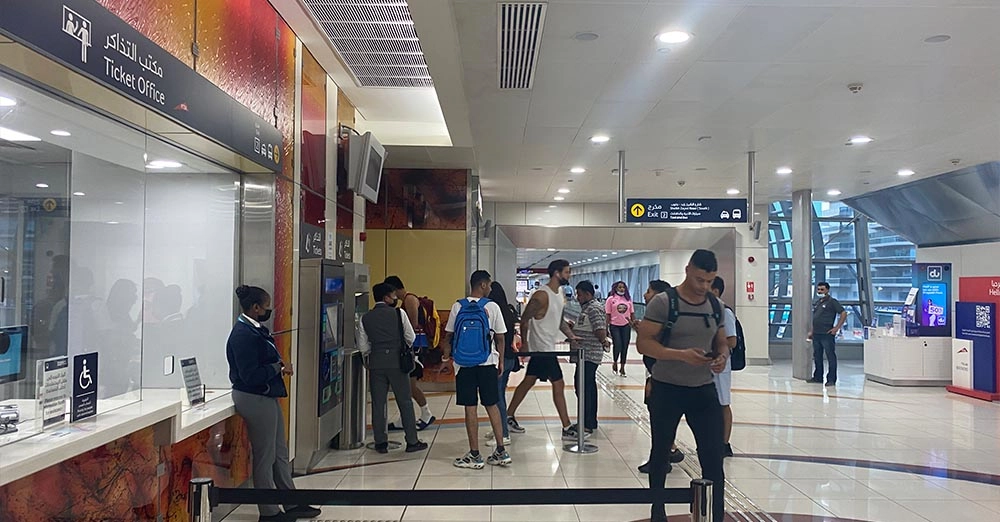 With all these features on offer, it's no surprise that Emirates Tower station makes the perfect transit hub.
Attractions near Emirates Tower metro station
Emirates Tower station is ideal for people looking for a diverse range of attractions. This metro station is close to some of Dubai's most famous landmarks, including the Emirates Tower, the Museum of the Future, and the Burj Khalifa.
In addition to its great attractions, plenty of restaurants, hotels, malls, and salons are located nearby for visitors to relax.
Check the following attraction near the metro station for more information.
1.

Museum of The Future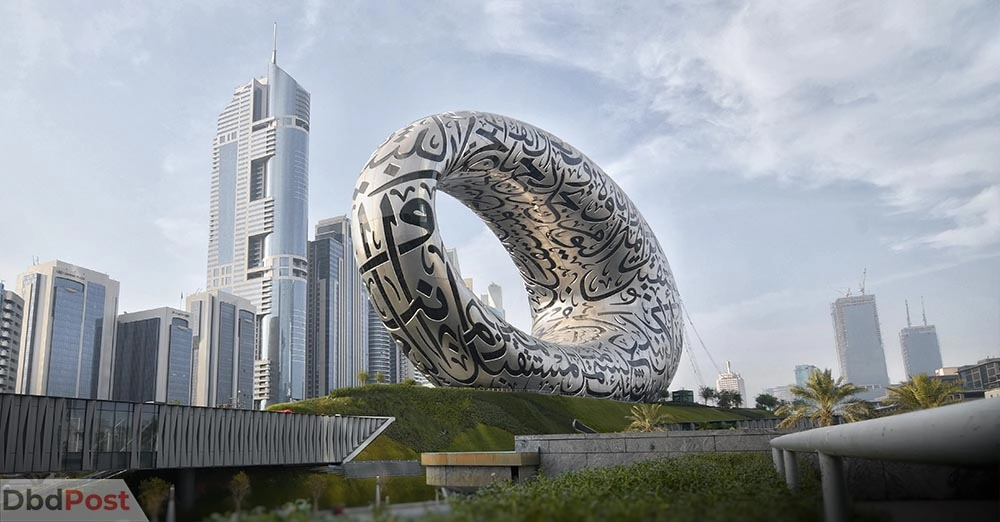 Situated close to the metro station, the Museum of the Future is an exciting space where optimism and imagination come alive. Traditional art forms blend seamlessly with new technologies in a building whose aesthetic framework harkens back to amazing engineering feats of years past.
A vibrant display of futuristic lighting sets the stage for intricate craftwork celebrating ancient cultures, creating a unique atmosphere that transports visitors to the future while simultaneously evoking memories of times gone by.
This remarkable combination makes it possible for everyone to feel connected across eras and get lost in exploring ancient artifacts and cutting-edge inventions – providing an unforgettable experience.
2.

Emirates Towers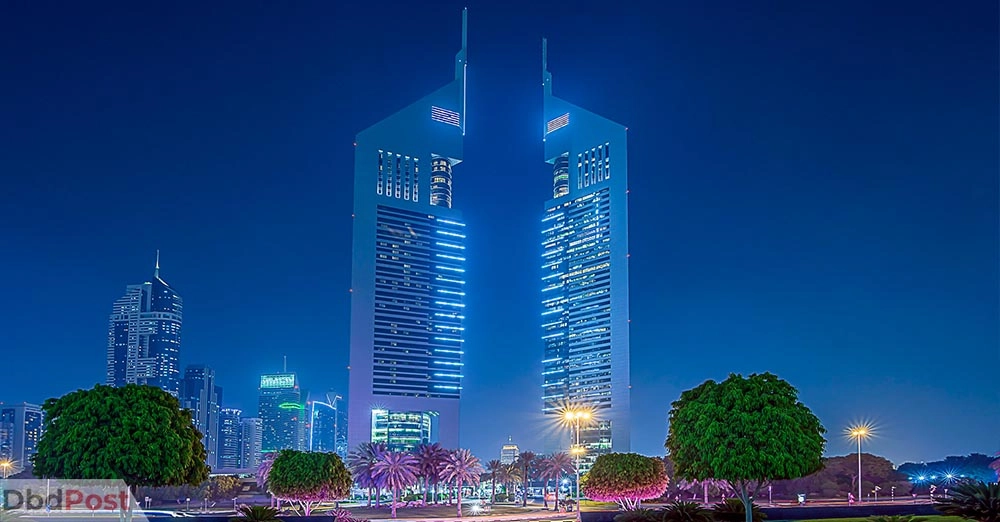 Situated just steps away from the metro station are the iconic Emirates tower. Owned by Sheikh Mohammed Bin Rashid Al Maktoum, it stands as one of Dubai's most recognizable landmarks, rising 354 meters tall along with a twin 241-meter tower. [3] CTBUH, "Emirates Tower One, https://www.skyscrapercenter.com/building/emirates-tower-one/311″
Comprising the 11th tallest building in the region, it houses offices, hotels and more. Driving is so accessible, with plenty of parking lots for visitors to make use of. For an even better experience, visitors can try out its two official buildings: The Emirates Office Tower and the Jumeirah Emirates Towers hotel – both providing top-notch service and quality staycations.
3.

Museum The Tower Plaza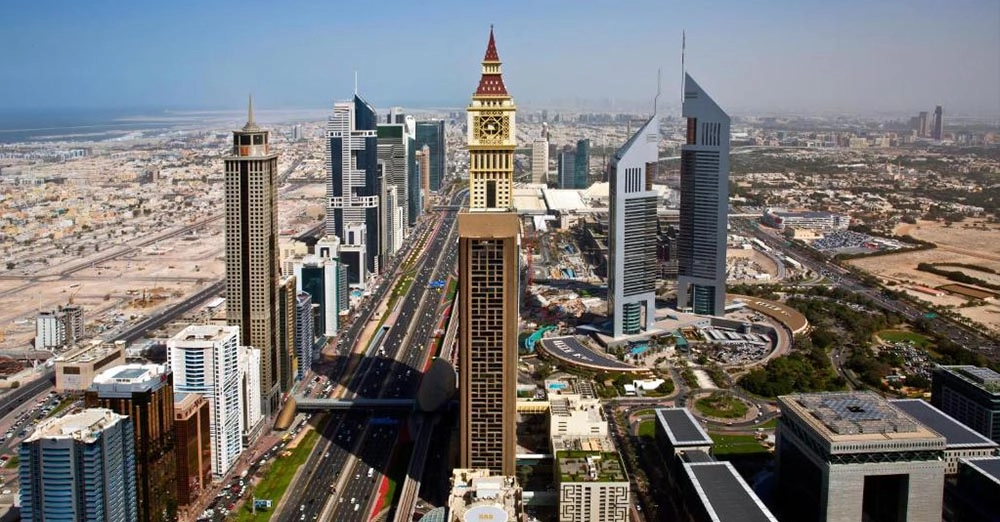 The Tower Plaza Hotel is one of the most mysterious hotels in Dubai, filled with stunning details and amenities. The hotel has 415 spacious and elegant rooms, where guests can admire picturesque views of Dubai landmarks such as the Burj Khalifa and Jumeirah Beach.
Additionally, the tower's infinity pool is a great place to unwind and enjoy the view of the Arabian Sea. The hotel also has a range of restaurants, coffee areas, and a luxurious meeting and event area.
Related Stories
---
FAQs
How can I reach Emirates Tower station?
The most common way to get to the Emirates Towers metro station is by taking the metro or bus. The quickest way is to take a taxi, which is usually more expensive.
Which is the closest metro station to Emirates Tower station?
What are the nearest bus stations to Dubai's Emirates Tower metro station?
The bus stations near Emirates Towers station are the Emirates Towers metro bus stop Seaside, Emirates Tower metro bus stop Landslide, Rostamani Tower, and Durrah Tower. These stations are only a short walk away from this metro station.
How do I reach Union station from the Emirates Tower metro Dubai?
The best way to reach Union metro station is by taking the red line metro from Emirates Tower station. The journey takes around 12 minutes. You can also book a taxi, but it may be expensive.
Which bus lines stop near the Emirates Towers station?
The bus lines that stop nearby the Emirates Tower station are 21, 27, 29, 98E, F11, F28, and X22. These bus routes travel to different places in Dubai, which makes it convenient for commuters.
Final thoughts
The Dubai Emirates Tower metro station is an ideal location to start your exploration in the United Arab Emirates. With many public transport options, one can reach different parts of Dubai to and from this station.
Moreover, it is centrally located near several tall buildings, banks, and other attractions. The station has plenty of amenities, such as lifts and Wi-Fi, to make your journey more convenient. Plus, there are ticket machines and stores on site. and comfortable