JBR beach is one of the most popular places in Dubai. The white sand and clear blue water make it a great place to relax and enjoy the views. Visitors on the beach can enjoy various types of beach activities.
JBR beach offers plenty of activities, such as jet skiing, parasailing, swimming, and sunbathing. Similarly, there are plenty of hotels and resorts nearby. It is also a great place to spend your leisure time, as there's always something going on.
Visiting the JBR beach can be a great experience when you plan your trip and budget. During our visit, we explored all the nearby attractions and participated in various beach activities. Additionally, we spoke to locals to find out what they thought were the most popular spots around that area.
To round off our research, we studied reviews and interactions across social media platforms to understand visitors' satisfaction regarding different activities around the area.
Quick Info about JBR beach
Here is some quick info about the JBR beach before diving deep into the guide.
There is a 600 m running track, perfect for morning joggers or evening strollers.
Outdoor gym for working out with a magnificent view of the city lines.
There are shoreline beach restaurants to enjoy your meal while looking at the Persian Gulf.
Taking a camel ride along the shore makes for a great experience.
The Flying Cup is an awesome new attraction to enjoy drinks 40m above the sands.
Nearby lavish malls for shopping, cinemas, and restaurants.
The mesmerizing view of the sunset from the beach.
Now, you have some idea about the beach. In the following sections, we'll discuss the attractions, activities, and tips for visiting the beach.
Best of JBR beach
There are plenty of things to do at the beach. Engage in thrilling activities like parasailing or jet skiing. Dine with delicious local or international cuisines with extravagant sights. Lastly, there are some premium hotels and resorts for great holiday times.
Best things to do at JBR beach
Best hotels near JBR beach
Best attractions near JBR beach
Things to do at JBR beach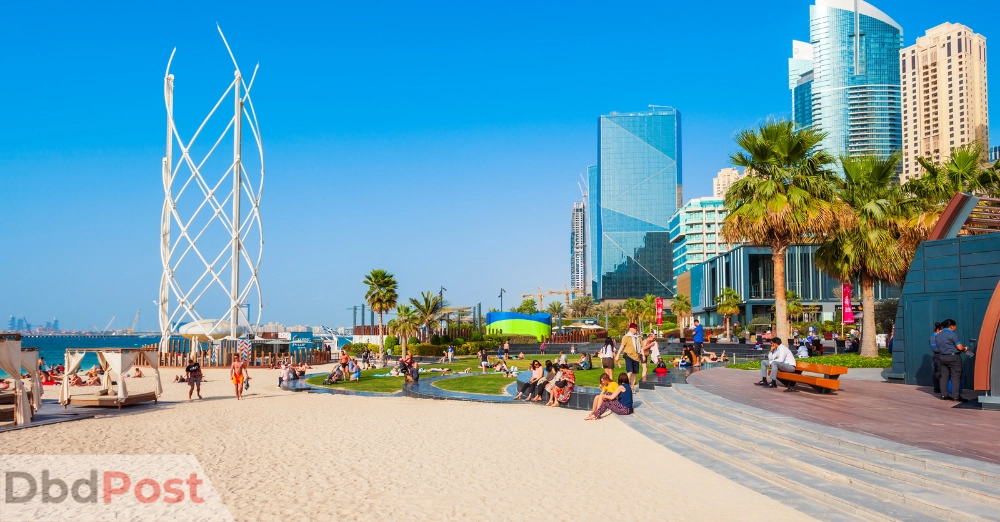 The stunning JBR Beach has something to offer everyone: excellent water sports, restaurants, and more. For adrenaline seekers, thrill seekers can enjoy jet skiing and parasailing along the beautiful coast of Dubai.
Unparalleled luxurious experience from cruise tour to luxury yacht around the beach with 5-star dinner. You can also have an interactive experience with dolphins or explore aquatic life in nearby aquariums. With plenty of activities discussed below, you'll experience a vacation like no other.
Experience the stunning views of Dubai Marina as you cruise onboard a luxurious yacht. Start the journey with welcome drinks and hop in the VIP lounge. You can also explore and follow the ship's route with an incredible panoramic view of Dubai from all deck levels.
Not just that, feast on a mouth-watering international buffet prepared by Radisson Blu featuring exotic local cuisines and desserts. They offer family and group seating areas so you can have a fantastic time with your close ones. After dinner, there's access to all deck levels and a pool for further entertainment. To top it up, there's live music and live cooking stations.
Book now:
Feel the thrill of Jet Skiing at JBR Beach. With an experienced instructor to lead the way and all safety equipment, riders are assured a safe and fun-filled experience. As you ride, watch the dazzling skyline of iconic sights such as Burj Khalifa, Burj Al Arab Hotel, and Palm Jumeirah Island.
Enjoy the view of Dubai's major landmarks while skiing, from Skylines to man-made islands. You'll have the perfect opportunity to take mesmerizing photos of all the gorgeous views. Plus, you'll get amenities like a life vest, gloves, and bottled water for convenience.
Book now:
Take a luxurious tour around JBR Beach by treating yourself to an unforgettable experience on board a private yacht. Enjoy fantastic views of Dubai's skyline as you glide over the Persian Gulf, equipped with sunbathing seating decks for your comfort. And when you want to cool off, glide over calming waters and swim.
You can capture amazing photos of the Burj Al Arab, Atlantis, and other exquisite sights during the journey. The flexible time slots let you make the most out of your journey, offering stopovers so you can go fishing or swimming. Plus, with complimentary Wi-Fi service, fishing equipment provided, and 5-star hospitality, what more could one ask for?
Book now:
JBR beach offers a genuinely unique parasailing experience to anyone brave enough. Hop on a state-of-the-art luxury parasailing boat for a thrilling journey of 8–10 minutes. Onboard you'll have all the necessary equipment, safety gear, and music.
As you rise to 500 feet in the air, you will have a view of Dubai's most famous landmarks. You can see details of Dubai Marina and Palm Jumeriah that you wouldn't see from the ground.
Book now: Parasailing Adventure & Boat Tour JBR Beach
Complete city experience from JBR beach without worrying about transportation and locations. With that, a convenient full-day sightseeing tour of old and modern Dubai is the best way. You surely won't miss anything from Deira's atmospheric souks and Dubai Museum to the emirate's latest architectural wonders.
Moreover, with a driver-guide on board, you'll get snippets of local history from time to time. Notable sights in the package include Jumeirah Mosque, Palm Jumeirah, and Etihad Museum. Don't miss a thing while they pick you up and drop you off at your hotel without worrying about anything.
Book now: Full-day Dubai city tour
The Big Bus Dubai tour is the perfect way to explore the sights of this magnificent city. A double-decker, the open-top bus provides a comfortable and exciting way to travel around Dubai. Whether you choose from a 1-day Classic, 2-day Premium, or a Deluxe 5-day pass, you can hop on and off at any of the stops along your route.
Visit bustling souks, modern malls, cultural museums, and spectacular monuments during the tour. Also, you can create your personalized sightseeing itinerary. Additionally, explore the Arabian dhow cruise, free night tour, and insightful walking tours. To top it all off, impeccable audio commentary in 12 languages ensures that every detail of each impressive site is fully explained.
Book now: Big Bus Dubai Hop-On Hop-Off Tour
Top attractions near JBR beach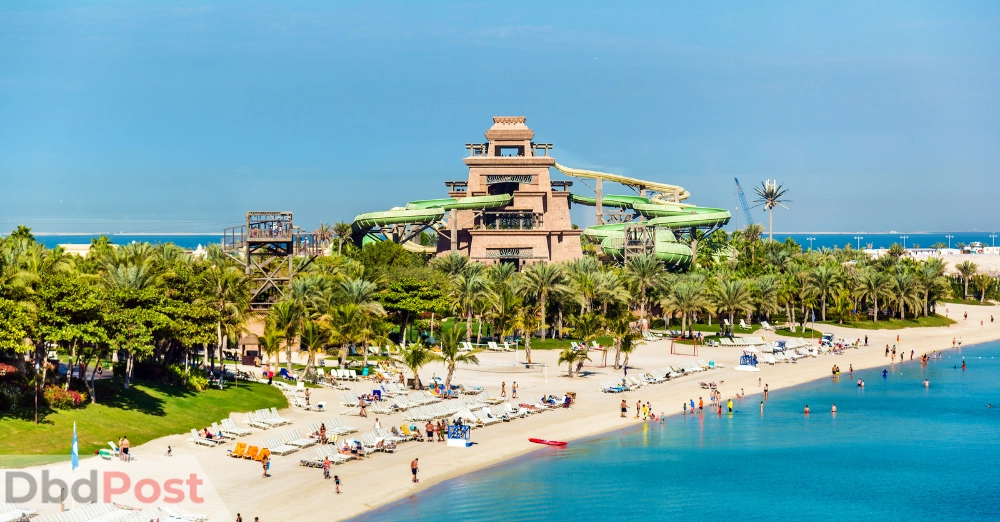 JBR beach in Dubai is a premier location for locals and visitors alike. As one of the most popular beaches in the city, it is always buzzing with activity. The area surrounding the beach is filled with many attractions to keep visitors entertained. Let's look at them in detail.
Take a journey to the beautiful Burj Khalifa tower in Dubai and explore a world of adventure. The tower has the world's tallest observation deck with sweeping 360° views of Dubai. From the 124th, 125th, and 148th floors, you can explore further by engaging with high-powered telescopes or enjoy an immersive virtual reality experience.
In addition, visitors can follow a guide through underwater tunnels and encounter marine life like sand tiger sharks. Also, witness the world's largest dancing fountain on the Burj Khalifa Lake from the viewpoint. Choose the sunset option for guaranteed views of the city at golden hour. And let's not forget to mention great perks like free Wi-Fi and visits to Armani Hotel. Don't miss downtown Dubai from a bird-eye view with a Burj Khalifa tour.
Book now:
Dubai Aquaventure Park, the expansive waterscape near JBR beach, is a must-visit for any thrill seekers. The number one waterpark in the Middle East offers an incredible range of activities. Dubai Aquaventure Park has a private beach and kid's water playground for those looking for relaxation. You'll also get a chance to interact with playful dolphins for over one and a half hours after a 15 minutes safety briefing.
This aquatic dreamland is filled with slides, tunnels, and towers that will excite your heart. From plunging 27 meters down the waterfall to an adrenaline-charged ride through the Aquacade tunnel or gliding through the Leap of Faith slide, each feature provides more incredible thrills than the other.
The Lost Chambers aquarium adds an extra layer of fun to your whole experience. The offers include hotel pickup and drop-off in air-conditioned vehicles. Altogether, they make it an incredible day out.
Book now:
Standing 240 meters above the sands of JBR beach, the iconic Palm Tower provides 360-degree views of Palm Jumeirah. Making your way up to level 52, it will be easy to see why this destination has become one of the must-see attractions in The Palm. You
You can learn about the history of Palm while sipping coffee, tea, beer, wine, or mocktails delicious breakfast. With our offer, you can skip long-standing lines making the experience hassle-free. Also, be careful, as re-entry is unavailable once you leave the premises.
Book now:
The Dubai Flying Cup at JBR Beach promises a one-of-a-kind experience. This innovative entertainment and food concept invites visitors to take in fantastic 360 panoramic views of Dubai.
Sitting 40 meters above the ground with a birds-eye view, you can enjoy a refreshing drink while feeling the wind. From the 12-story height, the sight of Dubai's most beautiful landmarks with an exciting ambiance makes this experience truly unique.
Book now: Dubai Flying Cup
The Lost Chambers Aquapark is one of the largest marine habitats in the Middle East. Housing over 65,000 marine species, including hundreds of native species. Adventurers can stumble upon amazing creatures like seahorses and mesmerizing jellyfish. You'll come face-to-face with an Arapaima (the world's largest freshwater fish) from Amazon.
In addition, you can explore the mythical "Lost City of Atlantis" ruins with insight into its history and culture. Experts are there to teach about marine life, guiding attendees through 20 marine exhibits. Mysterious and exciting, The Lost Chambers Aquapark is truly a one-of-a-kind experience.
Book now: Lost Chambers Aquapark
Hotels and resorts near JBR beach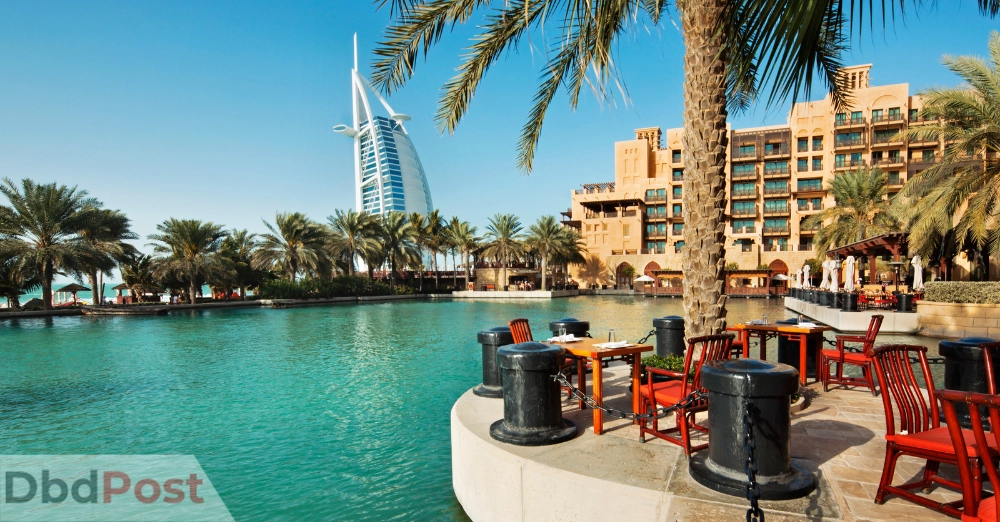 Staying near the beach can be a great way to enjoy the best of Dubai. The beautiful white sand and crystal-clear waters provide the perfect destination for a beach holiday. There are plenty of options for accommodation, from luxury hotels and resorts to budget-friendly alternatives.
Whatever your preference, you can find a hotel or resort that meets your needs. Here we have discussed some of the best resorts to stay near the beach.
Experience the height of luxury at the iconic Burj Al Arab, located near the Mall of the Emirates. With a private beach to bask in the sun and free water park access. Lounge by the poolside any time of year with sun loungers, or indulge in a deep-tissue massage and aromatherapy.
You'll never be bored with 199 individually-furnished rooms fully outfitted with TV and DVD players. Enjoy international cuisine surrounded by elegant ocean views. Other facilities are three outdoor and two indoor pools, an electric car charging station, and free valet parking.
Book now: Burj Al Arab
Movenpick Hotel Dubai offers a luxurious 5-star experience that is the perfect place for a restful stay. Near Jumeirah Beach, this hotel boasts 297 furnished rooms with luxurious amenities like 24-hour room service and laptop-compatible workspaces. Families will love the convenience of air conditioning and free infant beds in the rooms.
You can relax by one of the two outdoor pools to soak up some sunshine while sipping drinks at the poolside bar. In addition, you can take advantage of a sauna, steam room, and massage treatments available to enhance your spa experience.
Furthermore, enjoy delicious international cuisine in one of the four restaurants, Al Fresco dining, and free in-room Wi-Fi. Self-parking and valet parking are also available for added convenience during your stay.
Book now: Movenpick Hotel Dubai
The Hilton Dubai Jumeirah is a luxurious 5-star resort near the beautiful JBR beach. An escape from everyday life, it features a swimming pool within the hotel gardens and a private beach. Sleep comfortably and style with full sea-view rooms featuring floor-to-ceiling windows in style.
When it comes to dining, you can enjoy delicious coastal Italian seafood alongside tropical beverages. For a truly unique experience, visitors can take in breathtaking views from Pure Sky Lounge on the 35th floor. Also, there's an equipped gym with bicycles, treadmills, and elliptical trainers for some fitness freaks. Fun seekers of all ages will adore the kids' club and playground, including slides and swings while enjoying views of the beach.
Book now: Hilton Dubai Jumeirah
The Sheraton Jumeirah Beach Resort has all the amenities one could request for a relaxed and luxurious stay. You can lounge under the sun by the large outdoor pool or on a furnished terrace with panoramic views. The fitness center with racquetball courts and 24/7 service is ideal for anyone wanting to stay active during their trip.
Inside the room, you'll find satellite TV, a minibar, and tea and coffee-making facilities. For an even more relaxing experience, seek out Armonia Spa for its aromatic foot massages and body therapy. Dining at this resort lets you come full circle with international and local cuisines. If you'd instead explore beyond the resort grounds, a walk along JBR beach is steps away.
Book now: Sheraton Jumeirah Beach Resort
Le Royal Meridien Beach Resort & Spa Dubai offers an inviting destination experience for couples and families. Set on the shores of stunning Jumeirah beach, visitors will be left breathless by the 5-star amenities and facilities. The excellent Roman-themed spa features 5 Hammam pools with reflexology, aromatherapy, and facials.
You can access complimentary Wi-Fi, spacious rooms with air conditioning, a mini-bar, 42″ LCD TVs, and balconies. Those feeling adventurous can practice water sports or lounge beside the infinity pool—an experience from 14 international restaurants and bars with 24/7 room service. Also, don't miss out on award-winning Mexican cuisine from the Maya restaurant.
Book now: Le Royal Meridien Beach Resort & Spa Dubai
Habtoor Grand Resort offers an unforgettable stay in Dubai with all the amenities you might expect from a top-end resort. It features an outstanding range of facilities, such as a private beach area, an outdoor swimming pool, and a fitness center. You can also enjoy their restaurant and bar, a relaxing hot tub, and a landscaped garden to help you escape the hustle and bustle of city life.
To refresh you during your stay, each air-conditioned room includes a TV with satellite channels, a safety deposit box, and more. Those looking for something extra can also enjoy a continental buffet breakfast. Guests of all ages are sure to find something fun to do within the resort grounds, thanks to its children's playground.
Book now: Habtoor Grand Resort
JA Oasis Beach Tower Apartments is perfect for families and groups looking to explore Dubai's beautiful scenery. Situated on Dubai's renowned The Walk, with panoramic Arabian Gulf vistas, it is difficult to find a more appealing destination. You'll find two pools, hot tubs with sun decks, and a thrilling water slide.
With plenty of space to choose from, 199 luxurious apartments ranging anywhere from 2 to 4 bedrooms with private bathrooms. Other facilities include free Wi-Fi, free parking, and a fitness center. To top it all off, choose from international breakfast buffets to delicious room service dining and inspiring bar drinks.
Book now: JA Oasis Beach Tower Apartments
JA Ocean View Hotel offers the perfect location for a city getaway in sunny Dubai. With 346 guest rooms offering guests 24-hour room service and free in-room WiFi. The rooms feature closets, balconies, and free infant beds.
The onsite staff is friendly and multilingual, ensuring all travelers feel warmly welcome. Additionally, you can enjoy a buffet breakfast, barbecue grills, meeting rooms, an outdoor pool, and a children's pool. Moreover, you can enjoy nightlife at the nightclub and poolside bar.
Book now: JA Ocean View Hotel
Restaurants near JBR beach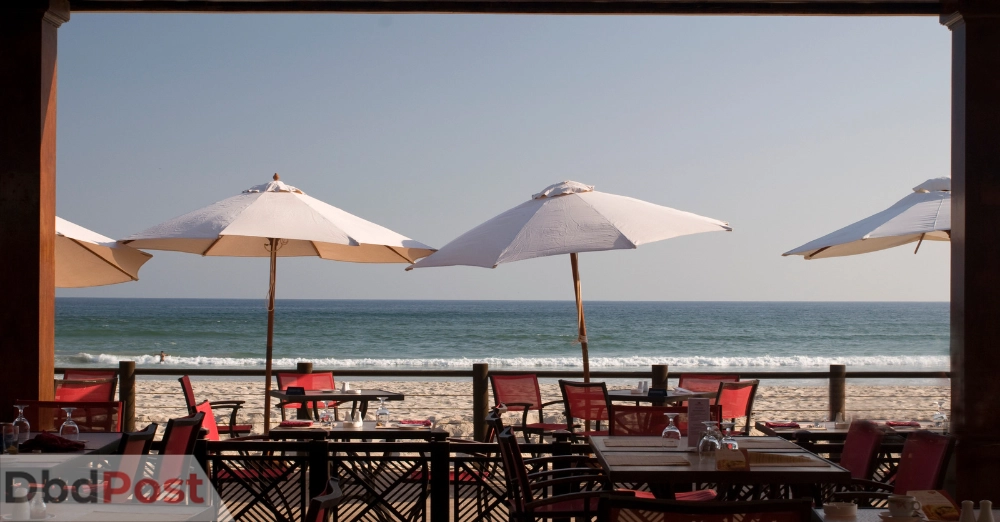 Just steps away from the shoreline lie an array of exclusive restaurants and cafes. From international to local cuisine, they showcase some of the best culinary experiences in the city. There's something for everyone, including locals, visitors, and foodies who want to savor top-notch dishes for special occasions or casual dinners.
Visitors to JBR beach should visit the fabulous Marina Social by Jason Atherton. They offer an unparalleled experience, combining culinary creativity with social conversation and comfort. Also, get into 2 hours of drinking spree on Wednesdays on the special reservations.
The restaurant has incredible waterfront views for its customers. Those looking for a truly unique and unforgettable dining experience should visit Marina Social Dubai.
Book now: Marina Social Dubai
101 Dining Lounge and Marina by Yannick Alléno offers an exceptional experience to its guests that is like no other. Experience stunning views of Dubai's skyline; this venue is renowned for its Michelin-quality chef and superb Mediterranean dishes.
You can also enjoy live entertainment relaxing indoors or outdoors seaside seating. Another thing that makes this restaurant so special is that you can get there by boat. Overall, 101 Dining Lounge and Marina offer much to everyone, whatever the occasion.
Book now: 101 Dining Lounge & Marina
Celebrities by Mauro Colagreco offers an experience that is like no other. Its elegance and spectacular views of The Palace Esplanade are among the many features. Also, the beautiful architectural features striking crystal chandeliers to add a finishing touch of sophistication.
It is an exceptional venue for intimate evenings and lighthearted events with family and friends. For couples looking for a romantic night out, choose from a selection of world-class wines in exclusive private dining rooms. This charming surprise makes it an excellent choice whenever one needs to mark a particular moment in their life.
Book now: Celebrities by Mauro Colagreco
The Beach Bar & Grill, located on JBR beach, offers a delightful and refreshing experience. The ambiance is warm and inviting, perfect for a romantic dinner or a good time with friends. Here you can enjoy the stunning sights of lush gardens and golden sand from their shaded terrace.
One can have an unforgettable meal with freshly grilled lobster, tiger prawns, mixed kebabs, prime steaks, and creative salads. At nighttime, the atmosphere is further enhanced by candles providing a soft glow around the area. The Beach Bar & Grill is where you will receive an exquisite beachfront dining experience.
Book now: The Beach Bar & Grill
A visit to the Tagine restaurant near JBR beach is a unique experience. As soon as you step into the restaurant, you get submerged in the ambiance of a traditional home in Marrakesh. The moody rooms, arches, and alcoves drape the diner in Moroccan culture and design.
Hand-polished and wax-plastered walls transport on a journey of tradition, while Moroccan lanterns, rugs, and artifacts add color to the decor. It's no surprise that Tagine bustles with guests, attracted by its unique spirit and cuisine.
Book now: Tagine
With an eye for detail and unique style, the Grand Grill & White Lounge is an award-winning South African Steak House. This restaurant in Dubai has served tourists since 2006. Guests will be delighted by the sophisticated yet relaxed atmosphere.
You can choose from delicate cocktails, homemade South African dishes, and international beef selections. This restaurant features something to please everyone's taste buds. It's also perfect for evening or after-work drinks with friends, thanks to daily Happy Hour specials from 4 PM to 9:30 PM.
Book now: The Grand Grill & White Lounge
7.

Bosporus Turkish Cuisine

Bosporus Turkish Cuisine is a unique experience that brings the taste of the Ottoman cuisine of Turkey to the UAE. Six marvelous restaurants across the country serve an extensive traditional menu, with dishes made from fresh produces.

From classic appetizers to mouth-watering desserts, there is something for everyone on the menu. And nothing can beat the authentic aroma of these carefully cooked dishes. Each meal is designed to delight your senses with various flavors with warm hospitality.

Map: Get direction
8.

Bombay Bungalow

Step into the Bombay Bungalow restaurant near JBR beach to be mesmerized by its unique and inviting ambiance. This homegrown brand is renowned for its good quality, modern Indian food in Dubai.

Their menu includes delicious breakfast dishes, flavorful biryani, kebabs, and creative chef specials. With so many fantastic options on offer, it is no wonder why this restaurant is highly sought-after in Dubai.

Map: Get direction
9.

Leonardo Dubai

Leonardo Dubai provides extraordinary dining experiences like the 15th-century Italian Renaissance. Dine among life-size models of Vinci's most significant works, such as the Flying Machine and Perpetual Motion Water Lifting Machine.

With the selection of authentic Italian dishes cooked with the finest ingredients, your taste buds will surely be pleased. Accessibility is well-taken care of, as the premise is wheelchair accessible. Valet parking and takeaway services are also available, plus free wifi so you can keep up with family and friends.

Map: Leonardo Dubai
Shopping malls near JBR beach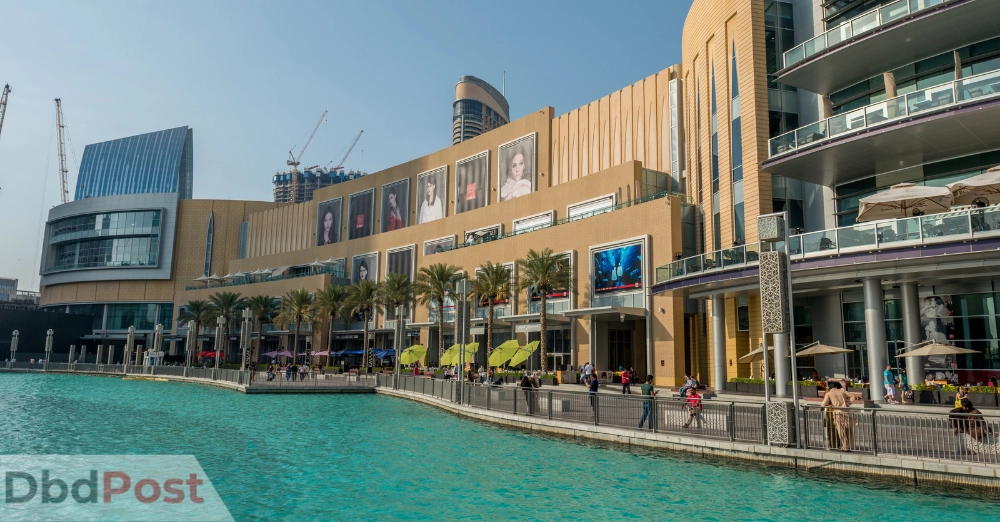 Shopping malls near JBR are a shoppers' paradise and offer something for everyone. These malls provide the ultimate shopping experience with international brands. From chic boutiques to exciting outdoor entertainment, there is something for every taste.
1.

Dubai Marina Mall

Dubai Marina Mall is an exciting shopping experience with a modern and thoughtfully designed 390,000 sq. ft area to explore. The mall features 140 Shopping outlets of brands like Adidas, ADL, American Vintage, and high-street fashion brands. Aside from the shopping outlets, there are 21 diners like KFC, Bateel, and more. [1]Dubai Marina Mall, "About Us, https://www.dubaimarinamall.com/about/#:~:text=About%20the%20Mall,Dining%20Options"

You can enjoy cinematic thrills at Reel Cinemas or engage your children while parents shop. There's even a supermarket to ensure you don't miss out on your essentials. The mall is wheelchair accessible and has ATM if you run low on cash. Furthermore, you are always connected to your close ones with free WIFI and power bank services.

Map: Get direction
2.

Marinascape Mall

With its stunning waterfront location at Dubai Marina, Marinascape Mall offers a truly unique shopping experience. The mall is inspired by the chic French Riviera and managed by the Palmon group. You can find elegant retail spaces, an abundance of dining and entertainment options, and services for every household's needs.

Guests can also enjoy alfresco dining terraces offering mesmerizing views of the marina to create an unforgettable experience truly. Marinascape Mall provides 200 dedicated car parks with an efficient parking management system. Also, for those looking to relax and unwind, the mall offers massage, facial, and beauty treatments for men and women.

Map: Get direction
3.

Ibn Battuta Mall

Ibn Battuta Mall, located near JBR beach in Dubai, is the world's largest themed shopping mall. Named after Arabian explorer Ibn Battuta, the mall covers an area of 7 million sq. ft., serving 20 million visitors yearly.

It is divided into six distinct zones: China Court, India Court, Persia Court, Egypt Court, Tunisia court, and Andalusia court. Each court provides unique shopping and dining atmosphere and experience.

Shoppers will find a variety of outlets ranging from Carrefour, Dubai's most trusted retail supermarkets. The multi-story car park can hold up to 7,000 vehicles, a 16-screen cinema, and a dining complex. [2]Ibn Battuta Mall, "About the mall, https://www.ibnbattutamall.com/en/retail/ibn-battuta-mall#:~:text=The%20world%E2%80%99s%20largest,the%20Daily%20Jackpot."

Map: Get direction
4.

Mall of the Emirates

The Mall of the Emirates is a world-class shopping destination located in the heart of Dubai near JBR beach. With over 630 brands and 200,000+ sqm of space, it offers shoppers more than 80 of the world's renowned designer brands. [3]Mall of the Emirates, "About, https://www.malloftheemirates.com/en/join-us#:~:text=Welcome%20to%20a,the%20Emirates%20Hotel."

You can browse from categories like department stores, fashion, lifestyle, sports, electronics, and home furnishing. Not just shopping – there are also various fun attractions and activities promised, like Magic Planet, VOX Cinemas, and Ski Dubai. And on top, they offer you gift cards that would be perfect for gifting to your loved ones.

Map: Get direction
5.

Nakheel Mall

Nakheel Mall is the perfect destination for a unique shopping experience. With over 300 outlets, 140 shops, and restaurants like Din Tai Fung and Russo's New York Pizzeria, Nakheel Mall has it all. There are gyms, medical facilities, and banking services for those looking for more than retail therapy.

Getting to the mall is easy, with 3,000 parking spaces and a complimentary shuttle bus service. To top it all off, you can enjoy stunning views of the Dubai skyline between shopping sprees. And to ensure no one ever gets bored of the mall, ongoing events are happening monthly.

Map: Get direction
Flight deals to JBR beach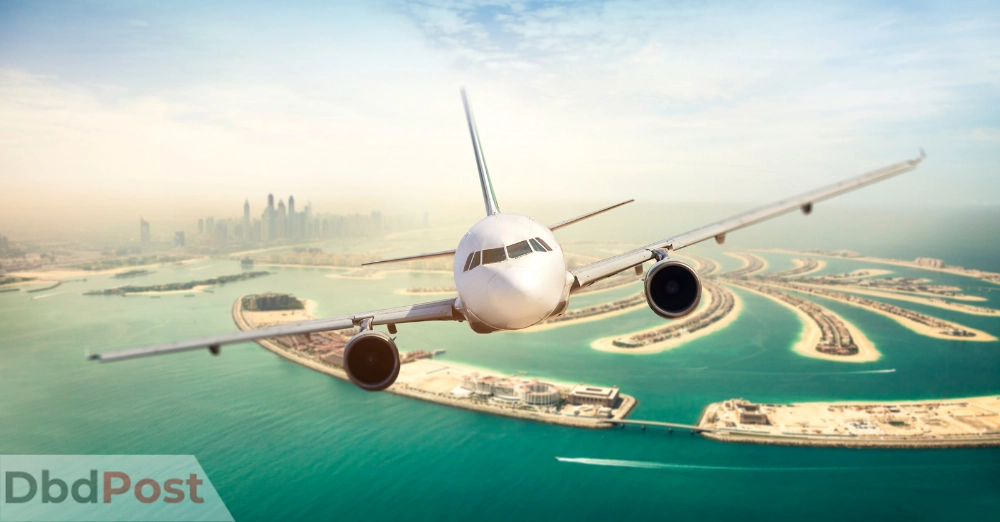 Many flight deals are available to JBR beach for people to travel without spending much money. From the airlines mentioned below, you can get deals for last-minute trips in comfort with their families or groups.
Flights category based on region, price, and interest.
Awesome international vacation packages.
Advanced flight search.
Optimized pricing strategies.
One-click booking, notification, and offers via Mobile app.
Self-itinerary option for travelers.
Extensive airlines directory.
Diverse search for international tickets.
Up to 367 AED ($100) off on flight deals.
Immediate booking and great support.
Cheapest airfares of the day.
JBR beach travel tips
Visiting the beach in JBR can be a great way to relax and enjoy the sun. To ensure that your trip is enjoyable and safe, follow our beach travel tips:
For your safety, stay in an area that is within the lifeguard coverage.
Don't forget to bring sunscreen according to your skin sensitivity.
Bring a personal drinking water bottle to stay hydrated.
Don't forget swimsuits, sunglasses, hats, towels, and slippers while visiting.
It's best to leave valuables at the hotel while visiting the beach.
Finally, a waterproof bag will help keep all your items dry.
By following these tips, you can make your beach visit hassle-free. Have fun splashing around in the waves and enjoy the sunsets.
Best time to visit JBR beach
The best time to visit the JBR beach club depends on your preference. If you want to avoid crowds, then the afternoon is the best time of the day. The beach is full of people in the evenings and can get pretty noisy. We advise you not to visit the beach on summer afternoons as the temperature of Dubai is over 40°C on average.
However, if you want to watch the mesmerizing sunsets, then stroll out in the evenings. The beach is extra crowded on weekends (Friday in UAE). Also, if you're a jogger, the beach opens in the early mornings (7:00 AM). Furthermore, if you're afraid of summer, visit the beach during the winter season when the average temperature is around 25°C on afternoons.
How to save money at JBR beach?
One of the best ways to save money when visiting JBR beach is to plan. Research food and beverage vendors located along the beach and plan your budget. Also, look for deals and offers on activities like jet skiing and parasailing nearby.
Finding a free parking spot can be tricky; go to the beach during inactive hours, such as the afternoon or early morning, to find one. You can also bring a few snacks and bottled water rather than buying one. Pay a visit to the nearest grocery store before going to the beach.
For hotels
These tips can help visitors have a great date without breaking your budget.
How to reach JBR beach?
JBR beach is one of the most popular tourist destinations in Dubai. There are plenty of means to reach the beach.
Method 1. By taxi
There is a taxi stand near the Jumeirah beach residences. You can easily book any taxi and get to the beach. The beach is around 10 minutes of walking distance from the taxi stand.
Map: Get direction
Method 2. By tram
Tram is one of the easy-to-use public transportation mediums in Dubai. A red tram from anywhere in Dubai can bring you to the beach.
Map: Get direction
Method 3. Rent a car
You can also rent a car for convenient and comfortable access to the beach. This is an economical way for family trips or groups of friends.
Car rentals: Retalcars
JBR beach map
Related Info
---
FAQs
What time is JBR beach open?
JBR beach timings start from 6:00 AM in the early morning. However, you'll see crowds after 8:00 AM to 8:00 PM.
Is JBR beach free?
Yes, JBR beach Dubai is free to visit. Also, if you're lucky enough, you'll find a free JBR beach parking spot at the South entrance.
Is Jumeirah beach same as JBR?
Jumeirah beach and JBR (Jumeirah Beach Residence) are different beaches. Jumeirah beach is near the Dubai water canal, whereas JBR beach is opposite Jumeirah's residence. JBR has tons of food trucks and vendors nearby. Also, they are about 25 km apart.
Is JBR an actual beach?
Yes, JBR beach is a natural beach. It is one of the most popular beaches in Dubai that attracts tourists and locals. In addition, there are tons of vendors and activities to choose from.
Is JBR beach good?
Yes, the beach is a great place to explore in Dubai. This is an ideal location to relax and have fun with your family or friends. There are plenty of food and beverage vendors and activities such as swimming, parasailing, etc.
Final thoughts
With our Dbd guide on JBR beach, you can quickly and confidently explore the city's beautiful beaches. You will find hotels, restaurants, activities, skiing spots, water parks, malls, attractions, and everything else to make your trip memorable.
Plus, use our budget guide to get the best deals and discounts while visiting JBR open beach. So, whether you're looking for a luxurious stay or want to explore the area, JBR Dubai beach is perfect. So, what's stopping you?