With the frequent changes in the names of Dubai metro stations, it's no surprise that many people get lost or confused when looking for the Mashreq metro station.
Mashreq station, formally named Sharaf DG metro station, is located on Sheikh Zayed Road on the red line of the Dubai metro. Moreover, it is in fare zone 2, which serves Al Soufoh and Al Barsha areas.
In this guide, we will view an overview of Mashreq station, its location, timings, and nearby attractions.
So, let's get started.
Overview of Mashreq metro station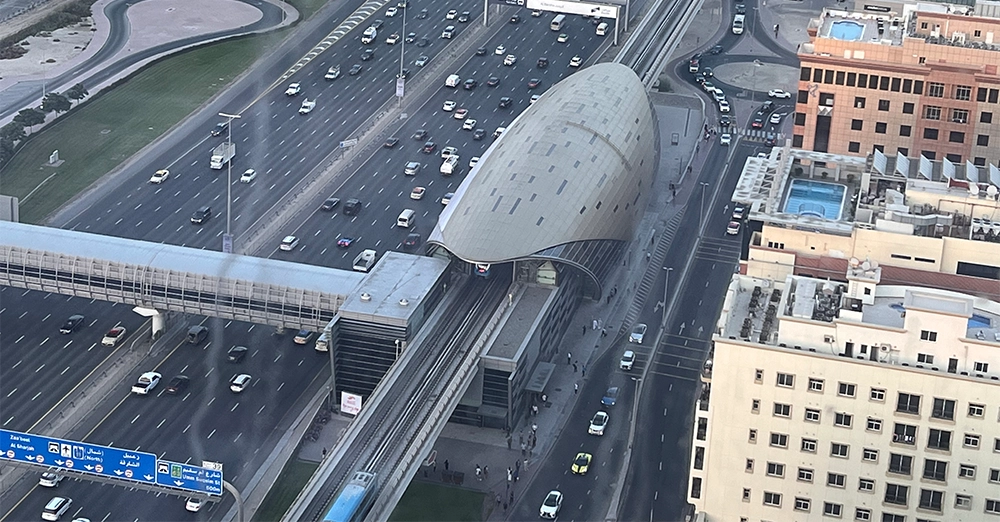 On May 18, 2020, the Sharaf DG metro station was renamed the Mashreq metro station. The Road Transportation Authority of Dubai gave renaming permission to the Mashreq bank. It is near an area with many banks, so that it can provide better digital connectivity for its customers.
In addition, this station can serve 14,244 passengers during busy hours and 256,392 passengers daily. [1]Government of Dubai, "press release, … Continue reading
| | |
| --- | --- |
| Location | Sheikh Zayed Rd, Al Barsha 1, Dubai |
| Line | Red line |
| Station code | R33 |
| Fare zone | 2 |
| Preceding station | Dubai internet city metro station |
| Following station | Mall of emirates metro station |
| Transfer station | No |
| Dubai Tram connection | No |
| Previous name | Sharaf DG |
Location of Mashreq metro station
Mashreq station is one of the most conveniently located stations in Dubai, as it is right next to the Dubai tram depot and Dubai police academy. Many hotels and apartments are nearby, making it convenient for visitors or those wishing to stay.
The Mashreq station is now more convenient than ever before. This is because there are bus stops that people can easily access and taxi cabs waiting for people. You can also take the metro from this station if you don't want to take a bus or taxi.
Location: Sheikh Zayed Rd, Al Barsha 1, Dubai
Mashreq metro station schematic map
The map of the Mashreq station is a graphical tool that helps commuters travel more quickly through this bustling hub of the Dubai metro system. The green and red lines of the Dubai metro are clearly marked.
Check the Mashreq metro schematic map below:
Mashreq metro station timings
Mashreq metro Dubai provides commuters with efficient access to destinations throughout the city. The metro operates from 5:00 a.m. until midnight, with each station opening simultaneously.
However, times may vary, such as special events and holidays. When changing trains at an interchange station, you should get to your outbound platform within five minutes to avoid delays.
Your fare on the Dubai metro is calculated based on the number of zones you travel through throughout your trip. A nol card is the recommended method of payment.
The Mashreq station timetable is as follows:
| Days | Time |
| --- | --- |
| Monday to Thursday | 05:00 AM – 12:00 AM (Midnight) |
| Friday | 05:00 AM – 01:00 AM (Next day) |
| Saturday | 05:00 AM – 12:00 AM (Midnight) |
| Sunday | 08:00 AM -12:00 AM (Midnight) |
Services and facilities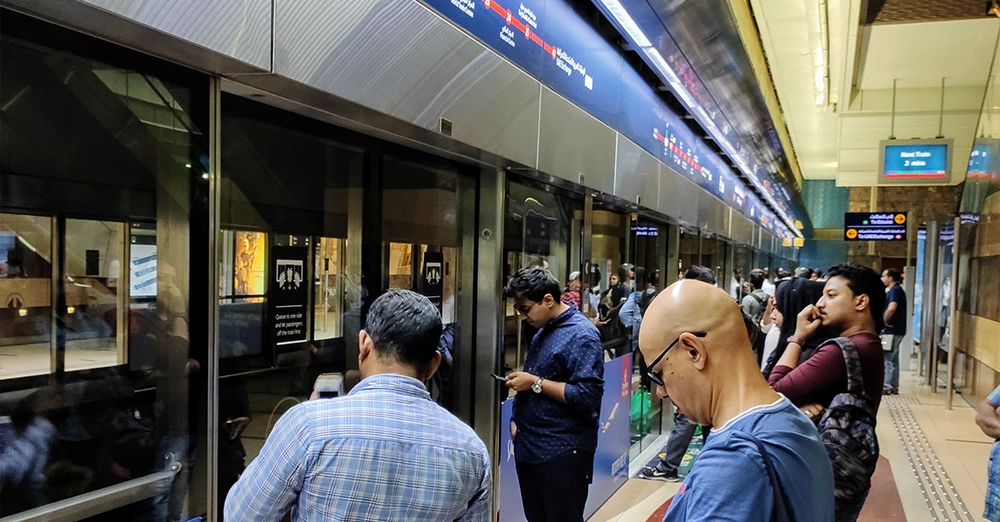 A significant number of commuters pass through the Mashreq station each day. It provides various services and facilities, all of which can facilitate a more effortless travel experience for any passenger.
The services provided by the station include:
Mashreq ATM: The Mashreq bank has an ATM inside the metro station, making it easy to get cash when needed. The ATM is only accessible during the metro station's operating hours.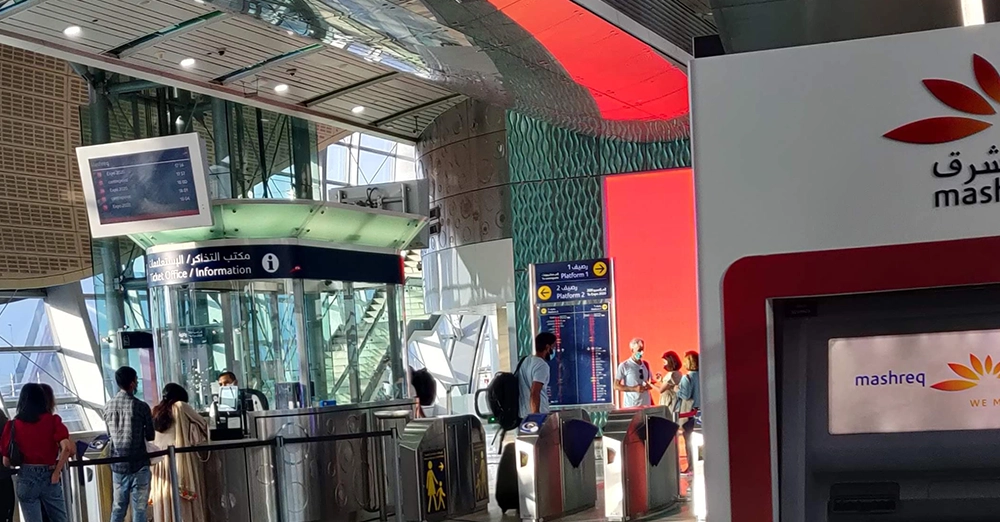 Ticket machines: There are ticket machines and ticket offices to purchase tickets for the metro. Also, there are nol machines where you can top-up your nol cards.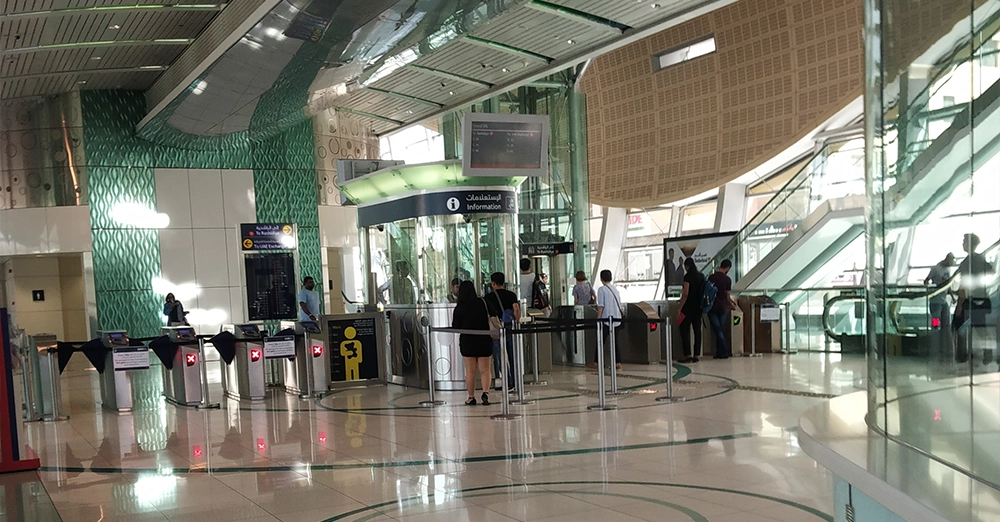 Information Desk: The station has an information desk where passengers can find out about timetables, fares, and other services. The staff are available at the desk to help visitors.
Wheelchair access: The entire station is accessible for people using wheelchairs. Wheelchair users can use ramps, lifts, escalators, and travelators at the station.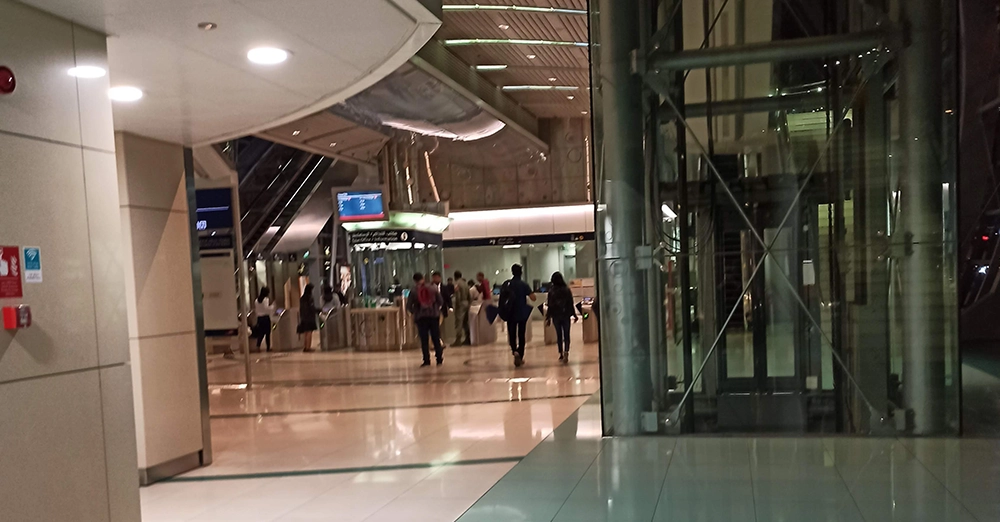 Washroom: The station also features a restroom and a washroom, where travelers can freshen up and use the facilities before continuing their journey. Passengers can use the restrooms that are designated for either men or women and are located within the station.
Vending machines: A variety of vending machines selling drinks and snacks are located throughout the terminal for travelers' convenience. During the time that they are waiting for their train, passengers can easily keep themselves fed and hydrated in this convenient location.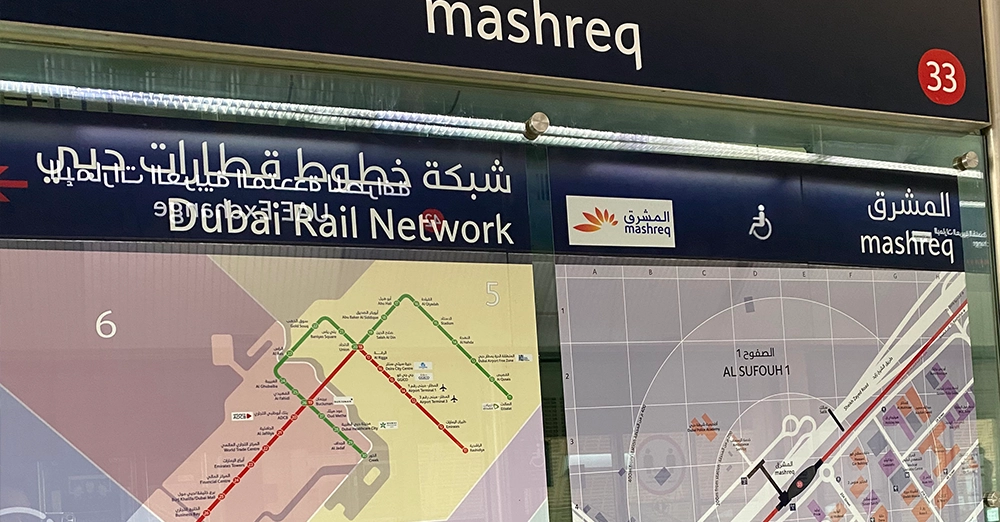 Metro footbridge: People can cross the street more safely because of the pedestrian bridge connecting the two sides of the road.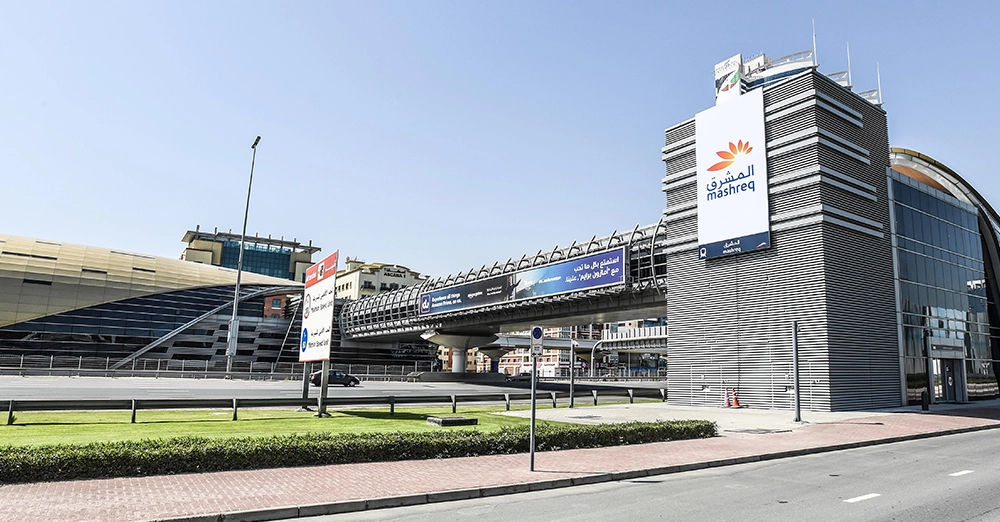 Attractions near Mashreq metro station
Mashreq station has many exciting attractions that cater to everyone's tastes and desires. This area offers visitors various options, from luxurious hotels to budget-friendly restaurants and supermarkets. Therefore, people will find something for everyone near the train station.
Some of Dubai's most popular sites are heading west from the station, such as Jumeirah Beach and Sufouh Beach. These attractions offer breathtaking views and are perfect for a day out in the sun. Additionally, visitors can enjoy a wide variety of activities on the beach.
Some places to visit near the station are listed below:
1.

Rose park hotel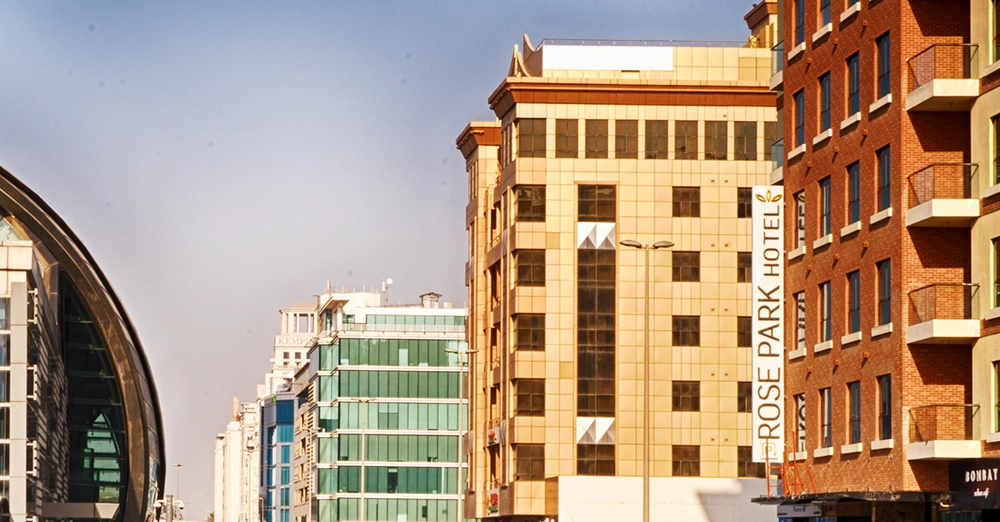 Rose Park Hotel is just a three-minute walk from Mashreq Station, opposite the station. Guests at this hotel can enjoy a wide array of services that make their stay enjoyable and comfortable. The hotel offers a 24-hour reception and room service to provide excellent hospitality for its customers.
Additionally, this hotel offers various facilities like a spa, free WiFi, free parking, wheelchair accessibility, a kid-friendly environment, and air-conditioned rooms. Additionally, it also has a gym and many other amenities. Visitors can also enjoy other amenities like laundry facilities and housekeeping services.
2.

Ski Dubai
Ski Dubai is family-friendly with its mountain motif and snow all year round, perfect for skiing and snowboarding. Lifts, toilets, and parking lots are also wheelchair accessible, making it easy for everyone. Moreover, there's a restaurant on site so visitors can enjoy meals between activities.
Regarding ticketing, Ski Dubai provides various passes and packages for visitors. Furthermore, ski and snowboard lessons and events on fitness and well-being are available. Overall, this is a great place to improve your skills while having fun.
Related Info
---
FAQs
What is the old name of the Mashreq metro station?
The old name of the Mashreq station was Sharaf DG metro station. It was renamed on May 18, 2020.
How can I reach Abu Dhabi from the Mashreq station in Dubai?
To reach Abu Dhabi, you must take the metro from Mashreq Station to Jabal Ali Station. From there, take the RTA bus route, E101. This will take you to Abu Dhabi's central bus station.
How to reach the Mashreq station?
The Mashreq metro station in Dubai can be reached by bus or metro. Additionally, you can also take a taxi to reach this station from different parts of Dubai.
Which bus station is near the Mashreq metro station?
The bus station near Mashreq station Dubai is Mashreq metro bus stop Landside 1, and Al Barsha, Habtoor house 1.
Which is the nearest metro station to the Mashreq station?
The nearest metro station to the Mashreq station Dubai is the Mall of Emirates metro station.
Final thoughts
Mashreq Metro Station is a popular choice for local residents of Al Basha and visitors to Dubai because of its convenient location near many attractions and banks.
Overall, it stands out as an ideal destination for those looking to reach their destinations in Dubai. Plus, the station provides an array of amenities and services that make it one of the busiest in Dubai.
Hope this guide helped you learn more about Mashreq station.