Abu Dhabi beaches are perfect for anyone looking to relax and enjoy beautiful mesmerizing views. Choose from numerous activities and water sports to keep yourself engaged. Or, spend lying on the soft white sand listening to the waves and taking a refreshing dip in crystal-clear waters.
The best beach in Abu Dubai offers activities like swimming, jet skiing, and other water sports. Not to mention all the fantastic hotels and restaurants around for an exquisite vacation. Pick from popular places like Corniche Beach, Yas Beach, and Saadiyat Beach.
To compile our list of the best beaches in Abu Dhabi, we researched and visited many of them. We also considered visitors' and local opinions and reviews from credible sources.
Also, on our beach adventures, we tried many luxurious activities. For more information on what to do at these beaches, we looked through user posts and feedback on social media. With all this data, we successfully put together a comprehensive Dbd guide with detailed explanations of popular Abu Dhabi beaches.
11 top beaches in Abu Dhabi
Abu Dhabi is home to some of the best beaches in the world. With clear blue waters and white sandy shores, Abu Dhabi beaches offer a perfect spot for swimming, fishing, or relaxing with friends and family. Now, let's look into them in detail.
1.

Corniche beach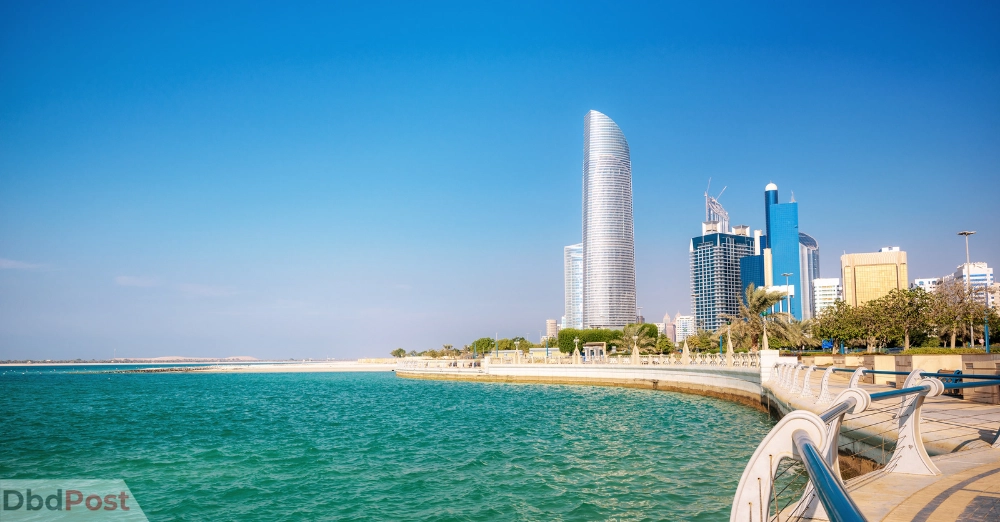 | | |
| --- | --- |
| Location | Al Bateen, Abu Dhabi |
| Map | Get direction |
| Website | Corniche beach |
| Opening hours | 7:00 AM to 12:00 AM |
| Entry cost | 10 AED (Adults) and 5 AED (Children), Free entry (Gate 4) |
The Corniche beach in Abu Dhabi is the perfect place for everyone! It's a 2km long beach with loads of room for families, singles, and groups. The beach opened on 7 July 2008 and is split into two parts. The beach has two parts, one 94,500 square meters, and the other 126,000 square meters. [1]DMT, "Corniche beach, https://www.dmt.gov.ae/en/adm/Abu-Dhabi-Corniche-Beach#:~:text=The%20Corniche%20Beach,6″
You can go through gates 1, 2, or 3 if you're with your family or kids, while gates 4, 5, or 6 are for groups or individuals. Among three sections on the beach, Al Sahil (gate 4) is great if you're visiting alone or with friends. Gates 2 and 3 are perfect for family entry and have a special quiet zone ideal for families.
There are fun playgrounds, many paths to stroll around and cafés, restaurants and sports facilities so you'll never be bored. Corniche Beach even got Blue Flag Certification on April 2011 for being good in terms of environment information, water quality, security services, and environment management.
Showers, changing rooms, and cabanas are all there to help beachgoers. Plus, you can rent things like umbrellas and sun loungers whenever you need them. And since it's open until sunset, a lifeguard is always on duty so you can stay safe while having fun.
Attractions nearby Corniche beach
Presendital Palace: Visiting the Presidential Palace is like stepping back to a distant era. You can feel the Arabian culture which looks like an Arabian palace.
Sheik Zayed Grand Mosque: The Sheik Zayed Grand Mosque is a stunning architectural masterpiece in Abu Dhabi. This impressive mosque is the largest in the area that features modern Islamic architecture, making this building truly unique.
Desert safari: Exploring the sandy dunes of the desert in Abu Dhabi is an experience like no other. You will travel in powerful cruisers and camels with activities like BBQ, belly dance, and sandboarding.
Things to do at Corniche beach
Engage in water sports and various beach activities.
Stay in luxury hotels like Corniche Hotel and Emirates Palace.
Treat yourself to restaurants with delicious food, Villa Toscana, and The Terrace on the Corniche.
2.

Al Hudayriyat beach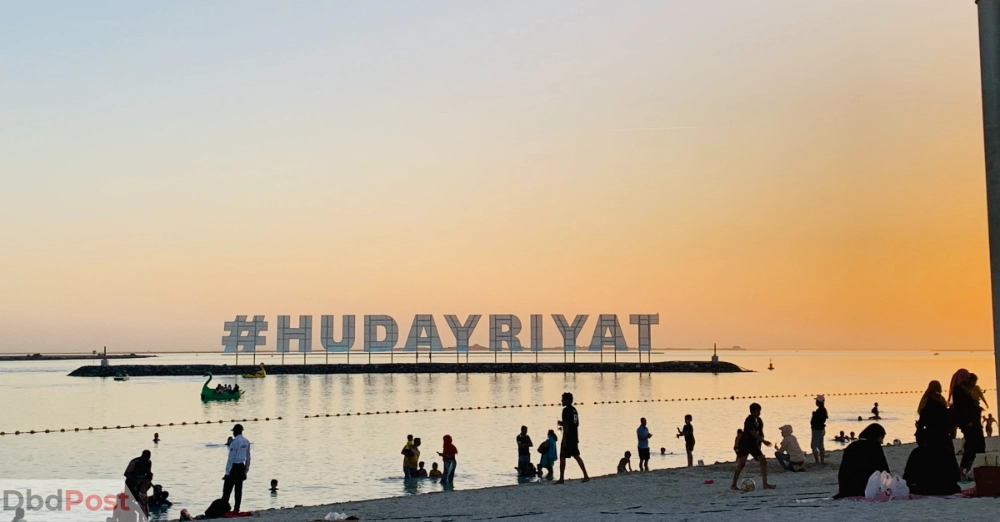 | | |
| --- | --- |
| Location | Hudayriyat Island, Abu Dhabi |
| Map | Get direction |
| Website | Hudayriyat beach |
| Opening hours | Open 24 hours (Popular time 3:00 PM to 10:00 PM) |
| Entry cost | |
Hudayriayt beach in Abu Dhabi is an amazing place with so much to do. It's big, over 24,000 square meters, and 600 meters long. There are huge courtyards to explore and a cycling track for when you want to go for a ride. [2]Hudayriyat Islands, "The beach, https://www.hudayriyatisland.ae/en/hudayriyat-beach#:~:text=From%20sunrise%20to,cool%20and%20refreshed."
Plus, there's a running path; if you like sports, you can try out the four courts for football, volleyball, basketball, and tennis. And if you get hungry after all that fun activity, mobile food trucks on-site serve cuisine from countries worldwide. Hudayriat beach is the place to be when in Abu Dhabi.
Nearby attractions
Ferrari World Abu Dhabi: The world's first Ferrari-branded theme park is a must-see for anyone who loves adrenaline-pumping activities. The park has a great selection of land, air, and water rides that are perfect for people of all ages.
Louvre Abu Dhabi: An incredible museum experience awaits its visitors in the magnificent setting of the Saadiyat Cultural District Visitors can explore ancient civilizations, landscapes, local heritage, and contemporary art from around the world.
National Aquarium: The National Aquarium Abu Dhabi is an oasis of marine life and an educational attraction for visitors and locals alike. This urban paradise also features interactive live performances and educational talks, providing informative entertainment for kids and adults.
Things to do at Hudayriyat beach
Engage in sports like volleyball, football, and water sports nearby.
Plenty of eateries like Belgian Cafe and Cafe Arabia to kill your hunger.
The Abu Dhabi Edition, Emirates Palace, or Marriot Hotel Downtown Luxury hotels for a comfortable stay.
3.

Yas beach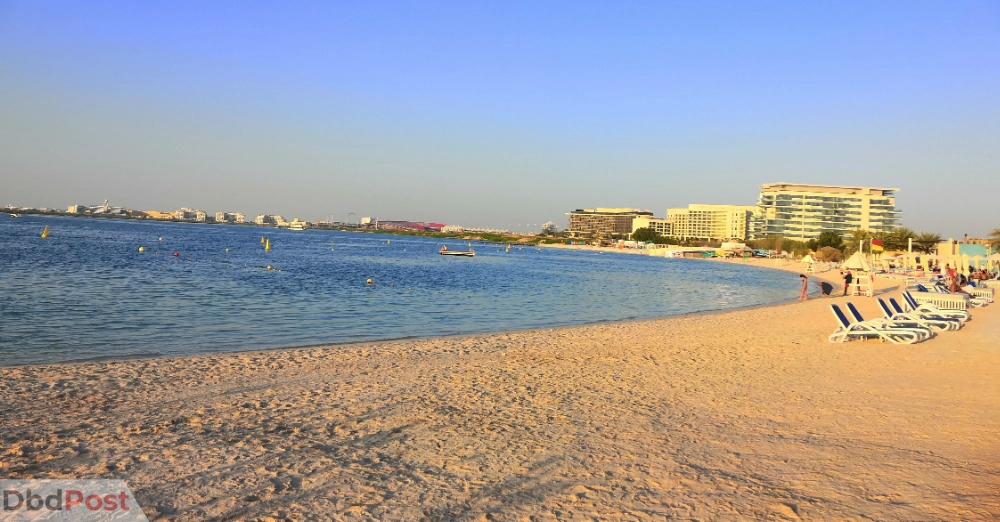 | | |
| --- | --- |
| Location | Yas Island, behind Crown Plaza, Abu Dhabi |
| Map | Get direction |
| Website | Yas beach |
| Opening hours | 10:00 AM to 7:00 PM |
| Entry cost | 60 AED (Weekdays) and 120 AED (Weekends and public holidays) |
Located in the Yas islands, Yas Beach in Abu Dhabi is incredible for anyone who loves fun in the sun. It has something for everyone, from sunbathers looking to relax to action seekers wanting to go for a swim or try out some water sports.
If that isn't enough, you can enjoy delicious tropical drinks and snacks while soaking up some rays poolside. There's a fantastic infinity pool at Yas Beach with incredible bay views.
And after a long day at the beach, you can head to the seaside bar and have a cold drink while watching the sunset. Many other activities, like kayaking, jet skiing, or paddleboarding, are on the beach with plenty of beachgoers like you.
Nearby attractions
Warner Bros theme park: A place where families can come together to explore the beloved characters and stories from the iconic movie studio. Different themed sections are filled with numerous rides, shows, attractions, and interactive experiences.
Yas Waterworld: Kids and adults can jump into a fun and wacky land with record-breaking rides and slides in the water world. This place is perfect for thrill seekers looking for a fun day out.
Yas Marina Circuit: It's a world-renowned motorsport facility in Yas islands. Motorsport fans can have a blast racing around the world's most advanced tracks at Yas Marina Circuit.
Things to do at Yas beach
Choose from 44 hotels on and around Yas Island, like Crowne Plaza Abu Dhabi, Dusit Thani, and DoubleTree By Hilton.
You can enjoy stand-up comedy shows, esports premier, golf tournaments, concerts, and even special New Year's fireworks at Yas island.
Hope into sliders, rollercoasters, and water slides for fun and adventure.
4.

Al Bateen beach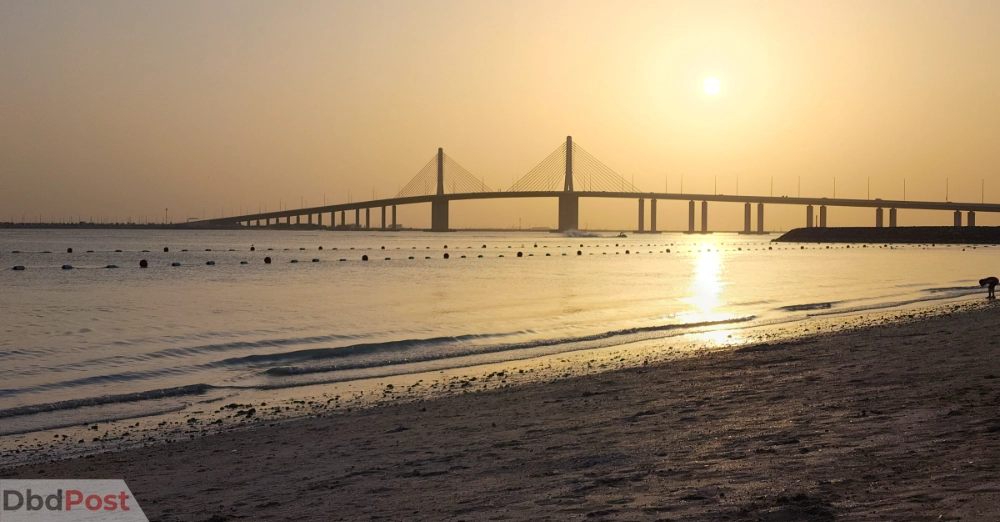 | | |
| --- | --- |
| Location | Khalifa Al Mubarak St, Al Qurm, Qasr Al Shatie, Abu Dhabi |
| Map | Get direction |
| Website | Al Bateen |
| Opening hours | Open 24 hours (Popular time 8:00 AM to 10:00 PM) |
| Entry cost | 25 AED (Adults) and 5 AED (Children) |
Al Bateen beach in Abu Dhabi is a special place. It has been given the Blue Flag award from the Emirates Wildlife Authority and runs 800 meters along the waterfront. Best of all, it can fit up to 5,000 visitors.
The water is clear and peaceful, perfect for swimming, fishing, and even a dry picnic. It overlooks Hudayriat Island and its bridge which makes it even more spectacular. There's also a water sports center where you can play volleyball or try out some fun kayaking and paddling activities.
Al Bateen beach in Abu Dhabi is an amazing place to explore for individuals, families, and large groups. They even have a separate ladies-only area protected by fences and barriers so women and children can be private. This section can accommodate up to 1,100 people with female lifeguards on duty.
Attractions nearby
Louvre Abu Dhabi: The Louvre Abu Dhabi is a stunning museum of art and culture located in the heart of Abu Dhabi. With its iconic dome-shaped architecture, this museum features permanent collections from around the world, spanning thousands of years of human history.
Ferrari World: Ferrari World Abu Dhabi is one of the largest theme parks in the world, boasting iconic attractions, including Formula Rossa, the fastest roller coaster in the world.
Things to do at Al Bateen beach:
Feel like shopping? Yas Mall and Mushrif Mall offer many awesome items, from clothes to jewelry.
You will find exquisite hotels near the beach where you can stay during your leisure days. These include Royal M Hotel, Radisson Blu, and Al Diar Sawa Hotel Apartments.
The lovely restaurants offer delicious cuisine while watching the sun dip beneath the horizon. Burger Bureau, Jimmy's Killer Prawns, and Binacorosso Pizza are popular restaurants nearby.
5.

Kai beach Saadiyat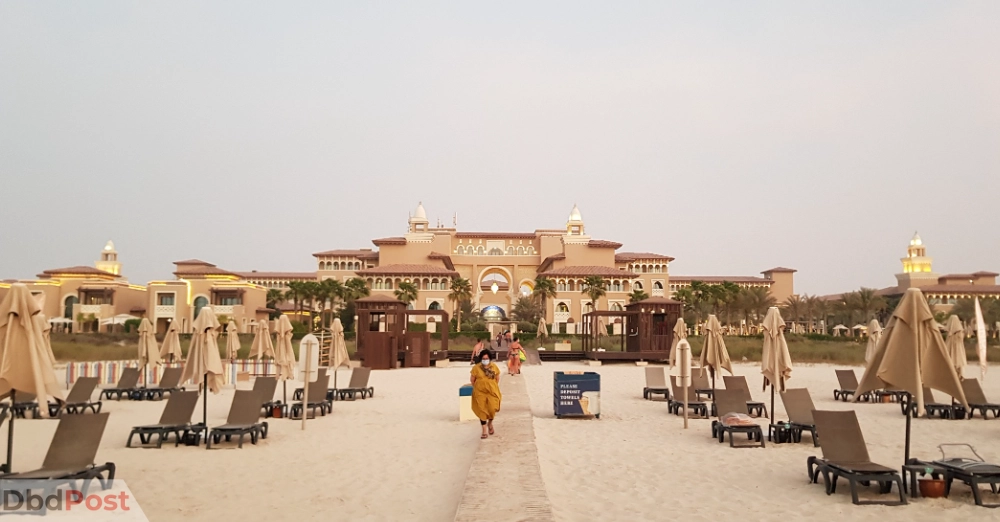 Location
Al Saadiyat Island, Abu Dhabi
Map
Get direction
Website
Kai beach Saadiyat
Opening hours
7:00 AM till sunset
Entry cost
85 AED (Adults) and 40 AED (Children), free for kids under 5 on weekdays.
105 AED (Adults) and 60 AED (Children), free for kids under 5 on weekends and public holidays.
85 AED for ladies only on Fridays.
Kai public beach is one of the most desirable beach locations in the UAE. It's located on the northwestern side of Saadiyat island and between the luxurious Park Hyatt and Saadiyat Beach Golf Club. On this 500-meter-long beach, there are shrubs and other greenery nearby, making it a perfect spot for a home to relaxing sunny days.
Kai Public Beach is the place to be if you're looking for some fun in the sun during your next vacation. It also has eco-friendly watersports activities, beach lounge chairs, and a convenient changing room. Plus, there are delicious bites from food trucks by MLT, so you won't be stuck feeling hungry.
Attractions nearby
Saadiyat Beach Golf Club: The Saadiyat Beach Golf Club offers a premier golfing experience throughout the year. Located in Abu Dhabi, this destination of choice for professional and novice golfers.
Jubail Mangrove Park: Jubail Mangrove Park is the perfect destination for nature lovers. Located near Kai Beach, this unique park features several different mangrove systems with peaceful jogging trails.
Things to do at Kai beach
Nasma Beachfront Bar has yummy snacks, and Aja Asian Restaurant serves up flavors from around Asia. The Beach House Mediterranean Restaurant also offers some tasty delights.
There are luxury places to stay close by. Choose from popular hotels like the Saadiyat Island Resort, Pura Eco Retreat, and The St. Regis Saadiyat Island Resort.
6.

Abu Dhabi beach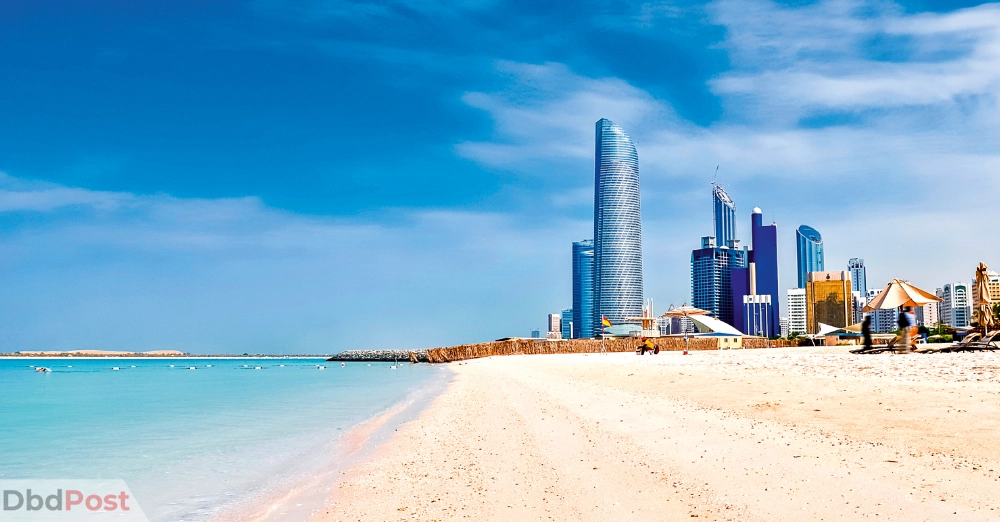 | | |
| --- | --- |
| Location | Al Hisn, Abu Dhabi |
| Map | Get direction |
| Website | N/A |
| Opening hours | Open 24 hours |
| Entry cost | Free |
Abu Dhabi beach is the perfect spot for a fun day in the sun! With clear waters and sunny skies, there's no better way to spend your day. Whether you want to go swimming or parasailing, jet skiing, or picnic on the beach, there's something here for everyone.
Similarly, there's even a special wheelchair and baby trolley access point so everyone can enjoy this beautiful place. And if you get hungry, don't worry; there are plenty of nearby food corners. Plus, a lifeguard is standing by just in case anyone needs help.
Attractions nearby
Al Lulu Island: Al Lulu Island in Abu Dhabi is an amazing, man-made island. It's located between the beautiful marina and the bustling docks of Mina Zayed, giving it one of the unique views around.
Gold Souk Abu Dhabi: Gold Souk is a great place to visit in Abu Dhabi. It's full of beautiful jewelry, headpieces, and accessories made from gold, silver, and other precious metals. You can get unique items like necklaces, earrings, bracelets, and more.
Marina Mall: You can catch a movie with friends at the cinemas or go shopping at countless stores. Also, if you're hungry, grab a bite at one of the famous restaurants.
Things to do at Abu Dhabi beach
Go for a crystal-clear water swim and have an amazing time with your friends and family.
Stroll through the Corniche park nearby, or have a picnic with your loved ones.
Parasail with the bird's eye view of the city skylines from hundreds of feet.
7.

Al Mirfa Beach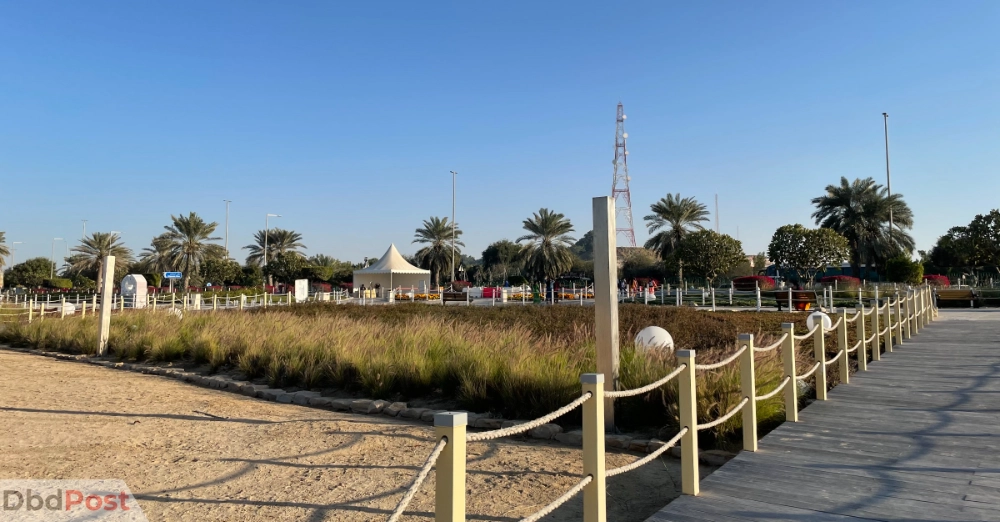 Al Mirfa beach in Abu Dhabi is an amazing place for everyone and anyone to visit. Couples, individuals, and families are welcome so everyone can explore this beautiful place hidden from crowds.
Enjoy the live evening entertainment, and let your little ones have some fun in the play areas all around the beach. Experience the captivating view of the sunset at Sunset Souk (market), an excellent spot for souvenir shopping with your friends or family.
You can participate in kiteboarding, wakeboarding, surf-ski kayaking, and more. Also, join in during Al Dhafra Watersports Festival, which brings global watersports champions and local enthusiasts together. Have an amazing time at this one-of-a-kind beach.
Attractions nearby
Beach port: Visit the port for sightseeing and other activities like shoreside jogging. Also, you can fish in the port for a relaxing time.
Picnic spots: Picnic spots are a perfect way to get away from your everyday life. You can visit picnic spots with friends, family, or even yourself. You can enjoy the nature around you at picnic spots and make new memories.
Things to do at Mirga beach
When it comes to staying in the area, there are Mirfa Hotel and Bab Al Nojoum Al Mugheirah Resort.
Also, try one of the delicious restaurants like Tasty Chef Restaurant or Thani Al Rumaithi Restaurant for a tasty meal.
8.

Marsana beach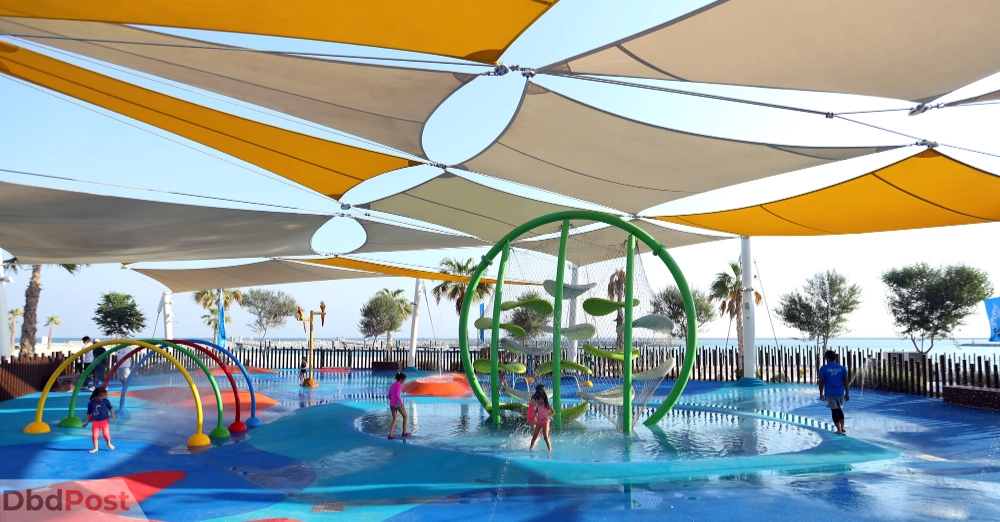 | | |
| --- | --- |
| Location | Al Hidayriyyat, Abu Dhabi |
| Map | Get direction |
| Website | Marsana beach |
| Opening hours | 8:00 AM to 11:00 AM (Monday to Friday) and 8:00 AM to 12:00 AM (Saturday and Sunday) |
| Entry cost | Free |
Marsana beach on Hudyriyat island is a fun and exciting place to be. It's full of color and delight with its vibrant beach huts, street art, sculptures, and restaurants. Plus, choose from endless entertainment and sports activities in the splash park, skate park, beach sports, an outdoor gym, and cycle paths.
With the range of luxury restaurants and food carts available at Marsana beach, you could try something new daily. Whichever way you spend your days here, this vibrant touristic, cultural, and sports destination in Abu Dhabi will surely be one to remember.
Attractions nearby
Circuit X adventure park: Hop on the Ferris wheel with views of the city skyline and a rollercoaster ride that will give you the thrill of a lifetime.
Football field: Within proximity to the white sandy shore, this incredible football field can help you stretch your legs. Make the team with your group and play against visitors or locals.
Skate park: Show off your fantastic skills in the skate park on the beach. Whether experienced or a rookie, there are plenty of fun obstacle courses and rails.
Things to do at Marsana beach
After a day of exercising and playing games, you can eat at nearby restaurants. Choose from highly rated restaurants like Al Shader Restaurant and Grill, Shrimp Pot, or The Plage Restaurant.
Plenty of water sports and fun activities are near the Marsana beach to keep you engaged.
Check into the Royal M Hotel and Resort, Bab Al Nojoum, or Al Gurm Resort for peace with all the amenities you need.
9.

Al Qurm beach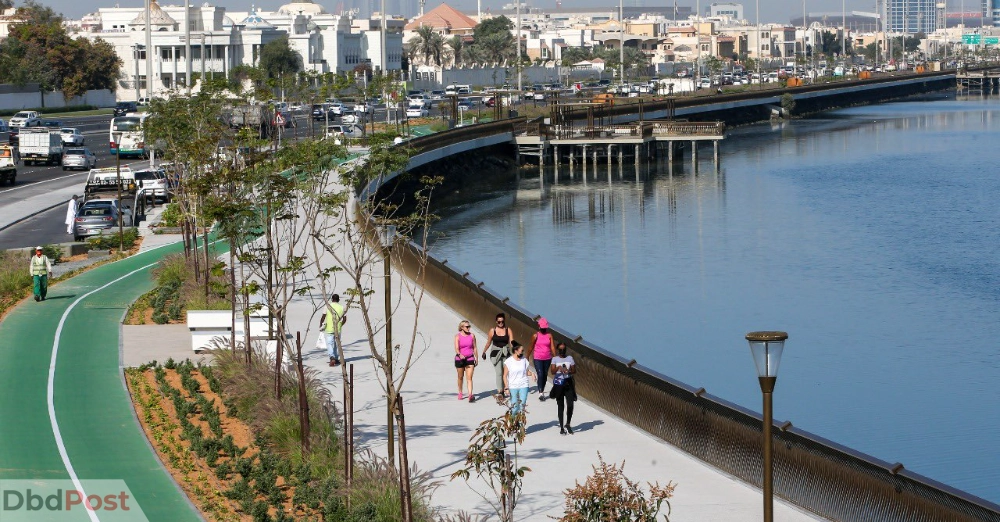 | | |
| --- | --- |
| Location | 2nd Street, Al Muzoun, Abu Dhabi |
| Map | Get direction |
| Website | N/A |
| Opening hours | Open 24 hours (Popular times: 6:00 AM to 10:00 PM) |
| Entry cost | Free |
Al Qurm beach in Abu Dhabi is a beautiful, family-friendly beach that provides plenty of exciting activities for all ages. Away from the hustle and bustle of the city, this quiet and peaceful beach offers one a chance to reconnect with nature.
Al Qurum beach is a great place to spend time with your family. There are lots of activities, like jet skiing and kayaking. If you want to relax, you can have a picnic or barbecue. Al Qurum beach is perfect for a fun day out.
Attractions nearby
Zayed Sports City: Abu Dhabi's Zayed Sports City Stadium symbolizes the city's vibrant sporting culture. You can have a great time watching football matches and other sporting events.
Al Hudayriat Island: Al Hudayriat Island Abu Dhabi captures the charm and beauty of nature at its best. You visit this island and enjoy white coral beaches, clear turquoise waters, and warm Arabian Gulf weather.
Sheikh Zayed Grand Mosque: The Sheikh Zayed Grand Mosque in Abu Dhabi is breathtaking. There enjoy, majestic columns, intricate Islamic carvings, and an array of glittering tiles showcase its grandeur. Even after dark, thousands of lights twinkle at night, creating an awe-inspiring ambiance that other places can't match.
Things to do at Al Qurm beach
Also, enjoy their services, including luxury shops, restaurants, and hotel rooms at the Al Damani towers.
Try an authentic Italian experience in Dino's Bistro Italiano. Enjoy traditional recipes with a modern twist that is great for enjoying a delicious meal with family or friends.
Go on a night out with friends at Nuevo & Lounge beach club. Its spacious lounge provides plenty of comfortable seating options, vibrant lighting, dynamic music, and more.
10.

The RItz-Carlton beach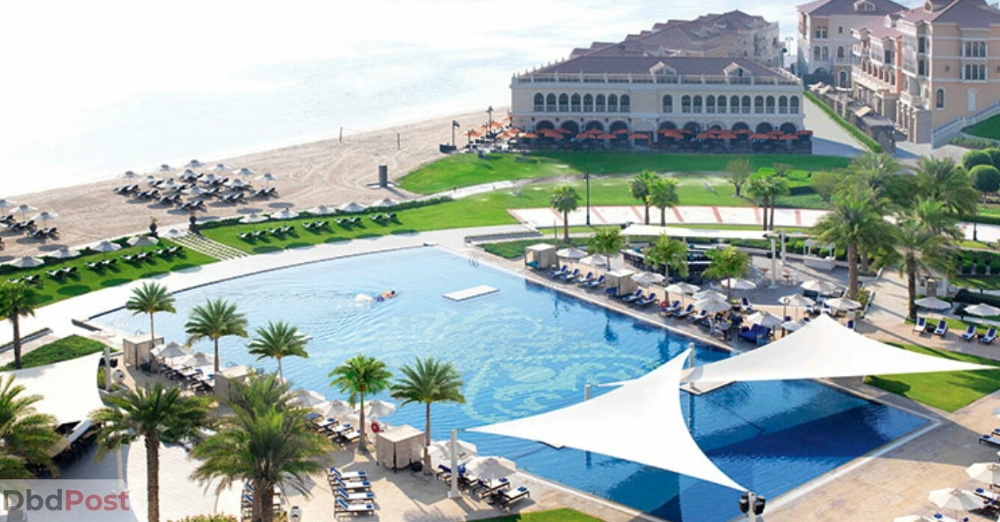 | | |
| --- | --- |
| Location | Al Rawdah, Khor Al Maqta'a, Abu Dhabi |
| Map | Get direction |
| Website | The Ritz-Carlton |
| Opening hours | 7:00 AM to 12:00 AM |
| Entry cost | Private beach (You need to check in at the RItz-Carlton hotel to access the beach) |
The Ritz-Carlton beach Abu Dhabi is a paradise. This private beach has everything you want for the perfect getaway. It has landscaped gardens and spectacular views of the Sheikh Zayed Grand Mosque.
There's an amazing resort with eight delicious restaurants, five-star accommodations, and a luxurious pool with sun loungers. That's why the Ritz-Carlton beach Abu Dhabi is one of the most popular spots to visit!
Attractions nearby
Vogue Fitness Rabdan: Vogue Fitness Rabdan Abu Dhabi promises to bring the world's best fitness program. Hop in for a quick, high-energy workout with supportive members.
The Venetian Spa: The Venetian Spa Abu Dhabi is truly an oasis amidst the bustling city of Abu Dhabi. It offers luxury spa therapies, hydro-facials, saunas, and hammam treatments. Also, enjoy steams rooms and wellness areas offering yoga.
Things to do at Ritz-Carlton beach
Rest your day in the Ritz-Carlton Abu Dhabi hotel. It's an exquisitely luxurious five-star hotel that offers visitors a unique experience. And get the taste of native spices, fragrant herbs, and fresh seafood in their signature restaurants.
Buddha Bat is an open-air terrace, and stunning harbor views make it the perfect place to unwind and have a good time.
The Ritz-Carlton Kids Club is an excellent way to keep your little ones entertained while you explore the world. The club's activities help children be imaginative, creative, and curious.
11.

Al Zeina, Al Raha beach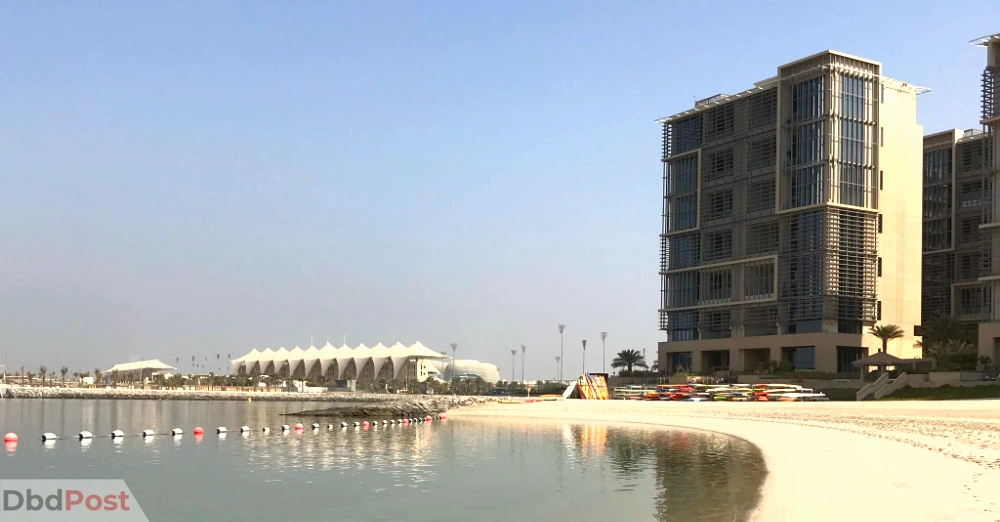 | | |
| --- | --- |
| Location | Al Raha Beach, Al Zeina, Abu Dhabi |
| Map | Get direction |
| Website | Al Zeina |
| Opening hours | 9:00 AM to 10:00 PM |
| Entry cost | Private beach (You need to check in at the Al Zeina hotel to access the beach) |
Al Zeina Al Raha, the perfect beach for a leisurely day with friends, is located in Abu Dhabi, connecting to the famous Al Raha Mall. Just ten minutes away from the bustling business district and Yas Marina Circuit.
You can go for a swim before enjoying a stunning view of the Corniche coastline and sunbathing atop the velvety white sands. If you're up for sightseeing, it's just 10 minutes from Abu Dhabi National Exhibition Center.
Attractions nearby
WHITE Abu Dhabi: White Abu Dhabi is the country's first world-class nightclub and incredible venue. This club is known for its luxurious atmosphere and unparalleled entertainment. Located in an iconic tower, this unique club offers stunning ocean views that are best enjoyed while swaying away to the sounds of top DJs.
Yas Bay Waterfront: Yas Bay Waterfront is a gorgeous attraction nestled in the sparkling turquoise waters of the Arabian Gulf. With its spectacular views and endless activities, it's no wonder that Yas Bay is a popular spot for tourists.
The Peeping Bob: The Peeping Bob is a local restaurant that fuses cultural influences and traditional cuisine. With an open, brightly lit dining space, it's the perfect place to come with friends or family. The big, Bob Marley-shaped cut-out in the center of this folk art structure perfectly frames the stunning harbor view below.
Things to do at Al Zeina, Al Raha beach:
This gourmet grocer and café, Grocer Al Muneera, offers its customers top-quality local products alongside premium imported specialties.
Abu Dhabi's Meow Café is a new, one-of-a-kind café that allows visitors to have coffee with some of the most adorable cats in the city.
With incredible views from your room, Hilton Abu Dhabi is the perfect place to spend your vacation.
Things to consider when visiting Abu Dhabi beaches
Before you plan your trip to any beach in Abu Dhabi, prepare yourself. There are many things to consider, from safety to things you may need. Now, let's look into them.
Save yourself from the sun
Abu Dhabi beaches in the summer can be a lot of fun, but you need to take special precautions. Remember to bring a hat made for the sunny weather, and some sunglasses to protect your eyes from the bright sun.
Also, apply plenty of sunscreens to save your skin from getting burnt. You should also bring an umbrella if it gets too sunny, and bring plenty of drinking water. The afternoon temperature in Abu Dhabi can go over 40 degrees Celcius.
Protect your valuables
It's important to remember to protect your valuables. Leave anything you don't need at the hotel, such as expensive jewelry or electronics. To ensure your items are safe and secure, use a waterproof bag when bringing any valuable items like phones and wallets. Chances of losing things or getting theft are real, so it's always better to be safe than sorry.
Plan ahead
When planning your trip to Abu Dhabi, look up what events or activities will happen near the beach. Whether it's a music festival, beach games, or delicious seafood, plan to have an amazing time. That way, you won't miss out on all of the fun Abu Dhabi offers.
Mind your budget
When you go out and explore, you need to ensure that you don't spend more money than you have. Also, choose from many of the best accessible beaches in Abu Dhabi if you're on a tight budget. There are lots of places where you can find discounts and deals. You can also bring snacks and drinks, so you don't have to buy them when you're out. With some planning, Abu Dhabi's beaches will feel close enough without breaking the bank.
Tips for visiting Abu Dhabi beaches
When visiting these beaches, there are a few things to remember to ensure you have a safe and enjoyable experience.
Follow all posted signs and guidelines to ensure you stay safe and respect the natural environment.
Abu Dhabi beaches can be scorching, so bring plenty of water to stay hydrated, and consider bringing an umbrella.
Also, remember that the beaches in Abu Dhabi are public, so be respectful of others and avoid loud noises or disruptions that may disturb others.
Finally, be aware of cultural customs and traditions in Abu Dhabi, and be respectful of local norms and values.
Avoid swimming alone, especially in areas that may be more isolated or less crowded. If you are not a strong swimmer, consider staying in shallow water or using a floating device to help keep yourself safe.
Be aware of any marine life in the area, and avoid disturbing or harassing wildlife.
Bring enough sunscreen to protect yourself from the sun's harmful rays if you plan to spend the day at the beach.
If you are traveling with children, keep a close eye on them to ensure their safety.
Avoid bringing valuables to the beach, as they may be lost or stolen. If you bring valuables, keep them locked up or with you at all times.
Remember to clean up after yourself and dispose of any litter properly to help keep the beach clean and beautiful for everyone to enjoy.
Overall, following these tips should help you have a safe and enjoyable experience at the beaches in Abu Dhabi.
Related Stories
---
FAQs
Does Abu Dhabi have good beaches?
Al Bateen beach and Corniche are the most popular Abu Dhabi beaches. Both of these spots have an international Blue Flag, which means they are clean and safe for everyone. [3]Panda, "UAE beaches receive blue flag, https://wwf.panda.org/wwf_news/?235110/UAE-Beaches-Receive-Internationally-Recognized-Blue-Flags-for-Upholding-Environmental-Standards"
Can you swim on Abu Dhabi beaches?
Most of Abu Dhabi's beaches allow swimming. However, you cannot swim on most beaches after sunset for safety reasons. Also, make sure to look out for lifeguards around so you can stay safe. 
Are there free Abu Dhabi beaches?
Abu Dhabi has some amazing beaches you can explore without paying. However most beaches have an entry fee, but they let small children in for free.
Which is the best public beach in Abu Dhabi?
Considering the popularity and positive reviews, Corniche is the best beach in Abu Dhabi, United Arab Emirates. However, Yas beach and Al Bateen beach are other top contenders.
Final thoughts
Abu Dhabi has some of the most beautiful beaches in the world. You can walk along shorelines and find fun things to do, like swimming, jet skiing, snorkeling, and more. Abu Dhabi beaches also have plenty of restaurants and cafes to enjoy a snack or a meal while enjoying fantastic ocean views.
Whether looking for a quiet relaxing spot or an exciting activity, the best beaches in Abu Dhabi sure have something for everyone. So if you're ever visiting the Emirate, check out its amazing beaches; it will be worth your time!