The Abu Hail metro station is an excellent transportation option for navigating the city of Dubai. It is close to the Dubai International Airport, so it can be easier for you to get to your destination.
Abu Hail metro station Dubai is conveniently located on Salah Al Din street near the Abu Hail center. This station is on the Dubai rail network's green line, serving thousands of travelers daily. It also lies in fare zone 6.
This guide includes the Abu Hail metro's schedule, location, and a schematic map of the area. It also contains details on nearby attractions.
Overview of Abu Hail metro station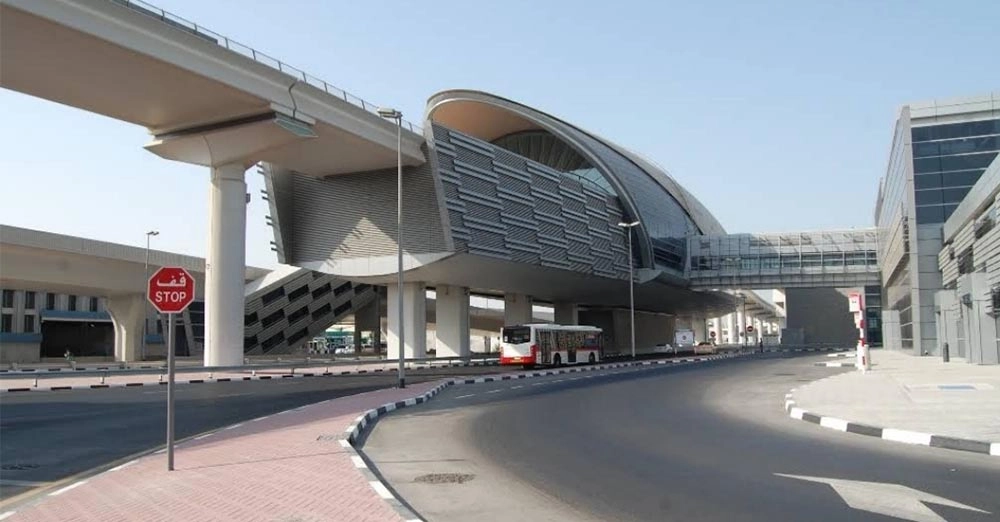 Abu Hail metro opened its doors to the public in September 2011 and is a hub of activity. This is an excellent location for a fast and easy commute to public schools, businesses, and commercial centers. [1]Khaleej Times, " metro green line to open on September, … Continue reading
| | |
| --- | --- |
| Location | Salahuddin Road, United Arab Emirates |
| Line | Green line |
| Station code | G17 |
| Fare zone | 6 |
| Preceding station | Abu baker Al Siddique metro station |
| Following station | Al Quiyadah metro station |
| Transfer station | No |
| Dubai Tram connection | No |
| Previous name | NA |
Location of Abu Hail metro station
The Abu Hail station is close to the NMC hospital and the Abu hail center. There are many office buildings and gas stations near the station.
Additionally, it is easily accessible and conveniently located near a bus station that quickly takes you to significant cities in Dubai, such as Al Karama, Union metro station, Al Jubail, and Sharjah.
Location: Salahuddin Road, United Arab Emirates
Abu Hail metro station schematic map
Abu Hail station is easy to locate on a schematic map. The station is highlighted, and the other surrounding stations are neatly marked.
Here is the schematic map of metro station: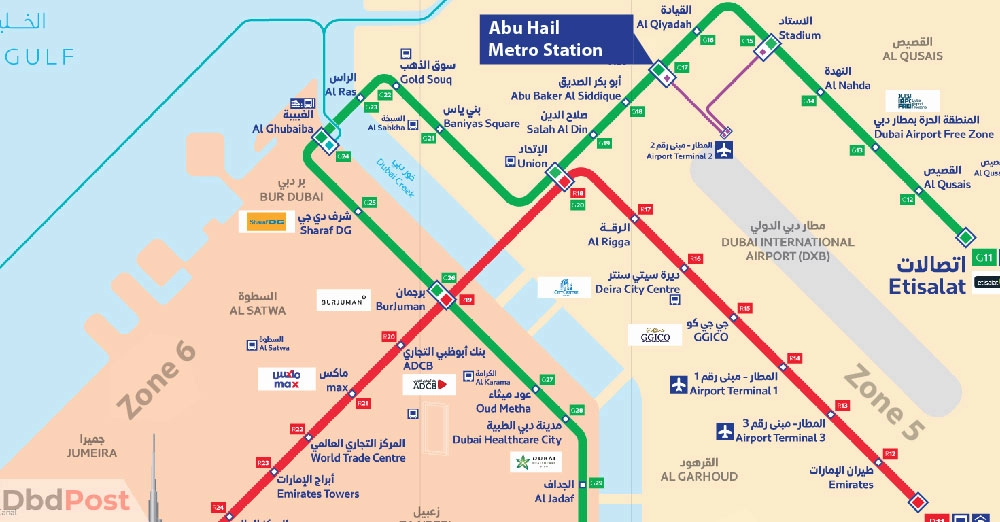 Abu Hail metro station timings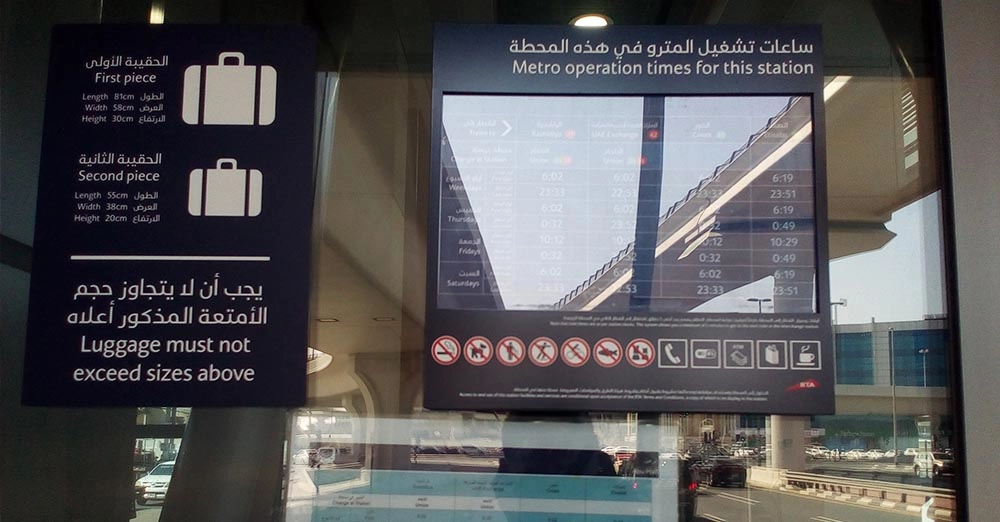 The Abu Hail station may be the most convenient solution for traveling throughout Dubai. Its operating hours are the same as those of other stations on regular days, so travelers can plan their journeys accordingly.
But times may change during special events or public holidays, so commuters should check again before leaving.
Below is the detailed timetable for this metro station: [2] Government of Dubai, "Metro station opening hour, https://www.rta.ae/wps/portal/rta/ae/public-transport/timetable#DubaiMetro:~:text=Metro%20stations%20opening%20hours(for%20All%20lines)"
| | |
| --- | --- |
| Days | Time |
| Monday to Thursday | 05:00 AM – 12:00 AM (Midnight) |
| Friday | 05:00 AM – 01:00 AM (Next day) |
| Saturday | 05:00 AM – 12:00 AM (Midnight) |
| Sunday | 08:00 AM -12:00 AM (Midnight) |
Services and facilities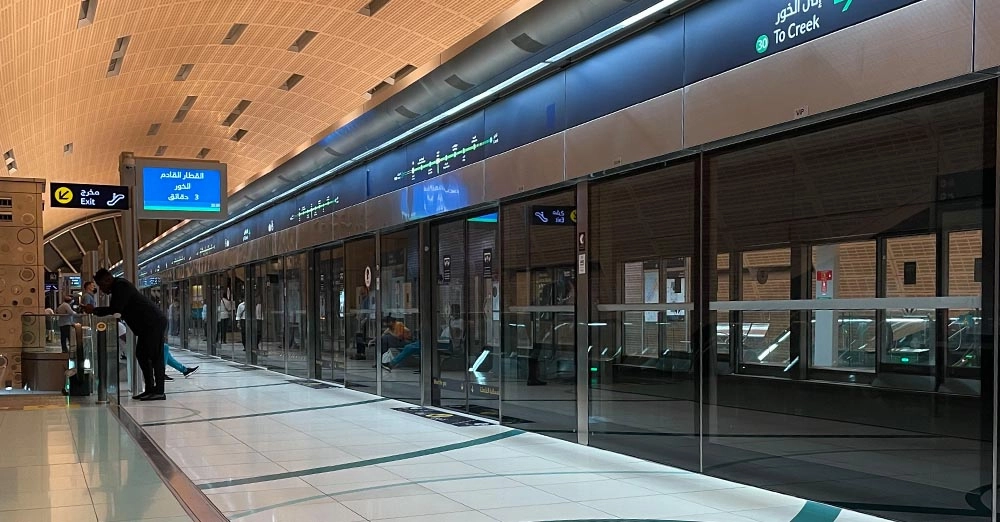 Abu Hail metro station is an essential hub for the Dubai metro network, providing numerous services and facilities to travelers and commuters.
For example, there are ATMs at the station that passengers can use to withdraw cash whenever needed. Additionally, they can purchase and recharge NOL Cards, which is a great convenience for commuters who use the metro regularly.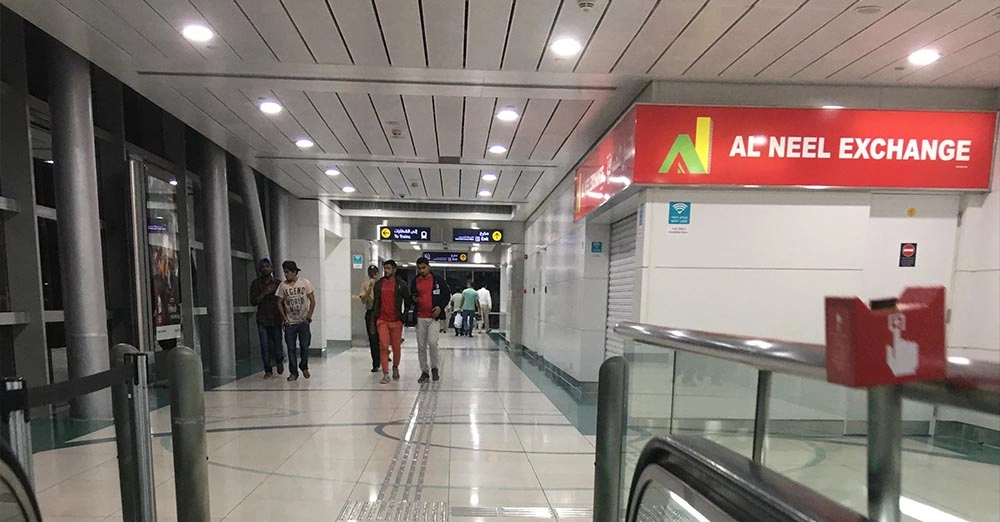 Furthermore, zoom stores are available at the station to provide commuters with snacks and drinks, but these items must be consumed outside the premises. Eating and drinking are prohibited on the Metro trains.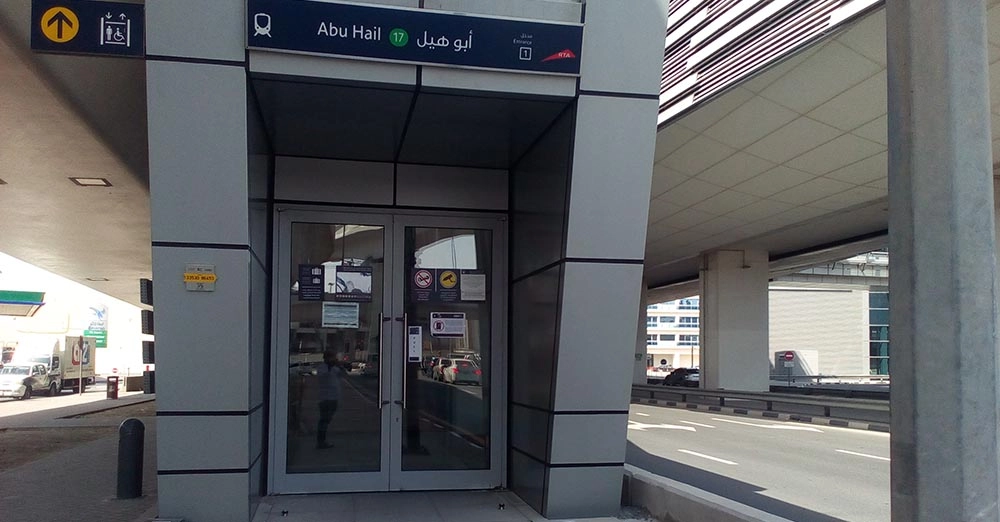 Additionally, it has free public Wi-Fi, money exchange, and ample parking spaces, as well as a lift that is wheelchair accessible. A washroom is available for customers' convenience, and the staffs are very customer friendly. Furthermore, the station is kept neat and clean at all times.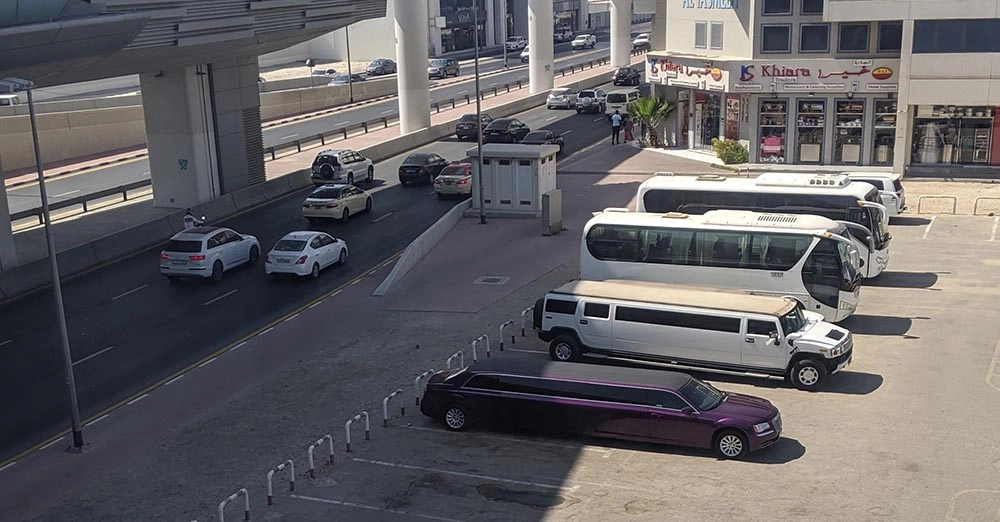 Moreover, there is also a huge parking area on the side of a metro station. The station also has a cycle parking area. Plus, information desks help passengers with their questions or queries.
Attractions near Abu Hail metro station
There are many attractions close to the Abu Hail metro station. These include shops full of fashionable clothing, gadgets, and Arabic clothes. These clothes can usually be purchased at low prices. Also, there are several restaurants, hotels, malls, and a cricket ground nearby.
Here are the nearest attractions to the station:
1.

NMC medical centre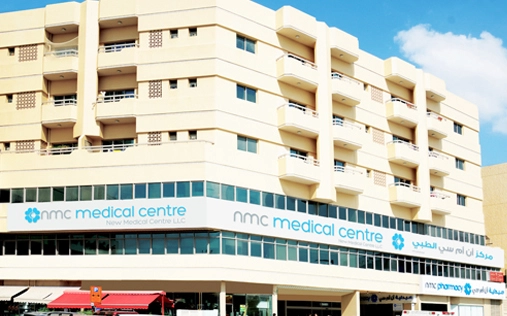 NMC medical center is a well-known healthcare provider. It was founded in 1999 and provides health services to people living in Dubai and the surrounding areas. It is conveniently located close to a metro station, which can be reached within just six minutes walking distance.
Additionally, this medical center is open from 7 am to 11 pm. It provides many services and diagnostic tools to cover all your needs. It has computerized radiography systems, an x-ray system, an OPG system, and a fluoroscopy MRI for more intensive diagnostic imaging.
2.

Abu Hail Centre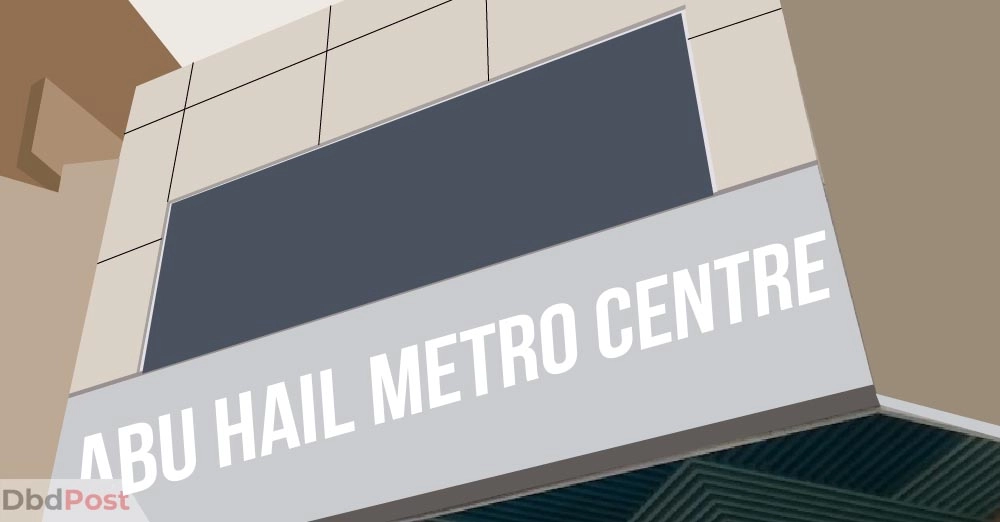 The Abu Hail center is a great place to shop for reasonably-priced Arabic clothes and abayas. The shopping mall is only six minutes from the metro station, making it a convenient place to visit.
The mall is air-conditioned for added comfort and convenience, with washroom facilities and a parking area. The shopkeepers are always available to help shoppers, and they can give great advice on finding the right outfit for any event.
Related Stories
---
FAQs
How can I reach the Abu Hail metro station in Dubai?
You can get to Abu Hail station in Dubai by metro, bus, or taxi. Many bus lines stop at the station and go to other places too. Finally, you can hail a taxi from anywhere in Dubai, which will take you there directly.
Which bus station is near the Abu Hail station?
The nearest bus station to Abu hail station is Abu Hail metro bus stop B-1, Abu Hail bus station, Al Jadeed bakery 1, Khabeesie 20th street, Omer bin Al Khattab school 2, and Abu hail center 1.
Which is the nearest metro station to the Abu Hail station?
How to reach airport terminal 2 from Abu Hail station?
To reach Airport Terminal 2, you can take bus line 43 from Abu hail station. And the journey takes 4 minutes by bus and 20 minutes on foot.
Which bus line stops near the Abu Hail metro station?
The bus lines near Abu Hail station are 5, 13, 13A, 43, C03, C09, and E307A. These bus lines stop close to the station, making it easy for travelers to get on the bus and go to different parts of the city.  
Final thoughts
The Abu Hail metro station is conveniently close to the Airport and many shopping malls. This allows for easy travel to different parts of the city. There are many nearby attractions, restaurants, and shops.
Additionally, there are medical centers and cricket grounds close by, giving you plenty of activities to do on your visit. Also, the station has many facilities like ticket machines, lifts, CCTV, stores, and more. Plus, several bus lines stop near the station, making it easy to get around without a car.


Arijit Negi is an expatriate living in Dubai for 18 years. He completed his degree in Master of Arts in Journalism from the University of Mumbai. Arijit focuses on providing helpful guides and information for ex-pats living in UAE and visitors to the UAE.