The Umm Al Sheif, formerly known as Equiti metro station can be difficult to find for first-time visitors. The name has been changed multiple times in the past. So, it is important that the visitors are able to identify and locate the station without any trouble.
Equiti metro is a modern and convenient transit hub in Dubai, UAE. It is located on Sheikh Zayed road and is on the red line of the Dubai metro. Plus, It offers a wide variety of services and amenities to visitors and travelers all along the Journey as well as within the metro station.
We have created a guide that will show you where to find the Equiti station. This guide also includes information on the timing of the metro station, its services, and a schematic map.
Overview of Equiti metro station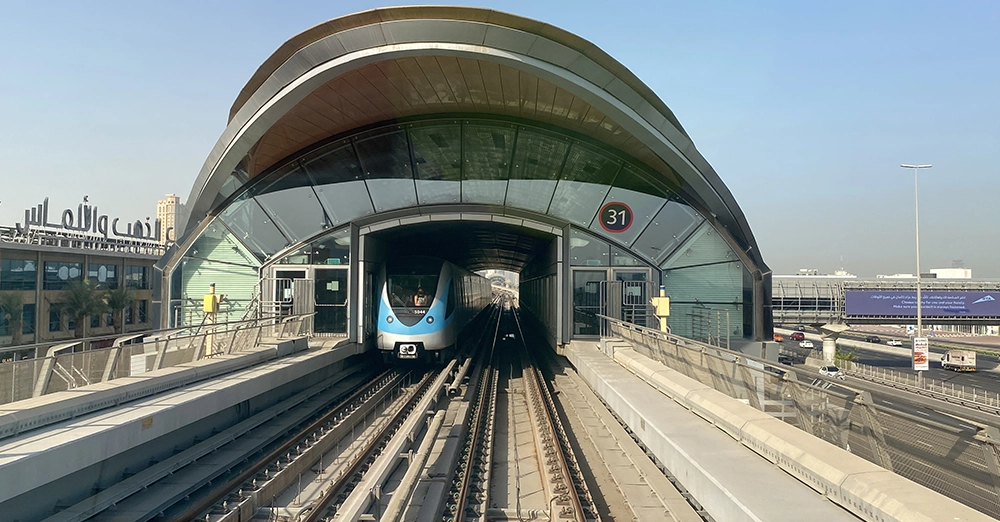 The Equiti station in Dubai has undergone numerous name changes since its establishment in 2010. It first opened as First Gulf Bank, but soon after this, it was renamed the First Abu Dhabi Bank metro station in 2017. Then, three years later, on November 24th, it became known as the Umm Al Sheif metro station. [1]Khaleej Times, "RTA renames five Dubai Metro stations, … Continue reading
Most recently, on April 18th, 2022, it was again renamed to the Equiti Metro Station for ten years with permission from Dubai's Roads and Transport Authority (RTA). As part of this agreement, the station will serve as a name representation of Equiti group, which is a brokerage service provider in the UAE. [2]Khaleej times, "Umm Al Sheif Station to be renamed, … Continue reading
| | |
| --- | --- |
| Location | Sheikh Zayed Road, Dubai |
| Line | Red line |
| Station code | R31 |
| Fare zone | 2 |
| Preceding station | Mall of emirates metro station |
| Following station | Al Safa metro station |
| Transfer station | No |
| Dubai Tram connection | No |
| Previous name | First Gulf bank, First Abu Dhabi bank and Umm Al Sheif |
Location of Equiti metro station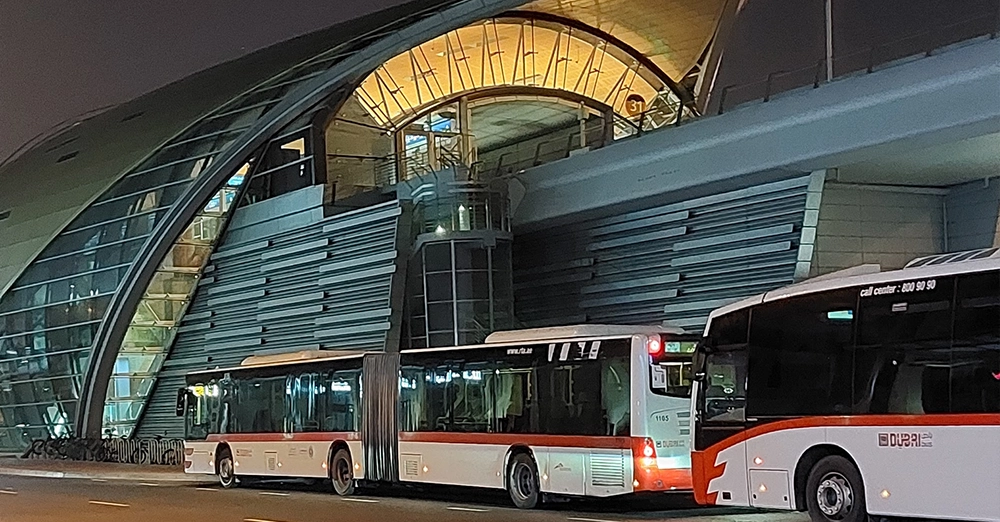 Conveniently located in the city, the Equiti Metro in Dubai offers a transition and flow of travel from one place to another. It is strategically situated near the General Department of Traffic and the Al Barsha area, with the FAB (First Abu Dhabi Bank) building on its side for quick money transfers.
Moreover, it stretches between Umm Al Sheif and Al Quoz district making it an access point for city-goers with various public transport options, such as buses and the metro. This way, the station serves as a guide to countless travelers who will make less fuss.
Location: Sheikh Zayed Road Dubai
Equiti metro station schematic map
Understanding and navigating the various metro train lines in Dubai can be overwhelming, especially for those unfamiliar with the area.
However, schematic maps are an excellent way to get around the city comfortably and efficiently.
Check the schematic mapl of the station below: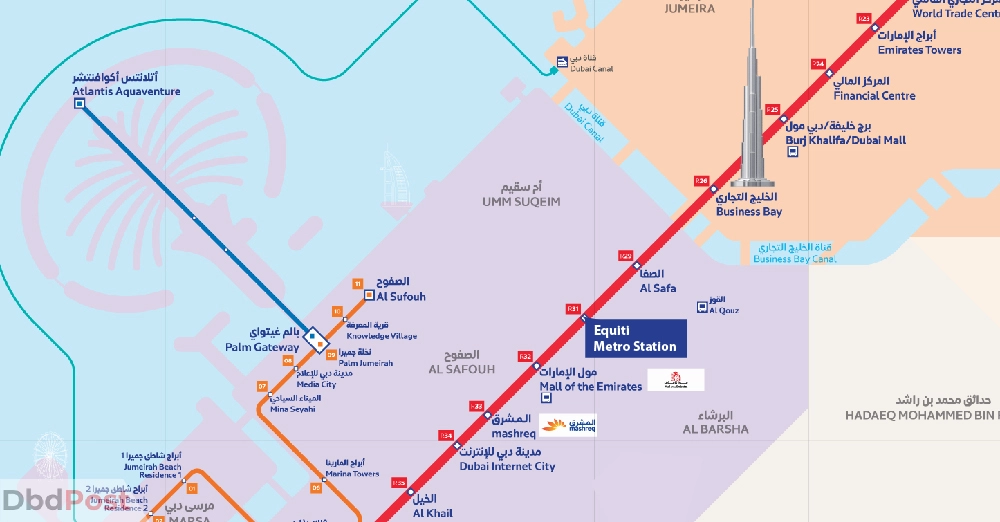 Equiti metro station timings
Knowing the metro station timings at Equiti will make it easier for you to travel. The Dubai metro stations running times are consistent during the week, with the last train leaving at 11:22 PM each night except for Friday. [3] Government of Dubai, "Metro station opening hour, https://www.rta.ae/wps/portal/
On Fridays, this time is extended until 12:24 AM to accommodate those who might want to stay out a little later.
And metro station timings could be subject to change during public holidays or special events, so it's essential to keep updated on any changes that may occur.
The timing of the Dubai metro station is listed below:
| Days | Time |
| --- | --- |
| Monday to Thursday | 05:00 AM – 12:00 AM (Midnight) |
| Friday | 05:00 AM – 01:00 AM (Next day) |
| Saturday | 05:00 AM – 12:00 AM (Midnight) |
| Sunday | 08:00 AM -12:00 AM (Midnight) |
Services and facilities
The metros are the most effective and comfortable way of transportation in Dubai. The Equiti station provides its passengers with many modern services and facilities. Some of them are listed below:
Information display: The station has a range of information screens that provide users with up-to-date travel information and service updates.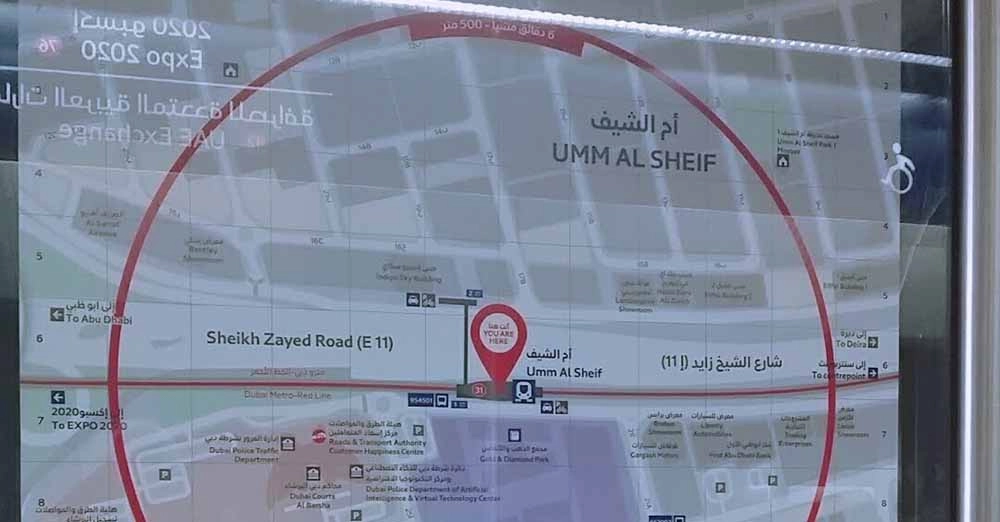 Ticketing machines: Ticket vending machines can be found on all platforms, enabling passengers to purchase tickets quickly and conveniently. Additionally, there are machines for recharging nol cards.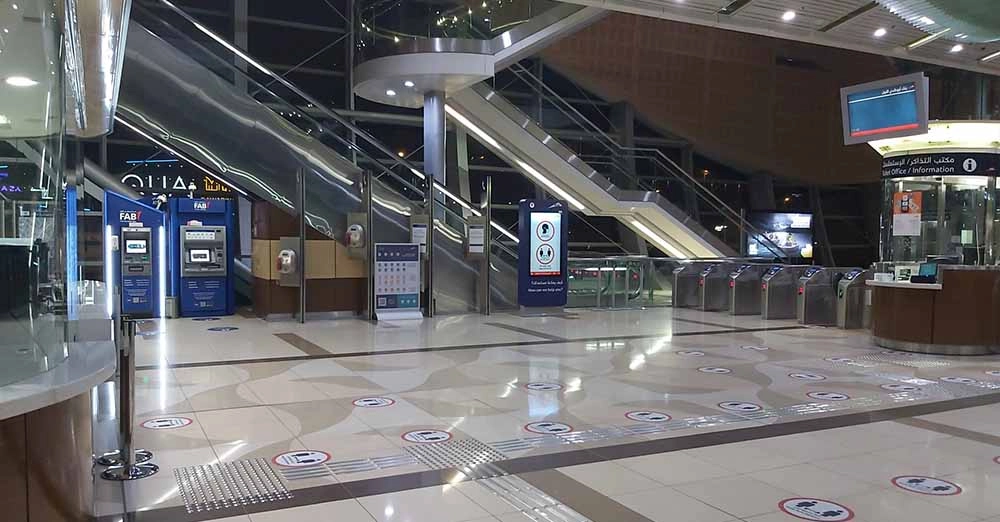 Retail outlets: There are several retail outlets in the station that offer a variety of snacks and drinks, books and magazines, and other items.
Accessibility features: The station has lifts, elevators, and wheelchair-friendly platforms, making it easier for people with mobility impairments to get around.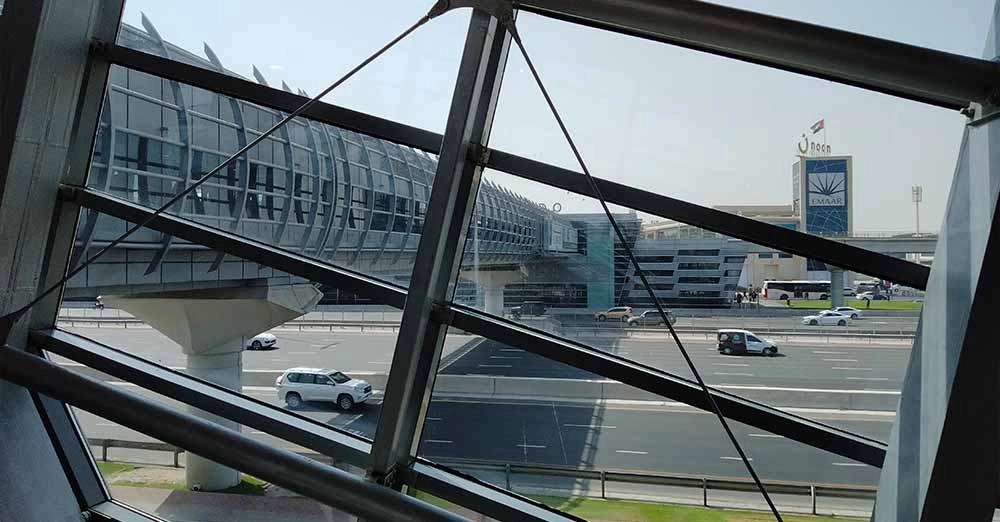 Toilets: There are clean and well-maintained toilets at the station, ensuring that passengers have access to facilities during their travels.
WiFi: Free WiFi is available throughout the station so passengers can stay connected while moving.
Security: The station has CCTV cameras and other security measures to ensure the safety of passengers. Security personnel is also on hand to help passengers in an emergency.
Chairs: The station has comfortable chairs and benches for people who need to wait or take a break.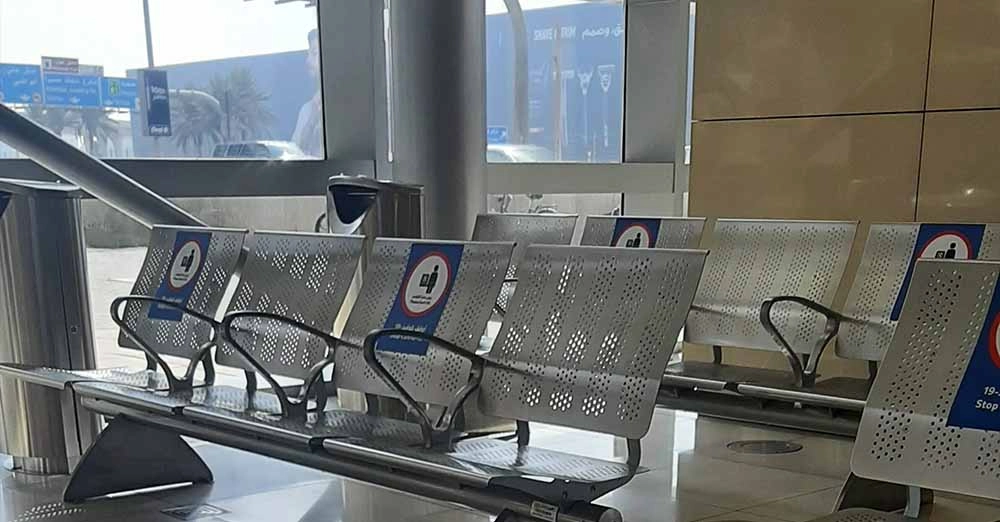 Metro Footbridge: A Metro Footbridge connects the station to nearby buildings, giving passengers easy access to other areas. This bridge also helps people to cross the roads smoothly.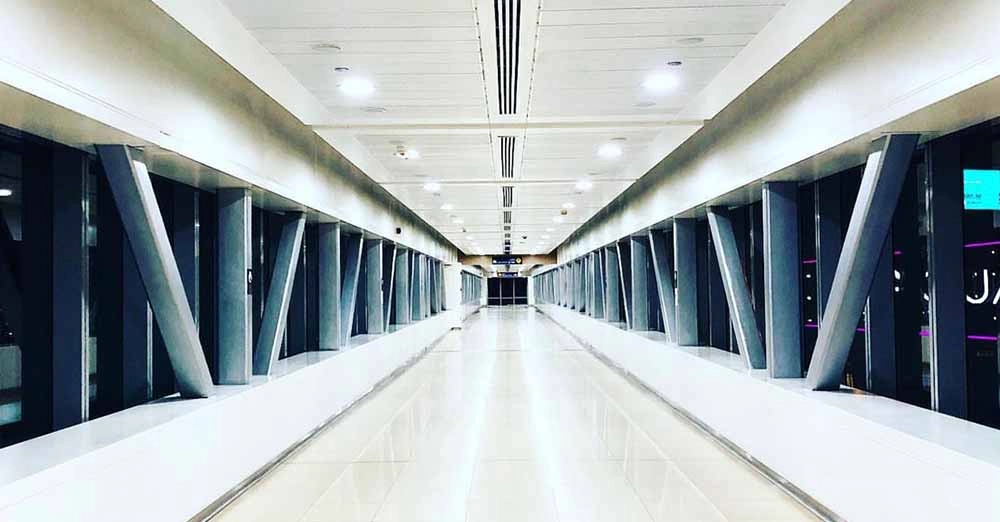 Attractions near Equiti metro station
If you're looking for something to do near Equiti station, the area has covered it. You can find everything from popular restaurants and coffee shops to great shopping options. Furthermore, Tesla and Lamborghini have nearby dealers if you're looking for a car showroom. It's a great stop-off point if you're looking for an adventure while exploring the city.
1.

Gold & Diamond Park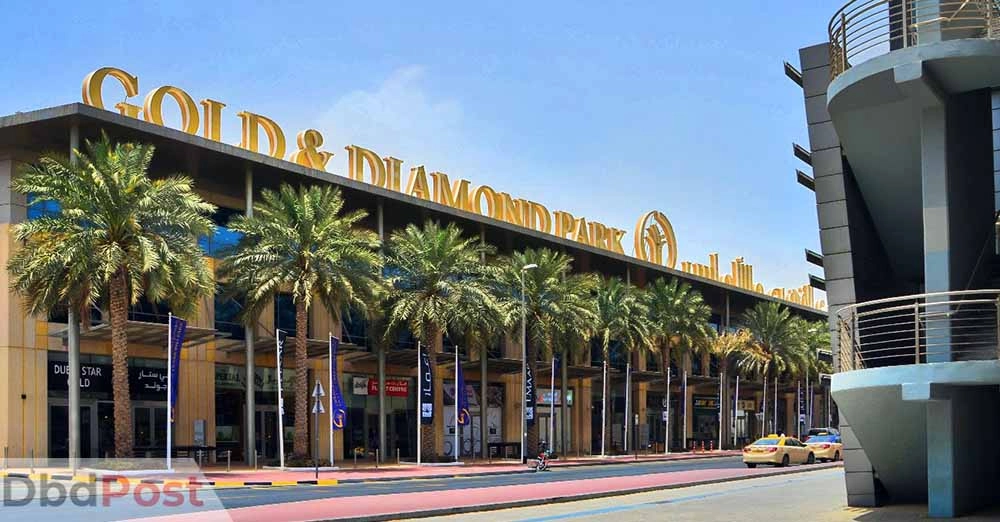 Gold & Diamond Park is a shopping centre that was started in 2011. It is close to a metro station, so it is easy for people to get to. You will find numerous gold and diamond shops offering the highest quality jewelry there. [4]Gold and diamond park, " about, https://www.goldanddiamondpark.com/about/#:~:text=About%20Gold%20%26%20Diamond,Established%20in%202011″
Plus, it's great for families because it offers amenities like transportation, wheelchair access, baby carriages, and prayer spaces for both men and women. It also has a baby-changing facility to make shopping with kids easier. And all stores accept Emaar gift cards, making it easier for shoppers to pay for their purchases.
2.

Al Furkan Mosque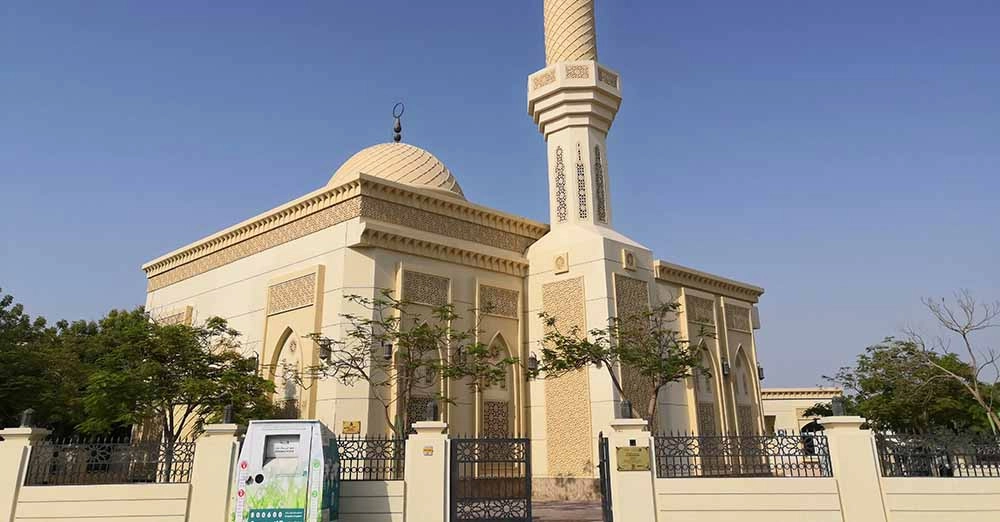 Al Furkan Mosque is a small mosque in the Umm Al Sheif area. The stunning architecture of this mosque makes it a must-see for anyone in the area. And people can quickly get to the mosque while they are around the metro station.
The Al Furkan Mosque is a shining example of beauty and elegance. It is located five hundred meters from the metro station, and this mosque can be reached in just six minutes on foot.
Related Info
---
FAQs
What is the old name of the Equiti metro station?
The old name of Equiti station are the First Abu Dhabi bank (FAB) metro station and Umm Al Sheif.
Which bus lines stop near the Equiti metro station?
The bus lines near Equiti station are J01, F29, F25, F26, 12, F30, F32, and 81.
How can I get to Equiti station?
You can reach Equiti metro by bus and metro. If you want to get there faster, you can book a taxi.
Which bus station is near the Equiti metro station?
The nearest bus station to the Equiti station is the Mall of the Emirates bus station.
Final thoughts
The Equiti metro station is an excellent transition point between major local destinations in the city. It provides a seamless transition from shopping malls and restaurants to car dealers or other attractions, so there's minimal downtime while waiting for the train.
Additionally, plenty of amenities and services, such as taxis, elevators, and escalators, make it particularly convenient for people with mobility impairments. With its upbeat energy and well-maintained facilities, the Equiti metro station is ideal for visitors experiencing Dubai and locals travelling around the city.


Imran Hassan is an experienced Travel Specialist for UAE and the Middle East. He is based in Dubai and specializes in creating unique itineraries to ensure his customers have the best possible experience during their stay. From selecting the right hotel to recommending must-see attractions, Imran's expertise ensures that all vacations are unforgettable.