The Al Jadaf metro station is a life-saver for the residents of Al Qusais and other people who commute to their jobs at the Dubai festival city. It can be challenging to find your way around, but it's worth it.
Jadaf metro station is the second last creek metro green line station. The station is less crowded and easy to use and lies in fare zone 6. With the facilities of lifts, convenient stores, wifi access, ticket machines, and many others, it has made commuting to nearby areas very easy.
This guide includes the nearby attractions, station timings, and location. Additionally, we have also provided the schematic map of this metro station.
Overview of Al Jadaf metro station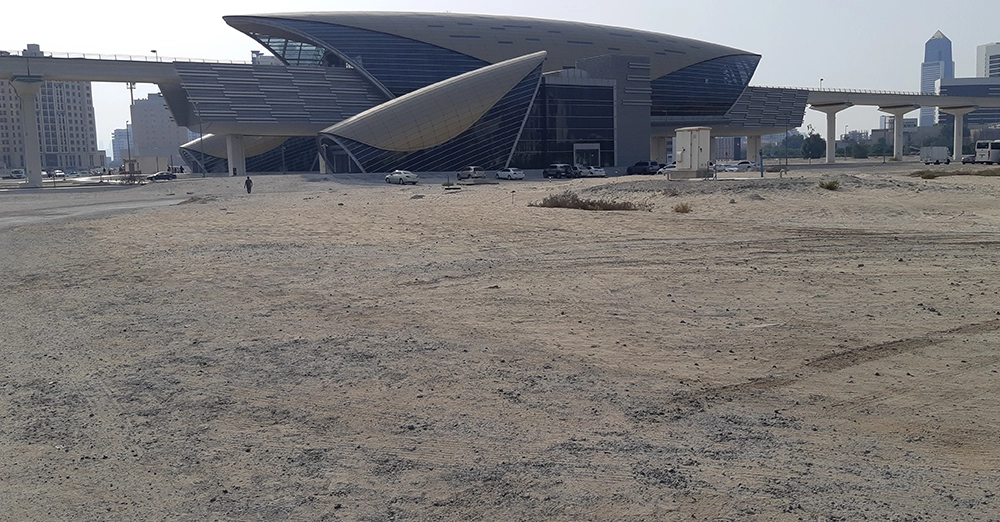 Al Jadaf metro station was started on March 1, 2014, as an extension of the Dubai metro green line. This station is an excellent way for people to travel to and from different workplaces and places in the city. Spectacular skyscraper buildings and a desert area surround the station.
Additionally, this elevated metro station can accommodate 11,000 travelers per hour in each direction, making it one of the bustling metro stations in the city. Plus, this station has 100 parking slots provided by RTA. [1]Khaleej times, " Al Jadaf, Creek Metro stations to open on March 1, … Continue reading
| | |
| --- | --- |
| Location | Jaddaf waterfront, Dubai |
| Line | Green line |
| Station code | G21 |
| Fare zone | 6 |
| Preceding station | Creek metro station |
| Following station | Dubai healthcare city metro station |
| Transfer station | No |
| Dubai Tram connection | No |
| Previous name | NA |
Location of Al Jadaf metro station
Al Jadaf metro station is located in a developing area of Dubai full of construction projects. Plus, there are many hotels within walking distance, such as a premier inn, Suha park luxury hotel apartments, and Skaf hotel for those who want to extend their stay.
Since the station is still being developed, there are few public transportation facilities. So you can use taxis or private vehicles for faster reach to this metro station.
Location: Jaddaf waterfront, Dubai
Al Jadaf metro station schematic map
For many people in Dubai, the Jadaf metro station is a vital part of their daily commute. That's why it's essential to have a map that helps you find this station.
The Al Jadaf metro station map below highlights not only the location of the station itself but also its nearby metro stations. This will help riders navigate to and from the station with ease.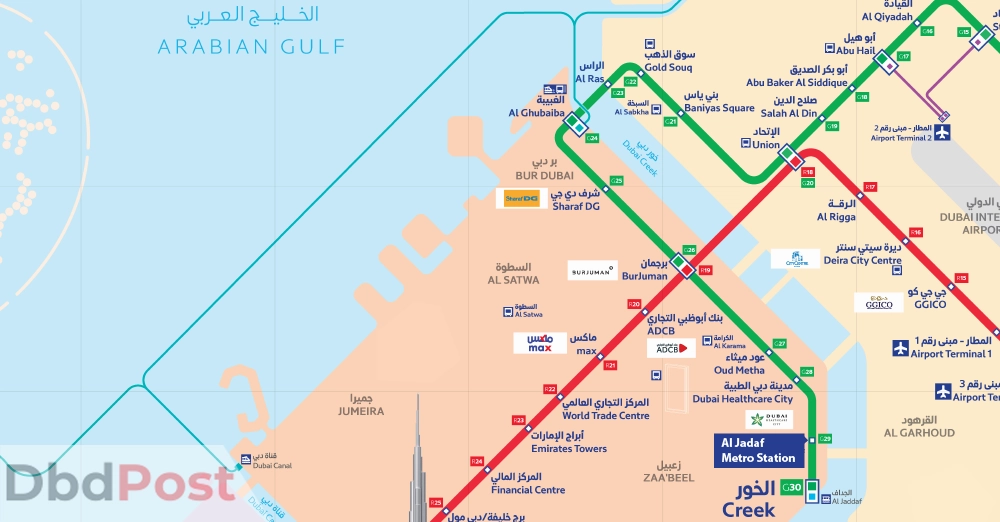 Al Jadaf metro station timings
The timing of the Dubai metro is designed to make commuting as convenient, efficient, and safe as possible. The metro system makes planning easy since all stations follow the same schedule.
Additionally, metros arrive at each station every 5-7 minutes, so you won't have to wait long for the next train, no matter where you are on the route.
The detailed timing of the Jadaf metro station is given below: [2]Government of Dubai, "Metro station opening hour, https://www.rta.ae/wps/portal/ Days Time Monday to Thursday 05:00 AM – 12:00 AM (Midnight) Friday 05:00 … Continue reading