The Dubai Healthcare City metro station makes traveling in Dubai much more convenient. The station is near many renowned hospitals and medical facilities, making it easy for residents and visitors to get the care they need.
The Dubai Healthcare city station is a modern and efficient transportation hub located on the green line of the Dubai metro. It is in zone 6 and provides various amenities for passengers and visitors.
In this guide will discuss the Healthcare metro station and its surrounding area. The guide will also provide information on the timings and facilities available at the station. Plus, a schematic map of the station will be provided for convenience.
Overview of Dubai Healthcare city metro station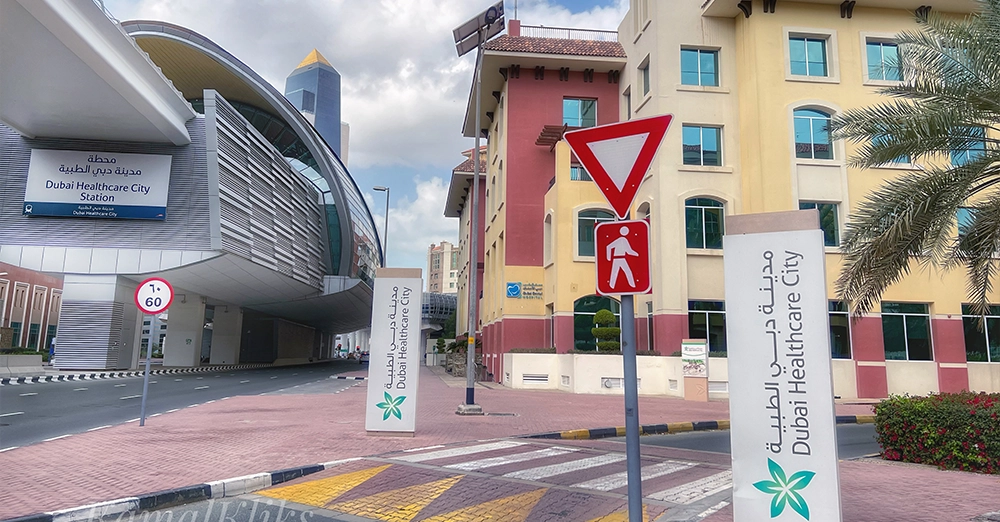 On the Dubai metro, the Healthcare metro station serves as a hub for the city's rapid transportation system. In September 2009, it started operating as an integral part of the green line metro.
Additionally, it serves the Dubai Healthcare city area. The station is close to the Grand Hyatt Dubai, Wafi mall, and Mediclinic city hospital. The Wafi residence is also near the station.
| | |
| --- | --- |
| Location | Umm Hurair 2, Dubai Healthcare city, Dubai |
| Line | Green line |
| Station code | G28 |
| Fare zone | 6 |
| Preceding station | Al Jafad metro station |
| Following station | Oud Metha metro station |
| Transfer station | No |
| Dubai Tram connection | No |
| Previous name | NA |
Location of Dubai Healthcare city metro station
The Healthcare City (DHCC) metro station is great for catching the metro. It's not as busy as other stations, but it's still well-maintained and easy to get around. Outside the station, there is an extensive bus stop with many buses that go to different places in Dubai.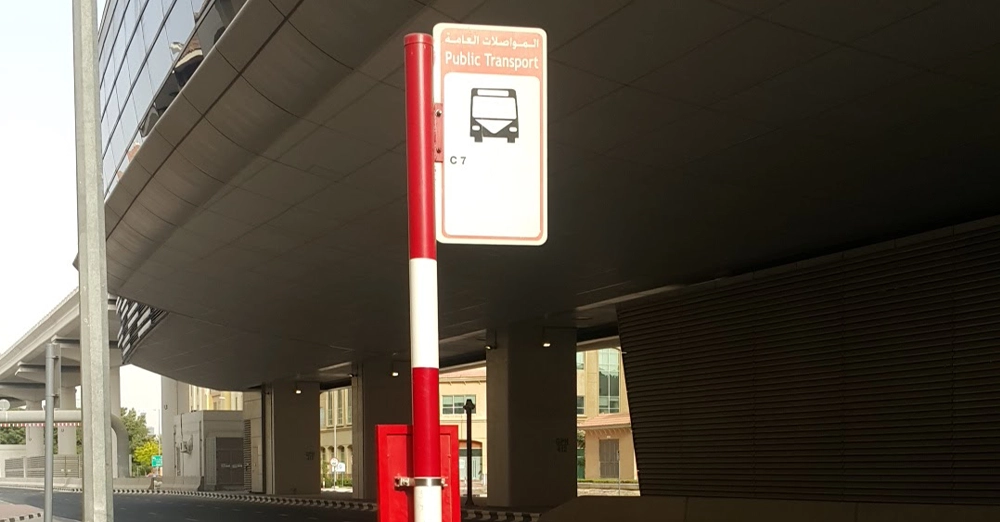 Whatever kind of transportation you use, you won't have any trouble locating or reaching the station. There are several taxis near the station's entrance, and buses frequently stop there. If you want to avoid the traffic in the surrounding area, you can also take a metro line to the station.
Location: Umm Hurair 2, Dubai Healthcare City, Dubai
Dubai Healthcare city metro station schematic map
The Dubai Healthcare City metro station map is an excellent tool for those looking to access the area of Dubai Healthcare city. The map is easy to understand and helps people navigate the station quickly and easily.
Check the station schematic map below:
Dubai Healthcare city metro station timings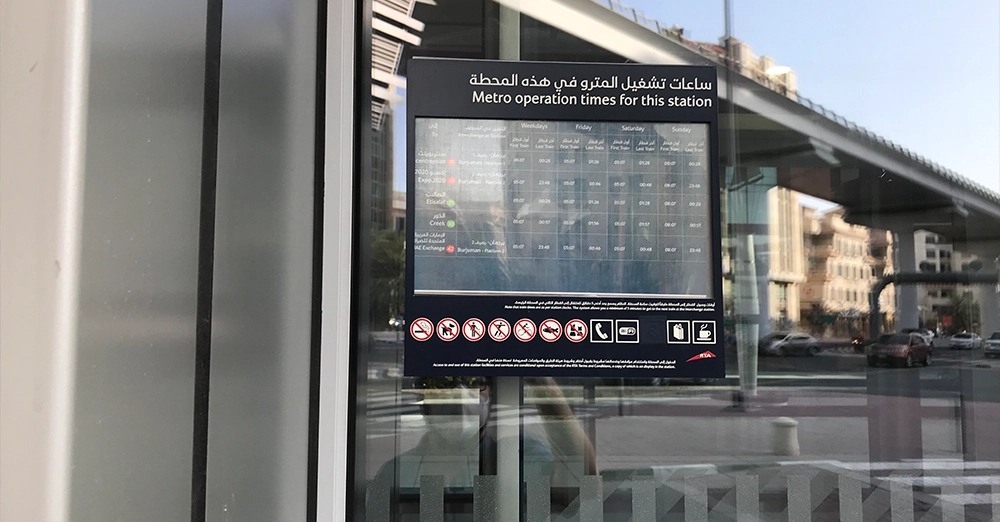 The metro is an excellent choice for travelers looking for reliable transportation options in Dubai. While the red and green lines may differ slightly in terms of route, they offer the same convenient timeframe.
At every metro station, posted arrival and departure times let travelers easily plan their rides.
Note that public holidays and events may affect station timetables, so always check for announcements from the RTA in advance.
Check the Dubai Healthcare city metro station timings below: [1] Government of Dubai, "Metro station opening hour, https://www.rta.ae/wps/portal/
| Days | Time |
| --- | --- |
| Monday to Thursday | 05:00 AM – 12:00 AM (Midnight) |
| Friday | 05:00 AM – 01:00 AM (Next day) |
| Saturday | 05:00 AM – 12:00 AM (Midnight) |
| Sunday | 08:00 AM -12:00 AM (Midnight) |
Services and facilities
Dubai health care metro offers various services and facilities to make traveling convenient and enjoyable for all passengers. The station is clean and organized, and the staff is friendly.
Additional facilities provided by the station are listed below:
Ticket machines: There are many ticket machines throughout the station, making buying tickets easy and fast. There are also automatic nol card recharge machines for people's convenience.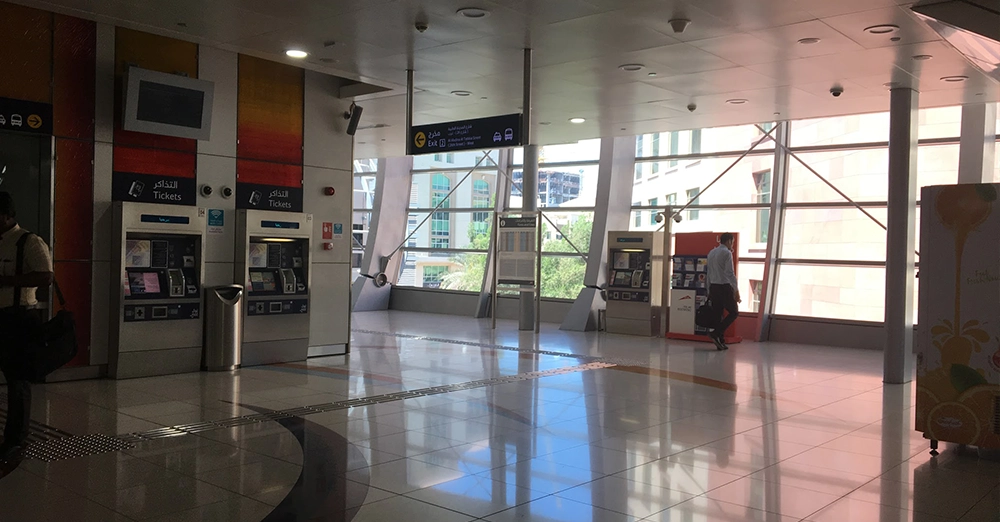 Zoom store: The station contains a Zoom store for travelers to quickly buy any food, drinks, or other items they need before their trip.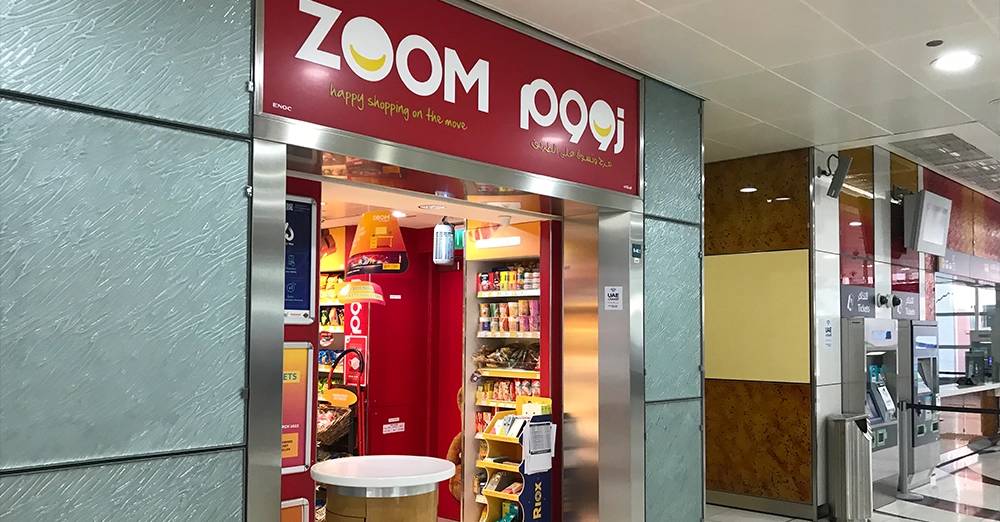 Lifts and escalators: There are escalators and lifts installed in the station for people who need special assistance. The station is wheelchair accessible.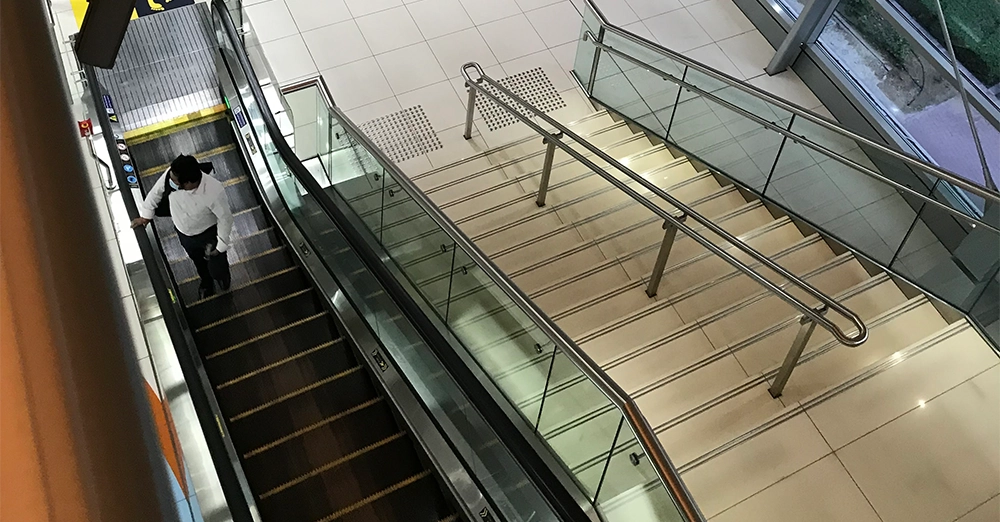 Information display: There's also an information display with the most up-to-date details about arrival and departure times, so everyone knows when their train arrives.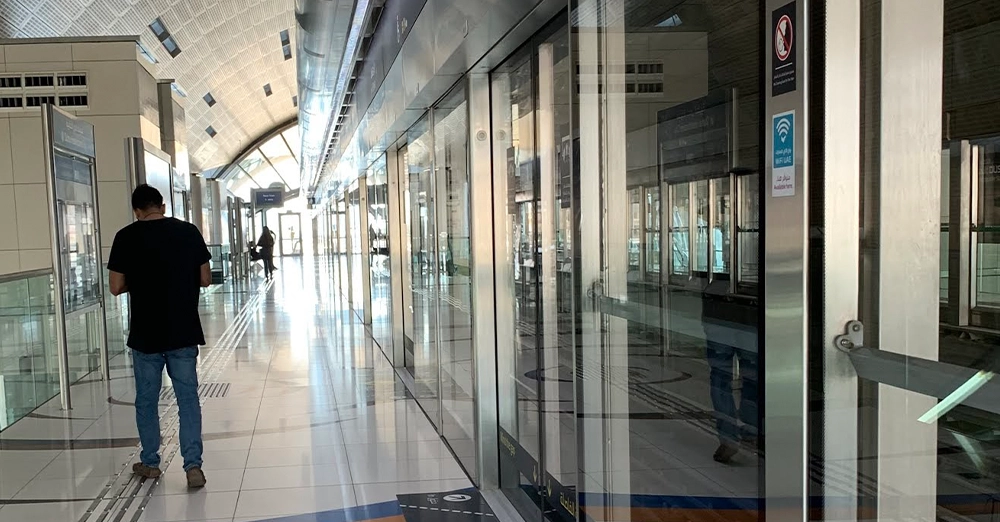 Attractions near Dubai Healthcare city metro station
The Healthcare City metro station in Dubai is an ideal location for anyone looking to explore the city's many attractions without having to travel too far. It provides quick and easy access to Dubai's most magnificent sights, including Dubai Creek and the Dubai Frame.
The metro station is also surrounded by hotels for those who wish to stay longer and shops and malls for shopping enthusiasts.
For nature lovers, there are even parks within walking distance from the station, such as Creek Park and Jaddaf Waterfront Park. Plus, there are several hospitals and clinics near the station.
Some places to visit near the metro station are listed below:
1.

Wafi City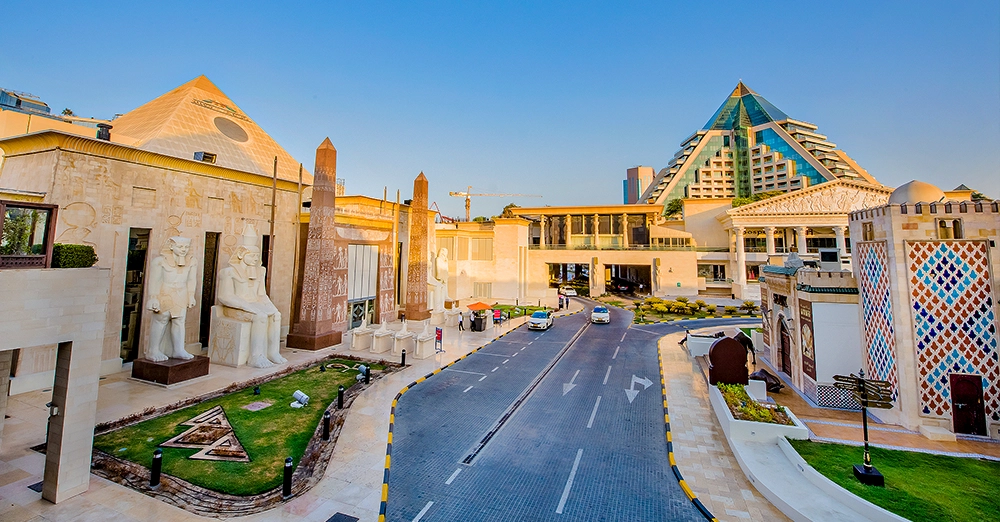 The luxurious shopping experience of Wafi City is a mix of Egyptian interiors with a modern touch. It is close to the metro station and only takes seven minutes to walk there.
From 10 AM to 10 PM, this exclusive shopping destination offers a mix of retail with over 250 stores. Not only are there plenty of options for shopping, but also numerous restaurants to choose from.
2.

Grand Hyatt Dubai
Grand Hyatt is a 5-star hotel located near the metro station. It offers various facilities for its guests' convenience, such as free internet, a spa, a swimming pool, and complimentary parking.
In addition to these conveniences, the hotel also provides room service and a digital check-in option. Furthermore, these services are designed to ensure guests' enjoyable stay.
3.

Creek park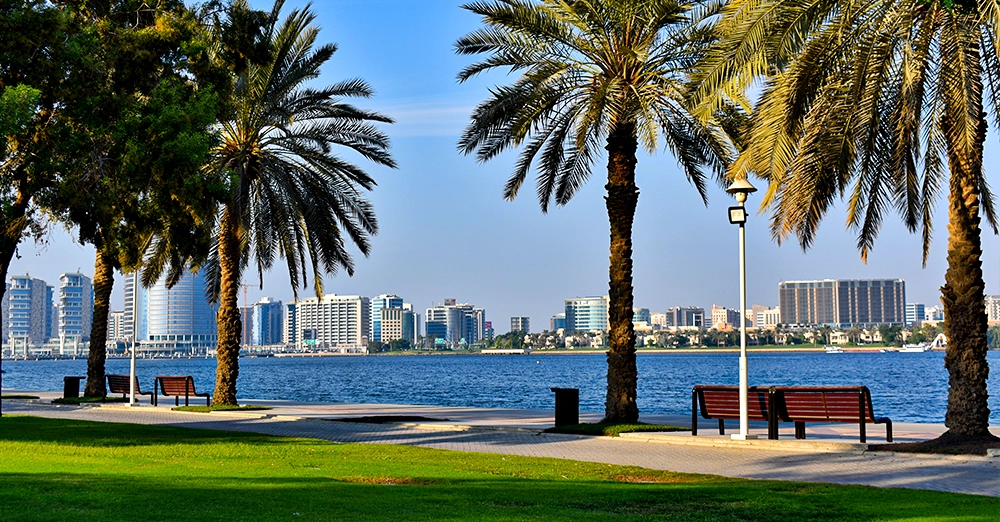 Creek Park is a picturesque waterside park located in the city's heart. The park features various amenities, including picnic tables, swings, slides, and public toilets. In addition, there are paid activities like dolphin and bird shows which will keep your children entertained.
Additionally, the park includes a separate BBQ area, karting tracks, cable cars, and a walking track. Thus, this park is the perfect spot for families looking to enjoy an outdoor adventure in nature.
Related Info
---
FAQs
How far is the Wafi mall from the Healthcare City metro?
Wafi mall is 600 meters from the Healthcare metro station. You reach there in 8 minutes on foot.
How can I reach the DMCC metro station from the Healthcare City metro?
You can reach the DMCC metro station by taking the green line metro from the Healthcare metro station to the Burjuman metro station. Then, transfer to the red line metro. It takes 48 minutes to reach by metro.
Which bus station is near the Healthcare City metro?
The nearest bus station to the Healthcare city metro is American hospital and Lamcy Plaza bus stop.
Which is the nearest metro station to Dubai Healthcare city metro?
The nearest metro station to Dubai Healthcare metro is Al Jadaf and Oud Metha metro station.
How to reach the Healthcare city metro station?
You can reach the Healthcare city metro station either by bus or metro. The bus lines C18, F18, F70, X25, and many other stops near this metro station.
Final thoughts
As a whole, the Dubai Healthcare City metro station is the greatest option if you need to get to a hospital in the area near the Dubai Metro. Its convenient location near numerous medical facilities benefits both patients and their families.
Furthermore, its proximity to popular destinations and tourist attractions makes it an excellent option for those exploring Dubai. With a wide variety of services available, this station is convenient for travelers looking to have a memorable time in Dubai.


Arijit Negi is an expatriate living in Dubai for 18 years. He completed his degree in Master of Arts in Journalism from the University of Mumbai. Arijit focuses on providing helpful guides and information for ex-pats living in UAE and visitors to the UAE.