A day at Nikki beach Dubai is an unforgettable experience. With its stunning location and world-class amenities, Nikki beach is the perfect place to escape the hustle and bustle of city life.
Nikki beach resort & spa Dubai, or simply Nikki Beach Dubai, is a top-class beach club located on the Pearl Jumeirah. The sophisticated venue offers an array of exciting activities, delicious dining options, and unbeatable views of the Arabian Gulf! The atmosphere there can be described as chic, relaxed & effortless.
In this Dbd guide, we will inform you about all the beach club's services and amenities. In addition, we will also provide good deals on booking rooms and reserving a table at its café.
Location of Nikki beach Dubai
Address: Pearl Jumeirah, Dubai, United Arab Emirates
Nikki beach club Dubai is located in a relatively isolated spot. Despite the isolation, the club isn't lacking in any luxurious elements. The amenities & services it provides are better tailored than most world-class resorts!
Its location is also ideal for enjoying the picturesque views of the Arabian Gulf. From sunrise to sunset, the place looks stunning, and the atmosphere is refreshing.
Nikki beach hours of operation
Nikki beach's operating time begins at 7 in the morning and lasts until 11 PM. But their multiple services operate at multiple times within this time frame. See below for more details. [1]Nikki beach, "Nikki beach Dubai, https://dubai.nikkibeach.com/#:~:text=INCLUDES-,Nikki%20Beach%C2%A0,Daily%3A%208%3A00am%20%E2%80%93%2012%3A00am,-Try%20our%20Favourites"
Nikki Beach: 11 AM – 8 PM from Tuesday to Sunday
Café Nikki: 7 AM – 11 AM (breakfast), 12 PM – 5 PM (lunch), 6 PM – 11 PM (dinner)
Soul Lounge: 8 AM – 12 AM every day
In addition, there are particular times for the New year. During New Year's Eve, the entire resort is open till midnight. A massive fireworks celebration occurs at midnight on January 1st to invite a new year.
About Nikki beach resort & spa Dubai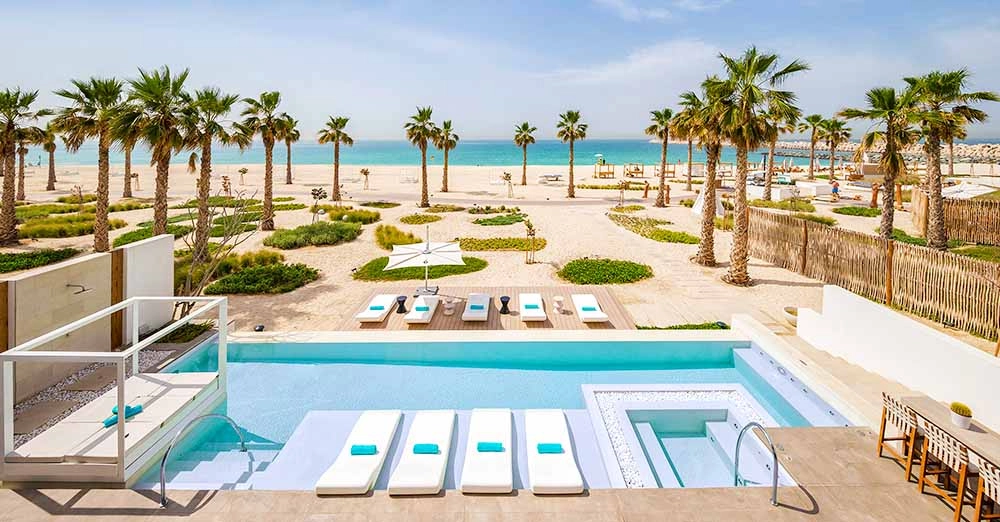 Established in 2016, Nikki Beach Dubai offers an unforgettable beachfront experience. Luxurious amenities and picturesque views make it easy to feel like a VIP. [2]Nikki beach, "About us, https://nikkibeach.com/about/#:~:text=Nikki%20Beach%20Story-,In%201998,-%2C%20entrepreneur%20Jack%20Penrod"
Nikki beach offers 117 rooms and suites to choose from. Moreover, the resort has 63 lifestyle residence units and 15 private pool villas.
Classic beach activities like lounging along the shores of the Persian Gulf and swimming amongst the stunning aqua-blue pools are a given. But there is far more to Nikki beach than just that.
You can capture precious memories while living lavishly like the influencers you see on Instagram. In addition, you will enjoy exclusive services like their wellness center, spa, fitness studio, private cabanas, and day beds.
Friendly services, tantalizing cuisines, music, lively events, and a stunning waterfront – these work in tandem to make it an oasis of luxury. It is a place to pamper and spoil yourself, making you never want to leave.
Facilities and services in Nikki beach resort & spa Dubai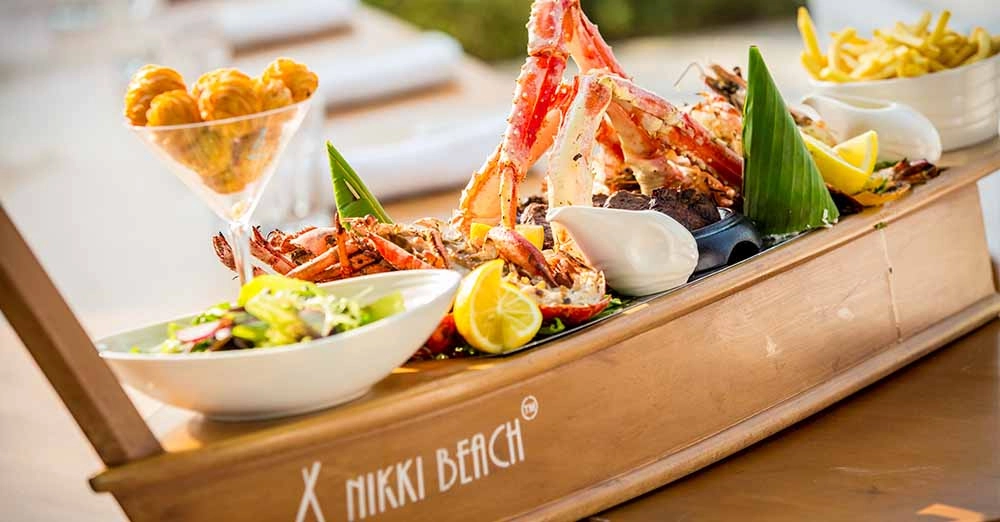 At Nikki beach club, they go above and beyond to give their guests the best experience possible! And for that, they provide a wide range of luxury services for relaxation and entertainment.
1.

Restaurants and bars at Nikki beach club Dubai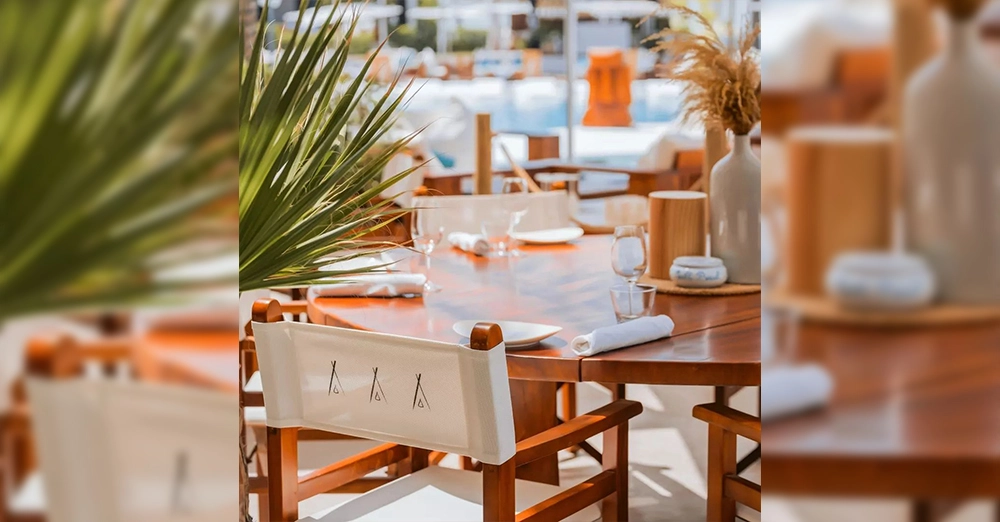 Nikki Beach offers an impressive range of international culinary experiences to suit any palate. A melding of global flavors, the menu consists of freshly-prepared seafood, healthy farm-to-table salads, and dishes crafted to be shared with friends and family.
Those who wish to experience something tantalizing should not miss their sushi and raw bar. And if that wasn't enough, they also organize amazing brunch every Sunday. It is a lavish feast with live cooking stations and lively entertainment to fill your stomach and heart.
2.

Nikki beach club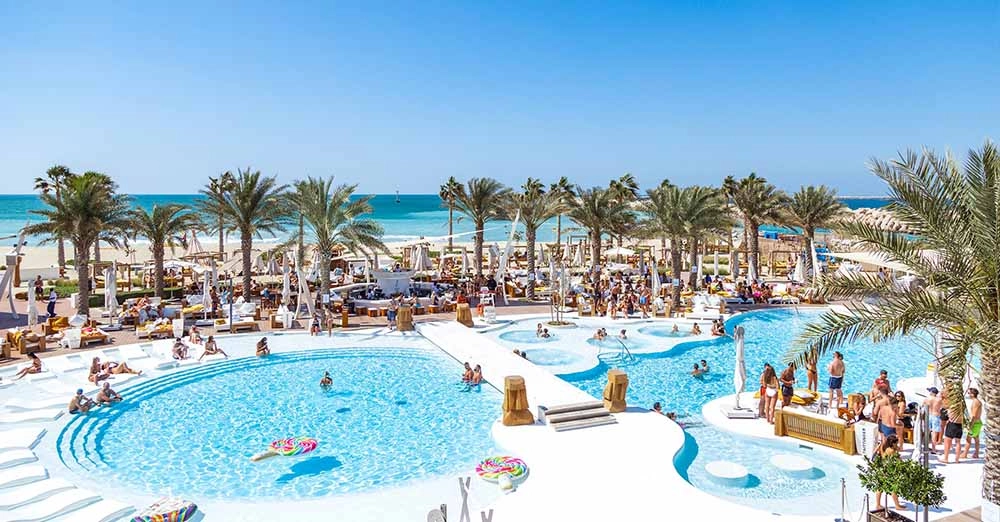 Nikki's core message is "Celebration of life." Such a message demands an atmosphere of pleasure, joy, and excitement. And they provide all of it via music and entertainment, among many other things.
This club is where guests can enjoy a memorable night out surrounded by amazing music, exotic cocktails, and beautiful people. They offer live music, DJs, live percussionists, aerialists, burlesque dancers, and more.
Two famous theme parties take place at Nikki Beach every year. A "White Party" occurs at the start of summer, and a "Red Party" near the end of it.
Music is a big part of the club experience, and they ensure that there is one for everyone's tastes. The music played at the club includes chill house, deep house, happy house, Latin house, and afro house music.
If you want to enjoy the Nikki Beach music on the go or at home, feel free to listen to their playlists on Spotify.
3.

Gym and spa at Nikki beach Dubai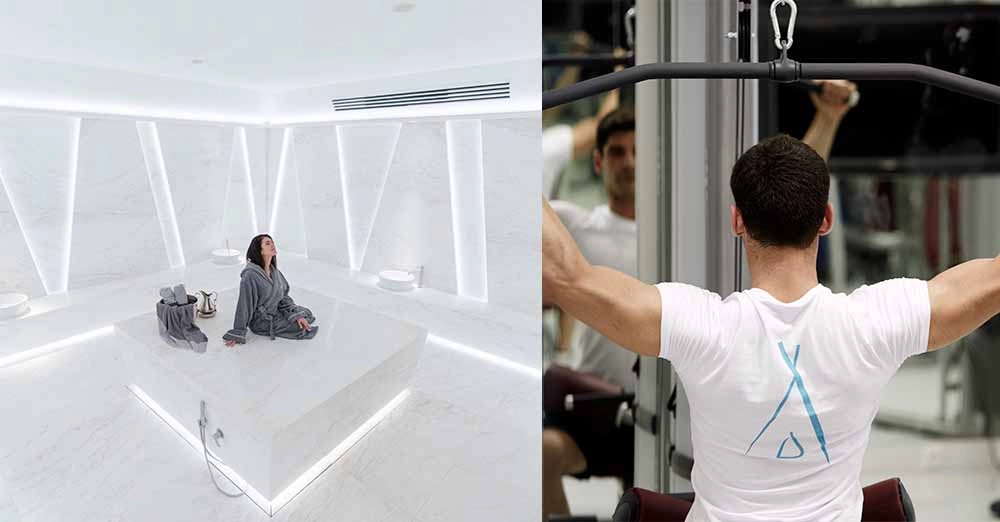 Nikki Beach Dubai's spa, which opens from 11 AM to 9 PM daily, is the perfect place for relaxation. It includes a sauna, ice fountain, mixed vitality pool, steam room, and indoor/outdoor lounges. [3]Nikki beach, "Spa & Leisure, https://dubai.nikkibeach.com/spa-leisure/#:~:text=attentive%20service.-,Nikki%20Spa,-11am%20%2D%209pm%3A%20%C2%A0%C2%A0%C2%A0″
There are suites for men, women, and couples! And don't forget to try some of their signature treatments, such as foot ritual, hot rock body, and scalp massage. Their talented spa experts provide specific treatments using only results-driven products.
If you're looking for something more active, their gym is open from 7 AM to 8 PM. It features state-of-the-art equipment and trains your strength, endurance, cardio, and balance.
Thus, you will get plenty of exercises and treat your body to some well-deserved pampering at Nikki beach.
4.

Nikki beach shop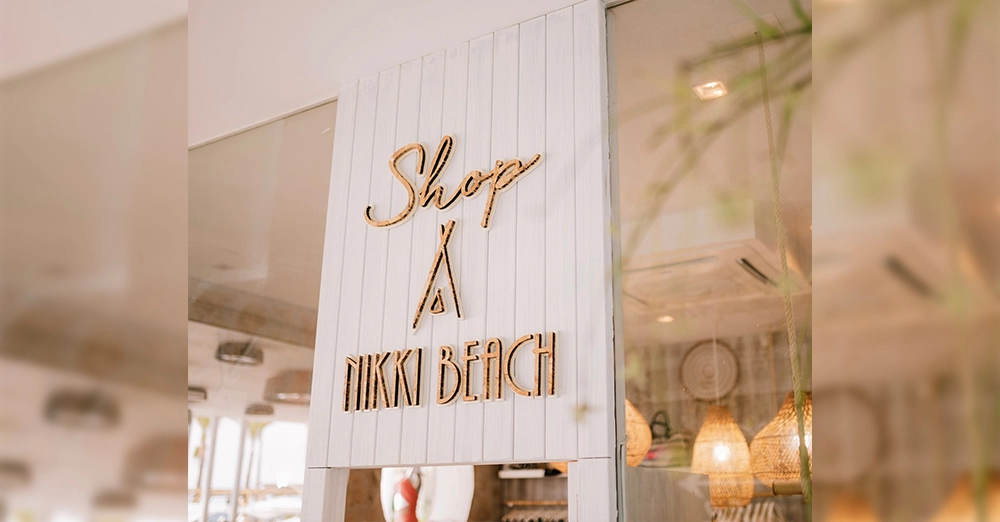 Nikki Beach's merch shop brings its exclusive style to your wardrobe. They've got a fantastic selection of breezy & chic resort clothing and beach clothes for men and women.
Exclusively designed swimwear and casual attire for outdoor adventures are the highlights of their shop. They also sell cool caps, hats, stylish sunglasses, shoes, and fashionable bags.
If you want your style to stand out from the crowd, you should check out their beautiful designer clothes!
Lastly, they also sell beachwear from the best brands – Beach Riot, Acqua de Luxe, Kayla Bikini, Montce, My Beachy Side, Norma Kamali, and more.
5.

Beachfront swimming pool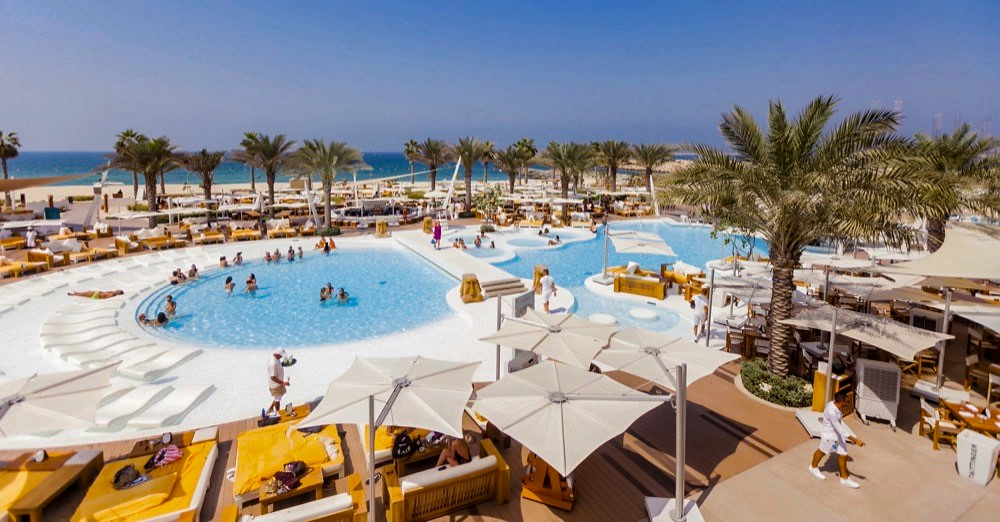 Nikki Beach's beachfront swimming pool is ideal for admiring panoramic views of the tranquil Arabian Gulf. This exclusive area is reserved for just hotel guests.
The 27-meter lap pool and a bubble pool feature an array of inviting amenities. Their sun loungers, beds, and cabanas give guests a personalized slice of a blissful, relaxing atmosphere.
Best of all, you will listen to music from hidden speakers while watching the spectacle of a stellar sunset each evening.
6.

Private pool villas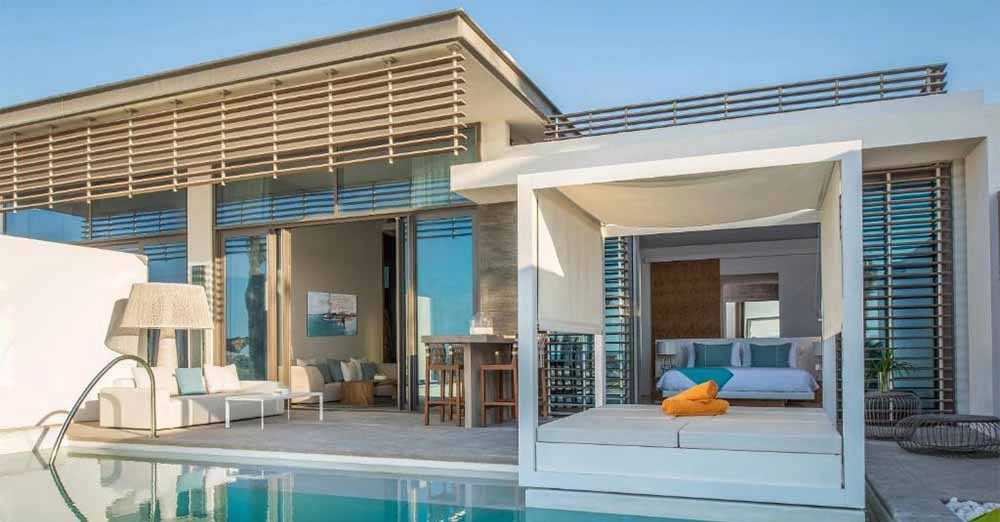 These villas boast mesmerizing views and have a luxurious terrace with outdoor seating, a private pool, and direct access to the beach.
Every detail has been perfectly crafted to keep luxury and comfort at its core.
One-bedroom garden villa with a king-sized bed
Two-bedroom villa with a king-size bed in one room and twin beds in another
Three-bedroom villa with living room area, dining table, and kitchenette
Every room features floor-to-ceiling windows and a separate living room with a dining table. The bathrooms have walk-in monsoon showers, oversized baths, and Malin & Goetz toiletries.
The entire experience is topped off with a "celebration" system featuring special lighting and Nikki Beach's music.
Nikki beach resort & spa Dubai deals
It costs quite a lot of money to experience all that Nikki beach hotel offers. But we have some fantastic deals that you may like. Click the links below to see the values:
When booking, choose the room that suits you and select the check-in and check-out dates. After that, provide your name, phone number, and other details at the check-out and wait for them to call back.
You have the option to pay it right away for immediate confirmation. But be quick when you book these rooms; they are limited, and many people want to book them too!
You must reserve a table for a delicious meal at Nikki beach restaurant & beach club Dubai. You can do so by clicking the link below:
Reserve a table: View menu
How to reach Nikki beach Dubai?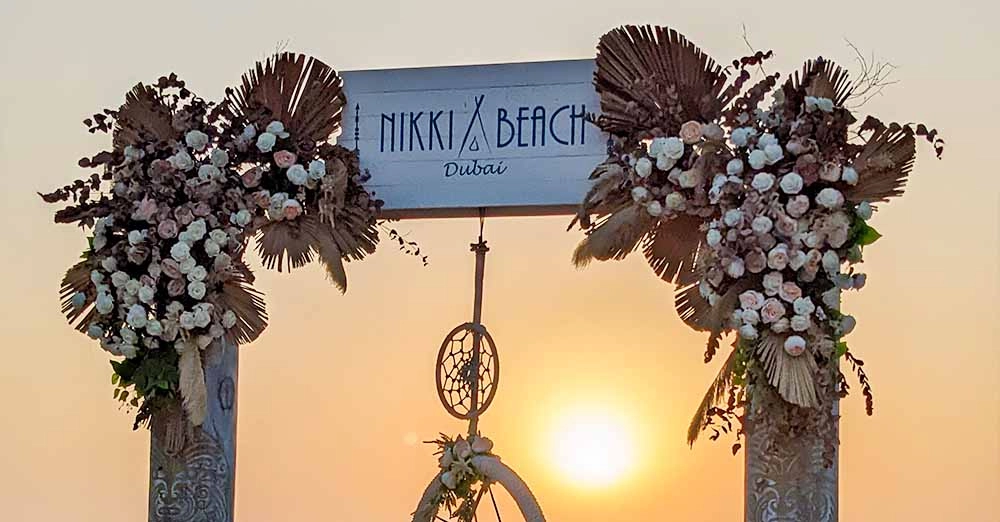 Nikki beach is located in Pearl Jumeira, a beachfront destination just off the coast of Dubai. There are three ways to reach it or at least get close enough. They are:
By bus
The closest bus stations to Nikki beach are the Executive Court bus stations 1 and 2. From there, Nikki beach is just over a 20-minute walk away. We do not recommend it if you cannot walk for that long, especially when the sun is up.
Similarly, the two Etihad Museum bus stops are also at a similar distance.
Bus station locations:
By taxi
Nikki beach hotel can be easily accessed by car or taxi from various locations in the city. Just ask a cab driver to take you there, and they will.
Likewise, plenty of shuttle services are available if you fly to Dubai International Airport.
And if you want to rent a car, there are many exotic or affordable cars that you can rent. Check out the following link to rent a car:
Rent a car: Dubai car rental
By metro
The closest metro station to Nikki beach is the Al Jafiliya metro station. However, the station is too far to reach the resort on foot.
But if you are traveling to Nikki beach from distant parts of Dubai, taking the metro and a taxi ride from there is a good idea.
Map: Get direction
Related Stories
---
FAQs
Is Nikki beach adults only?
Nikki beach allows children to only the restaurant and certain parts of the beach if their parents accompany them. But only those over the age of 21 are allowed during special events. [4]Nikki beach, "Support, … Continue reading
Do you have to pay for Nikki Beach?
No, there are no charges to enter Nikki Beach. But customers are required to spend a minimum amount. So it is not a completely free beach like many others in Dubai.
Can kids go to Nikki beach Dubai?
Yes, kids can go to Nikki beach. But they can only visit the restaurants and some outdoor areas. Plus, they must have their parents with them.
Where is Nikki beach located?
Nikki beach is located at Pearl Jumeirah in Dubai. It is a small island located just northeast of the Deira region.
How much is the Nikki beach Dubai entry fee?
The entry fee depends on the facilities you book. The lowest price at Nikki beach is AED 150 to reserve a single sun lounger on weekdays and AED 300 on weekends. [5]Nikki beach, "Bed prices, https://dubai.nikkibeach.com/wp-content/uploads/sites/5/2021/05/Nikki-Beach-Dubai_Summer-Rates_2021.pdf"
Final thoughts
Nikki beach Dubai is located slightly off the beaten path. But don't be discouraged. This location only serves to provide better views of the stunning Arabian Gulf.
The club looks impressive inside & out and offers a refreshing environment that you won't find at many other places. Other world-class resorts can learn a thing or two about luxury from Nikki beach resort!