Oud Metha metro station is located near many educational institutes and churches. This makes it the perfect spot for commuters who want to access schools or worship peacefully.
Oud Metha station is an elevated metro station near Al Nasr palace. This station is on the green line of the Dubai metro network. And it lies in fare zone 6. It also provides lots of services to its visitors.
This Dbd guide will help you navigate the Oud Metha station. You'll find information about nearby attractions, operating hours, and a schematic map of the area.
Overview of Oud Metha metro station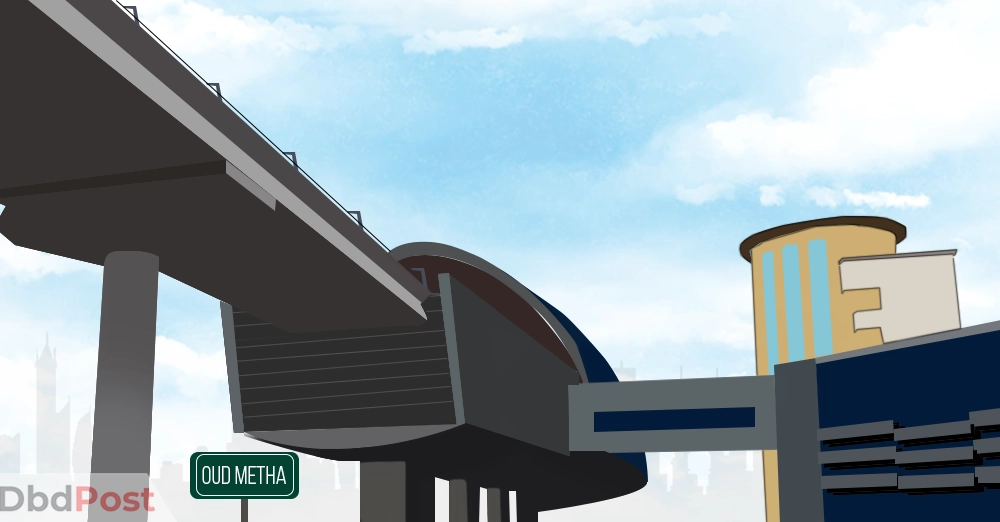 The Oud Metha metro station has been an integral part of the Dubai transportation system since September 2011, connecting riders to various destinations. It is close to the iconic Dubai Media Inc., which is a complex with some of the region's largest media companies based inside. [1]Khaleej times, "Life made easier as the Green Line opens, https://www.khaleejtimes.com/article/life-made-easier-as-the-green-line-opens-2″
| | |
| --- | --- |
| Location | Oud Metha Road, Dubai |
| Line | Green line |
| Station code | G27 |
| Fare zone | 6 |
| Preceding station | Dubai Healthcare City metro station |
| Following station | Burjuman metro station |
| Transfer station | No |
| Dubai Tram connection | No |
| Previous name | NA |
Location of Oud Metha metro station
The Oud Metha metro Dubai is strategically located in the buzzing community of Bur Dubai. It's an excellent location for locals and visitors to the city, as it's close to several hotels, hospitals, and educational institutions.
Additionally, to arrive at this station, you can take a variety of RTA buses departing from the closest bus stops, or you can take the metro. In addition, you can also take a taxi to and from this metro stop by making a reservation.
Location: Oud Metha Road, Dubai
Oud Metha metro station schematic map
For travelers and commuters looking to navigate Dubai efficiently, the Oud Metha station schematic map is helpful. Users can quickly locate and identify this station on the map.
In addition, other stations are also marked on the map for reference, providing a comprehensive overview of the train network.
Here is the schematic map of the metro station: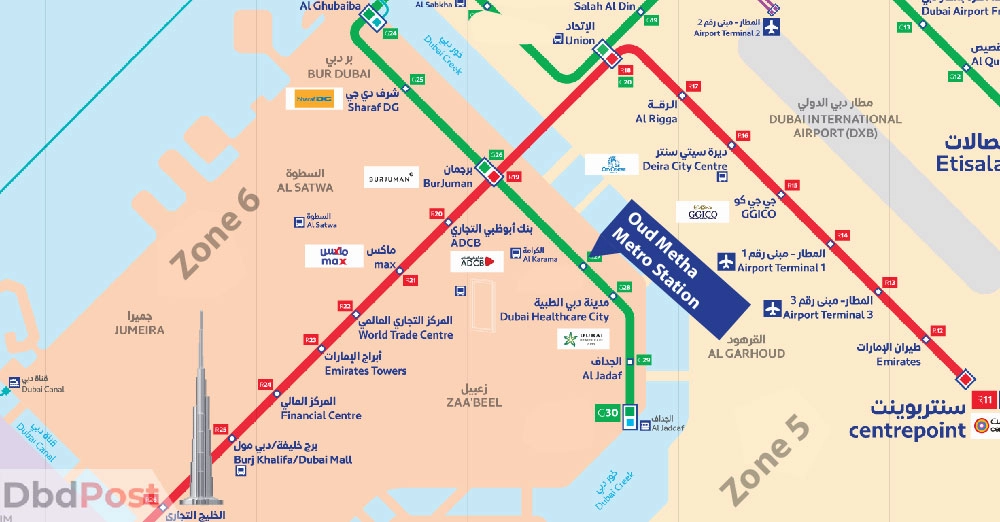 Oud Metha metro station timings
Oud Metha station is the same as all other Dubai metro stations regarding timings. This station provides reliable service to its customers throughout the week.
Although these timings may vary on public holidays, so be sure to keep updated on the official RTA website.
Furthermore, the first and last metro times at different stations may vary, so checking the metro schedule before confirming your travel plans is essential.
Here is the timetable of this metro station: [2] RTA, "Metro station opening hour, https://www.rta.ae/wps/portal/rta/ae/public-transport/timetable#DubaiMetro:~:text=Metro%20stations%20opening%20hours(for%20All%20lines)"
| Days | Time |
| --- | --- |
| Monday to Thursday | 05:00 AM – 12:00 AM (Midnight) |
| Friday | 05:00 AM – 01:00 AM (Next day) |
| Saturday | 05:00 AM – 12:00 AM (Midnight) |
| Sunday | 08:00 AM -12:00 AM (Midnight) |
Services and facilities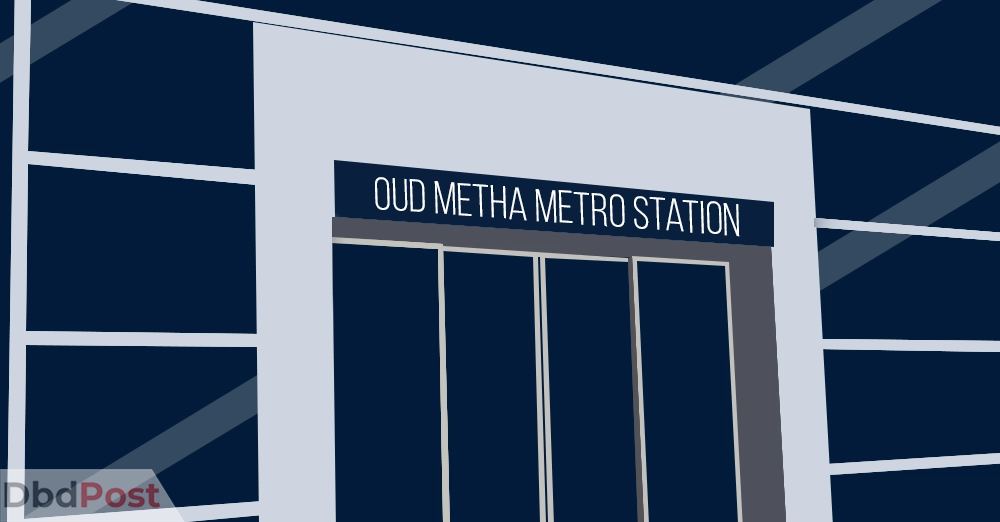 The Oud Metha station is one of the ideal hubs for public transportation in Dubai, offering visitors various services and amenities to ensure a comfortable trip. The staffs at this station are very helpful to the customers.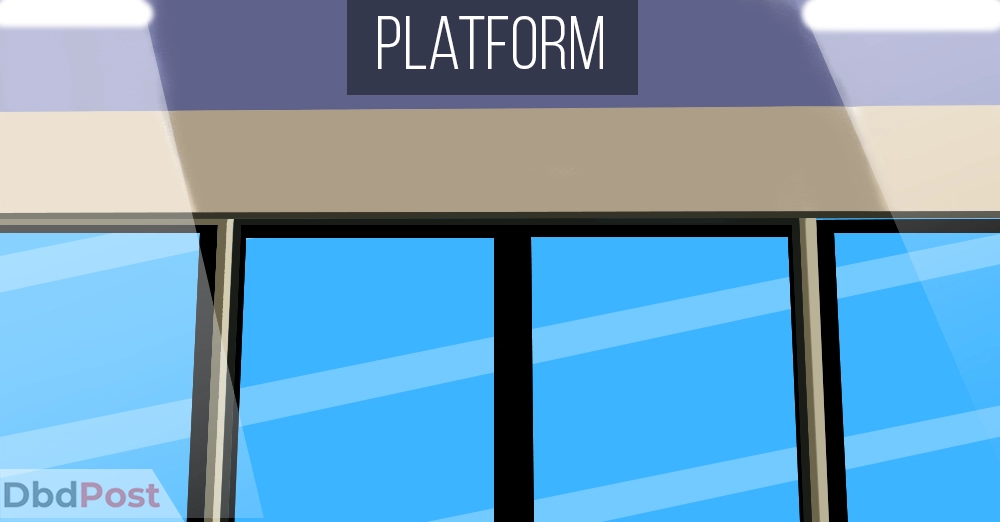 Additionally, it allows passengers to purchase and recharge their nol cards within the station, allowing them to get around the city quickly. There are also ticket machines to buy tickets easily. Plus, the station provides free public Wi-Fi.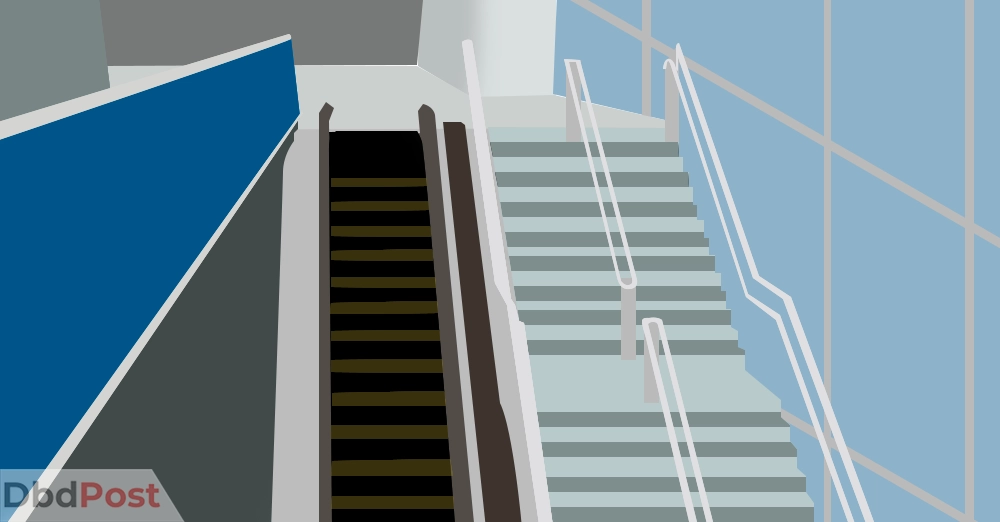 Furthermore, elevators and escalators are available to help travelers of all abilities navigate the station's various platforms. Also, the station has a variety of shops and convenience stores where you can buy snacks before leaving.
Attractions near Oud Metha metro station
Oud Metha station is located in the bustling centre of Dubai. People will find a lot to do when they visit this station. Various places, like a fishing pier with a great Dubai Creek view, parks, hotels, restaurants, and schools, are nearby. There are also hospitals in case people need medical attention.
Some places to visit near this metro station are:
1.

Kudla restaurant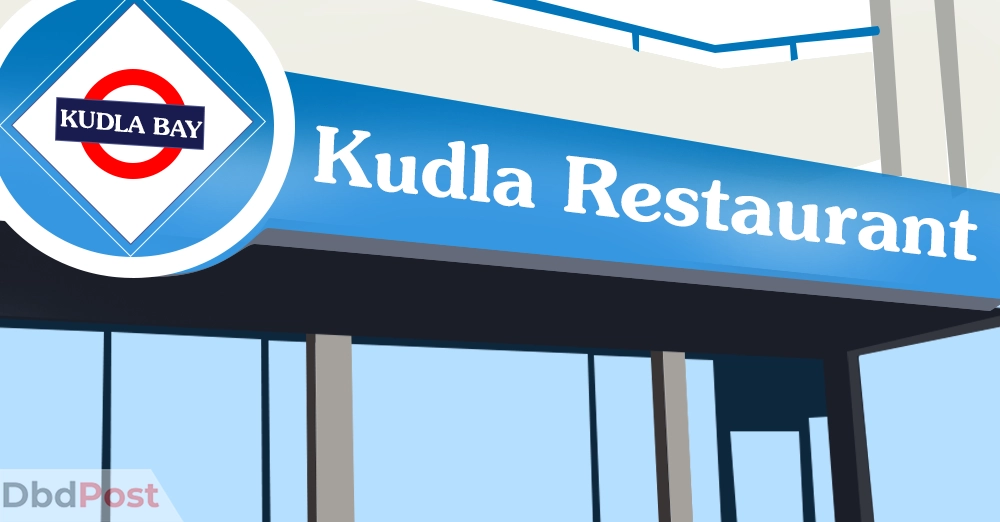 Similarly, at this restaurant, you'll be able to enjoy Mangalorean cuisine as well as great seafood. You can expect good quality and quantity of food at budget-friendly prices. Plus, the staffs are all friendly and helpful, making the dining experience even nicer.
2.

St. Mary's catholic church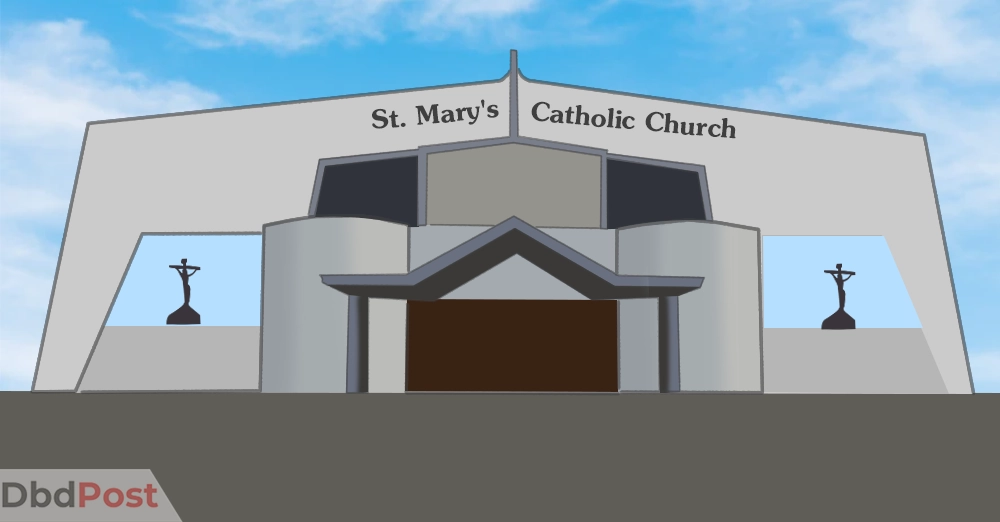 The busy and beautiful St. Mary's Catholic church is a short distance from the Oud Mehta metro station. The church provides many services, including a Catholic school.
The church also hosts mass in different languages every day. In addition to the English mass, there are also masses held in Arabic, Tamil, Urdu, and French for individuals who prefer to participate in their language.
Additionally, the church has wheelchair-accessible parking and an entrance to serve its large attendance. The church opens 30-45 minutes before mass and closes 30-45 minutes after it to make it easier for visitors to attend.
3.

Oud Metha metro park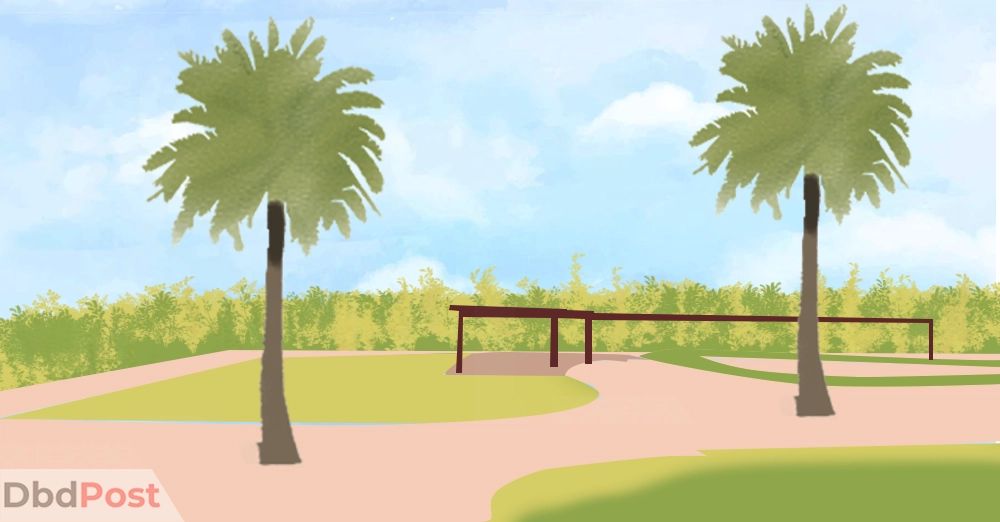 Oud Metha metro park is the perfect spot for visitors to relax and enjoy themselves with their family, friends, and children. It features facilities for toddlers that include swings and slides along with enough seating.
The park has an interior walking path for people to walk or jog. There are also washrooms and wheelchair-accessible parking to make it easy for everyone to visit the park.
Related Info
---
FAQs
Which line is Oud Metha station?
The Oud Metha station is on the green line of the Dubai metro system. It serves Umm Hurair and the Al Nasar area.
What are the closest bus stations to Dubai's Oud Metha metro station?
The closest bus station to oud Metha station is Oud Metha metro bus stop 1& 2, Rashid hospital, Rashid hospital roundabout 2, and Oud Metha bus station 1-4. They all are within short walking distance from the Oud Metha metro.
What are the bus routes nearby the Oud Metha station?
The bus routes that provide services nearby Oud Metha station are 6, 10, 14, 23, 28, 33, 44, 61D, 66, 67, C04, C05, E16, and F18. These buses route different parts of Dubai, making it easier for travelers to reach their destinations.
Which metro station is near Oud Metha station?
The nearby metro station to Oud Metha station is Burjuman and Dubai Healthcare city metro station. Both metro stations can be reached within 5 to 6 minutes by metro.
How do I reach Oud Metha station from the Stadium metro station?
You can take a metro or bus from the Stadium metro station to reach the Oud Metha station. The buses C04, 22, 23, and 33 will take you to the Oud Metha station. If you want to get there faster, you can take a taxi. The journey should only take 15 minutes.
Final thoughts
Oud Metha metro station and its surroundings are great places for visitors to explore the city. Whether you want to relax in the park, attend mass at the church, or take public transport, there is something here for everyone.
With the different facilities this station provides, it can be a great place to start your journey to other parts of Dubai.
If you find this guide helpful, make sure to bookmark it for future reference.