Traveling to and from the Salah Al Din metro station can be difficult, especially if you're unfamiliar with the area. Since there are so many residential buildings and hotels nearby, it's not surprising that this station is often crowded.
Salah Al din metro station Dubai is an underground metro station located in Deira close to Reef mall. This station is on the green line of the Dubai metro serving the surrounding area. It lies in fare zone 5.
This guide contains an overview of Salah Al din station with its location, operating hours, and nearby attractions. Furthermore, this guide also includes a schematic map of the station that is useful for navigating one's way through it.
Overview of Salah Al Din metro station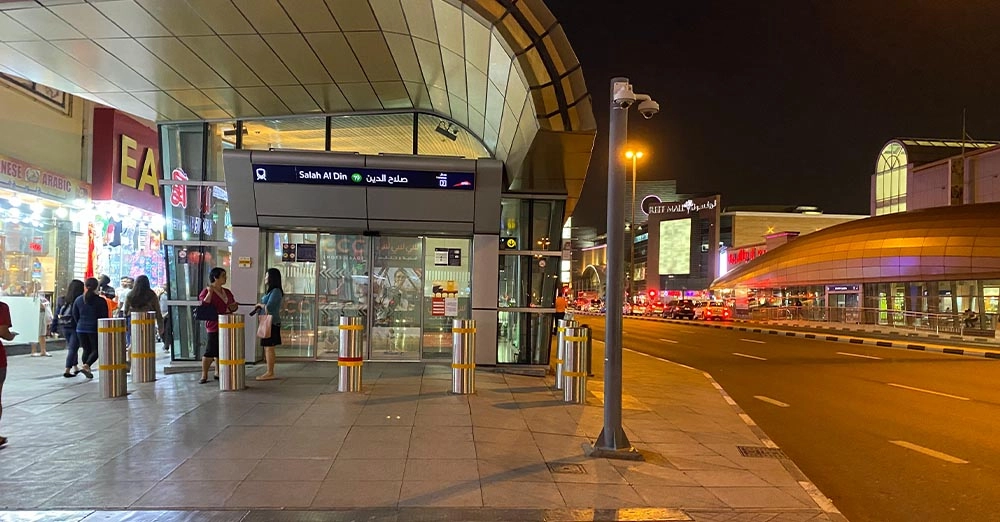 Salah Al Din station has been providing efficient transportation to the citizens since its inception in September 2011. As the metro dives beneath the city from the station, it transports countless travellers and offers them access to many places. [1]Khaleej Times, "metro green line to open on September, https://www.khaleejtimes.com/article/metro-green-line-to-open-in-september-3#:~:text=The%20Metro%20line,passengers%20per%20hour."
Upon reaching the Union metro station, passengers can conveniently transfer from one metro line to another. The green lines offer extensive coverage of various locations around the urban area, making Salah Al Din station a primary gateway for commuters and tourists alike.
Likewise, the Salah Al Din station is set to become the third busiest in Dubai during the first half of 2022 by serving a massive 2.5 million riders.
| | |
| --- | --- |
| Location | Deira, Dubai, United Arab Emirates |
| Line | Green line |
| Station code | G19 |
| Fare zone | 5 |
| Preceding station | Union metro station |
| Following station | Abu baker AL Siddique metro station |
| Transfer station | No |
| Dubai Tram connection | No |
| Previous name | NA |
Location of Salah Al Din metro station
The Salah Al Din Metro Station is a prime location for anyone accessing major public transportation in Deira. It is conveniently surrounded by popular shopping malls such as Reef Mall, Ansar Gallery, and Al Ghurair Centre.
Additionally, the station is within reach of many buildings with offices, hotels and more, making it ideal for business trips and leisure activities. In case you need medical attention in this area of Deira, the Prime Medical Center is also located near the station.
Location: Deira, Dubai, United Arab Emirates
Salah Al Din metro station schematic map
Salah Al Din is the central hub of the Dubai metro. The station is marked on the map, so visitors can easily find it and figure out how to get there. The map also shows other stations on the red and green lines. This will help you see how the stations are connected.
Check the schematic map of the metro station below: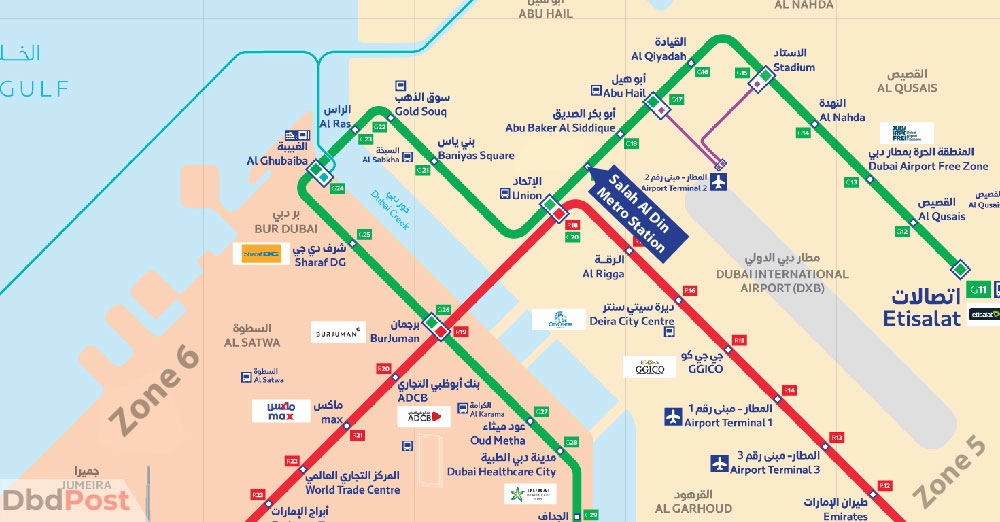 Salah Al Din metro station timings
Salah Al Din metro station has consistent and reliable timings like all other metro stations in Dubai. Passengers can expect trains to arrive at each station simultaneously each day. However, the metro times may differ on special occasions or holidays.
Additionally, the times of the trains' first arrivals and last departures are also subject to being different. Before boarding a train, you should always check the timetables to ensure you have the most up-to-date information.
Here, you can see the detailed metro station timings: [2] Government of Dubai, "Metro station opening hour, https://www.rta.ae/wps/portal/rta/ae/public-transport/timetable#DubaiMetro:~:text=Metro%20stations%20opening%20hours(for%20All%20lines)"
| Days | Time |
| --- | --- |
| Monday to Thursday | 05:00 AM – 12:00 AM (Midnight) |
| Friday | 05:00 AM – 01:00 AM (Next day) |
| Saturday | 05:00 AM – 12:00 AM (Midnight) |
| Sunday | 08:00 AM -12:00 AM (Midnight) |
Services and facilities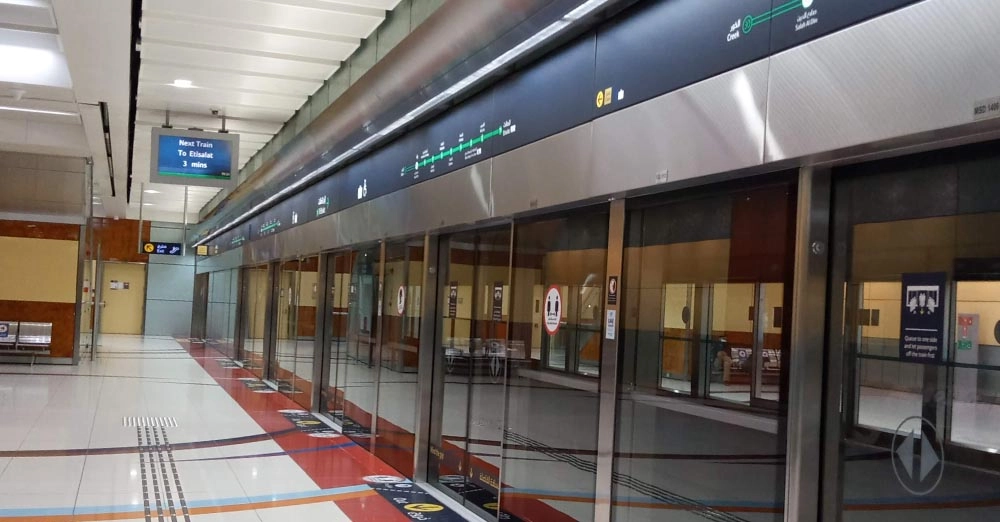 Salah Al Din station is an iconic landmark on the Dubai Metro green line, showcasing modernity at its best. Not only does it boast a stylish and contemporary design, but efficient use of space and advanced technologies have made it one of the most user-friendly stations in the area.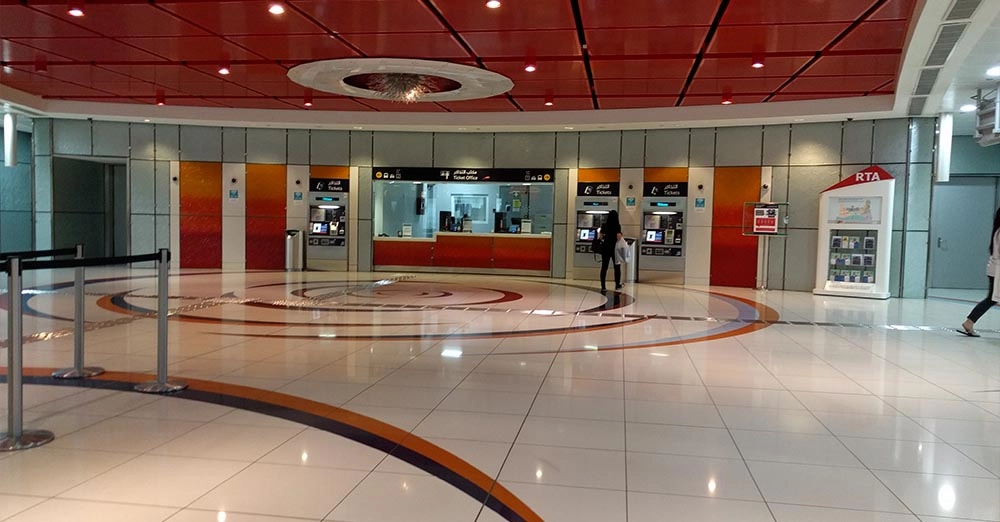 There are convenient ticket offices and machines where you can get tickets for your journey and a UAE exchange where you can swap currencies. Plus, there are also nol recharge and top-up machines.
See also: Check out our guide on how to recharge NOL card – here.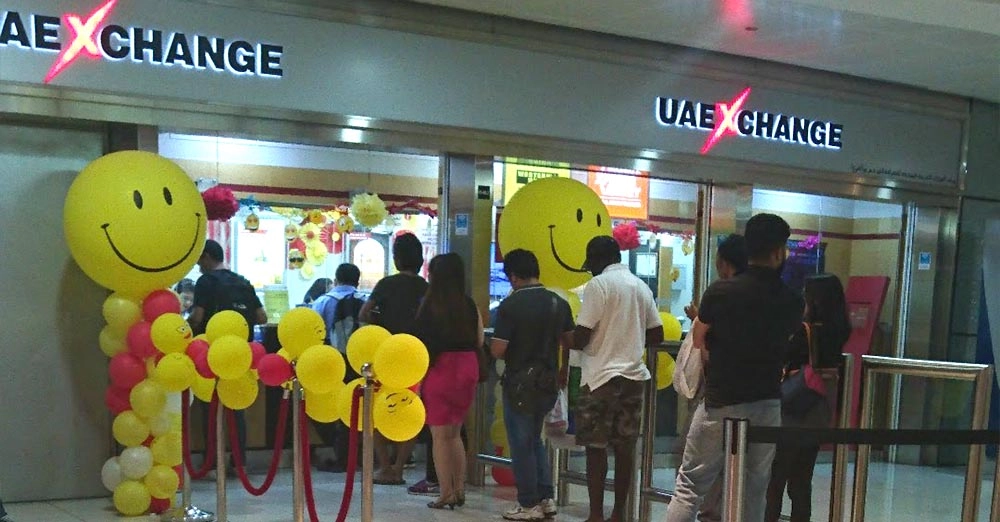 The station has an information desk where you can ask queries, and the staff will help and assist passengers. Likewise, there are escalators and lifts for easy access to different levels. And if you need snacks or drinks, you can go to the Zoom store.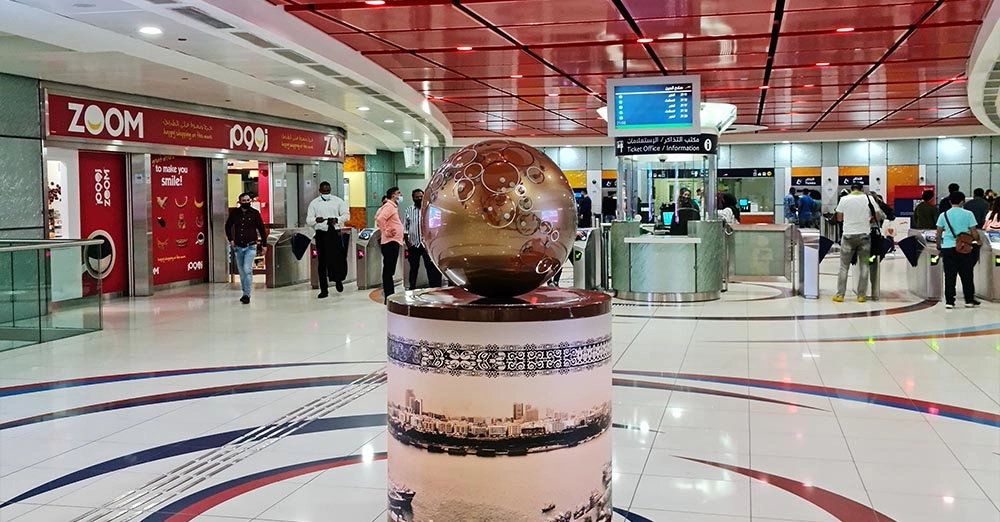 Attractions near Salah Al Din metro station
Salah Al Din Station, situated in the heart of bustling Dubai, offers commuters convenience and variety. This location is filled with stores, restaurants, and hotels within walking distance. From supermarkets to fast food chains and from malls to clothing outlets, you will find what you are looking for here.
Some other places to visit if you are around the metro station are:
1.

Ansar Gallery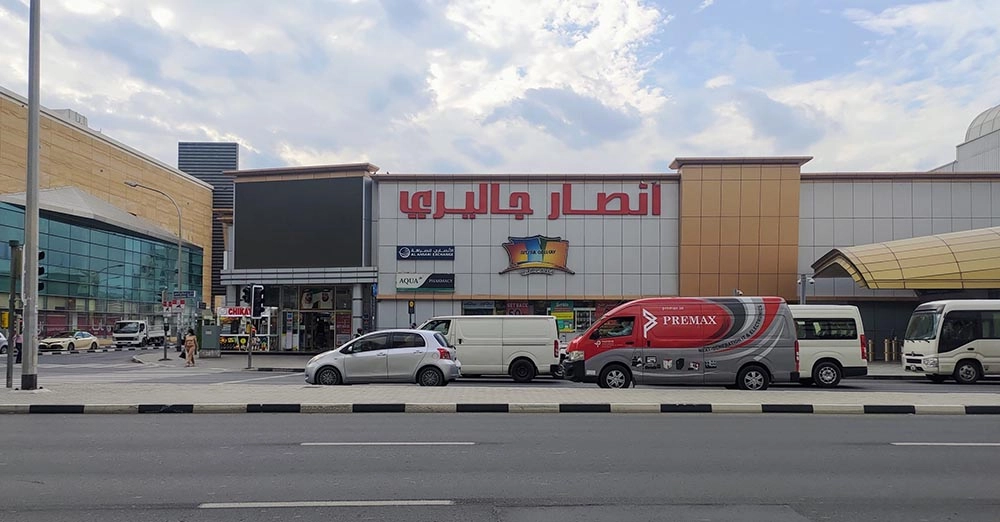 Ansar Gallery is an ideal solution for shoppers seeking convenience and value. It is located near Salahuddin station, a modern shopping complex with something for everyone.
Additionally, this mall is a great place to find various things, like clothes, electronics, crockery, medicine, jewelry, and food. There's also a place to exchange money and get fresh produce such as fruits and vegetables.
2.

Chef Wong restaurant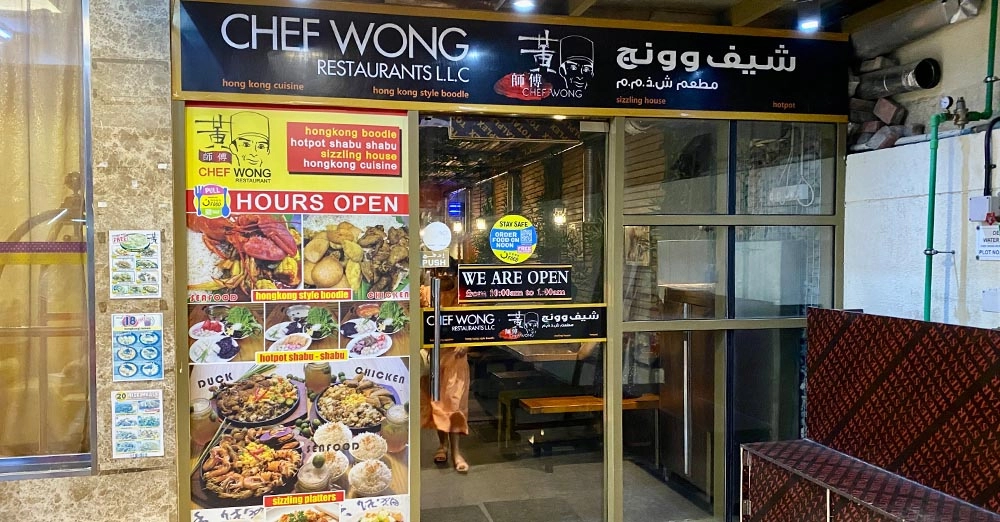 Chef Wong restaurant is the perfect spot for individuals looking for a delicious mix of Chinese and Asian fusion cuisine. The restaurant is known for its high-speed service and polite staff, treating each guest with the highest respect.
Additionally, this restaurant also serves Philippines cuisine. Guests can select from beef, chicken, and seafood entrees and different flavors of Ramen noodles and other soups.
3.

Salman Farsi Masjid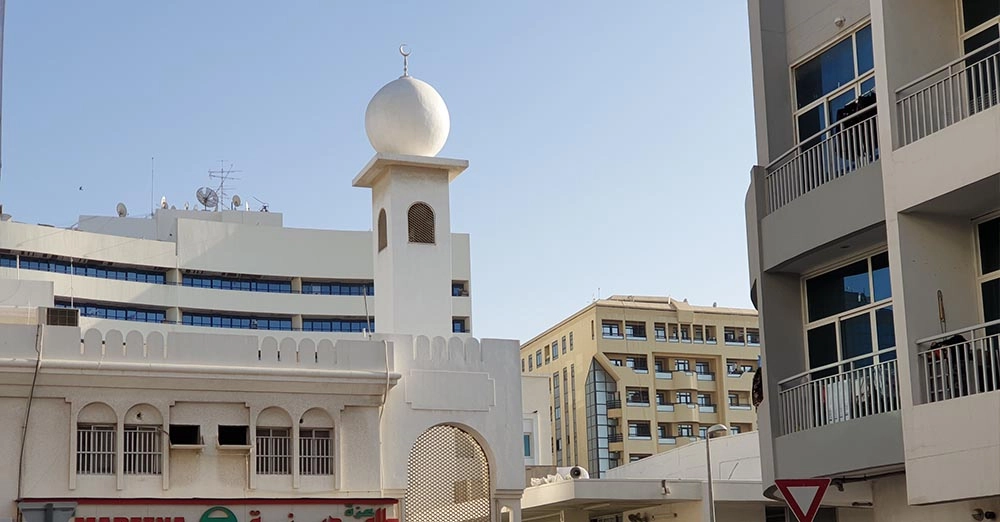 The Salman Farsi masjid in Dubai is easily accessible as it is only a four-minute walk from the metro station. It remains open 24 hours a day for visitors.
This masjid was initially established by a Khwaja family member over 40 years ago. It has provided spiritual solace for people to come together for worship for many years. Sheikh Abdul Munim and Abdul Aziz are well-respected ex-imams of this remarkable place.
Related Stories
---
FAQs
Which bus station is near the Salah Al Din metro station?
The nearest bus station to Salah Al din station is Salah Al Din metro bus stop 2, Sal Al Din metro bus station, and Deira fish roundabout 2.
Which is the nearest metro station to Salah Al Din station?
The nearest metro station to Sal al din station is Union metro station. It is about 900 meters away and takes 3 minutes on the metro. It would take about 12 minutes to walk there.
How to reach Burjuman from Salah Al Din station?
You can reach Burjuman by taking the green line metro to the Union metro and then transferring to the red line metro. The red line will drop you off at the Burjuman metro station. Also, you can take the green line metro directly to the Burjuman metro station.
Which bus line stops near Salah Al Din station?
Several bus lines near Salah al-din station will take you to different parts of Dubai. The bus lines are 5, 10, 11A, 13, 13A, 17, 27, 43, 91A, F01, and C28. They are all operated by the RTA in Dubai.
How can I reach Dubai mall from Salah Al Din station?
There are three ways to reach Dubai mall from Salah Al din station. You can take the metro, bus or taxi. The bus lines 10 and 27 go directly to the Dubai mall. You can also take a taxi if you want to get there faster. It takes around 19 minutes to reach by taxi.
Final thoughts
The Salah Al Din metro station in Dubai is ideal for exploring the city. It has a range of facilities available such as shopping malls, restaurants, and mosques, not to mention the abundance of transportation options which can take you further into the city.
Moreover, it even offers innovative machines and other services such as escalators, wheelchair-friendly washrooms and lifts, making it a suitable option for all travelers. These modern amenities at Salah Al Din Metro Station make venturing around Dubai quickly and enjoyable.


Arijit Negi is an expatriate living in Dubai for 18 years. He completed his degree in Master of Arts in Journalism from the University of Mumbai. Arijit focuses on providing helpful guides and information for ex-pats living in UAE and visitors to the UAE.