DIP is a thriving business district that has become the go-to destination for companies. Companies in DIP benefit from the district's state-of-the-art infrastructure and strategic location.
DIP offers a perfect blend of modern facilities and accessibility. It is an ideal place for businesses of all sizes and industries. Some of the best Dubai DIP companies are Blue Rhine General Trading, Hidayath Group, Hotpack, and more.
Our team has researched, analyzed, and evaluated several Dubai Investment Park companies based on reputation, customer reviews, and the services they offer. Our informative guide will comprehensively look at the best companies in DIP.
16 best companies in DIP
DIP is a self-contained mixed-use community. The companies in DIP provide many services to people in the community and beyond.
1.

Blue Rhine General Trading
Blue Rhine has been a leading provider of signage, advertising, and LED solutions in the Gulf Cooperation Council (GCC) region since 1996.
The company operates distribution centers, warehouses, and stores in UAE, Saudi Arabia, Oman, Kuwait, Qatar, and Bahrain, offering a range of well-known brands such as Plexiglas, Lexan, Yearlong, Astariglas, Intercoat, Philips, JHF, and Fujifilm.
Additionally, Blue Rhine has its own highly sought-after brand, 'Rhine.' Their products are available through their extensive network of facilities across the GCC, catering to the region's dynamic market demands.
Products/Services
Bluerhine provides an array of services to its clients. They specialize in tailored solutions to meet the demands of their customers.
Some of their services are:
Bluerhine store is a B2B online marketplace for their products.
Free Delivery
Customer Service online and offline
International shipping for small and large-scale cargo
2.

Hidayath Group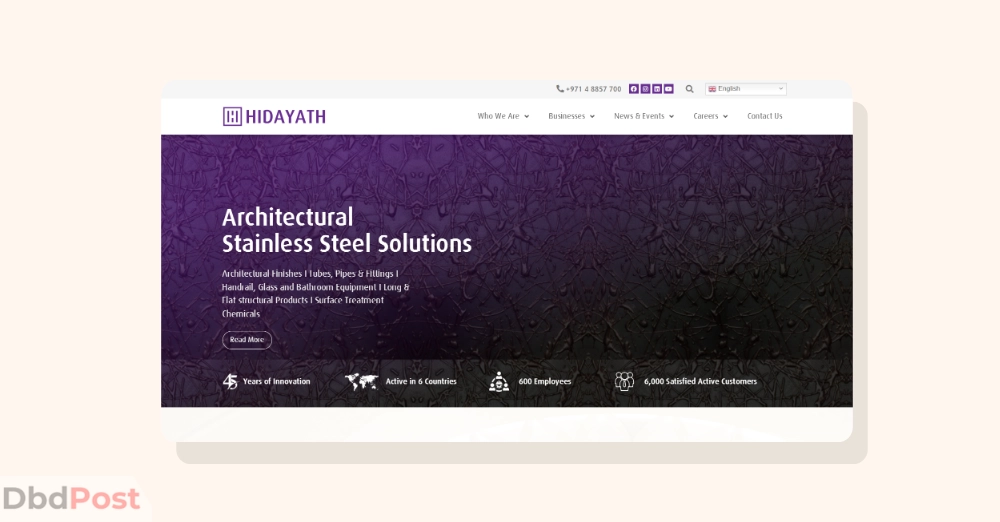 The Hidayath Group, established in 1976, is a globally recognized ISO 9001-2008 certified company with a presence in over 20 countries across five continents.
As a pioneer in manufacturing stainless Handrail Equipment and Glass Fittings, the company has earned a reputation for delivering high-quality products to over 6,000 active customers.
Committed to sustainability, the Hidayath Group drives innovation in its manufacturing processes. This, combined with their exceptional product offerings, has solidified their position as one of the leading companies in DIP.
Products/Services
Hidayath provides an array of services to its customers. Some of their services include:
Stainless Steel & Allied Metals, services such as Waterjet Cutting, CNC Punching, Pickling, and more.
Architectural Solutions like architectural finishes, tubes & pipes, and more.
Industrial Metal Fabrication
3.

Sterling Parfums Industries
Sterling Parfums, founded in 1998, is a leading fragrance manufacturer and distributor with a global reach.
As one of the largest perfume companies in the Middle East, Sterling Parfums produces a range of perfumes, deodorants, aerosols, and beauty products, with an annual capacity of up to 120 million pieces.
When choosing Sterling Parfums, customers can be confident in the quality and safety of their products. The company is dedicated to providing high-quality products, reflected in its certifications.
Moreover, Sterling Parfums is certified by GMP, ISO, and Halal, ensuring that their products meet rigorous standards for safety and comply with Islamic law.
Products/Services
Sterling Parfums has different perfumes and cosmetic brands. Some of them are:
Armaf
Hamidi Oud & Perfume
Jenny Glow
Oros
Flavia
Just Jack
4.

Hotpack Global
Hotpack Global, established in 1995, is a leading provider of food packaging solutions. The company offers various packaging products for multiple industries, including retail, hospitality, healthcare, pharma, and construction.
As the largest manufacturer of diversified products in the region, Hotpack Global utilizes paper, aluminum, and plastic to meet the needs of its customers.
With twelve manufacturing plants spanning over two million square feet, and 25 locations across the Middle East, the UK, North America, and Africa, Hotpack Global is well-positioned to serve the diverse needs of the global market.
Products/Services
Hotpack Global has several food packaging products. Some of them are:
Paper products like Paper Cake Box, Sweet Box, Paper Straw, and more.
Aluminum Products like Aluminum foil, Aluminum Platter, and more.
Plastic Products like Plastic Bakery, Ice-cream bowls, and more.
Eco-friendly products like bio-degradable containers, bowls, and more.
5.

Depa Group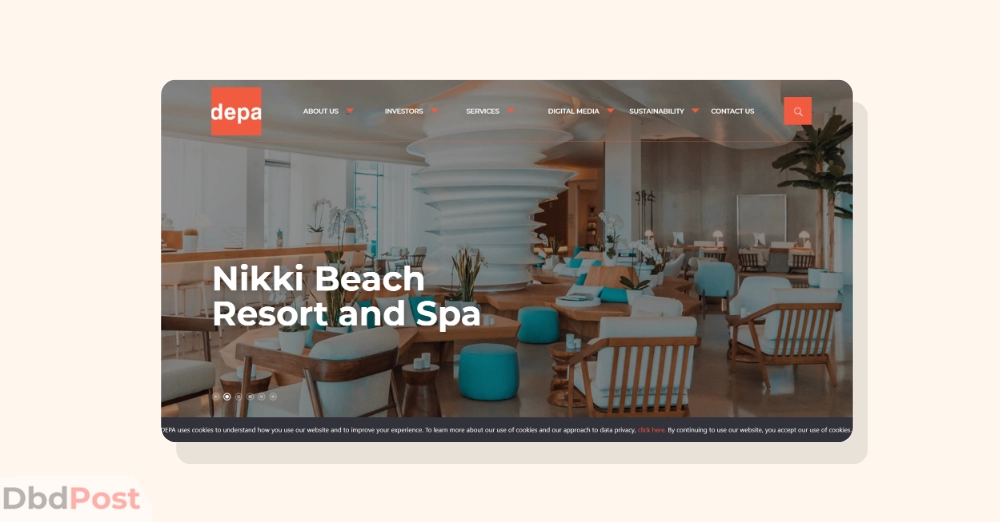 The Depa Group is a well-established leader in the interior solutions industry. With a solid international presence and headquarters in the UAE, the company is listed on the NASDAQ Dubai.
Comprised of three Key Business Units: Depa Interiors Group, Deco Group, and Vedder, the Depa Group employs thousands of people worldwide.
Each subsidiary is dedicated to providing exceptional services and quality products, and the company is committed to delivering outstanding results through its many partnerships worldwide.
Products/Services
Depa Group provides a range of services to clients. It is one of the best construction companies in DIP. Some of their notable services are:
Interior Contracting, where they provide interior design solutions for clients.
Stone Supply and Installation, where they provide clients with quality marble, granite, and more.
Manufacturing Facilities
6.

GI Movers – Dubai Movers and Storage Company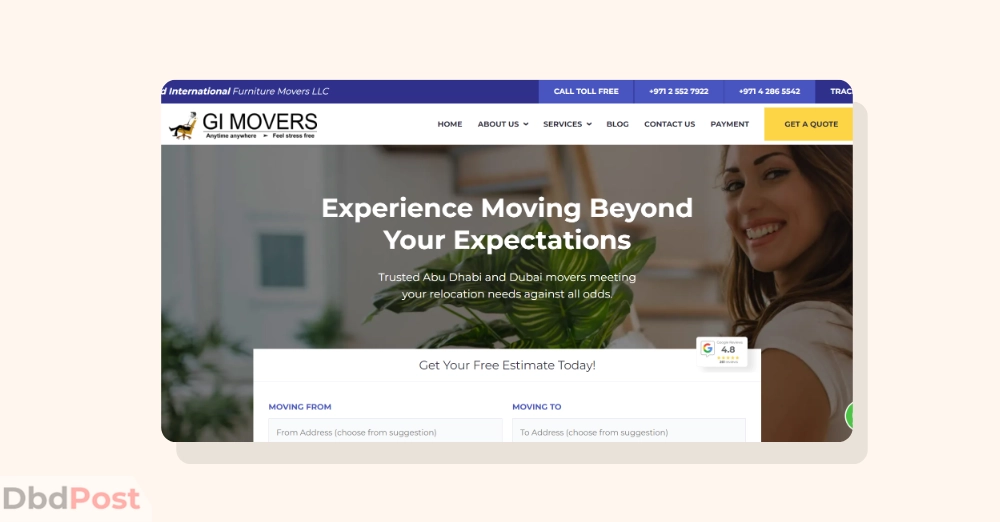 GI Movers is a leading moving company. Their staff is highly trained in furniture dismantling, packing, removal, and reassembling. This level of expertise ensures professional packing services for your items, avoiding damage or loss.
The ISO has approved their technology and is constantly updated to the latest standard. In addition to home moves, their fleets of vehicles can help relocate your office.
They have been trusted by international companies such as Harley Davidson and Etihad Airways. They also have regular contracts with government departments.
Products/Services
GI Movers provide top-notch relocation services. Some of their services include:
Home Relocation
Office Relocation
Furniture Reconfiguration
Furniture Installation
Cargo Loading / Offloading & Transport
University and Library Relocation
7.

FAMCO Al-Futtaim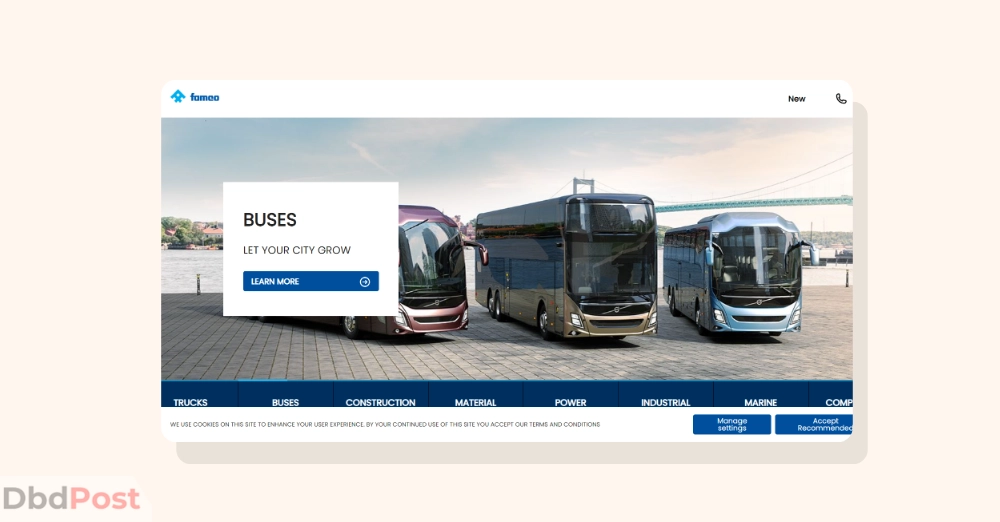 Al Futtaim Auto and Machinery Company (FAMCO) was established in 1978 in the UAE. They provide supply and service of heavy vehicles to industries in various sectors.
FAMCO is the sole Volvo trucks, buses, and construction equipment distributor. They also provide for other internationally acclaimed brands like Yanmar, Doosan, and Himonisa.
They offer storage and handling solutions, power and industrial, and marine solutions. Their reputation for excellence is widely respected throughout the UAE.
Products/Services
FAMCO supplies heavy machinery and vehicles to clients. Some of their products include:
Trucks and Buses
Compressor
Industrial Equipment like Air Compressor and material handling
Construction Equipment like excavators and pavers
8.

Global Shipping And Logistics LLC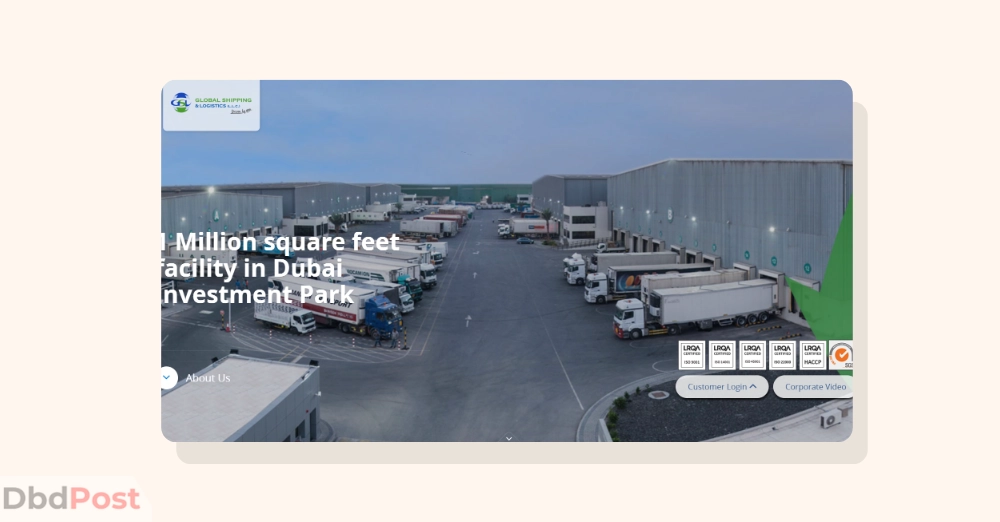 Global Shipping & Logistics (GSL) Dubai is a part of the Al Shirawi Group of companies. It has been driving towards supply chain excellence with its 'Driven by You' tagline since 1975.
GSL has 700 employees and 160,000 pallets in Dubai Investment Park and Dubai Industrial City today. It is a one-stop-shop service provider for clients in any industry.
GSL is dedicated to understanding and fulfilling its client's needs with a focus on quality.
Products/Services
GSL provides a range of services to its clients. Some of their services include:
International Freight
Customs Clearance
Distribution Services
Port Haulage
Cold Chain Warehousing
9.

Harrow Security Vehicles – Armored car manufacturer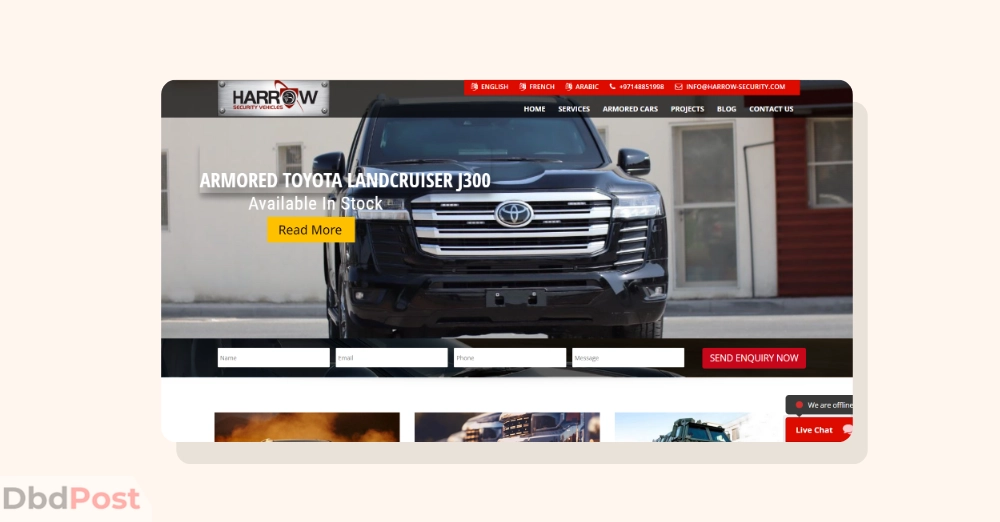 Harrow Security Vehicles is a premier manufacturer of armored vehicles established in 2012. Harrow has experience developing armored vehicles for passenger, commercial, and military use.
Their innovative turn-around bulletproofing concepts are comprehensive. They only work with the best materials and have decades of research and experience. This has helped to design and create a vast range of armored vehicles.
Moreover, their experience, research, and clientele make Harrow the go-to company for armored vehicles.
Products/Services
Harrow Security produces several armored vehicles. Some of them are:
Armored SUV
Armored Ambulances
Armored Buses
Pickup Trucks
Bullet Proof Cars
10.

La Ronda Emirates (Notions Group)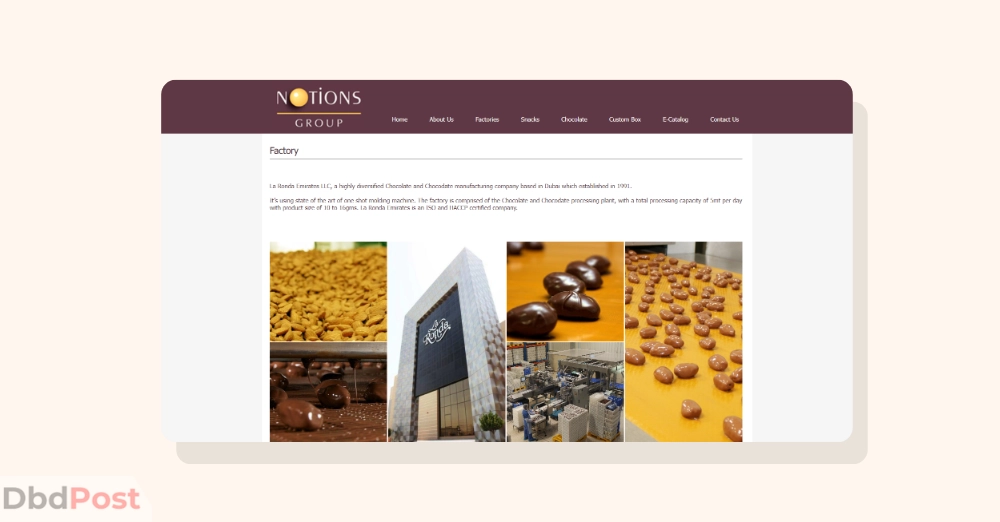 La Ronda Emirates is a key component of the Notions Group, founded by CEO Fawaz Masri. The company's mission is to offer quality products that blend heritage and modernity, focusing on maintaining high hygiene and safety standards.
La Ronda Emirates continues to create memorable moments of joy for people of all ages with its unique delicacies and iconic brands.
The company is a preferred private label partner for brands such as Mars, Carrefour, Lulu, Aldi, and Burj Khalifa.
With its innovative products, the Notions Group has gained recognition globally and is expanding rapidly.
Products/Services
La Ronda Emirates' chocolates are popular among people. Some of their renowned products are:
Chocolate
Wishes
Arabian Delights
11.

Best Food Company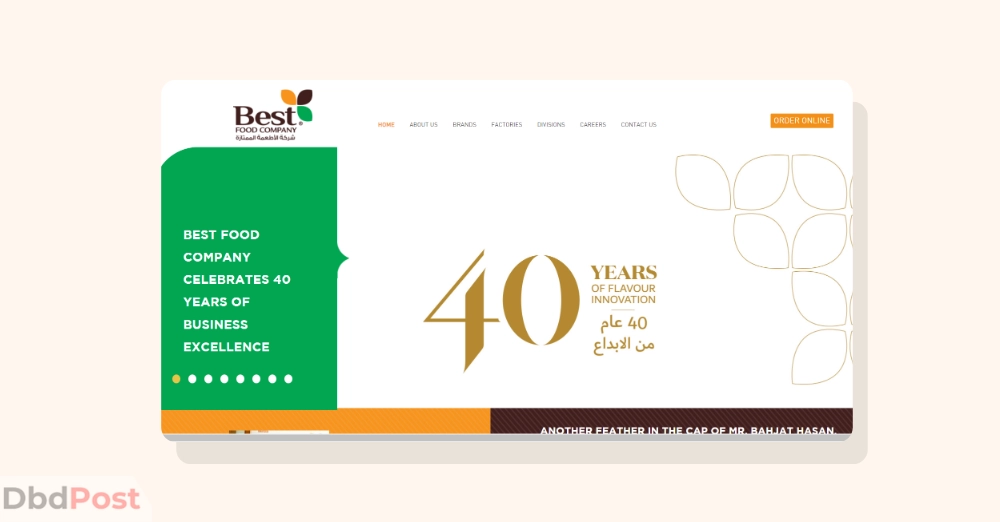 Bestfood has been the market leader for branded nuts in the Middle East since its founding in 1979. They offer a wide range of nuts and chocolates to meet diverse tastes.
The company boasts an extensive infrastructure with 128,600 square feet and over 600 skilled employees. Besides, two divisions, Nuts, and Chocolate handle manufacturing to ensure quality control.
Bestfood has certifications and prioritizes quality. These impressive standards contribute to Bestfood's position as the leading brand for nuts in the region.
Products/Services
Bestfood has several of its brands. Some of them are:
The Best Nuts: It is a package of nuts like salted Cashews, Pistachios, and more.
Tamrah: It is dates and golden roasted almonds enrobed in pure chocolate.
Pekanz: It is pecan nuts covered with indulgent chocolate.
12.

IQ Robotics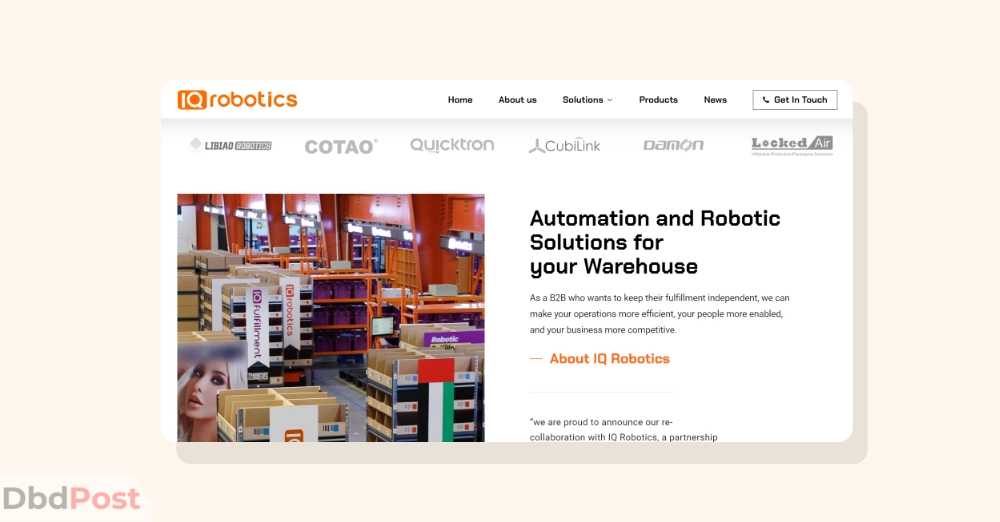 IQ Robotics was established in 2019 to revolutionize the supply chain and logistics industry. It has a dedicated team of professionals worldwide with expertise in cutting-edge technology.
The company offers innovative solutions such as Picking Robots and Sorting Robots to improve the efficiency of the logistics industry.
As consumers have high expectations for technology to provide better solutions, IQ Robotics is committed to making groundbreaking advancements in robotics.
Products/Services
IQ robotics offers several services to its clients. Some of their services include:
Robotics
Automation
Software
13.

Shafar Interiors Co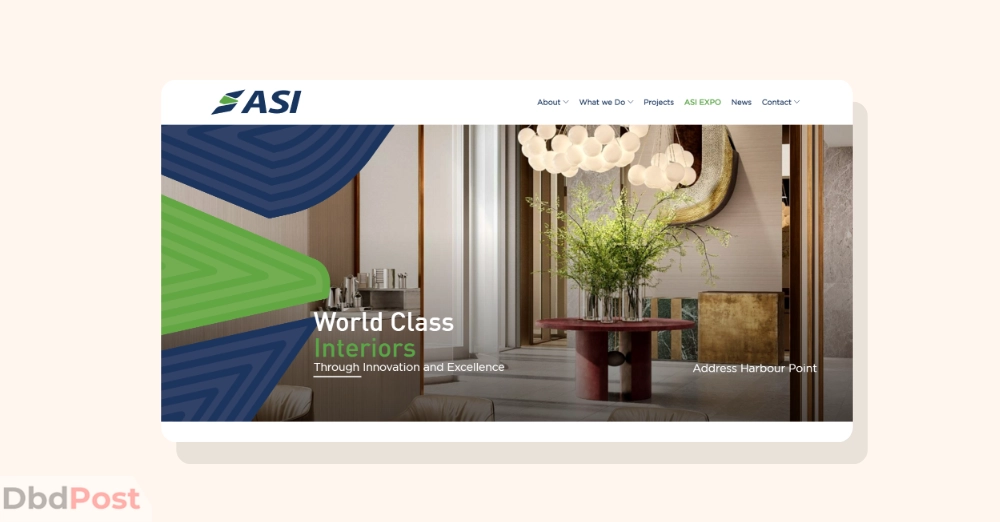 ASI is dedicated to providing its clients with the highest fit-out solutions possible. ASI creates solutions that meet their needs while keeping projects on time and within budget.
The company also prides itself on its reliability and commitment to quality. This has earned the trust of customers looking for a dependable finish.
Moreover, the team at ASI ensures that all safety standards are met, giving our customers peace of mind.
Therefore, collaborations with ASI result in lasting relationships and repeat business. Their commitment to exceeding expectations makes them one of the best companies.
Products/Services
ASI offers different services to its customers. Some of their services include:
Turnkey Fit Out
Joinery
Refurbishment
14.

Food Emporium
Food Emporium is a top player in the FMCG market of the GCC. They offer quality distribution and processing services to meet their customers' demands.
Their warehouse spans 100,000 sq ft and can store up to 3700 pallets, utilizing German and French technology for top-notch logistics management.
Food Emporium's resources guarantee the safe and efficient handling of goods for their customers. It's a reliable choice for the best food services in DIP.
Products/Services
Food Emporium has four core areas in distribution and processing. They are as follows:
Retail
Food Service
Industrial Bakery
Wholesale
15.

Al Khayyat Investments (AKI)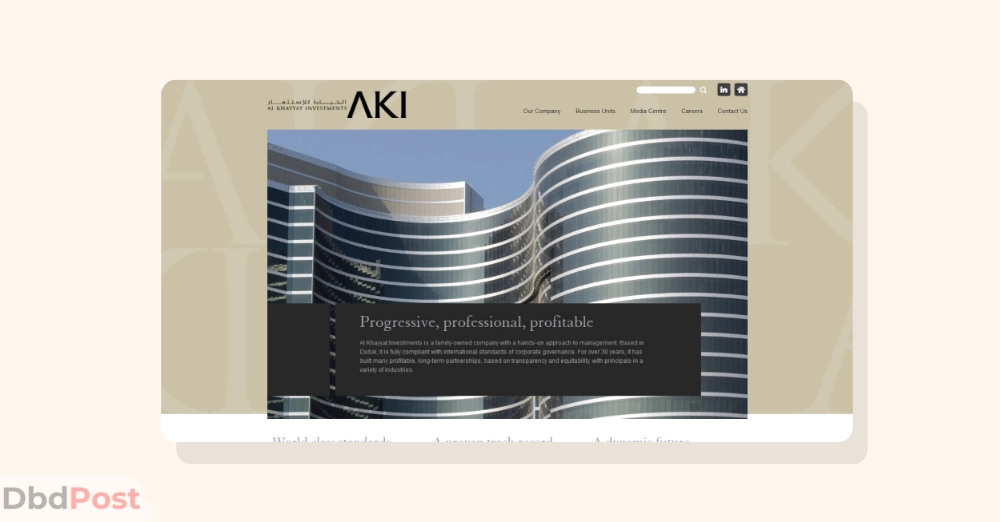 AKI is a top company known for delivering high-quality business practices. They have a diversified portfolio across Pharmaceuticals, Medical Equipment, FMCG, Retail, Hospitality, Fitness, Environmental Services, Automotive, and Strategic Investments.
Moreover, AKI is a trusted partner in the region with a strong commitment to excellence and a well-developed infrastructure and logistics center. They believe in investing in people, which drives their successful results.
Products/Services
AKI provides services through its business units. The business units have partnerships with many global partners and brands.
Their business units are:
Retail
Health care
Client Concept
Contracting
Environmental Services
Automotive
Investments
16.

Crown Relocations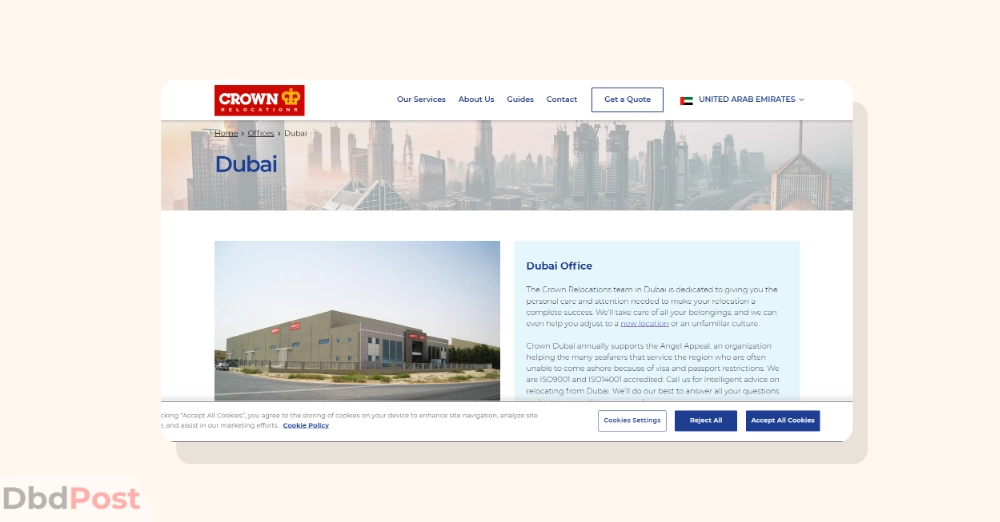 Crown Relocations offers an unparalleled service that promises to make your relocation seamless. Their experienced professionals assist anyone moving to a new country needs.
They have over five decades of knowledge to make relocating a successful journey. Alongside their work, they also support Angel Appeal.
It is an organization that offers aid to many seafarers unable to step foot onshore due to visa restrictions.
Crown Relocations is undoubtedly the best choice if you're looking for the thoughtful advice and personalized assistance.
Products/Services
Crown Relocations provides dedicated service to its clients. Some of their services are:
Before the move, they provide home consultation, packing, home search, and more.
During Transit, they provide home protection, transit protection, transport methods, and storage.
At Destination, they provide destination settling-in, language training, and intercultural training.
What is DIP?
Dubai Investment Park (DIP) is a mixed-use development in Dubai that covers an area of 2300 hectares. It provides a range of facilities and services for its residents and businesses, including residential options like apartments, villas, townhouses, parks, and recreational facilities. [1]DIP, "DIP Profile, https://www.dipark.com/WebPages/Page?pageName=DIP%20Profile#:~:text=Spread%20across%20an%20area%20of%202300%20hectares"
For businesses, DIP offers commercial offices, warehouses, factories, and support services like maintenance, security, and banking. It is well-connected to major transportation networks, including airports, highways, and seaports.
DIP prioritizes sustainability and environmental conservation, taking initiatives such as promoting energy efficiency and installing electric vehicle charging stations. [2]DIP, "Press release, https://www.dipark.com/WebPages/PressReleaseDetail/31″
Zones in DIP
The Dubai Investment Park (DIP) is divided into three distinct zones. They cater to the different needs of residents and businesses. These zones are:
Residential Zone
The Residential Zone offers a variety of housing options. Apartments, villas, and townhouses are designed to meet the needs of families and individuals. They focus on community living and a healthy lifestyle.
Residents can access parks, open spaces, and recreational facilities like swimming pools and play areas. It also provides easy access to shopping, dining, and entertainment options.
Commercial Zone
The Commercial Zone provides businesses with a comprehensive range of facilities and services. They have modern office spaces, showrooms, and retail outlets.
It is designed to support business operations with maintenance services, security services, and banking facilities. This zone also offers a vibrant business environment, focusing on innovation, creativity, and growth.
Industrial Zone
The Industrial Zone is designed to meet the needs of businesses involved in light and heavy industries. The zone focuses on efficiency, productivity, and sustainability.
The Industrial Zone is equipped with modern infrastructure, including power and water supplies, to support the needs of businesses. The industrial complex includes Light & Medium industries and High Tech Industries.
Related Stories
---
FAQs
Final thoughts
After looking at the top companies in DIP, it's clear that DIP is a desirable area for people and businesses.
Its excellent commute times and great local amenities make DIP a great area.
We hope our guide provided you with an informative overview of DIP Dubai companies.