UAE Exchange metro station is a central transit hub in Dubai specifically designed to serve the residents and workers of JAFZA.
The UAE exchange metro is located in the industrial region of Dubai. This is the end station on the red line branch of the Dubai metro system. It lies in the fare zone 1 and provides several amenities to its visitors.
This Dbd guide covers all the information regarding the UAE Exchange station, like its location, schematic map, timings, and information on nearby attractions.
Overview of UAE Exchange metro station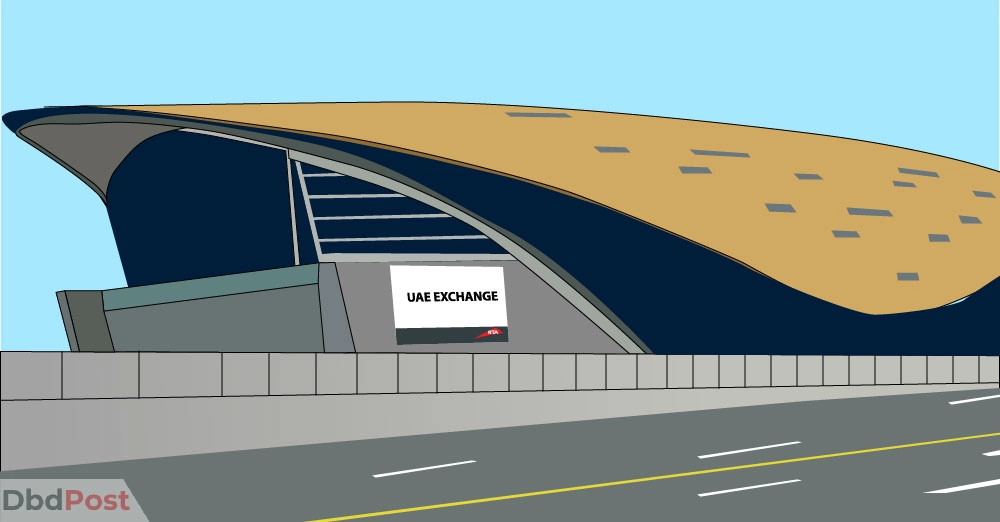 The UAE Exchange metro station stands out from other metro stations in Dubai. While the other metro stations are designed with elevated or underground portions, this station is unique as it stands on ground level.
It was first opened in 2011 as Jebel Ali metro station and later renamed to the UAE Exchange metro after an agreement between the RTA and UAE Exchange on June 15, 2015. [1]Khaleej Times, "Metro station opens for JAFZA commuters only, https://www.khaleejtimes.com/article/metro-station-opens-for-jafza-commuters-only-2″
This metro station can handle up to 11,000 passengers at a time, making it efficient for those traveling to and from. Plus, for additional security purposes, this station is only accessible to those who have acquired a valid pass, which is provided by Jebel Ali Free Zones (JAFZA).
| | |
| --- | --- |
| Location | Sheikh Zayed Road, Jebel Ali, Dubai |
| Line | Red line |
| Station code | R42 |
| Fare zone | 1 |
| Preceding station | Terminus |
| Following station | Danube metro station |
| Transfer station | No |
| Dubai Tram connection | No |
| Previous name | Jebel Ali |
Location of UAE Exchange metro station
Dubai's UAE Exchange metro station is a major central transportation hub connecting several important local businesses to prime industrial regions. With banks, offices, and healthcare services all within walking distance, commuters can easily access their everyday needs.
For those traveling further distances, the RTA bus and Taxi services available at the station provide access to any part of Dubai. The well-maintained facility offers travelers a comfortable environment during their journey, making it an ideal destination for multiple purposes.
Location: Sheikh Zayed Road, Jebel Ali, Dubai
UAE Exchange metro station schematic map
The UAE Exchange station schematic map is essential for those looking to find their way around the area quickly. The map shows the exact zone in which the station is located and nearby stations.
Here is the UAE exchange metro station map: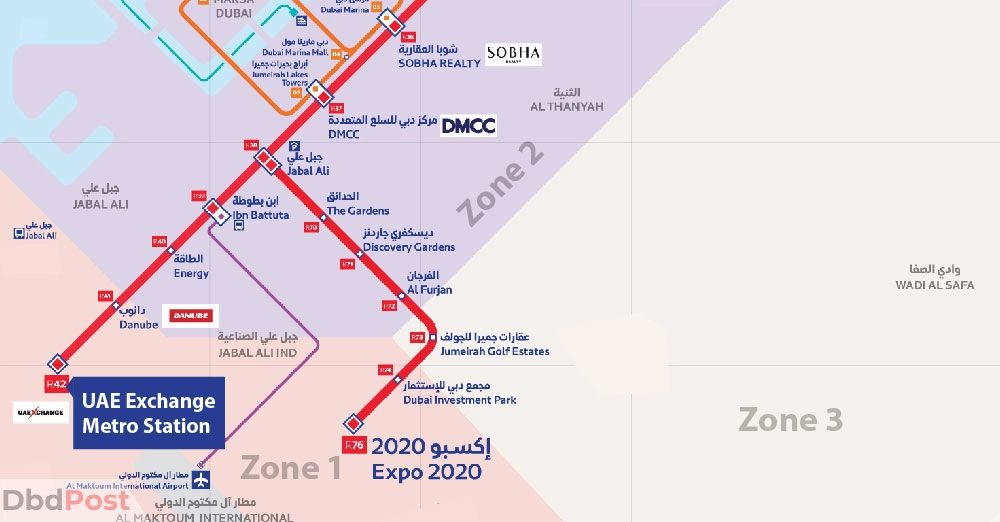 UAE Exchange metro station timings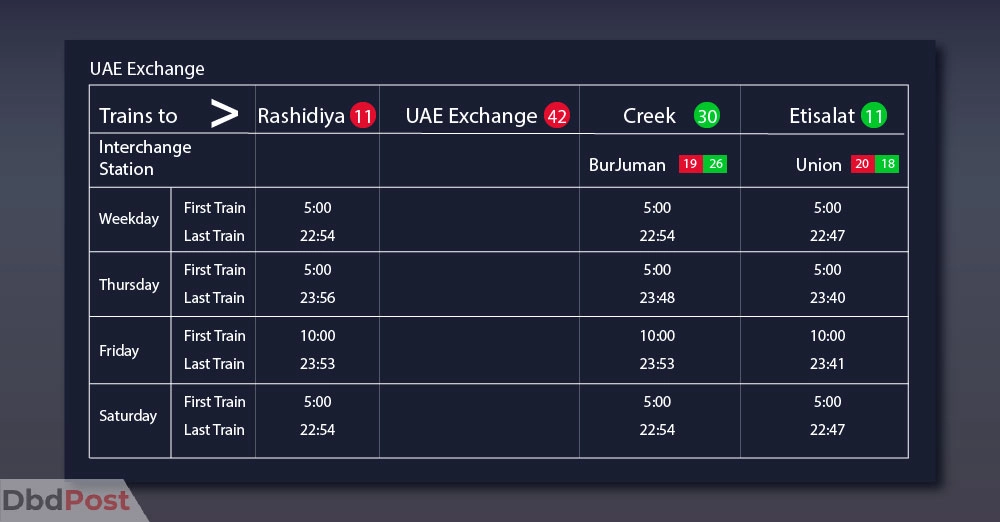 The UAE exchange station in Dubai provides daily service to the public. The station runs Monday through Saturday, with the first train leaving at 5 am while Sunday starts a bit later at 8 am.
Generally, all metro stations in Dubai have the same operation timing. But, there may be slight variations during public holidays and special events.
Check out the metro station operating time below: [2] Government of Dubai, "Metro station opening hour, https://www.rta.ae/wps/portal/rta/ae/public-transport/timetable#DubaiMetro:~:text=Metro%20stations%20opening%20hours(for%20All%20lines)"
| Days | Time |
| --- | --- |
| Monday to Thursday | 05:00 AM – 12:00 AM (Midnight) |
| Friday | 05:00 AM – 01:00 AM (Next day) |
| Saturday | 05:00 AM – 12:00 AM (Midnight) |
| Sunday | 08:00 AM -12:00 AM (Midnight) |
Services and facilities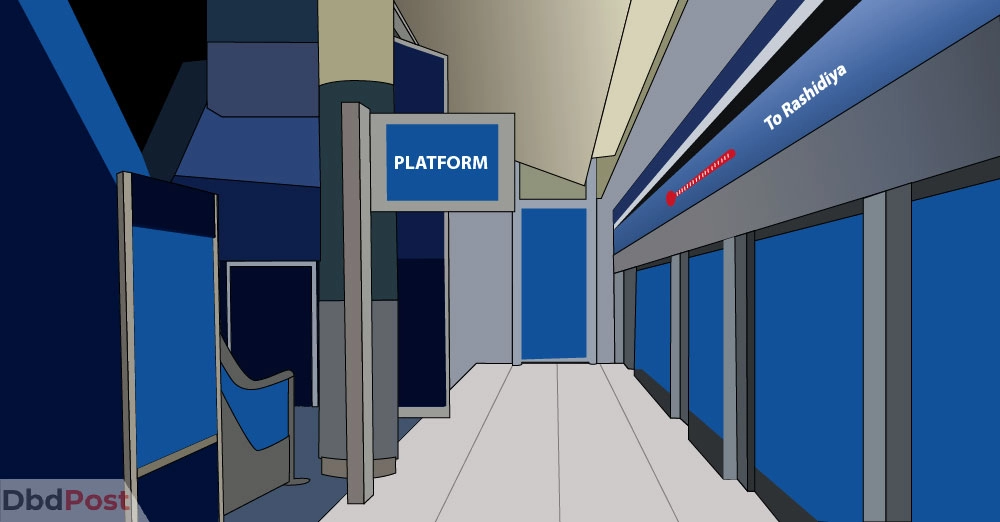 The UAE Exchange metro station is a very well-maintained transport hub. It has a lot of different services and facilities to make the journey for its passengers more comfortable and convenient.
Facilities include ticket offices within the station, where you can purchase tickets and get information regarding fares or other services. Also, for passengers' comfort, automatic ticket vending machines are available at the station.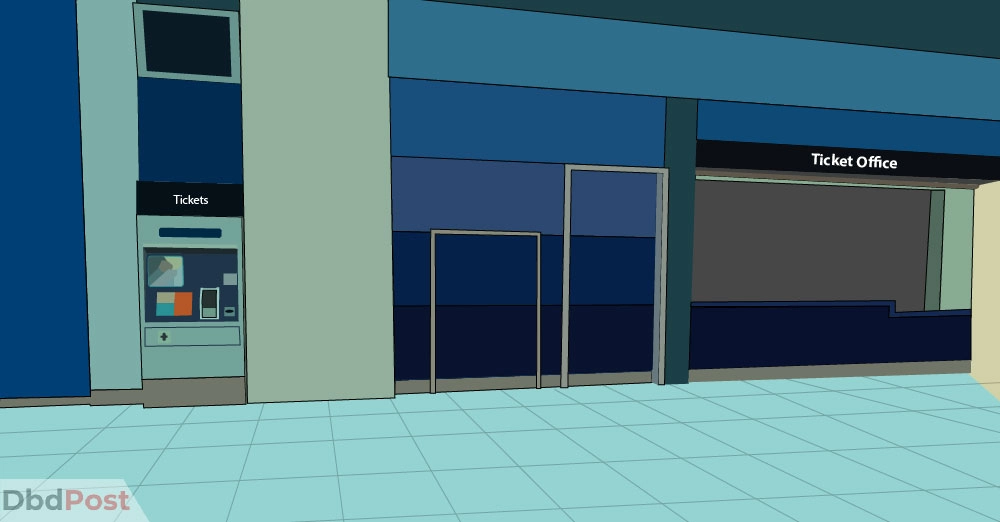 Similarly, at this metro station, you will find a variety of retail outlets, including the zoom store, to purchase snacks or drinks. The station also features escalators and lifts, so passengers can easily access the multiple platforms on different levels.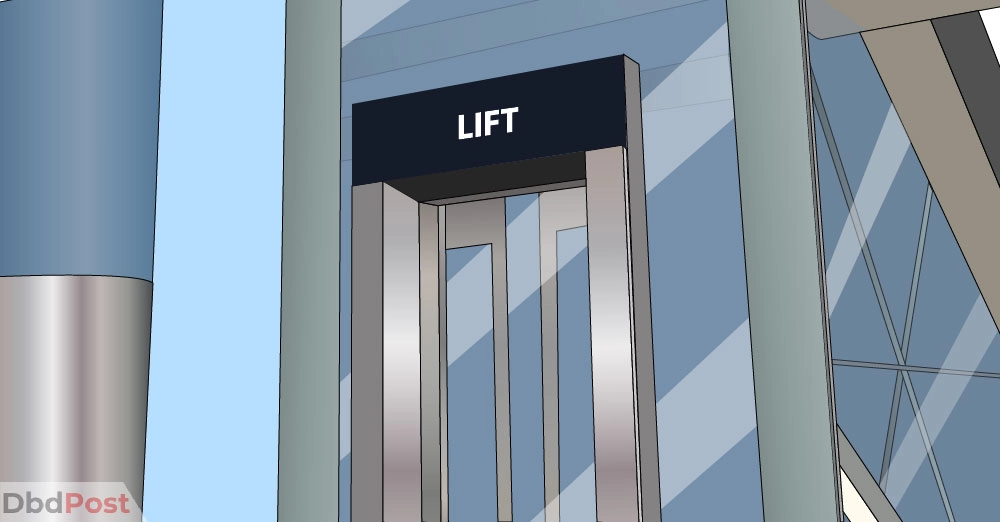 Likewise, an information desk is also available to answer any questions or resolve passengers' concerns during their trip. To focus on the passenger's safety, the station has maintained tight security.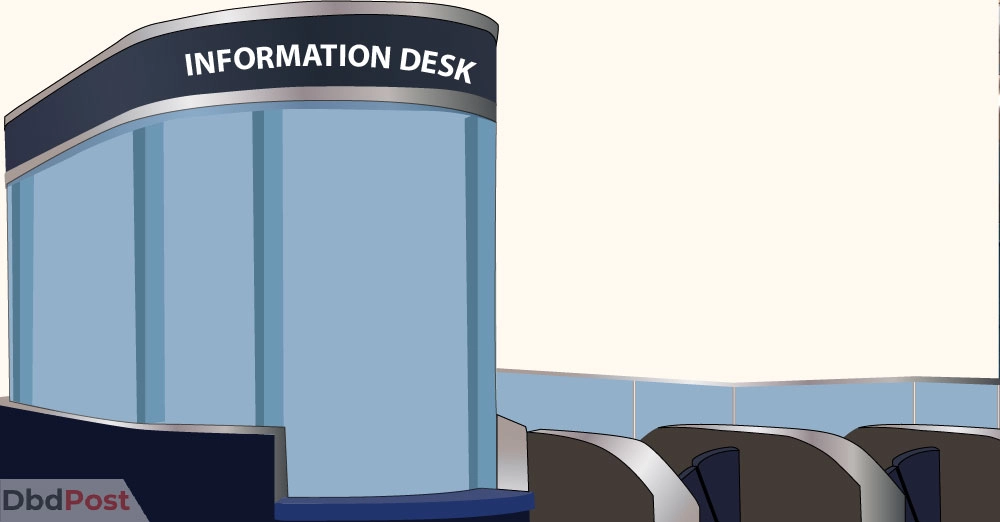 Other services include machines where you can purchase and top-up the nol card, free Wi-Fi, a comfortable waiting area, clean washrooms, and a vast parking area.
See also: Check out our guide on how to recharge your NOL card.
Attractions near UAE Exchange metro station
The area surrounding the UAE Exchange station does not feature any tourist attractions. However, there are a limited number of hotels and restaurants in the area that offer a variety of cuisines.
In addition, a few shopping centers, grocery stores, cooperative offices, and industrial equipment suppliers are located in the surrounding area.
Here are some other places to visit near this station:
1.

La Mensa restaurant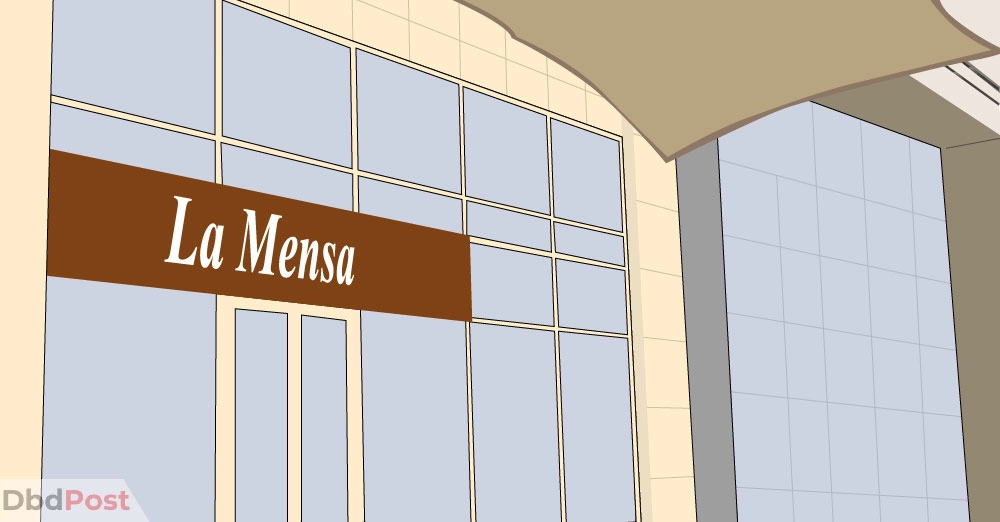 La Mensa is an Italian restaurant that offers outstanding Italian cuisine at an affordable price. The restaurant has a team of professionals who ensure customers have a great experience. This includes providing exemplary service and creating a relaxed atmosphere.
Additionally, this restaurant offers consistent, high-quality options while providing quick service. You can enjoy their delicious dishes by making a reservation or getting delivery.
2.

JAFZA one convention center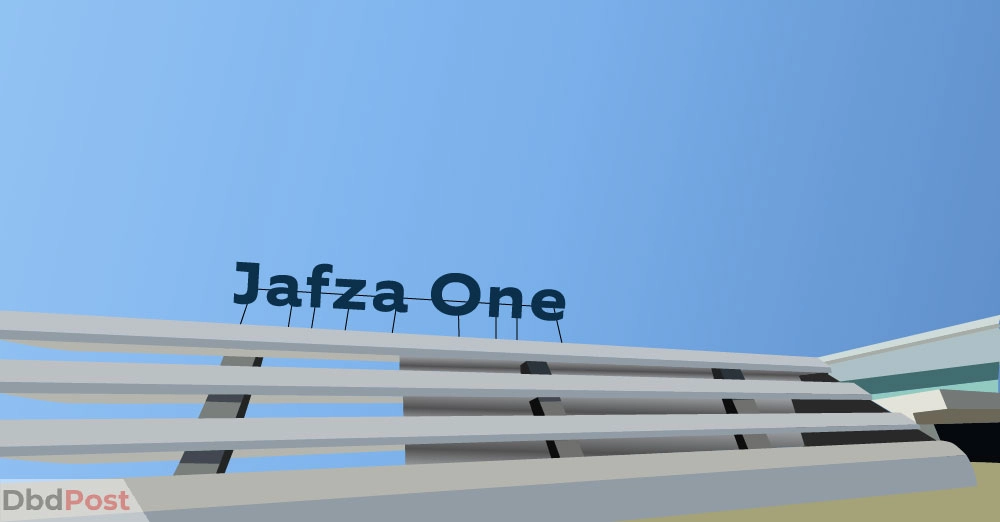 Jafza One is a premium business facility located in the heart of Jebel Ali Free Zone (Jafza). There are two landmark towers and over 1200 offices in this architectural masterpiece. It is an ideal event venue for business meetings, conferences, and exhibitions. [3]JAFZA, "about us, https://www.jocc.ae/about-jafza-one/"
In addition, it provides all the features and services necessary for an unforgettable event. It includes catering, parking, traffic management, Wi-Fi and telecoms, and security, all within the free zone.
Related Info
---
FAQs
What time is the last metro from the UAE Exchange metro station?
Except on Fridays, the last metro departs the UAE Exchange at 11:50 PM. And on Friday, it leaves for the Jabal Ali metro station at 12:51 in the morning.
Which metro station is near the UAE Exchange metro?
The nearest metro station to the UAE exchange station is the Danube metro station. It is 2.8 km from this metro station.
Which bus station is near the UAE Exchange metro Dubai?
The nearest bus station to the UAE exchange station is the UAE Exchange metro bus stop, Lease offices, Barwell corporation 2, Jebel Ali free zone, and lease office 5-2. These stations are within a short walking distance from this metro station.
How to reach Al Maktoum international airport from the UAE Exchange station?
You can take any public bus from the UAE exchange station to reach the Al Maktoum international airport. The bus will take around 2 to 3 hours, depending on the bus route. And to get faster, you can take a taxi which may take about 20 minutes to get to the airport. 
Which bus lines stop near the UAE Exchange metro Dubai?
The bus lines that stop near the UAE exchange are 95, 95A, 99, and F54. The metro station is close to all the bus stops, which makes it easy for travelers to get to and from the bus.
Final thoughts
In Dubai, the UAE Exchange metro station is a vital transportation hub for those traveling to and from the free zone area. Additionally, the timing of this metro station also makes it easy for travelers who want to get to their destination quickly.
With its convenient location to the free zone, it has become easier for JAFZA workers and offers various services to make your transaction quick and easy.