The Danube metro station is a prime transport hub for the thousands of employees in the Jebel Ali industrial area. It provides commuters with fast and easy transportation to the industrial district.
Danube metro, formally known as Jebel Ali Industrial station, is close to the Danube headquarters and is well-serviced on the red line of the Dubai metro system. This station lies within fare zone 1 and provides great convenience for those working in Jebel Ali Free Zone (JAFZA).
This guide provides everything you need to know about the Danube station. It includes the overview, location, and operating hours of the station. We have also included a schematic map of the metro system.
Overview of Danube metro station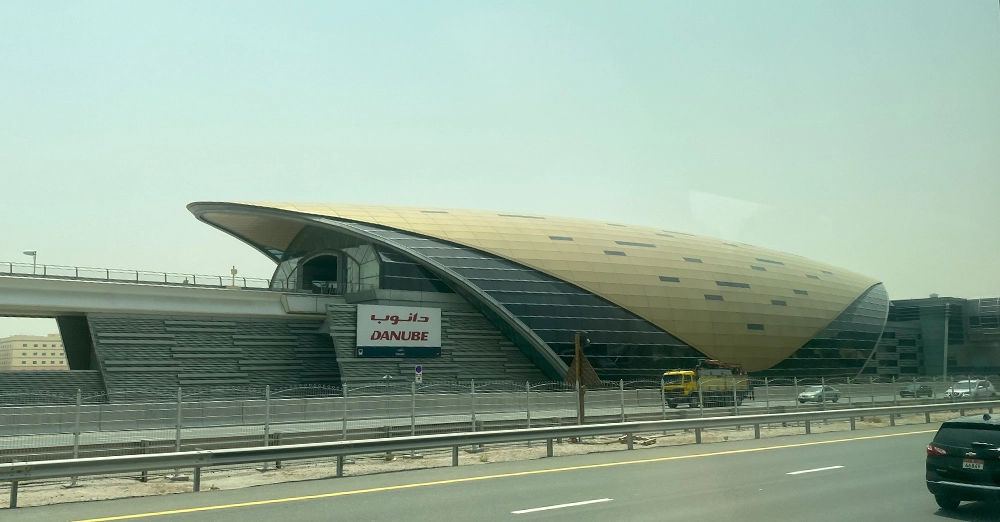 Danube metro station, which opened on 12 December 2012, is an integral part of the Dubai Metro system. It can handle 11,000 passengers per hour in each direction. The station provides excellent comfort to commuters traveling to Jebel Ali as it is one of the two stations serving this route. [1]Khaleej Times, "Danube metro station unveiled, https://www.khaleejtimes.com/article/danube-metro-station-unveiled#:~:text=Danube%20metro%20station%20unveiled"
Additionally, the station was first called Jebel Ali Industrial station. Following a ten-year agreement with the Danube group, it was renamed Danube station.
| | |
| --- | --- |
| Location | Danube, Mina Jebel Ali, Dubai, United Arab Emirates |
| Line | Red line |
| Station code | R41 |
| Fare zone | 1 |
| Preceding stations | Energy metro station |
| Following stations | UAE Exchange metro station |
| Transfer station | No |
| Dubai Tram connection | No |
| Previous name | Jebel Ali Industrial Station |
Location of Danube metro station
The Danube station in Dubai is situated in the rapidly-developing Jebel Ali area, conveniently close to numerous medical care facilities. Aster cedars hospital, Community healthcare LLC, and Care plus the medical center are all within easy reach, making them ideal for those needing immediate medical attention.
Those looking to travel further afield can access several bus routes servicing the Dubai Investment Park (DIP), Jebel Ali Industrial Area, and Green Community by taking F47, F48, F49, F53, or F54. If public transport isn't your thing, you can book taxis outside the metro station's entrance.
Location: Danube, Mina Jebel Ali, Dubai, United Arab Emirates
Danube metro station schematic map
The schematic map makes it easy to find the directions to the Danube station and understand where it is on the metro line. The map shows the highlighted station and the locations of other significant stations nearby. This is helpful for travelers because it provides a bird's eye view of the Dubai metro system, making commuting much more convenient.
Check the schematic map of the station: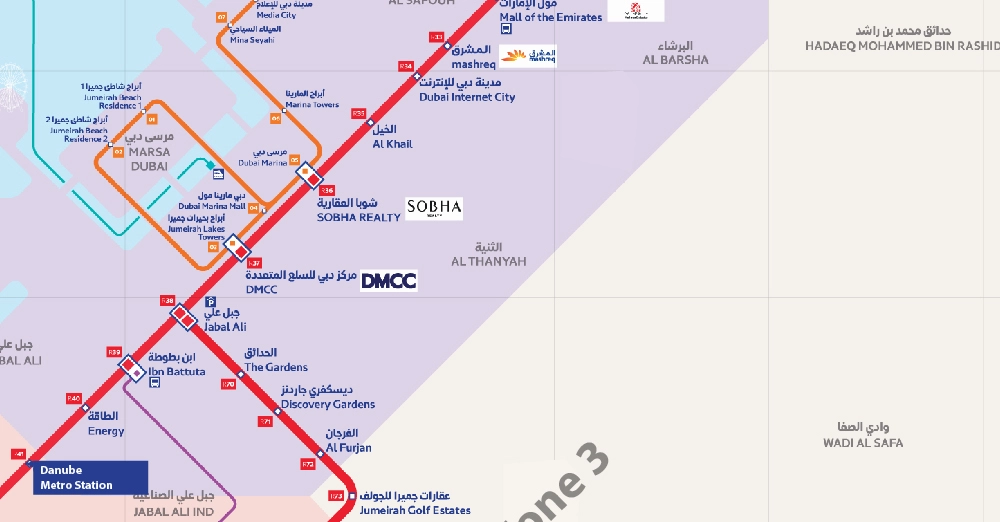 Danube metro station timings
The Dubai metro network is a convenient way to get around the city, with stations running on the same schedule to make sure you arrive where you need to go on time. However, during certain events or public holidays such as Eid, timings may vary slightly, so it's essential for you to double-check before boarding your train.
You can use RTA's apps like S'hail or RTA Dubai to check specific times for Danube station – this will help take the stress out of planning and make your journey much smoother.
It's also worth noting that most metros share similar schedules for each day, but pay attention so that you don't miss the first or last train of the day, as those may differ from other stations.
Checkout the schedule of this metro station: [2] Government of Dubai, "Metro station opening hour, https://www.rta.ae/wps/portal/rta/ae/public-transport/timetable#DubaiMetro:~:text=Metro%20stations%20opening%20hours(for%20All%20lines)"
| | |
| --- | --- |
| Days | Time |
| Monday to Thursday | 05:00 AM – 12:00 AM (Midnight) |
| Friday | 05:00 AM – 01:00 AM (Next day) |
| Saturday | 05:00 AM – 12:00 AM (Midnight) |
| Sunday | 08:00 AM -12:00 AM (Midnight) |
Services and facilities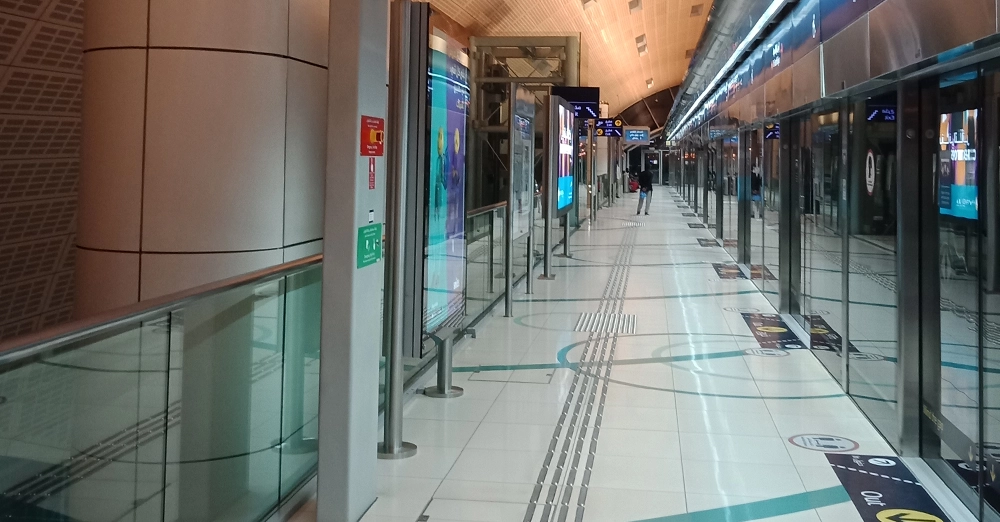 The Danube metro station has all the necessary services and facilities to ensure passengers enjoy a hassle-free journey. Step into the station, and you will find an elevator, lift, and stairs for mobility between platforms.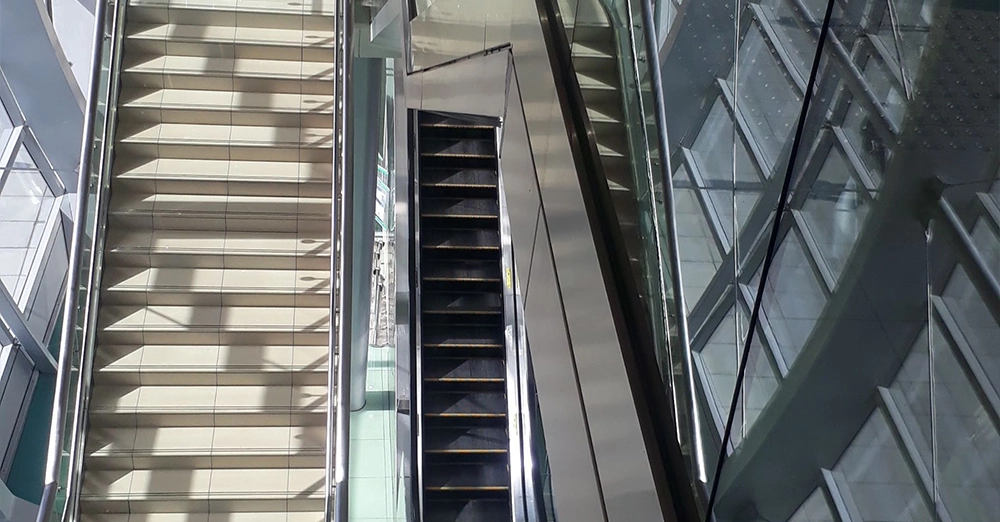 There is also an information display for help with any queries or information regarding the upcoming metro time. In addition to numerous conveniences such as ticket offices, machines to buy tickets, and even a cafeteria, the station offers complimentary Wi-Fi, CCTVs, and metro police personnel for safety reasons.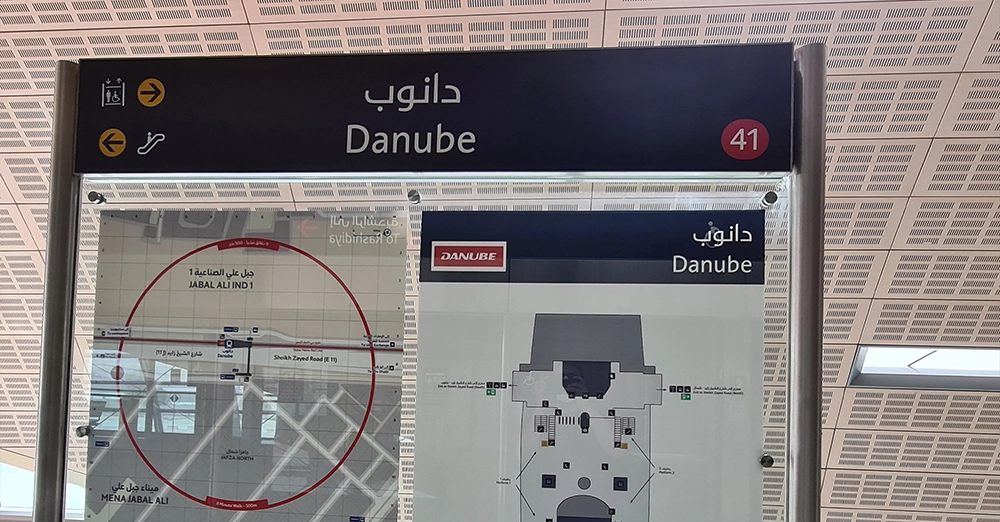 Passengers who use wheelchairs can also benefit from its accessibility features. Whether you're a transit passenger or visiting the area, this station provides all the necessary options to make your trip pleasurable.
Attractions near the Danube metro station
Unfortunately, there are no attractions near the Danube metro station in Dubai because it is located in an industrial area. There are little restaurants near the metro station. The only options close by are a few supermarkets and mosques. Visitors looking for hotels should stay in the Jebel Ali village area, as there are no hotels near this station.
Here are some places to visit near the station:
1.

Nesto Hypermarket – Jabel Ali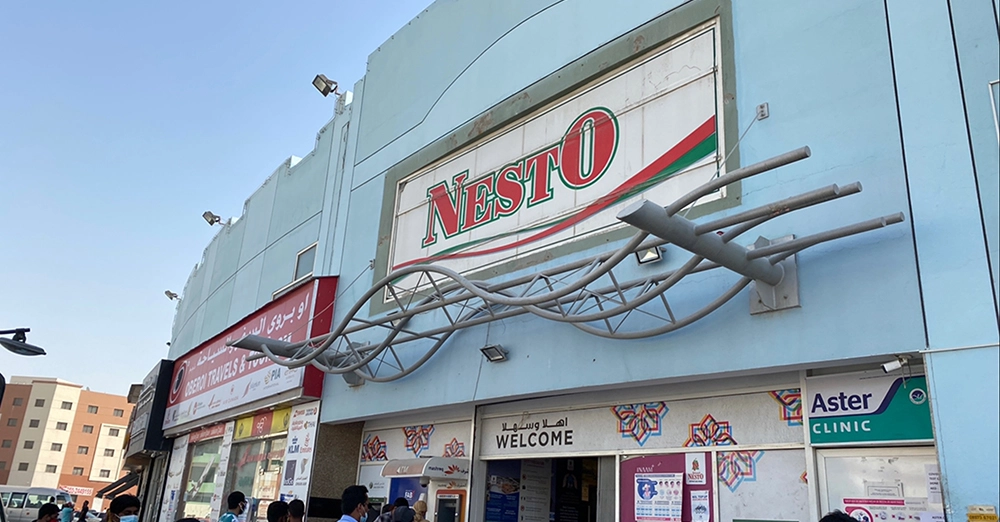 Nesto has experienced massive growth since its inception in 2004 by K.P. Basheer, and it is now one of the fastest-growing retail chains across Dubai. With over 100 outlets in the Gulf Cooperation Council (GCC) and India, they have branches in all seven emirates of the UAE. [3]Nesto, "Who are we, https://nestogroup.com/about-us#Home:~:text=CONTACT%20US-,Who%20We%20Are,-Nesto%20was%20incorporated"
Additionally, this hypermarket offers many different products at low prices, including food, clothes, kitchen appliances, and more. Similarly, the customers can also benefit from various onsite services, such as money exchange offices, cargo agents, and restaurant options.
2.

Nuzul Camp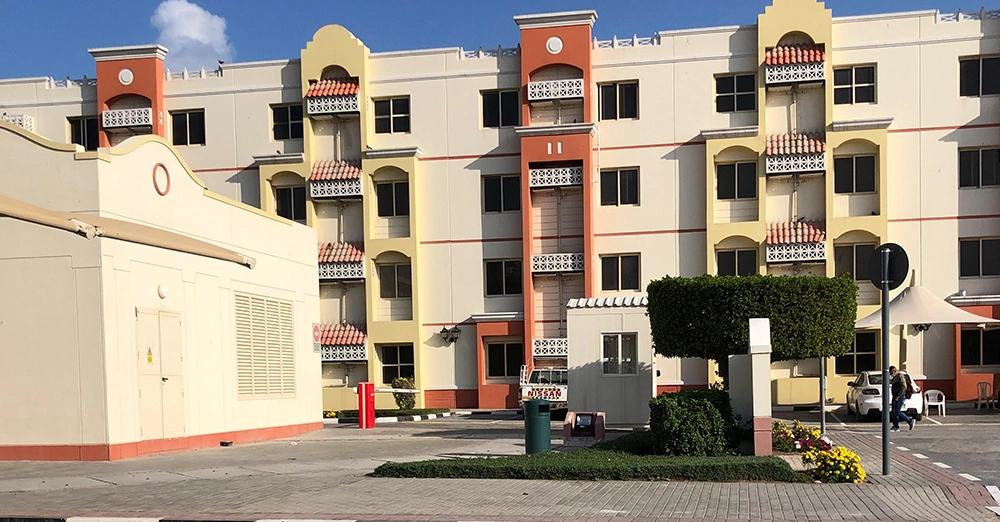 At Nuzul Camp, workers can enjoy superior accommodations to make them feel at home. A wide variety of features exist solely for workers' comfort and convenience, including a cricket ground, walking area, and restaurant. Supervisors also have their own designated rooms with attached bathrooms and kitchens.
Additionally, many other features are available at the camp, such as Wi-Fi, gyms, and even hypermarkets for workers' shopping needs. Altogether these amenities provide a safe environment for workers to enjoy themselves while completing their duties.
Related Info
---
FAQs
What is the last name of Danube station Dubai?
The last name of the Danube station is Jebel Ali Industrial Station. It was renamed in November 2012.
Which bus station is near the Danube metro station?
The nearby bus stations to Danube station are the Danube metro bus stop seaside and Jebel Ali free zone roundabout 6-1. These bus stations are near the metro station, making travel convenient for commuters.
How far is Burjuman from Danube metro Dubai?
Burjuman is 38.1 km from Danube Station. You can take either the bus or taxi or metro to get there. The journey takes 27 minutes by taxi and 1 hour by metro. If you take the bus, it may take more than 1 hour.
Which is the nearest metro station to the Danube station?
Which bus line stops near the Danube metro?
The bus lines that stop near the Danube station are 56, F47, F48, F49, F53, F54, 91, and 91A. These bus lines can take you to different parts of the city.
Final thoughts
The Danube metro station has proven to be excellent for commuters and tourists alike. It is conveniently positioned as a starting point in exploring Dubai's industrial area and provides additional services that facilitate movement around the region.
Travelers benefit from the availability of Wi-Fi and ticket machines at the station, as well as plentiful access to feeder buses, allowing them to reach nearby districts such as Jebel Ali village easily. With these features, the Danube metro is an ideal place to explore one of the most industrious cities.


Imran Hassan is an experienced Travel Specialist for UAE and the Middle East. He is based in Dubai and specializes in creating unique itineraries to ensure his customers have the best possible experience during their stay. From selecting the right hotel to recommending must-see attractions, Imran's expertise ensures that all vacations are unforgettable.