The Gold Souq metro station is a perfect example of a well-organized and efficient transport hub near Dubai's famous gold market.
Gold Souq metro is an underground metro station in Dubai. This metro station is on the green line and provides various visitor facilities. Plus, it is in fare zone 7.
This Dbd guide provides detailed information on this metro station, including its location and nearby attractions.
Overview of Gold Souq metro station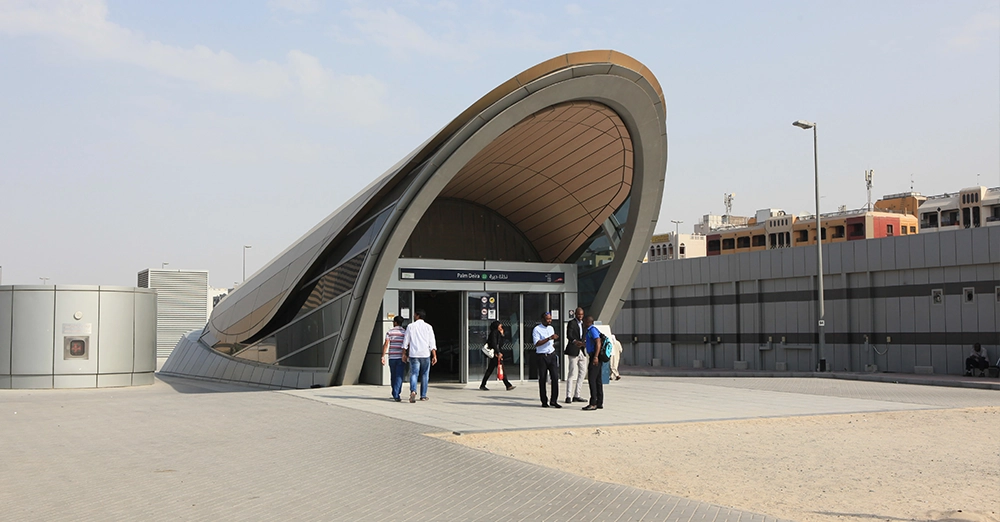 | | |
| --- | --- |
| Location | Deira, Dubai |
| Line | Green line |
| Station code | G22 |
| Fare zone | 5 |
| Preceding station | Al Ras metro station |
| Following station | Baniyas square metro station |
| Transfer station | No |
| Dubai Tram connection | No |
| Previous name | Plam Deira |
The Palm Deira metro station was formally named in September 2011 as a green line. Later, it was renamed Gold Souq metro station in 2021 by the Road Transportation Authority(RTA) Dubai.
Location of Gold Souq metro station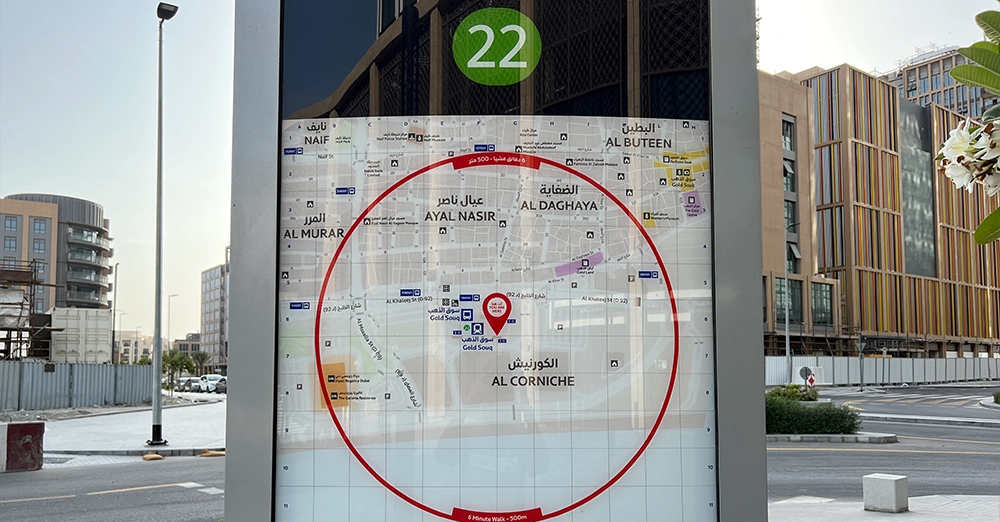 Gold Souq station is located in Al Khaleej street near Dubai Gold Souq, the famous gold market in Dubai. Additionally, the station is close to the Hyatt Regency Dubai and is only a five-minute walk away. There are several other hotels and jewelry stores near this metro station.
In addition to that, the fish market is located close to the metro station. But a large notice board displays "No Fish" at the station's entrance.
Location: Deira, Dubai
Gold Souq metro station schematic map
The Gold souq station is located in the heart of Dubai's historical gold market. With its central location and convenient access to some of Dubai's most popular attractions, the Gold souq metro is an excellent choice for visitors to the city. Below you can see the Gold souq metro station map.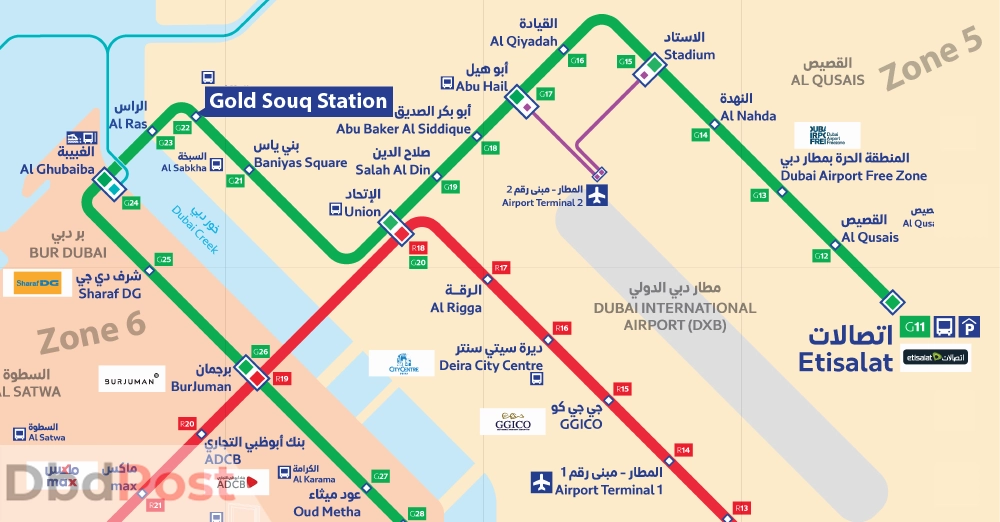 Gold Souq metro station timings
The metro system in Dubai is an incredibly efficient way to get around the United Arab Emirates. It offers a cheap, convenient, and comfortable way to travel between cities.
Additionally, according to regular schedules, Dubai's metro stations open simultaneously every day. This makes it much easier for people to plan trips or track when they should return home.
The Roads & Transport Authority (RTA) may make minor adjustments to particular departure timings when any special event or festival takes place to improve efficiency and minimize waiting times for existing travelers.
The timing of the Gold Souq station is given below: [1] Government of Dubai, "Metro station opening hour, https://www.rta.ae/wps/portal/rta/ae/public-transport/timetable#DubaiMetro:~:text=Metro%20stations%20opening%20hours(for%20All%20lines)"
| Days | Time |
| --- | --- |
| Monday to Thursday | 05:00 AM – 12:00 AM (Midnight) |
| Friday | 05:00 AM – 01:00 AM (Next day) |
| Saturday | 05:00 AM – 12:00 AM (Midnight) |
| Sunday | 08:00 AM -12:00 AM (Midnight) |
Services and facilities
Gold Souq metro station is renowned for its customer service and excellent facilities. The station features a modern, easily navigable design with an information desk staffed by friendly people. Similarly, For those with mobility issues or disabilities, there is even a lift allowing easy access between platforms if required.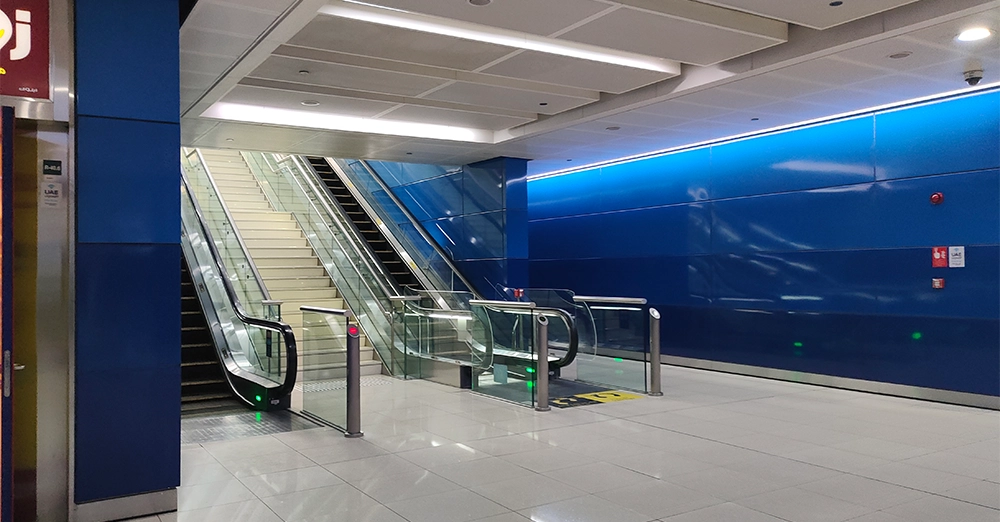 In addition, the Gold Souq metro is well-organized to ensure efficient crowd management. Visitors can find a ticket machine at the station, which allows them to purchase tickets with just a few clicks.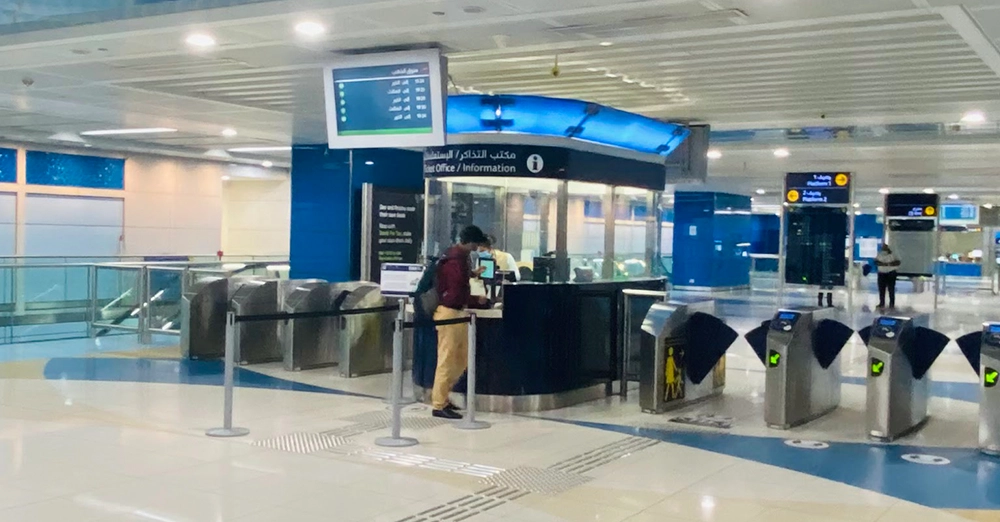 Likewise, stores sell goods, snacks, and other items. If you need to stay connected, the station has free wifi. You can also find clean toilets in each corner of the platform.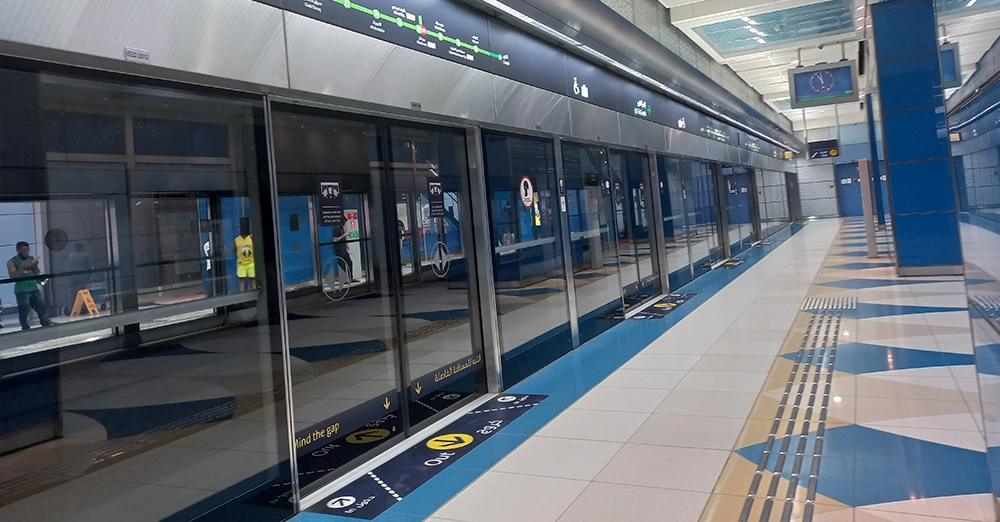 Attractions near Gold Souq metro station
Even though the Dubai Gold Souq station does not have a lot of famous attractions in itself, it is close to other popular tourist spots. You'll also find movie theatres within walking distance of this station, such as Novo Cinemas and Star Galleria Cinema.
Some other places to visit near this metro station are given below:
Infinity bridge in Dubai
Location: Shindagha Bridge, Dubai
Contact: +9718009090
Map: Get direction
The Infinity bridge in Dubai is a modern engineering marvel that has become an iconic symbol of the city. This bridge is 13 kilometers long and links different streets in Dubai, including Sheikh Rashid street and Al Khaleej street.
In addition, its illuminated designs give it even more breathtaking beauty at dusk and dawn. As a result, it has become a popular destination not only among tourists but also among locals.
Deira Creek sunset point
Location: D85, Dubai
Map: Get direction
The best place to see the sunset in Dubai is at Deira Creek, located one kilometer west of the Gold Souq metro. You can get there in about 12 minutes by walking along Baniyas road and taking the metro to the Al Ras metro station.
The sunset over Deira Creek is a beautiful experience that offers fantastic views of one of Dubai's most famous waterways. Locals and tourists often visit this place in the evening for its stunning view.
Related Info
---
FAQs
Which metro station is closest to Gold Souq metro station in Dubai?
The nearest metro station to Gold souq metro is the Baniyas square metro station. It is 1.3 Km away and takes 17 min foot and 2 min by metro.
How can I get to Iris bay from Gold Souq metro station?
You can take the green line up to the Union station and then transfer to the red line, which stops at the Business bay metro station. And from there, it will take around 12 minutes to walk to Iris bay.
Which metro station is Gold souk?
Gold Souq is green line metro. It was started as a green line in September 2011.
Which bus lines stop near Gold Souk?
The bus lines that stop near Gold Souq are 11A, C04, 13D, X13, X02, C09, C18, 95, 8, 13A, X94, 27.
How do I get to Old Souk from Gold Souk metro station?
You can take the green metro line from the Gold Souq metro to the Al Ras metro station to go to the Old gold Souq. You will need to walk for around six minutes to get to the old Souq from there.
Final thoughts
Overall, the Gold Souq metro station is one of the most convenient ways to travel around the United Arab Emirates. It is located in the heart of Dubai and is connected to all major city center destinations.
The Gold Souq station schedule is also beneficial in planning your journey better. It is important to note that the metro does not operate on Fridays and Saturdays, so plan your journey accordingly. We hope this guide has helped you better understand the Gold Souq metro Dubai.
Happy Traveling!