The Al Safa metro station is conveniently located near the industrial sector, making it easy for commuters to get to and from their workplace.
Al Safa metro station, formally called Noor Bank metro station, is on the red line of the Dubai metro system. This station lies in fare zone 2. Plus, this station provides visitors with many amenities, like escalators, tea stations, stores, ticket offices, and more.
This Dbd guide includes information about this metro station's location, operating hours, and nearby attractions. For your convenience, we have included a schematic map of the station.
Overview of Al Safa metro station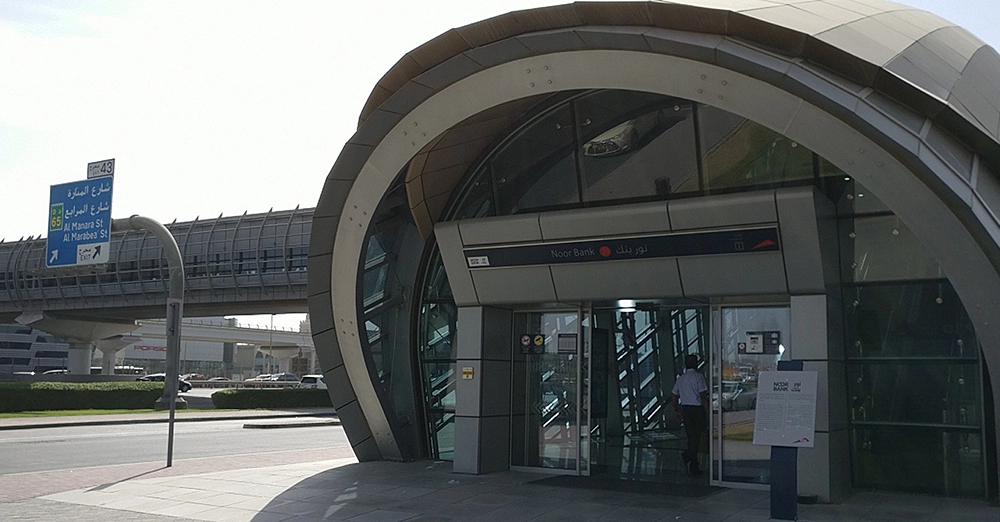 Al Safa metro station in Dubai opened on 15 May 2010 and can handle 415 passengers anytime. Later, on the 24th of November 2020, the station underwent a name change. It was previously known as the Noor Bank metro station before being renamed Al Safa. [1]Khaleej Times, "RTA renames five Dubai Metro stations, … Continue reading
| | |
| --- | --- |
| Location | Sheikh Zayed Road, Dubai, United Arab Emirates |
| Line | Red line |
| Station code | R29 |
| Fare zone | 2 |
| Preceding station | Business Bay metro station |
| Following station | Equiti metro station |
| Transfer station | No |
| Dubai Tram connection | No |
| Previous name | Noor Bank metro station |
Location of Al Safa metro station
Al Safa station is conveniently located near the Al Quoz Industrial Area. The Day-to-Day hypermarket is also just footsteps away from the station, providing visitors easy access to simple necessities.
Additionally, this station has convenient access to multiple feeder buses and other public bus stops making it easy for people to travel.
Location: Sheikh Zayed Road, Dubai, United Arab Emirates
Al Safa metro station schematic map
The schematic map of Al Safa station highlights the station itself. The other stations along the red line are also easy to see and identify. This makes it easy for travelers to figure out which route they want to take and plan their journey ahead of time.
See the Al Safa metro station map below: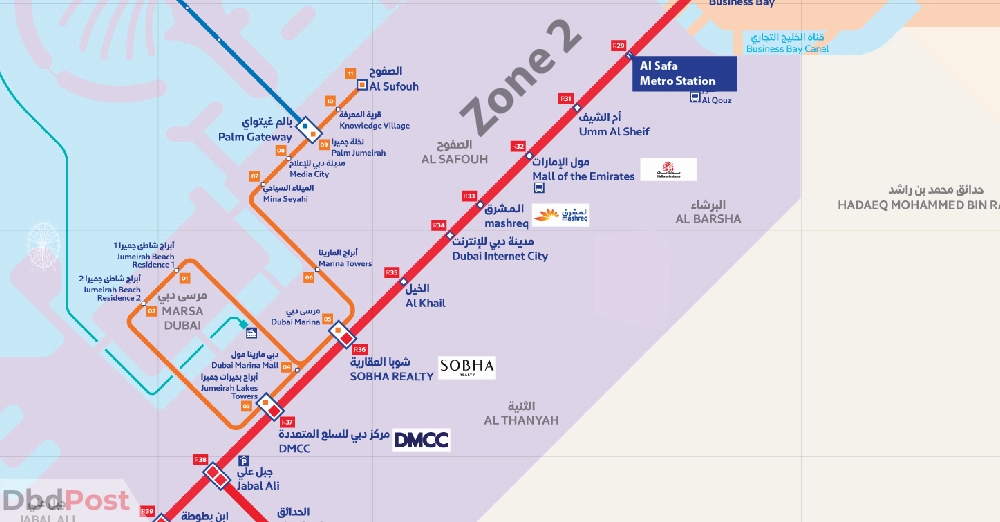 Al Safa metro station timings
Al Safa metro station is open seven days a week, and like all other stations in Dubai, the timings remain consistent throughout the year. Although time may differ on public holidays and special events, it's advisable to double-check before you leave for your destination.
Here is the timetable for this Al Safa station: [2] Government of Dubai, "Metro station opening hour, https://www.rta.ae/wps/portal/rta/ae/public-transport/timetable#DubaiMetro:~:text=Metro%20stations%20opening%20hours(for%20All%20lines)"
| Days | Time |
| --- | --- |
| Monday to Thursday | 05:00 AM – 12:00 AM (Midnight) |
| Friday | 05:00 AM – 01:00 AM (Next day) |
| Saturday | 05:00 AM – 12:00 AM (Midnight) |
| Sunday | 08:00 AM -12:00 AM (Midnight) |
Services and facilities
Al Safa metro station provides various services and facilities for travelers. These include two main ticket counters and nol card recharging machines for those wishing to use their cards to pay the metro fare.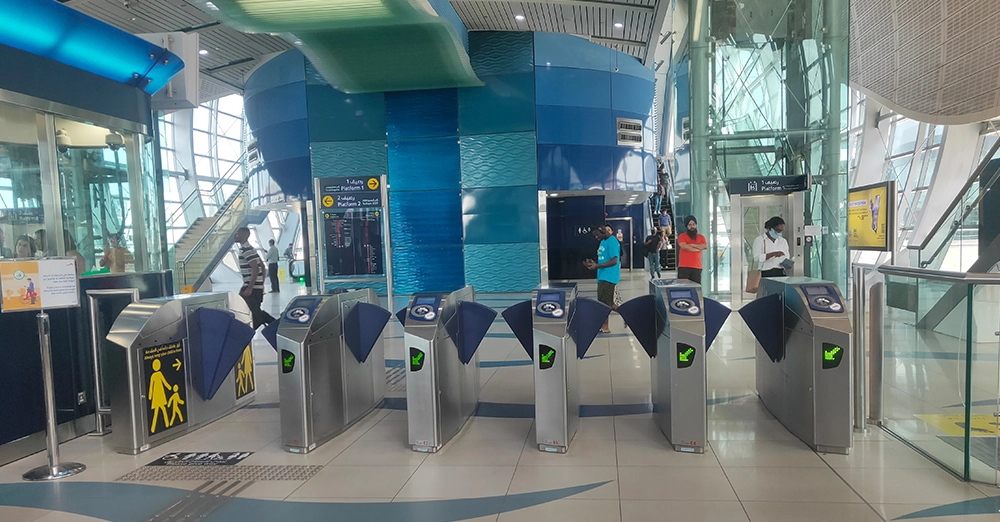 Furthermore, convenience stores, tea stations, and vending machines offer snacks and drinks for quick purchase inside the station. Plus, electronic displays at the station show the timing of the upcoming metro.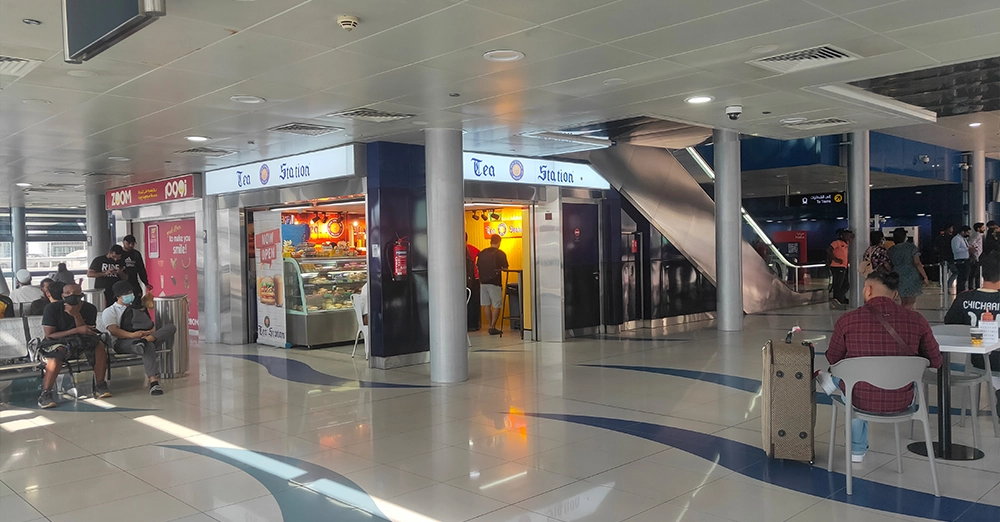 Likewise, the station is conveniently equipped with stairs, lifts, and escalators for hassle-free platform access. Additionally, there is a pedestrian bridge so passengers can cross the road safely without worrying about traffic.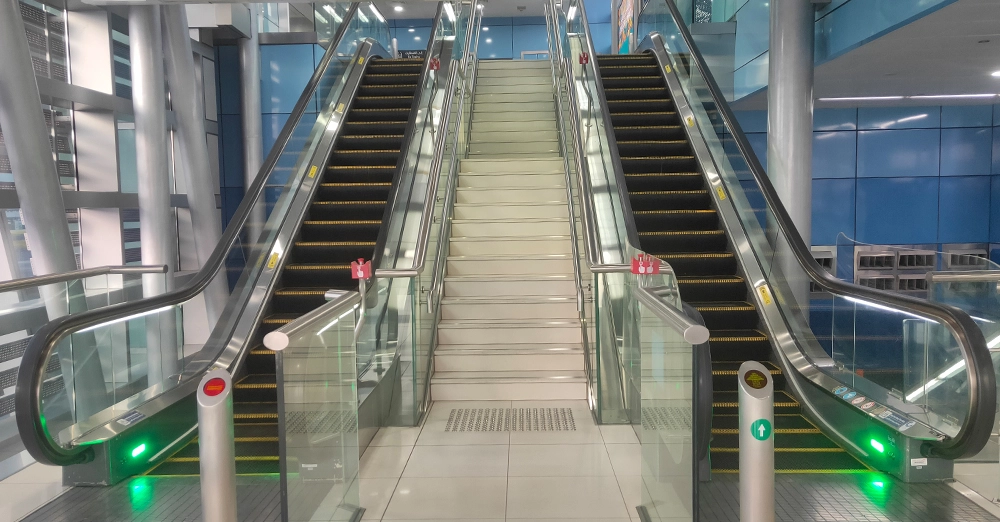 Additionally, Al Safa provides a range of other services, including free wifi, clean washrooms, and comfortable waiting areas for travelers. These amenities ensure travelers have everything they need during their visit to the Al Safa station.
Attractions near Al Safa metro station
The Al Safa metro station area is full of artificial and natural attractions. From the 3D world, a virtual reality theme park, to Alserkal Avenue, a cultural hub for the UAE's art and design industry, there's something for everyone to enjoy.
Additionally, there is a water park nearby, and Jumeirah and Kite Beach are also within driving distance of the metro station. In terms of accommodations, Al Safa offers a variety of hotels as well as some good restaurants. The area is also home to several shopping centers.
Here are some exciting places to visit near the metro station:
1.

3D World Selfie Museum Dubai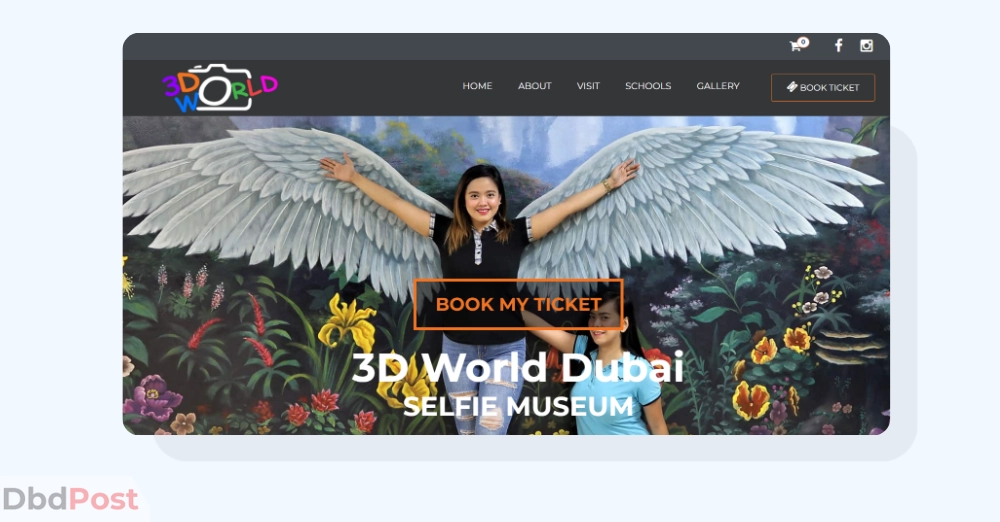 The 3D World selfie museum Dubai is the largest 3D museum in the world, stretching across 21,000 square feet. The museum has nine zones with themes such as Illusion, Water World, Animal Kingdom, Fantasy, and more. People can explore their creativity and imagination in each area. [3]3Dworld, "About us, https://dubai3dworld.com/about.aspx"
Additionally, the ground floor is wheelchair accessible, allowing those with special needs or determination to enjoy the whole experience. One of the most critical things to do before traveling to a 3D museum is to ensure your camera or phone is fully charged. This museum is all about taking pictures and being creative with your poses.
2.

Splash 'n' Party Kids Waterpark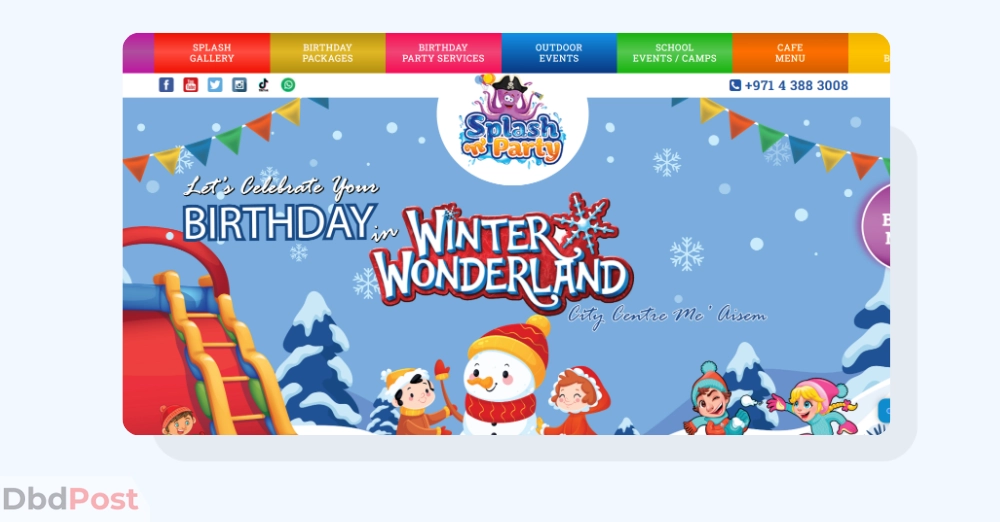 The Splash 'n' Party Kids Waterpark in Dubai is an exciting destination for kids of all ages, offering various fun-filled activities and amenities. This waterpark also boasts a range of catering services suitable for birthday parties, kid's events, and other special occasions.
Additionally, the park features an array of splash pads, interactive water playgrounds, thrilling slides, and plenty of other attractions to keep your little ones entertained. Parents can also enjoy quality time at the restaurant and bar while their kids make a splash.
3.

Times Square Center Dubai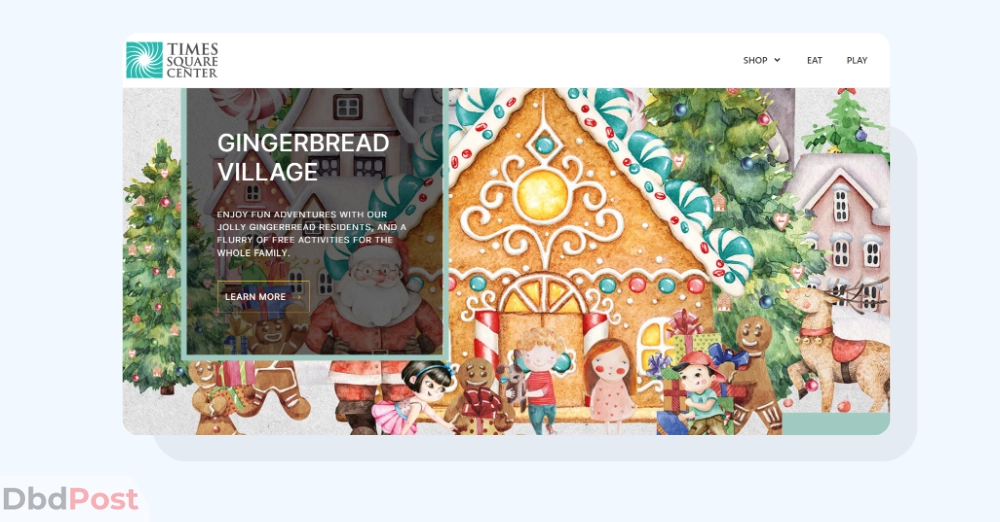 Times Square Center Dubai is an impressive shopping and entertainment complex on Sheikh Zayed Road. It is a must-visit shopping destination for anyone looking to experience an array of well-known and respected international and boutique brands.
While browsing the many stores, visitors can enjoy various activities, such as rock climbing, painting, and relaxing in the chill-out lounge. The mall has many facilities, like Wi-Fi, parking, taxi service, prayer rooms, first aid assistance, ATMs, baby changing rooms, and more.
Related Info
---
FAQs
What is the last name of Al Safa metro?
The last name of the Al Safa metro station is the Noor bank metro station. It was renamed on 24 November 2020.
Which bus station is near the Al Safa station?
The bus stations closest to Al Safa station are Al Quoz Bin Hindi 2, Al Quoz Yusuf motors 2, Al Safa MS Landside, and Al Safa bus terminus. You can walk to these bus stations. 
How to reach Al Khail gate from Al Safa metro Dubai?
Two feeder buses, F15 and F17, go to Al Khail Gate from Al Safa station. The journey takes around 23 minutes by bus. You can also take a taxi if you want to get there faster. 
Which is the nearest metro station to the Al Safa station?
The nearest metro station to Al Safa station is the Equiti metro station. It takes 4 minutes to reach by metro. 
Which bus line stops near the Al Safa metro station?
The bus lines that stop near the Al Safa station are 12, 21, 93, 110, F15, F16, F17, F20, and F26. These feeder buses and Urban buses serve various districts in Dubai. 
Final thoughts
The Al Safa metro station in Dubai is an ideal destination for residents and workers who want to move around the city conveniently. With frequent buses, feeders, and other transportation options available there, it makes commuting a breeze.
Similarly, the Al Safa metro is conveniently located near Dubai's top sights, including the 3D World museum, water parks, Times Square center, and more. The area is an excellent choice for those who wish to explore the city.


Arijit Negi is an expatriate living in Dubai for 18 years. He completed his degree in Master of Arts in Journalism from the University of Mumbai. Arijit focuses on providing helpful guides and information for ex-pats living in UAE and visitors to the UAE.