Kite beach Umm Al Quwain is one of the most underrated beaches in the UAE. Despite being somewhat isolated, it is perfect for those who want to enjoy the peace while being close to all the action.
Kite beach Umm Al Quwain offers uninterrupted views of the Persian Gulf's pristine turquoise & blue water. It is a family-friendly beach where you can go surfing, kayaking, and kite surfing. There is a gym and a beachside cafe at the beach center as well.
Kite beach UAQ offers an atmosphere of relaxation and natural beauty that is hard to beat. Even so, it is not as well-known as some other beaches in the UAE. However, that might be good news – you don't have to worry about huge crowds!
Our Dbd guide will tell you why you should visit this relatively unknown beach, what's there, and how to get there.
Location of Kite beach Umm Al Quwain
Address: Al Raas, Al Hadeetha, Umm Al Quwain
Kite beach Umm Al Quwain is situated in a stunningly beautiful location. The coast has no artificial beaches or structures, so the deep blue water at the horizon appears unobstructed.
Opening hours of Kite beach center UAQ
Opening hours: 6 AM to 10 PM every day
Check-in time: 6 AM to 10 AM and 4 PM to 6 PM
Kite beach has extended operating hours and is open daily. However, if you want access to umbrellas while lounging, we recommend you check in early. They are limited in numbers.
About Kite beach Umm Al Quwain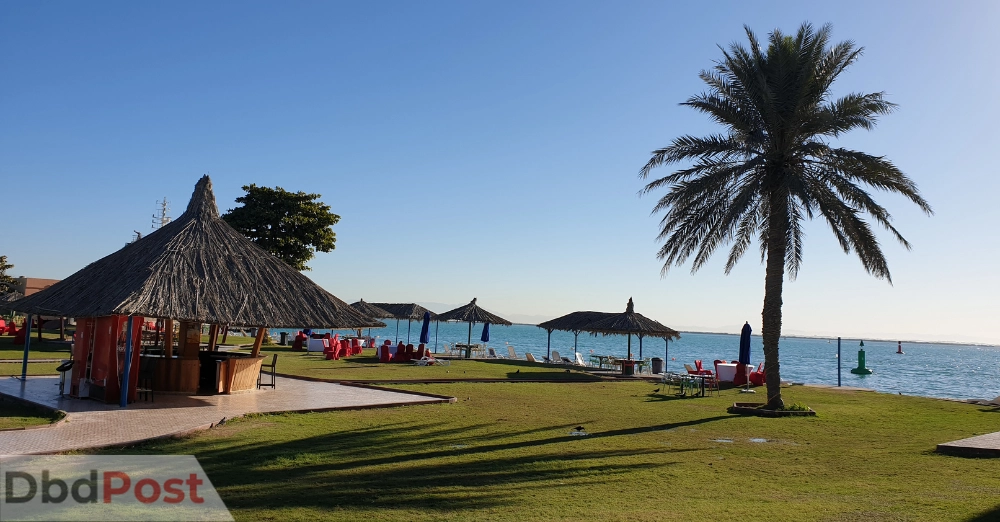 Tucked away in the picturesque Emirate of Umm Al Quwain, Kite beach center is truly a hidden gem. As its name implies, this beach center gives lessons on kitesurfing to its visitors.
But kitesurfing is not the only activity that visitors can enjoy. The beach is also excellent for swimming, sunbathing, or simply taking in stunning views. There is also a café on-site and an open-air gym for those who want to stay active during their vacation.
The beach center is open all year round, seven days a week. For beach access at Kite beach UAQ, you must pay these prices:
AED 45 for adults
AED 35 for kids
AED 75 for dogs
One of the main goals of the beach center is to showcase the rich culture and beauty of Umm Al Quwain through its facilities and décor.
The kitesurfing training center is decorated with traditional Emirati elements. Furthermore, their Mangrove tours are designed to give visitors a glimpse into the local way of life.
Facilities and services in Kite beach center
Kite beach Umm Al Quwain's facilities aim to meet international standards. The beach is constantly improving to provide visitors with the best possible experience.
In addition to being a training center, its restaurant, gym, and camping grounds make it a leisurely vacation spot for families too. Let's read more about them below:
Kite Beach Restaurant and Café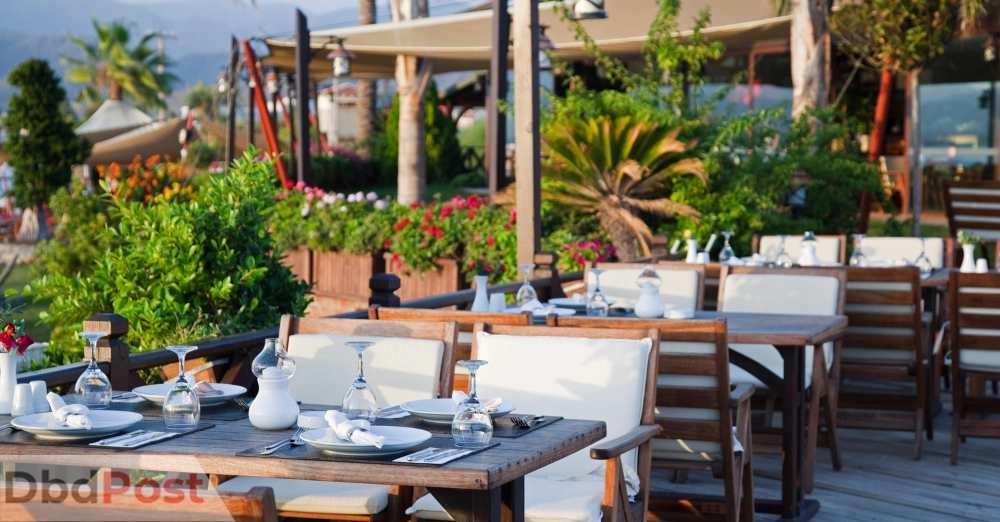 Kite beach restaurant & café provides dining options for any time of day. With great-tasting foods paired with stunning ocean views from every seat, it is of the best places around for a delightful meal.
Its wide array of entrées, side dishes, appetizers, beverages, and desserts is open for ordering from 7 AM till 8 PM. But since the cafe is open until 10 PM, you can stay awhile after ordering your dinner if you want to.
Conveniently, every item on the menu is eligible for takeaway. So if you like something a lot, feel free to ask them to pack it for you.
Kite Beach UAQ Restaurant Menu
Kite beach restaurant's menu boasts a multitude of vegetarian and non-vegetarian options.
Breakfast & hearty meals
For breakfast, we suggest you try their egg dishes – Turkish eggs, eggs benedict, or smoked salmon egg. Lighter meals like French toast and croissants are also available at breakfast time.
Their signature kite special breakfast is mouth-watering. It consists of Fried egg on sourdough bread, Sausage, Hash brown potato, Beef bacon, Mushroom, Grilled tomato, and Baked beans. A Croissant and orange juice are also included in this dish, priced at just AED 68, their most expensive menu item.
Breakfast for vegans
Vegetarians will enjoy their roasted pumpkin salad or their "mushroom twist" a lot! Their fruit, granola, yogurt, tea, and coffee make your morning unforgettable.
Lunch
During the day, light snacks, salads, gourmet burgers, pasta, pizzas, steaks, BBQ, and seafood are available. And at the end of your meal, they also provide sweet cakes and ice creams.
Drinks
Besides tea and coffee, their menu features cocktails, milkshakes, fruit juices, soft drinks, mojitos, and the colada. For something healthy, try out the black detox smoothie, green tea, or the weight loss juice prepared with grapefruit, lemon, ginger, and honey.
Food for pets
A special feature of this beach center is that it allows you to bring your dogs and even swim with them at the beach! And if you are staying overnight with your pet, they have a wide selection of food for cats and dogs.
Kite surfing at Kite beach center Umm Al Quwain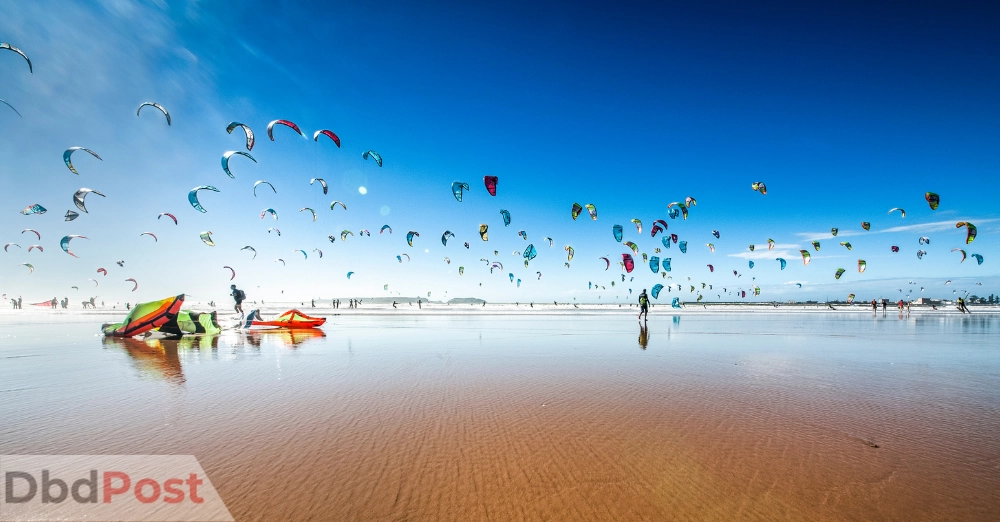 The name of the establishment comes from its kitesurfing training center. They offer lessons to anyone regardless of their skill level.
It is the first certified kitesurfing school in Umm Al Quwain. Their certification comes from the UAE General Authority of Youth and Sports Welfare.
Similarly, the teachers are certified by the IKO (International Kitesurf Organization). So if you're scared of heights, let us assure you – the experts will do everything to ease you up and keep you safe.
Beach huts and camps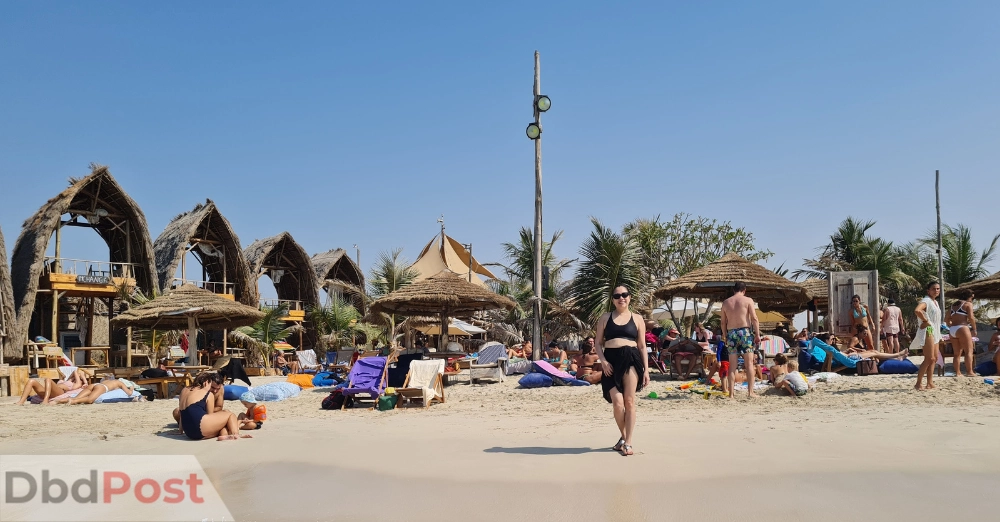 One of the beach's highlights is overnight camping or staying at the beach huts. This is a unique opportunity to immerse yourself in nature and experience the tranquility of sleeping under the stars.
The campsite has all the amenities, including bathrooms and a cafe.
You can rent several kinds of tents depending on your needs. The prices are as follows: [1]Kite beach center, "Huts & Camp, https://kitebeachcenter.ae/product-category/huts-camp/"
| | |
| --- | --- |
| Beach Huts | AED 250, plus beach access pass (AED 45+) |
| Large tent | AED 250 |
| Small tent | AED 200 |
| Private tent | AED 100 (you must bring a tent yourself), plus beach access pass (AED 45+) |
Tarzan gym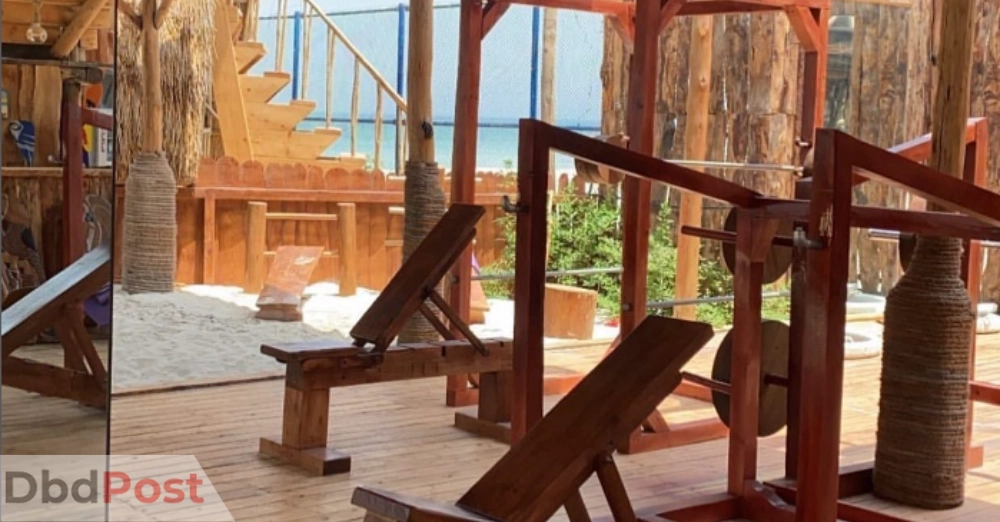 The open-air "Tarzan" gym surrounded by beautiful nature at the kite beach is unique. All gym equipment is made of wood and stone, giving you a unique & natural gym experience.
Tarzan gym's fresh air and closeness to nature will amplify your gains compared to indoor gyms. And with ocean views, you will feel a surge of energy coming from the spirit itself!
You can work out in the sun or the shade, and there's plenty of custom-made exercise equipment to choose from.
How to reach Kite beach in Umm Al Quwain?
Kite beach is located at Shaikh Saud bin Rashid Al Mu'alla, Al Raas, and Umm Al Quwain. You can get there by bus or car.
To reach Kite beach UAQ by bus, you must get on a bus that reaches the following station:
106-Carrefour Market UAQ Bus Stop: Get Direction
From the station to the kite beach is just 10 minutes on foot.
Similarly, you can also ask taxi drivers around Umm Al Quwain to drop you off. They are very familiar with the beach center and can easily take you there.
Related Stories
---
FAQs
Is Kite beach Umm Al Quwain free?
No, Kite beach in Umm Al Quwain is not free. You have to pay for a beach access pass which costs AED 45 for adults, AED 35 for kids, and AED 75 for your dog. [2]Kite beach center, "Beach access, https://kitebeachcenter.ae/product-category/beach-access/"
Is Kite beach Umm Al Quwain open at night?
Kite beach is open until 10 PM only. The only way to remain inside is by booking a tent or a beach hut.
Where is Umm Al Quwain beach?
Its location is Shaikh Saud bin Rashid Al Mu'alla, Al Raas, and Umm Al Quwain.
Is Kite beach Umm Al Quwain dog friendly?
Yes, it is completely dog friendly. You can take your dog to swim on the beach for AED 75.
Is Kite beach in Umm Al Quwain alcohol-free?
Yes, Kite beach in Umm Al Quwain is completely alcohol-free. You can neither buy alcohol there nor take it from outside.
Final thoughts
Kite Beach Umm Al Quwain is one of the most popular tourist destinations in the emirate. With its world-class facilities, beautiful scenery, and wealth of activities on offer, it's easy to see why.
If you are looking for a place to relax with your family, friends, or pet, Kite Beach center should be at the top of your list!