Set against the towering Dubai cityscape, Drift beach Dubai oozes style and elegance. Often considered the best beach club in Dubai, Drift beach boasts an impressive beach club and lounge area with incredible views of the Arabian Gulf.
Near the entrance to Palm Jumeirah, Drift beach Dubai offers excellent lounging, sunbathing, eating, drinking, and partying options. From a picturesque infinity pool to private cabanas, it boasts an array of activities for guests above the age of 16.
Along with its stunning setting, Drift beach club has enough amenities and activities to keep you relaxed all day long. From partying and lounging to sunbathing on the white sand beach, there are plenty of things to do.
Location of Drift beach Dubai
Address: One&Only Royal Mirage, King Salman Bin Abdulaziz Al Saud St, Dubai Marina
Drift beach Dubai is a hidden paradise near the entrance of Palm Jumeirah, a convenient location that is easy to find and reach. It is a secluded location between One&Only Royal Mirage Resort's private beach.
The place is also an undisturbed spot to bask under the sun away from the bustling roads. The beach is perfect for soaking up some peace and tranquility while also enjoying the buzz of the beach club.
Drift beach's hours of operation
Pool and Beach: 10 AM – 7 PM every day
Restaurant: Monday to Thursday (9 AM – 8 PM), Friday to Sunday (9 AM – 9 PM)
The beach club is open all seven days of the week. But the operating hours of the restaurant are slightly longer during the weekends.
Drift beach Dubai – Overview
Drift beach is an award-winning beachfront destination located at One & Only Royal Mirage Dubai, near the entrance to Palm Jumeirah. For those who don't know, Palm Jumeirah is an archipelago of human-made islands on the Persian Gulf in Jumeirah. It's called a palm tree because it looks like one, and it added 56 kilometers (35 miles) to Dubai's coastline when it finished. [1]USGS, "Palm Jumeirah, … Continue reading
It is an innovative take on the traditional beach club, offering an unparalleled experience in a stunning setting. The club has an urban vibe and offers various options for luxurious relaxation with its outstanding services & amenities.
The design and aesthetics of the club are chic & elegant, and the location is easy to reach. It offers a variety of activities like swimming & sunbathing. It is excellent for hosting special events too.
In addition, Drift beach offers stunning views of the Arabian Gulf. Overall, it is a great place to unwind, relax, and enjoy the luxury of Dubai at a reasonable cost.
Activities and services in Drift beach Dubai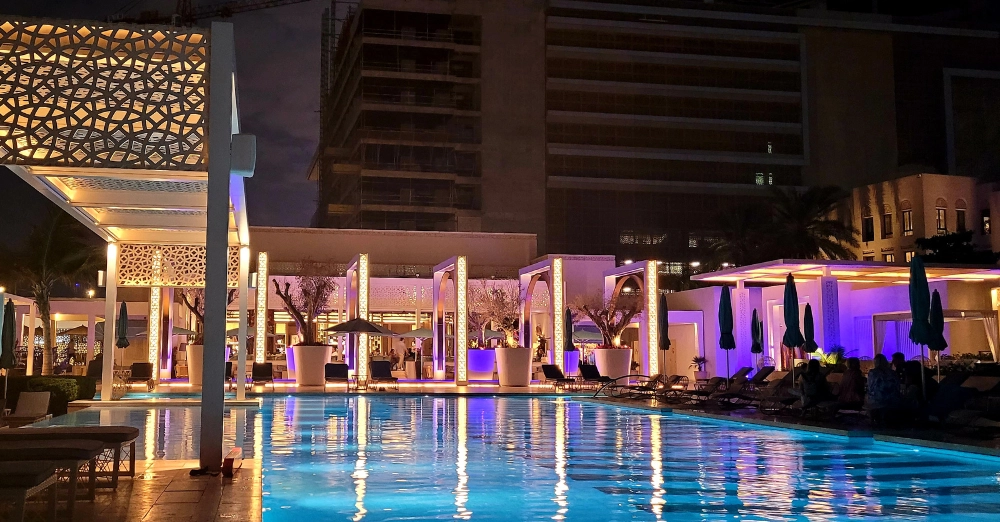 Drift beach provides a variety of services and activities for its guests. An infinity pool, private cabanas, and an excellent restaurant can be found within the premises. But that isn't all. Read more to find out.
Lounge: There are various lounge areas around the beach, which are ideal for relaxation. Guests can either reserve a simple sunbed with an umbrella or a more luxurious lounger with champagne.
Infinity pool: The infinity pool is the highlight of the beach club. It lets guests take in the stunning views of the Arabian Gulf and relax under the sun. The collection is spectacular and has an incredible backdrop to some fantastic pictures.
Food and drinks: A restaurant is also located at the beach club, offering seafood, vegan food, and international cuisines. You will also find some world-class alcoholic beverages from across the world.
Event hosting: Drift beach provides exclusive services for organizing parties and events. The private cabanas, VIP terrace, and various lounge areas make it the perfect setting for private events, birthday parties, and get-togethers.
Drift beach club
The stunning private beach club was designed with the utmost luxury in mind to please even the most discerning guests. And not only do they accomplish the goal, but they do it with elegance and style!
It features a breathtaking infinity pool that overlooks some eye-opening scenery. That includes a kilometer of beachfront, lush landscaping, Dubai's skyline, and panoramic views of the iconic Palm Island Bay.
There are enough seating areas for hundreds at a time, and up to ten guests can stay in a single private place. So not only is it an excellent place for romantic dinners with your partner, and an ideal location to host a party.
Restaurant and bar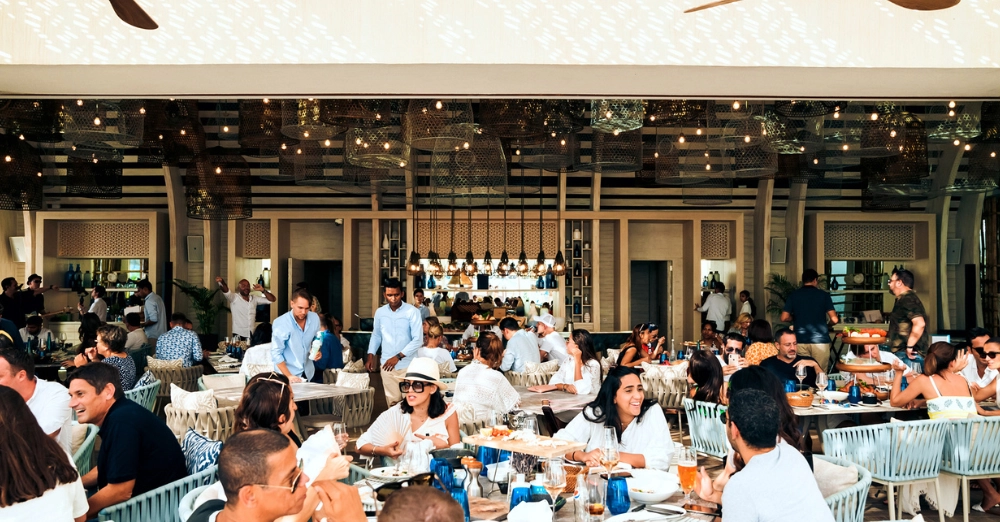 Drift Beach has separate menus for breakfast, desserts, wines, and restaurant a la carte. Let's look at the best dishes in each of these menus below. [2]Drift beach, "Drift beach menu, https://driftbeachdubai.com/?section=section2#reservation_section:~:text=Reserve%20a%20table-,MENUS,-View"
Breakfast menu
The available drinks at breakfast include whole coconut, coffee, tea, and fruit juices. Morning detox drinks and sparkling water are also available. Some cocktails containing sparkling wine and vodka can also be ordered.
As for the main course, you can try a fresh fruit bowl, eggs, Italian Fritatta, avocado toast, etc. The food there is healthy and delicious, and the atmosphere is pleasant.
Restaurant a la carte menu
A la carte restaurant menu offers a unique dining experience, with dishes often unfamiliar and exotic dishes. Despite the unusual ingredients and strange names, these dishes are incredibly delicious.
This menu offers a wide range of options, from something as simple as French goat cheese to the slightly unfamiliar Spanish octopus.
Some popular items include king crab legs, prawns, seafood, and beef. There are also stone-baked pizzas, risotto, spaghetti, and much more.
A la carte dining is a great way to try new things and expand your palate. So next time you're looking for an adventurous meal, check out this menu and give it a shot.
Desserts menu
Finish off your meal with mouth-watering and exquisite-looking desserts from Drift beach club. The options include ice cream, pastries, cheesecakes, and four cocktails.
The prices start off normal – a melting chocolate cake with crackers, marshmallows & Tiramisu gelato only costs AED 40. Even the most expensive options cost less than AED 95. But if you order the dessert wines, be ready to pay up to AED 3400, depending on your choice!
Wine menu
The wine menu at this restaurant is sure to please everyone, with a wide selection of white wines, red wines, and champagnes. There are well over 75 drinks to choose from.
A glass of red or white wine starts at just AED 75. But If you want to buy a bottle, the price starts from AED 365 and goes up to AED 6850 for white wine and up to AED 7800 for red wine.
The most expensive item on the menu is the Armand de Brignac Brut champagne, which comes in 1.5-liter and 3-liter bottles. The 1.5-liter bottle costs AED 14,500, while the 3-liter bottle costs an astonishing 49,000.
Whether you're looking for a light and refreshing glass of white wine or a decadent bottle of champagne, you will find it there.
To reserve a table at Drift's restaurant, call +971 (0) 4315 2200 or send an e-mail to reservations@driftbeachdubai.com at any time.
Drift beach restaurant policies
At the beach club, you can indulge in any service you have booked. But there are a few practices you have to follow during reservation and while you are there. They are: [3]DRIFT, "Reservation Policies, https://driftbeachdubai.com/book-a-table/"
Beach clothes are not permitted inside the restaurant. Be sure to put on clothes appropriate for a restaurant before entering.
No one below 16 is allowed to enter the beach or its restaurant.
All guests ages 16 to 20 must have a parent accompanying them.
If you wish to make a reservation request less than 30 minutes from the current time, please contact the restaurant first.
Drift beach Dubai: pricing & deals
Drift Beach Dubai is an oasis that offers breathtaking views and unparalleled luxury. Situated in the Palm Jumeirah, it boasts the finest amenities – from comfortable daybeds to private cabanas – that provide guests with a holistic beach experience.
With competitive pricing and great deals from time to time, it is no wonder Drift Beach is among the most sought-after beach clubs in the region. Whether you are looking for a family outing or to indulge in a special occasion, this beach club meets your expectations and beyond.
The One & Only Royal Mirage is a luxurious, five-star resort offering something special for all ages. The Palace, Residence & Spa, and Arabian Court are all tailored to give you the best vacation possible.
Overlooking stunning ocean views, these three accommodations provide comfort and relaxation while giving access to some of the region's most exquisite cuisine. Guests can enjoy Mediterranean, Moroccan, and Indo-European cuisines while savoring breathtaking sea views.
Additionally, there are three tennis courts, a magnificent swimming pool with temperature controls, a water sports center and a kids' club at this destination – and a full-day pass for the Aquaventure Waterpark nearby.
Book now: One & Only Royal Mirage Resort Dubai
Drift sun loungers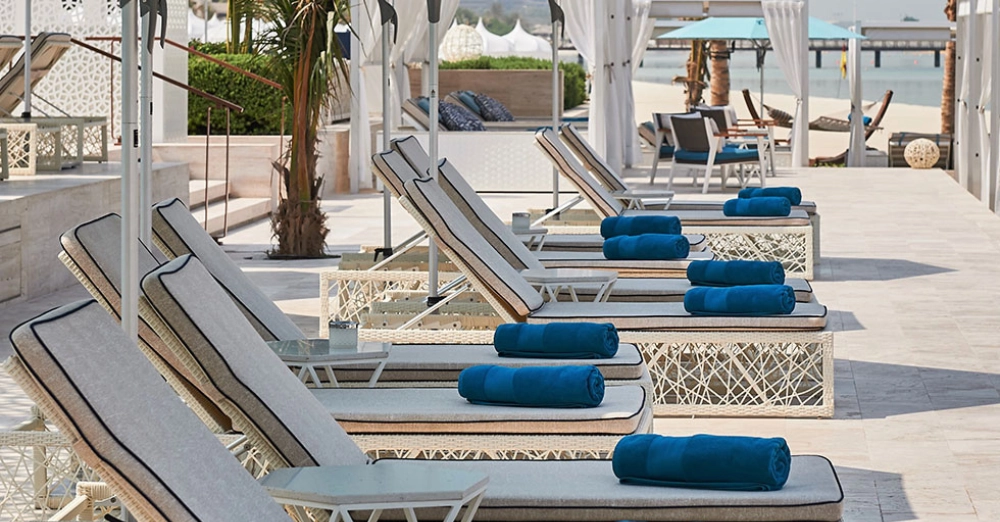 Drift beach Club's spacious pool and beautiful beach are perfect for lounging, and they have plenty of sun loungers for you to choose from.
The loungers have locker facilities, so you can store your belongings safely while enjoying the day. And to keep you hydrated, they'll even provide you with a complimentary water bottle.
The prices start at just AED 200 per person from Monday to Thursday and AED 250 per person from Friday to Sunday. These are very reasonable prices, especially considering the location and amenities.
VIP Drift beds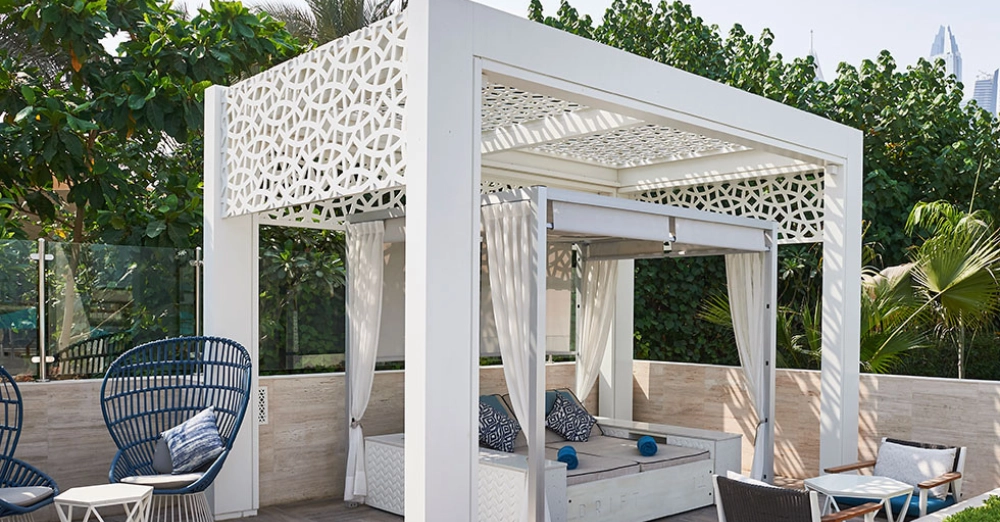 Drift Beach Club's VIP sunbeds provide a luxurious lounging experience with additional cushions for comfort. These have white shades to offer privacy and a locker to store your belongings. A bottle of still water is also provided.
Booking a VIP Drift bed will include a bottle of wine or other beverages for your enjoyment. There are three beverage options available for VIP lounging:
A bottle of White Wine or House Rosé for AED 1,000.
A bottle of "R" de Ruinart or Moët Ice Imperial for AED 1,500.
A bottle of Ruinart Rosé or Ruinart Blanc de Blancs for AED 2,500.
Each of these offers is for two people. They allow you to invite up to 2 additional guests as well. For each new guest, you must pay AED 200 from Monday to Thursday and AED 250 from Friday to Sunday.
Drift Island beds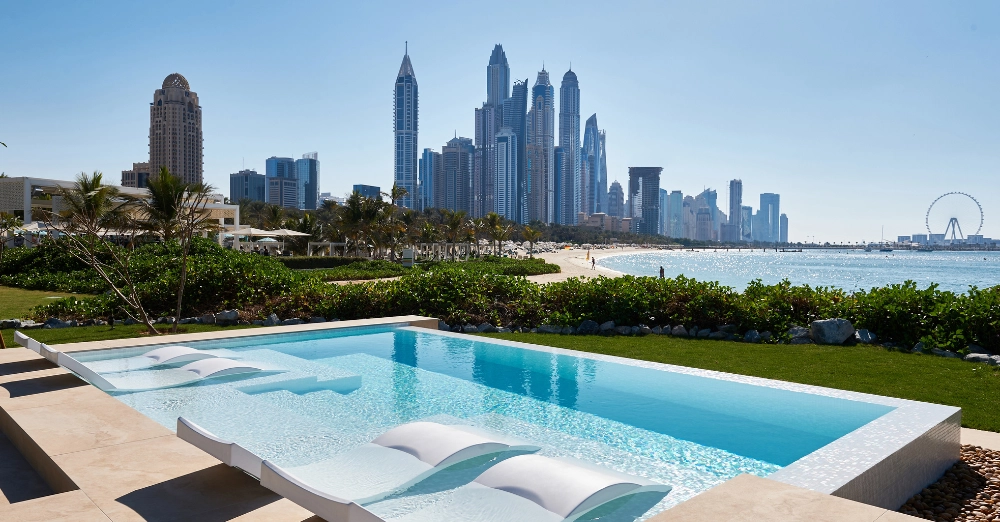 Drift's luxurious island beds are located directly next to the pool, with a locker and a bottle of still water. You must choose which champagne you want if you are booking this lounger.
A bottle of "R" de Ruinart champagne or Moët Ice Imperial comes for AED 1,500. For an even more indulgent experience, try a bottle of Ruinart Blanc de Blancs or Ruinart Rosé champagne for AED 2,500.
The bottles of champagne are suitable for two people, so it is a great idea to invite a guest. One guest can be added for AED 200 from Monday to Thursday or AED 250 from Friday to Sunday.
Private beach Cabana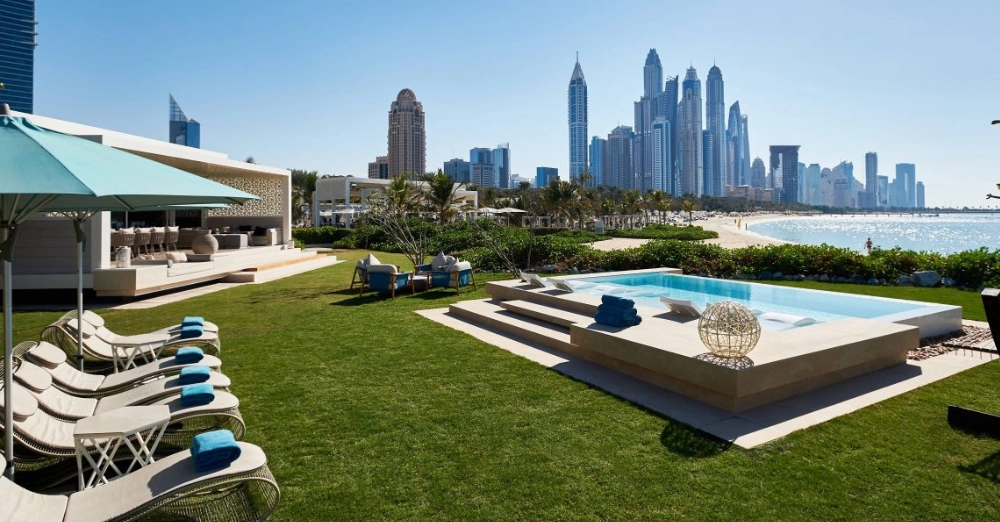 A private beach Cabana at Drift beach Club is the perfect way to enjoy all the club offers in complete privacy and seclusion.
The cabana has a dedicated private waiter, a welcome fruit platter, and a bottle of still water. In addition, you get full access to all Drift facilities and your choice of menu.
You will also have your private shower and changing facilities. And if you want to play your music, a state-of-the-art sound system is available too.
The Cabana is available for eight people at a rate of AED 6,000 from Monday to Thursday and AED 9,000 on other days. For an additional AED 500 per person, you can bring two more people with you for a total group size of ten.
So if you want a great place to entertain yourself or enjoy with a group of friends, this Cabana will be perfect for a music-filled day of relaxation. It is a great place to party, away from the crowds of the beach club's main swimming area.
How to reach Drift beach Dubai?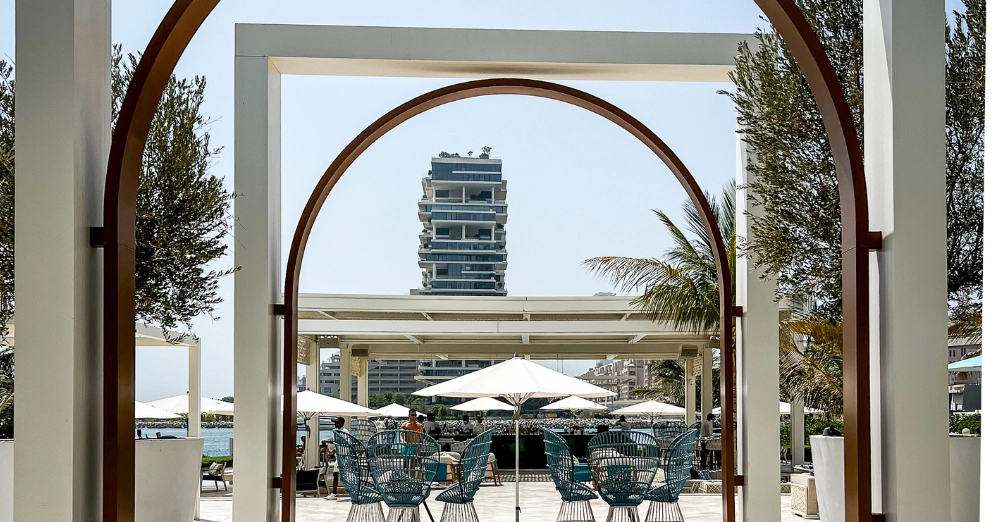 You can reach Drift beach in three ways: bus, car, and metro. Whichever you choose, it is a quick and easy journey that will bring you to Dubai's most exclusive beach club.
Just know there will be a little walking if you use the bus. Similarly, if you use the metro to get close to the club, you may need to take a short taxi ride to the beach club.
By bus
The closest bus station to Drift beach club is the Palm Jumeirah Monorail Station's bus stop. Another nearby bus station is at the Royal Mirage Hotel in Al Sufouh 2.
If you want to catch a bus to Drift beach, make sure to catch a bus that goes to a station in Al Sufouh 2. The beach club is just a few minutes away from these stations on foot.
By car or taxi
You will find taxis everywhere in Dubai. Just tell them you want to go to Drift beach at Al Sufouh 2, and they will take you there. The fare depends on how far away you are from the beach club.
Or, if you want to rent a car, there are various types available. You can either find a cozy hatchback, an expensive sedan, or an exotic supercar for hire in Dubai. Check out the link below to find out more.
Rent a car: Car hire in Dubai
By metro
The closest metro station to Drift beach is the Al Khail metro station. Similarly, the Dubai Internet City Metro Station is another metro station nearby.
If you can catch the red line metro from where you are in Dubai, you can get off at Al Khail or Internet city station.
Related Stories
---
FAQs
How much does Drift beach club cost?
The Drift beach Dubai entrance fee starts at AED 200. For this price, you will get a single lounge bed for yourself.
Are kids allowed at Drift beach?
No, kids are not allowed at Drift beach. Only people aged 16 or above are permitted to enter. All sixteen to twenty-year-old guests are required to be accompanied by their parents.
Where is Drift beach Dubai?
The Drift Dubai is located at One&Only Royal Mirage in Al Sufouh, Dubai. You can go there by public bus, car, or metro.
Final thoughts
Drift beach Club is the most exclusive beach club in Dubai. Whether you're looking to soak up some sun as an individual, couple, or group, this is the perfect spot. And with affordable starting prices, it's easy on the wallet too!
As long as you are 21 or 16 years old with parents coming along, you will receive a warm welcome. Just be respectful and do not wear beach clothes while at the restaurant.