Jumeirah beach is one of the most beautiful beaches in Dubai. It is located near Burj Al Arab and is a great place to spend a day with family and friends, or even by yourself.
Jumeirah beach has plenty of activities to keep you busy, including swimming, sunbathing, windsurfing, and kayaking. There are also several restaurants and cafes nearby and a few bars. And if you plan on staying for a while, you can also book some exotic or budget-friendly hotels nearby.
Our team explored Jumeirah public beach and participated in exciting activities like jet skiing and parasailing.
We also stayed in nearby hotels and dined at various restaurants. This information provides a comprehensive guide for anyone interested in visiting the area.
Quick info about Jumeirah beach
First, let's learn a few things about Jumeirah beach before we discuss further details.
Jumeirah beach is one of the best places to view the Burj Al Arab, the most well-recognized hotel in Dubai.
The sea is known as the Persian Gulf or Arabian Gulf.
You will also get to see some of the best skyline views as well as sunrise and sunset in Dubai from this beach.
It is a free public beach with all amenities at an additional cost.
It is easily accessible from all places, as there are many nearby metro and bus stations and plenty of taxis around Dubai.
Jumeirah public beach can get crowded on weekends, so it is best to visit during the weekdays.
This beach is at a perfect distance from some amazing attractions and famous places in Dubai.
Now that we know a little about Jumeirah beach let's look at what you can do there.
Best of Jumeirah beach
The coastline of Jumeirah beach is dotted with luxury hotels, high-end restaurants, and boutiques.
If you find yourself near Jumeirah beach, there are plenty of activities to keep you occupied. Whether you're looking for a place to stay or something to do, here are the top three best options.
Best things to do in Jumeirah beach
Best hotels near Jumeirah beach
Best attractions near Jumeirah beach
Things to do at Jumeirah beach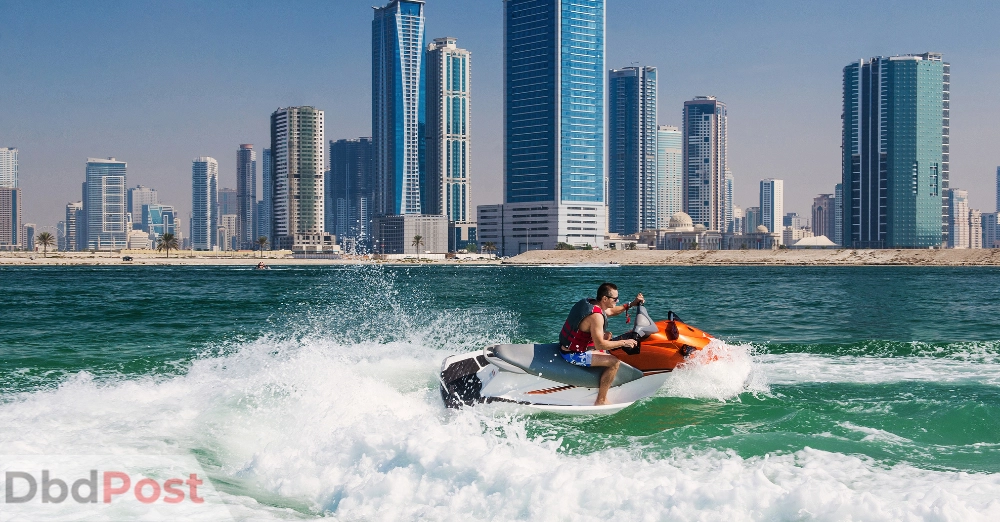 There's no doubt that Jumeirah beach is one of the best places to spend a day in Dubai. There are plenty of activities, from swimming and sunbathing to parasailing and scuba diving.
Whether you're looking for a day of relaxation or a more active vacation, Jumeirah beach has something for everyone.
Here are just some of the best activities you can take part in: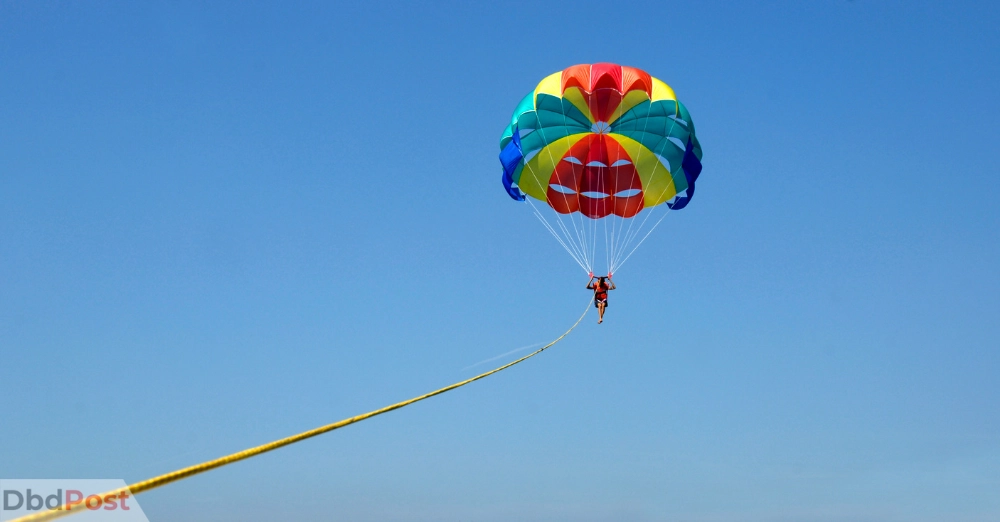 Parasailing is an increasingly popular activity, and it's not hard to see why. There's something special about enjoying the views of Burj Al Arab and Palm Jumeirah from the skies.
The experience is also relatively inexpensive, costing less than $100. Parasailing is worth trying out whether you're a tourist or a local.
Likewise, you can book your parasailing session by clicking the links below:
Book here: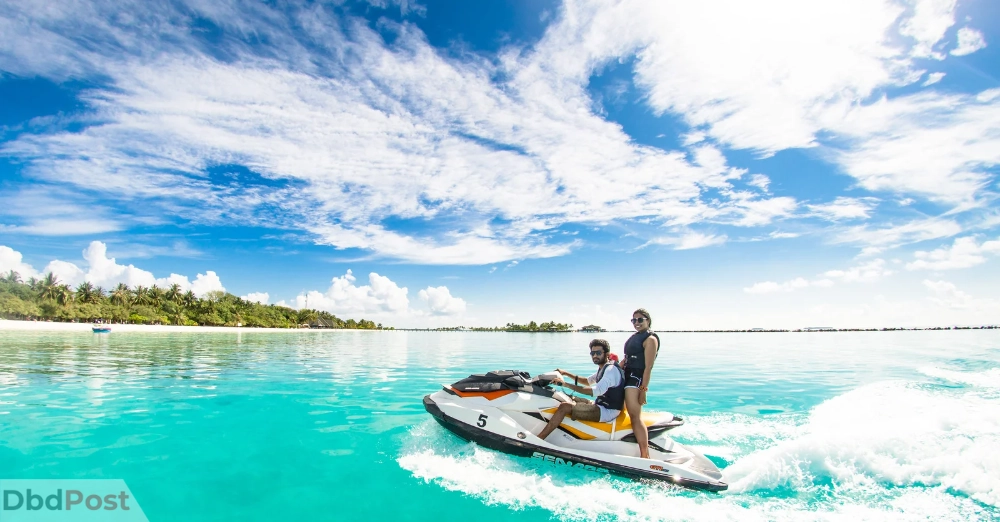 There's nothing quite like jet skiing in the beautiful waters of the beaches in Dubai.
The feel of the wind in your hair and the sun on your skin is unbeatable. And when you're carving through the waves on a jet ski, you feel like you're living life to the fullest.
Jumeirah beach is the perfect place to enjoy a jet ski experience. The water is calm and clear, and the scenery is simply stunning.
With its backdrop of towering skyline and luxurious hotels, it is one of the most popular places to jet ski in Dubai.
Experience the thrill of jet skiing today by clicking the link below.
Book here: Jet ski at Jumeirah beach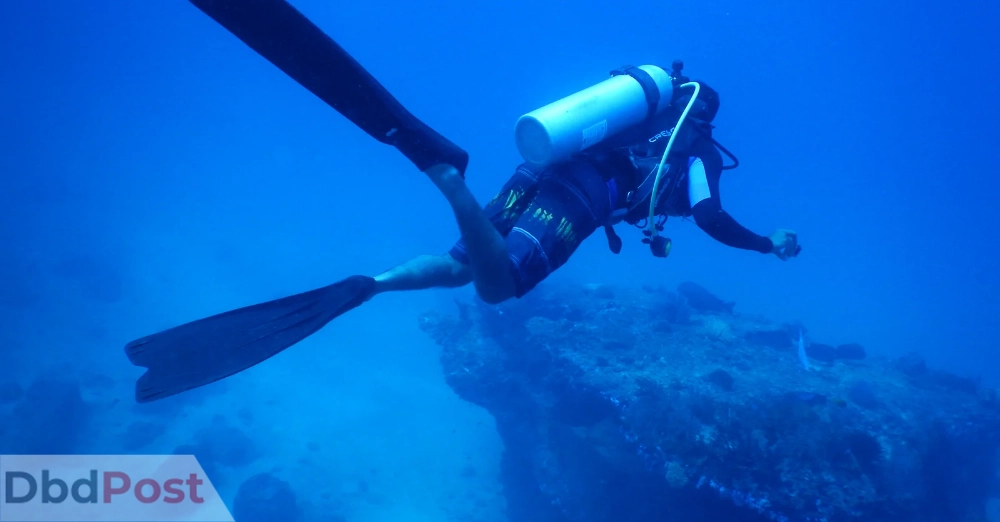 Scuba diving at Jumeirah beach is an experience you will never forget. The water is crystal clear, and the marine life is simply breathtaking.
You will have the chance to see a variety of fish, corals, and other underwater creatures.
The best part is that you do not need to be an experienced diver to enjoy this activity. The professionals are highly trained and will ensure a safe and enjoyable diving experience.
Book here: Jumeirah beach scuba diving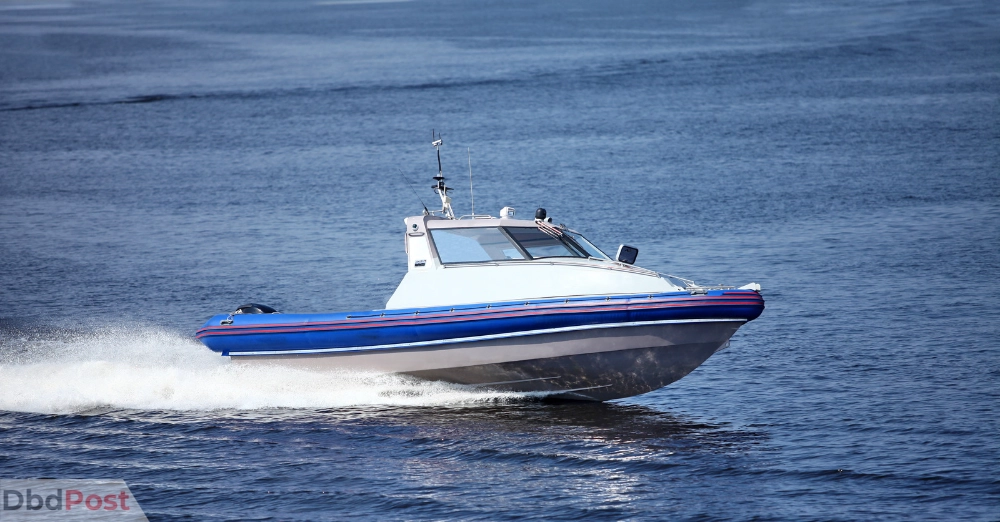 Jumeirah beach's sparkling white sand and azure waters are simply stunning. But many visitors don't know that this beach is also great for a speedboat tour.
Several companies offer tours typically lasting around 30 to 60 minutes.
During the tour, you'll zip around the coastline, getting up close and personal with the stunning scenery. It's an exhilarating experience and one that you won't soon forget.
So, if you're looking for an unforgettable way to see Dubai, be sure to book a speedboat tour.
Book here: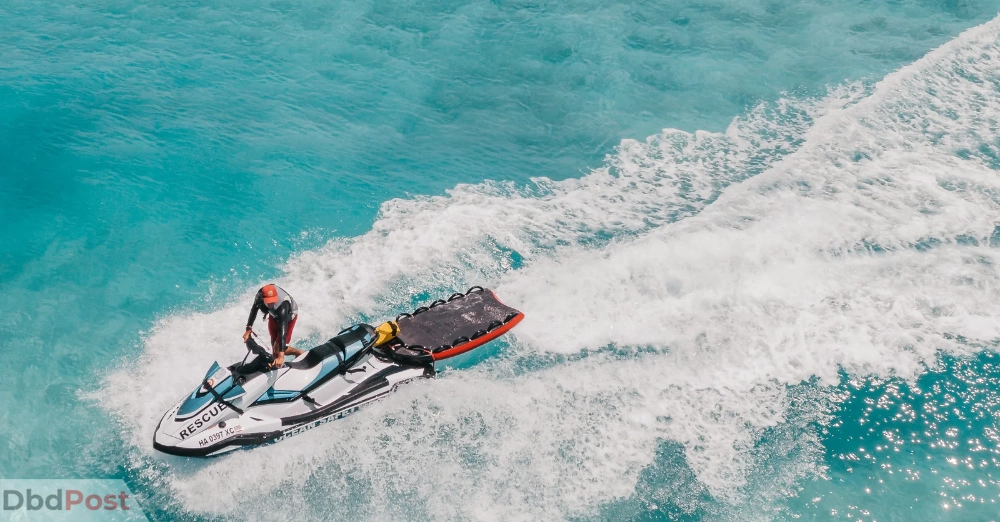 There's something incredibly peaceful about being out on the water, and self-boat rides allow you to savor that feeling the best.
You can ride at your own pace and enjoy the freedom of being in control with a self-boat ride.
Of course, it's essential to take safety precautions before setting out. But once you are out there, you can create your memories at your own pace.
Book here: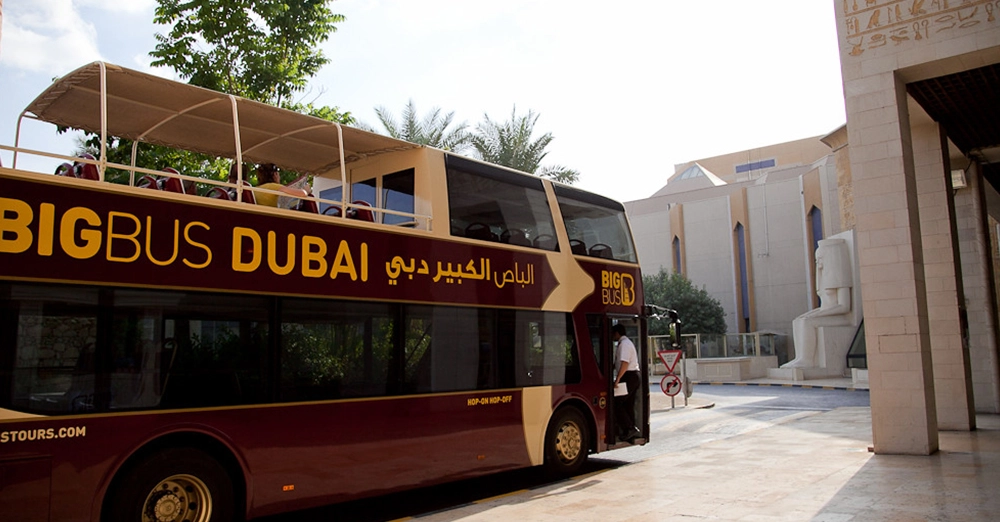 As anyone who has ever been to Dubai knows, it is a truly stunning city. From the towering skyscrapers to awe-inspiring architecture, there is simply no better way to see Dubai than this.
Not only is it a relaxing way to see the city, but it is also incredibly convenient. You can get on and off the bus at several different stops throughout the city, meaning that you can tailor your tour to your interests.
You can take the tour bus near Jumeirah beach and begin your tour immediately.
Book here: Big Bus Hop-on Hop-of sight-seeing tour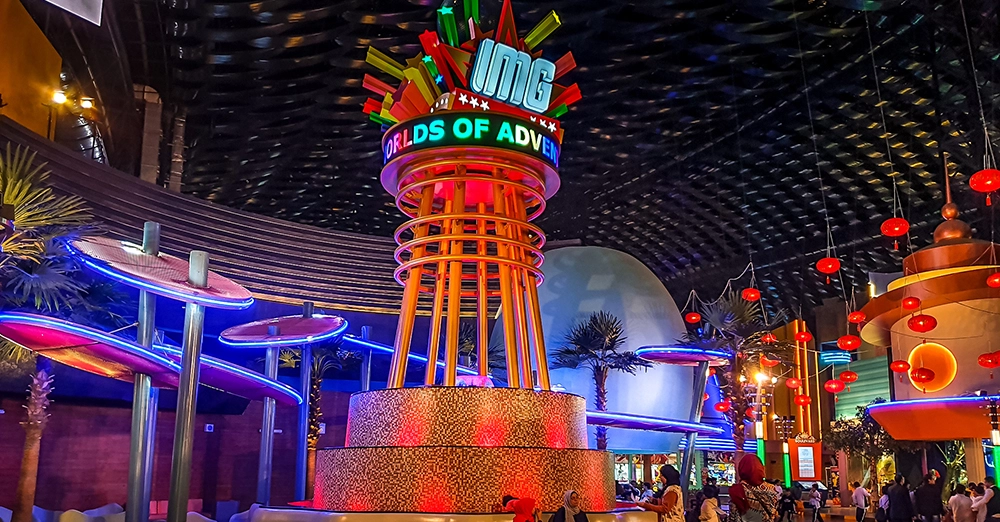 With over 1.5 million square feet of space, IMG Worlds of Adventure has something for everyone.
As its name suggests, this theme park has rides and attractions based on popular fictional worlds like MARVEL, Jurassic Park, and many cartoons. These will give you and your kids memories that will last a lifetime.
And if you're feeling brave, there's even a haunted hotel! With unlimited rides and attractions included, IMG Worlds of Adventure is the perfect place for a family day out.
You can also enjoy movies, dinner, lunch, and shopping here.
Book here: Guided sightseeing tour of IMG theme park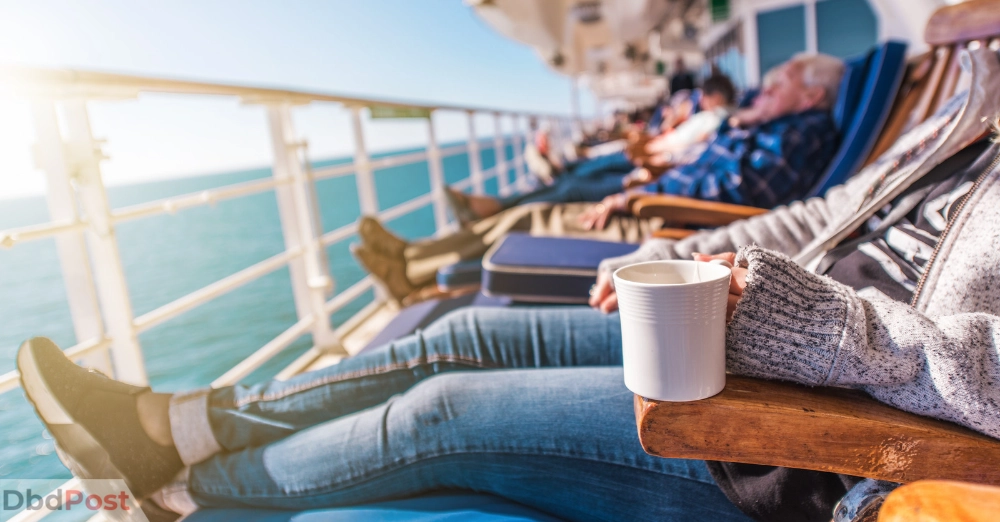 Dubai is known for its luxury lifestyle. And there's no better way to experience it than on a breakfast or sunset dinner cruise near Jumeirah beach.
You will be treated to stunning views of the city skyline as you enjoy a delicious meal on board the ship.
Some of the trip's highlights include the sights of Burj Al Arab hotel and Dubai Marina.
Book here: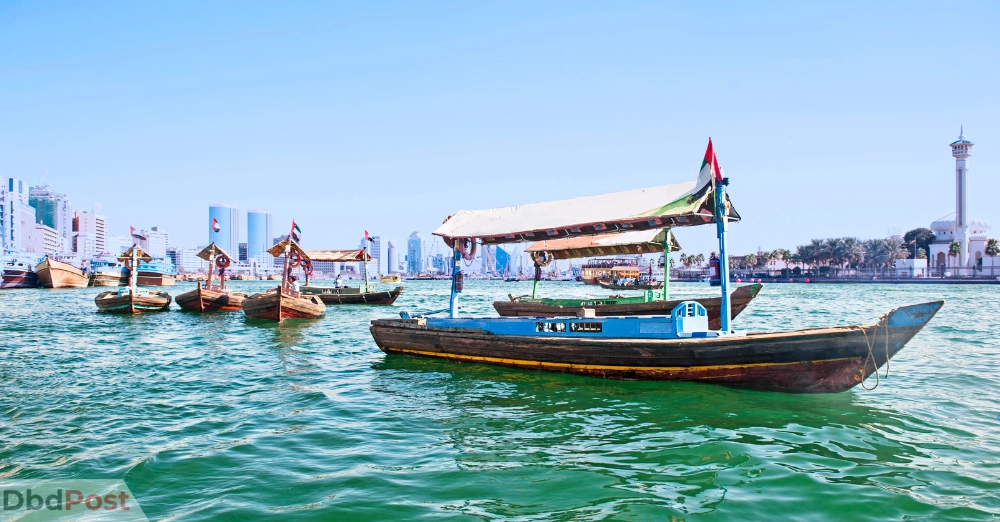 If you want to see the beautiful Dubai coastline, you should go on a sailing tour with options for BBQ and swimming.
You'll be able to view the Burj Al Arab, Jumeirah Beach Residence, and more from the comfort of your own sailboat. Plus, you can enjoy a delicious barbecue lunch while you're on board.
After your sailboat ride, you can dip in the water near the beach. This is an excellent activity for families or groups of friends.
Book here: Sailing Tour with BBQ and Swimming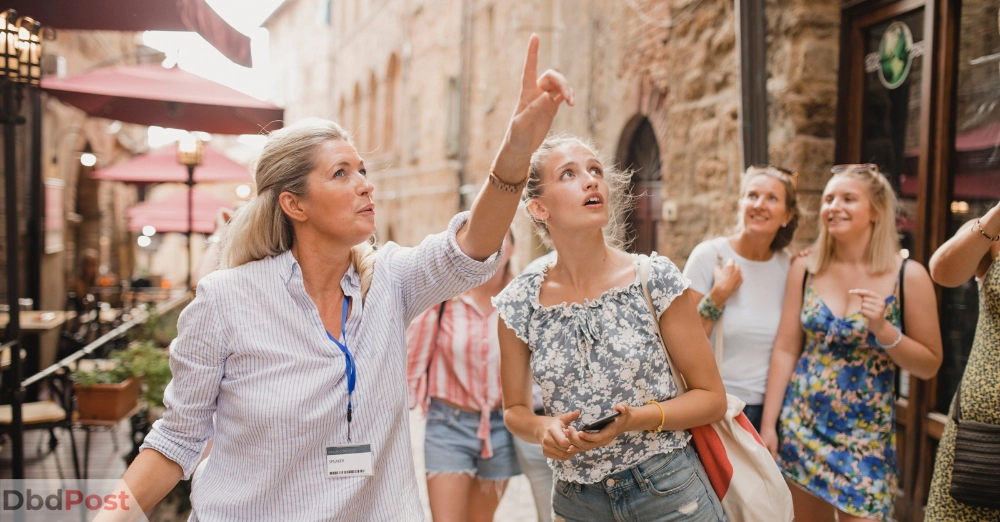 A private guided tour of Dubai is the perfect way to see all the best things there. You can visit all the city centers, malls, and attractions with a professional guide who handles transportation.
You can also choose if you want to see Dubai at night. Seeing the city's skyline when all the lights are on will be even more magical.
Similarly, you can customize your tour to include any of your particular interests.
Book here:
Top attractions near Jumeirah beach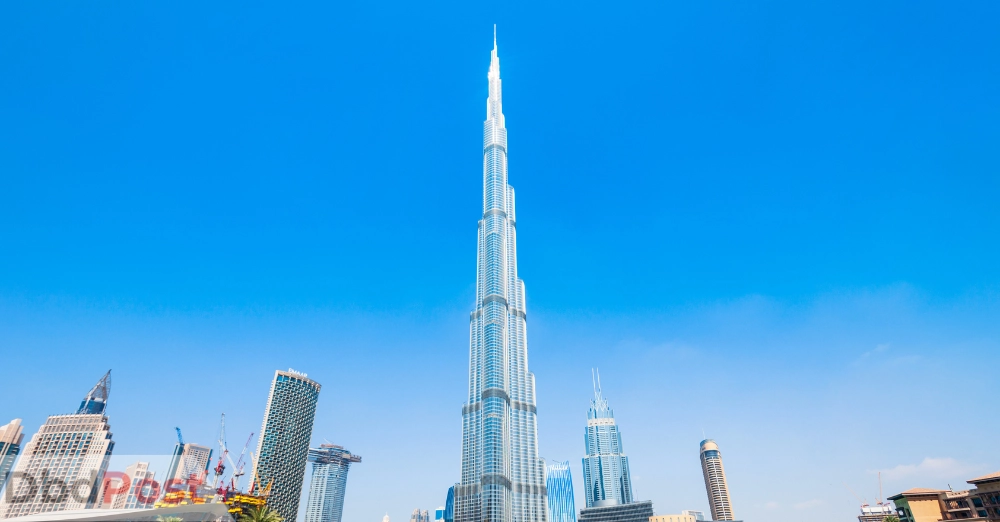 If you're looking for world-class attractions in Dubai, you won't have to look far. Jumeirah Beach is home to some of the most spectacular sights in the city, from towering skyscrapers to lavish hotels.
And best of all, many of these attractions are within walking distance of the beach.
So, whether you want to soak up the sun or explore Dubai's rich culture, Jumeirah Beach is the perfect place to start.
Here are just a few of the attractions you'll find near Jumeirah Beach: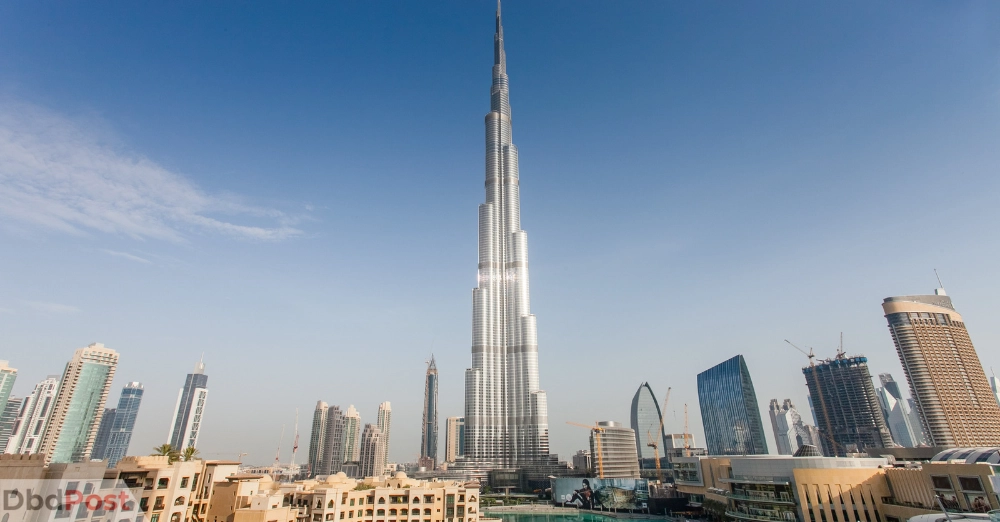 The Burj Khalifa is a must-see for any visitor to Dubai. Standing over 828 meters tall, it is the tallest building in the world and offers stunning views of the city from its observation deck.
Visitors can also go to the top of the skyscraper for even more incredible dizzying views of the cityscape experience.
The upper floors of the Burj Khalifa are also open to the public, so be sure to check out the views from the 124th, 125th, and 148th floors.
Book tickets: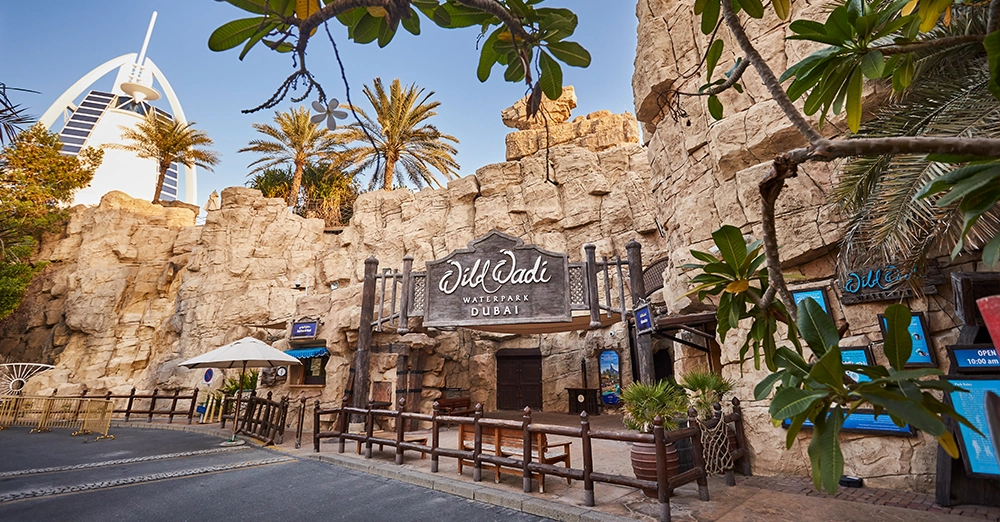 Wild Wadi Waterpark is a fantastic place for kids and families to enjoy a day of fun in the sun. With over 30 rides and attractions, there is something for everyone to enjoy.
The park is open daily from 10 AM to 6 PM, and disability access is available during these hours.
In addition to the rides and attractions, Wild Wadi also offers food, drinks, and various shops to visit. So enjoy a fun day at Wild Wadi Waterpark by booking their tickets.
Book tickets: Full-day entrance ticket for Wild Wadi Waterpark
Aquaventure Waterpark, also known as Atlantis waterpark, is one of the best water parks in the world. It is priced at less than $100 for full-day access, which is reasonable for what you will get, and the reviews are exceptional.
There are plenty of thrilling water slides, and their safety standards are very high. Moreover, attractions like the Tower of Poseidon and Aquaconda water tunnel are sure to stimulate your heart.
If you feel courageous, we urge you to go and take a ride on the "Leap of Faith" waterslide too. And when you're ready to relax, head to the private beach.
There's also a water playground for kids. So, whether you're looking for thrills or want to relax in the sun, Aquaventure Waterpark Dubai is the perfect place.
Book tickets:
Atlantis is a lost city that has been a legend for centuries. It is said to be lost beneath the sea. The Lost Chambers Aquarium is the giant aquarium in the Middle East and is home to more than twenty marine life exhibits.
As you stroll through the chambers, you will see over 65,000 marine animals swimming around you, including sharks, stingrays, piranhas, seahorses, and eels.
This aquarium also has simulated coral reefs; you can watch the animals swim and feed. Whether you're a fan of marine life or not, you will be once you have visited here.
Book tickets: Lost Chambers Aquarium & Atlantis Aquaventure tickets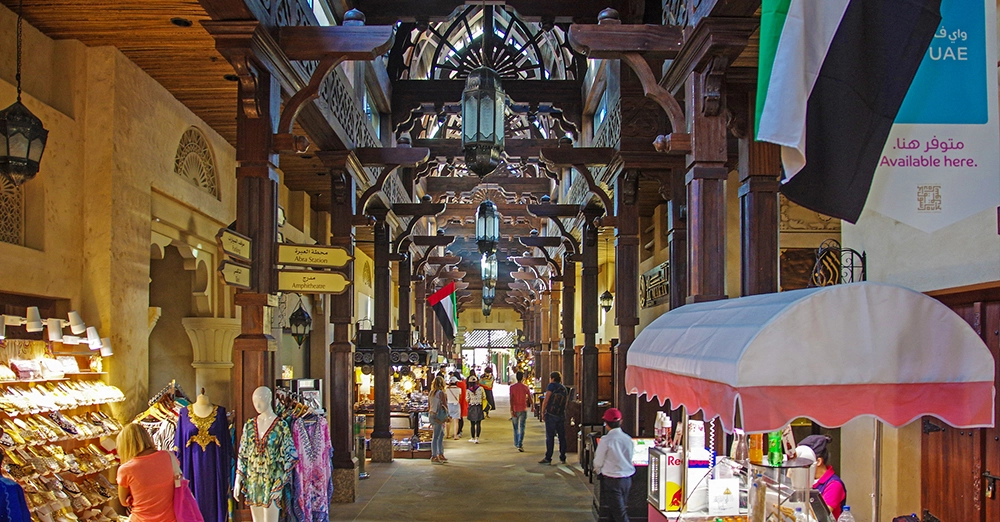 The Souk Madinat Jumeirah is a traditional Arabian marketplace part of Dubai's fantastic Madinat Jumeirah resort. Visitors can stroll through its never-ending alleys and smell the alluring scents and fragrant spices.
The market is decorated with beautiful glowing lanterns, and the air is filled with fragrance. The wonderful scents of colorful spices and the scenes of local jewelry being sold are equally magnificent.
This is a great place to shop for souvenirs and gifts and to experience genuine Arabian hospitality.
Book tickets: Half-day tour at Madinat Jumeirah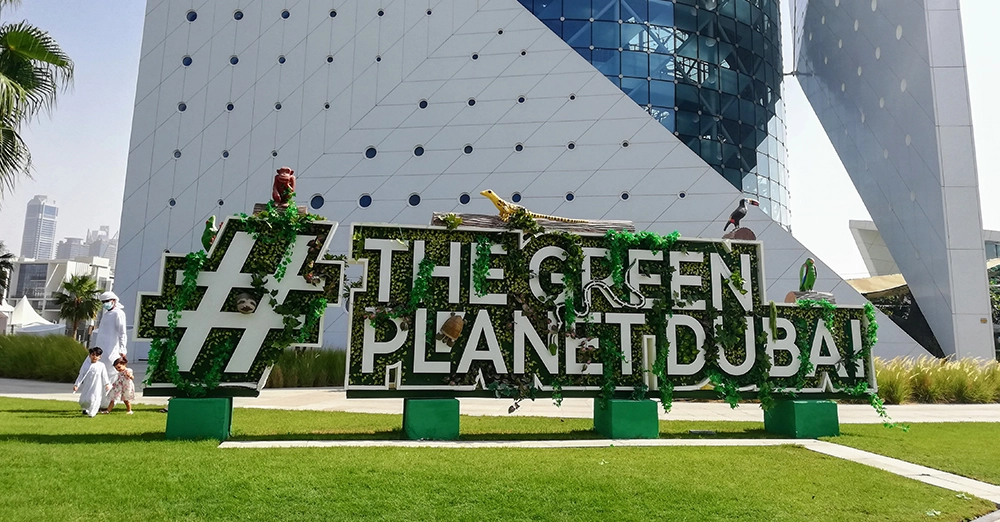 The green planet in Dubai is an indoor rainforest home to over 3,000 animals and plants. This lush ecosystem includes wildlife like Sloths, Snakes, and Toucans and various South American plants, reptiles, and fish species.
The warm and humid air provides the perfect habitat for these incredible creatures. It has an ecosystem that supports different wildlife and their respective food chains.
Visitors can learn about the interdependent relationships between animals and plants here. Or, they can enjoy the beauty of flora and fauna in this one-of-a-kind ecosystem.
Book tickets: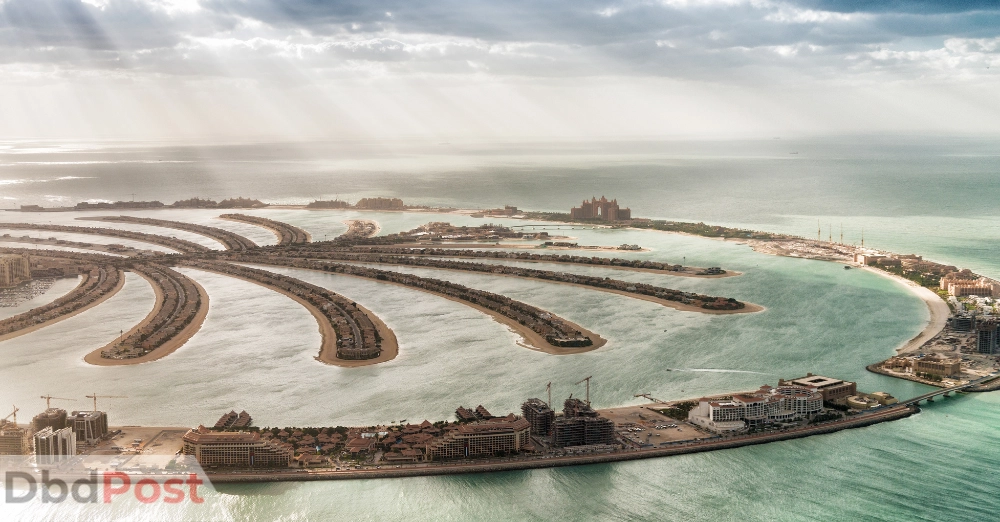 The Palm Jumeirah is an artificial archipelago in Dubai in the shape of a palm tree. It is one of the most popular tourist destinations in the city and is home to Dubai's most luxurious hotels and resorts.
The Palm Jumeirah also has many attractions, such as Aquaventure Waterpark and the Lost Chambers Aquarium. There are also several restaurants, cafes, and bars in Palm Jumeirah.
You can view all these from one place – the Palm Jumeirah observation deck called "View at the Palm." You can see the entire archipelago and get a bird's eye view of Dubai.
Book tickets: Entry ticket to The View At The Palm Observatory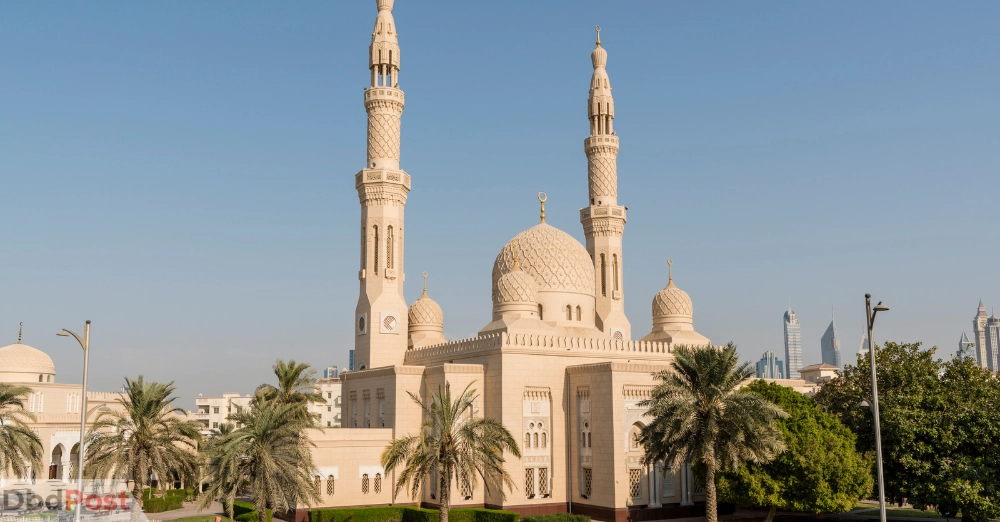 The Jumeirah Mosque is one of the most beautiful mosques in Dubai and all of UAE. It is located in the Jumeirah district and is among the most visited places in Dubai.
This mosque took design inspirations from traditional Syrian and Egyptian styles. It can accommodate 1,500 people and is regarded as an architectural marvel with intricate details and an awe-inspiring atmosphere.
Moreover, the mosque is open to visitors of all faiths so that everyone can enjoy its beauty.
And unlike many other mosques, you don't need to book in advance to visit, making it easily accessible to tourists.
So, if you are interested in traditional Middle-Eastern architecture or want to experience a different culture, Jumeirah Mosque is the place to go.
Website: Jumeirah Mosque
Hotels and resorts near Jumeirah beach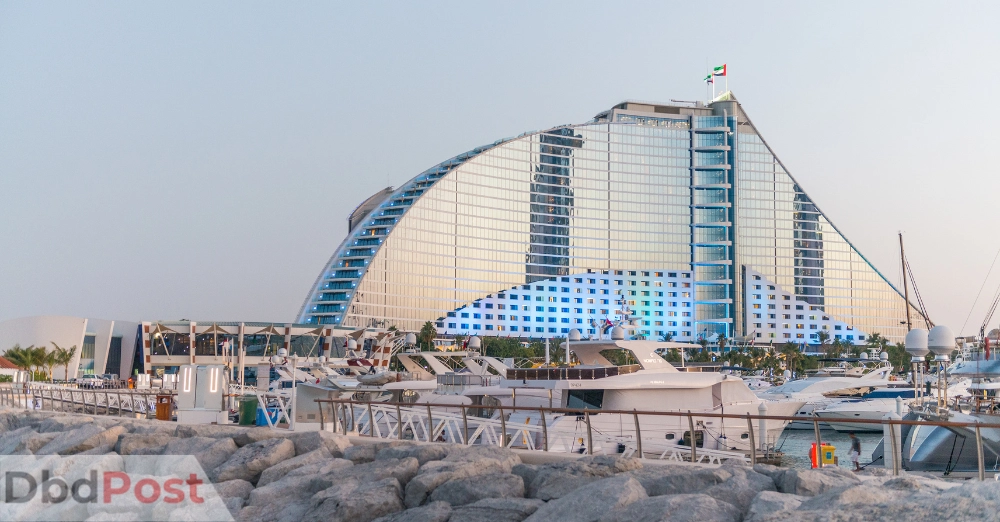 There's no denying that Dubai is a major tourist destination. Every year, people worldwide flock to the city to experience its unique blend of culture and luxury.
And one of the best ways to experience Dubai is by staying in one of its world-class hotels.
Luckily, there are plenty of great hotel options near Jumeirah public beach. Whether you're looking for a luxurious 7-star experience or something more affordable, you'll find what you're looking for.
So look at our list below and pick the perfect Jumeirah beach hotel for your next trip!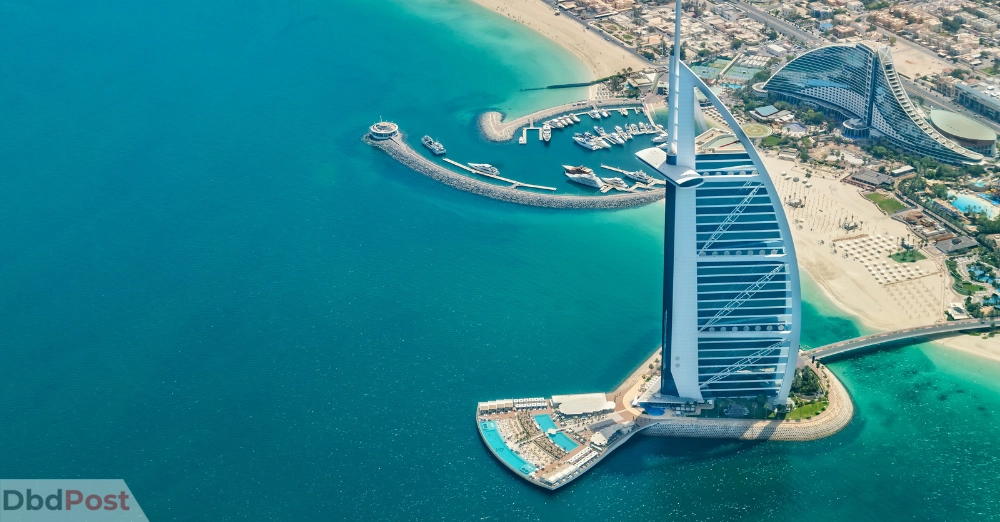 The Burj Al Arab hotel is the epitome of luxury and one of the most iconic landmarks. Guests are treated like royalty with 199 exclusive suites, each with its own 24-hour butler.
The sea views that can be seen from every room are breathtaking. And the ocean views from the higher floors are as good as they get.
From the world-class spa to the state-of-the-art fitness center, they have all the hotel services and amenities you can think of. Also within the premises are eight restaurants offering a wide variety of phenomenal cuisines.
Simply put, there is no better way to experience the ultimate luxury than in this seven-star hotel. Burj Al Arab is perfect as a relaxing getaway or a magnificent setting for a special event.
Book hotel: Burj Al -Arab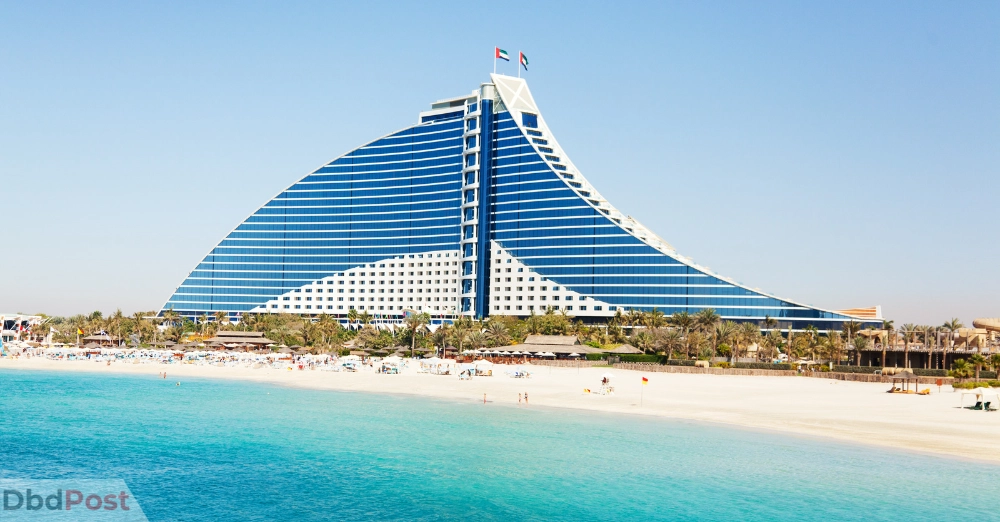 The Jumeirah Beach Hotel is a magnificent resort located next to the world-famous Burj Al Arab. The hotel features exquisite architecture, luxurious accommodations, and top-notch amenities.
To top it all off, you also get free access to the Wild Wadi Waterpark throughout your stay.
In addition, guests at the Jumeirah Beach Hotel enjoy exclusive access to the hotel's private beach and pools.
Book hotel: Jumeirah beach Hotel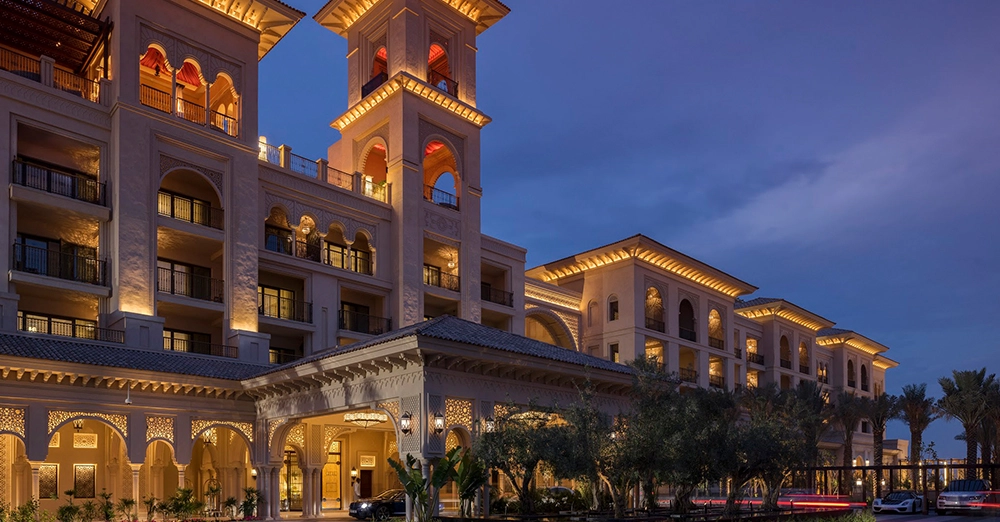 The Four Seasons Resort offers travelers the perfect opportunity to experience the best of Dubai. This 5-star hotel offers stunning views of Dubai's iconic cityscape and direct access to the Arabian Gulf beaches.
Guests can enjoy a variety of dining options at the resort's open-air lounges, which overlook Burj Khalifa. There is also a swimming pool, spa, and fitness center on-site.
You will also love the design choices of this resort, which reflect a fabulous mix of modern and traditional aesthetics. Overall, it is a perfect hotel for a romantic getaway or a family vacation.
Book hotel: Four Seasons Resort Dubai at Jumeirah Beach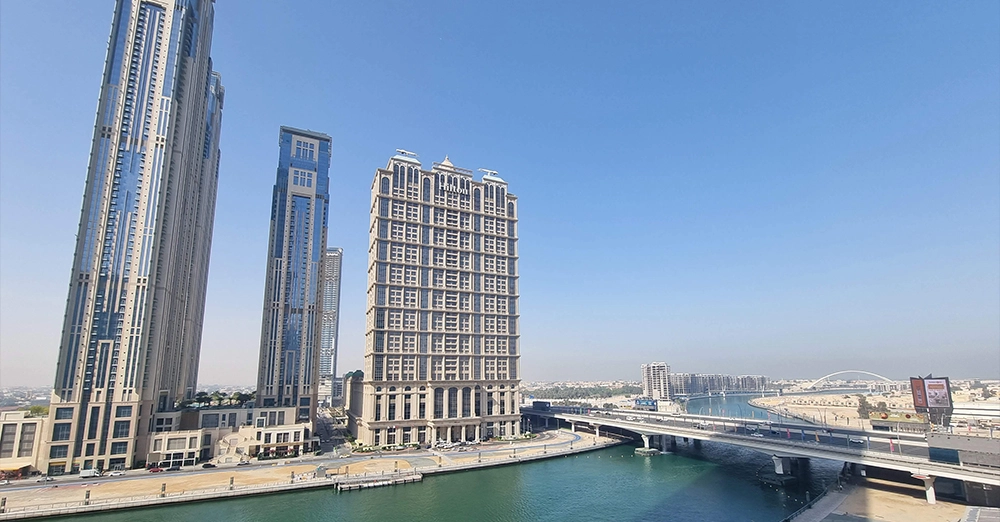 The JW Marriott Marquis Hotel is the perfect place to relax and rejuvenate. The hotel features a lounge, bar, spa, hot tubs, and an outdoor swimming pool.
There are also 14 restaurants on-site, so you can always find something to suit your taste.
For your convenience, the hotel also offers airport transportation and valet parking. And, of course, all areas of the hotel are wheelchair accessible and properly sanitized.
Book hotel: JW Marriott Marquis Hotel Dubai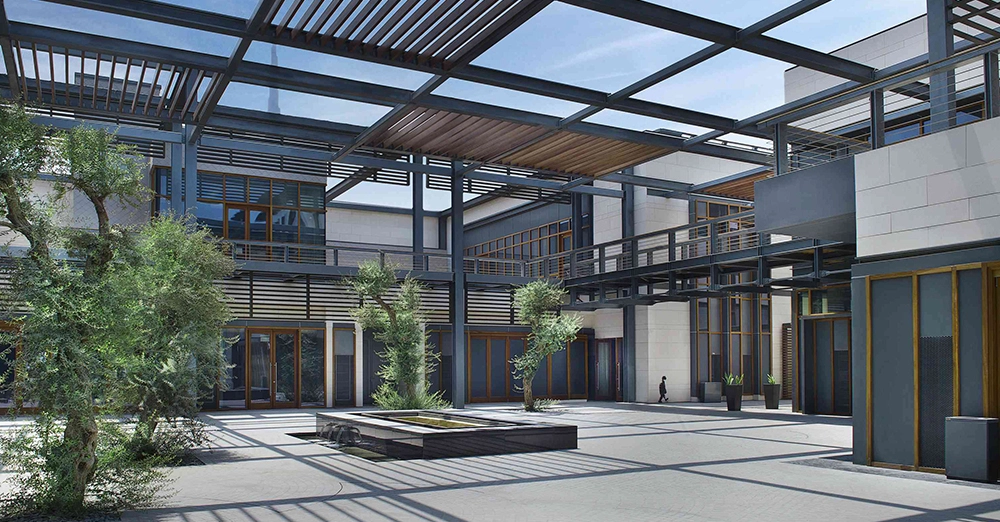 La Ville Hotel is situated in one of the best locations in Dubai. It is close to the Burj Khalifa, Jumeirah Mosque, and Dubai frame, making it easy to explore all the city has to offer.
In addition, the rooftop bar offers a great vibe, and the rooms are equipped with tea and coffee makers. For foreigners visiting Dubai, they also offer a money exchange service.
While the hotel is a little bit further from Jumeirah beach, you can always call them and ask them to pick you up. Overall, La Ville Hotel is an excellent choice for couples looking for a luxurious and romantic stay in Dubai.
Book hotel: La Ville Hotel & Suites CITY WALK Dubai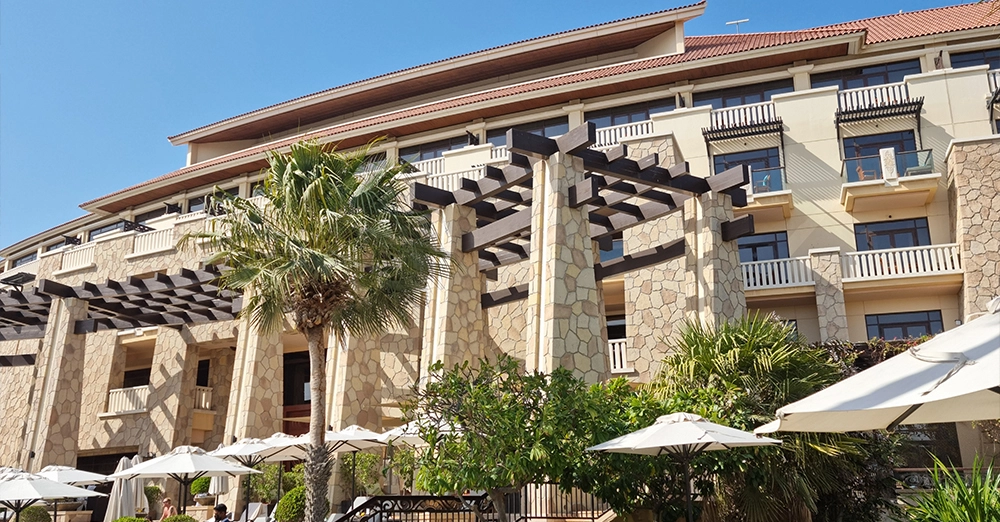 If you are looking for a luxurious stay that the whole family will enjoy, there is no better hotel than Sofitel Dubai.
This gorgeous resort is located on the artificial island of Palm Jumeirah, and it's an excellent place for those that love water activities.
The resort is close to Atlantis waterpark and dolphin bay, in case you want to explore those places.
It also features five outdoor pools, sun loungers, and a children's pool with a waterslide. The staff will even give you a comfortable free bed for your infant.
Plus, there is valet parking and a free shuttle to the shopping center. And if you're looking for something more active, the resort also has an outdoor tennis court. There is a gift shop, too, if you want to take home a souvenir.
Visitors often praise the resort's friendly staff, childcare services, and family-friendly amenities. So, we are confident you will have a wonderful time at the Sofitel hotel.
Book hotel: Sofitel Dubai, The Palm Resort and Spa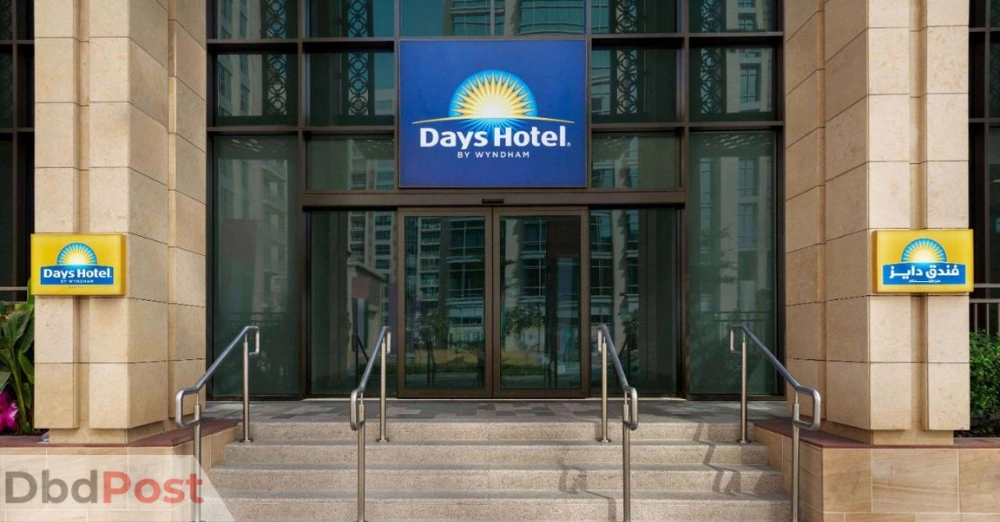 The Days Hotel by Wyndham in Dubai is an excellent choice for affordable accommodations in this exciting city.
Their affordable rooms start at just $100 per night and offer a range of amenities to make your stay comfortable. That includes 24-hour room service, a fitness center, a restaurant, and free Wi-Fi in all areas.
The hotel staff also goes the extra mile to accommodate their guests with disabilities, making sure that everyone can enjoy their hotel facilities.
Book hotel: Days Hotel By Wyndham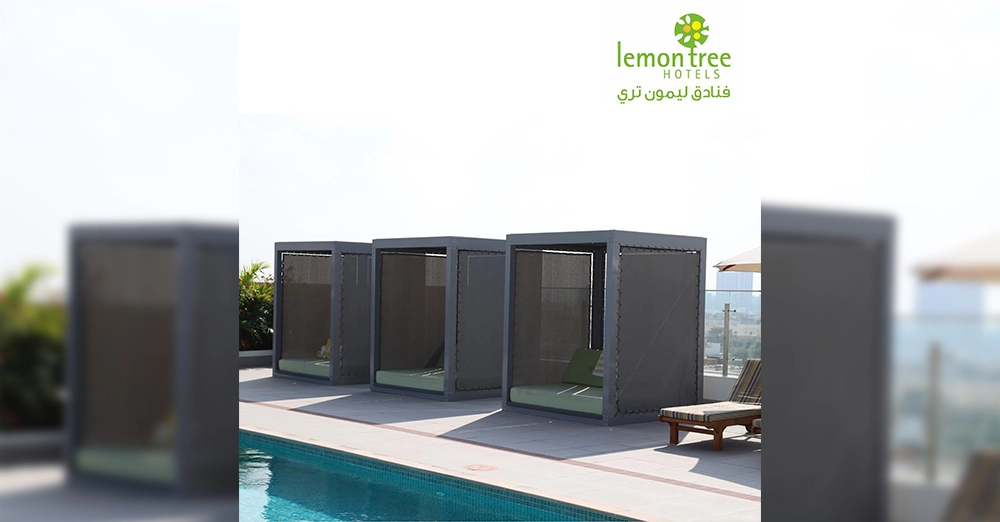 The Lemon Tree Hotel is a great place to stay for travelers who want to be close to the beach without spending a fortune.
The rooms are air-conditioned and reasonably priced, and their delicious buffet breakfast is a great way to start the day.
The hotel also has a restaurant, fitness center, and terrace, making it a perfect place to relax. It offers free private parking too, so you can leave your car at the hotel and walk to the beach or nearby attractions.
It is 1.8 km from Jumeirah Beach, perfect for a day of swimming or sunbathing. The hotel is also affordable, with prices starting around just $100.
The Lemon Tree Hotel is excellent for relaxing in an affordable hotel near the beach.
Book hotel: Lemon Tree Hotel, Jumeirah Dubai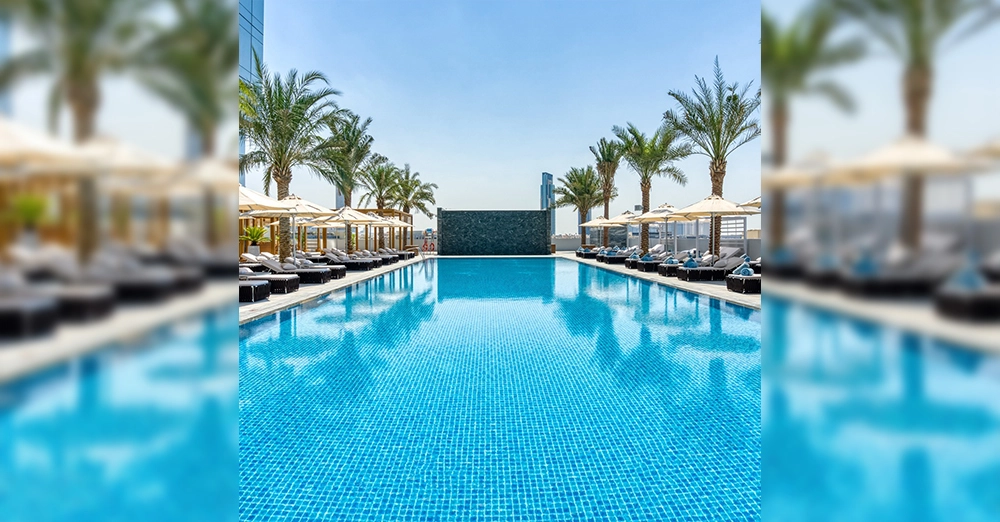 With its striking high-rise design and the nearby Circle Community Park, the First Collection hotel is famous for travelers.
The hotel features 491 spacious rooms with beautiful views of the cityscape and a tea/coffee maker for free use.
Guests can also enjoy the Santè Ria and à la Carte menu of South American cuisine. The hotel also provides currency exchange services and has a fitness center & an outdoor pool.
Thousands of guests have given this hotel excellent reviews, noting its convenient location and facilities.
A few minutes' drive from Jumeirah public beach, and the First Collection hotel is an ideal choice for your next holiday in Dubai.
Book hotel: The First Collection at Jumeirah Village Circle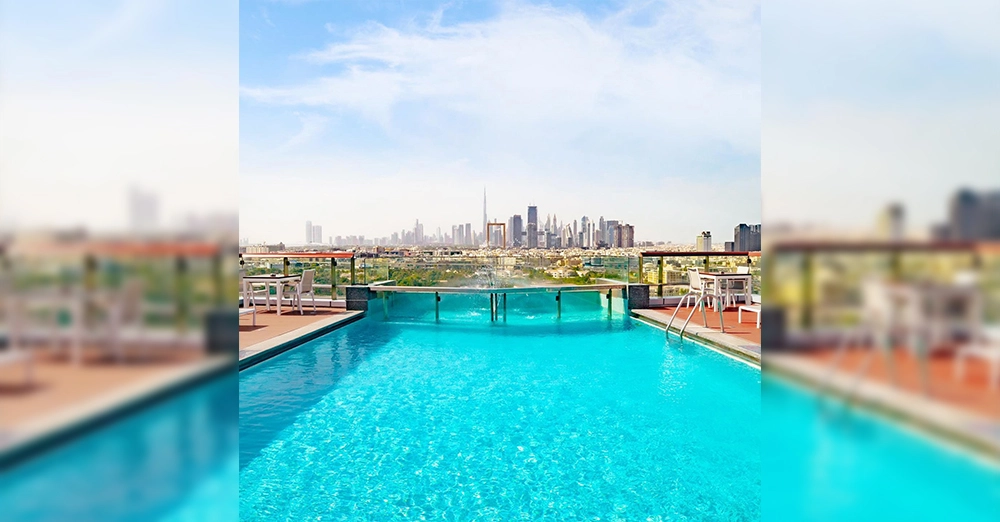 The Golden Sands Hotel in Dubai is just a 15-minute drive from Jumeirah beach. You can call them after reserving a room, and they will come to pick you up.
Every room has all the modern amenities, including a TV, coffee maker, and a private bathroom with bath, bidet, and all toiletries. The hotel also offers free parking, so you won't have to worry about parking tickets.
Three outdoor pools are all great places to relax and lounge, as well as a bar. It is a high-rise hotel, so you will enjoy the views of Dubai from above, which looks spectacular at night.
Lastly, you will be happy to learn that Golden Sands hotel receives many return guests. This shows how much some of the guests have enjoyed being there; we are sure you will too.
Book hotel: Golden Sands Hotel Creek
Restaurants near Jumeirah beach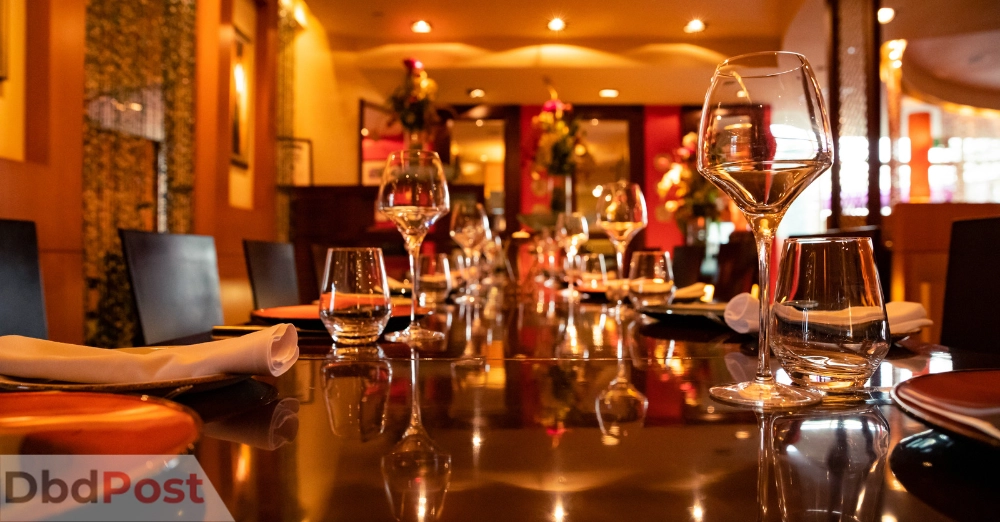 There are several excellent restaurants to enjoy a good meal after spending a day at Jumeirah public beach.
From a quick snack to a sit-down meal with a group, we will tell you about the nearby restaurants you can visit.
And if you're looking for a truly memorable dining experience, there are several upscale restaurants too. Let's see some of the best ones near Jumeirah beach.
1.

Restaurant Verde – Four Seasons Resort Dubai at Jumeirah Beach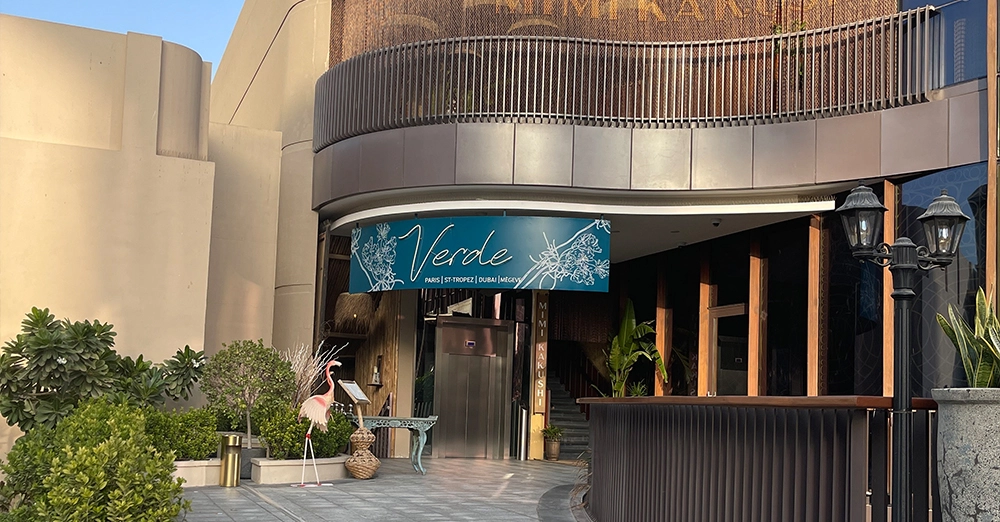 Restaurant Verde is a Mediterranean restaurant located at the Four Seasons Resort Dubai. The restaurant offers affordable and delicious food, and spending $31 to $50 will get you a delicious full meal.
In addition, the restaurant also offers valet parking and is open from 7 pm to 9 pm daily, with a second service from 8 pm to 10 pm.
They offer a variety of Mediterranean dishes, including appetizers, main courses, desserts, and a wide range of drinks.
A glance at their photos is all you need to tell that the place is cozy and social. It is perfect for a large group, a couple, or just you.
Make a reservation: View menu
2.

Sea Fu – Four Seasons Dubai DJB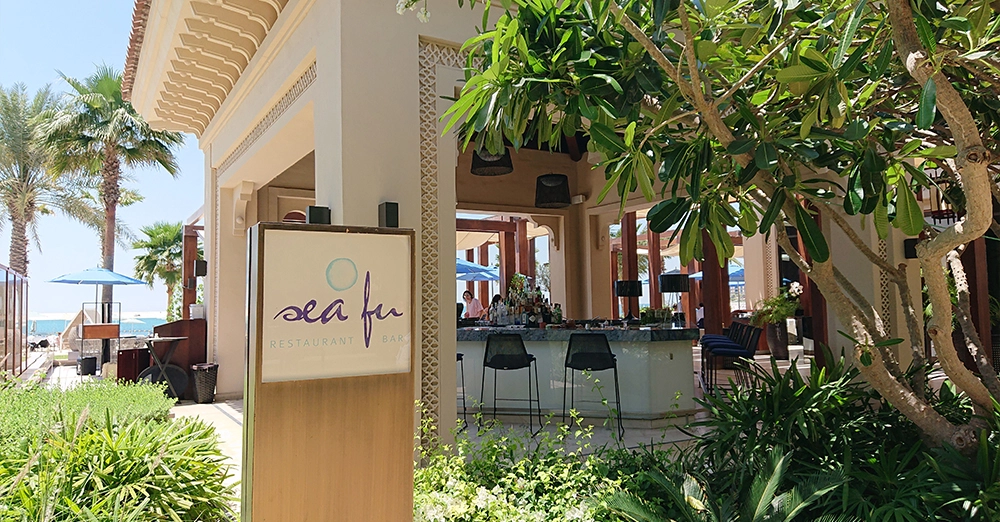 If you're in the mood for some delicious East-Asian or Japanese cuisine, then head to Sea Fu restaurant. They specialize in Japanese dishes like sushi, sashimi, and tempura, to name a few.
Sea Fu offers various seafood options, from tuna and salmon to crabs and octopuses. Of course, the menu isn't shy of vegan dishes, either. Spicy Vegetable Thai Curry is the cheapest main course meal, costing only AED 115.
Sea Fu has everything if you're looking for a starter, main course, or drinks like cocktails, beer, or wine. And if you're feeling adventurous, why not try something new from their menu? You might find your new favorite dish.
Make a reservation: View menu
3.

COYA Dubai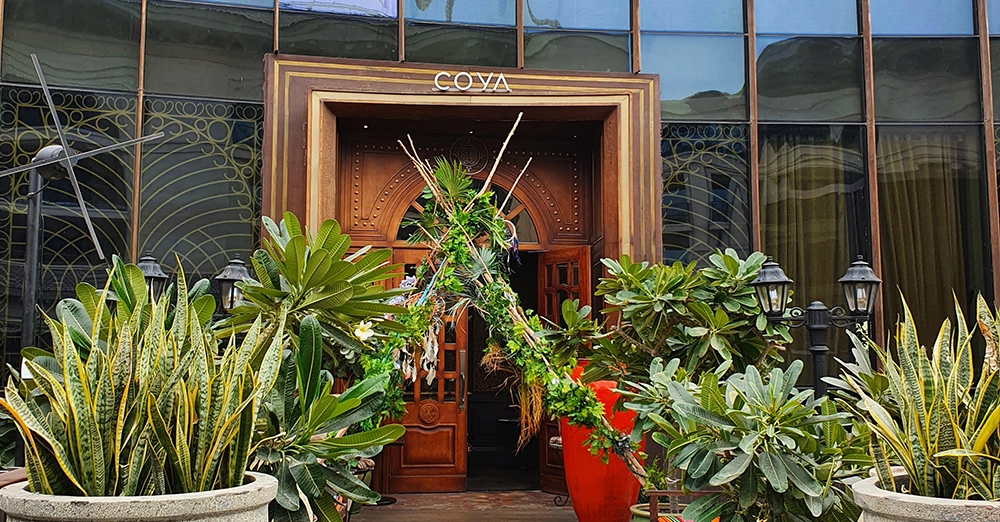 COYA Dubai is a restaurant that specializes in South American cuisine. The restaurant has three open kitchens, each using a different cooking style to prepare the food.
The raw bar, open charcoal grill, and central kitchen prepare the dishes uniquely and perfectly.
COYA Dubai's food is considered excellent in quality, with perfect scores for taste. In addition, they have a wide selection of rums and tequilas, which are rare and impossible to find in other restaurants.
For an excellent meal or a unique drinking experience, COYA Dubai is thoroughly impressive.
Make a reservation: View menu
4.

Prime68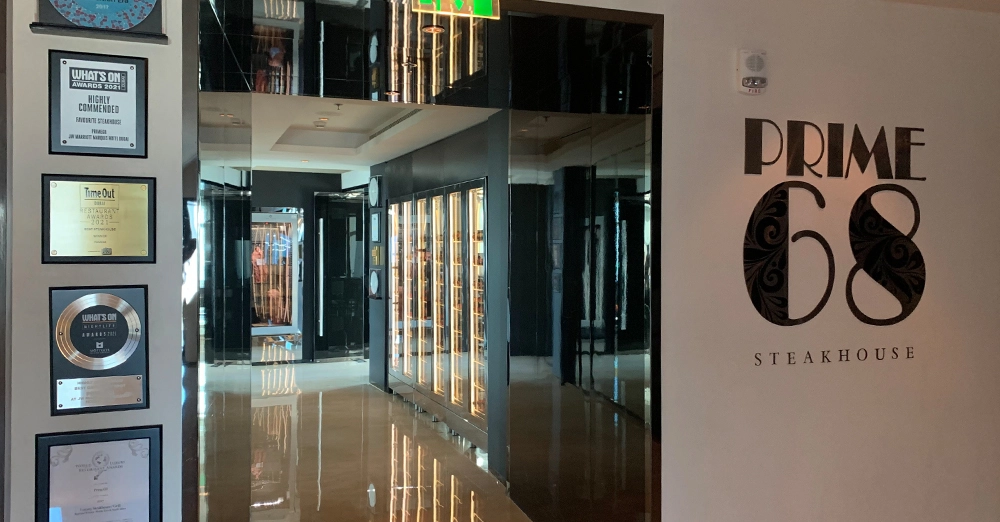 It is hard to surpass Prime68 if you want a romantic dining experience. Located on the 68th floor of the Jumeirah Emirates Towers Hotel, this restaurant offers stunning views of Dubai.
Prime68 serves food in an exquisite and modern style. The food presentation is second to none, and the ingredients used are sourced from the finest suppliers worldwide.
The prices are slightly high, ranging from AED 40 for veggies to 1595 for 1.2kg dry & aged Tomahawk.
Around 600 AED will be sufficient for a mouth-watering full-course meal for two. The prices are worth it for the quality of food on offer.
Make a reservation: View menu
5.

Cipriani Dubai DIFC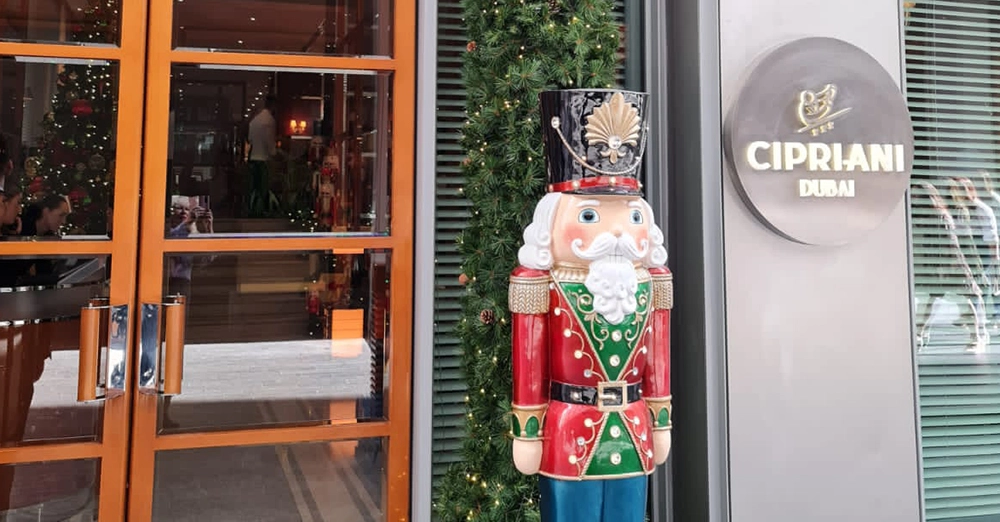 Cipriani Dubai is a perfect restaurant to accommodate a large group. Furthermore, they also offer special services for special occasions like birthdays and anniversaries.
And if you can't agree on what to eat, don't worry – Cipriani Dubai offers Italian and Japanese cuisine. Plus, they're open until midnight, so that you can make a night of it.
Make a reservation: View menu
6.

Izakaya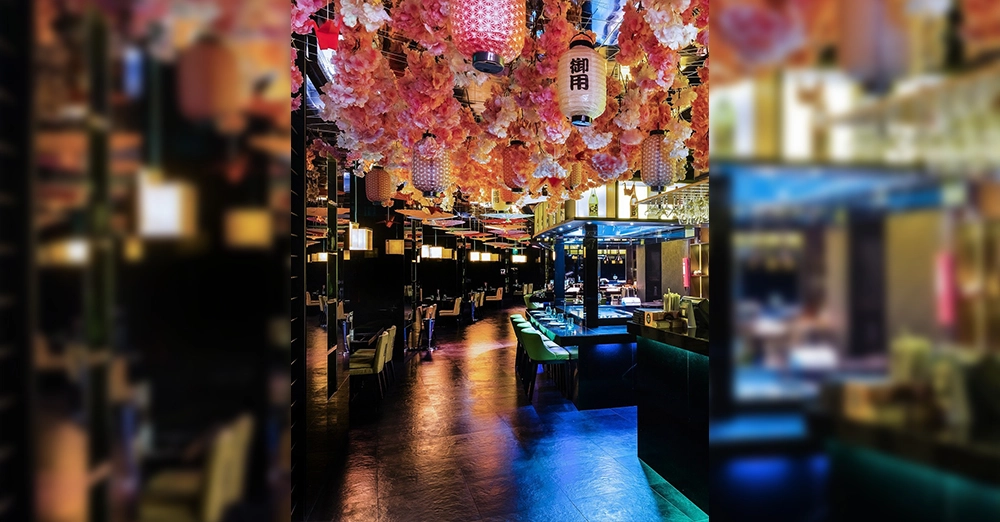 Izakaya is one of the best places for an authentic Japanese dining experience in Dubai. The restaurant is known for its lively and buzzing atmosphere and stays open until midnight. This makes it an excellent place to socialize with friends.
The restaurant's interior is very Japan-inspired, and the menu features a wide variety of traditional Japanese dishes.
The stake is particularly impressive, and Izakaya is one of the best places to try authentic Japanese sake in Dubai.
Make a reservation: View menu
7.

Mercury Lounge – Four Seasons Dubai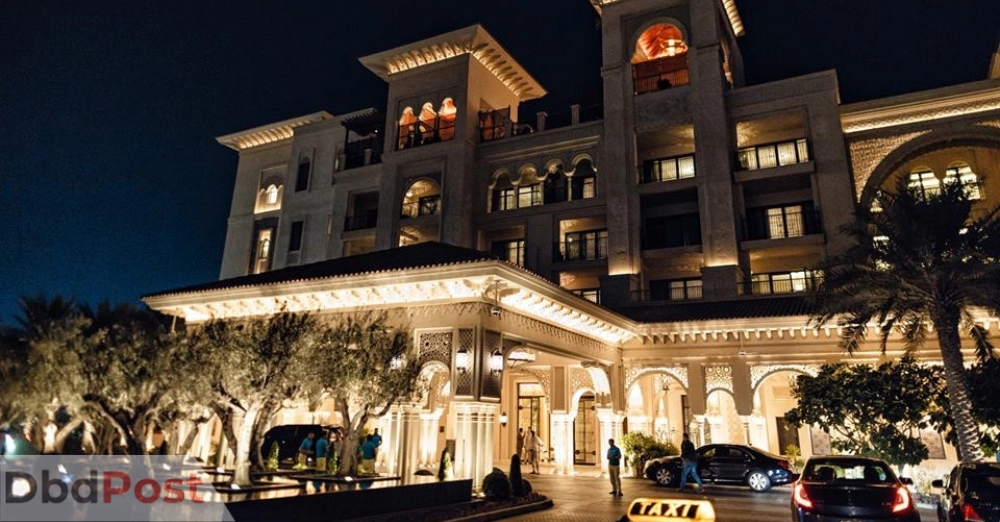 Mercury lounge is an open-air restaurant that offers stunning views of Burj Khalifa and the Arabian Gulf.
The perfect spot for a romantic evening out, the restaurant offers a menu of modern European cuisine paired with an extensive wine list.
Mercury is perfect for enjoying the panoramic cityscape and ocean views while feasting delicious food.
And with its convenient location and late-night hours, there's no excuse not to visit this must-see dining destination in Dubai.
Make a reservation: View menu
8.

Gastro Kitchen at 4-star DoubleTree by Hilton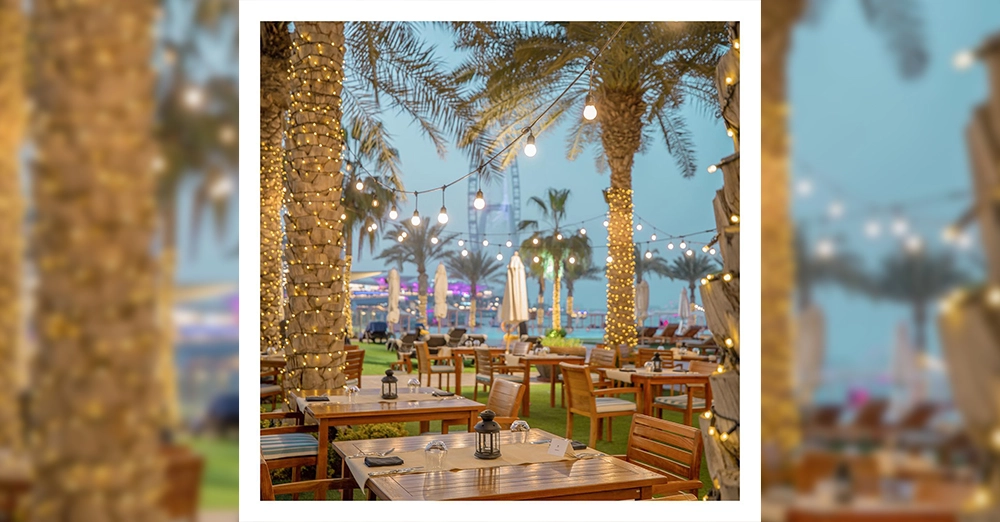 Gastro Kitchen is an affordable and delicious breakfast option in Dubai. For less than AED 200, you can enjoy a buffet meal with unlimited beach access.
And if you're looking for refreshing drinks, you can buy a sparkling grape beverage.
Located south of Palm Jumeirah, Gastro Kitchen is the perfect spot to start your day. With a wide variety of breakfast items on offer, there's something for everyone.
So why not head to Gastro Kitchen and enjoy a hearty breakfast at an affordable price?
Make a reservation: View menu
9.

The Retreat Palm Dubai
The Retreat Palm Dubai is the perfect place for a healthy getaway with friends or family. The resort's restaurant offers a variety of healthy dishes to suit any dietary preference, and the place is spacious.
The restaurant's accommodation is perfect for groups of up to 8 people. You will find the place awesome because there is much fun to be had, thanks to the beach right next to the seating area.
Speaking of food variety, they offer lobsters, tuna, steak, sausages, salads, and many other options.
Make a reservation: View menu
10.

The Beach Bar & Grill – One & Only Royal Mirage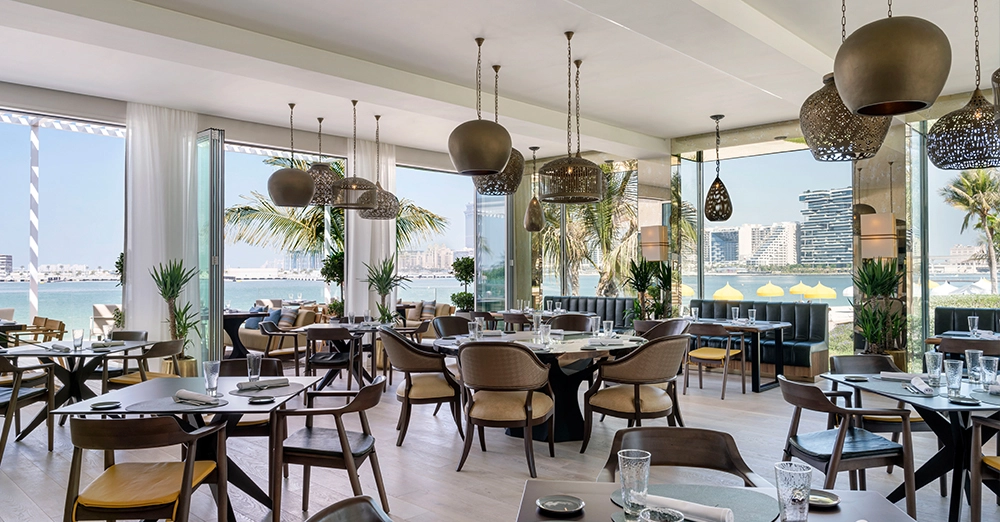 The Beach Bar & Grill Dubai overlooks the stunning Palm Island Bay, with lush gardens on one side and sandy dunes on the other.
It is the perfect place for lunch, brunch, or even a birthday party. The menu features fresh salads, grilled seafood, prime steaks, lobster, mixed kebabs, and tiger prawns.
At night, the candlelit ambiance is impressive. This makes it a fantastic place for a romantic evening or a fun night with friends.
Make a reservation: View menu
Shopping malls near Jumeirah beach
There are many shopping malls near Jumeirah beach, so if you want to shop, you have plenty of options. Some malls are within walking distance, while others are a short drive away.
Regardless of which mall you choose, you will indeed find what you're looking for.
Whether you're looking for the latest fashion trends or want to see what exciting things are for sale, you'll find it all here.
Now let's look at a few malls near Jumeirah public beach.
1.

The Dubai Mall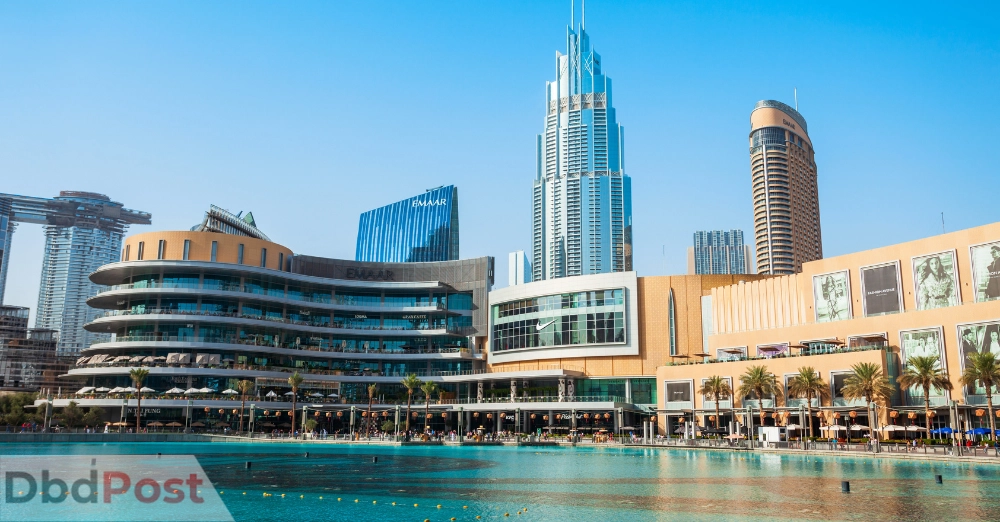 | | |
| --- | --- |
| Location | Financial Center Street, Sheikh Zayed Rd., Next to Burj Khalifa |
| Specialties | Electronics, fashion, souvenirs, ice rink, cinema, aquarium, opera, etc. |
| Website | The Dubai Mall |
| Map | Get direction |
The Dubai Mall is a one-stop shop with various retail outlets, entertainment venues, and food choices. It is the largest shopping center in Dubai.
Dubai Mall is not limited to just shopping. You can also watch a movie, visit the ice rink, or underwater zoo & aquarium.
For a tourist, this mall could be a great place to explore and find souvenirs. It is the one place to find everything traditional or modern that Dubai offers.
2.

Mercato Shopping Mall
| | |
| --- | --- |
| Location | Jumeirah Beach Rd, Jumeirah 1 |
| Specialties | Italian Renaissance-style mall, fashion & lifestyle stores, electronics, cafes, and cinema |
| Website | Mercato Shopping Mall |
| Map | Get direction |
Mercato Shopping Mall's unique design and ambiance are unlike any other mall in the city. Its 643,067 square feet of space is home to more than 140 shops. [1]Mercato shopping mall, "About Mercato, https://www.mercatoshoppingmall.com/about-us/#:~:text=Spanning%20643%2C067%20square%20feet%2C%20Mercato%20is%20home%20to%20over%20140%20shops"
International brands of fashion and lifestyle products can be found here. Moreover, the mouth-watering dishes in the restaurants are not to be missed.
3.

Oasis Mall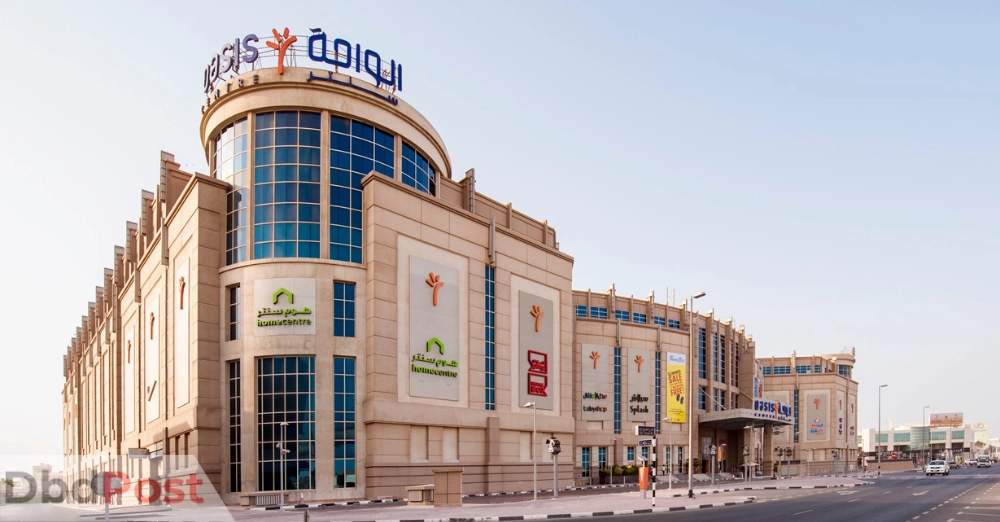 | | |
| --- | --- |
| Location | 2nd Interchange, Sheikh Zayed Rd, Al Quoz 1 – Dubai |
| Specialties | Currency exchange, books, branded fashionwear, beauty & skincare, furniture, etc. |
| Website | Oasis Mall |
| Map | Get direction |
Oasis Mall is for those looking for a fun-filled day out while shopping.
Firstly, its 1,500 free parking spaces ensures you have ample parking area. And once you're inside, you can enjoy free Wi-fi all over the mall.
You can buy products for skincare, fashion, electronics, art, fitness, etc., in Oasis Mall.
A full 1 million of this mall's 1.44 million square feet are dedicated to retail shops. This is a massive shopping space for anyone looking to spend serious money.
There are plenty of things to keep the kids entertained, like the laser tag arena, 6D cinema, or the party area. You can also have fun go-kart racing or let your kids go to a kids' play area or the Jurassic-themed "thrill zone" area.
4.

Nakheel Mall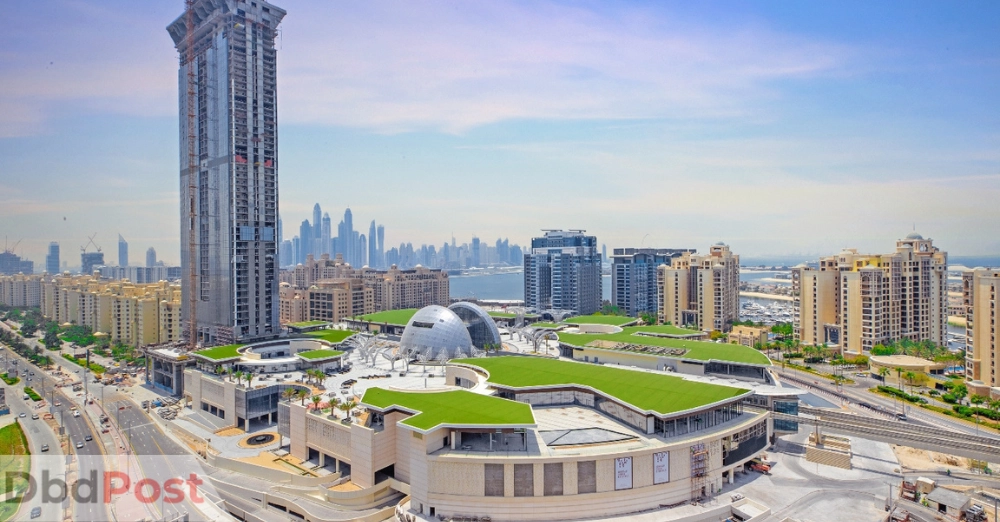 LocationCenter of Palm, Al Hilali – The Palm JumeirahSpecialtiesGrocery, branded fashion and beauty products, pharmacy, baby products, car rental, rooftop views, etc.
Website
Nakheel Mall
Map
Get direction
Nakheel Mall is a sensational shopping area near the center of Palm Jumeirah. Its beautiful modern exterior makes it easy to see why this is one of the most popular places to shop in Dubai.
There are over 140 shops and 3,000 parking areas, ample shopping, and parking.
In addition, there are 30 foodcourts and restaurants, so you're sure to find something to your taste.
And for a unique experience, visit the Soho Garden on the rooftop overlooking Palm Jumeirah and Dubai. With its stunning views, this is a place not to be missed.
5.

Al Barsha Mall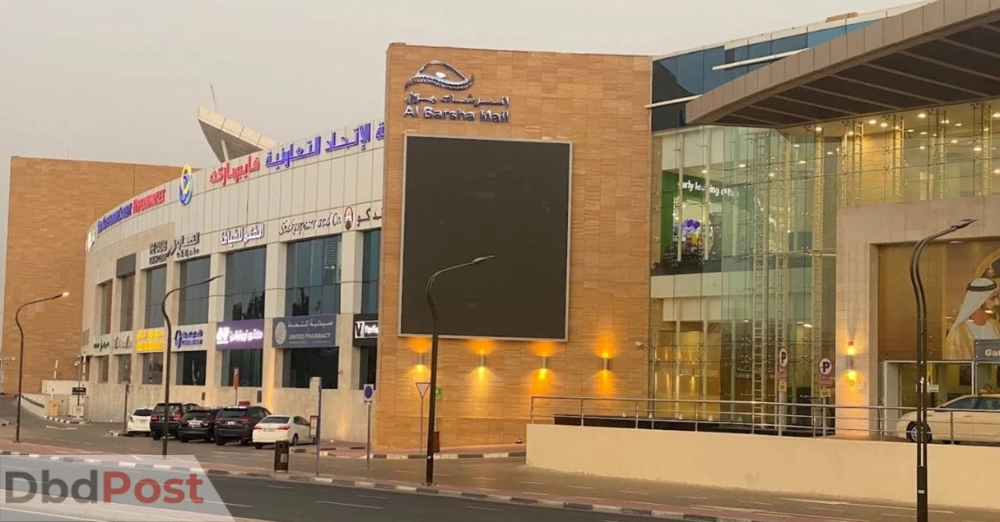 | | |
| --- | --- |
| Location | Beside Al Barsha Pond Park, 23rd St, Al Barsha 2 |
| Specialties | Fashion, electronics, jewelry, household & furniture items, banks, and food |
| Website | Al Barsha Mall |
| Map | Get direction |
With over 79 shops, 12 food courts, six coffee shops, and four luxurious restaurants, the Al Barsha Mall is a shopper's paradise. [2]Al Barsha Mall, "Services and Facilities, https://albarshamall.ae/en/services-and-facilities/#:~:text=79%20shops%20and,the%20same%20time."
This hypermarket has everything from beauty products to electronics to fashion to jewelry shops. In addition, the mall also has a play area for kids, prayer rooms, ATMs, and government service offices.
The Union Coop Mosque is also located within the mall complex. With so many options, you will find whatever you need at the Al Barsha Mall.
Flight deals to Jumeirah beach
Prices for Dubai flights can be expensive, so it is crucial to compare the ticket prices using various tools.
By using the following websites, you can see the prices of upcoming flights and save money:
Best overall flights finder
Good customer service
High search results.
In-depth filters for search accuracy
Great flight aggregator for international airlines
Diverse international tickets search
Shows niche airlines
Often shows cheaper tickets on lesser-known flights
Shows very relevant results
Good customer support
Cheapest everyday fares displayed on a calendar
Fast search results
Jumeirah beach travel tips
To ensure a safer and more enjoyable experience in Jumeirah beach, please keep these things in mind: [3]UK Government, "Foreign Travel Advice, https://www.gov.uk/foreign-travel-advice/united-arab-emirates/local-laws-and-customs"
Wear appropriate clothing for the climate and respect local customs.
Bring a sufficient amount of water to stay hydrated throughout the day.
Use sunscreen and hats to protect your skin from the sun's rays.
Avoid swimming alone to stay safe in the water, even though the water is relatively safe.
Don't bring any valuables to the beach. It is a safe place, but you never know what will happen, so leave them at your hotel.
Best time to visit Jumeirah beach
Jumeirah beach Dubai is great to visit at any time of the day. But we recommend visiting in the evening, right before sunset, to catch the best views.
The beach offers stunning views of the sea and a great backdrop. You can also stroll along the beach and enjoy the bustling atmosphere.
You should also visit during winter when temperatures are cooler – perfect for a refreshing swim in the Persian Gulf.
How to save money in Jumeirah beach?
If you want to save money in Jumeirah beach, you can start by booking affordable hotels. Here are the best deals on hotels to save your money:
Similarly, you can also save money on meals. The best way to do so is to compare the restaurants' menu prices online.
So be sure to compare the prices, but remember the reviews too – you don't want to eat a cheap but distasteful meal!
How to reach Jumeirah beach?
There are two ways to reach Jumeirah beach. Take a look below:
Method 1. By car
The car is the best and fastest way to reach Jumeira beach. But it can be slightly more expensive than public transport.
To reach the beach by car, go to the following website and choose your pickup location:
Car rentals: Rentalcars
Method 2. By bus
Traveling by bus is a cheaper option than using a taxi. To book your bus tickets, click on any of the following links:
Jumeirah beach map
Related Stories
---
FAQs
Is it free to go to Jumeirah beach?
Yes, it is free to go to Jumeirah beach. It is a public beach, so anyone can access it anytime
Why is Jumeirah beach famous?
Jumeirah beach Dubai is famous for the incredible views of the Burj Al Arab and the Persian Gulf. It is also famous because of its beautiful sunset views.
Can you swim at Jumeirah beach?
Yes, you can swim at the Jumeirah public beach. There is no payment necessary either.
Is Jumeirah beach same as JBR?
No, Jumeirah beach is not the same as JBR. JBR is in a completely different location.
Final thoughts
Jumeirah beach Dubai is a great destination for anyone looking for great views of the Persian Gulf and a place to swim.
It offers stunning views of the Burj Al Arab and has the best picture-perfect sunsets in Dubai.
There are plenty of things to do, such as jet skiing, swimming, and parasailing. And, of course, there are several popular attractions as well.
To enjoy all that Jumeirah public beach has to offer, make sure you book your hotels on time. We hope you have a great time there!