White beach Dubai is an ideal beach getaway located on the shores of the Palm Jumeirah archipelago. The white sands of the beach club offer a tranquil atmosphere and stunning views of the nearby city skyline.
The beautiful scenery and exotic pools make White beach club Dubai a great place to relax and swim. From typical sunbeds to cabanas with a private pool, you can book a lounge starting at just AED 200. Moreover, their restaurants and bars offer a variety of Mediterranean dishes and drinks.
White beach Dubai offers various services to groups, couples, families, and individuals. You can enjoy a variety of watersports activities at several attractions located nearby as well.
White beach overview
Before we take a deep dive, let's get a quick overview of the beach.
White beach Dubai is located at the center of Palm Jumeirah's crescent and can be reached easily by taxi or private car.
The vicinity of White beach Atlantis is the best place in Dubai for indulging in water sports and activities. The famous Atlantis Aqauaventure waterpark, with world-class waterslides and other fun things to do, is just a few minutes away.
Moreover, White beach and its beach club are open every day. However, the opening hours are slightly different.
| | |
| --- | --- |
| Address | Atlantis, Palm Jumeirah, Dubai |
| Beach opening hours | 10 AM – 8 PM every day |
| Restaurant opening hours | 12 PM – 5 PM every day |
About White beach Dubai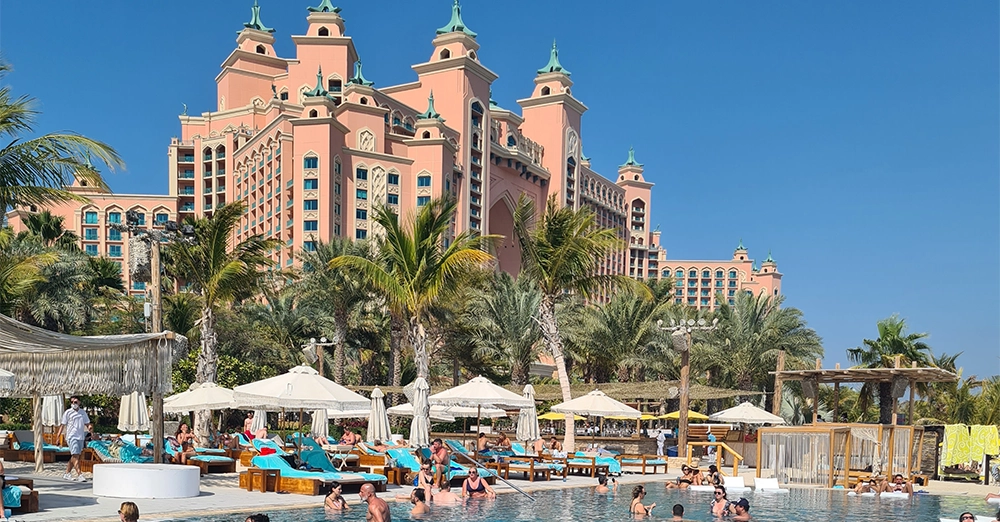 The White beach club is a part of the Atlantis area in Palm Jumeirah, Dubai. It is one of the prime locations in Dubai to get the best view of the city's skyline.
Likewise, the beach is a popular spot to relax and swim. The beach offers two main activities: swimming in the ocean or lounging by the pool. The pool has an infinity edge, giving you a beautiful view of the city skyline.
But if you're under 21, you are out of luck. You cannot enter the beach unless you are 21 years old. You can, however, enter the restaurant. [1]Atlantis, "WHITE Beach, https://www.atlantis.com/dubai/entertainment/white-beach-club#:~:text=Dress%20Code%3A,ages%20are%20welcome"
Restaurants and bars at White beach Dubai
White beach restaurant is the place to be if you want a unique and memorable dining experience. The setting is perfect, whether it's an intimate night with your loved one or a gathering around the table with family.
The beachfront restaurant offers up Mediterranean cuisine of exceptional quality in any setting imaginable. With only the highest quality ingredients in use, their culinary expertise and the food's taste outshine most restaurants around.
There are both indoor and outdoor seating available. And with such an extensive menu, there's an item for every taste. Furthermore, the decor and ambiance are alluring and only serve to add to your experience.
Best of White beach restaurant menu
This chic and modern seafood restaurant offers an extensive menu of both classic and contemporary dishes.
For those looking for lighter fare, there are salads and tacos. Similarly, there are Maki rolls, sushi plates, and grilled meats for heartier appetites. The Maki rolls are a must-try, and the 18 or 36-piece sushi plates are perfect for sharing.
Non-veg dishes are also worth exploring. You can opt for something simple like roasted duck breast, or something rare, like the grilled Spanish octopus or jumbo prawn. And be sure to leave room for dessert – the cheesecakes and exotic fruit platter are both irresistible.
In addition to an extensive food menu, they also have a full bar with an impressive list of champagne, whisky, beer, and wines. Their aged wines imported from France, Italy, Spain, Argentina, Australia, and South Africa are perfect for your meal.
So, whether you're in the mood for a light snack or a multi-course feast, White beach restaurants will surely tantalize your taste.
Facilities and services in White beach Dubai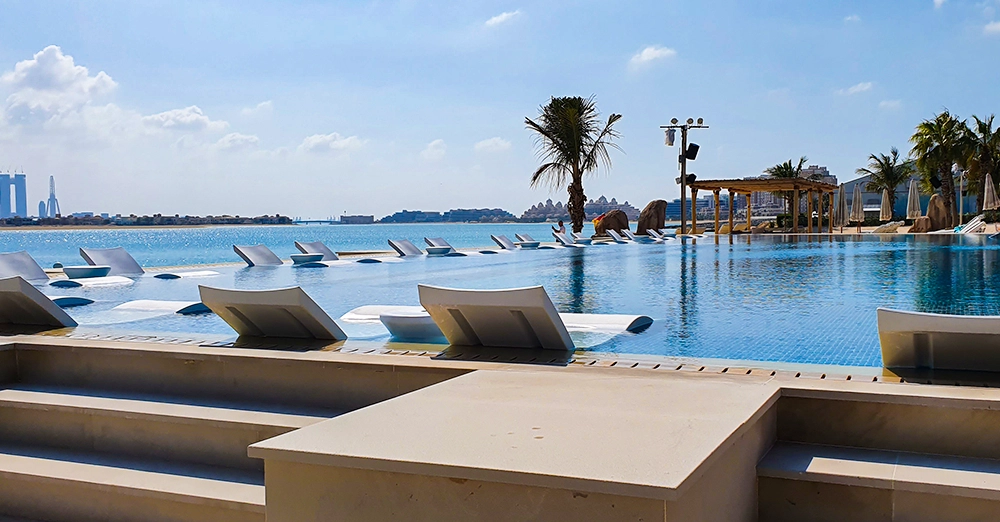 White beach Dubai offers many facilities and services to enhance your experience. It has all the essential services needed to make any beach club fun. Take a look:
Lounge: Get comfortable in their lounge area. With its endless seating options, you can relax and take in the views of the city skyline.
Infinity edge pool: Splash around in the infinity pool and enjoy the panoramic views even more. The pool looks very modern, and it is undoubtedly Instagram-worthy too.
Cabanas: Recline in a cabana and enjoy your day by the beach with your friends or family. These private spots are seated right next to the sea, so the views and the atmosphere is quite spectacular.
Beach Sports: Enjoy some beach sports like volleyball and badminton. Don't be afraid to go barefoot. The feeling of white sand beneath your feet is very comforting.
Live music and DJ: After sunset, this place transforms from a sunbathing hotspot to a lively club with DJs playing upbeat music to dance to. So, get ready to sway to the beats after a relaxing day in the sun.
All these services in a magnificent setting make White beach one of the best in Dubai.
White beach Dubai pricing and deals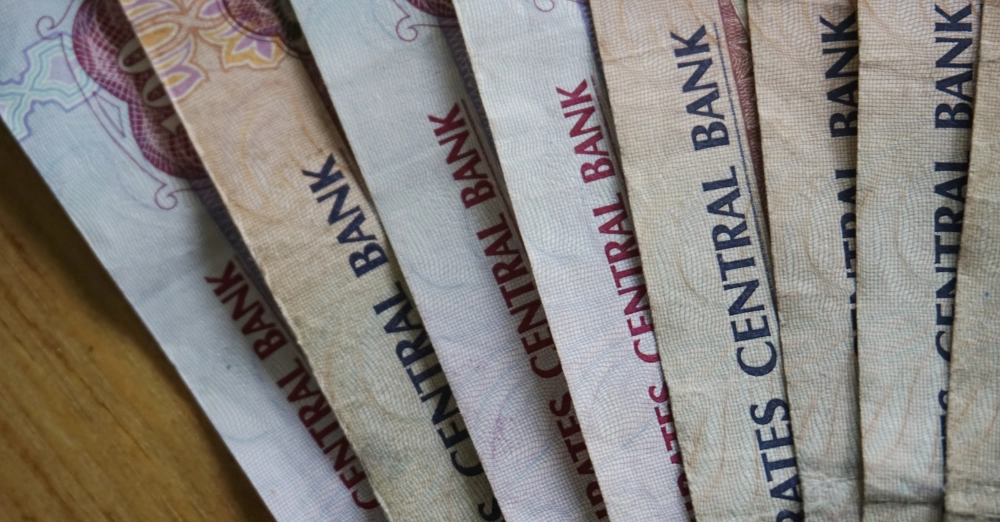 There are various pricing plans for White beach Dubai. The amount depends on factors like comfort, views, and additional benefits.
The starting price is AED 200 and goes to AED 6,000. Check out the following starting prices: [2]Seven Rooms, "WHITE beach offers, https://www.sevenrooms.com/experiences/whitebeach?venues=whitebeach"
Ocean Front Cabana: AED 3000+
You can rent the oceanfront cabanas for just AED 3000 on weekdays and AED 4000 on holidays and weekends. You will have uninterrupted views of the skyline from your private spot.
AED 2000 can be redeemed on drinks and beverages on weekdays and AED 2500 on weekends.
The best part is that you only have to pay AED 350 per new guest if you want to invite someone. One cabana is suitable for up to fifteen people, so the more you are – the merrier!
Front Row Sunbeds: AED 1000+
The poolside area at our luxury resort offers a haven of relaxation for those who seek the best in comfort and style.
Its price starts at just AED 1000 on weekdays and AED 1500 on holidays. Plus, you can redeem up to half the cost of food and drinks.
Its maximum capacity is three people.
Second Row Sunbeds: AED 600+
The second-row sunbeds provide the same comfort as the first-row sunbeds. But they come with slightly obstructed views and pool access.
It costs AED 600 on weekdays and AED 1200 on all holidays and weekends. Half of these costs can be redeemed while purchasing food and beverages.
For each additional guest, you must pay AED 300 on weekdays and AED 600 on holidays. These are fully redeemable on the purchase of edibles.
Skybeds: AED 1000+
The sky beds provide the best views of the skyline from White beach. The beds are placed very close to the water on top of the soft, white sand.
These are great for couples trying to spend quality time in a romantic setting. But if you are a group of friends hanging out together, there is enough room for three.
They cost AED 600 on the weekdays and AED 1200 on weekends & holidays. Half the booking price can be redeemed for food and drinks at White beach.
Pool Island Cabana: AED 6000+
Relax in style or entertain in elegance at Pool Island Cabanas. When it comes to the ultimate poolside luxury, nothing in White beach beats these!
Curated for bespoke VIP lounging, these cabanas can simultaneously fit up to 20 guests. You have to pay an additional AED 350, which is fully redeemable.
The prices are AED 6000 on weekdays, with AED 5000 redeemable on food & beverage. Similarly, it costs AED 8000, with AED 6500 redeemable during weekends and holidays.
While it is the priciest of all options, these will surely exceed your expectations if you are with a large group of friends.
Regular Sunbeds: AED 200+
Regular sunbeds may not be the best in terms of luxury and atmosphere, but these are still comfortable enough for individuals. These are perfect if you believe that going to a beach club isn't all about lounging.
You will get a nice umbrella to the shade while relaxing on a plush, comfy bed.
It costs only AED 200 on weekdays and AED 300 on weekends/holidays. AED 100 can be redeemed at the food and beverage stands.
Panoramic pool Cabana: AED 4000+
The Panoramic Pool Cabana will give you a VIP lounging experience. It provides a stunning panoramic skyline view and comes with your private pool.
The weekday price is AED 4000, and you can redeem AED 3000 on food & beverages. Similarly, the weekend and holiday price are AED 6000, with AED 4500 being redeemable.
Up to fifteen people can stay here in luxury at a time. But every additional person should pay AED 350 each, which is fully redeemable.
Infinity Daybeds: AED 1000+
Infinity daybeds give you direct access to the beach from your luxurious oceanfront bed. Up to three people can be accommodated in one of these.
It costs AED 1000 on weekdays and AED 1500 on weekends and holidays. Half of the booking cost can be redeemed for food and drinks.
For every new person that joins you, you must pay a fully redeemable price of AED 500 on weekdays and 750 on weekends.
Palm Daybeds: AED 1000+
With a stunning view of the Palm pool, these daybeds are suitable for up to three people.
Weekday bookings are AED 1000, and prices go up to AED 1500 during weekends and holidays. You can redeem half of your booking fee for food and drinks.
If another person wants to join, it'll cost you AED 500 during the weekdays and AED 750 during holidays. These amounts are fully redeemable on drinks and food.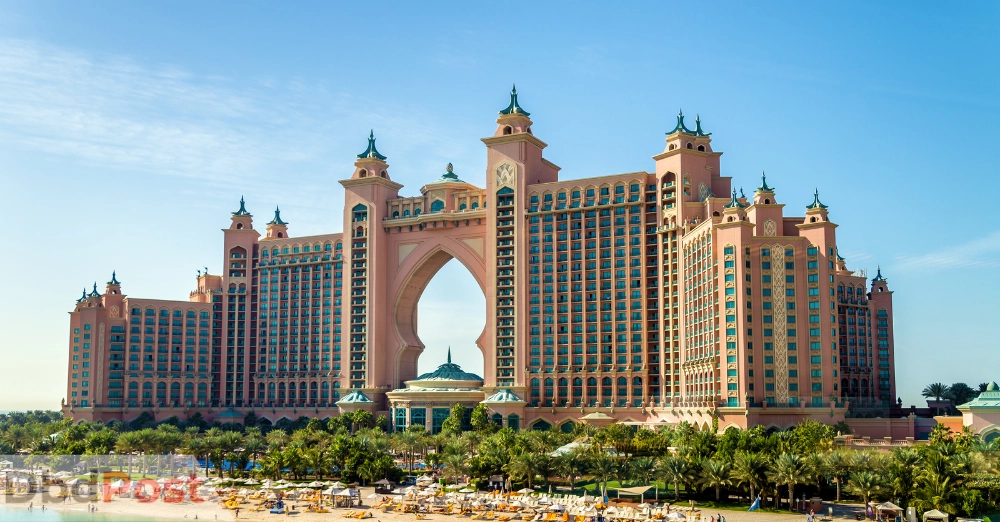 If you intend to stay near the White beach club, we recommend booking a room at the Atlantis . The hotel looks straight out of a fairytale, with its private beach and access to the Aquaventure waterpark.
There are also an array of restaurants and bars to choose from. They serve Cantonese, Lebanese, traditional Arabian, British, and other international cuisines.
With all the top-notch services and amenities, this 5-star hotel has everything you need and more.
Book here: Atlantis, The Palm Dubai
White beach ladies' day
Tuesday is a special day at White beach. On this day, ladies get many discounts and benefits along with an extraordinary ladies' day menu!
For just AED 200, ladies can enjoy complimentary beverages and 50% off a delicious food selection. On the other hand, male guests get a special price of AED 300, with AED 100 redeemable on food and drinks.
The beach club might get busy on Tuesdays, so book your tickets by noon. But if you are a little late, don't worry – you will still get to walk in. But you may not get a great spot. [3]Sevenrooms, Ladies Day, https://www.sevenrooms.com/experiences/whitebeach/daysies-ladies-day-8381608385″
So don't wait. Get your group together and go to White beach for a fun afternoon this Tuesday.
Rules to follow at White beach Dubai
The White beach Atlantis has a few rules you must abide by. These rules aren't very strict and are kept in place out of respect for Emirati tradition more than anything else. Let's see them:
You must be 21 or older to enter the beach. However, restaurants have no age restrictions unless you visit the bar for alcoholic drinks.
Swimwear and beach dresses are preferred at the beach, but you won't be told off even if you wear something more conservative.
Wear bright casual dress while in restaurants. You can't enter the place in swimwear or beach attire.
You for forbidden to go to the beach wearing the UAE national dress; Kandoras and Abayas. So, make sure to pack appropriate clothing before heading out to White beach.
You must carry a valid passport or Emirates ID.
How to reach White beach Dubai?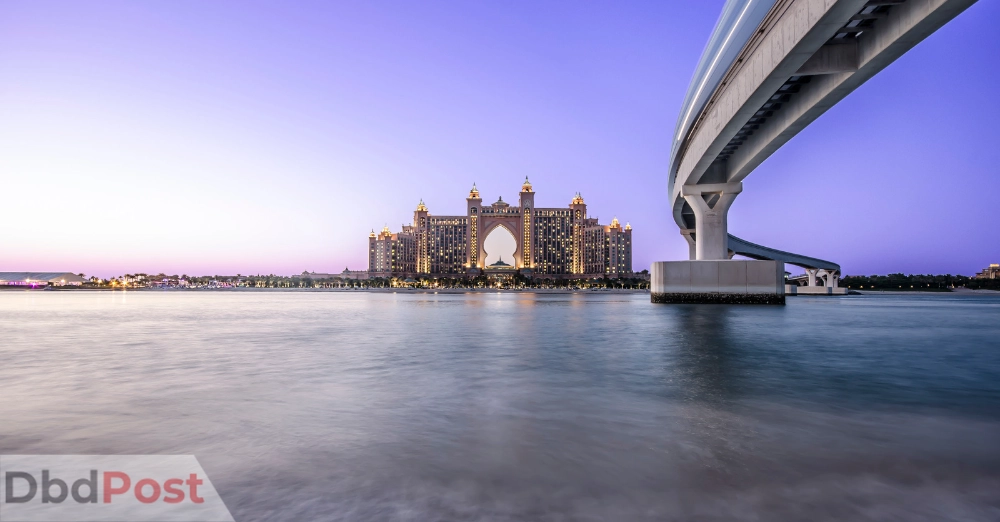 There are only two ways to reach the White beach – by car & by monorail. No metros or buses are available to go to this place.
To go there by taxi, you can physically ask a taxi driver to take you there. They can be found almost everywhere around Dubai, and everyone knows how to get to White beach.
You can drive your car or rent one if you want to drive there.
Rent a car: Hire a car in Dubai
Similarly, if you want to take the monorail, you must get on it from Al Sufouh's monorail station. It will go to the Aquaventure waterpark area, where you can walk to White beach.
Related Stories
---
FAQs
How much does white beach cost?
It costs a minimum of AED 200 to enter the white beach. Depending on the type of lounge you choose, you can spend up to AED 8000 too!
Are kids allowed at White beach Dubai?
Kids are allowed into the restaurant area only. You have to be 21 years of age to go to the beach area.
Does Atlantis have a beach club?
Yes, Atlantis has a great beach club. It is known as fwhite beach club dubai
the White beach club or the White beach.
Does White beach Dubai provide towels?
No, White beach Dubai does not provide towels. So remember to bring your towel and other necessary items before heading to the beach.
Final thoughts
White beach Dubai is a pristine, white sand beach located on the shores of the Persian/Arabian Gulf. The calm waters and stunning views make it an ideal getaway from hectic city life!
This beach at Atlantis Dubai is ideal for visitors aged 21 or above. Its beautiful scenery and warm waters make it the perfect spot to relax and unwind during your stay in Dubai.
Whether you're looking to participate in some watersports or want to soak up the sun, you will find it all at White beach club Dubai. So, come down and experience the beauty of this beach paradise!