The Stadium metro station in Dubai makes travelling easier for people who live in Sharjah and other places. Plus, it's centrally located next to Rashid Stadium, so it's easy to get there from the station to catch a game.
The Stadium metro is on Al Nahda street, which tis part of the green line of the Dubai metro network. This station is located in zone 5 of the fare system. It offers services such as exchanging money, vending machines selling fruit juice, a ticket office, elevators, and much more.
This Dbd guide provides detailed information about the Stadium station with all the nearby attractions, operating hours and a schematic map of the station.
Overview of Stadium metro station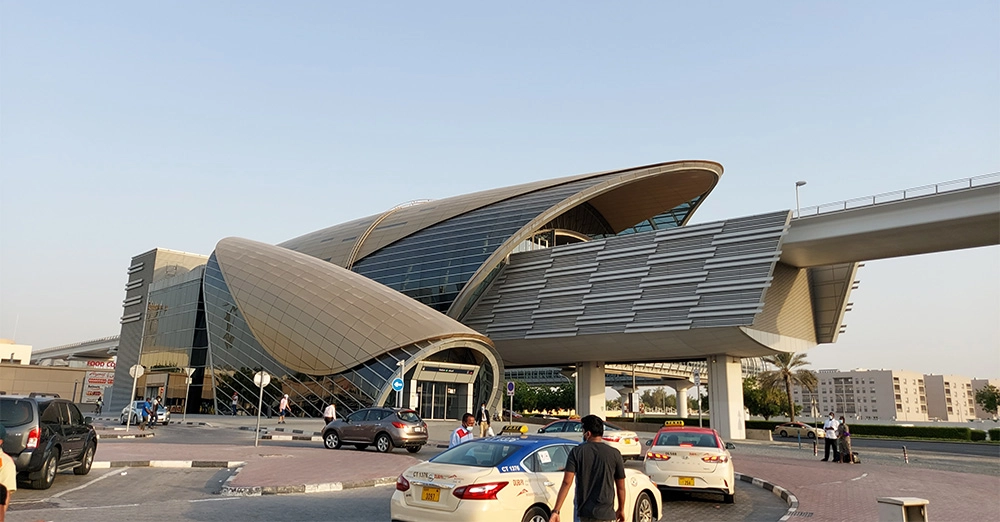 Stadium metro station has been a significant hub for transportation since it opened on 9 September 2011. It was named after Al Ahli club stadium. The station has become the second-busiest on the green line, having served 2.7 million passengers by half of 2022. And in 2021, the station was used by 3.9 million people. [1]Khaleej Times, "Public transport last year, … Continue reading
| | |
| --- | --- |
| Location | Al Nahda St, Al Qusais 1, Dubai |
| Line | Green line |
| Station code | G15 |
| Fare zone | 5 |
| Preceding station | Al Qiyadah metro station |
| Following station | Al Nahda metro station |
| Transfer station | No |
| Dubai Tram connection | No |
| Previous name | NA |
Location of Stadium metro station
The Stadium metro station is located on Al Nahda street and is conveniently situated between Al Qiyadah and Al Nahda metro stations. The Dubai Municipality quarters are close by, making it an easy place to stop for people who need quick access to essential resources.
Additionally, this station provides a convenient way for those living in Sharjah to travel around both cities quickly and easily. From this station, you can also get feeder buses directly connecting the Stadium metro and the Sharjah border.
Location: Al Nahda St, Al Qusais 1, Dubai
Stadium metro station schematic map
The Stadium metro station map is a very helpful resource for anyone visiting this place. With the map, users can quickly and easily find the station. Other nearby stations are also marked, making it easy to get around the city.
Check the schematic map below: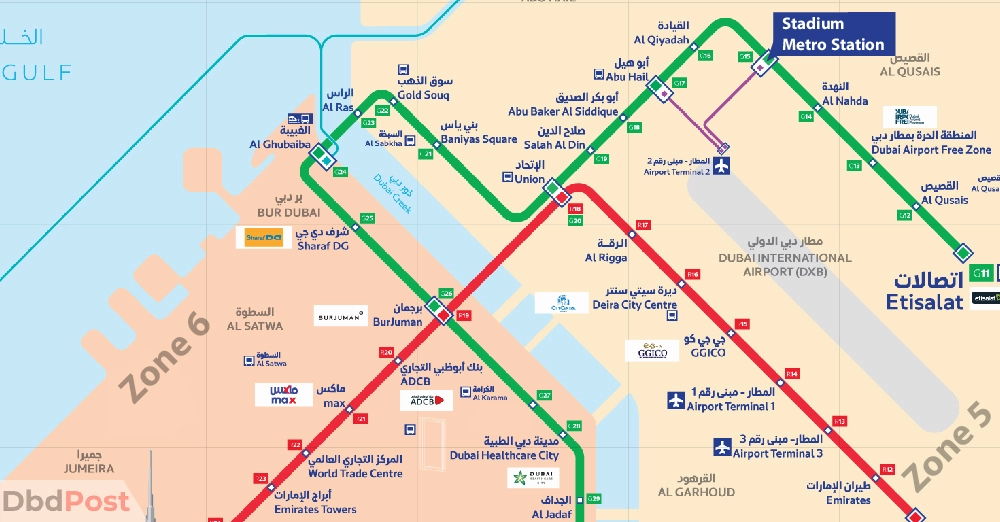 Stadium metro station timings
Dubai metro is one of the city's most reliable public transportation modes, with consistent arrival times at all stations. During the busiest times, trains come every two to three minutes, so you don't have to wait long.
Additionally, it is essential to remember that there may be changes to metro running times during special events or public holidays. If you plan a visit during one of these times, check the schedules ahead to know the exact timetable.
See the timetable of Stadium metro below: [2] Government of Dubai, "Metro station opening hour, https://www.rta.ae/wps/portal/rta/ae/public-transport/timetable#DubaiMetro:~:text=Metro%20stations%20opening%20hours(for%20All%20lines)"
| | |
| --- | --- |
| Days | Time |
| Monday to Thursday | 05:00 AM – 12:00 AM (Midnight) |
| Friday | 05:00 AM – 01:00 AM (Next day) |
| Saturday | 05:00 AM – 12:00 AM (Midnight) |
| Sunday | 08:00 AM -12:00 AM (Midnight) |
Services and facilities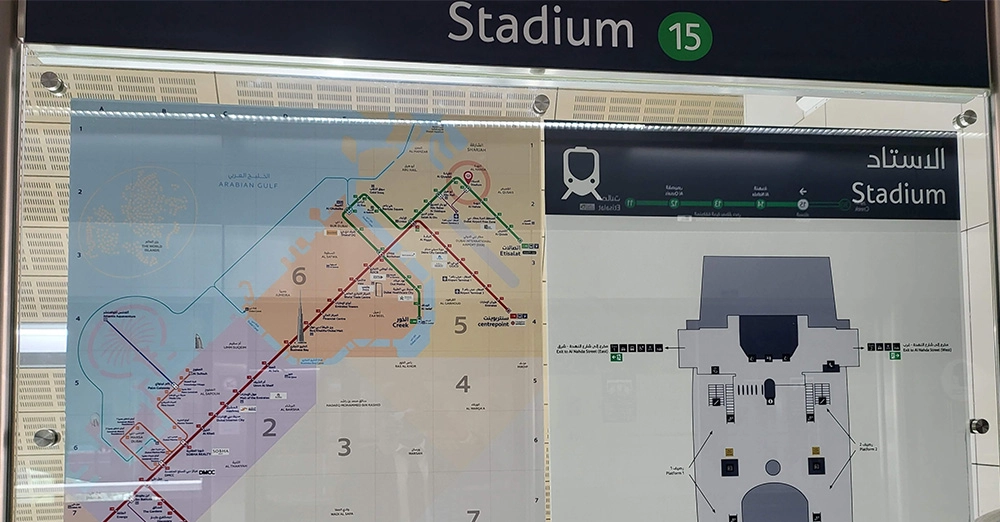 Stadium metro station offers many top-notch services and facilities for any commuter's convenience. The station provides visitors with lifts and escalators, which can be used to access the platforms when trains arrive quickly.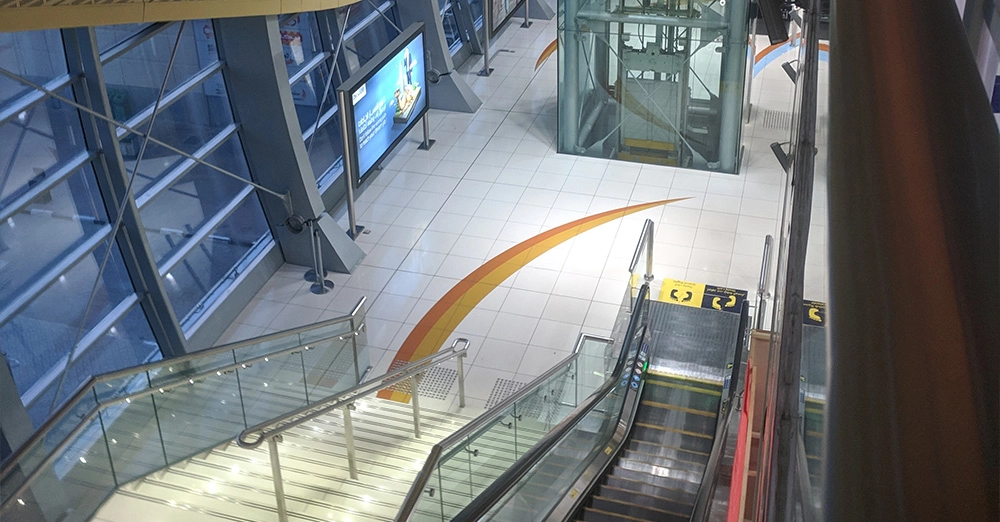 Similarly, you can buy and recharge your nol card inside the station. There are also ticket offices with staff who can help you with any questions. And if you want to buy your ticket quickly, there are also ticket machines.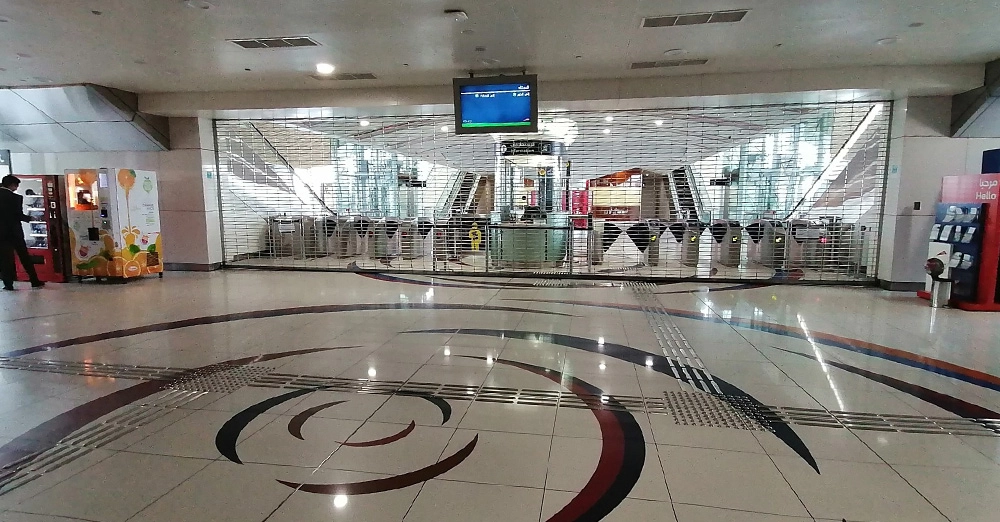 Furthermore, the station also has multiple kiosks, fresh orange juice vending machines, and hygienic washrooms. There are also zoom stores to purchase snacks and a money exchange facility. Additionally, pedestrian is also available to easily cross the road.
Attractions near Stadium metro station
There are few places of interest near the Stadium station. Near the train station are a few hotels as well as restaurants. Sports lovers can visit nearby football and Rashid stadiums to watch their favorite teams play. Additionally, the Lulu Hypermarket and Al Mulla plaza are also close by for shoppers.
Some places to visit near the station are given below:
1.

Rashid Stadium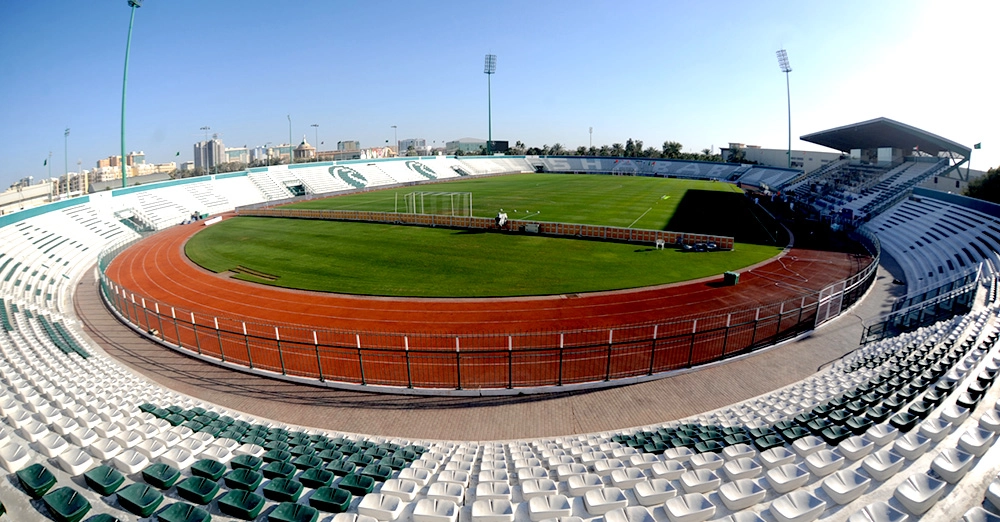 The Rashid stadium was constructed in 1948, making it one of the oldest stadiums in Dubai. It takes only four minutes to get there from the nearest metro station.
Similarly, this stadium can accommodate a large number of visitors, 12,000 in total. Even some of the FIFA U-20 World Cup matches were held at this stadium in 2003. Likewise, it is also the home of one of the oldest football teams in Dubai.
2.

Grill Hut Restaurant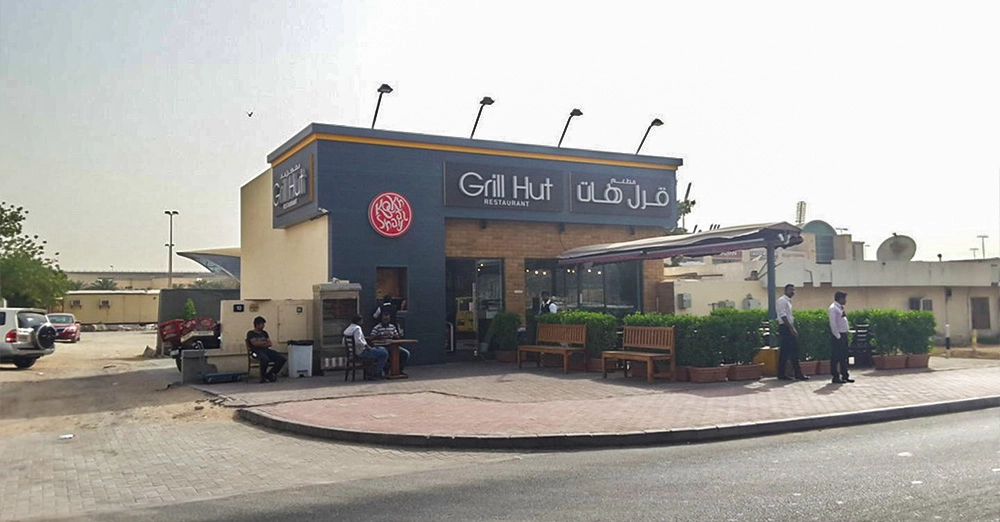 With its proximity to the Stadium station, the Grill Hut restaurant is perfect for a social gathering with friends or family. They provide customers with various dining, delivery, and takeout options.
This restaurant can be the best choice if you're looking for grilled chicken items. They offer many different options, including Cafeteria, Chinese, Sandwiches, and more. The staff is friendly and efficient, so you won't have to wait long for your food. Plus, limited free car parking is available for those driving in to have a meal.
3.

LuLu Hypermarket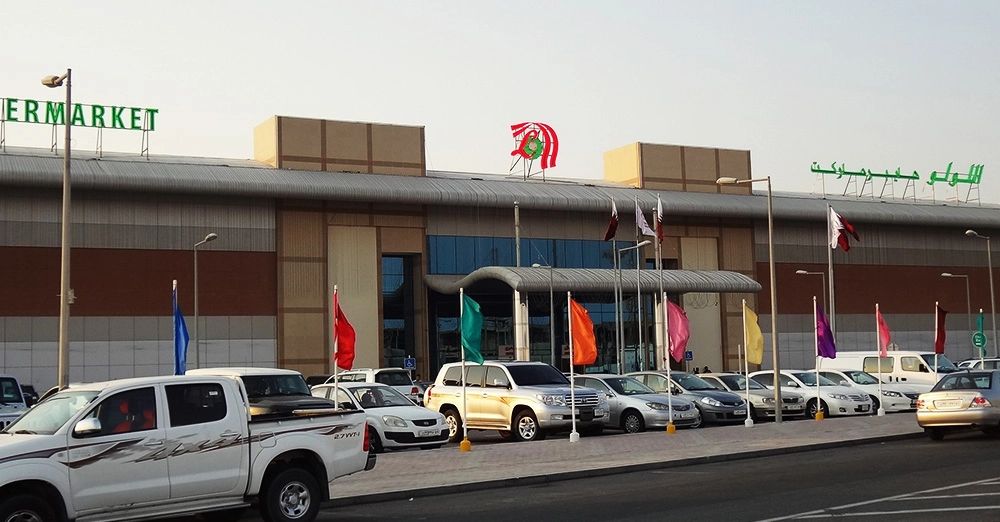 LuLu Hypermarket is an integral part of the LuLu Group International and is widely recognized as a trendsetter in the retail industry. The market has over 240 stores that offer our customers a unique shopping experience with high-quality products. [3]Lulu hypermarket, "About us, https://www.luluhypermarket.com/en-ae/aboutus"
With facilities such as ample parking, a dedicated play area for kids, a concrete food court, trusted bank counters, and a dependable money exchange system, it has quickly become one of the most preferred shopping destinations not only in UAE but also in gulf countries including Indonesia, Egypt, Malaysia, and India.
Related Stories
---
FAQs
Which line is the Stadium metro station?
The stadium metro station is located on the green line of the Dubai rail network.
Is parking free at the Stadium metro station?
No, you have to pay to park at Stadium station Dubai. Only three metro stations in Dubai offer free parking. You'll still need to pay for parking at the station if you don't use the metro. However, on some holidays, parking is free.  
Which bus station is near the Stadium station?
The nearest bus stations to the Stadium station are Stadium metro bus stop 2-1, Al Nahda, Shabab al Ahli club 1, Stadium metro bus stop 1, and Stadium metro bus stop 2.  
Which is the nearest metro station to the Stadium station?
The closest metro station to Stadium station is Al Nahda metro station. You can reach there by walking in 13 minutes.  
How to reach City Centre Deira from the Stadium metro station?
Bus route 22 from Stadium metro bus stop two will take you to City Centre metro bus stop 1. You can walk for about 10 minutes to the city center of Deira. Alternatively, you can also take the metro or taxi.  
Which bus line stops near the Stadium metro?
The bus lines near the Stadium station are 13, 13A, 17, 20, 22, 64, C18, and F21. These bus routes will take you to different parts of Dubai.
Final thoughts
The Stadium metro station is a great place to visit if you want to travel by metro to other parts of Dubai. Even though it is one of the busiest metro stations, it never compromises on providing quality services to its visitors.
Additionally, many buses near the station make it easier for people in Sharjah and the surrounding area to travel without hassle. And if you are a sports lover, then this station can be a convenient option to reach out to the nearest stadium.


Imran Hassan is an experienced Travel Specialist for UAE and the Middle East. He is based in Dubai and specializes in creating unique itineraries to ensure his customers have the best possible experience during their stay. From selecting the right hotel to recommending must-see attractions, Imran's expertise ensures that all vacations are unforgettable.