A popular destination among both locals and tourists, Corniche beach, is a public beach located in Abu Dhabi. Its long stretch of white sand and turquoise waters offer the perfect spot for swimming, sunbathing, or enjoying stunning views.
Corniche beach is a popular location with the best hotels, restaurants, and things to do in Abu Dhabi located nearby. The open beach is one of the biggest in the city, and it overlooks the spectacular Persian Gulf, Emirates Palace, and the city's skyline all at once.
This guide will take you through everything you need to know about this beach. Moreover, you will also learn some travel tips to make the most out of your Corniche Abu Dhabi visit. So, let's begin.
Corniche beach: Quick info
Before we go into detail, let's have a quick overview of Corniche beach.
It is an artificial beach located in Al Bateen, Abu Dhabi.
The magnificent Emirates Palace Hotel is less than 10 minutes away by car.
You can see the views of the Persian Gulf and the Abu Dhabi skyline from this beach.
The Corniche area has amazing walkways for jogging and paths for cycling.
It is very close to some of the most expensive hotels in Abu Dhabi.
Best of Corniche Beach
From attractions to hotels and activities, this guide will let you know about everything. However, the following are our favorites:
Best things to do in Corniche beach
Best hotels near Corniche beach
Best attractions near Corniche beach
Things to do at Corniche beach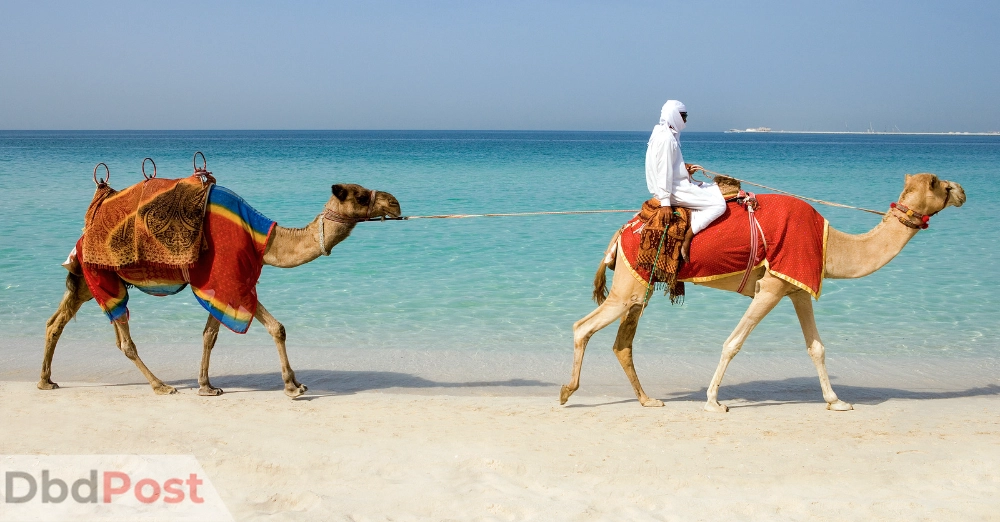 There are plenty of activities to partake in at Corniche beach. Swimming is the main attraction here, and the gentle waves make it an excellent spot for children. Buy that's not all.
Water sports enthusiasts can rent equipment such as jet skis, kayaks, and paddle boards from nearby vendors. Let's see what else you can do while you are there:
This is the perfect way to explore Abu Dhabi in half a day. The tour includes some of the city's landmarks, such as the Sheikh Zayed Grand Mosque, Emirates Palace, Heritage Village, Marina Area, Saadiyat and Yas islands, and Dates Market.
You won't just be watching these places from afar. Instead, you will get to stop and take pictures too. And if that isn't enough, you can also see and take pictures with a Ferrari F-1 car.
This is the best way to experience most of the city as quickly as possible. You cannot miss this deal. Book it right away and choose cornice beach as your pick-up location.
Book now: Half-day guided city tour
Another great way to explore the city is through this hop-on hop-off bus tour. This tourist bus service runs at all times and goes through scenic routes of all major tourist destinations.
You can board the tourist bus from any stop along the route. It means you can see as much or as little of the city as you like. You will get a chance to visit all of Abu Dhabi's best attractions with ease and comfort.
The Emirates Palace, the Louvre, and Heritage Village are some of the stops. But these aren't all – there are a lot more to see.
Book now: Hop-on, Hop-off Sightseeing Tour
Speedboating is an exciting way to explore the Abu Dhabi coastline. It's a high-adrenaline ride that will leave you feeling exhilarated!
The tour starts from Emirates Palace marina, which can be reached by taxi in 10 minutes from Corniche. You'll embark on your speedboat before heading out into open waters, where the wind fiercely blows through your hair as you make your way past islands and reefs.
Book now: Speedboat Cruise
This exciting combo tour will take you through various city attractions in the morning. Then you will be escorted to the desert for some thrilling dune bashing and having fun with camels.
Before stopping at a dating market, Mosquell is taken to Sheikh Zayed mosque, Saadiyat Island, Yas Island, and Ferrari World. Then in the afternoon, the desert activities will begin.
Dune bashing, sandboarding, camel feeding, watching a belly dance
You will also drink Arabic coffee and eat BBQ dinner with unlimited soft drinks on the trip. And you can even take pictures with a falcon!
Once you're all done, admire the nighttime desert view and the stars before returning home.
Book now: City Tour & Desert Safari Package
How about completely ignoring the city for a while and just heading out to the desert? That's exactly what this tour package is about.
You'll be picked up in a 4WD vehicle for a thrilling ride through the dunes. Once you arrive at the desert camp, you'll be welcomed and treated to Arabic coffee and dates. There, activities like sandboarding and camel riding are available.
You can then watch the picturesque desert sunset before taking epic Instagram-worthy photos. And then end your evening with a delicious BBQ dinner and relax in the peaceful desert before returning.
Book now:
6.

Jogging and cycling

Cycling and jogging are great ways to exercise while enjoying the outdoors. Corniche beach has fantastic walkways perfect for a leisurely jog or an invigorating run. [1]Abu Dhabi city municipality, "Abu Dhabi Corniche Beach, https://www.dmt.gov.ae/en/adm/Abu-Dhabi-Corniche-Beach#:~:text=Cycling%0AJogging%20Track"

And if you have a bicycle, you can ride along the water's edge. There are also plenty of benches to rest for a while and enjoy the view. Corniche Abu Dhabi is the perfect place to exercise or enjoy the fresh air.
Top attractions near Corniche beach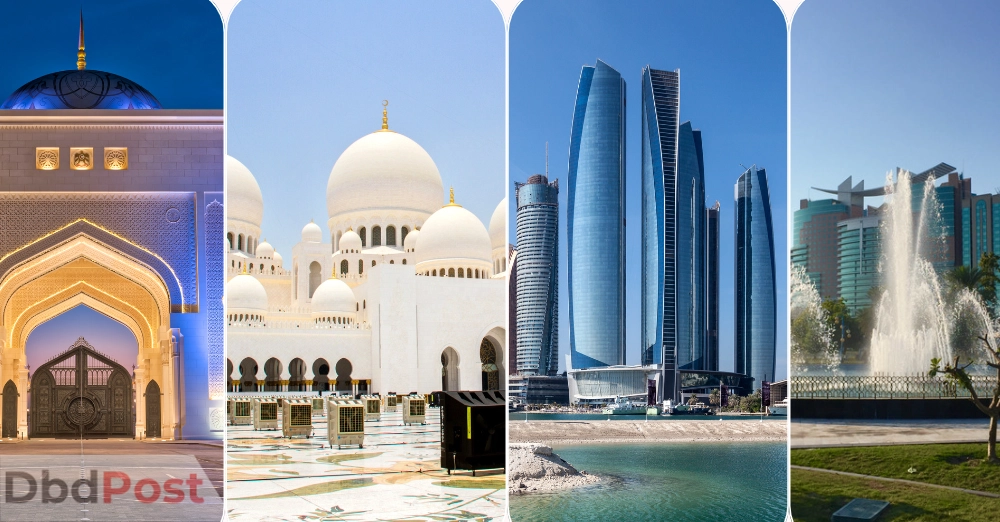 Abu Dhabi is a hub of culture and modernity. Near the fantastic Corniche beach, there is a range of attractions and museums. Here are our top picks:
The Presidential Palace in Abu Dhabi is stunning, both inside and out.
From the outside, it looks like a vast Arabian palace fit for a king or queen. But the inside is even more incredible, with grand hallways, massive chandeliers, and intricately detailed walls and ceilings. Even the floors are works of art, with beautiful mosaics and inlaid designs.
The palace also houses an extensive collection of artifacts from around the world. Whether you're admiring the building from the outside or exploring its many rooms and corridors, it will amaze and inspire anyone.
Book tickets: Presidential palace
The Sheikh Zayed Grand Mosque is the biggest UAE mosque and carries very high cultural and religious significance. It is the most important place for Muslims in the country to offer their prayers.
Late UAE president Sheikh Zayed bin Sultan Al Nahyan ordered its construction. It represents the unity of Islamic culture and the values of architecture & art of the rest of the world.
Persian, Indo-Islamic, and Mughal architecture inspired its design. The chandeliers, the walls, the widespread courtyard, and the massive prayer hall look amazing. The mosque looks clean & pure, and it is beautiful no matter when you visit.
With a capacity to accommodate more than 40,000 worshippers at a time, this is one of the largest mosques in the world. It is also one of the world's most beautiful traditional Islamic architecture.
Book tickets:
Etihad Towers is a skyscrapers-complex located in Abu Dhabi, opposite the Emirates Palace hotel. It is home to a luxury hotel, upscale shopping and dining, apartments, office spaces, and more.
However, what we like the most about these towers is the observation deck. From there, you will marvel at the stunning views of Abu Dhabi and take many pictures. You will also see the Emirates Palace hotel from above.
You may recognize this location if you have seen the movie Fast & Furious 7. This is the same place where the protagonists steal a car and jump through three skyscrapers.
Book tickets: Abu Dhabi tour including Etihad Towers
4.

Khalidiya park

Khalidiya Park is a beautiful oasis in the urban Abu Dhabi area. Just a short walk from Corniche public beach, the park is filled with palm trees, open lawns, and walking pathways.

There is also a shaded playground perfect for young children, and the walkways are ideal for a stroll or a jog.

Khalidiya Park offers stunning views and a tranquil atmosphere. It is a perfect place to relax and escape the hustle and bustle of the city without going too far from Corniche.

See Park location: Khalidiya park
5.

Emirates Heritage Village

Emirates Heritage Village is a place that gives visitors a glimpse of what life was like in the UAE before the oil boom. You will learn the old Emirati way of life, from old houses to souks (markets) of the previous centuries.

The stone huts and ancient pathways are lined with greenery and traditional decor. Similarly, old artifacts on display throughout the village reflect Emirati values.

Heritage Village is more than just a tourist attraction – it's a cultural institution. Events are organized annually to teach Emiratis about their history and legacy. This is also done to showcase their ancestors' traditional arts and crafts.

The place is open to foreigners and locals alike. So, everyone can learn about the Emirati lifestyle of the past in a welcoming environment, no matter where they come from.

See location: Emirates Heritage Village
Hotels and resorts near Corniche beach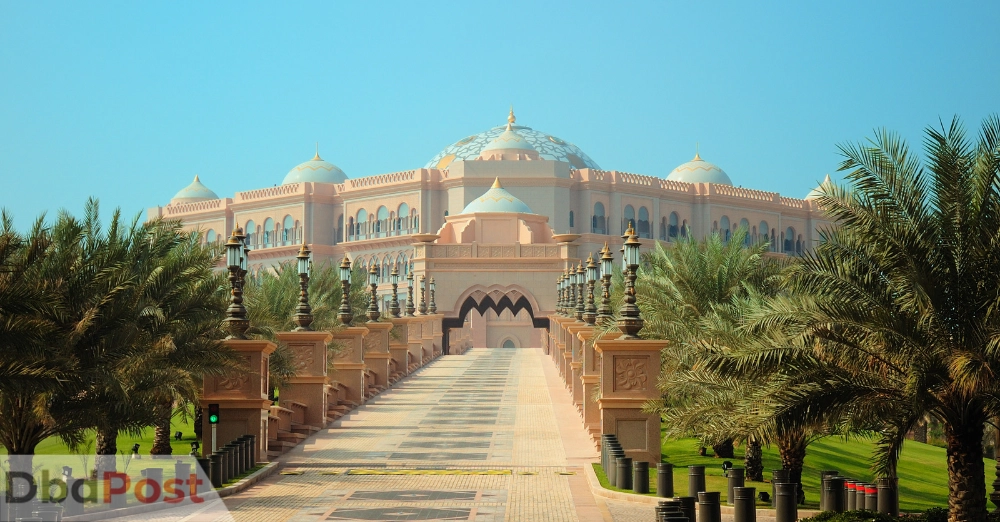 Corniche Abu Dhabi is one of the most popular areas in the city. That's why there is no shortage of exotic hotels and resorts nearby. But if you're on a budget, some affordable options are also available.
Let's see which are the best luxury and budget-friendly hotels near Corniche Abu Dhabi.
The Ramada Hotel by Wyndham is one of the city's most affordable and luxurious hotels. Their deluxe twin rooms with a city view start at less than $100 per night.
Ramada offers panoramic views of the city, Saadiyat Island, Yas Island, and the Corniche. Their all-day dining restaurant offers a vast selection of local and international cuisines.
And if you want to relax in your room after a tiring day, you can do that too. Just let their 24-hour room service take care of all your needs.
Book hotel: Ramada Hotel
The Corniche Hotel is located just a short walk away from Corniche beach. Guests can enjoy stunning views of the Capital Gardens and the Persian Gulf from their rooms.
There are three on-site restaurants that offer Italian and Moroccan cuisines and a buffet breakfast each morning. Guests can also use the hotel's sauna, gym, and outdoor pool.
The Corniche Hotel Abu Dhabi has a lot of satisfied guests who often return for another stay. This shows that the hotel offers excellent accommodation and facilities.
Book hotel: Corniche hotel
The Sofitel is a luxury hotel that offers all modern amenities, including a swimming pool, spa, sauna, and s fitness center. In addition, you also get voice-activated automation facilities in all rooms.
Every reservation includes a breakfast buffet with your choice of Continental, American, English, Irish, or Halal dishes. This hotel has a Mediterranean restaurant on-site if that's what you want.
For your convenience, they also provide a shuttle bus to Corniche beach. So you don't have to worry about how you will get there.
Book hotel: Sofitel Abu Dhabi
The Radisson Blu Hotel & Resort offers world-class services to all its guests. Located within walking distance from Corniche beach, its rooms have panoramic views of the Arabian Gulf and the city.
Its fitness center, luxury spa, and nail salon are all top-notch, and the pool and beach bars are perfect for relaxing with a drink. Three outdoor pools are fit for kids, families, and adults.
There are plenty of dining options available. Continental, Full English/Irish, Vegan, Halal, Gluten-free, and American dishes with buffet breakfast are available for its guests.
Book hotel: Radisson Blu Hotel
Rixos Marina offers everything you want, from an excellent restaurant to a private beach area. You'll also enjoy free parking, an outdoor pool, a bar, and even currency exchange services.
Your room has a kettle, minibar, and a safety deposit box on top of all the necessary amenities. Plus, you can start each day with a delicious buffet breakfast.
The hotel is massive and looks marvelous from the outside. And from the inside, the hotel looks just as good, as it overlooks the city on one side and the vast ocean on the other.
Book hotel: Rixos Marina Abu Dhabi
Nestled along the shores of the Arabian Gulf, St. Regis offers guests an opportunity to experience authentic Arabian hospitality.
There are 283 luxurious rooms and suites, each with mesmerizing views of the city and the sea. Even better is the Abu Dhabi suite, located high up on a sky bridge, which offers a panoramic 360-degree view of Abu Dhabi.
For an even more exclusive experience, St. Regis also offers 24-hour butler service. They will ensure you enjoy everything to its fullest and aren't missing out on the best things. By best things, we mean the hotel's Nation Riveria Beach Club & its world-class infinity pool and pool bar.
Book hotel: The St. Regis Hotel
The Oryx Hotel is the perfect place for a romantic getaway. Couples can enjoy an evening at the pool terrace while taking in the stunning views of the sea and the dazzling city skyline at night.
Each room has a TV, tub, bathrobe, minibar, and coffee/tea maker. Similarly, you can have à la carte meals at the Horizon Restaurant.
The feeling you get when relaxing in the pool after dinner at Horizon restaurant is indescribable. On top of that, the live music adds vibrancy to the evening experience.
The hotel's other facilities include a gym, Moroccan bath, sauna, and body & beauty treatment options. Free parking is also available at the venue.
Book hotel: Oryx Hotel
This world-famous Emirates Palace Hotel is one of the largest and most opulent hotels in UAE. From the moment you step inside, you'll be impressed by its grandeur.
The silver and gold decor is simply stunning, and the mix of traditional and modern charm is truly unique. Moreover, this vast hotel even boasts its natural bay!
The rooms are well-furnished, with 24-hour butler service, high-speed internet, and comfortable beds.
And if you're looking for entertainment, head to the two massive swimming pools. The spa, fitness center, and kids' club are accessible once you reserve a room.
Book hotel: Emirates Palace Hotel
From the moment you step into your Intercontinental hotel room and see the skyline and Gulf views, you'll know that you're in for a treat.
Whether relaxing in your room or enjoying a meal at one of the hotel's restaurants, you'll be enveloped in luxury. The hotel also features an enormous outdoor pool overlooking the Etihad towers and its own private marina.
The all-day dining restaurants offer various meal options from around the world. Their meal options include Brazilian, Lebanese, Italian, Belgian, pan-Asian, and Thai cuisines. Similarly, the Piano Lounge offers a wide variety of wines, cocktails, and coffee.
Book hotel: Inter Continental Hotel Abu Dhabi
Restaurants near Corniche beach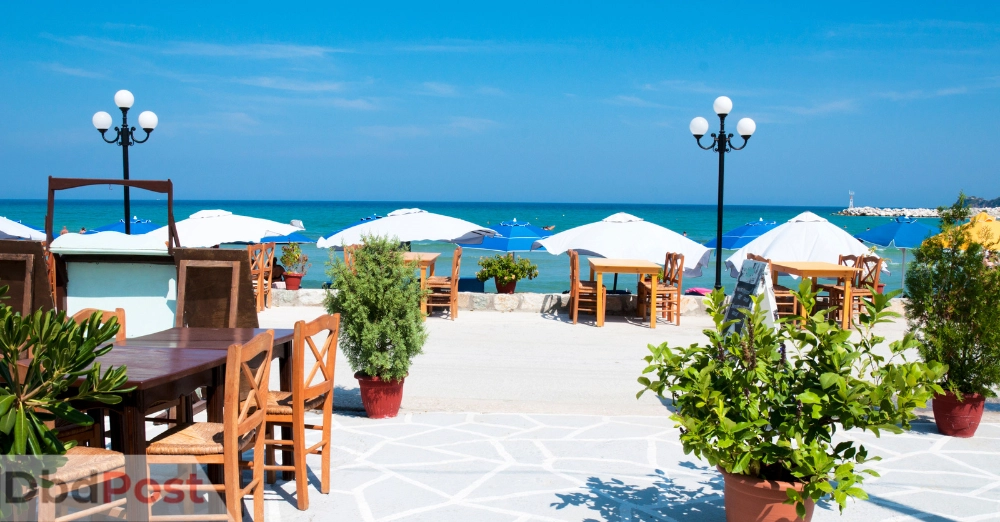 The garden terrace and bar at the Corniche is the perfect place to enjoy a meal with friends or family. The terrace offers private access from the Corniche and a dining room separate from the main restaurant for up to 40 people.
Their menu features traditional Middle Eastern and international dishes. Similarly, the cafe and bakery offer fresh coffee, bread, and pastries.
The evening is the best time to visit this restaurant. At that time, theatrical live-cooking stations serve signature Middle Eastern dishes while playing modern-Arabian music.
Make a reservation: View menu
Byblos Sur Mer is an award-winning Lebanese restaurant at the InterContinental Abu Dhabi. The contemporary, two-level dining room has stylish decor and offers a variety of grilled meats and mezze platters.
The restaurant also features live entertainment. Prices for main dishes range from AED 33 to 238, and you can enjoy a full meal at just around AED 150.m This is relatively inexpensive, considering what you get.
Make a reservation: View menu
The combination of fresh and bold flavors, rich textures, and beautiful presentation makes Thai food a favorite among foodies. And at Silk & Spice, you can experience the best of it.
Located at Sofitel Abu Dhabi, this award-winning restaurant offers elegant, delicious, and creative dishes that will tantalize your taste. From Thai Green Curry to Green Papaya Salad and Phad Thai to Mango Sago, there are countless Thai dishes for you to enjoy.
So, if you're a fan of Thai food or want to taste them, we urge you to go there and experience the flavors of Thailand. You won't be disappointed.
Make a reservation: View menu
Looking for the best afternoon tea in town? Look no further than Pearl Lounge at the Grand Hyatt Hotel. Here, two to four people can comfortably enjoy a tasty treat with the best tea.
The setting is impeccable – inside, you'll find beautiful pearly chandeliers and an elegant terrace. The staff is professional and friendly, and the food selection is unique.
From delicate crêpes to rich opera cake, Earl Grey-infused Madeleines to traditional tea and coffee, you will find many things to eat. And you can always indulge in a sparkling beverage or mocktail!
Make a reservation: View menu
Abu Dhabi is a city with a diverse population and cuisine to match. However, only a handful of places deliver authentic flavors and quality ingredients when it comes to Japanese food.
At Cho Gao restaurant, the menu offers a wide range of delicious options, from sushi and maki to chicken yakitori and various desserts. And for those who crave something heavy, the noodles and beef curry are sure to satisfy.
But Cho Gao is not limited to Japanese dishes; the Vietnamese salads and curry are also worth trying. And, of course, no meal would be complete without a refreshing beverage or dessert to complement your food.
So next time you're in the mood for some Japanese cuisine, check out Cho Gao restaurant. You won't be disappointed!
Make a reservation: View menu
Flight deals to Corniche beach
You need to compare prices from different airlines to find the cheapest flights. The best way to do that is by using a flight search engine.
When using a flight search engine, enter the airports of your departure and arrival cities. You will receive a list of cheap tickets with all the necessary details.
Some of the significant search engines to find and book cheap flight tickets are as follows:
Overall best at finding deals
Remarkable customer support
High volume of search results
Useful in-depth search filters
Excels at aggregating international airlines
Diverse search for international tickets
Unpopular airlines are also shown which are often cheap
Relevant search results are shown
Good customer support
Cheapest daily airfares are shown on a calendar
Quick search engine
Corniche beach travel tips
Corniche Abu Dhabi is a great place to visit and stay. But there are a few things you should be aware of. Let's go through the things you should know:
Bring light clothes for hot weather and conservative clothes to respect local customs while you are not at the beach itself.
Use hats and sunscreen to protect yourself from sunburn.
Carry drinking water with you at all times.
Keep your belongings at your hotel.
Do not go too far into the water without supervision.
Know where to park if you have a car.
With our tips, you can enjoy your time at Corniche without worrying.
Best time to visit Corniche beach
The evening is the best time of the day to visit Corniche beach, especially right before sunset. At this time, you will see the Abu Dhabi skyline light up with dazzling colors and the golden rays of the sun before it goes down.
On the same note, if you plan to visit Abu Dhabi in winter, you're lucky! Winters are moderately warm in UAE, and it is the perfect time to swim at Corniche without getting sunburnt.
How to save money in Corniche beach?
There are various ways to save money on Corniche beach. But the things that matter when it comes to cutting costs are the hotel reservation costs and plane ticket prices.
Read how you can save money on hotels and flights below:
Book affordable hotels:
The following hotels are inexpensive and do not lack the necessary amenities for a comfortable stay. Go through all of them and pick the one you like:
Find affordable flights:
Use these flight aggregating websites to compare the cheapest flight tickets:
These flights deal fining websites also have a function that will alert you when flight prices drop. Make sure to keep your notifications turned on and book your flights in advance!
How to reach Corniche beach?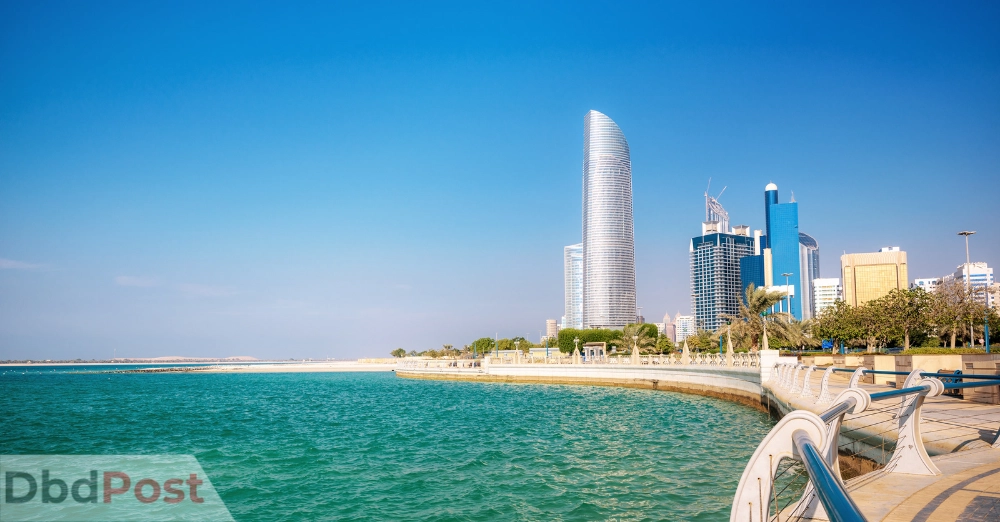 There are two ways to reach Corniche beach. You can go there either by car or by bus. Read more about it below.
Method 1. By car
You can reach Corniche beach by car or taxi. You can either rent one, book a ride online, or find a taxi physically. Click the link below to rent a car.
Car rentals: Hire a car in Abu Dhabi, UAE
Method 2. By bus
There are multiple bus stations in the Corniche area. No matter where you are, all you need to do is find a bus to Corniche Street and take a ride. They will take you directly next to the beach.
For the best travel to the Corniche, we recommend the following bus service. It allows you to see much of the city before you get off at Corniche Street.
Bus tickets: Big Bus Abu Dhabi Hop-On Hop-Off Tour
Corniche beach map
Related Stories
---
FAQs
What time is Corniche Beach open?
The Corniche beach is open at all times. But it is unsafe to swim at night, and only some nearby facilities are open 24/7
Where is Corniche Beach located?
Corniche beach is located in Al Bateen, Abu Dhabi. It is close to the Emirates Palace Hotel and can be reached via bus or car.
Is Corniche Beach man-made?
Yes, Corniche beach is man-made. It is spread across 8 km of the coastline.
Final thoughts
Corniche Beach is a highlight of any Abu Dhabi vacation! Located near all the busy hotels, restaurants, and activities, it is one of the biggest, busiest, and most beautiful beaches in the UAE's capital.
So, when you're at Corniche Abu Dhabi, enjoy the swim & the stunning views, and book whatever hotel you see fit. And if you don't know what else to do or where to eat, you can just read our guide to learn everything.
Make sure to visit Corniche public beach at the right time and book your flights and hotels in advance to save money. Just remember to bring your water bottle and sunscreen!