Khorfakkan beach is a fantastic destination for a relaxing getaway. From pristine sands to exciting water sports to the inviting comfort of its many resorts, this beach will leave you wishing you'd stayed longer.
This Khorfakkan Sharjah guide will provide you with all the information necessary to make your visit memorable. From its picturesque location, captivating activities, and nearby attractions, we've covered everything.
We conducted extensive research and consulted knowledgeable locals and tourists to provide you with the most accurate information about this beach. Additionally, our team reached out to reliable sources on different websites and searched through social media for reviews and feedback.
We experienced some great activities and visited many local attractions during our visit. We gathered all this knowledge to create a comprehensive Dbd guide highlighting the best things Khorfakkan beach has to offer.
Quick info about Khorfakkan beach
Let's look into some quick facts about Khorfakkan beach.
3-kilometer crescent-shaped beach hugged by breezy weather.
Take part in snorkeling, scuba diving, sailing, and kite surfing.
The majestic view of the Hajar mountain range makes the experience more memorable.
You can also enjoy iconic Arabic hospitality from locals.
Nearby historical sites and mosques provide all you need to know about the city.
The distance to Khorfakkan from Dubai is about 140 kilometers.
Best of Khorfakkan Beach
Best things to do in Khorfakkan beach
Aqua Bounce
Best hotels near Khorfakkan beach
Best attractions near Khorfakkan beach
Fujairah Museum
Khorfakkan Amphitheater
Sheikh Zayed Grand Mosque
Things to do at Khorfakkan beach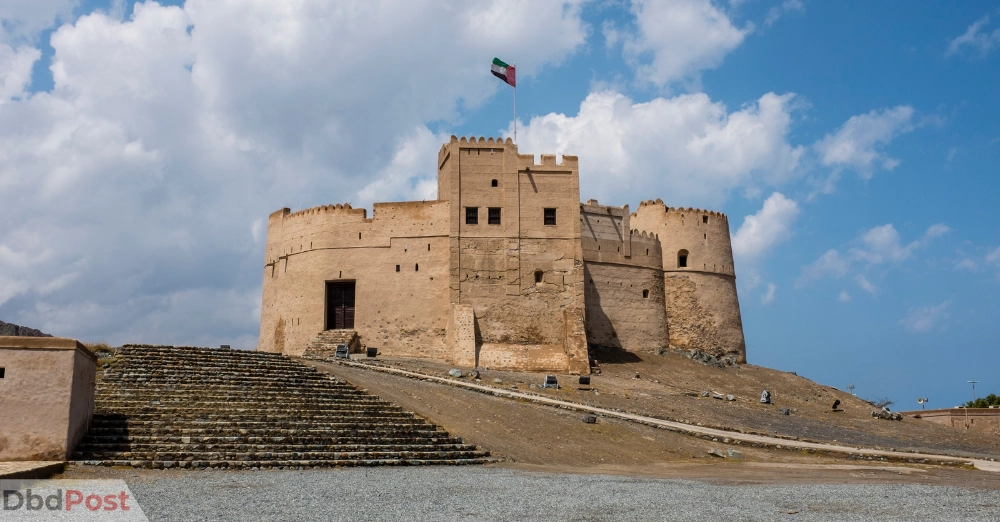 Khor Fakkan beach in Sharjah is a beautiful sight to behold. From sunrise to sunset, it is alive with activities that promise adventure and fun for all kinds of people. You can try kite-surfing or paddle boarding, both fun water sports. You can also catch waves while surfing, build sandcastles, play volleyball, and take a romantic walk along the shore at night.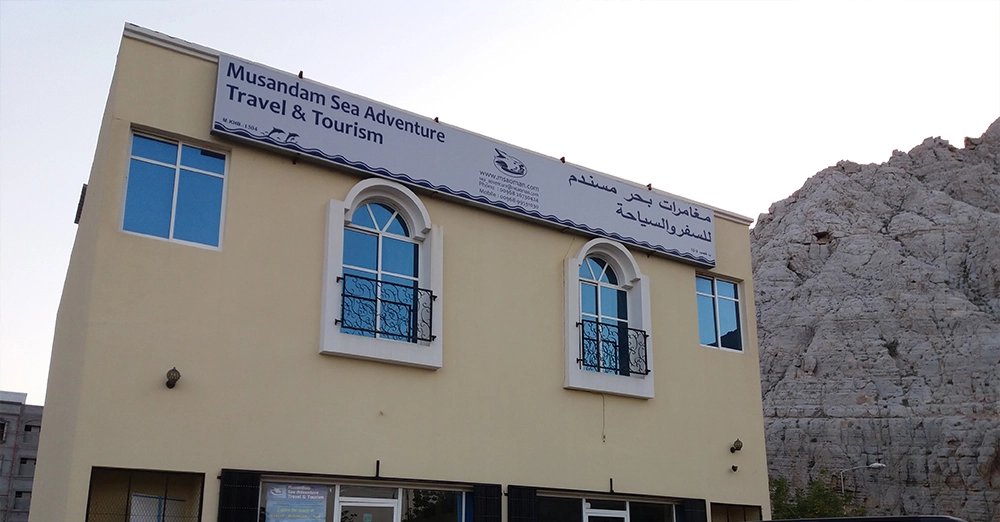 You can drive through the majestic Hajjar Mountains, then sail on the Arabian Gulf while spotting local wildlife. Get your snorkeling gear ready because this is your chance to explore the teeming underwater world off Musandam's coast.
Spend a leisurely evening aboard a traditional Arabian Dhow and make unforgettable memories. With a welcome kit, delicious lunch, and ice-cold drinks included, you're sure to have a fantastic day out on the sea. So grab your friends and family for some fun-filled underwater adventures.
Book now: Musandam Sea Safari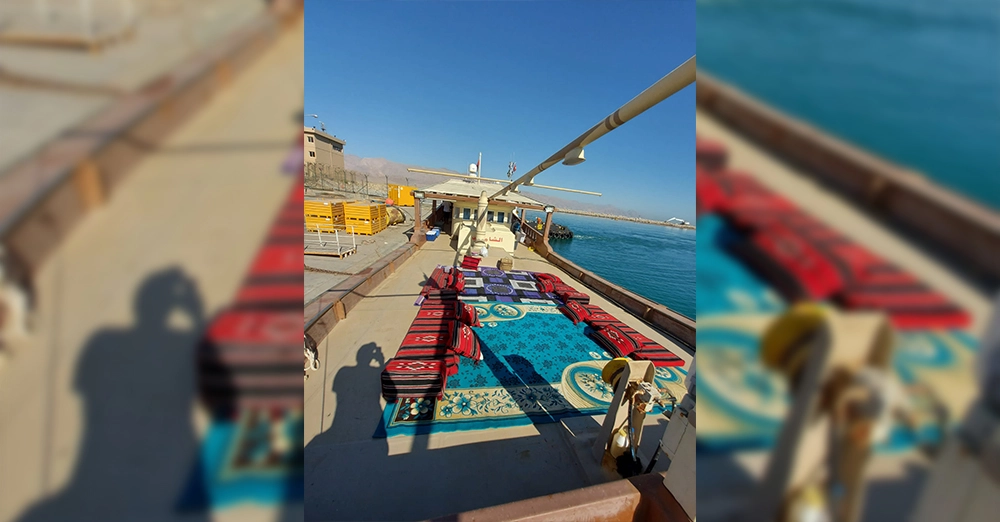 Going on the Dibba Dhow Cruise with Lunch is the perfect day out. You get to experience traditional Arabian hospitality, starting with a warm welcome. Plus, exploring the Gulf of Oman and passing by the gorgeous mountains on the UAE's eastern coast is breathtaking.
Also, you'll be amazed by all the stunning scenery, like rugged cliffs, salt-white mountains, yawning caves, and remote beaches. It's also loads of fun, imagine swimming and snorkeling in those waters or sunbathing up top while listening to great music. You'll even be served a special buffet lunch with refreshments available all day.
Book now: Dibba Dhow Cruise with Lunch
3.

Al Rabi hike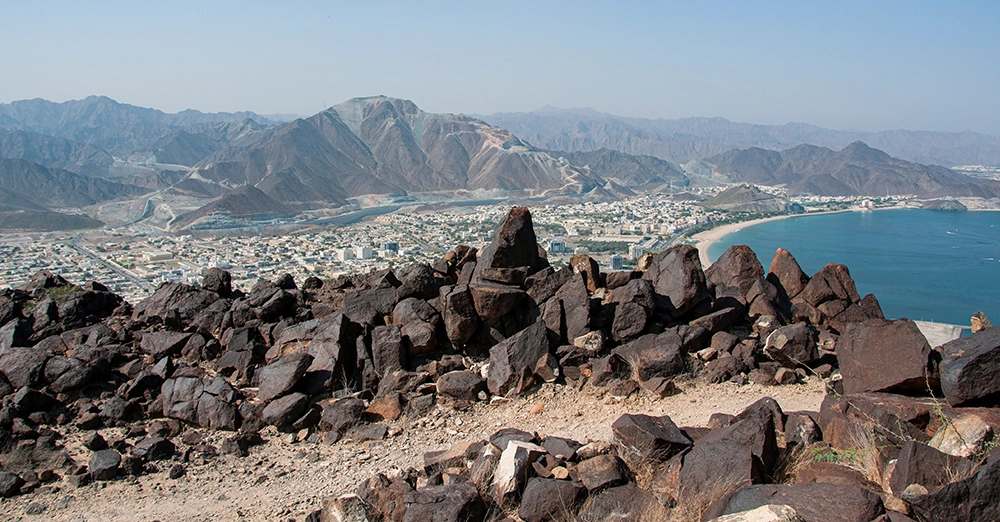 The Al Rabi hike is among the most popular hikes in UAE for beginners. It starts behind a small parking lot at Al Rabi Tower and is perfect for families and people who aren't regular hikers. The first two kilometers are pretty steep, but it only takes a couple of hours to finish.
If you look up, you can see the Khorfakkan port and beach from the top. Also, from the summit of this trek, you get 360 views of the beautiful Oman Gulf. So don't forget to wear some proper shoes and bring some drinking water.
Map: Get direction
4.

Fujairah fort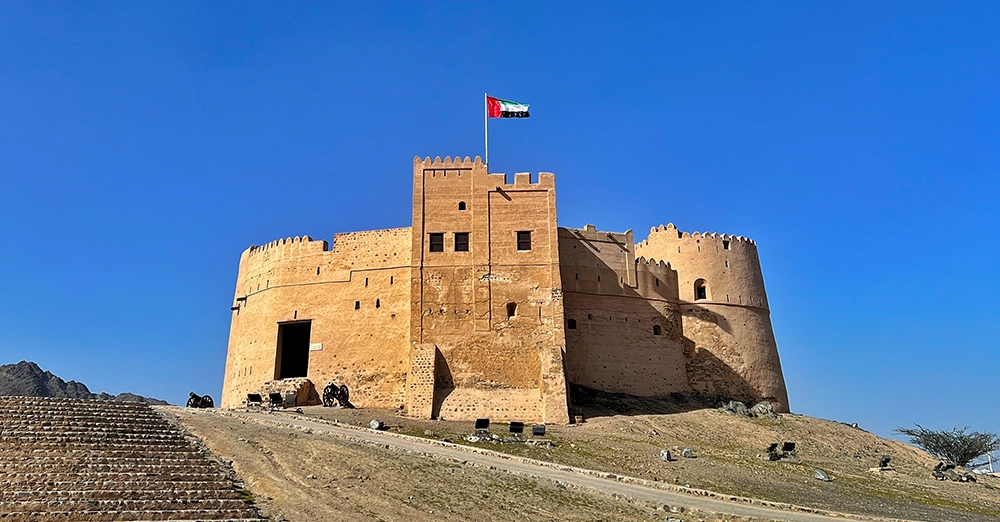 Fujairah fort is an exciting landmark located northwest of ancient Fujairah. Standing about 20 meters tall and about two kilometers away from the shore, it was built with local materials like stone, mud, gravel, and hay. Constructed way back between 1500 and 1550 AD and then restored between 1650-1700 AD.
This castle is divided into three sections, including different spaces like rooms and towers. Also, the Department of Heritage and Antiquities recently restored it with authentic methods and looks.
Map: Get direction
5.

Aqua Bounce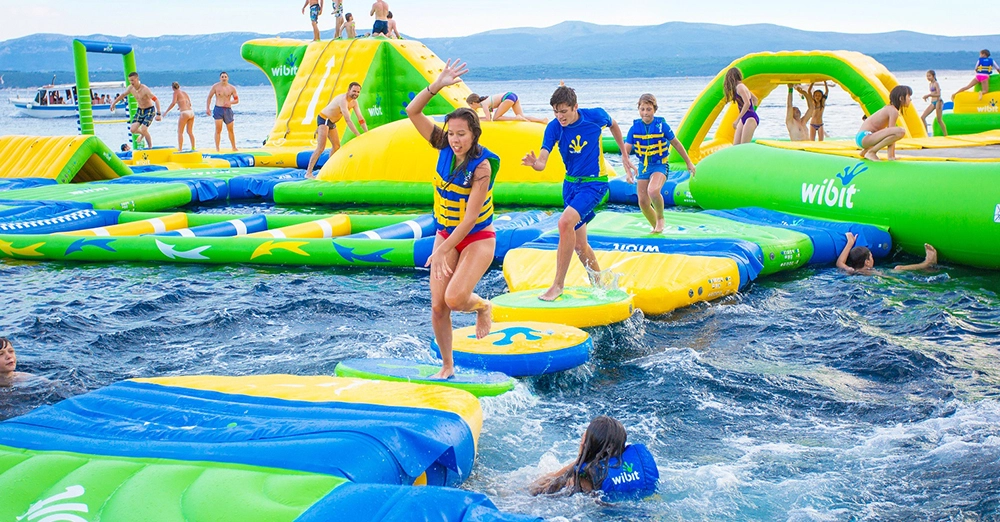 Located near the Khorfakkan beach, this floating inflatable obstacle course is a huge hit and offers tons of incredible features. Similarly, with slides, towers, bridges, cliffs, monkey bars, and a floating trampoline, you can have a fun time with kids and friends.
You'll sure have fun leaping through the waves or chilling and watching your friends splashing around. So if you want an unforgettable experience filled with extreme bouncing, zooming, and epic wet-and-wild fun, Aqua Bounce is the place to be.
Map: Get direction
6.

Shees park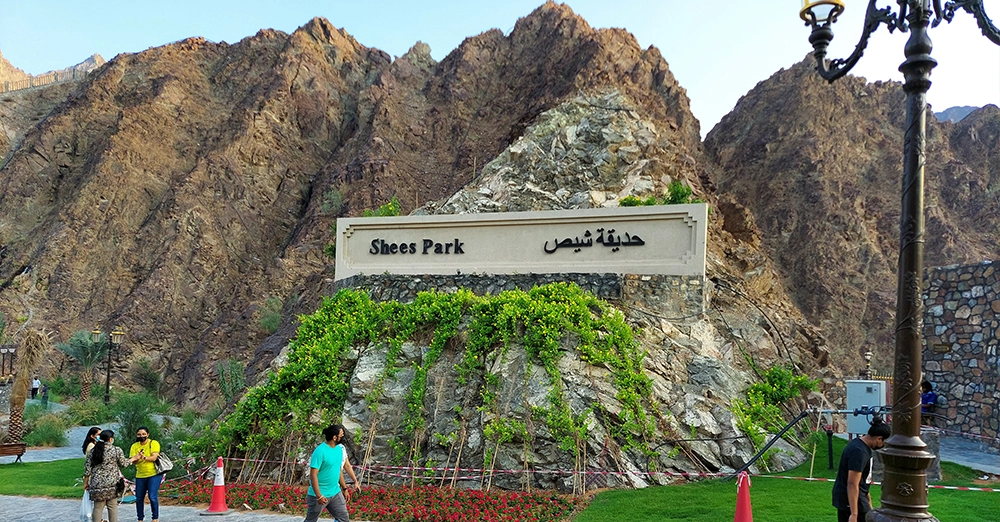 Shees Park was inaugurated by Dr. Sheikh Sultan bin Muhammad Al Qasimi, Supreme Council Member and Ruler of Sharjah. The park is 11,362 meters square and even has an amazing 25-meter-high waterfall.
There are 217 parking lots, 506 meters of walkable paths, 32 shaded sitting areas, and a 70-person outdoor theatre. Shees Park also has self-harvesting farms for the public and a delicious barbecue area for visitors and tourists.
Map: Get direction
Top attractions near Khorfakkan beach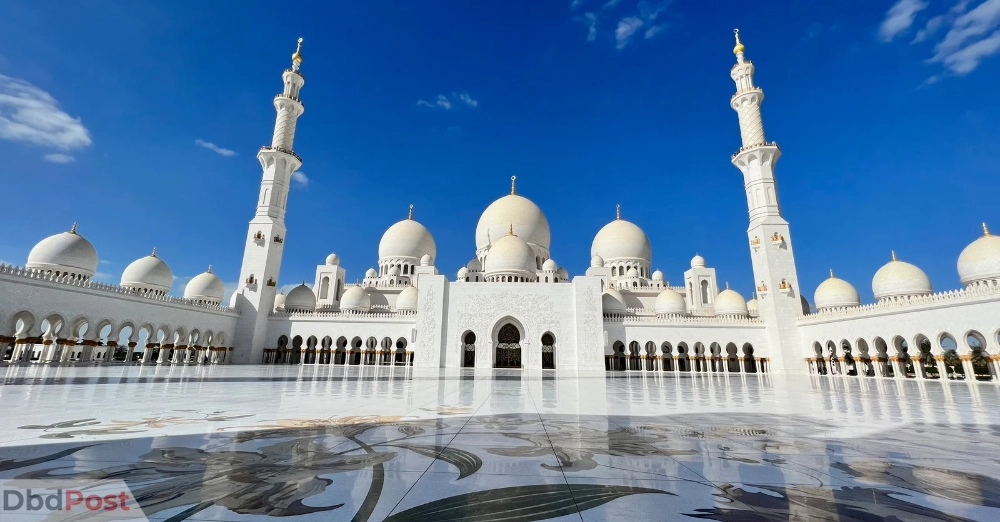 There's no better way to see the magical beauty of Khorfakkan than by exploring the nearby sites. Conveniently located off Khorfakkan road, hikers can take in breathtaking views on one of the area's popular hiking trails. A well-known mosque also tends to draw in large numbers of visitors.
1.

Fujairah Museum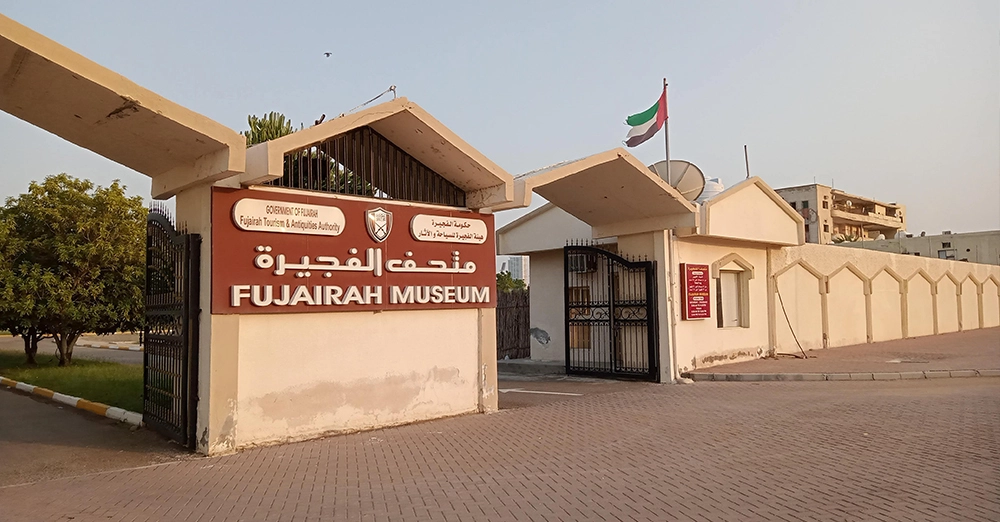 The Fujairah Museum is the place to be for tourists visiting Khorfakkan beach. It opened over 28 years ago in 1991 and now hosts up to 800 tourists a week. Inside the museum, you can find many archaeological exhibits discovered during numerous excavations in Fujairah. [1]Gulf News, "Fujairah Museum, https://gulfnews.com/entertainment/arts-culture/uae-museum-fujairah-museum-1.100258″
The exhibits consist of findings dating back to the sixth millennium B.C. There are some fascinating things to watch inside, like an Ostrich egg dating back 2,500 years B.C. Also, you can find spearheads, pottery, and jewelry from ancient Arabic culture.
Map: Get direction
2.

Resistance Monument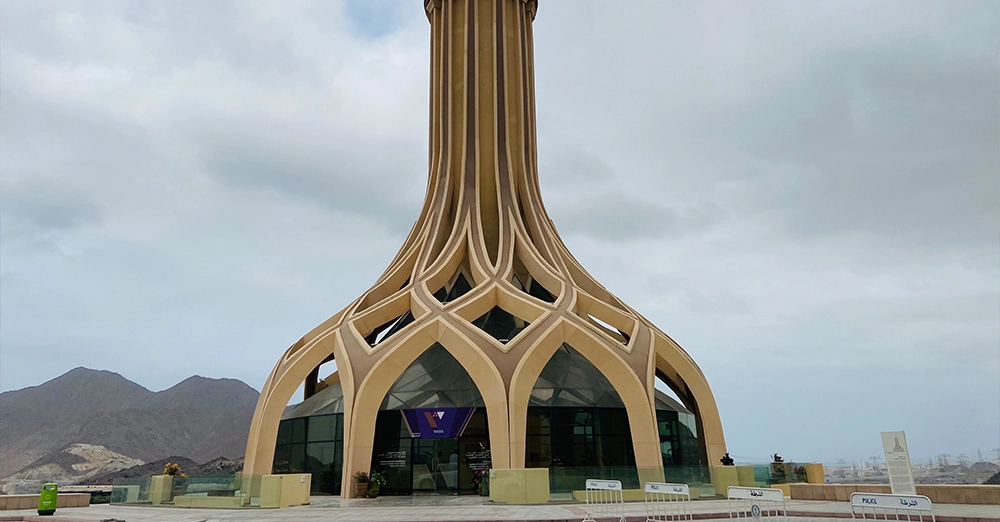 The marvelous Resistance Monument of Khorffakan is an incredible sight. Its glass construction gives it a stunning appearance that can be seen in many places throughout the city. It is located elegantly at the entrance to town and acts as a symbol for those who opposed Portuguese occupation back in 1507.
But its purpose isn't only to be a reminder of turbulent times, it's also an amazing spot to take in the views of Khorfakkan. The curved geometric design adds a visual delight to the already breathtaking scenery.
Map: Get direction
3.

Sheikh Zayed Grand Mosque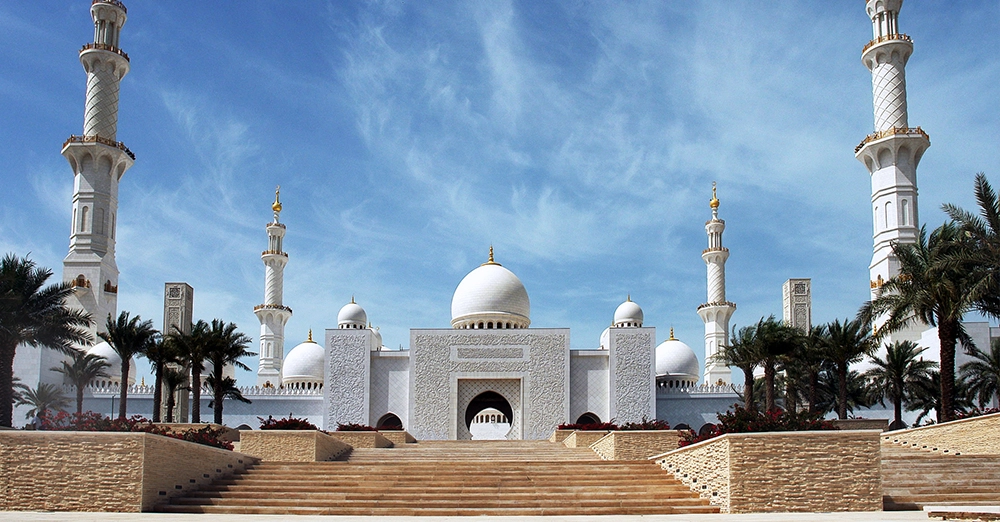 The Sheikh Zayed Grand Mosque in Fujairah is the second-largest in the UAE. It was named after the late Sheikh Zayed bin Sultan Al Nahyan, the Founding Father of the UAE. The building project started in 2010. Sheikh Khalifa funded the construction. The Ministry of Public Works looked after it. [2]The National News, "Sheikh Zayed Mosque, https://www.thenationalnews.com/uae/uae-s-second-largest-place-of-worship-opens-for-eid-prayers-1.125180″
This humongous place is 39,000 square meters big and can fit 28,000 worshippers. It also has 65 domes and six super-tall minarets that reach between 80 and 100 meters high. Plus, there are lots of cool fountains and gardens outside.
Map: Get direction
4.

Khorfakkan Square
Khorfakkan Square is a testament to the immense pride of everyone in the UAE, and it's an incredible sight to behold. You can take a drive-through or just stop and admire the amazing fountains and picturesque landscaping. On the 43rd National Day, even the UAE flag was raised here.
There's something special about this square, too, don't miss out on Mabkhara right inside. Similarly, an ancient incense burner lets you know you're in a place of traditional Arabic hospitality.
Map: Get direction
5.

Khorfakkan Amphitheater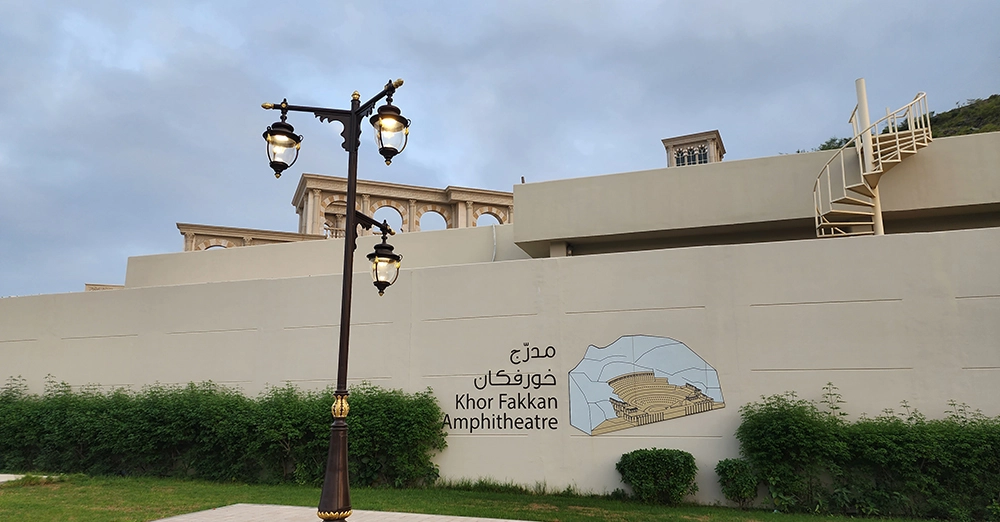 The Khorfakkan Ampitheater is truly unique. It's a 1700 square meter outdoor venue that takes inspiration from ancient Roman architecture and can host up to 3500 spectators. Plus, there's a 45m-high waterfall that cascades down next to the amphitheater.
Likewise, if you get hungry, you can enjoy delicious dishes from the amphitheater's restaurant and café. In addition, the entire amphitheater and waterfall face Khorfakkan bay, so you get picturesque views along with delightful entertainment.
Map: Get direction
6.

Al Rafish dam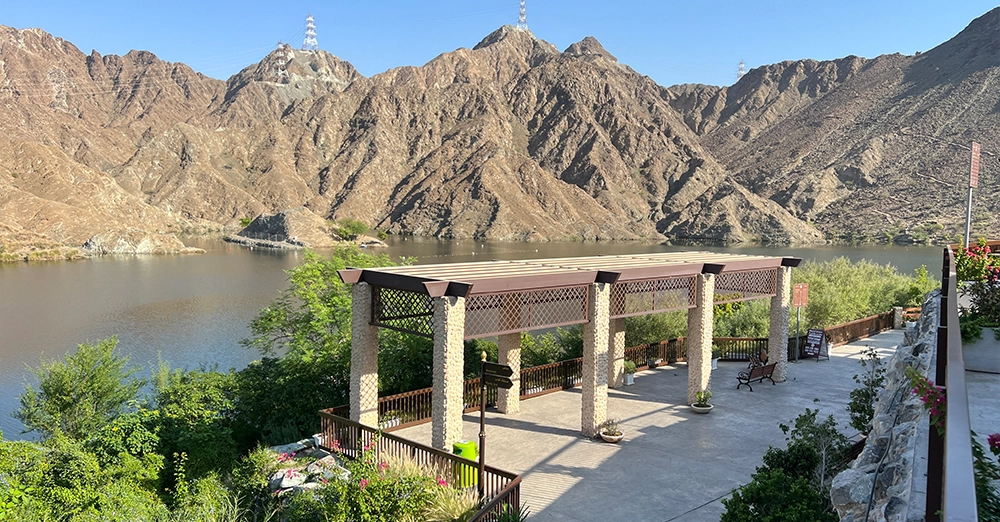 This popular tourist attraction was originally built in the 1980s. With its recent upgrade, it has a beautiful visitor center, a rest area, and boating facilities on its lake. The sandstone mountain range offers a stunning backdrop to the tranquil green landscape, and visitors can enjoy the man-made waterfall nearby.
Additionally, you will find a mosque, outdoor play areas for children, and much more in the rest area. For those looking to explore even further, there is the Wadi Shea fortress and old plantations just waiting to be discovered. Best of all, the Al Rafish dam has a kilometer-long pathway with hanging palm trees.
Map: Get direction
7.

Al Bidya Mosque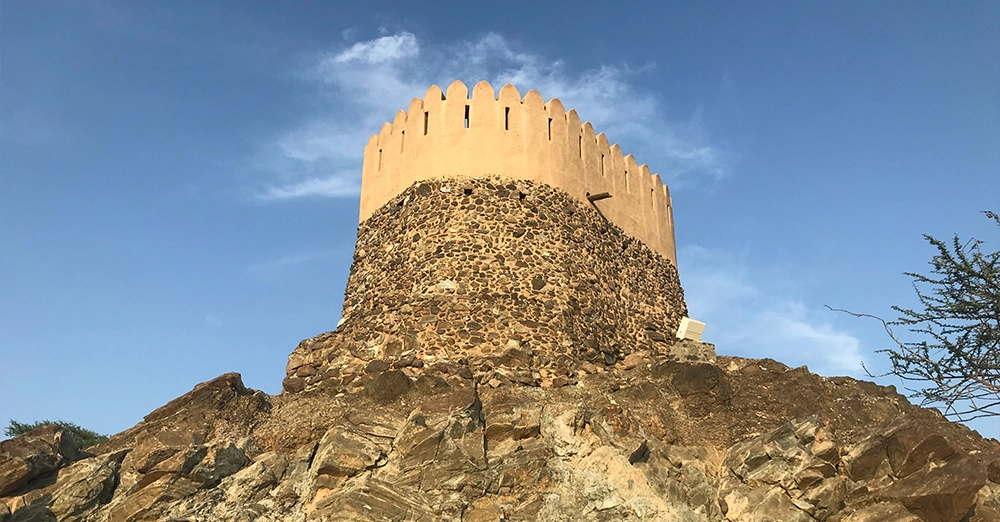 Al Bidya Mosque is located in the Al Bidya area of Fujairah. The structure stands out from other old and modern mosques because its four domes are not all the same size. The first dome is the largest, with a smaller dome on top of it, with another even smaller dome crowned by a tiny dome.
The mosque is square-shaped at 6.8 x 6.8 meters but irregular in shape. Its Mihrab reaches 180 cm tall and 90 cm wide. Decorative dentate carvings cover its walls with openings for light and air to enter, plus niches for lamps. Similarly, an expansive rectangular yard is also made from solid stone hay and mud. [3]UNESCO, "Al Bidya Mosque, https://whc.unesco.org/en/tentativelists/5665/#:~:text=This%20mosque%20is,exceed%201.5%20meter."
Map: Get direction
Hotels and resorts near Khorfakkan beach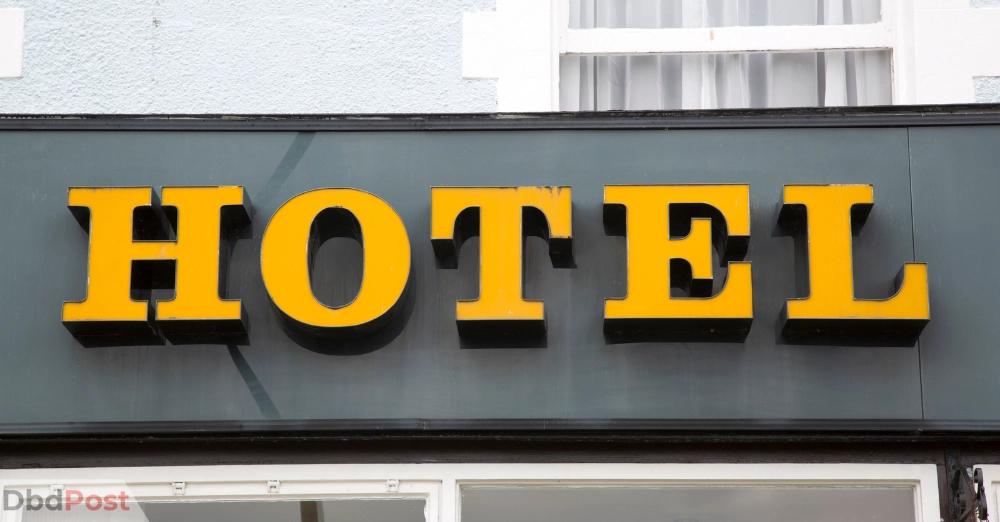 Khorfakkan beach Sharjah is an excellent spot for a vacation getaway. If you're looking for the ideal destination to spend your holiday, there are plenty of hotels and resorts. Let's look at some popular Khorfakkan resorts to stay nearby the beach.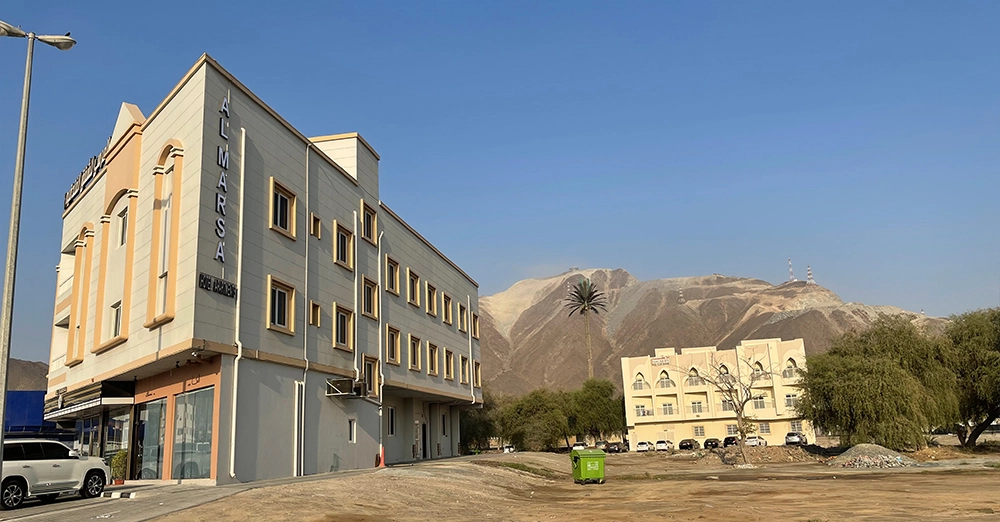 Al Marsa Hotel Apartments is the perfect spot for a fun and relaxing getaway. Located just 600 meters from Khor Fakkan beach Sharjah, you can have the best of both worlds.
Each unit has everything you need, a fully-equipped kitchen, dining table, flat-screen TV, and even a private bathroom. All apartments are air-conditioned, so you'll stay cool and comfy in any season.
Plus, you can enjoy activities like diving and fishing nearby. There are three types of apartments: one-bedroom, two-bedroom, or three-bedroom. You'll also get free WiFi and private parking when you stay there.
Book now: Al Marsa Hotel Apartments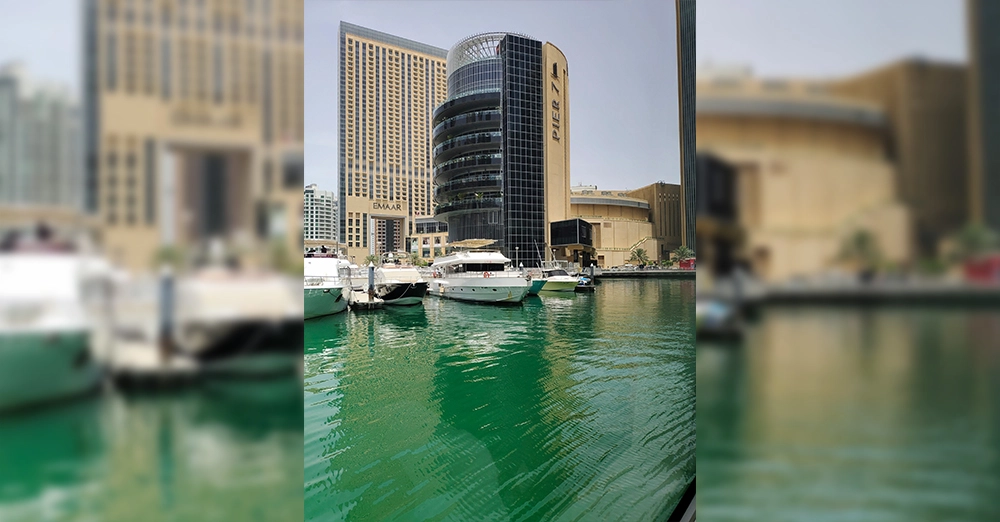 Have you ever stayed in a fancy vacation home? The Pier luxury villa hotel is the perfect spot for a getaway. You can enjoy their air-conditioned villas with three bedrooms and all home features.
Each room has a flat-screen TV, a terrace with a garden view, a private pool, and free parking. Plus there is an outdoor swimming pool and barbecue area so you can have fun in the sun.
Book now: The Pier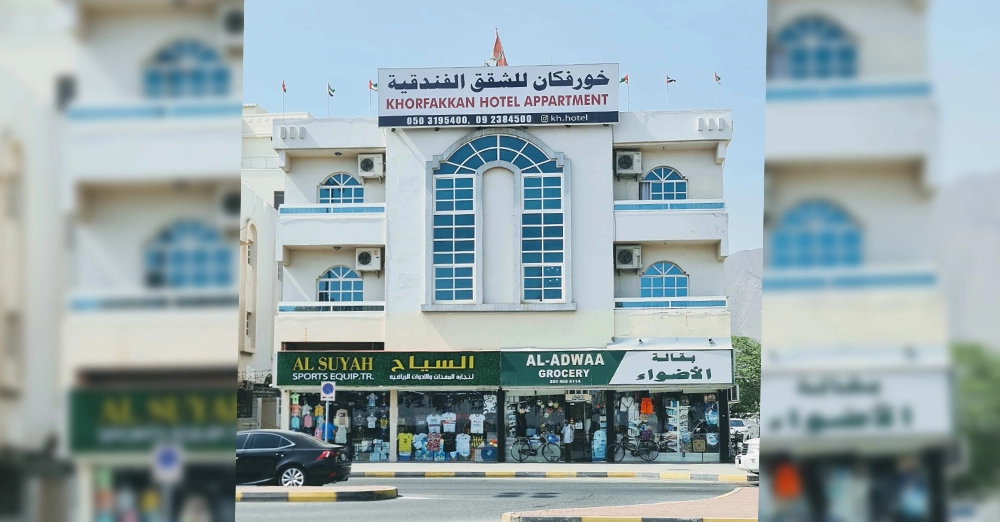 Khorfakkan Hotel Apartments is the place to go for a comfortable and relaxed vacation experience. The hotel offers air-conditioned rooms with a safety deposit box, a TV, and a private bathroom with a shower so you can feel at home. Plus, there's even a seating area if all you want to do is sit back, relax and take in the view.
Moreover, the receptionist speaks Arabic and English if you need help or information while in Khorfakkan. Not only that, but the hotel even has special family-friendly rooms available. When staying at Khorfakkan Hotels Apartments, you can choose studio apartments, bed apartments, and two-bed apartments.
Book now: Khorfakkan Hotel Apartments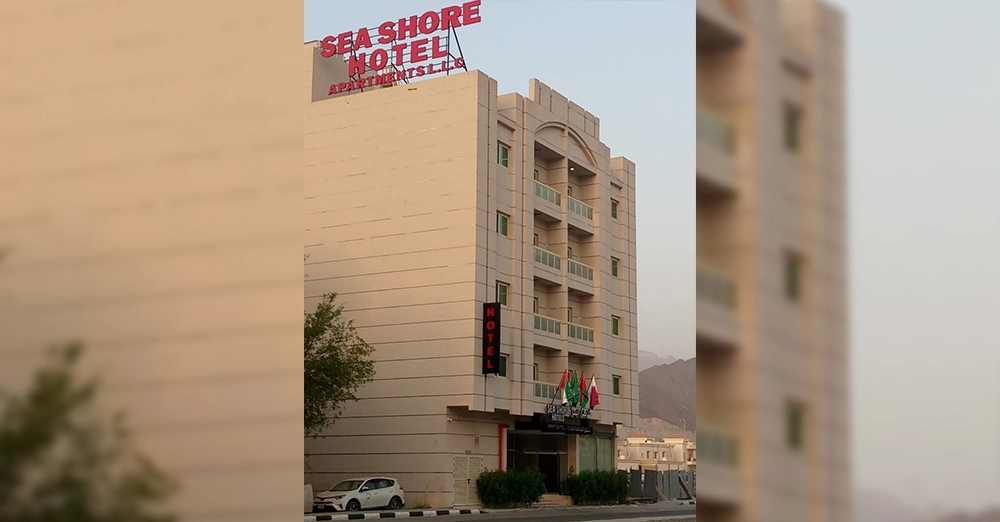 This 3-star property offers an unbeatable view right next to the beach. It has everything you need thoughtfully planned out so that your stay is as comfortable and enjoyable as possible. You can find a desk, TV, private bathroom, bed linen, and towels in every room.
And for added convenience, an ATM and currency exchange service is available. All units have balconies facing the beach or the mountains and a fridge. Plus, if all of this wasn't already great enough, they also offer room service and have a 24-hour front desk.
Book now: Sea Shore Hotel Apartment Khorfakkan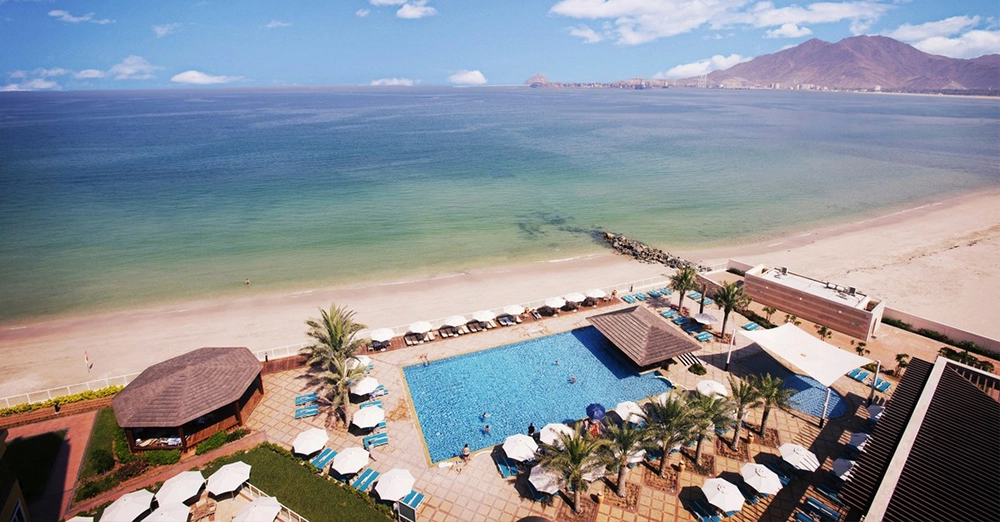 The Oceanic resort and spa is a great place to stay if you plan a trip near the beach. It's only 20 minutes from the city, and there is much to do. At the resort, you can find a private beach area and an outdoor pool; they have lots of fun water sports facilities.
Equipped spa treatment rooms are also available, so if you need extra pampering, check out. The rooms are air-conditioned and come with a satellite TV, telephone, and a living room with a sofa and dining area.
There's a delicious breakfast buffet every morning too. You can stay active at the gym or use more flexible options at the spa with sauna and steam rooms.
Book now: Oceanic Khorfakkan Resort & Spa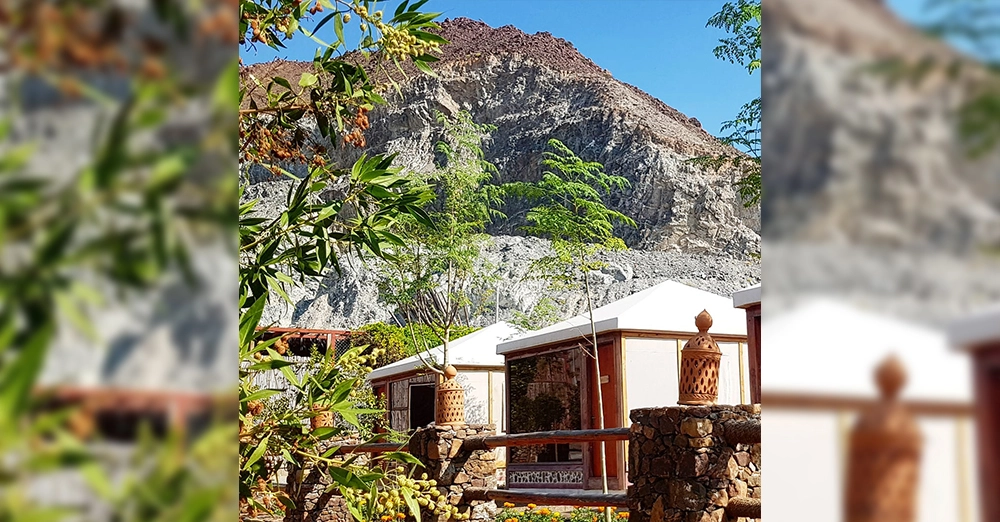 The Retreat is the perfect place for a family trip. It has all sorts of luxury and comfortable accommodations. Each room has air conditioning and a private bathroom with all the necessities like a bidet, complimentary toiletries, and a bathtub.
Plus, there are lots of exciting outdoor activities too. The gardens and terrace provide plenty of things to explore and free parking if you have a car. If you're looking for breakfast options, there's a delicious buffet with vegetarian or halal choices so everyone can find something.
Book now: The Retreat
7.

Address Beach Resort Fujairah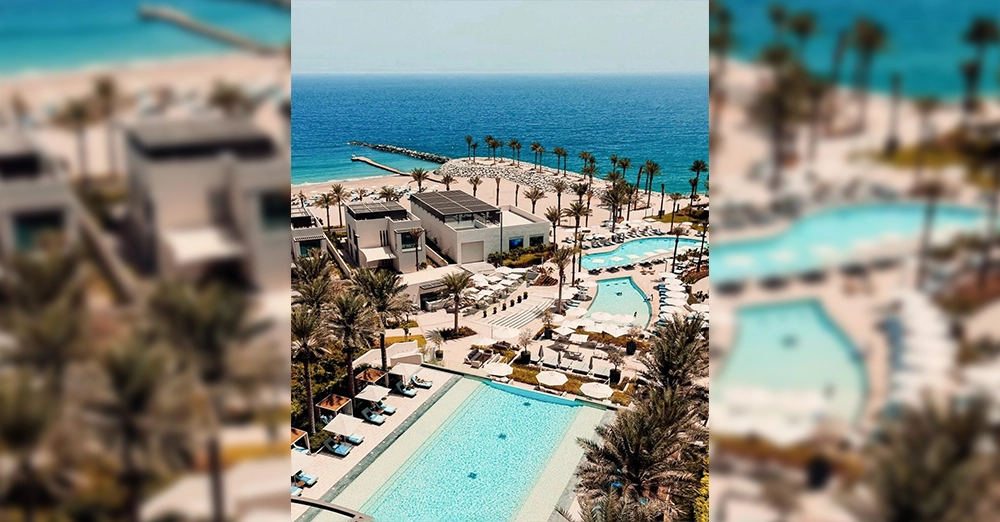 Address Beach Resort Fujairah, launched by the Emaar Hospitality Group, is the perfect choice for business, leisure, and group travelers. The resort provides guests a more personal and engaging experience in a premium lifestyle environment.
Address Beach Resort Fujairah has won many awards, including 'Best Hotel in the World' in 2013 at the Global Traveler Survey Awards. Also, they won 'Modern Luxury Hotel of the Year' at the Luxury Travel Guide Africa and the Middle East in 2017. Similarly, they won 'Dubai's Best Golf Course' at the World Golf Awards in 2016. All these awards prove just how outstanding this resort is. [4]Addres Hotels, "About Addresshotel, https://www.addresshotels.com/en/about-us/#:~:text=Address%20Hotels%20%2B%20Resorts,2016″
Map: Get direction
8.

Miramar Al Aqah Beach Resort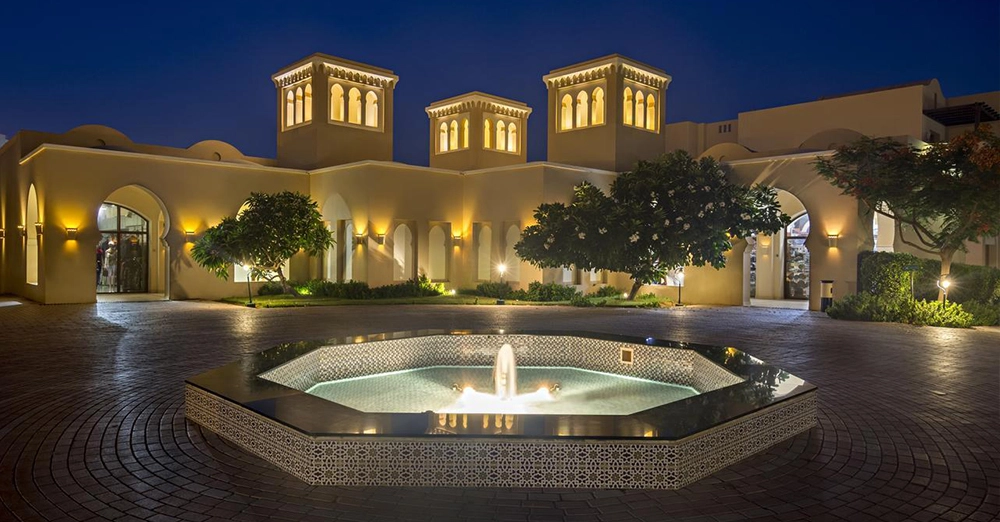 Miramar Al Aqah Beach Resort is the perfect place for a family getaway. Set among the foothills of the Hajar Mountains, this beautiful 5-star Moroccan-fashioned hotel offers plenty of things to do. There's a diving center, outdoor and indoor pools, and tennis courts.
Plus, each apartment comes with private balconies and 24-hour room service. You can choose from traditional Middle Eastern dishes, delicious Italian cuisine, and all your favorite Asian dishes.
It's also a children's club where they can join activities like swimming or playing in the game room. And don't forget about the fitness center and health club to stay active.
Map: Get direction
9.

Fujairah Rotana Resort & Spa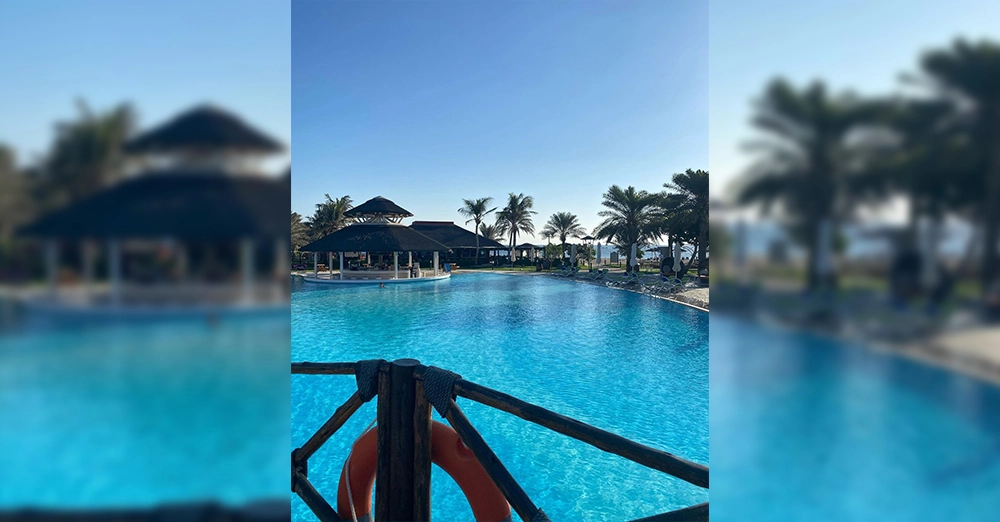 The Fujairah Rotana Resort & Spa is the perfect place for a getaway. It has beautiful, lush gardens and palms, making it a retreat for guests. A sandy beach awaits you with 250 rooms and suites designed with comfort in mind. All of the rooms have sun-washed terraces, balconies, and manicured gardens.
If you're looking for some chill time, there are two swimming pools plus the Flipper's Kid's Club, where kids can enjoy fun activities. You can also find 6 diverse casual-dining options, Zen the spa at Rotana, Bodylines Fitness & Wellness Club. In addition, there are venues for events like weddings or private parties.
Map: Get direction
10.

Sandy Beach Hotel & Resort
The Sandy Beach Hotel & Resort is the perfect getaway for a vacation! It's nestled between the Indian Ocean and the Hajar Mountains, giving you some amazing views.
There are 102 rooms to stay in, or you can go to the rooftop panoramic bar for seafood and drinks with a view of Snoopy Island. Experienced divers will love the Diving Center right on the beach, and kids will have tons of fun at the SnoopySplash waterpark.
Moreover, there is music and entertainment at the Ocean View Bar, plus a live karaoke band at night. The hotel is only a 30-minute drive from Fujairah City and 1.5 hours from Dubai, so it's easy to get to. All in all, it's an excellent place for an unforgettable vacation.
Map: Get direction
Restaurants near Khorfakkan beach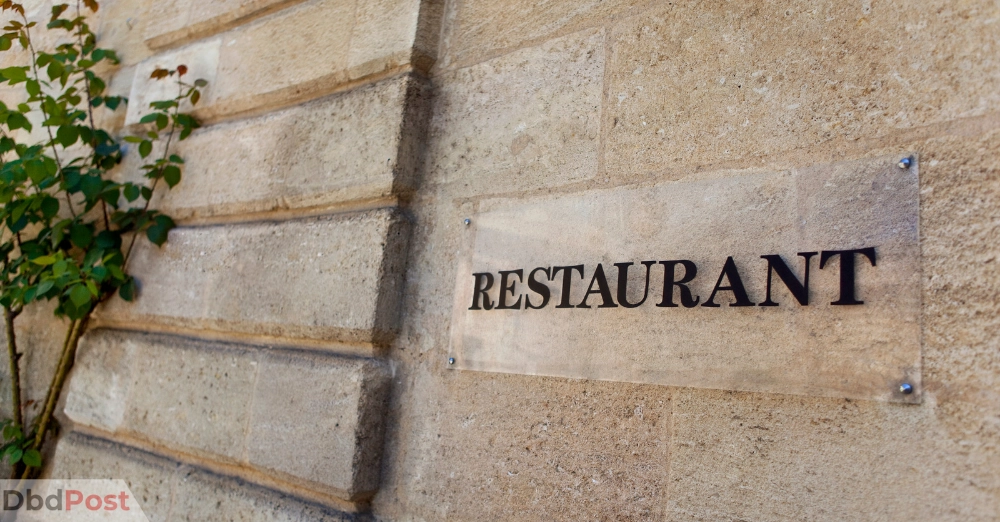 The Khorfakkan restaurant near the beach boasts some freshest seafood and has options ranging from casual dining to upscale cuisine. From local Asian-style dishes to exciting American favorites, visitors can enjoy a feast with stunning views.
1.

Al Mabrook Restaurant & Cafeteria
Al Mabrook Restaurant & Cafeteria is the place to be if you want delicious food near Khorfakkan beach. They've got a delicious variety of meals for you, like their cafeteria dishes, Manaqeesh, and grills.
Their best-selling dishes are Butter Chicken, Chicken Manchurian, Chicken Mushroom Pasta, and Yogurt Shish Tawook. Plus, Al Mabrook offers home delivery, perfect for stay-at-home days. So head on down or order online!
Map: Get direction
2.

Rimini Restaurant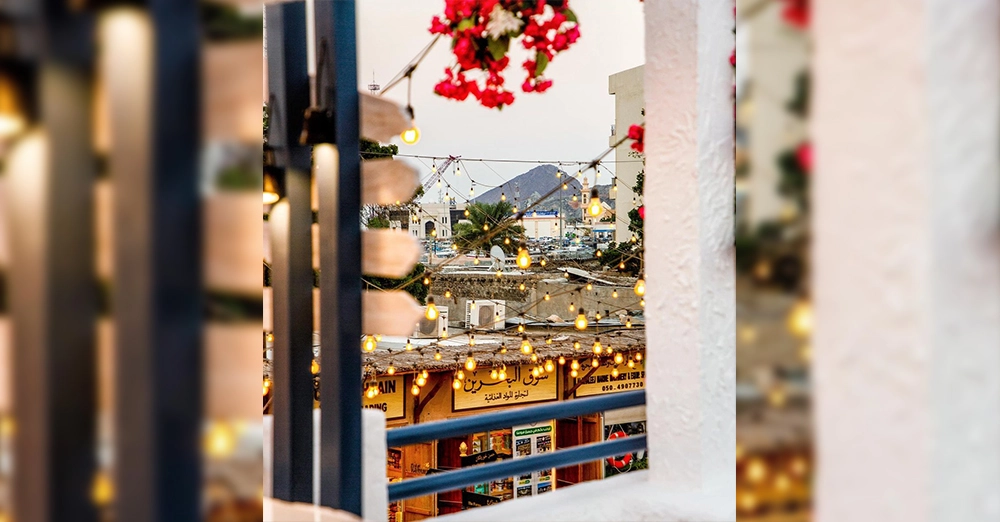 Rimini Restaurant is an awesome restaurant for a quick snack, just a few steps away from Khorfakkan beach. This place is a must-visit if you're looking for delicious meals. They offer a variety of dishes and meals to choose from, like fast food, Asian, and snacks that can be delivered across Khor Fakkan.
They have special dishes like Crispy chicken burger regular, Fries, and Loaded Fries With 4 Homemade Sauces. Also, they have home delivery that's so fast customers love it.
Map: Get direction
3.

The Bad Moo Burgers & Shakes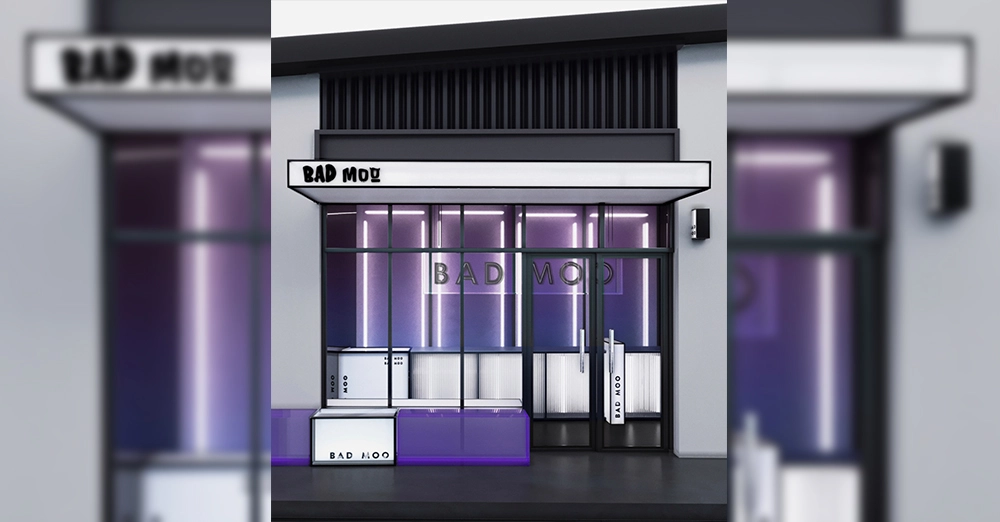 The Bad Moo Burgers & Shakes restaurant is the perfect place to grab a delicious meal near Khorfakkan beach. They have all kinds of yummy stuff for you to try, like burgers and fries, American foods, incredible drinks & snacks, and more.
Their most popular dishes are the Chunky Deep Fried Onion and Jalapeno Bites. Plus, with their quick home delivery times, customers don't have to worry about running to the restaurant.
Map: Get direction
4.

Bait Al Majbus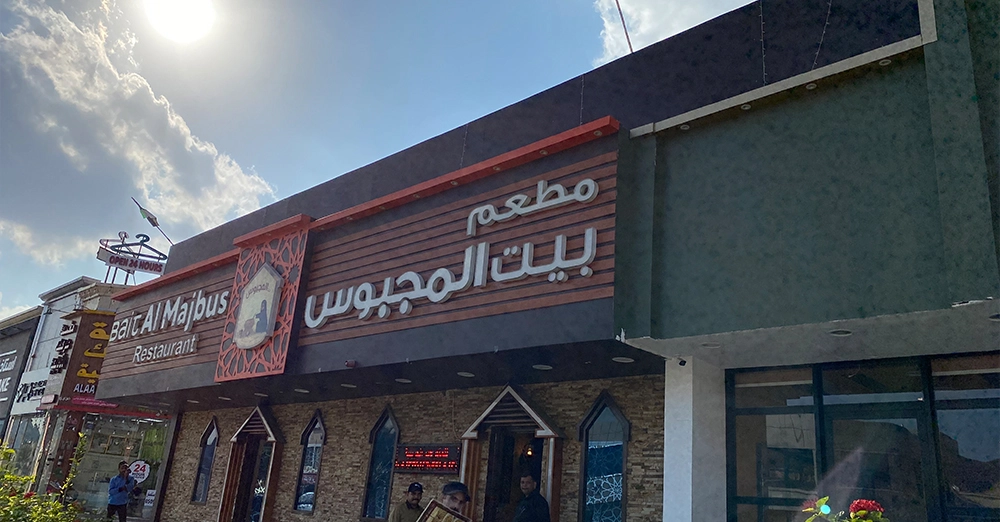 Bait Al Majbus is an amazing place to eat. They offer a variety of delicacies to choose from, so there's something for everybody. You can choose from some of the best Arabic and Kuwaiti cuisines.
Some of their most popular dishes are Tabbouleh, Potato, and Bamiya Curry. So if you're in the mood for good food that's easy to get with home delivery, Bait Al Majbus is the spot. Plus, it's so highly reviewed that you know it'll be great.
Map: Get direction
5.

Rebou Lebanon Restaurant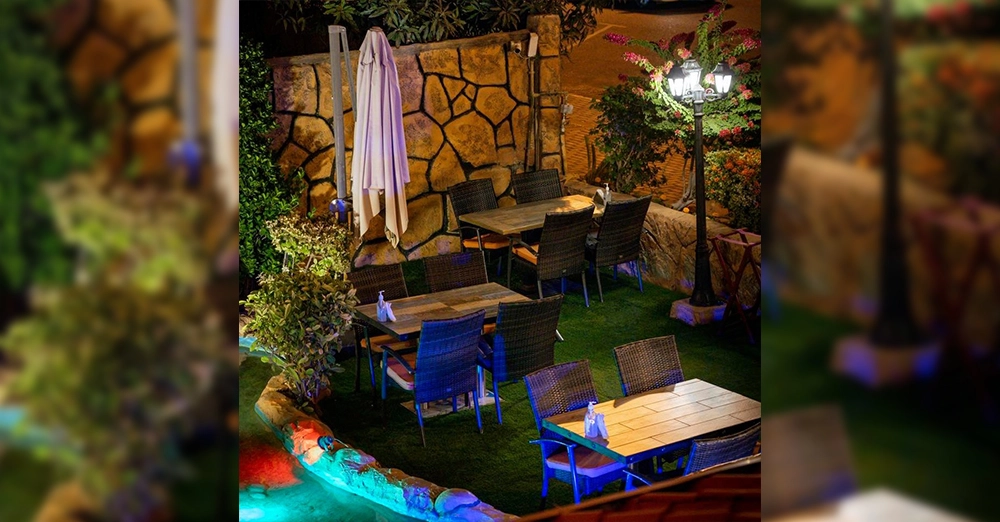 Rebou Lebanon Restaurant is the perfect place for delicious traditional Lebanese food. With its friendly staff and incredible homemade bread and hummus, there's something on the menu for everyone.
Rebou is a great breakfast place, with food to take away or to eat in their outdoor seating area. They accept cash and cards as payment options. Similarly, Rebou is also a great place for families because it has an excellent atmosphere for families and kids.
Map: Get direction
Shopping malls near Khorfakkan beach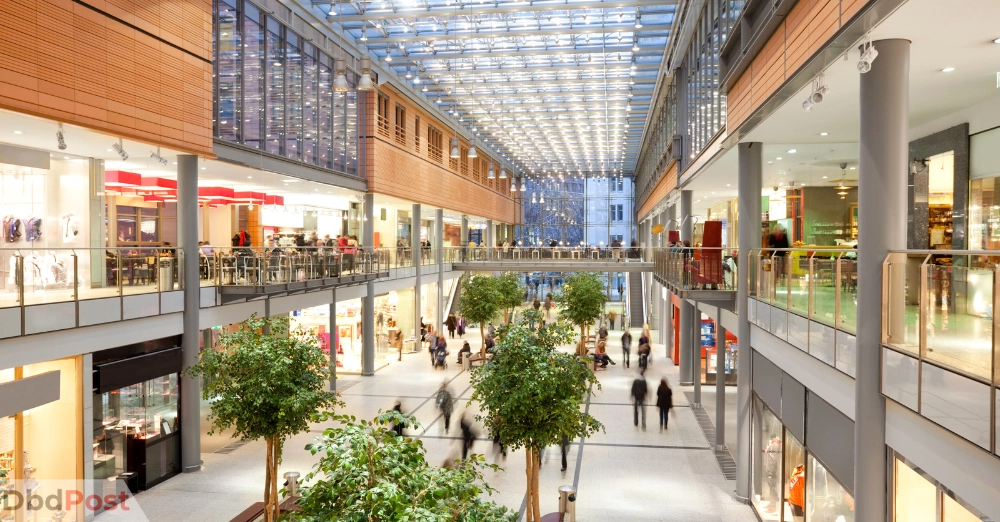 Visitors can also enjoy shopping nearby Khorfakkan beach malls for unique souvenirs and other items. From the latest fashions to jewelry and electronics, these malls offer a variety of shops for everyone's needs.
1.

Century Mall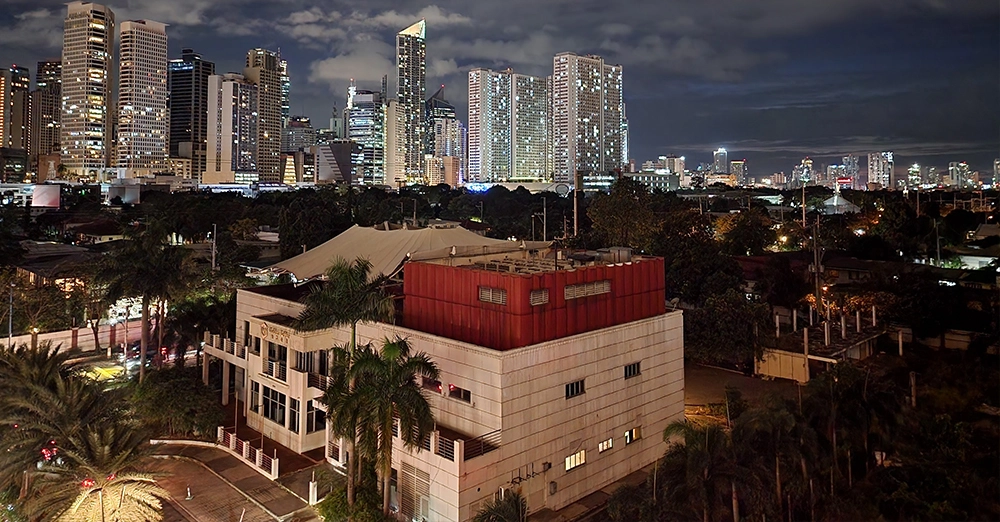 Century Mall is the ideal destination for shopping enthusiasts. There are stores with various items, but you can also find gifts and toys perfect for your family or friends. Check out their dedicated children's fashion collection; they have stylish clothes to match any child.
You can visit any of the mall's top restaurants, cafes, and fast food spots for a delicious meal. Explore the extensive selection of makeup and fragrances from well-known brands or score some new electronics like mobile phones. For fun, you can go to the movies or play video games. You can also find accessories like hats, jewelry, and sunglasses.
Map: Get direction
2.

Fujairah Mall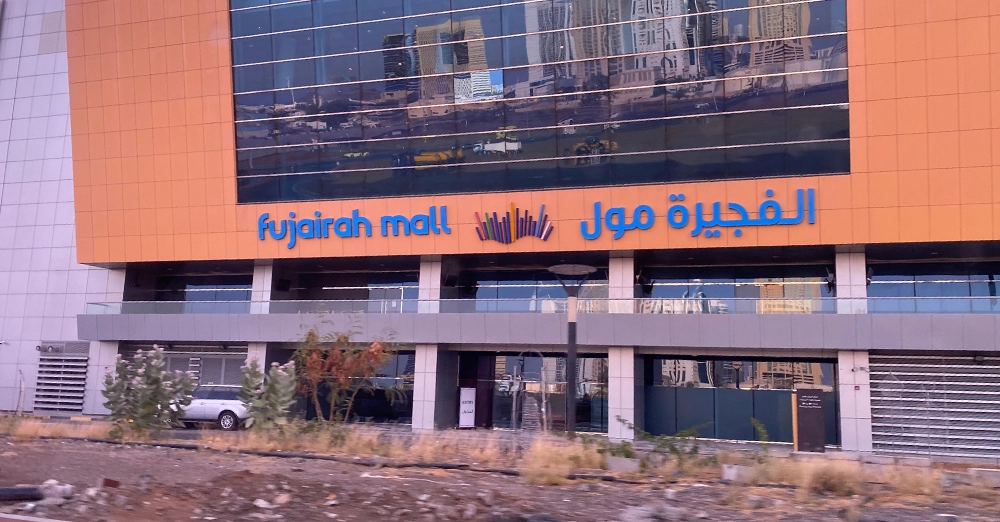 It's a one-stop shopping destination, near Khorfakkan beach, with an elegant and innovative architectural design. You'll see traditional and modern elements proudly appealing to everyone who visits. Plus, it's right by the main highway into the city and easily accessible no matter where you're coming from.
The mall is enormous, too, with 35,000 square meters of space and 81 different kinds of shops. It's also got lots of fun entertainment venues, retail areas, and even a five-star hotel facility. [5]Fujairah Mall, "About, http://www.fujairahmall.ae/about"
Map: Get direction
3.

Lulu Mall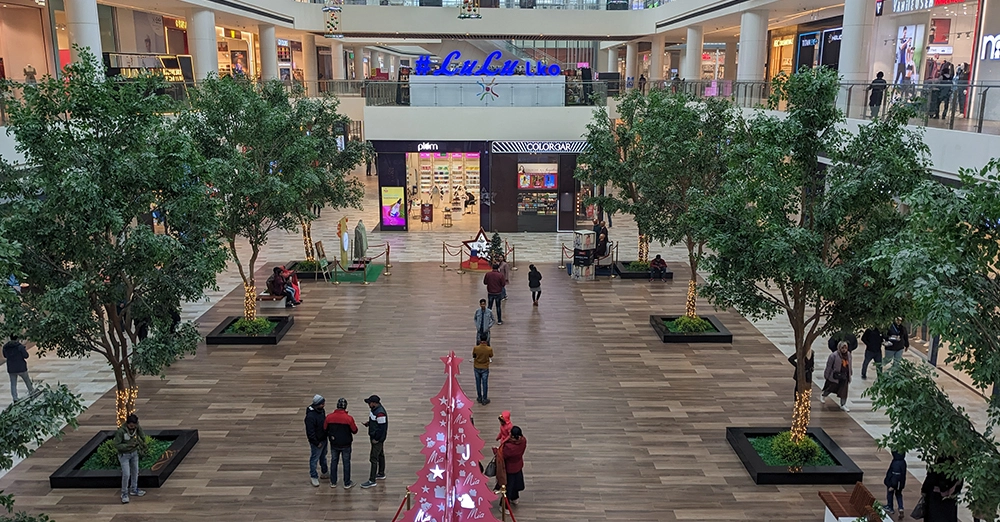 Lulu Mall in Fujairah is the perfect place for shoppers of every age. It's so easy to get there from any part of Fujairah or even another Emirates. This mall covers 50,594 square meters and has two levels. It has lots of space for shopping, entertainment, and more.
There are more than one hundred stores in the mall. Popular stores include Lulu Hypermarket & Department Store, Sparky's, Fitness 360, Daiso, Brands World Department Store, and Tasheel.
You can also have fun at the numerous entertainment centers and stay healthy at the fitness center. Plus there's lots of parking space too, so you don't ever have to worry about where to leave your car.
Map: Get direction
4.

Oasis Mall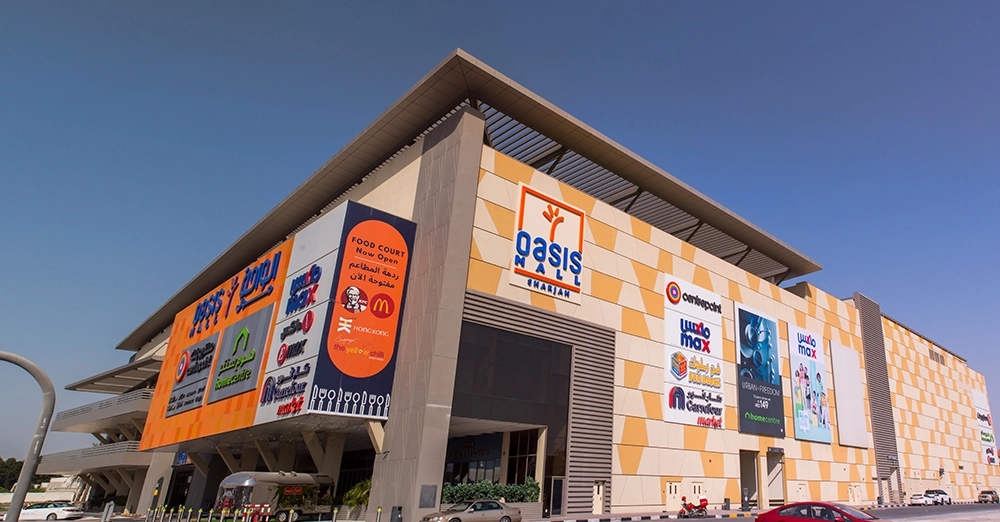 Oasis Mall Sharjah is an extensive shopping and entertainment experience. It has more than 30 million square feet of retail space so that you will find amazing stores. Similarly, there are many choices, from clothes for all ages at Centrepoint and Max to home supplies from Home center and electronics from Emax.
Moreover, there are restaurants, cafes, sports & leisure stores, beautiful places, health & wellness spots, and other fun stores like Carrefour. Plus, it has 600 parking spaces, so you won't have to worry about finding a park. And you won't want to miss out on the great seasonal sales, promotions, or deals in the mall.
Map: Get direction
5.

City Center Fujairah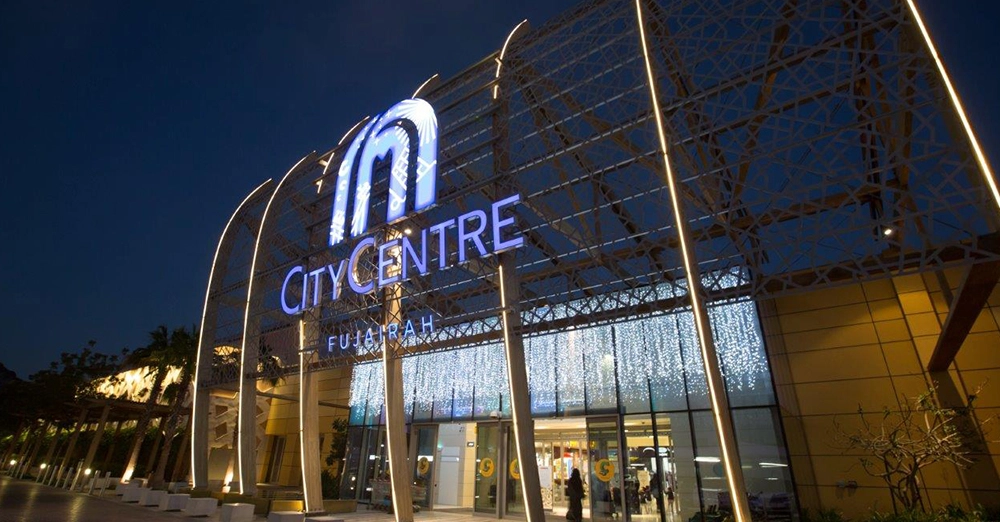 Visit City Center Fujairah near the beach to fulfill all your shopping needs. This amazing mall was developed with the help of Majid Al Futtaim Properties and the Fujairah Investment Establishment. It's one of the oldest and biggest malls in the Emirate.
The mall has 34,000 sq meters of retail space and offers 105 different value and mid-market brands for shoppers. You can find both local and international fashion, lifestyle, electronics, homewares, and food items. Also, there is 8,684 Carrefour hypermarket (the biggest in the Emirate!), multi-screen VOX Cinemas, and family entertainment (Magic Planet). [6]City Center Fujairah, "About, https://www.citycentrefujairah.com/about-us"
Map: Get direction
Flight deals to Khorfakkan beach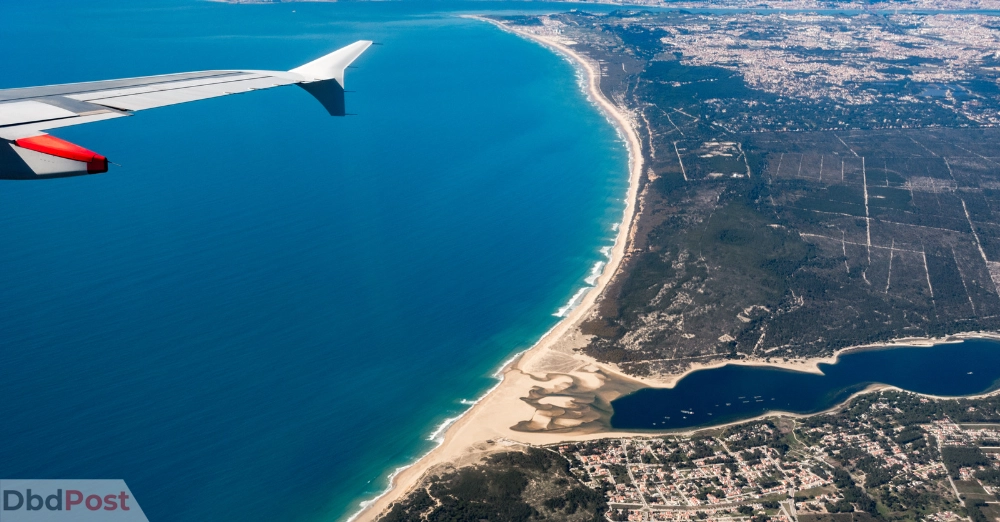 The following airlines have cheap flights to Khorfakkan beach in the Emirate. You can also find good deals on last-minute tickets from the services listed below.
Flight categories are based on region, prices, and popularity.
They have some fantastic international vacation packages available. Come and check them out today.
You can use the advanced flight search to help find a flight.
Pricing strategies are designed to get the best deals.
You can book, get notifications, and find offers for things using a mobile app with just one click.
The self-itinerary option is for travelers who want to plan their trip.
They provide services for tons of airlines.
This website lets you search for tickets to numerous international destinations.
Deals on flights during the weekends.
You can get up to AED 367 ($100) off on flight tickets.
The ticket booking process is quick, and our support is excellent.
You can find the cheapest airfares at google flights.
Khorfakkan beach travel tips
Below is a list of tips that can help you while visiting the beach. Make sure you read them thoroughly for the best results.
Wear a hat and sunscreen to protect yourself from the sun at Khorfakkan beach.
Remember to use the showers, bathrooms, and restaurants at the beach. They are there for you to use.
Make sure to bring food and drinks with you to the beach. This will help you stay energized and hydrated throughout the day.
It is essential to wear comfortable shoes because the sand can get hot quickly.
Make sure you have enough money to buy souvenirs or pay for unexpected expenses.
Keep an eye on your belongings, as there may be crowds at the beach.
Make sure to follow the beach's rules, such as no smoking or littering.
When you visit with children, oversee them to ensure they are safe.
Instead of going to the beach on weekends or holidays, try going during the week to avoid crowds.
Best time to visit Khorfakkan beach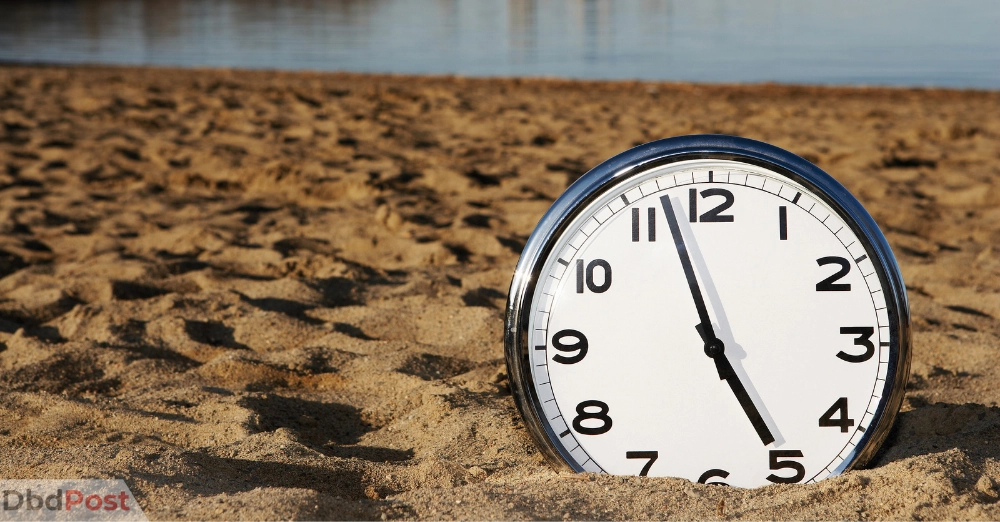 The best time to visit Khorfakkan beach is during the winter when it's more relaxed and the days are more pleasant and sunny. You can go swimming, relax on the sand or try water sports like jet skiing and paddleboarding.
Plus, the nightlife is always alive with music and activities that adults and kids can both enjoy. Don't forget to bring lots of sunscreens. Taking in all that Khor Fakkan beach offers during this time will make your vacation truly unforgettable.
When planning to visit, be sure to steer clear of the afternoon hours during the summer months. It can get sweltering. So whatever activities you're hoping for, choose times when temperatures are more moderate and make the most of your outing.
How to save money at Khorfakkan beach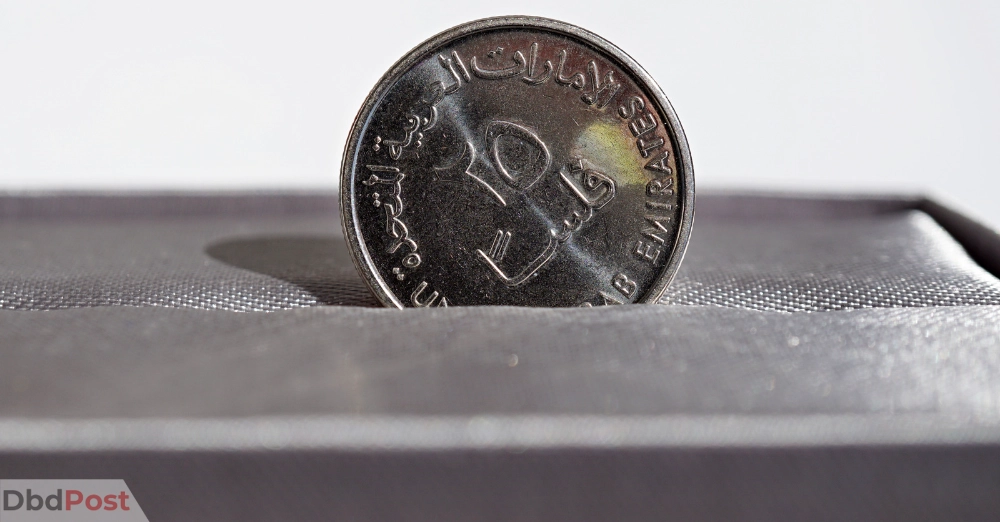 KhorFakkan beach is a great place to have fun and relax. But, sometimes, sticking to your budget while you're there can be challenging. Luckily, there are many ways to save money without sacrificing your beach experience.
Try bringing along a picnic lunch, or plan any activities you want to do before you go. If you are strolling around the market, haggle with vendors for discounts. Skip renting an umbrella at the shore and bring your own instead.
There are plenty of other tricks for a fun-filled vacation at the beach that won't break the bank. Below we have some great deals for you.
For hotels
For flights
How to reach Khorfakkan beach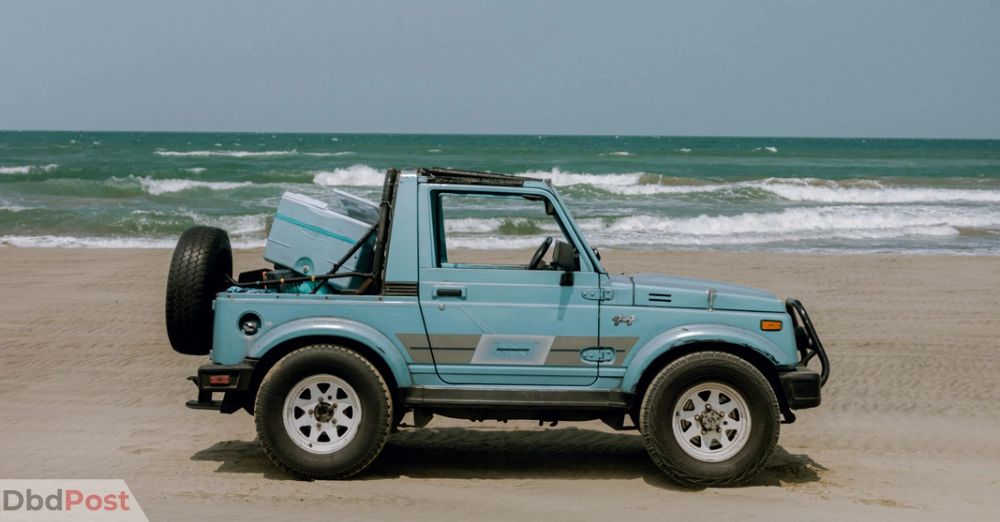 Visiting Khorfakkan beach is super fun and easy. Buses can take you from nearby cities and towns, so you don't have to worry about driving. You can also rent a car if you prefer. Some boats leave from ports along the coast if you take the waterway. So pack your bag and get ready for some beach fun.
Method 1. Car rental
Car rental is an excellent option for families and groups who want to make the trip together. It is comfortable and fast so you can get to your destination quicker. No need to worry about time spent waiting for trains or buses.
Book now: Retalcars
Method 2. By bus
Taking the bus is an easy way to get to Khorfakkan beach. The nearest bus stop is near the Oceanic hotel, and from there, it's only a 10-minute walk to the beach. You won't need a car or boat to travel to this beautiful destination. Hop on the bus, and you'll be able to enjoy all of the sandy fun that Khorfakkan beach has to offer.
Map: Get direction
Method 3. By boat
Every day, boats arrive at Khorfakkan port from other places in the United Arab Emirates. It's lots of fun on the boat because you can go sightseeing and explore the coast.
Map: Get direction
Khorfakkan beach map
Related Stories
---
FAQs
Where is Khorfakkan Beach located?
Khorfakkan Beach is located in the amazing coastal city of Sharjah in the United Arab Emirates. You can take a 10-minute walk from Saqr Bin Mohammad AlQassimi Stadium, and you will be there. Also, it's only 50 km away from the border shared by the UAE and Oman.
What is Khor Fakkan known for?
Khor Fakkan, Fujairah, is a special place in Sharjah in the United Arab Emirates. It's known for its amazing weather, which makes it so perfect for all kinds of outdoor fun. There are also beautiful rock formations from the Hajar mountains to explore.
Is Khor Fakkan worth visiting?
From beautiful beaches and majestic mountains to shopping malls and great restaurants, Khor Fakkan has everything. Cultural activities like festivals, music classes, and art galleries are available to explore the local culture.
Which Emirate is Khor Fakkan?
Khor Fakkan is a city in the United Arab Emirates that many people don't know about. It's located in the Emirate of Sharjah, facing the Gulf of Oman.
Final thoughts
Khorfakkan beach is truly a sight to behold. It offers the perfect escape from everyday life and the hustle and bustle of other Emirates in the UAE. The atmosphere is perfect for families looking for a way to spend time together, with plenty of options for group fun outdoors.
It's also an excellent spot for those interested in Arabic heritage, as it sits close to many regional attractions and the Hajar mountain range. With so much history and natural beauty, Khorfakkan Sharjah, provides travelers with an unforgettable experience full of relaxation and adventure.