Nestled in the lush greenery of Umm Al Quwain, Mangrove Beach is a beautiful and unspoiled destination to relax and unwind. Located just an hour of a ride from downtown Dubai, this beach is an excellent contrast to the busier beaches in the UAE.
Mangrove beach in Umm Al Quwain is excellent for picnics, camping under the starry skies, and boating. At this protected site, you can also catch glimpses of flamingos, herons, and many other wild animals & birds. Similarly, you can go horse riding and kayaking as well.
The experience of exploring Mangrove beach was one of the most amazing experiences. From the dazzling seascapes to the vibrant culture, there is something for everyone here. We wanted to ensure that our guide included all the best attractions and activities available at Umm Al Quwain open beach.
So we spoke with the locals who knew it best and visitors who could share their experiences. Whatever type of traveler you may be, with these insider tips, you won't miss out on a single thing this beach has to offer!
Quick info about Mangrove beach
Before we jump into the activities that you can do there, here is a quick overview of this beach:
Mangrove beach is located at Khor Al Yeefrah, Umm Al Quwain.
It is located to the east of the central city area of Umm Al Quwain, across the mangroves.
The best time to visit the beach is during the winter when the climate is more relaxed and perfect for outdoor activities.
Horse riding, kayaking, and overnight camping are possible at the beach.
You can see flamingos, herons, and other birds in the waters around the mangroves.
Best of Mangrove beach
Have a look at our selection of the best hotels, attractions, and activities at this stunning beach:
Best hotels near Mangrove beach
Best things to do in Mangrove beach
Camping
Horse riding
Kayaking
Best attractions near Mangrove beach
UAQ Marine Club
Kite beach centre
LuLu hypermarket
Hotels and resorts near Mangrove beach
There are several luxurious and budget-friendly hotels and resorts around the beach area. Have a look at them and book whichever you find appropriate: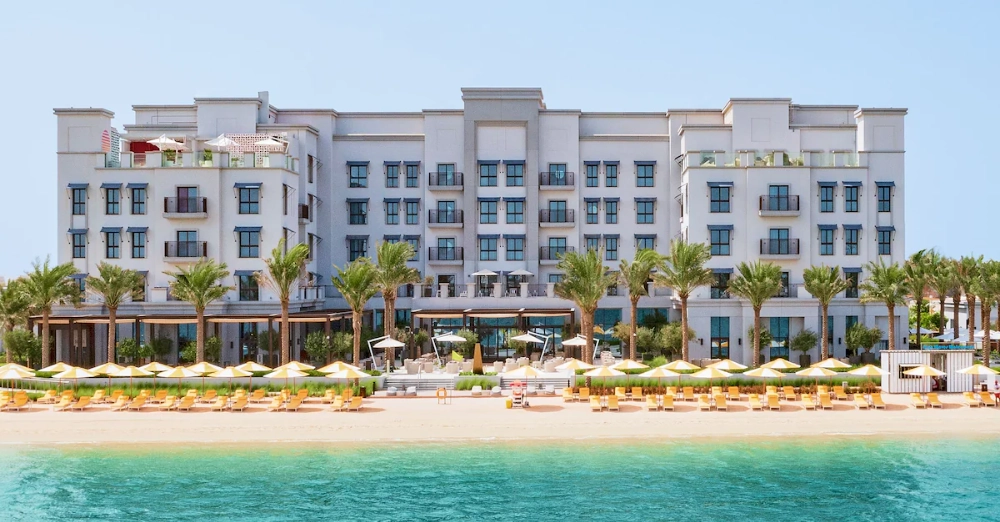 You can tell that Vida Beach Resort is an excellent destination from just one glance. It stands tall upon a sandy beach with a turquoise and blue waters that stretch beyond the horizon.
This pet-friendly hotel has elegant and spacious rooms offering breathtaking views of the sea. Guests can dive in the outdoor pool, hit the gym, or enjoy a delicious dinner at their outdoor dining area.
With all these amenities and remarkable natural attractions and landscapes, Vida Beach Resort Umm Al Quwain promises its guests an unforgettable getaway experience.
Book reservation: Vida Beach Resort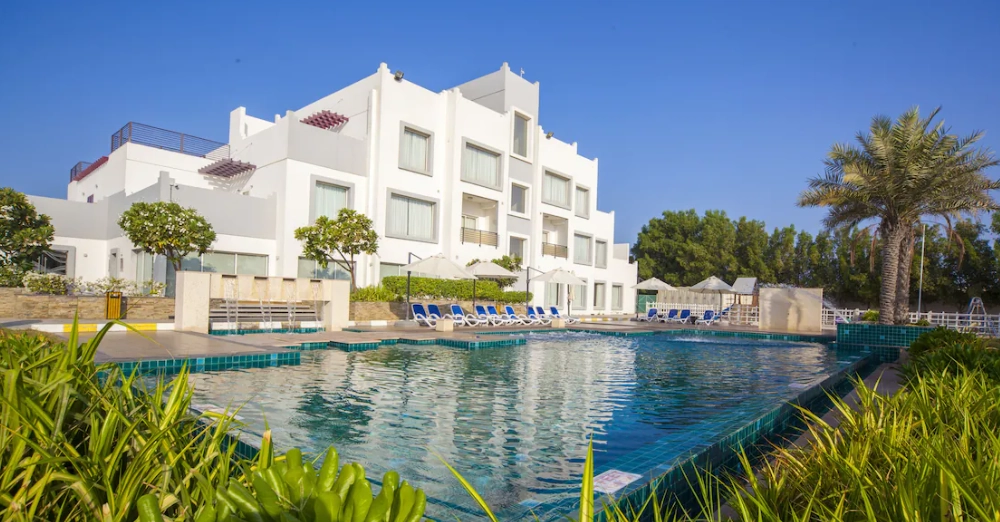 Pearl Hotel & Spa is the ideal beachside stay that offers visitors a memorable experience. There is something for everyone, from beachfront dining to adventurous activities such as kayaking and boat tours.
Along with their luxury accommodations, they provide convenient amenities such as free parking, Wi-Fi and laundry services. Likewise, the beautiful pool area has loungers and umbrellas, plus BBQ grills to put those chef skills to the test.
On top of that, they offer free infant beds and cribs so parents can rest easy knowing their kids are being well taken care of during their stay.
Book reservation: Pearl Hotel & Spa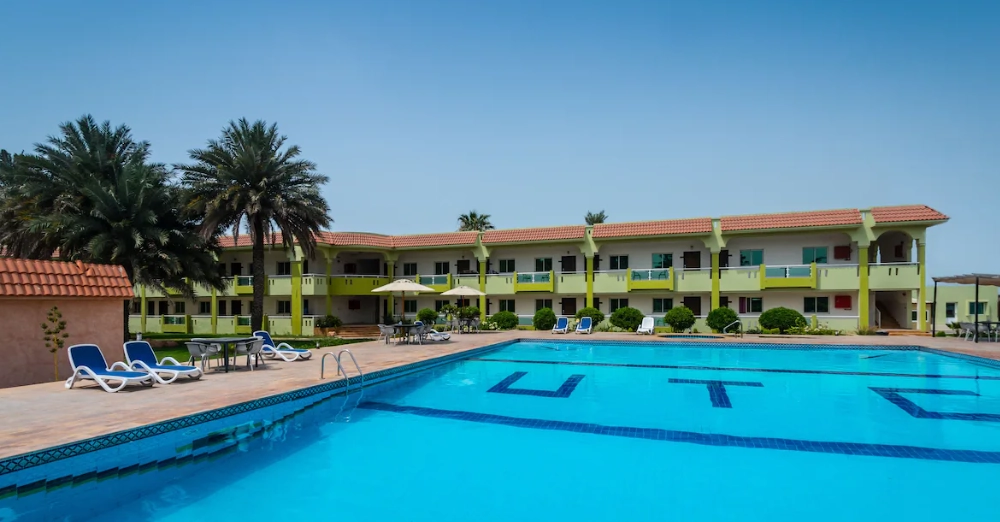 Flamingo Beach Resort is a 3-star resort located in the entertainment district. It offers everything needed for a perfect vacation, from free Wi-Fi and parking to air-conditioned rooms with all the amenities.
Each room is fully equipped with a safe, toiletries, TVs, and Coffee/tea makers. In addition, there is a garden, playground, children's pool, and an outdoor pool complete with loungers and umbrellas.
To top it all off, they offer two international cuisine restaurants and Continental breakfast. The friendly hotel staff speaks Arabic, English, Afrikaans, Hindi, Turkish and Russian to ensure you are taken care of in any language.
Book reservation: Flamingo Beach Resort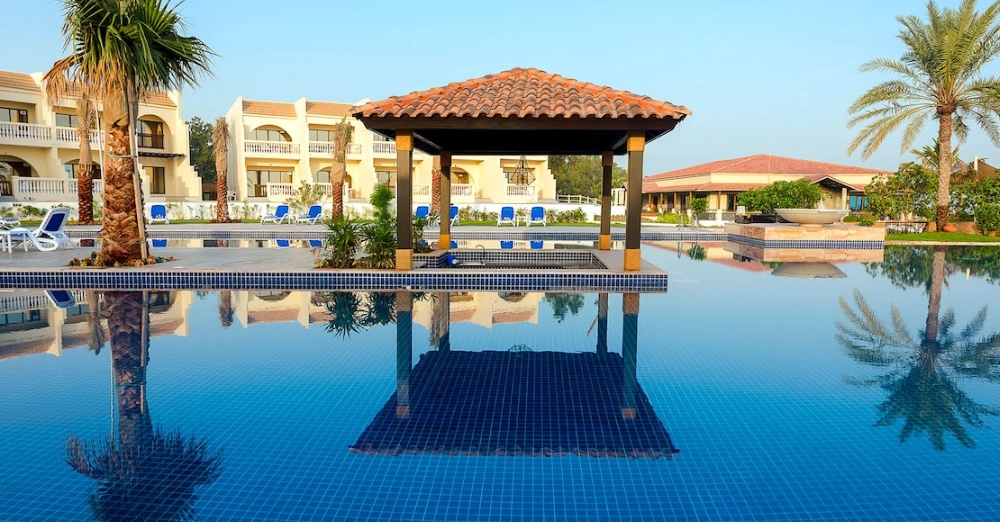 The Barracuda Beach Resort is the perfect beach retreat for leisure and business travelers. Guests can enjoy stunning, modern-styled rooms with breathtaking views and amenities such as a refrigerator, air conditioning and free in-room Wi-Fi.
Additional extras, such as 24-hourrequestservice, complimentary newspapers and laundry services, are available on request. To make the most of your stay, take advantage of the outdoor facilities like the terrace, outdoor pool and playground in the garden.
Moreover, you can try some of their delicious international cuisines in one of their two restaurants or kickstart your vacation with their continental breakfast. Also, you can use their BBQ grills to barbecue with family or friends.
Book reservation: Barracuda Beach Resort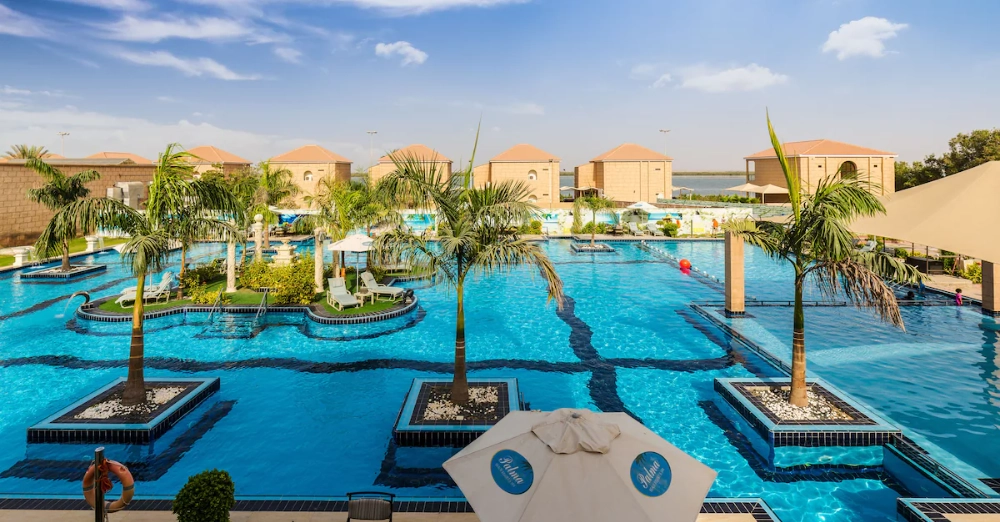 Palma Beach Resort is the ultimate destination to experience the blend of beach and desert life. Its Arabian architecture adds a sublime elegance to the décor, and all 62 rooms have modern amenities.
From 24-hour room service, air conditioning, 40-inch TV in each room, and free wi-fi, you won't have to worry about your comfort. On top of all that, there are also plenty of activities, like a private beach to relax and a fully equipped gym, bowling alley and pool table to keep you entertained.
Palma Beach Resort offers something for everyone, whether for a romantic day out or to take a break from everyday life.
Book reservation: Palma Beach Resort and Spa
Things to do at Mangrove beach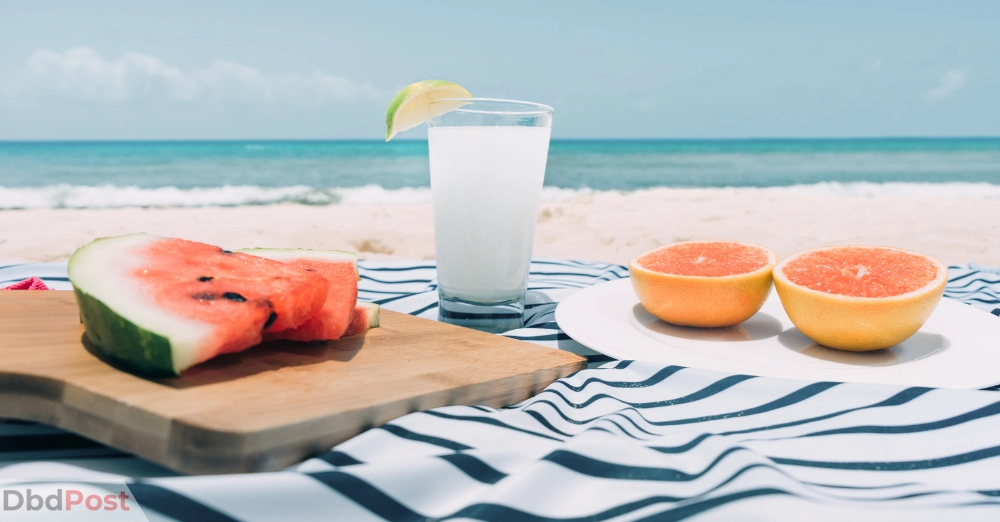 The beach area around the mangroves has not been fully developed. As a result, the place does not have many facilities, but it has much untouched natural beauty to take advantage of. Here are a few things you can do at the Umm Al Quwain mangroves:
Picnic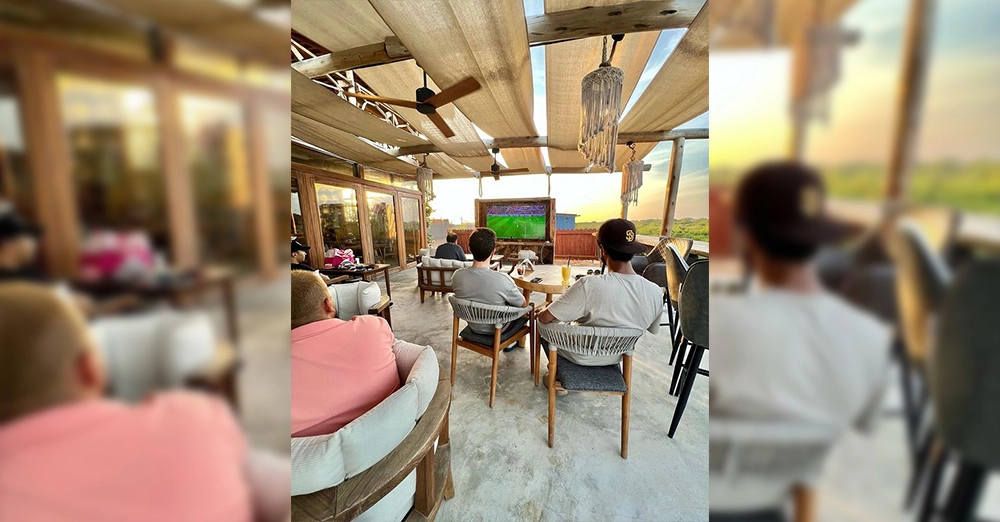 This beach is perfect for a quiet and lovely picnic. The surrounding areas are full of birds chirping, trees swaying, and peace that you can find nowhere else in Umm Al Quwain.
Nature safari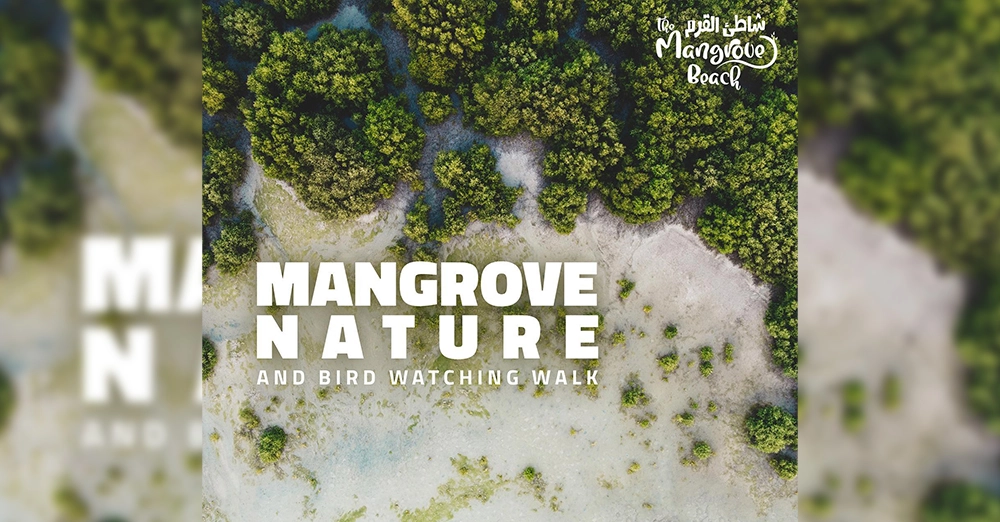 Mangrove beach Umm Al Quwain has loads of fascinating flora and fauna. The mangroves allow you to explore the wildlife while on a nature safari.
Camping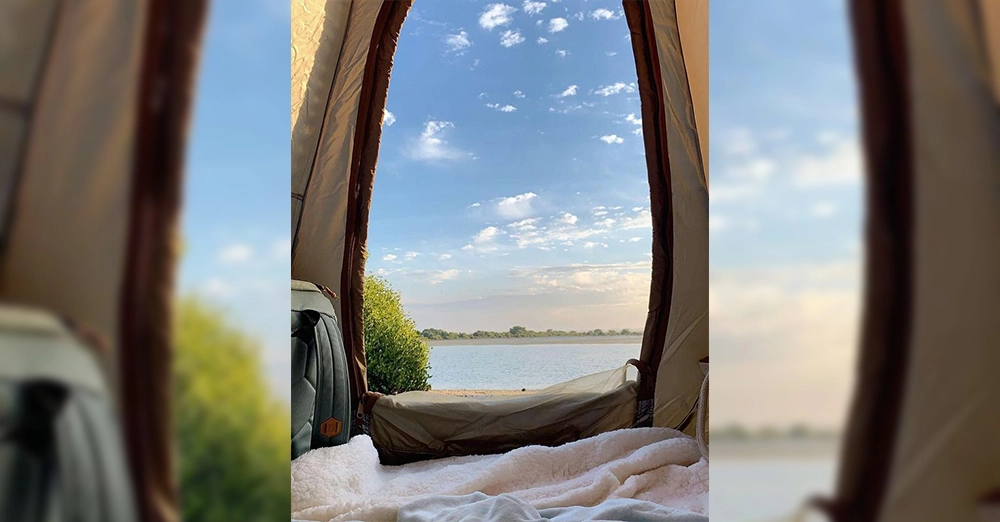 The beach has plenty of spots for those who want to camp. Ensure you get permission from the local authorities before setting up your camp. Similarly, it is a great location to enjoy a peaceful night camping under the stars.
Kayaking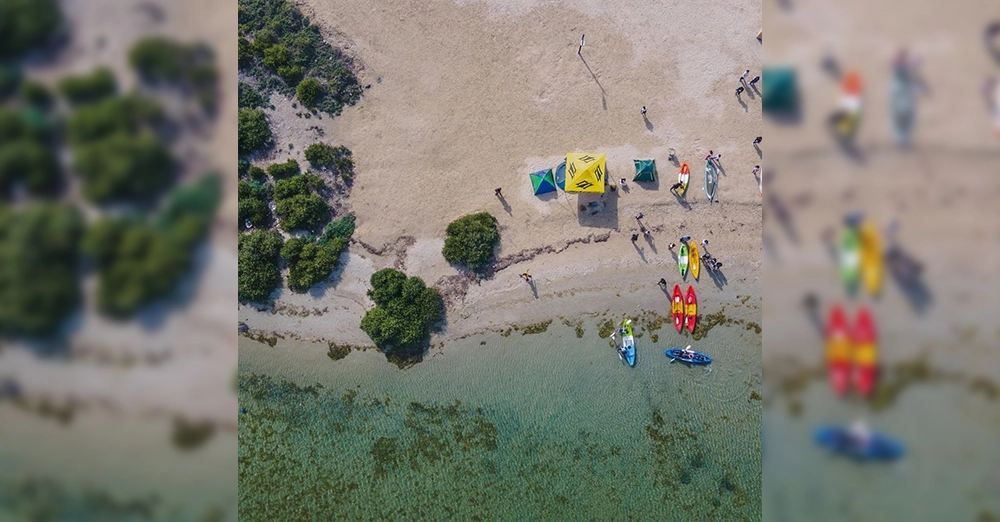 Kayaking along the mangrove-lined shores will give you an unforgettable experience. Fortunately, there are plenty of rental shops for kayaks in the area. This activity is perfect for those trying to get a closer look at the mangroves from the beautiful waters.
Horse riding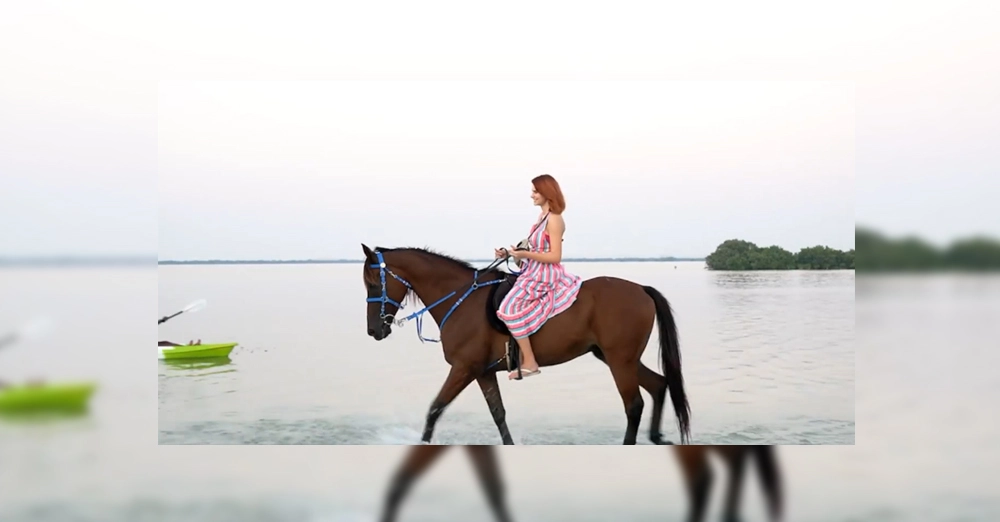 Head out for a horse-riding expedition, and experience the beauty of the beach on horseback. There are several facilities available to hire horses within this area.
Top attractions near Mangrove beach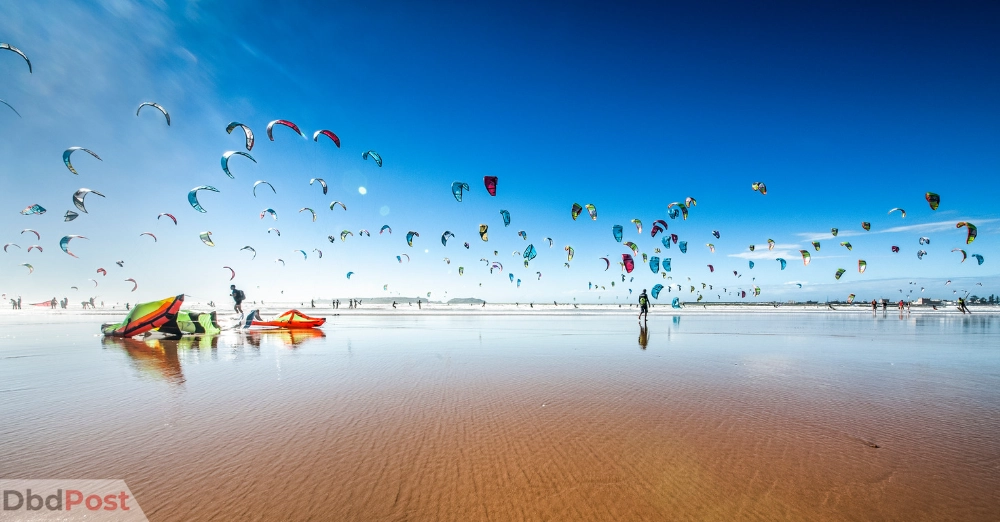 Mangrove beach in Umm Al Quwain is one of the most beautiful natural spots in the UAE. But to make things even better, a few other places in Umm Al Quwain deserve your attention.
Have a look at the best attractions near the beach:
1.

LuLu hypermarket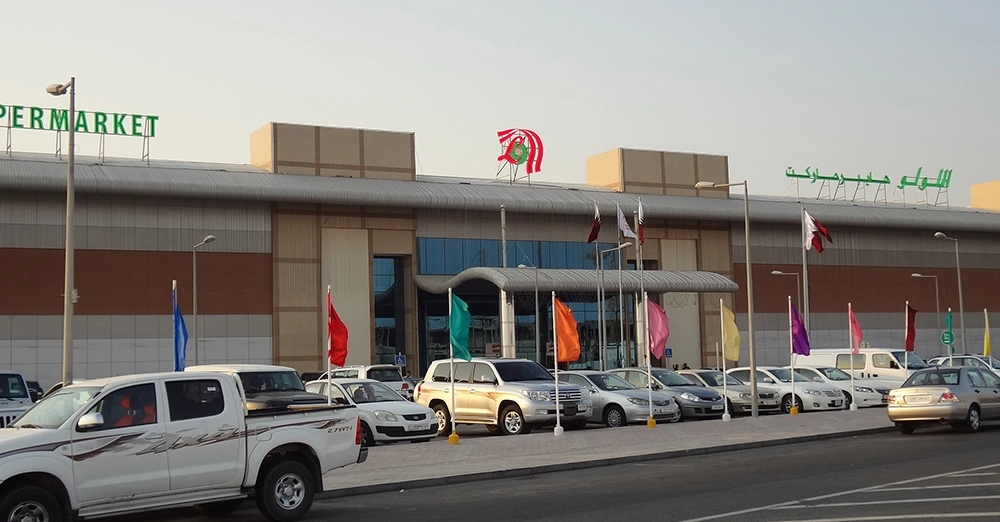 Lulu Hypermarket is one of the biggest shopping malls in Umm Al Quwain. It offers almost everything you need – clothes, electronics, food products, and furniture.
They may also have various offers and deals depending on when you visit. This means you will find what you need at an affordable price there.
Map: Get directions
2.

Kite beach center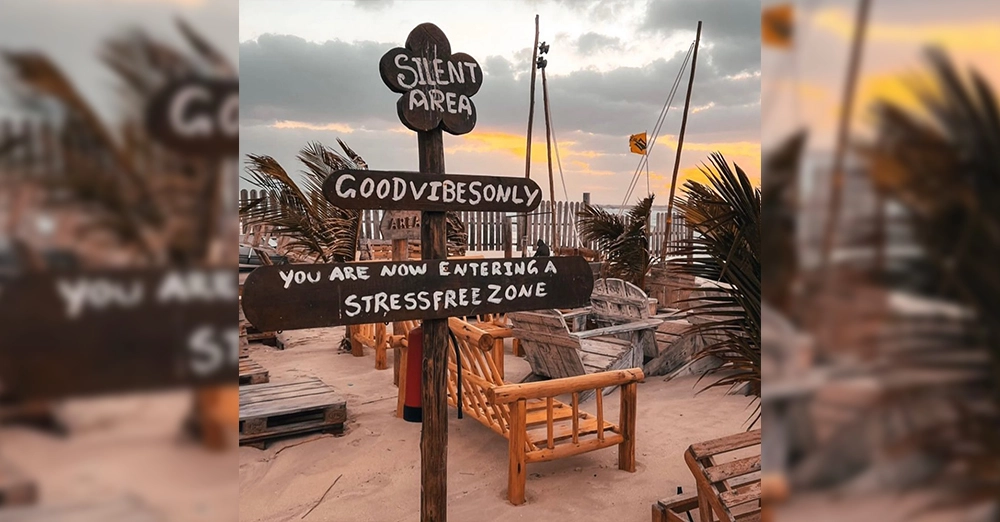 If you're looking for an unforgettable day trip, Kite beach center is the perfect place to visit. Located just a few minutes from the beach, it's the best spot to go kitesurfing and take in your stunning surroundings.
Here, you can relax on the sun beds lined up along the beach while admiring views of the Persian Gulf and its attractive palm trees. You can also take a dip in one of their outdoor pools and enjoy a leisurely lunch of world-class cuisine at their on-site restaurant.
All and all, Kite beach centre has something for everyone – making it a great place to escape to for an unforgettable experience!
Map: Get directions
3.

UAQ Marine Club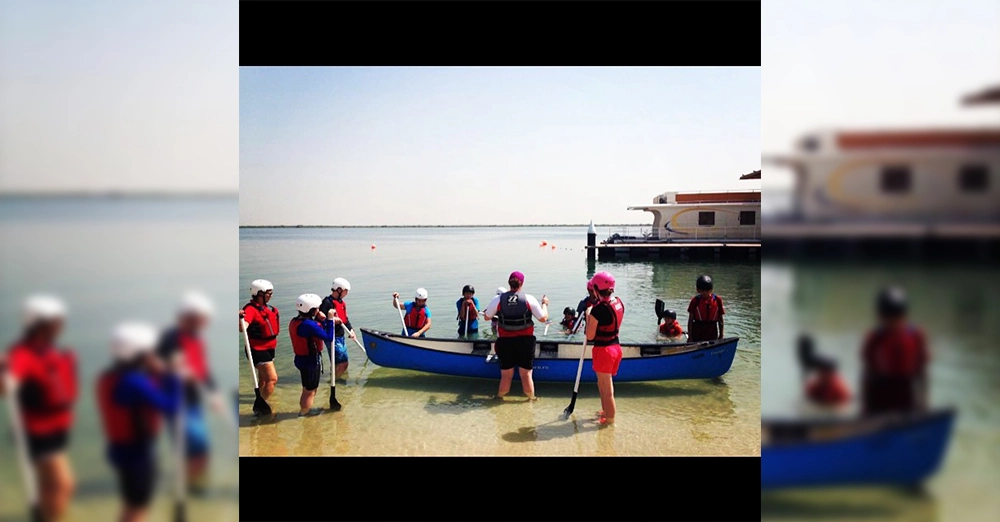 The UAQ Marine Club offers a wide range of activities and excursions that promise to be truly fun and memorable. Working closely with the Ministry of Environment and Water, they have done much for mangrove conservation over the years, allowing visitors to revel in their beauty.
Mangroves are vital for the environment. Their long, strong roots help keep the land from washing away into the water. This is because the origins trap sediment (dirt and sand). Many animals live in or near mangroves because they provide a safe place to hide from predators. So not only do mangroves protect the land from erosion, but they also provide homes for many marine species. [1]National Park Service, ""Mangroves, … Continue reading
In addition, nature lovers may even catch sight of some birds, like herons and flamingos, that have made their home here. With plenty more to explore, there's something for everyone at the beach – whether it be dinner under the stars, kayaking along the waters or simply fishing along the coast.
At UAQ Marine Club, you can participate in an assortment of fun water sports and excursions while also getting a chance to help protect the beach nature. [2]UAQ Marine Club, "UAQ Marine, http://www.uaqmarineclub.com/the-club/#:~:text=UAQ%20Marine%20Club%20works,along%20the%20water%E2%80%99s%20edge."
Map: Get directions
4.

Fish Roundabout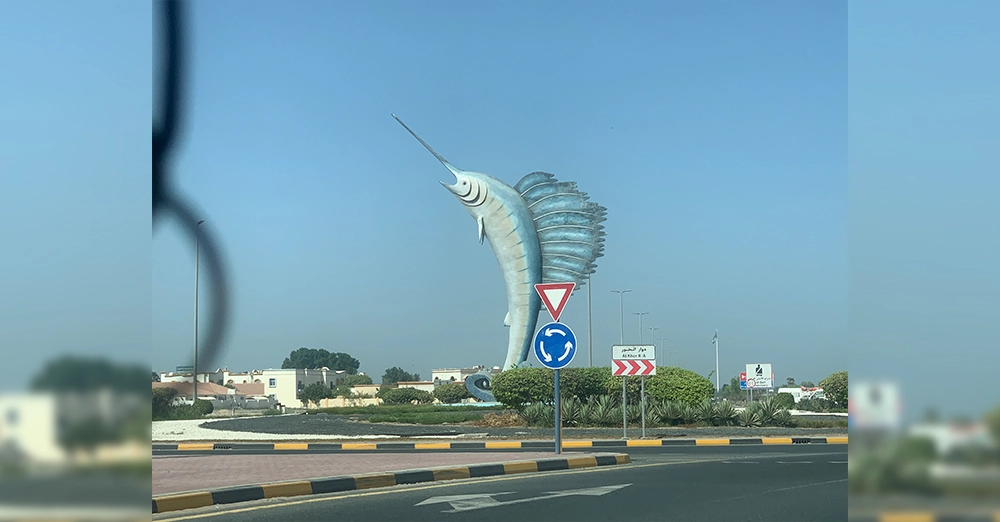 The Fish Roundabout is another excellent place to go near the beach. It is a four-way roundabout decorated with a giant marlin fish sculpture, giving it an eye-catching appeal from any angle.
Across the street, many shops sell fish, seafood, fresh fruits, and vegetables. You will also find plenty of fishing boats and leisurely rides at the docks near the market.
Map: Get directions
Restaurants near Mangrove beach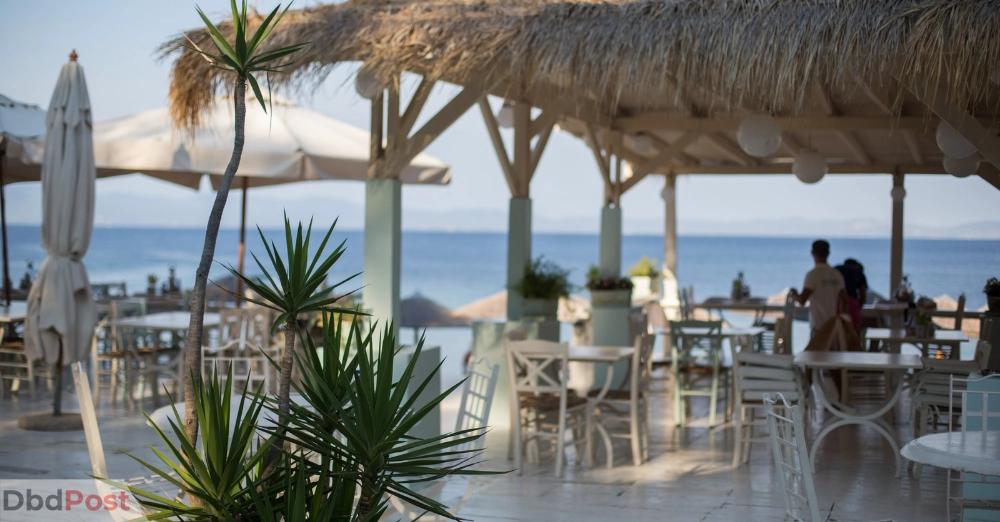 Umm Al Quwain's beach area is more than a destination for sunbathing and swimming – it's a foodie paradise. A stroll through the mangroves will reveal dozens of restaurants and cafes offering diverse cuisine worldwide. However, if you're looking to narrow it down, here are the best restaurants near Umm Al Quwain's mangroves:
1.

Barako grill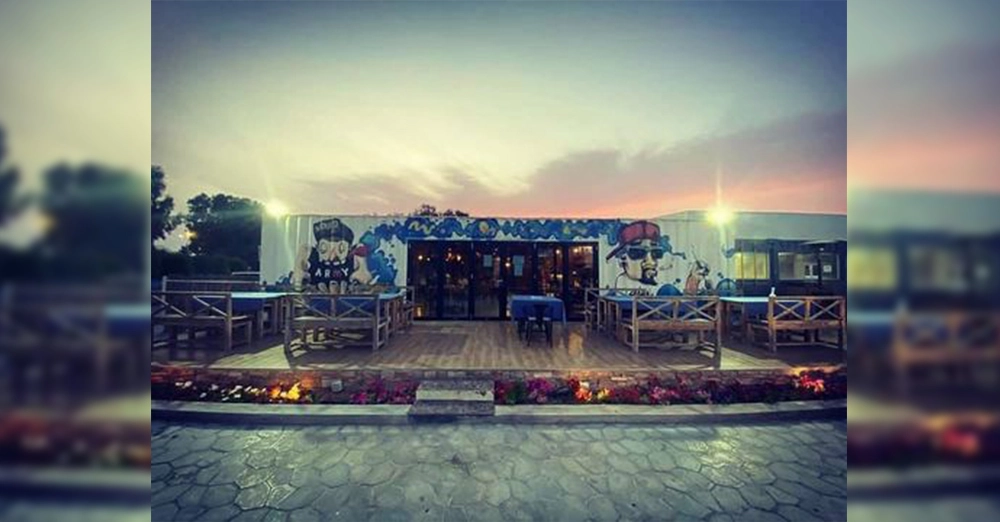 At Barako Grill, located in Al Khour 2, you can find a wide variety of grilled cuisine. The best-sellers are the BBQ Chicken Sticks, Tapsilog, Spicy Buffalo Wings, and Seafood Canton Noodles, but there are many other choices.
From fish to beef and chicken dishes, there's something for everyone. Whether you like your meals served with rice, noodles or French fries – Barako Grill has it all.
Map: Get direction
2.

Crab and Crack Restaurant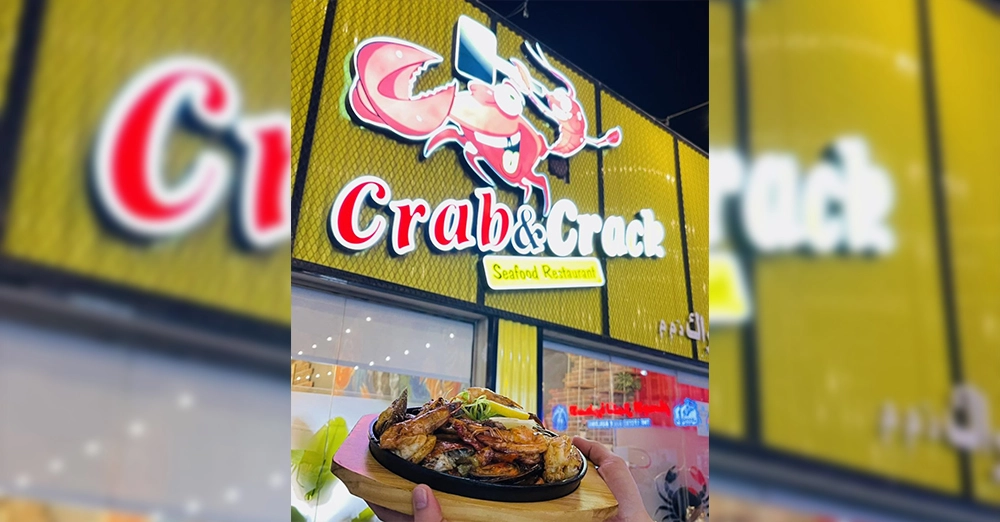 Crab and Crack Restaurant serves a wide range of seafood. Their most popular dishes are Baked Mussels, Grilled Squid, Baked Lobster, and the 3-packets combo of Crazy Basket.
As a restaurant specializing in seafood, you will see sea-themed decorations all around the place's interior. They also deliver to nearby locations and allow you to take away your food.
Map: Get direction
3.

Shams Al Aseel restaurant & cafeteria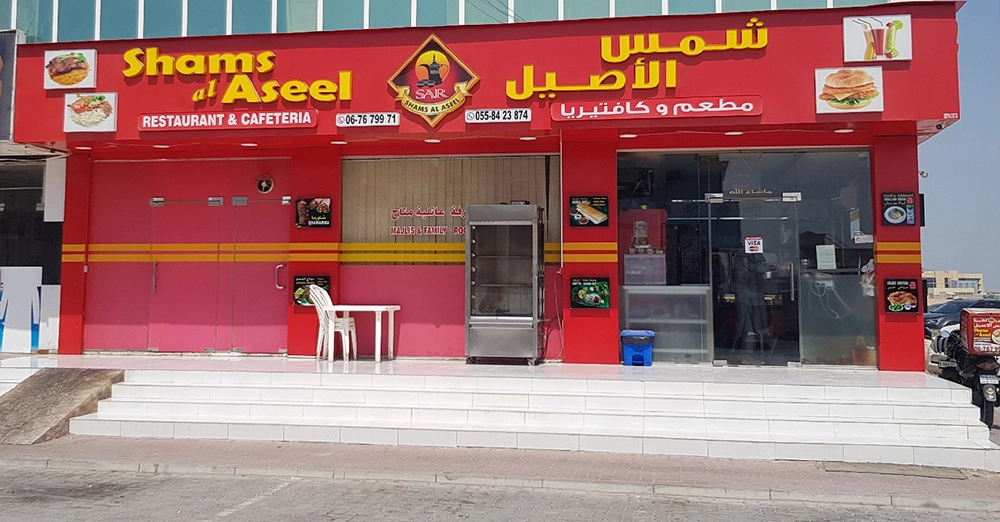 After a day of fun and sun at the beach, you are bound to get hungry. Head to Shams Al Aseel, the excellent fast-food restaurant on the beach. It has everything you could ask for – burgers, wings, French fries, roasted crabs, beverages and more.
It also offers fish, rice and drinks if you're looking for healthier alternatives. All are available at pocket-friendly prices. So don't think twice before dropping in if you are looking for delicious food without breaking the bank.
Map: Get direction
Flight deals to Mangrove beach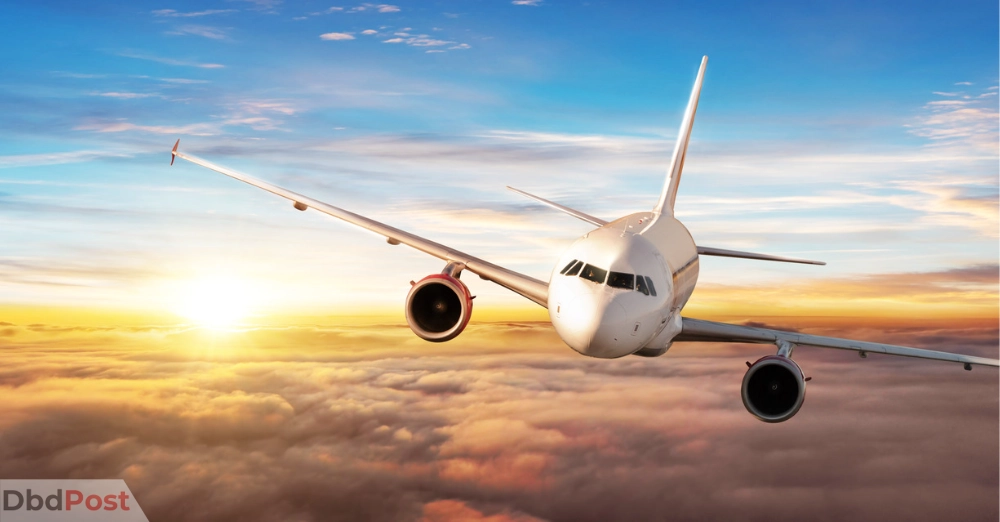 With airline ticket prices skyrocketing, it can be challenging to find the best deal. Luckily, some websites exist to compare and aggregate flight prices so that you will find the cheapest options quickly and easily. If you're looking for cheap airfare to the UAE, these are some of the best ticket comparison sites we have tested:
Best overall flight deals comparison website
Remarkable customer support
Retrieves high search results volume
In-depth search filtering options
Great at aggregating international flights
Shows expansive search results
Lesser-known airlines are also shown
Very relevant flight search results
Great customer representatives
Cheapest daily fares are shown on a calendar
Displays quick results
Mangrove beach travel tips
Travelling to the Mangrove beach Umm Al Quwain is a great experience, but knowing a few tips can make your trip even better. Here are some tips for travelling to the beach:
Wear light clothing that covers most of your body in the summertime.
Exercise caution when entering the water.
Don't forget to bring sunscreen and hats for protection from the sun.
Drink plenty of water to avoid dehydration in hot temperatures.
Make sure to respect local customs and culture while visiting Umm Al Quwain's beach.
Bring enough cash with you, as some places don't accept credit cards.
Don't forget to bring a camera to capture the beautiful sights of the beach.
Best time to visit Mangrove beach
Visiting Mangrove beach in the winter is a gratifying experience. The sunset paints a fantastic view of soft oranges, golds, and bright blues on the horizon as the sun dips below into dusk. When night falls, the stars provide a peaceful yet mesmerising atmosphere that reaches beyond imagination.
With its beautiful scenery, this beach is the perfect place to take an evening stroll or relax and enjoy nature. Another great reason to visit during winter is that the harsh sunlight isn't as prevalent, so you don't have to worry about being out in the sun all day and getting sunburns.
How to save money in Mangrove beach?
There are several ways to save money on a visit to this beach.
You could save hundreds of dollars on travel expenses like plane tickets and hotels if you're smart about it. Find out how:
Compare airfares
If you want to find the most affordable flights, check airfare rates on these websites:
Book affordable hotels near Mangrove beach
For those who want a good deal on hotels without having to worry about a less comfortable stay, these are the best affordable options:
Apart from these, you can also follow these tips to save even more money:
Look for discounts and deals online.
Take public transportation instead of renting a car.
Bring your food and drinks to the beach.
Eat at local restaurants instead of touristy ones.
Mangrove beach map
Related Info
---
FAQs
What should I do if I visit a mangrove for the first time?
If it's your first time visiting a mangrove, take the time to learn about the environment and respect all regulations. Also, feel free to bring food and water if you don't want to spend too much on restaurants.
What are some things to avoid while visiting a mangrove?
It is essential to avoid littering while visiting a mangrove. Additionally, ensure not to disturb the wildlife or the vegetation to keep the environment undisturbed.
Final thoughts
Visiting Mangrove Beach Umm Al Quwain can be a truly memorable experience. From horse-riding, kayaking, and dining to simply relaxing under the sun, visitors of all ages can enjoy activities for hours.
Though it's important to remember that conservation efforts are taken very seriously Umm Al Quwain mangroves, ensure you abide by all the rules during your visit. Now that you've all the necessary info, it's time to start planning your journey and make those cherished memories last forever!


Adi Abbas is a travel enthusiast based in Dubai who has explored more than 15 countries in the Middle East and South Asia. He loves discovering different cultures, trying local food, and seeking out exciting things to do. His passion for travel has taken him to many places, where he's made unforgettable memories that will stay with him forever. Adi loves documenting his trips through photography and writing about his experiences.